Need help with recipe organization? Print and organize recipes with this printable recipe binder and meal planner! Make your own DIY recipe binder with these cute printable templates that you can type in!
I've always viewed meal planning as one of those necessary domestic activities that I have to do because my family needs to eat, but also that I never really want to do. Ever.
Are other parents nodding in agreement right now? Am I preaching to the choir on this one? You betcha!
Whether you work outside the home or in it, meal planning can be tough – especially if you have younger kids. It's challenging to find family friendly meals that everyone likes and equally difficult to remember what those are.
I would always have tons of printed recipes stuffed between cookbooks that were cluttered with magazine and newspaper clippings of meals we liked that I made and then forgot about.
In order to stop the meal planning madness (or lack thereof), I created this printable recipe and meal planning binder! It's a super helpful method of upgrading your recipe organization game and staying ahead of the "What's for dinner?" questions.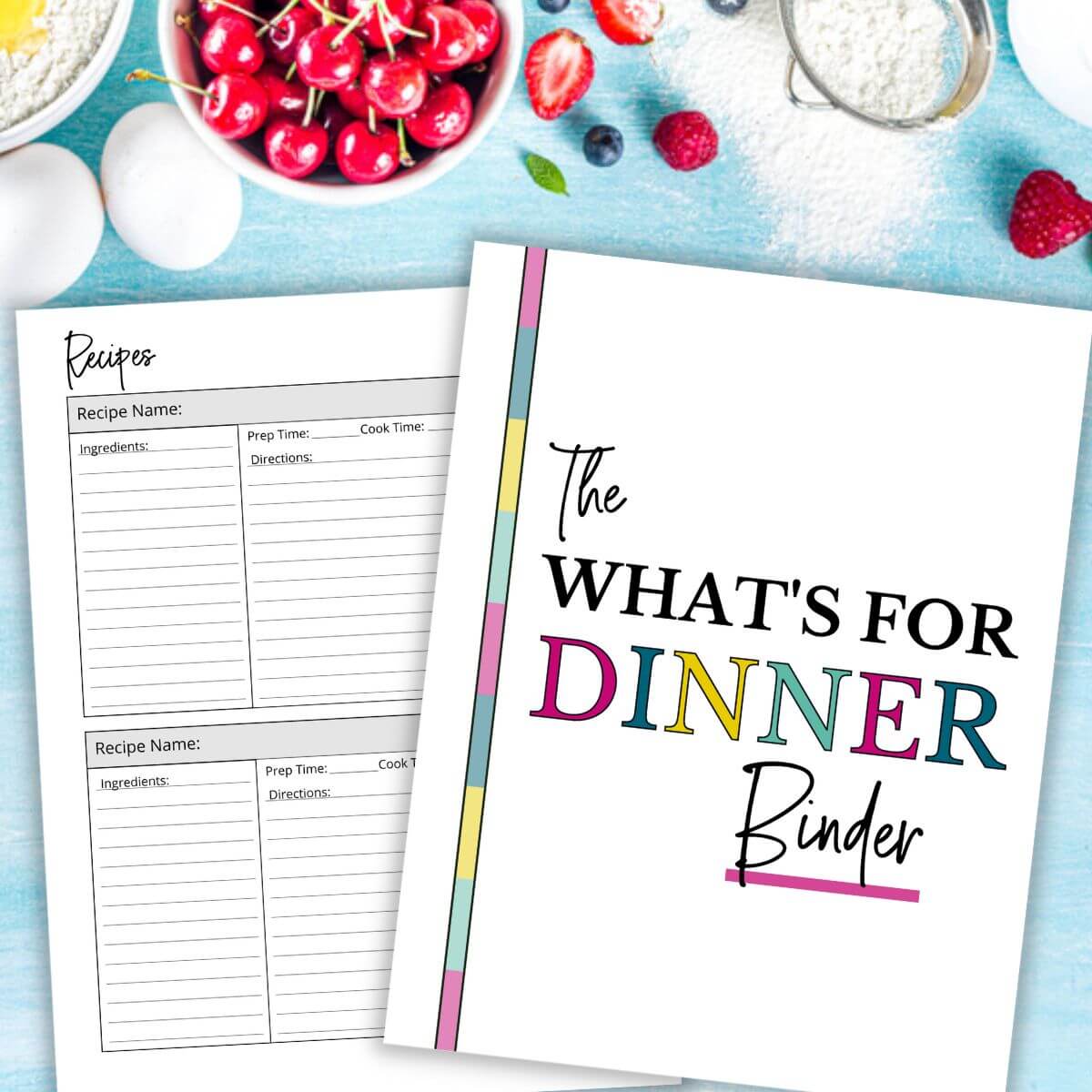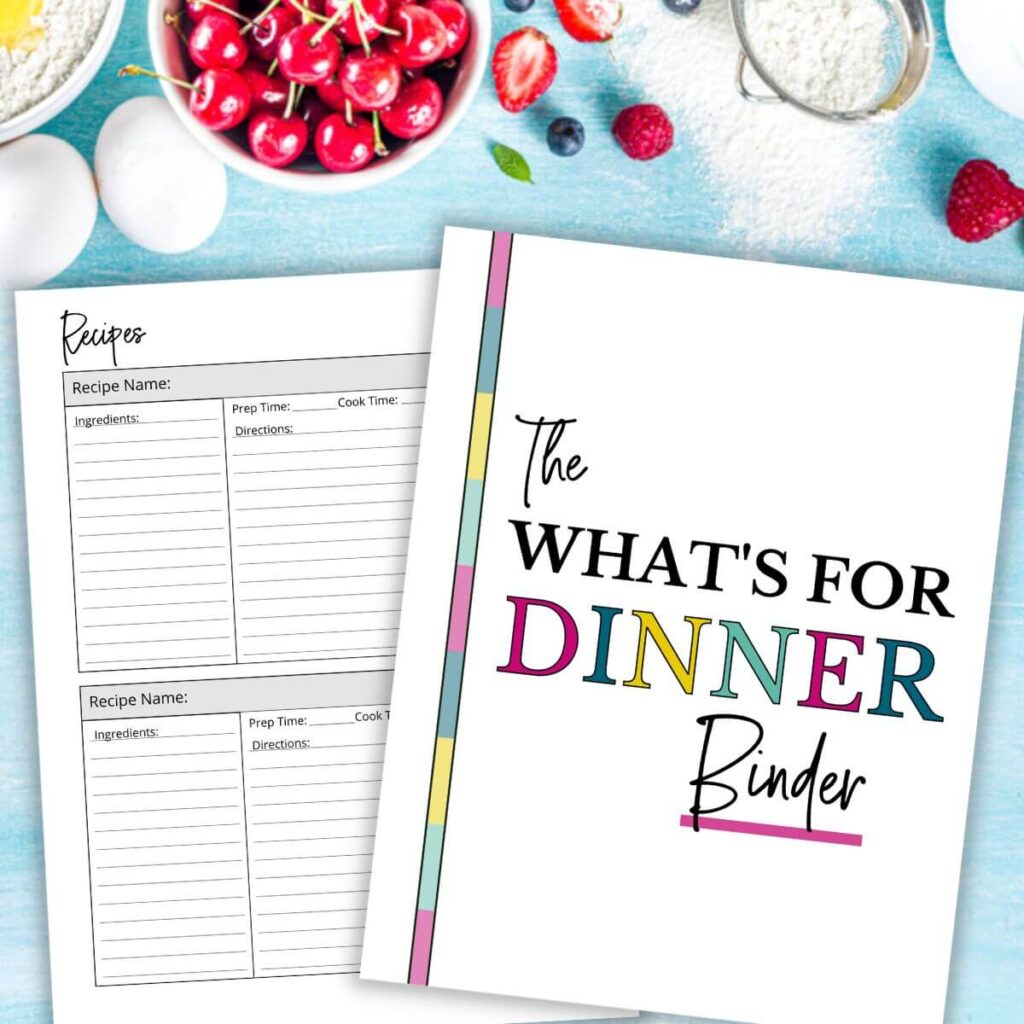 *This post contains affiliate links, which means if you click a link and make a purchase, I earn a commission at no additional cost to you. Read my full terms of use for more info.
Why You Need a Meal Planning and Recipe Binder
Organize recipes in one place
Do you have favorite recipes stashed on your phone, bookmarked on your computer, and stuffed in random corners of your kitchen? If locating your favorite recipes is a struggle, a printable recipe binder is a budget-friendly answer to your prayers! It comes with printable binder tabs to make recipe organization a snap.
Keep track of family favorite meals and recipes you love
If the thought of losing your great-great grandmother's cannoli recipe makes your heart skip a few beats, a meal planning binder is for you! It's also a great place to keep family-approved recipes you know even your pickiest eaters will approve of.
Get ideas for dinner
Ah, the age-old question that's been plaguing parents the world over since the beginning of time – What's for dinner??? While my husband handles the cooking duties in our house, I'm responsible for coming up with a list of meal ideas and doing the grocery shopping. And with this handy tool, it's so nice to be able to open up our meal planner binder and have all the ingredients at my fingertips.
*Are you constantly trying to think of family-friendly meals for dinner? Check out my Big List of Dinner Ideas and put an end to the struggle!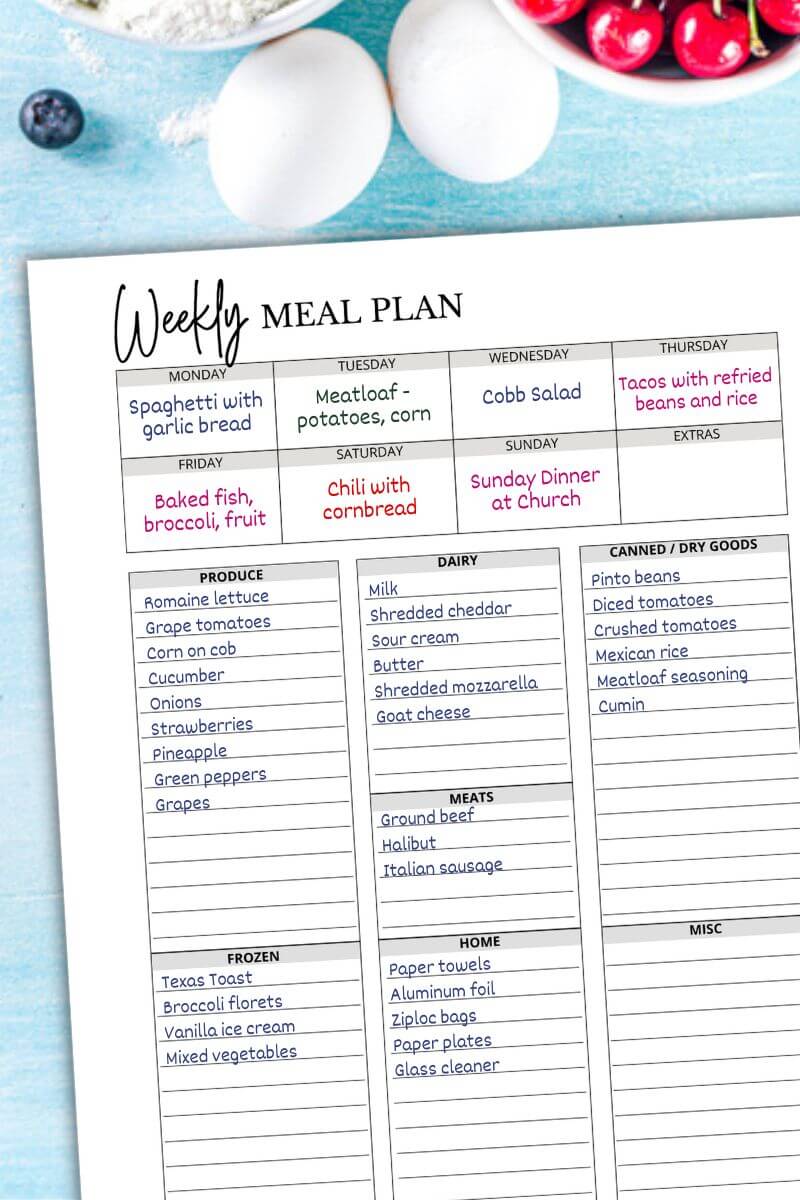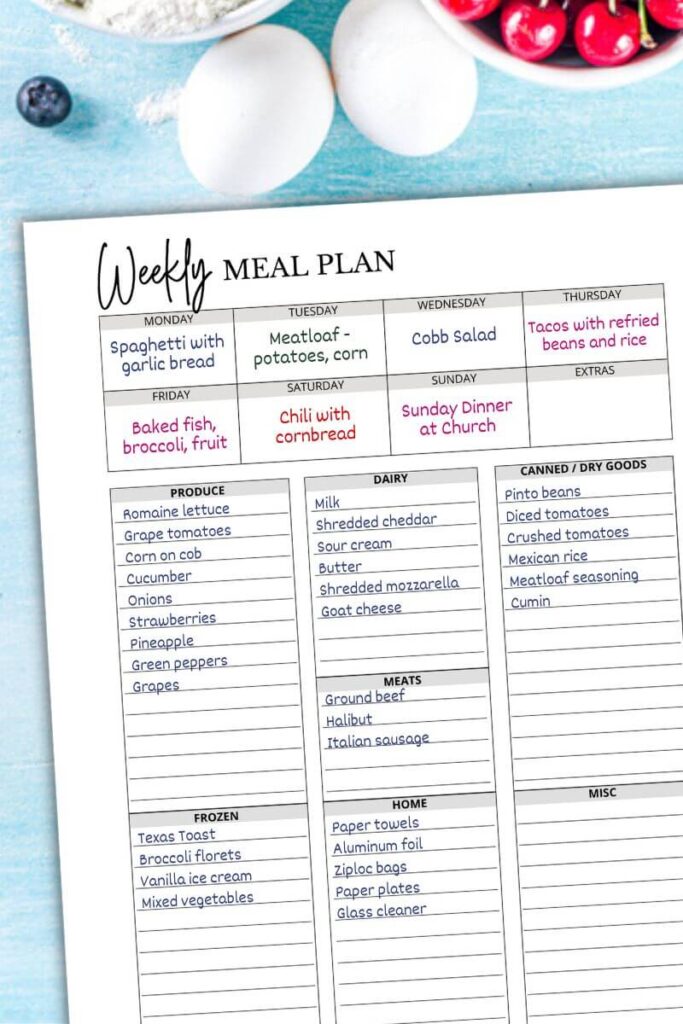 Keep your meal planning templates in one place
If you struggle with figuring out what to cook for dinner each night, then the printable meal planners in this recipe binder will be super helpful!
There are 5 different meal planning worksheets, so you can decide which one works best for you! Choose from weekly or monthly meal planners, and keep them together in the printable recipe binder so you don't have to scrounge through the pantry and figure out what to cook at the last minute.
Keep other important kitchen/cooking info together
While this printable meal planning binder is a handy method of recipe organization, it's also chock-full of other important cooking info. The binder also has a kitchen conversion chart, extra grocery lists, freezer inventory sheets, and more!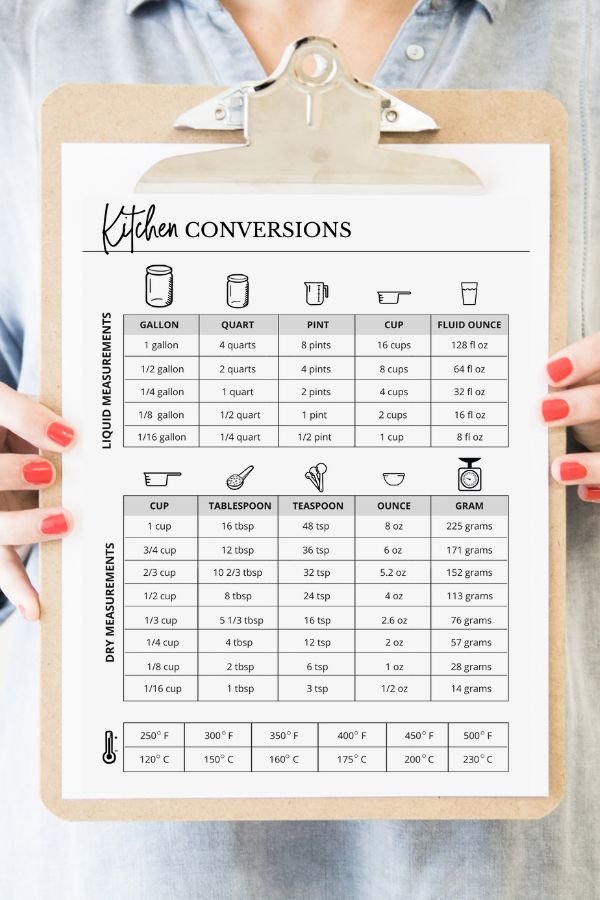 How to Make Your Own Meal Planning and Recipe Binder with Printables
Here's everything you need to make your own printable recipe binder:
DIY Recipe Binder Supplies
3 Ring Binder
The size of 3 ring binder that you need depends on how many recipes you already have and how often you typically print new ones. I recommend at least a 2"-3" binder so that you can hole punch additional papers and add them to it. After all, there's nothing more frustrating than doing all the work to combine everything and then running out of room!
Divider Tabs
If you don't want to spend forever flipping through your meal planner binder looking for a specific page, divider tabs are a MUST for organization. You can make your own dividers using the template included or buy dividers and print them using the online templates (I like Avery dividers).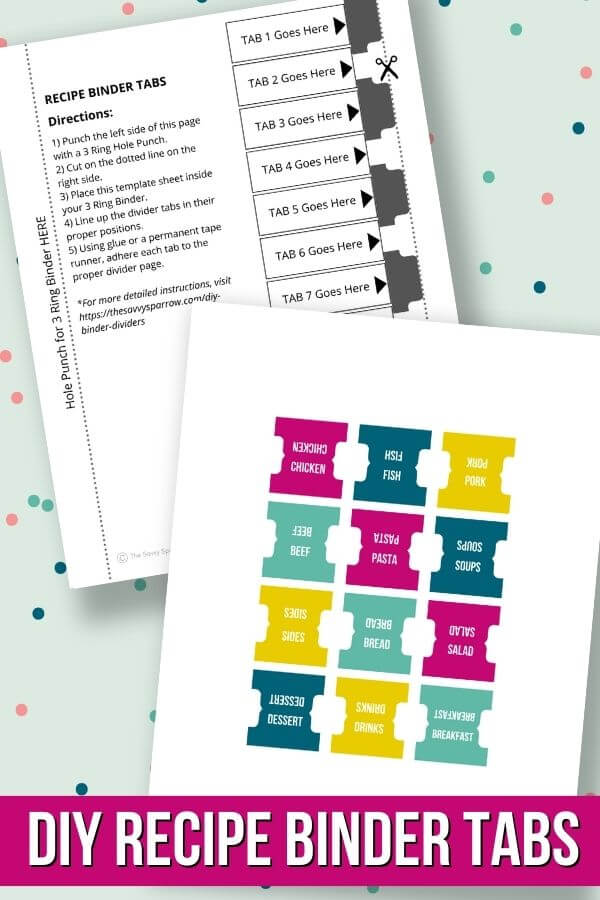 Printer and Paper
You'll need a good printer and white printer paper in order to set up your DIY recipe binder. If you're in the market for a new printer, the Epson EcoTank Printer is the best purchase I've ever made. You can literally print thousands of pages without running out of ink, and it's just an excellent quality product.
If you don't have a home printer, you can also send your printable meal planning binder to an office supply store like FedEx Kinko's, and they can print it for you.
Paper weight is also a factor when printing your meal planning binder. If you don't want the ink to show through from page to page, I suggest going with a heavier paper weight, like 28 lb. or 32 lb. You can even use card stock to print your divider pages and binder tabs (this is what I do).
Variety of Planner Pens
I'll be the first to admit that I have a weakness for good planner pens. They're just so fun and colorful! If you love to color code different sections, choose a variety of good pens in different colors. And if you want to find out which planner pens I recommend, check out my post on The Best Pens for Planners – And I Tried Them All!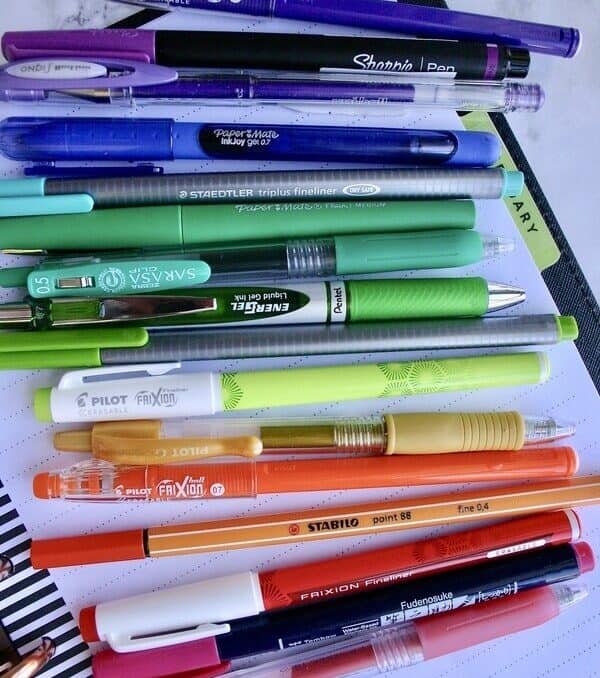 3 Ring Hole Punch
If you plan to send your printable meal planner binder to a professional print shop, you can request that they do this for you. Otherwise, you will need a 3 ring hole punch. I like this one because you can do 40 sheets simultaneously with less effort.
How to Assemble Your Printable Recipe Binder:
Once you have your supplies, here's how to put your printable recipe binder together:
Download the PDF file from my SHOP
Print the desired pages
3 hole punch all pages, including any previously printed recipes you'd like to put in the binder
Create tabs by using the recipe binder tabs template included in the PDF
Organize recipes in the binder by category
What's Included in the Recipe and Meal Planning Binder
Printable Recipe Binder Covers – 4 to choose from
Your PDF download comes with four cute printable recipe binder covers. I recommend choosing your favorite and then only printing that specific cover page so that you're not wasting paper.
Printable Recipe Category Divider Tabs
My meal planner binder also comes with a recipe binder tabs guide to help with assembly. You can even go HERE to see how to make your own divider tabs! There's even a video for all my visual learners out there!
Printable Kitchen Charts
These kitchen conversion charts take the guesswork out of preparing your meals! My meal planning binder includes the following: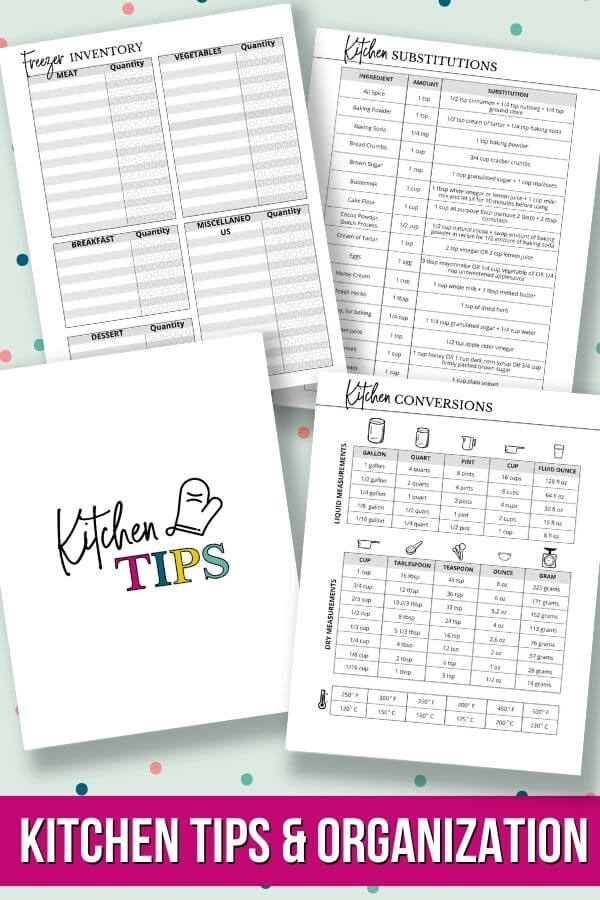 Kitchen Conversions Chart
Kitchen Substitutions Chart – It's always frustrating when you get to dinnertime and realize your recipe calls for an ingredient that you just ran out of! This printable kitchen substitutions chart includes common ingredients you can trade for others.
Kitchen Staples – A handy list of pantry and refrigerator staples.
Freezer Inventory – Have you ever wondered what's hiding in your freezer? Save money by using what you already have and organize your freezer with this helpful freezer inventory printable.
Fridge Inventory – Use up refrigerated items that are about to expire and stay organized by taking inventory of everything in your fridge. It's a great way to save money and reduce waste!
Pantry Inventory – Have you ever bought something only to open your pantry and find that exact same thing staring you in the face? I certainly have. That's why this pantry inventory sheet is so helpful!
List of Meal Ideas
These lists are super helpful if you're stuck coming up with meal ideas for the family and kids!
Printable Meal Planning Worksheets
If the thought of what you're making for dinner tonight stresses you out, you're not alone! That's why I've included several meal planning worksheets in my printable recipe binder. They're an excellent way to help you avoid spending too much money on takeout, and they also help reduce impulse purchases!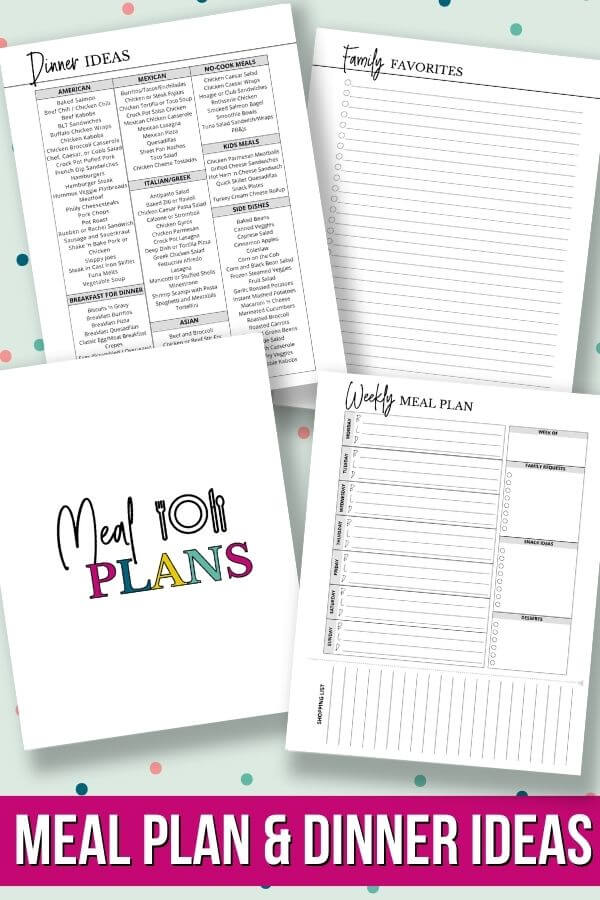 Weekly Meal Planner Template – Plan each week's meals by filling in the meal at the top and writing down the ingredients you need to buy in the categories below.
Monthly Calendar Meal Planner – This monthly calendar view lets you plan a month at a time, or you can fill in each week as you go.
Monthly Meal Planner (Planner View) – Add more in-depth meal details in this planner-style monthly meal template.
Family Favorites – Frustrated with trying to remember what that chicken thing was you made that one time that everyone loved? Now you can record all of your family favorites so you never forget again!
Food Diary – This simple, user-friendly food diary printable tracks your weekly food intake. It's great if you're trying to lose weight or just want to be more mindful of what you're eating!
Shopping List – Cut these shopping lists apart or leave them together to make a master grocery list. Either way, they're super helpful!
Grocery List – If you'd like to get more specific, this grocery list separates items by category and even has a place to write down the quantity you need.
Blank Grocery List – Want to create your own shopping list categories? No problem! This blank grocery list template is yours to customize.
Click HERE to learn how you can use meal planner templates to get organized and reduce your dinnertime anxiety!
Printable Recipe Cards
As an added bonus, I've included printable recipe cards that are also fillable PDFs. You can type directly into the document or print the pages and complete them by hand. Here are the recipe card options:
Half-page recipe cards (blank and lined) – These half-page recipe cards are perfect for less involved recipes with shorter ingredient lists and directions.
Full-page recipe card (blank and lined) – Want a few more options? This full page recipe card printable lets you rate and review the recipe and includes categories like servings, prep and cook time, and a space to add your own notes.
Magazine Clipping Recipe Page (blank and lined) – Do you have a stack of recipes you've taken from magazines and newspapers over the years? This template has a place for you to glue your recipe to the page and also includes a small section to write any additional notes.
Cute Recipe Category Pages
Your printable recipe planning binder also comes with cute printables you can use as divider pages for each recipe category! The meal planner binder pages include:
My Recipes – A cute divider page for the recipes section of your binder.
Fish
Chicken
Pork
Beef
Pasta
Soups
Sides
Bread
Salad
Dessert
Drinks
Breakfast
How to Type In the Fillable Recipe Binder PDF
My favorite thing about my printable recipe binder is that you can type directly into the PDF file! So helpful if you're a neat-freak with awful chicken-scratch handwriting like me! Here's how to use the fillable feature of The "What's for Dinner?" Binder: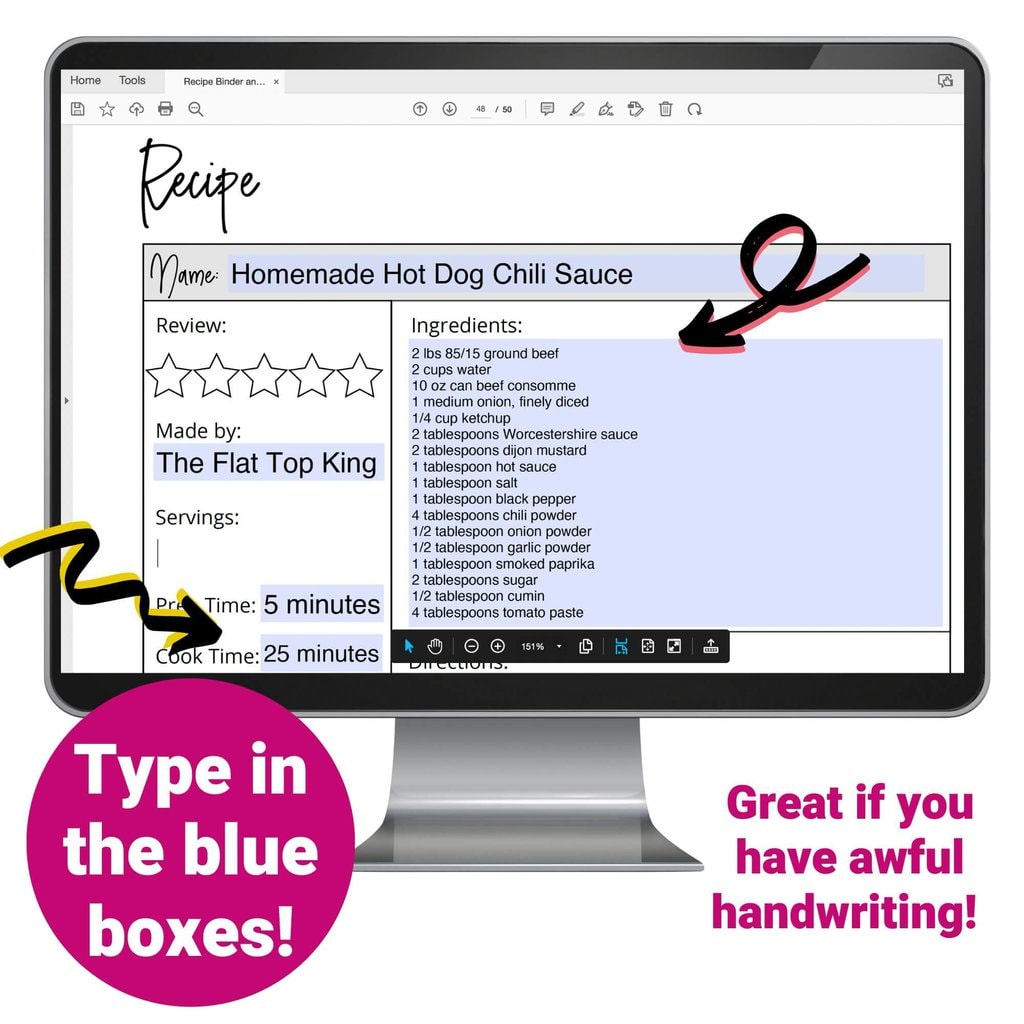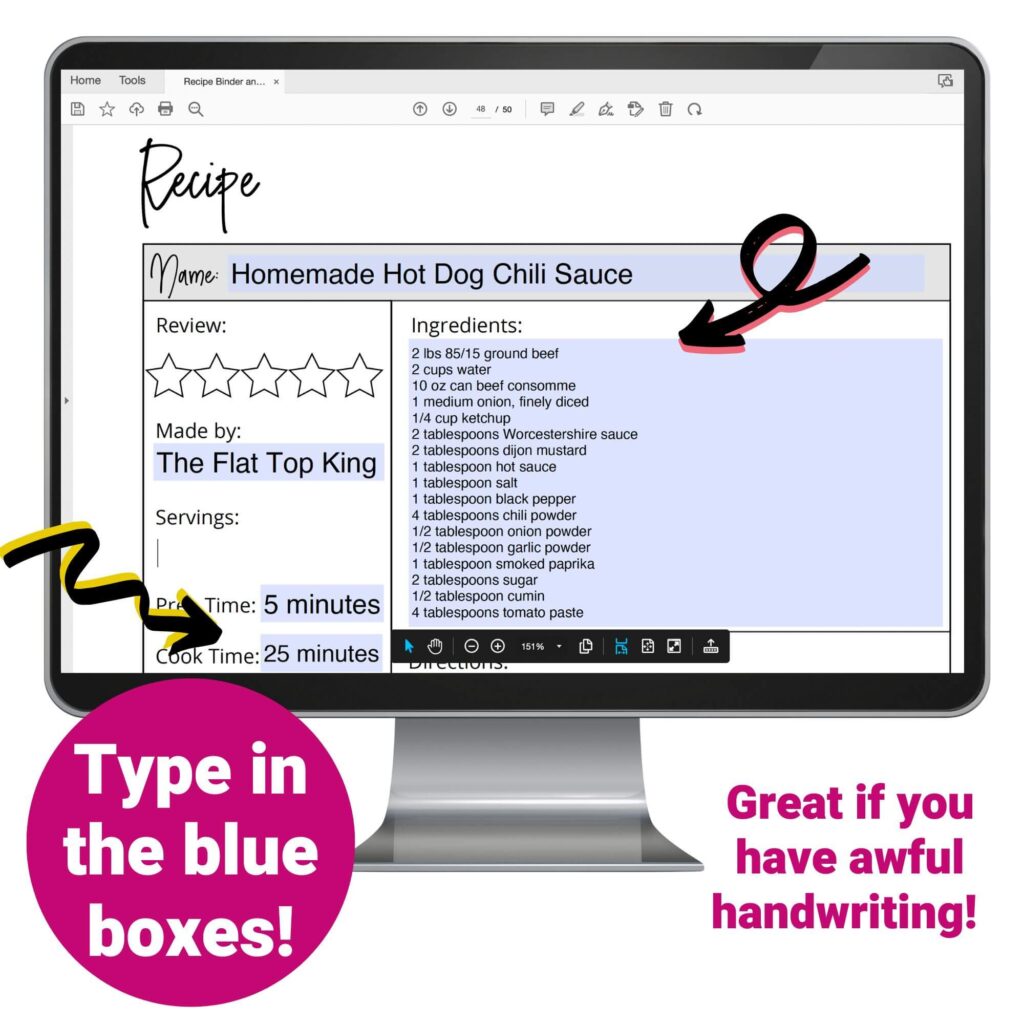 You will need to have Adobe Acrobat Reader (it's free!) installed to use the fillable feature. If you don't want to download Adobe Reader, then you can also just print the pages and write in your info by hand.
Here are the instructions for how to type your recipes and meal plans directly in the DIY recipe binder:
Go to the Adobe website here and download and install Acrobat Reader to your computer. (If you already have Adobe Acrobat installed you can skip this step).
Open the file using Adobe Acrobat Reader… You should be able to right click on the file icon on your computer (wherever you saved it) and select Open With>Adobe Acrobat Reader. The printable recipe binder will then open in Reader.
Once the file is open, click File>Save As> and then name it whatever you like and save it to somewhere on your computer where you can easily find it, like your desktop.
Then you can start typing in your info… Easy peasy!
Get the Printable Recipe Binder HERE
Want to learn more about my printable recipe binder and meal planner? This cute 50 page printable recipe organization binder is available in my shop!
Click HERE to check out The "What's for Dinner?" Binder in my SHOP!
And if you loved this printable binder, then be sure to check out some of my other binder organization printables that can help you get organized:
And don't forget to PIN this post for later: