Are you looking for unique and inexpensive Teacher Appreciation gifts with printable gift tags? Give teachers and other special people in your life a tasty treat with these cute Nothing Bundt Cakes gift tags!
We all have people in our lives who we appreciate, whether they're our kids' teachers (for putting up with our little darlings every day), neighbors who water our flowers while we're out of town, or the UPS driver who delivers countless Amazon boxes to our door during the holidays.
So why not show your gratitude for someone special with a tasty treat?
I absolutely love giving mini bundt cakes as gifts, and these free printable bundt cake tags make it super easy to gift one to someone you care about! These adorable desserts look so fancy, and they're guaranteed to make someone's day.
I've created cute bundt cake teacher appreciation tags as well as several other options for you to choose from. After all, there are so many people out there who deserve a special "thank you" for all they do!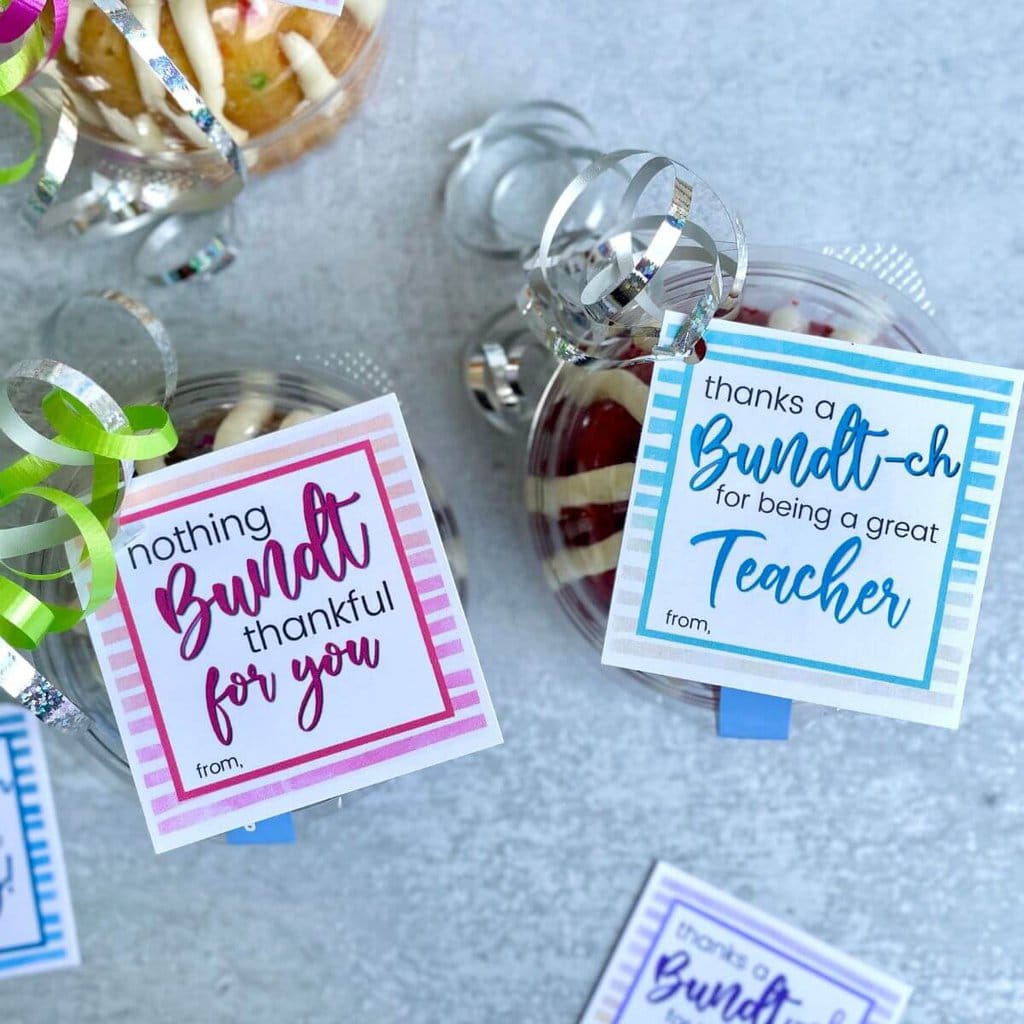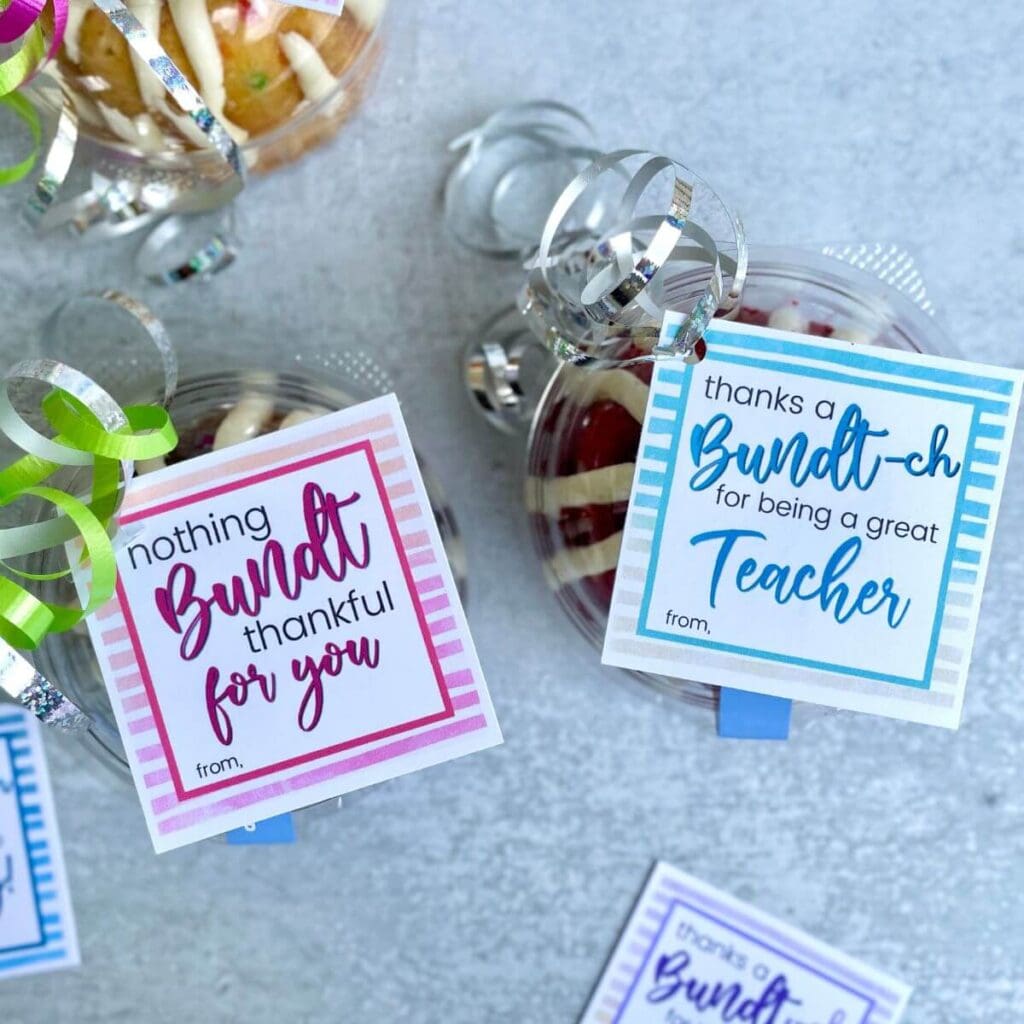 *This post contains affiliate links, which means if you click a link and make a purchase, I earn a commission at no additional cost to you. Read my full terms of use for more info.
Why Mini Bundt Cakes Make the Perfect Gifts
I've been giving my kids' teachers Nothing Bundt Cakes gifts for the last several years, and they're always a huge hit! Here's why I love giving them as small gifts:
Pre-Packaged. These adorable bundt cakes come perfectly packaged in a cute clear plastic container. You just have to add some ribbon and a tag!
Super tasty. Nothing Bundt Cakes are moist, delicious, and are available in a variety of delicious flavors! Choose from fan favorites like chocolate chocolate chip, red velvet, white chocolate raspberry, snickerdoodle, and more!
Inexpensive. Each bundt cake costs about $5-6 depending on where you're ordering from, so you can get a "bundt-ch" of them if your kids have multiple teachers.
Stackable. You can also buy double or triple "Bundtlet Towers" to give as a larger gift! Or, just stack two cakes together yourself, tie some curling ribbon around them, and attach a printable Thanks a Bundtch gift tag like I did here: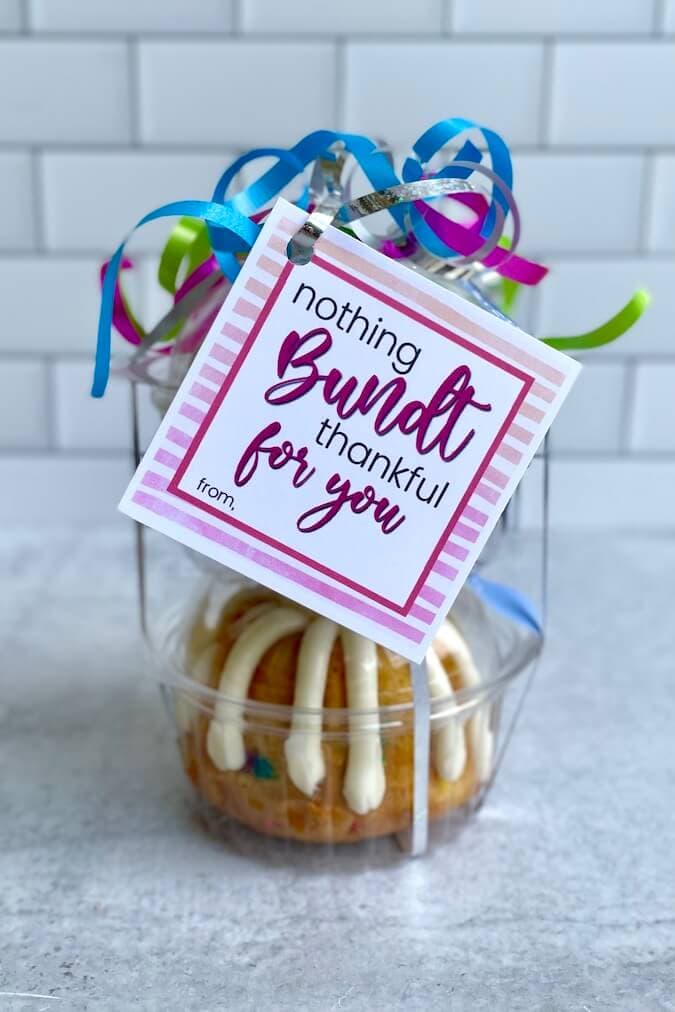 Ideas for Giving Bundt Cake Gifts
These cute printable bundt cake gift tags are perfect for a wide variety of inexpensive gifts! Here are some ideas for how to use the tags:
End of year bus driver gifts
Mailman gifts during holidays
Teacher appreciation gifts
Administrative staff appreciation gifts
"Just because" gift if someone you know is having a bad day
Get Well Soon gift
Cute birthday party favors
Baby shower favors
Retirement gifts
Gifts for neighbors and coworkers during the holidays – or just because!
Cute dessert idea for tailgate parties
Wedding favors to thank guests for coming
I've included so many different varieties of free printable bundt cake tags for you down below, so you're sure to find one that works for your special occasion! Here are the tags that are included in the printable PDF:
"Thanks a Bundt-ch for being a great teacher"
"Thanks a Bundt-ch for being a great neighbor"
"Thanks a Bundt-ch for being a great bus driver"
"Nothing Bundt thankful for you"
"Thanks a Bundt-ch for coming to my party"
"Thanks a Bundt-ch for coming to my shower"
"Sending a Bundt-ch of good vibes"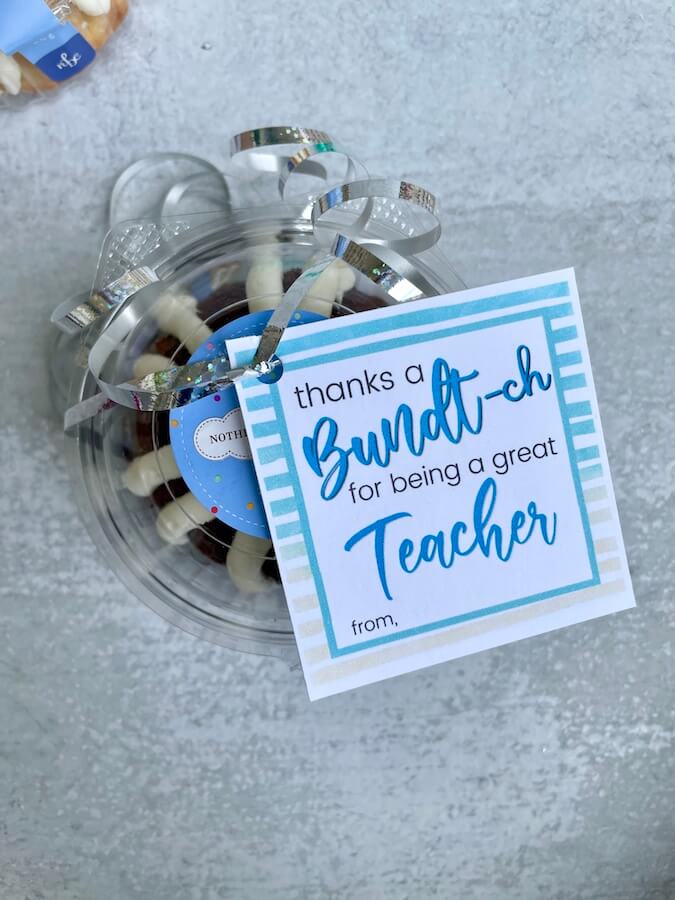 Where to Find Mini Bundt Cakes for Gifts
If you love the idea of gifting mini bundt cakes to a special person, here are a few options:
Nothing Bundt Cakes – Bakeries are located nationwide.
Local Bakeries – You can find mini bundt cakes at certain grocery stores in the bakery section or try other local bakeries.
Make your own – If you can't find a place to purchase them, why not make your own? This mini bundt cake pan makes 6 cakes at a time, and you can put them in individual cupcake-sized boxes.
Supplies for Printable Bundt Cake Gift Tags
These cute bundt cake gifts are super easy to make with just a few basic supplies. Here's what you need: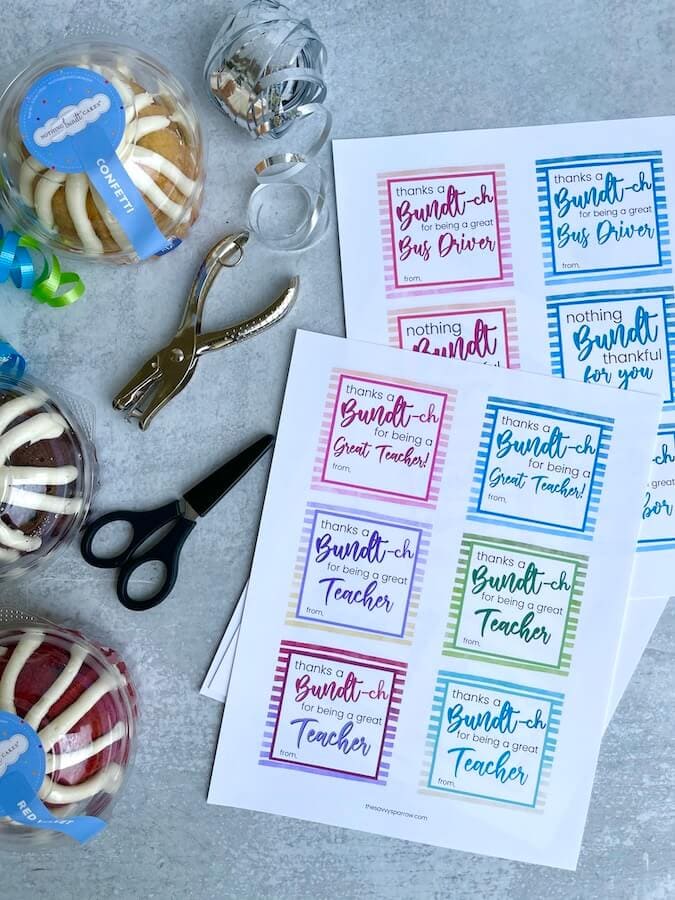 Printable Bundt Cake Gift Tags for teachers – or select from other available options!
bundt cakes
printer
white card stock
scissors or a paper trimmer – This is the paper trimmer that I use and LOVE!
hole punch
ribbon
How to Use the Printable Bundt Cake Gift Tags
These adorable gifts are quick and easy to assemble, which is great if you have several to make!
Print the gift tags on white card stock.
Cut the tags out around the border using scissors or a paper trimmer. I like to use a paper trimmer for gift tags because they look neater and more professional.
Hole punch the upper corner of each gift tag.
Thread the ribbon through the hole of the tag and tie it around the bundt cake container. I suggest securing the ribbon with a piece of scotch tape.
Use scissors to curl the ribbon if you want to add a fancy touch.
Voila! Your adorable bundt cake appreciation gifts are done! Give yourself a pat on the back because you're about to make someone's day a little better!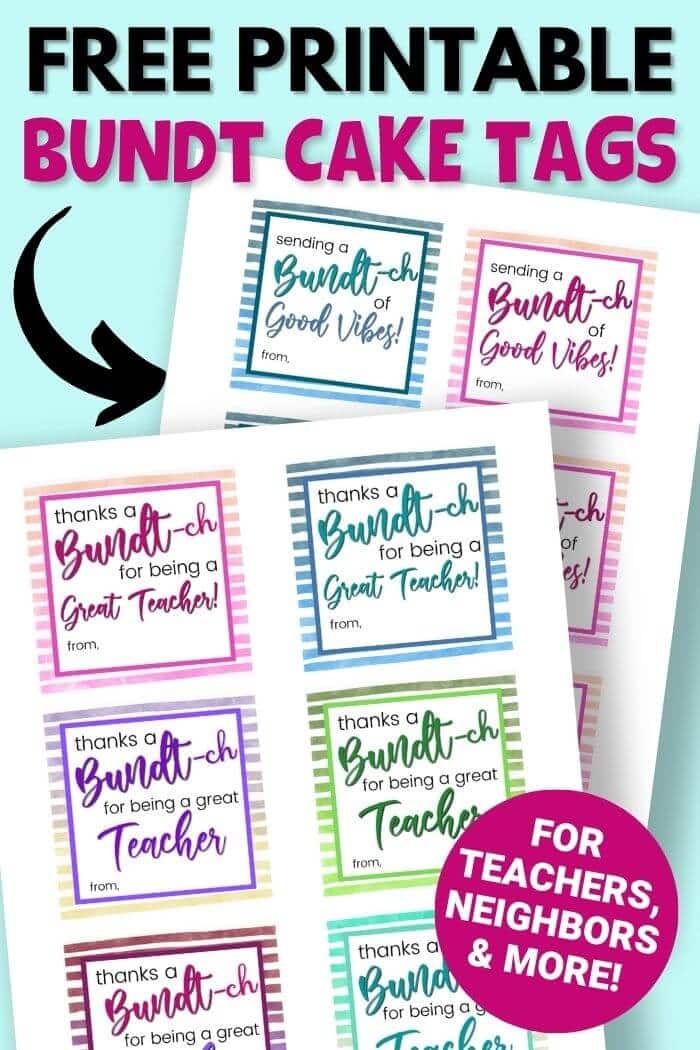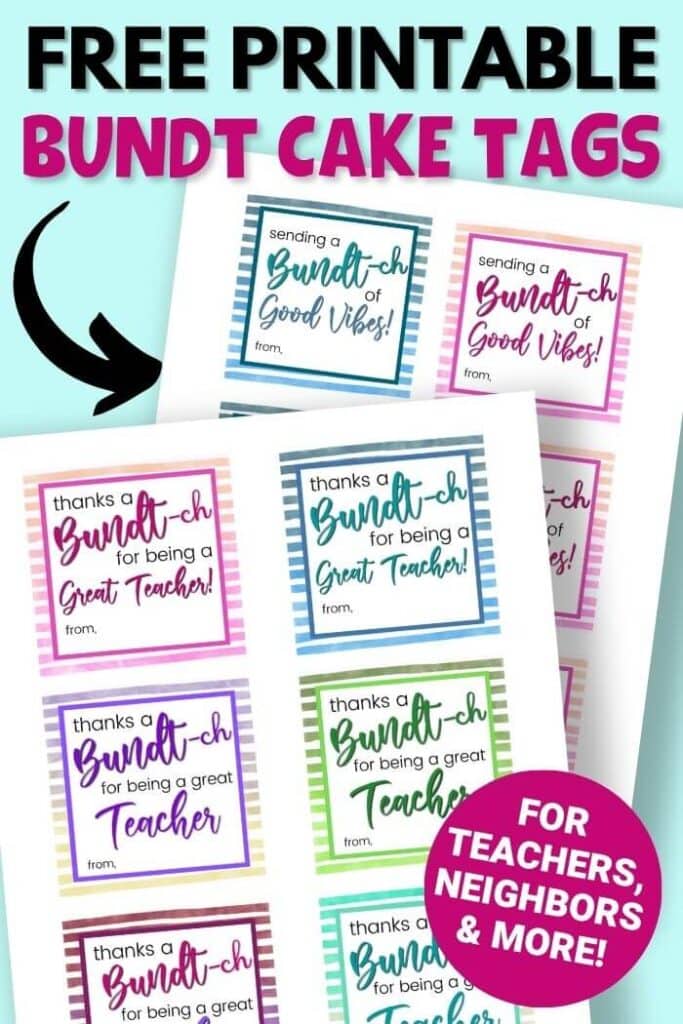 Free Printable Bundt Cake Tags
Ready to make your own teacher appreciation gifts? Grab your printable gift tags by clicking the link below! Your free downloadable file comes with several different gift tag options for teachers, bus drivers, neighbors, and more!
Printable Bundt Cake Gift Tags PDF – CLICK HERE
Other Printable Gift Tags
Are you looking for more printable gift tags and teacher appreciation gift ideas? Check out these posts: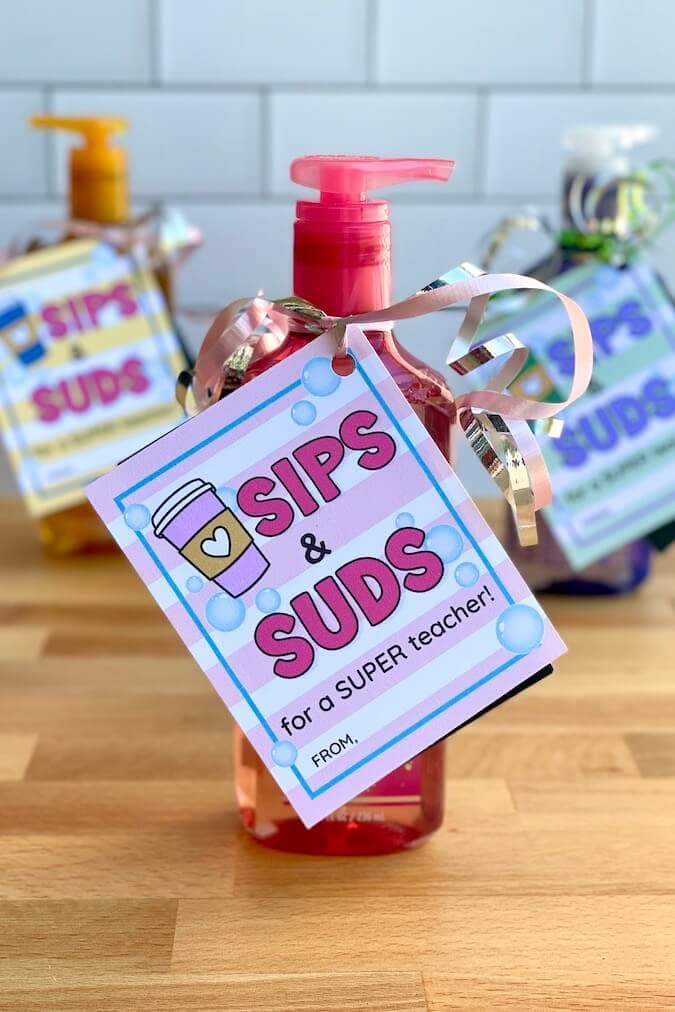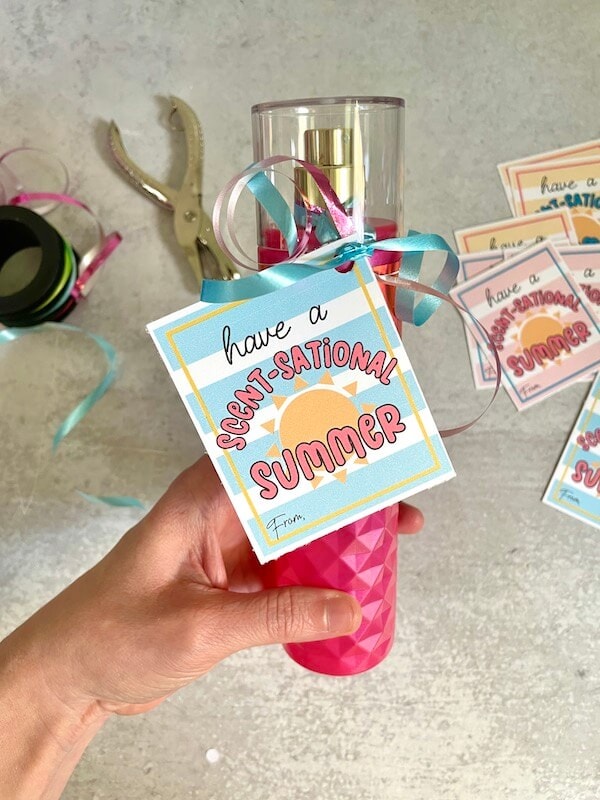 Hope you all LOVE these free printable gift tags for Nothing Bundt Cakes! If you've ever had one of these tasty treats from the bundt cake bakery, then you know that your gift recipient will LOVE them for sure!
And don't forget to PIN this post for later: