Are you working on making your Thanksgiving shopping list? Read this for tons of items to add to your grocery list and grab some cute free printable Thanksgiving shopping list templates!
Shopping for Thanksgiving dinner should be an Olympic sport. Between shuffling around a gazillion frozen turkeys to find the biggest bird to dodging fellow shoppers in the crowded aisles, Thanksgiving grocery shopping can be down-right exhausting.
Especially considering that many of the key dinner ingredients are perishable and need to be purchased closer to the Thanksgiving holiday, when everyone else is shopping too.
So the best way to avoid a meltdown in aisle 12 is to be prepared. And that means having a detailed Thanksgiving grocery list and meal plan ready before you walk through the door of the grocery store.
If you need help prepping for your Thanksgiving hosting duties, then I've got you covered! Use these free printable Thanksgiving shopping lists to make the dinner prep a little less stressful!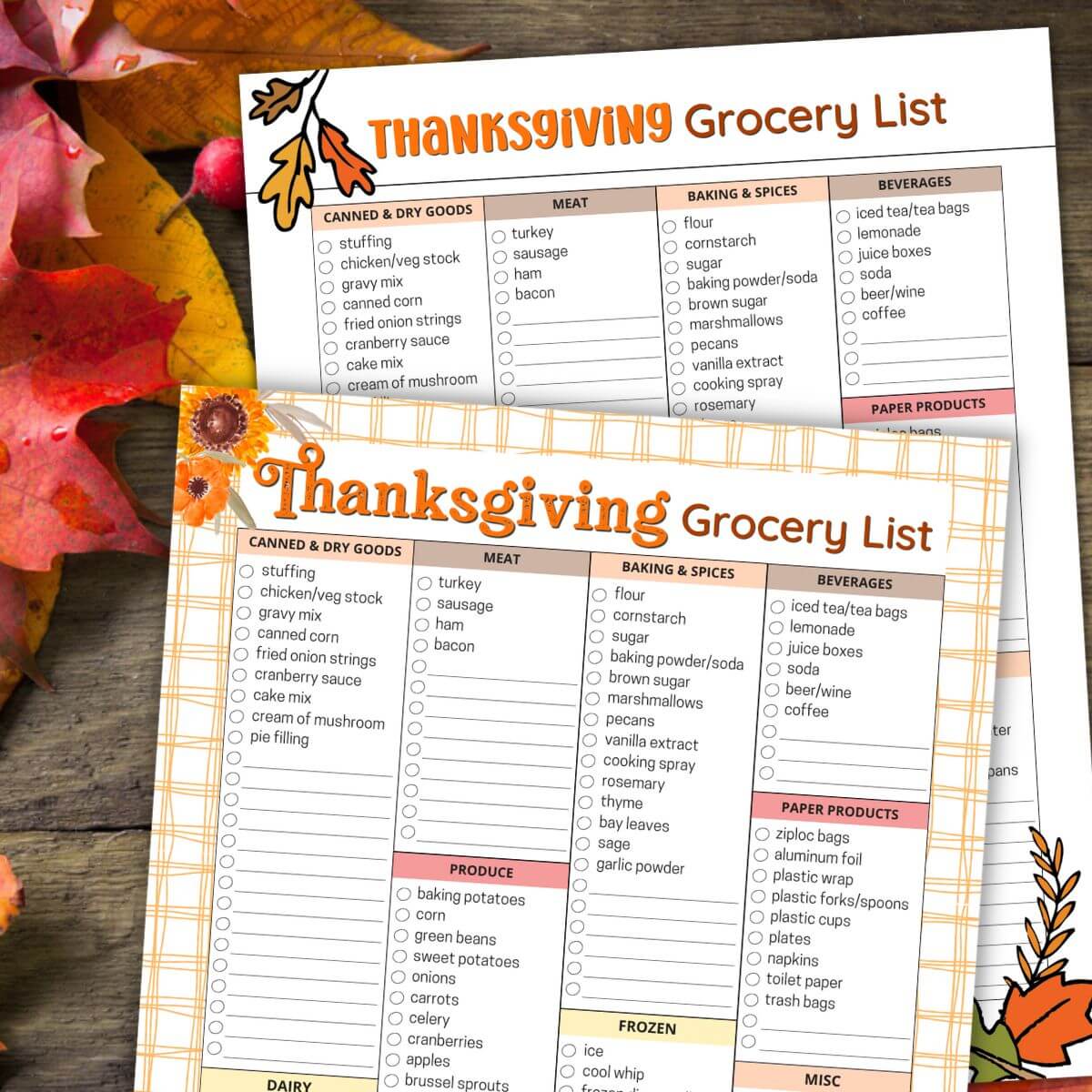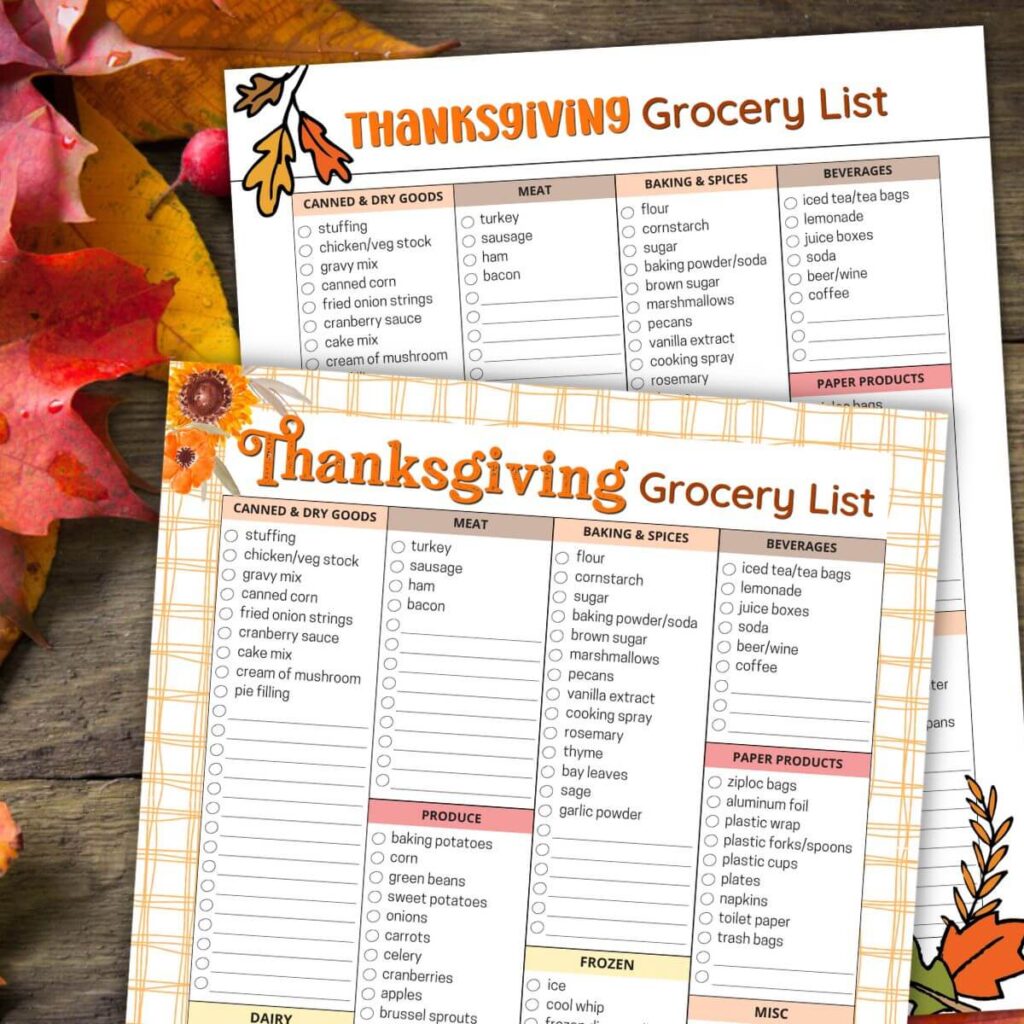 *This post contains affiliate links, which means if you click a link and make a purchase, I earn a commission at no additional cost to you. Read my full terms of use for more info.
How to Write Out Your Thanksgiving Shopping List
Planning to host Thanksgiving dinner at your home can be quite the chore… Take it from me – a few years ago we hosted dinner for 35 guests! Here's how I recommend that you create your Thanksgiving grocery list:
Decide if you will do a potluck style dinner or if you will cook the full meal. You can also ask your guests to bring drinks, ice, appetizers, or desserts to make things a bit easier on you. Our family always does a potluck-style Thanksgiving and everyone chips in by bringing a different dish. *If you're doing a potluck dinner, then figure out what each family is bringing so there aren't any duplicates.
Create your Thanksgiving dinner menu. You can write down your menu on a simple sheet of notebook paper.
Plan what parts of the meal you are responsible for (if you're doing a potluck).
Write the name of each dish/recipe down on a scratch sheet of paper.
Underneath each dish/recipe, write down the ingredients and amounts that you need for that particular dish. So for instance, if you need 2 cups of milk for your mashed potatoes, write down "2 cups milk".
When all of the recipes have been written down, add the ingredients to the printable Thanksgiving shopping list template.
Tally up the total amount needed for each ingredient, and write the amount needed next to each ingredient. So if you need 2 cups of milk for the potatoes, 1 cup for the gravy, and 1/2 cup for the creamed corn, then write 3 1/2 cups next to milk. This ensures that you don't run out of a particular ingredient if it's needed for multiple recipes.
Double check your shopping list to make sure that everything is correct and you're not missing any ingredients.
Then you're ready to brave the grocery stores armed with a well-organized and detailed printable Thanksgiving shopping list!
*And don't forget about the Thanksgiving dinner entertainment! This printable Thanksgiving Scattergories game is an awesome after-dinner activity for adults!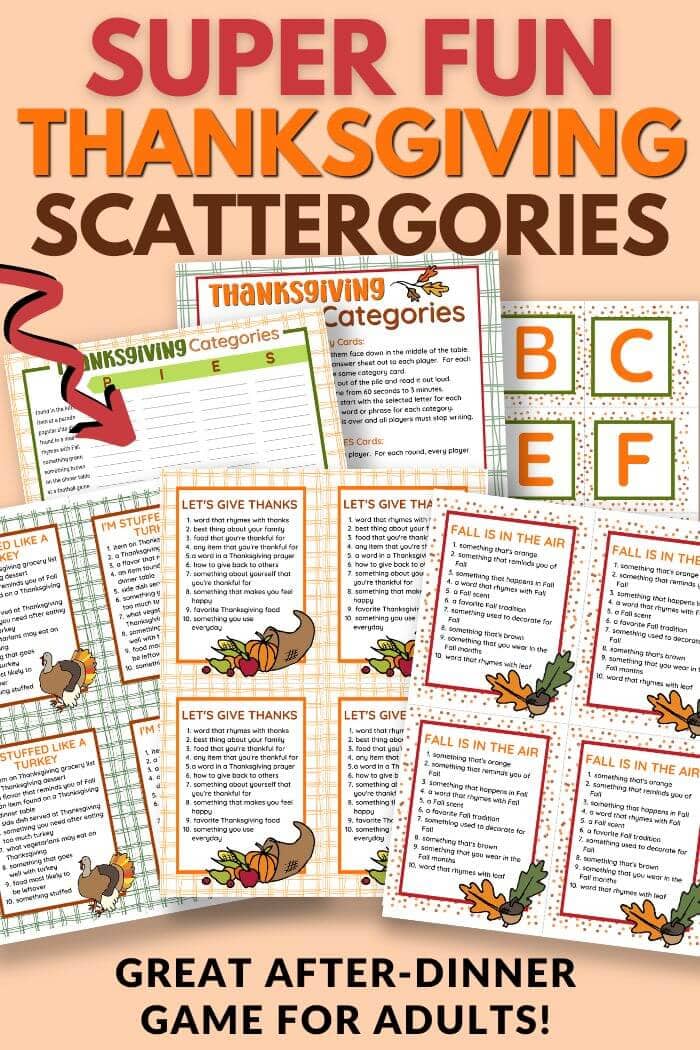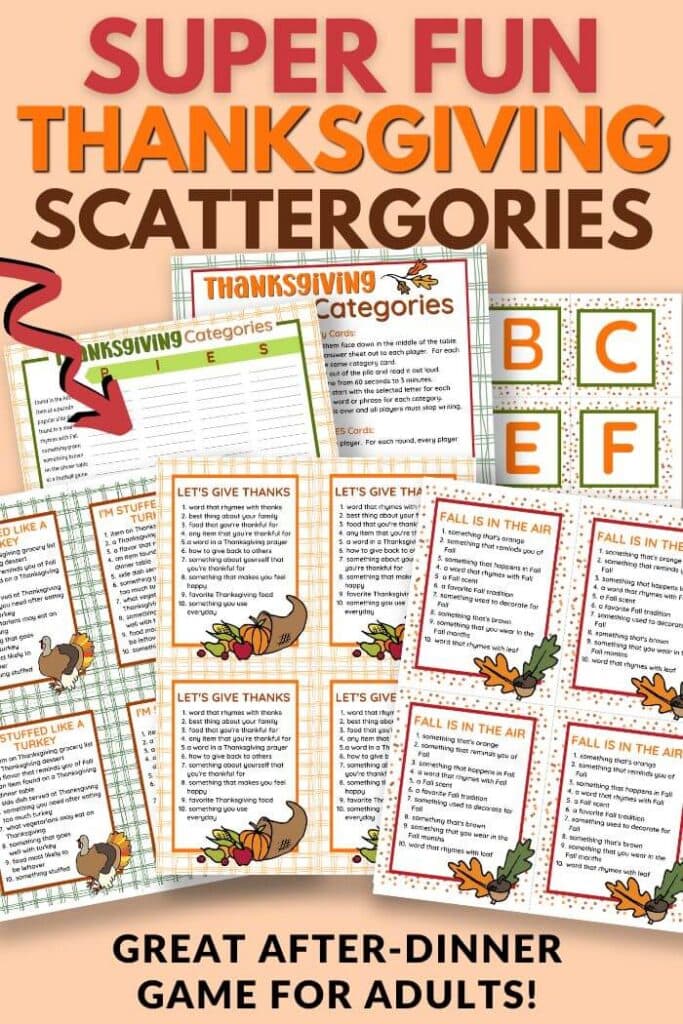 What Should Be on a Thanksgiving Grocery List?
Starting from scratch to make your Thanksgiving shopping list can be kind of intimidating. But here are some suggestions for what to include on your printable Thanksgiving grocery list so you have less chance of forgetting important ingredients:
Meat
Depending on what types of meats you'll be serving at your Thanksgiving dinner, your grocery list may include:
Whole turkey or turkey breast
Ground sausage or breakfast sausage – Many Thanksgiving recipes like stuffing and sausage balls call for ground sausage.
Spiral-sliced ham – Our family always serves both turkey and ham for Thanksgiving dinner.
Bacon – Sometimes used for certain Thanksgiving recipes like green beans.
Produce
The produce section of the grocery store is where you'll find many of the ingredients for your Thanksgiving side dishes or fruit-based desserts. Here are some of the most common fruits and vegetables for your Thanksgiving shopping list:
Potatoes
Corn
Green beans
Sweet potatoes
Onions – Used for stuffing (or dressing depending on what area of the country you're from) and a whole host of other side dishes.
Carrots – These can be used as a stand-alone side dish or added to the stuffing.
Celery – Often used in the Thanksgiving stuffing.
Cranberries – If you're making homemade cranberry sauce, cranberry punch, etc.
Apples – For apple pie or other desserts.
Brussel sprouts
Squash – This low-carb squash casserole is one of my favorite Thanksgiving side dishes!
Mushrooms
*Need even more help planning for Thanksgiving? Check out my ultimate Thanksgiving countdown here and grab this free printable checklist: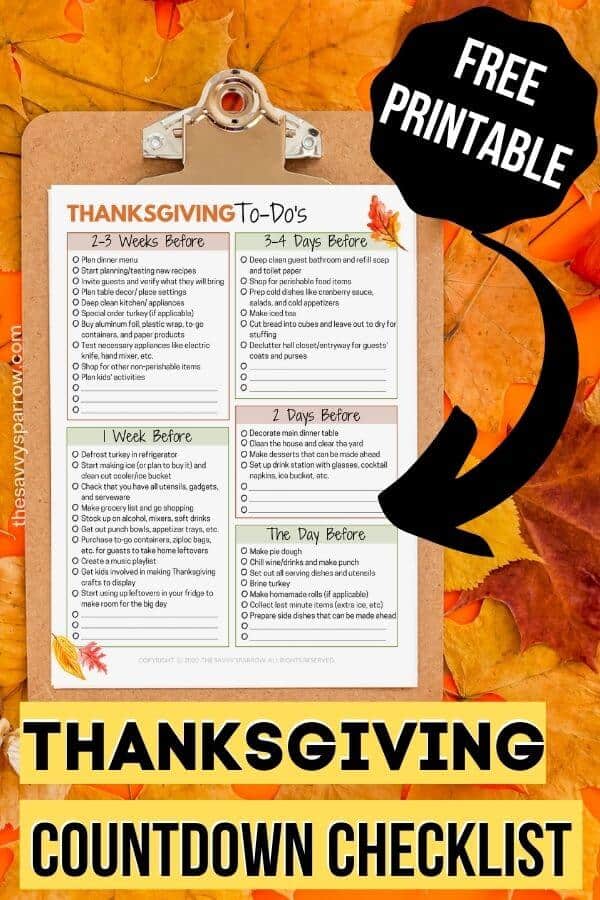 Dairy
From the milk or cream for the mashed potatoes to the eggs for your homemade desserts, you can't have a Thanksgiving grocery list without dairy. Here are some of the most common dairy ingredients for your shopping list:
Milk or cream
Sour cream
Butter – I recommend purchasing at least two 1 lb. boxes of butter, because most recipes call for this staple ingredient. Also, if you're serving dinner rolls or any type of bread with your meal, you'll want to have butter on the table.
Eggs
Cheeses – From shredded cheddar cheese to blocks of cream cheese, depending on what recipes you are making.
Baking Ingredients
Flour
Cornstarch – This can be used as a thickening agent for your gravy or other savory sauces.
Sugar
Baking powder and baking soda – If you're going to be baking any breads or cakes from scratch, you'll need these ingredients. I also recommend that you purchase them fresh for the big holiday meal. If these baking staples are older, then your baked goods may not rise properly.
Brown sugar – If you'll be making any type of sweet potato dish, you'll probably need to add this to your Thanksgiving shopping list.
Marshmallows – A common ingredient for sweet potato casseroles.
Pecans – Either chopped or whole pecans based on what dishes you need them for, like pecan pie or as a topping for sweet potato casserole.
Vanilla extract – A lot of your Thanksgiving dessert recipes probably call for vanilla extract.
Cooking spray – Great for spraying your baking dishes so that food doesn't stick to the pan.
Spices and Herbs
If you're in charge of preparing the turkey and stuffing this year, then you'll probably need to include some fresh or dried herbs and spices on your Thanksgiving shopping list template. Here are some common ones for the big holiday dinner:
Rosemary
Thyme
Bay leaves
Sage – You can usually find a "Poultry blend" of fresh herbs that are perfect for Thanksgiving turkey.
Garlic powder or fresh garlic
Salt and pepper – Be sure that you have full salt and pepper shakers on the dinner table as well.
Dessert-based baking spices – Like cinnamon, nutmeg, pumpkin pie spice, or all spice… depending on what types of desserts or side dishes you're making.
Canned and Dry Goods
Stuffing – The ingredients could vary based on what type of stuffing (or dressing) that you're serving. You may need either pre-packaged stuffing mix or fresh bread to dry on the counter to make your own stuffing.
Canned fruits or vegetables – Canned green beans, canned corn, and canned cranberry sauce are all common canned ingredients for Thanksgiving dinner.
Canned pumpkin or fruit pie filling
Chicken or vegetable stock – A must for gravy, stuffing, or for adding moisture and flavor to a wide variety of dishes.
Cake mix – If you're making a cake or dump cake for dessert.
Canned cream-based soups – Like Cream of Mushroom soup for your green bean casserole.
Gravy mix or jarred gravy
Fried onion straws – If you're using them for your green bean casserole.
Frozen Items
Ice
Cool Whip – If you're making whipped topping-based desserts or you want to serve your pumpkin pie with Cool Whip.
Frozen dinner rolls
Pie crusts
Whole pies – There's no shame in purchasing frozen pies and just popping them in the oven to make your Thanksgiving cooking duties a little bit easier!
Beverages
Iced tea (premade gallons or tea bags) – Plan to serve both sweet and unsweet tea.
Lemonade
Soda
Juice boxes – Great to have on hand if you're hosting families with children.
Coffee
Wine or beer
Paper Products
Aluminum foil
Plastic wrap
Paper napkins
Disposable plates – Our family gatherings are more casual, so I'm not afraid to serve dinner with paper plates. However, be sure to get good sturdy plates if you're going the disposable, no clean-up route. I exclusively use the large Chinet platters for big dinners, but you can also find some really nice hard disposable plastic plates at the big box retail stores that look and feel more like regular dishes.
Paper towels
Toilet paper – Seems odd for a Thanksgiving shopping list, I know, but you don't want to have a house full of guests and run out of TP!
Take-out containers – Having disposable containers for guests to take home leftovers is a nice touch if you're hosting Thanksgiving dinner! I bought these meal prep containers a few years ago and encouraged my Thanksgiving guests to make "plates" to take home… they were a huge hit!
Quart and gallon sized Ziploc bags – These are great to have on hand for leftovers like turkey, ham, corn on the cob, or dinner rolls.
Trash bags – If you're using paper plates and cups, you'll want to make sure that you have plenty of trash bags on hand.
Kitchen Utensils and Supplies
Butcher's twine – You can use this to tie up the legs of the turkey so that the bird is picture-perfect when it comes out of the oven.
Roasting pan – Make sure to have a heavy duty roasting pan for the turkey.
Disposable aluminum foil pans – These steam pan styles are great for preparing side dishes for easy clean up.
Meat thermometer – A must to check if your turkey is done! My husband is a chef and this instant read probe thermometer is on his kitchen must-haves list!
Coffee filters or individual tea bags – If you're going to be serving after-dinner coffee or tea.
*If you love these printable Thanksgiving shopping list templates, then be sure to check out this post for how to make a master grocery list to use year-round!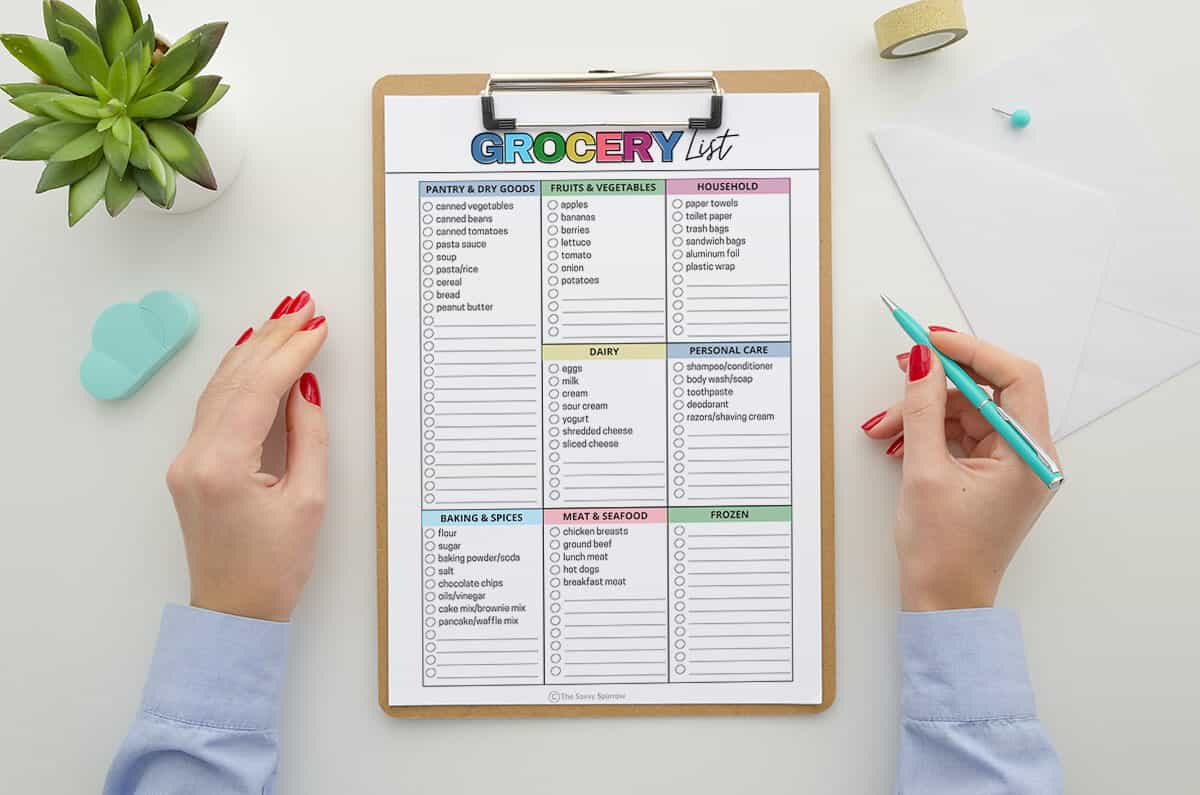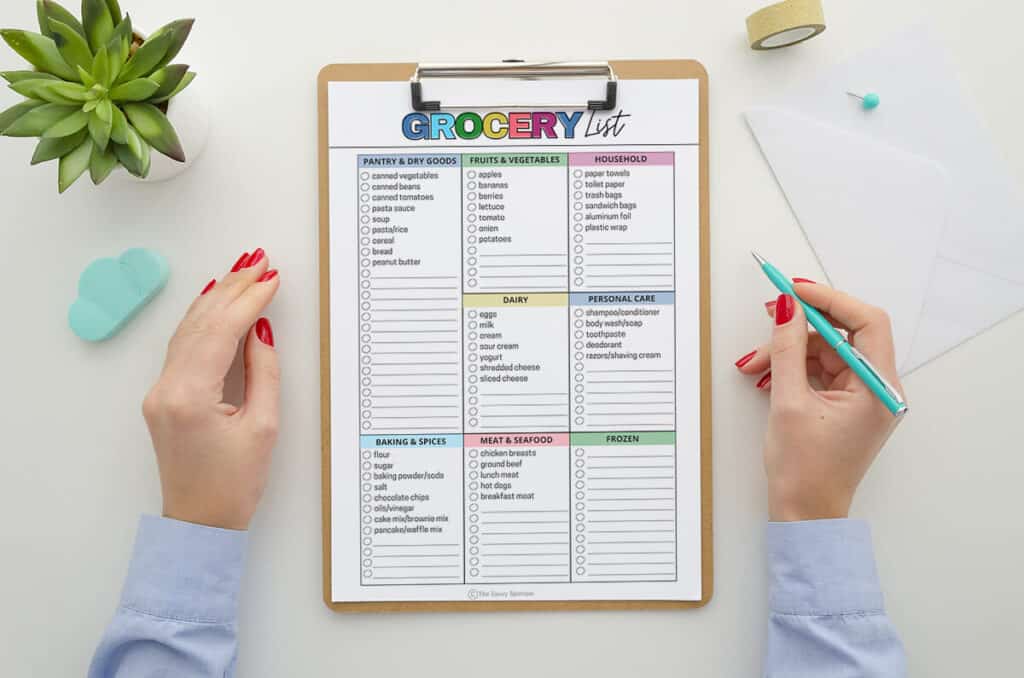 Tips for Thanksgiving Grocery Shopping
Once you've made your Thanksgiving shopping list out, you're already one step ahead! Here are some other tips for conquering your Thanksgiving grocery list:
Leave the kids at home.
Trust me, Thanksgiving grocery shopping is not the time to be wrangling your kids in the store and trying to fend off the unwanted boxes of Lucky Charms that magically make their way into your buggy. You'll be busy enough just trying to make sure that you don't forget anything on your list, so the last thing you need is to worry about your toddlers or younger kids as well.
It's best to conquer the Thanksgiving shopping alone when you can focus completely on the task at hand.
Buy the turkey in advance to allow time for thawing.
If you purchase a 20 pound frozen turkey the day before Thanksgiving, you might be serving pizza instead! A frozen turkey takes about 24 hours to thaw per 5 pounds in the fridge, so be sure to buy the turkey well in advance to allow time for it to fully defrost.
Purchase extra essential or "staple" ingredients.
Things like butter or cream are frequently used in Thanksgiving side dishes and desserts, so it might be a good idea to have extras of those staples on hand so you don't have to make a last-minute trip to the grocery store.
Purchase dry goods and non-perishables a few weeks before Thanksgiving.
Many of the items on your printable Thanksgiving grocery list are shelf-stable or frozen, so do yourself a favor and break up your Thanksgiving shopping into multiple trips. You can purchase non-perishable items like canned corn and stuffing mix a few weeks before the big holiday to avoid some of the crowds and make the grocery shopping more manageable.
Take advantage of turkey sales.
Preparing a full Thanksgiving meal on your own can be rough on your wallet! So take advantage of all of the sales possible.
Many grocery stores offer discounted prices on turkeys if you spend a certain amount of money in the same transaction. For instance, my local Kroger grocery stores offer a discount of 30 cents per pound on the turkey when you buy $25 of groceries at the same time. If you're buying a 20 pound turkey, that's a $6 discount on your bird! And when you're preparing a 32 course dinner (or what seems like a 32 course dinner!), every dollar counts!
Free Printable Thanksgiving Shopping List Templates
Ready to make your own Thanksgiving grocery list to get ready for the big meal? You can use the free printable Thanksgiving shopping list templates down below!
Just click on the dark teal links below the printable grocery lists that you want to download, and a new window will open up in Dropbox. From there, you can look for the "Download" icon to download the PDF to your device and print it out!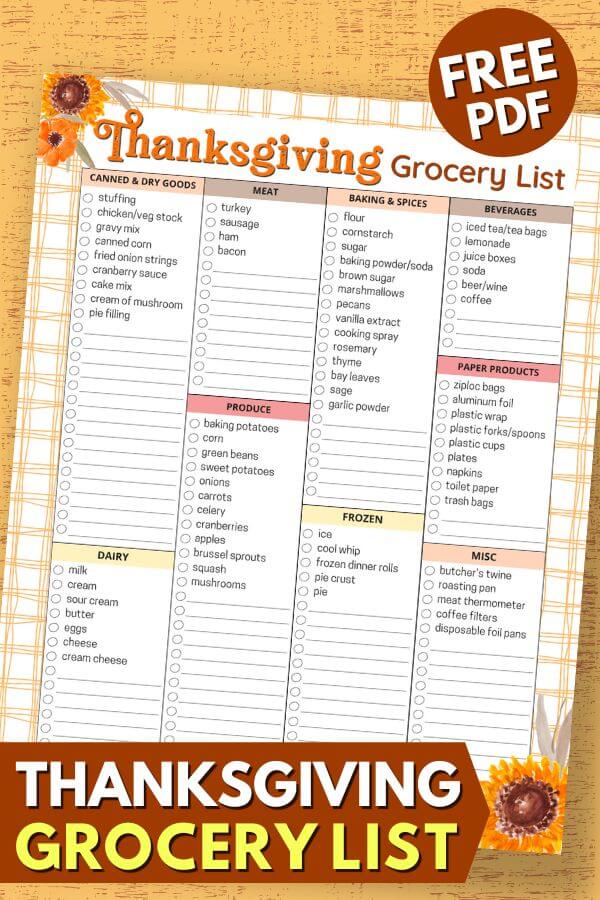 Printable Thanksgiving Grocery List (Pre-filled with Sunflowers)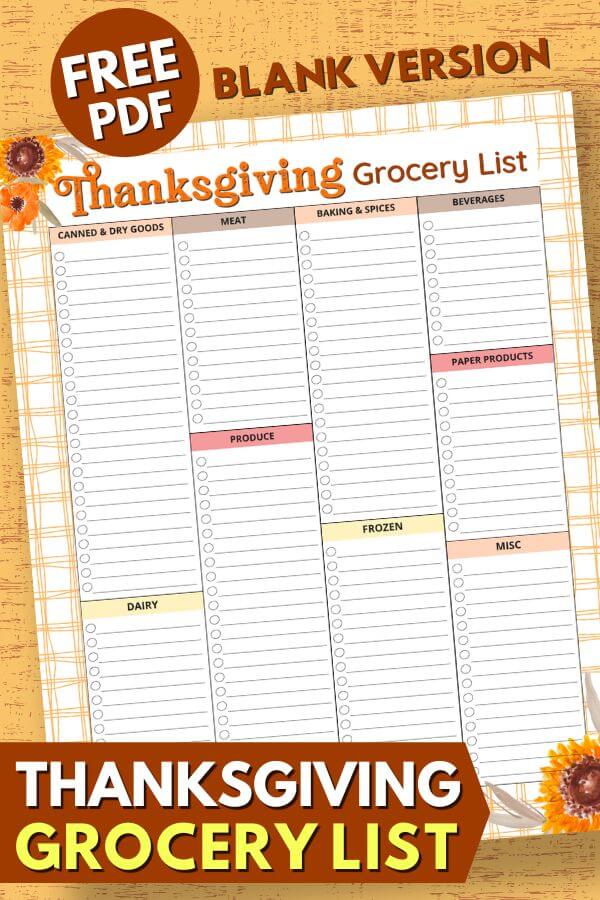 Blank Plaid Thanksgiving Grocery List Template PDF
Pre-filled Thanksgiving Shopping List with Fall Leaves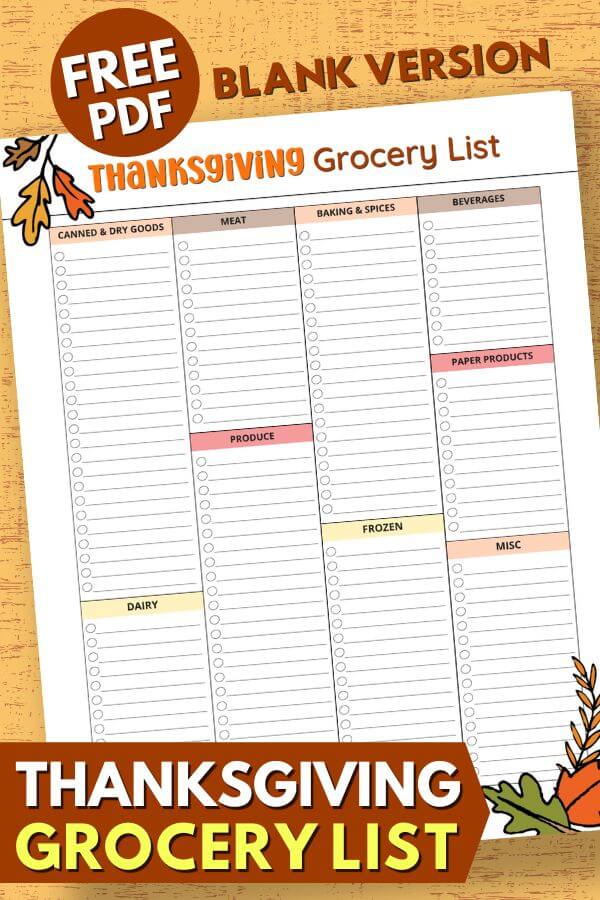 Free Printable Blank Thanksgiving Shopping List
I hope these free printable Thanksgiving shopping lists help you prepare for the big holiday dinner! Do you have any tips for Thanksgiving grocery shopping? If so, leave me a comment down below!
And check out some of these other Thanksgiving posts for even more ideas: