A master grocery list is a great way to reduce impulse purchases and ensure that you won't forget to buy certain ingredients at the store! Learn how to create a master grocery list, and grab a printable shopping list template that you can edit yourself!
I don't know about you, but one of my least favorite household management tasks is grocery shopping. It seems like I'm always running to the store to pick up some important dinner ingredient that I forgot… And more than once I've even forgotten something that was on my list to start with, simply because my grocery list was unorganized.
Does that ever happen to you? Immediately after you get home from the grocery store and you're putting away your groceries you realize that you forgot something that you really needed? It's the worst, right?!
So I created this printable grocery list template to help us both! (Bonus: It matches my super cute FREE printable meal planner worksheets!). Here's everything you need to know about creating a master grocery list:
What is a Master Grocery List?
A master grocery list is pretty much exactly what it sounds like… a list of food and household items that you frequently buy with space to write down additional items that you may need. Think of it as a head start on making your grocery list, because instead of taking time to write everything down from scratch, your list already contains things that are staples for your family.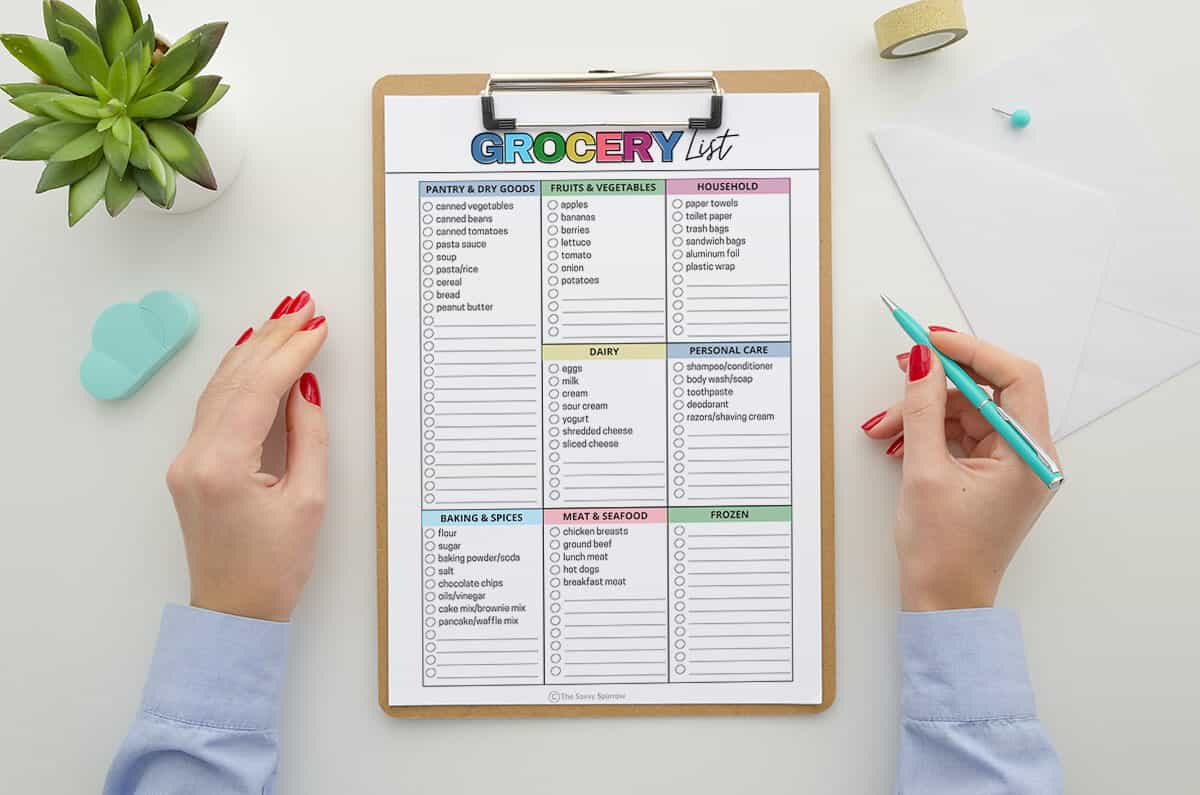 *This post contains affiliate links, which means if you click a link and make a purchase, I earn a commission at no additional cost to you.
Why You Need a Master Grocery List
To Reduce Impulse Purchases
How many times do you go to the grocery store without a list and end up with 10 things that you didn't need in your cart? If you have kids, it's probably every. single. time.
But shopping from a list, and ONLY buying those things on the list that you need, can help you save money by reducing the number of impulse items that you buy. My husband and I challenged ourselves to only shop from a grocery list a few months back, and our grocery expense went down by a whopping 20% that month!
To Save Time and Make Shopping Easier
There's nothing worse than spending an hour grocery shopping only to get home and realize that you forgot to buy a key ingredient for that night's dinner… so you have to spend another half hour going back to the store to pick it up or rifle through your pantry to find a substitute.
But a master grocery list can save you time by reducing the number of trips you have to make to the store! And, since you have an already-done-for-you grocery list, you won't have to spend time each week writing one out from scratch.
Also, you can create your own master grocery list to match the layout of your grocery store, making grocery shopping so much easier! For instance, if you come to the produce department first when you walk in the door and then the meat department, you can set up your grocery list with fruits and vegetables first and meat second, so you're not having to go through your entire list to find what you need from each department.
How to Create Your Own Master Shopping List
Creating your own master grocery list to refer to again and again is easy… just follow these steps:
1) Go through your pantry, refrigerator, and freezer and write down a list of staples.
Sometimes it's easiest to actually see what is in your fridge and pantry so that you don't forget anything. I suggest going through one shelf or drawer at a time and making a list of items in that area that are must-haves for your family. If there are items that you always have on hand, or family favorites like certain cereals or protein bars, add those to your list.
As you're going through your freezer, you may want to go ahead and do a freezer inventory of everything that you already have on hand. You can head here for this free printable freezer inventory sheet to help you!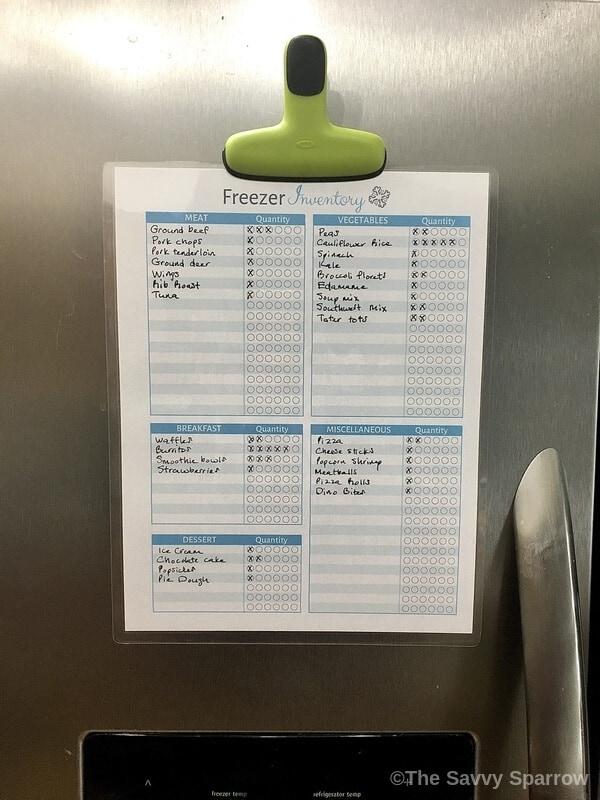 2) Organize your list into categories.
After you have a list of your grocery staples, it's time to separate it into categories. You can choose to organize your grocery list items into categories like:
canned and dry goods
baking supplies
herbs and spices
fruits and vegetables
dairy
meat and seafood
household products (paper products and cleaning products)
personal care items (like shampoo and toothpaste)
miscellaneous items (for things that don't fit into one of the other categories)
You can also organize your list according to your grocery store's layout to make shopping easy.
3) Transfer all of your grocery staples to a shopping list template.
After you have an organized list of food staples, it's time to transfer everything to an actual master grocery list template. I've got an awesome printable master grocery list template in my shop that you can use for this, or you can create your own. You'll find the link to my shopping list at the end of this post, along with instructions on how to type in it and edit the list to make it work for you!
4) Print multiple copies of your master grocery list or just one copy to laminate.
Once your shopping list is all ready, you have a few options for how to actually use it:
Print One Copy for Each Week
If you want to have a fresh grocery list to use every week, you can print multiple copies at once and store them in your home management binder or a kitchen drawer. Then, at the beginning of each week, you can add a new list to the front of your fridge or your family command center and add things to the list as the week goes on.
Then, when it's time to go to the grocery store your grocery list is already done for you! Just grab it off the fridge and head out to do your shopping!
Laminate Your Master Shopping List to Use Again and Again
If you're running low on printer ink (who isn't, right?!) you can also print just one copy of your list and laminate it. I have this laminator and I absolutely LOVE it! It's one of my favorite gadgets that I never knew I needed!
Then hang your laminated grocery list on the front of your fridge and add things to the list throughout the week. On the day that you do your grocery shopping, write down everything from your list on to a separate sheet of paper to take to the store with you. Or you could also use your cell phone to snap a photo of the list to reference when you're at the store.
Things to Include on Your Master Grocery List
Of course your master grocery list will be specific to your family's tastes and dietary restrictions, but here are some ideas of what to include on your list to get you started:
Canned and Dry Goods
canned vegetables -corn, green beans, peas, etc
canned tomatoes – We always have a variety of crushed and diced on hand for chili, spaghetti sauce, etc
pasta sauce
soups – including cream of mushroom, chicken broth, and other canned soups that are often used for cooking
canned beans – great to have on hand for chili, soups, or easy side dishes
dry pasta
macaroni 'n cheese
peanut butter
canned fruit
crackers, chips, cookies or other snack items
cereal or oatmeal
protein bars
canned tuna
Baking Ingredients
salt
white sugar
brown sugar
flour – all purpose, baking, cake, almond, etc.
corn starch
baking powder – Be sure that infrequently used baking items like this are in date to avoid ruining your homemade cakes!
baking soda
cocoa powder
dry cake or brownie mixes
pancake or waffle mix
chocolate chips
various nuts for baking
oils – vegetable, canola, olive, etc.
vinegars – apple cider, balsamic, red wine, white, etc.
vanilla extract
Herbs and Spices
Italian seasoning
chili powder
steak seasoning
all purpose seasoning
cinnamon
seasoned salt
pepper
paprika
dried herbs – dill, rosemary, oregano, thyme, basil, etc
Dairy
eggs
milk
coffee creamer
butter
yogurt
cheeses – shredded or sliced
cream cheese
sour cream
Meat and Seafood
chicken – breasts, thighs, legs, etc.
beef – ground beef, stew beef, steaks
pork – chops, roast, ribs, etc.
breakfast meat
lunch meat
shrimp
fish – salmon, tilapia, mahi, etc.
hot dogs
pepperoni/salami
pre-cooked meats
Fruits and Vegetables
apples
bananas
oranges
pineapple
watermelon
cantaloupe
berries – strawberries, blackberries, blueberries
broccoli
corn
potatoes
onion
tomatoes
avocado
cucumber
celery
carrots
lettuces
prepared salads
Frozen Items
frozen vegetables
frozen fruits
chicken nuggets
fried fish or shrimp
french fries or other frozen potatoes
frozen breakfast items – waffles, pancakes, biscuits, sausage, etc.
frozen entrees
ice cream
whipped topping
miscellaneous desserts
Household Items
paper towels
toilet paper
dish soap or dishwasher detergent
laundry detergent and dryer sheets
cleaning supplies – glass cleaner, bathroom cleaner, disinfectant spray, etc.
paper napkins
disposable plates or cups
trash bags
Ziploc bags
Personal Care Items
body wash or soap
shampoo and conditioner
face wash or makeup remover wipes
deodorant
oral hygiene items – toothpaste, mouthwash, floss picks, etc.
razors and shaving cream
other hair styling products
makeup products
Printable Grocery List Template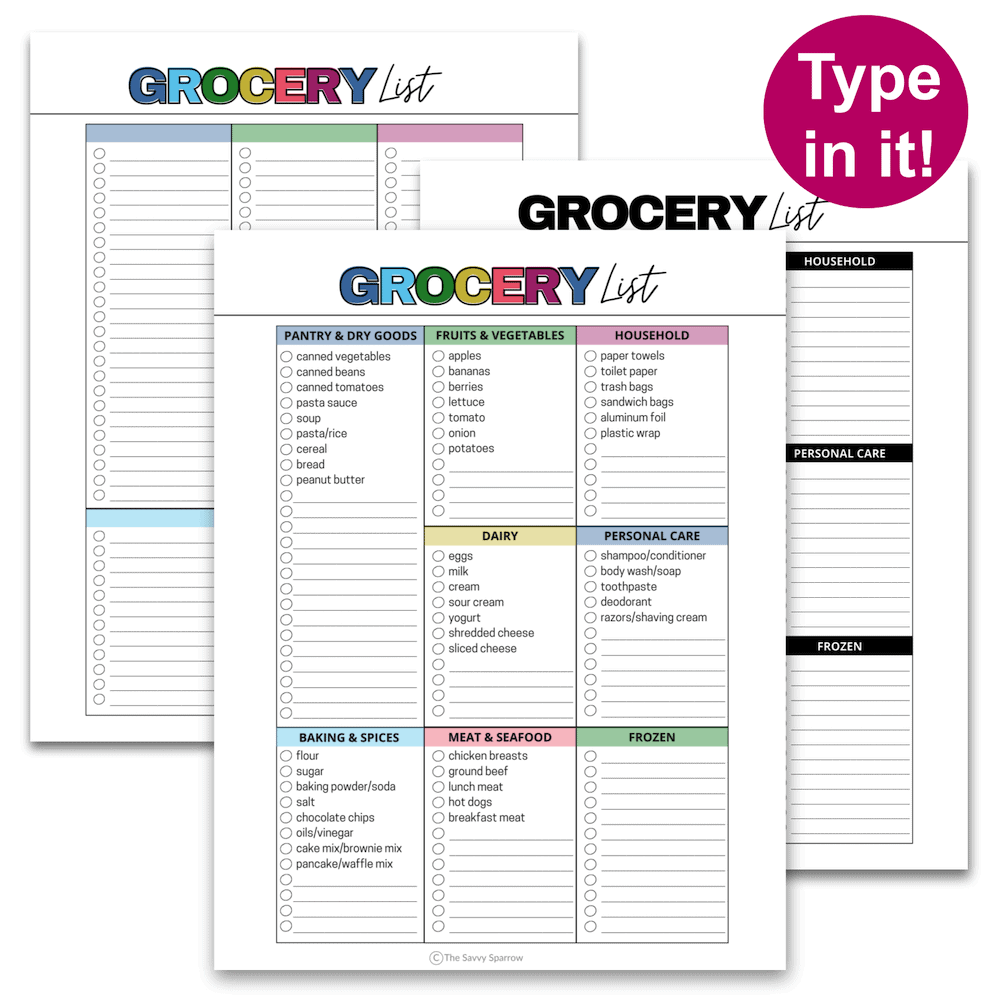 Want to grab my printable grocery list template? You can check it out in my shop HERE!
And did I mention that it's editable… meaning you can type your shopping list directly into the sheet, and you can even set the category names to best suit your needs! Or, of course, you can just print it out and write in your shopping list by hand.
*Note – You will need to have Adobe Acrobat Reader (you can download the free version online!) to type into the grocery list!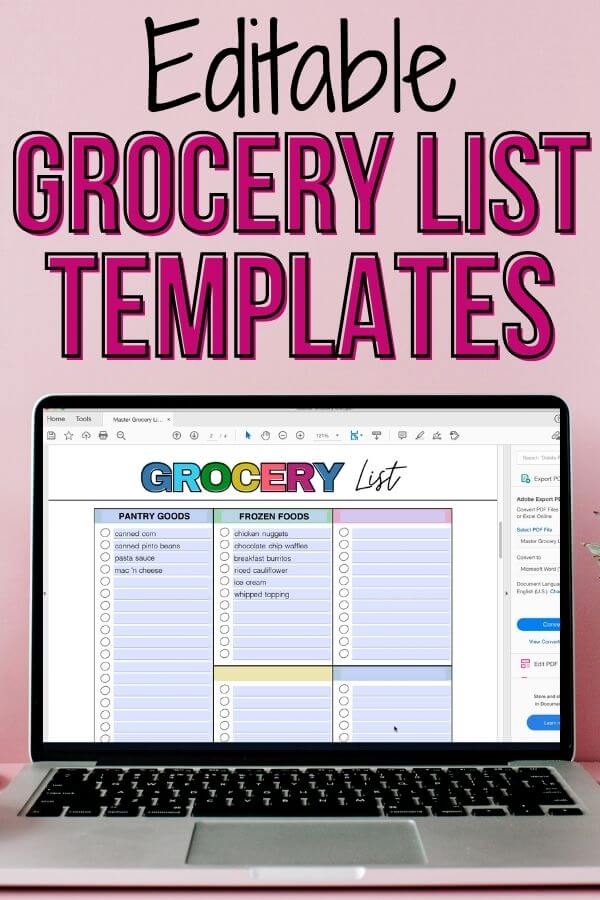 Here are the instructions for how to type into the editable grocery list:
Download Adobe Acrobat Reader on your computer (if you don't already have it). It's FREE to download online!
Open the Master Grocery List using Adobe Acrobat Reader.
Type your shopping list in to the document. You can even change the headings on the colored version!
Press "Save" so that your list saves to you computer.
Print out your cute shopping list!
Other FREE Meal Planning Printables
If you LOVED this printable master grocery list, then be sure to check out my other meal planning printables that match! These printable lists of meals for dinner and meal planner worksheets are completely FREE!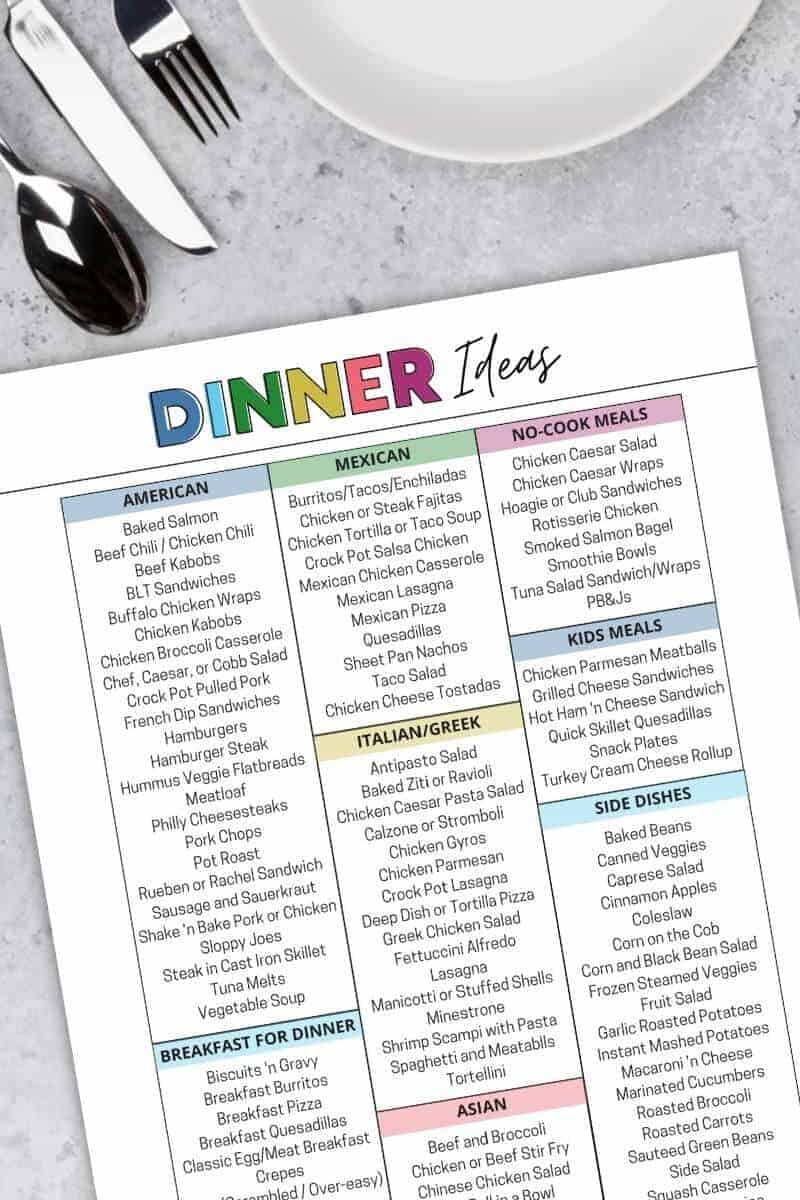 I hope you LOVE this cute grocery list as much as I do! What are some of the food staples that are ALWAYS on your list of things to buy? Leave me a comment down below! I'd LOVE to hear from you!
And happy nesting!