A Summer Photo Challenge is a great way for your teens to use their cell phones to be creative this summer, since you know they'll be glued to them anyway! Grab this free printable photo challenge for when your teens are bored this summer!
My daughter always has her cell phone with her. Even when she's doing her laundry, she's using her earbuds to talk on the phone with her friends at the same time. She touts it as "multi-tasking". I'm glad that she's social, and I'm SUPER happy that she has such a great group of friends… but sometimes I also want her to do something besides just chatting on the phone.
If that sounds familiar, then you may want to suggest this fun summer activity to your teens!
This Summer Photo Challenge is a Win Win (for you AND your tech-obsessed teenagers) because it gets them engaged in a creative activity, but it still uses their favorite thing – their cell phones! That's why I'm adding this super easy activity to my girls' Summer Bucket List!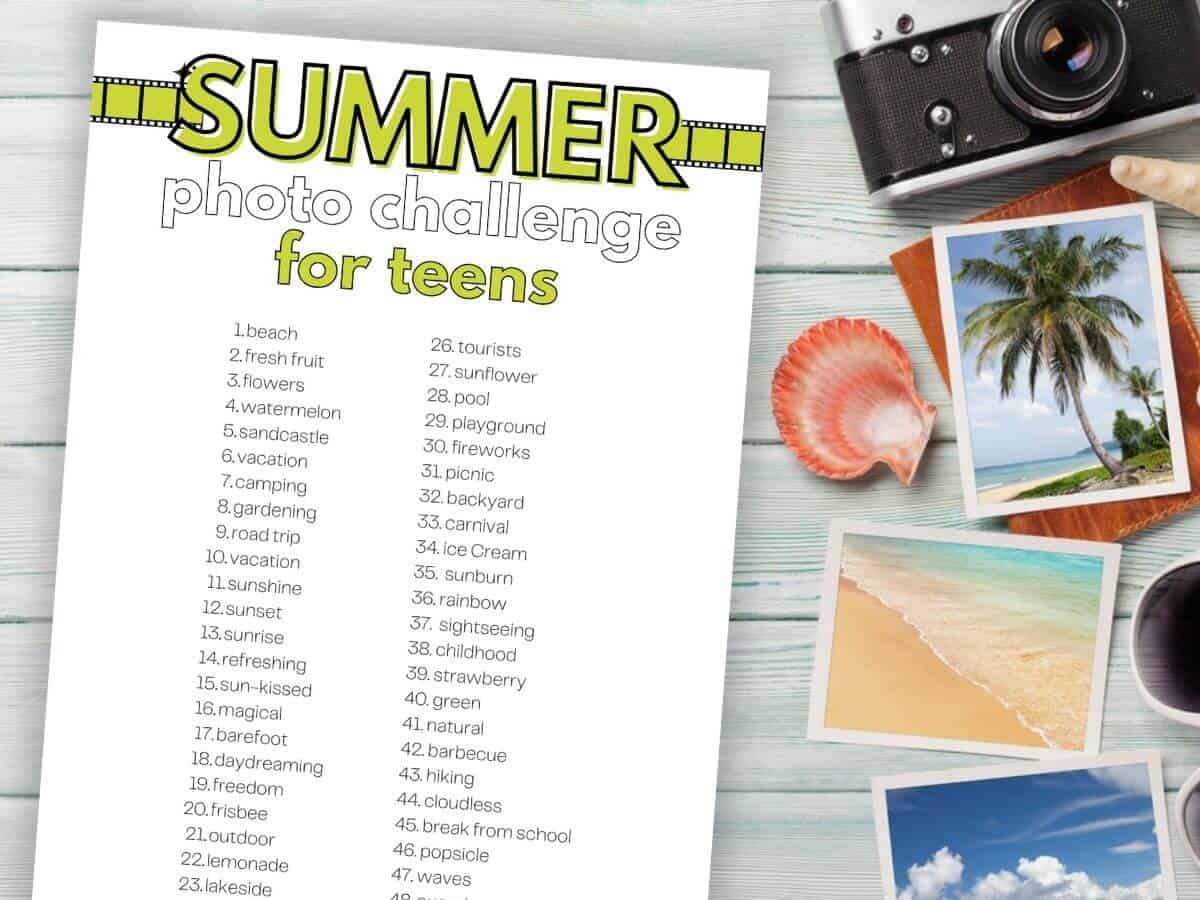 How to do a Summer Photo Challenge
Doing a photo challenge is easy for your teens, and they can easily make up their own challenge too! Here are the basics:
Print out the free printable summer photo challenge checklist full of awesome daily photo prompts. You can grab it at the end of this post!
If you don't want to use my photo checklist, then have your teens make their own list of photo prompts and write them down in a bullet journal or notebook. They could also write one idea down for each day on a monthly planner.
Have your teen use a cell phone or digital camera to snap a photo of whatever item is listed for that day. Or, if they don't want to go in order or they want to take multiple photos each day, then that works also!
At the end of the summer, your teen will have a bunch of creative photos to remind them of their summer break!
50 Summer Photo Challenge Ideas
Here are some ideas for your teen photo challenge… And encourage them to get think outside the box and get creative.
For instance, if you don't live near the beach, your teen can take a photo of a piece of artwork representing the beach, or even an artistic photo of a drink umbrella (like a beach umbrella). Don't see any crashing waves nearby? Take a photo of wavy hair or a group of friends waving to the camera!
beach
fresh fruit
flowers
watermelon
sandcastle
vacation
camping
gardening
road trip
vacation
sunshine
sunset
sunrise
refreshing
sun-kissed
magical
barefoot
daydreaming
freedom
frisbee
outdoor
lemonade
lakeside
tropical
unforgettable
tourists
sunflower
pool
playground
fireworks
picnic
backyard
carnival
ice cream
sunburn
rainbow
sightseeing
childhood
strawberry
green
natural
barbecue
hiking
cloudless
break from school
popsicle
waves
exercise
fun
vintage
What to do with your Summer Photos
Once your teen has gone through the photo challenge, you may want to do something fun and creative with their photos. Here are some ideas:
Start a Photo Journal
A photo journal is a great way to preserve memories of the summertime! Your teens can download a photo journal app on their cell phones or you can also use a planner or paper scrapbook for a memory keeping journal.
The Happy Planner is GREAT for creating a photo journal because the monthly spreads have nice large boxes for each day where you could glue in a photo. And with all of the cute stickers and accessories available, your teen could create an awesome keepsake scrapbook with their summer photos! They even have "planners" designed specifically for memory keeping!
Use the Photos as Room Decor
If there are a few photos that your teen really loves, then turn them into artwork for their room! Here are some easy ideas for making your own cool room decor with the summer photos:
Have a few of the photos printed in 8 x 10 format and stick them in frames to hang on the wall.
Create a photo collage of smaller prints as wall decor.
Print mini photos and clip them to a strand of mini string lights. My daughter has this mini cell phone picture printer that I HIGHLY recommend! It connects to her cell phone photo library over Wi-Fi and then she can easily print out cute mini photos from her camera roll. She clips them to a set of rose gold fairy lights that we got at Target, and she also swaps out the photos every now and then to change up the look!
Turn the Summer Photos into Magnets
Photo printing websites like Shutterfly will turn your photos into magnets that you can hang on your fridge. Your teens could even add some text on top of the photos and print out cool magnets to give to their friends!
Create Personalized Stationary
Shutterfly, Tiny Prints, and other photo websites will also allow you to create your own personalized note cards and note pads using photos. Look for a good coupon code online and you've got some inexpensive stationary that your teens can use to send thank you cards for gifts or to write letters to grandparents.
Free Printable Summer Photo Challenge for Teens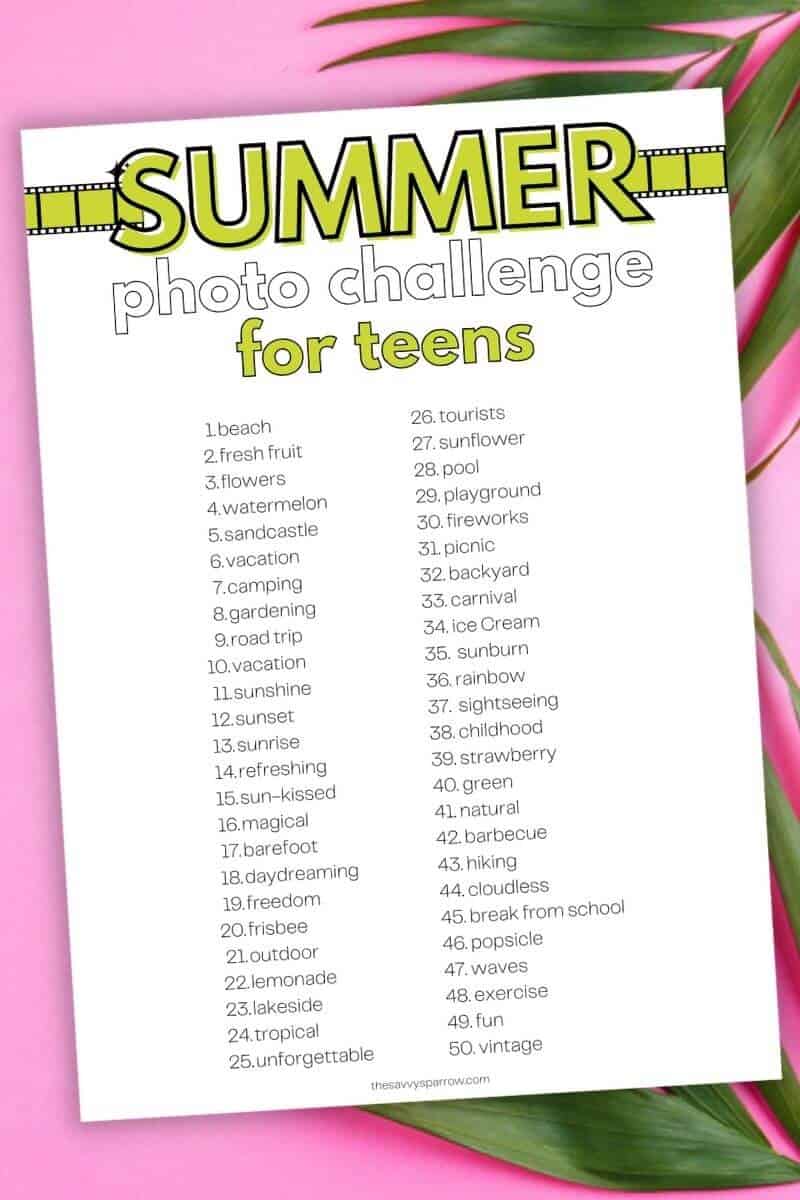 Want to grab the free printable photo challenge? Just click the link below to download it!
Free Printable Summer Photo Challenge for Teens
And be sure to check out some of my other printable summer activities for kids and teens:
And don't forget to PIN this post for later: