This One Drawer Challenge is one of the BEST decluttering challenges if you're short on time or you get overwhelmed by your messy home. Download the free printable declutter challenge and start decluttering your kitchen, bathroom, and clothing drawers today!
How many times do you open a random drawer in your home and think to yourself "I really need to clean out and organize this drawer one day?". Well, today is that day!
Your drawers are probably some of the most cluttered areas in your home because it's so easy to just toss odds and ends into a drawer and close it up, hiding the mess. My own junk drawer has been home to my kids' baby teeth, expired coupons, and remotes for electronics that we got rid of years ago. But, out of sight, out of mind!
That's why a one drawer decluttering challenge is great… because it gets to you tackle all of that hidden clutter, without being super overwhelming. Just like my 30 Bags in 30 Days Decluttering Challenge… instead of having the goal of removing just one bag of clutter from your home each day, you're focusing on just one drawer each day! Easy!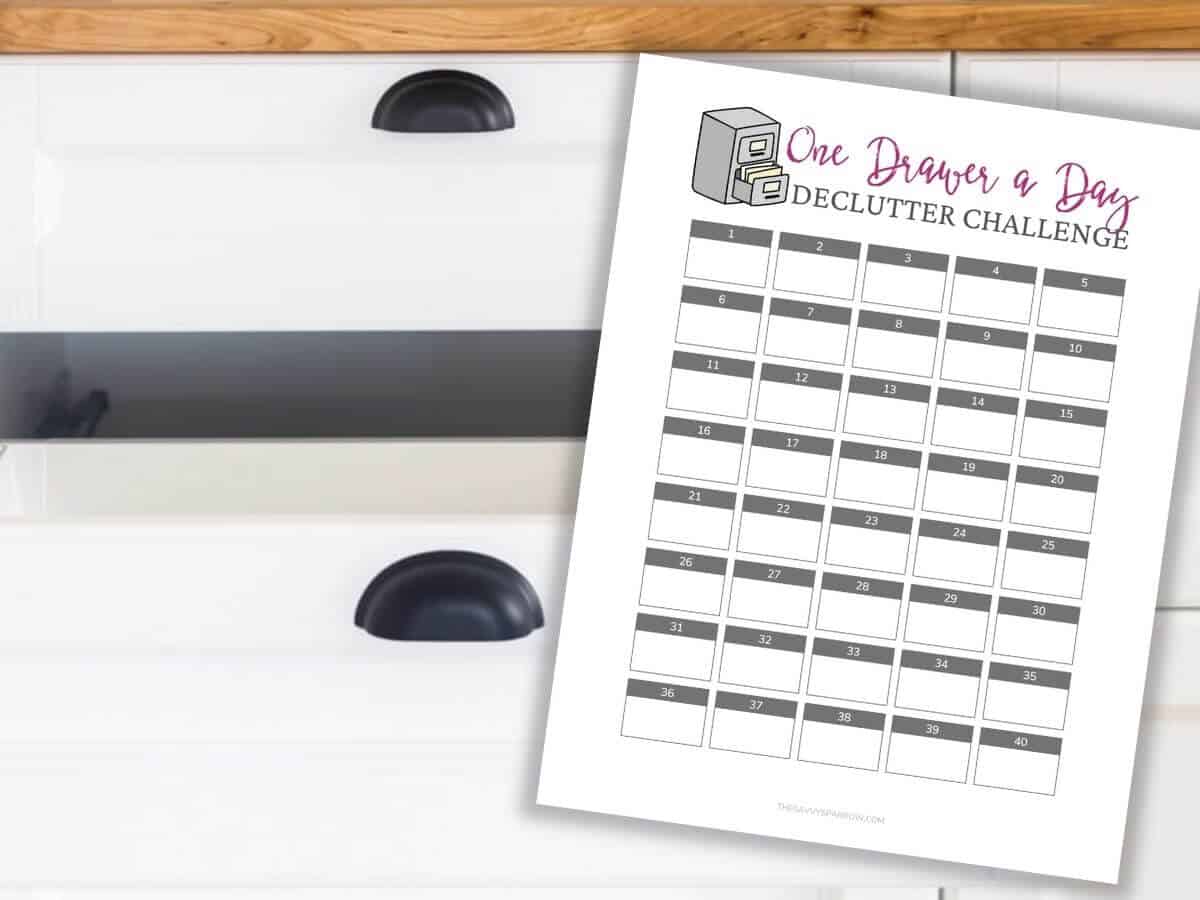 *This post contains affiliate links, which means if you click a link and make a purchase, I earn a commission at no additional cost to you.
The Best Way to Declutter Drawers – 5 Steps
Cleaning out and organizing drawers can be a daunting task, especially if your drawers are stuffed to the brim with 5 years of who-knows-what inside. But if you follow these simple steps, you'll have your drawers organized in no time:
Empty the drawer completely.
Trash or relocate items that don't belong.
Group the remaining drawer contents by similar items. For instance, put all pens together in one pile, all receipts together in another pile, etc.
Clean the inside and outside of the drawer. You can wipe down the inside of your drawers with a hot, damp rag or some Pledge. You don't want to put your things back in a dirty, crumby drawer!
Put grouped items back in the drawer. You can even use drawer organizers to help keep things tidy and so that everything has a home.
My Favorite Drawer Decluttering Supplies
Acrylic Drawer Organizers
I bought these acrylic drawer organizers to organize my daughter's vanity drawer recently and they are awesome! I love the look of the clear acrylic because it looks neat and clean versus a bright colored or busy drawer divider.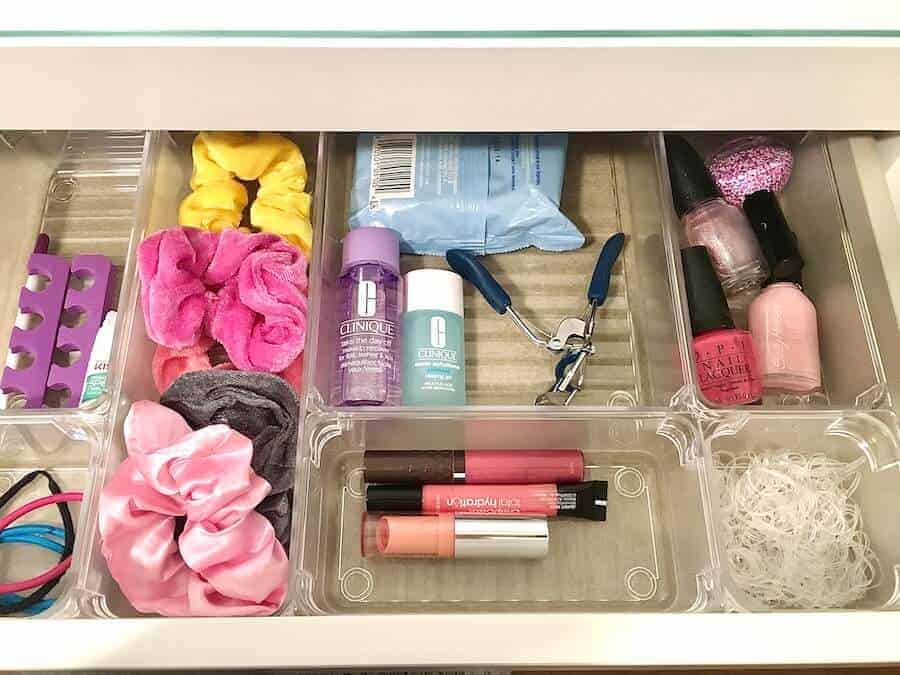 Dollar Tree Drawer Organizers
If you don't want to spend a bunch of money on new drawer organizers, then just visit Dollar Tree! They have some awesome plastic organizers, and they usually come in a pack of 2 or 3 for just $1! These plastic bins are great for organizing desk drawers, craft drawers, or bathroom drawers.
Felt
If you find that your plastic drawer organizers are sliding around, then try adding a piece of felt to the drawer bottom. Just cut a piece of felt in whatever color you like to the correct size to fit the bottom of your drawer. Then, use rolled up duct tape to tape it in place. Problem solved!
The felt also makes your drawers look sleek and polished… great for jewelry or vanity drawers!
The One Drawer a Day Declutter Challenge
You may want to go through your home and count the total number of drawers that you have to help plan what drawers to do first and how long the challenge will take you to complete.
These are just some suggestions of areas to add to your One Drawer Decluttering Challenge.
Drawers to Declutter in the Kitchen
Silverware drawer
Cooking utensils drawer – Utensils other than silverware (like spatulas, serving spoons, whisks, etc)
Junk drawer – I've got great tips for organizing your junk drawer here!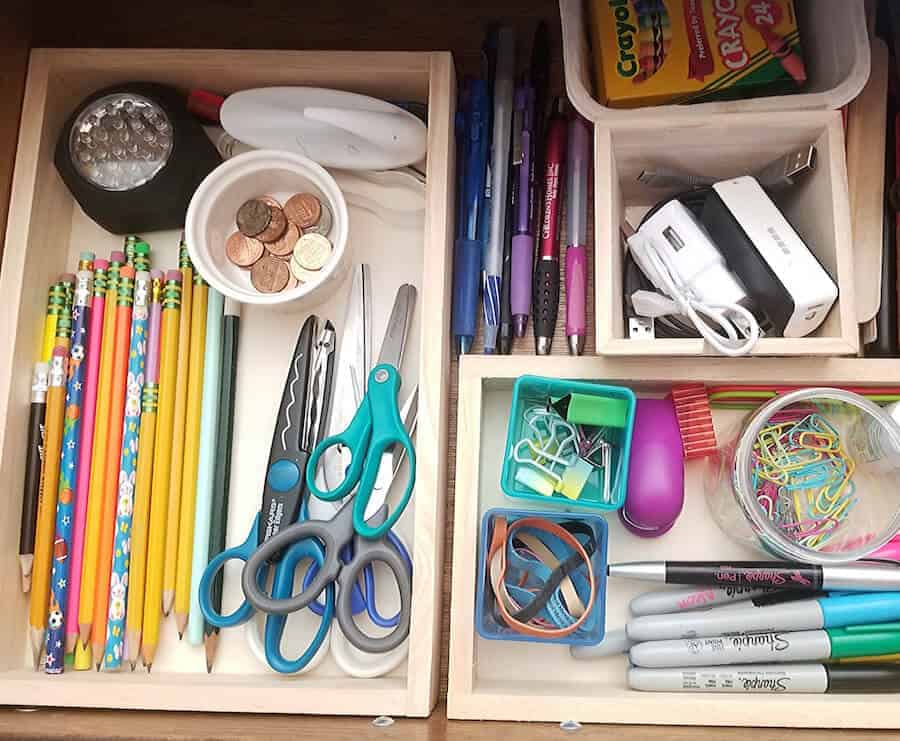 Produce drawer in the refrigerator
Meat and cheese drawer in the refrigerator
Freezer drawer #1
Freezer drawer #2 – After you've organized and decluttered your freezer, you may want to use this free printable freezer inventory sheet to keep everything neat and tidy!
Kitchen linens drawer – Dish towels, dish rags, pot holders, etc.
Bathroom Drawers
For the bathroom portion of the One Drawer a Day Declutter Challenge, you can separate your drawers by bathroom. For instance, maybe do all of the drawers in your master bath for the first few days and then move on to the drawers in your kids' bathrooms.
Makeup drawer
Medicine drawer
Other bathroom drawers
Of course the number of drawers you have on your challenge will depend on how many bathrooms you have, but you can easily customize the Declutter Challenge printable to meet your needs! (I'll show you how to do it below!)
Drawers in the Bedroom to Declutter
Underwear drawer
Pajamas or athletic clothes drawers
Jewelry or accessory drawers
Clothing drawer #1
Clothing drawer #2
Clothing drawer #3
Nightstand drawers
Other Drawers that May Need to Be Decluttered and Organized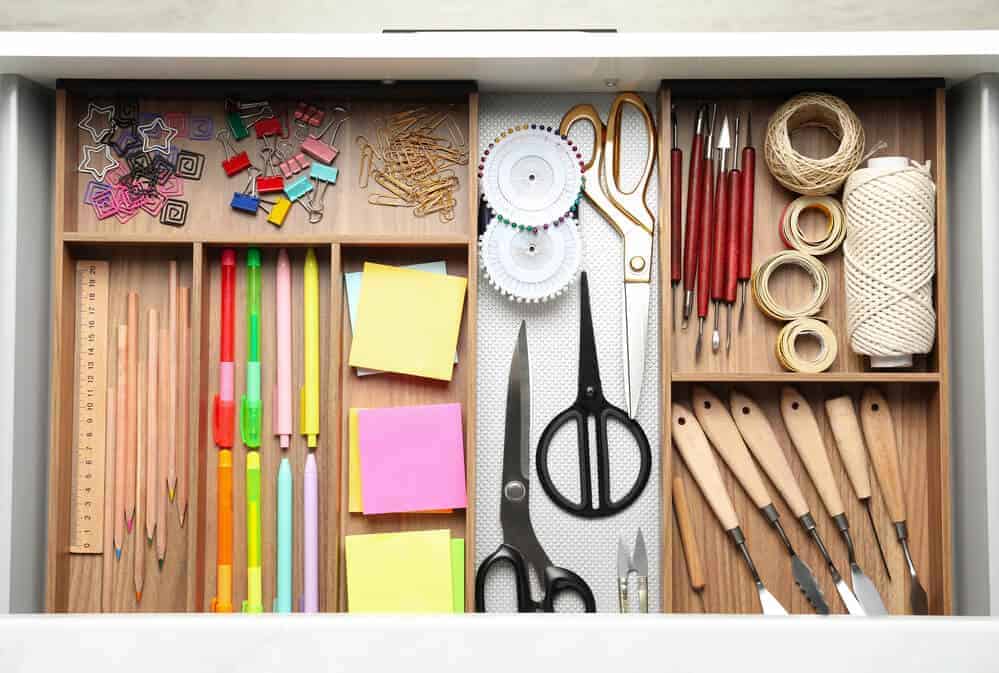 Filing cabinet drawers
Drawers in your kids' playroom
Drawers in the laundry room
Drawers in your garage
Glove compartment in your car (it's kind of like a drawer!)
How to Customize the One Drawer Decluttering Printable to Work for YOU
Let's face it… decluttering is NOT a one size fits all solution. The areas of your home that need decluttering will be different than someone else's home. That's why I made this decluttering challenge editable for you! Here's how to type into the printable and customize it based on the number of drawers in your home that need to be cleaned out and organized: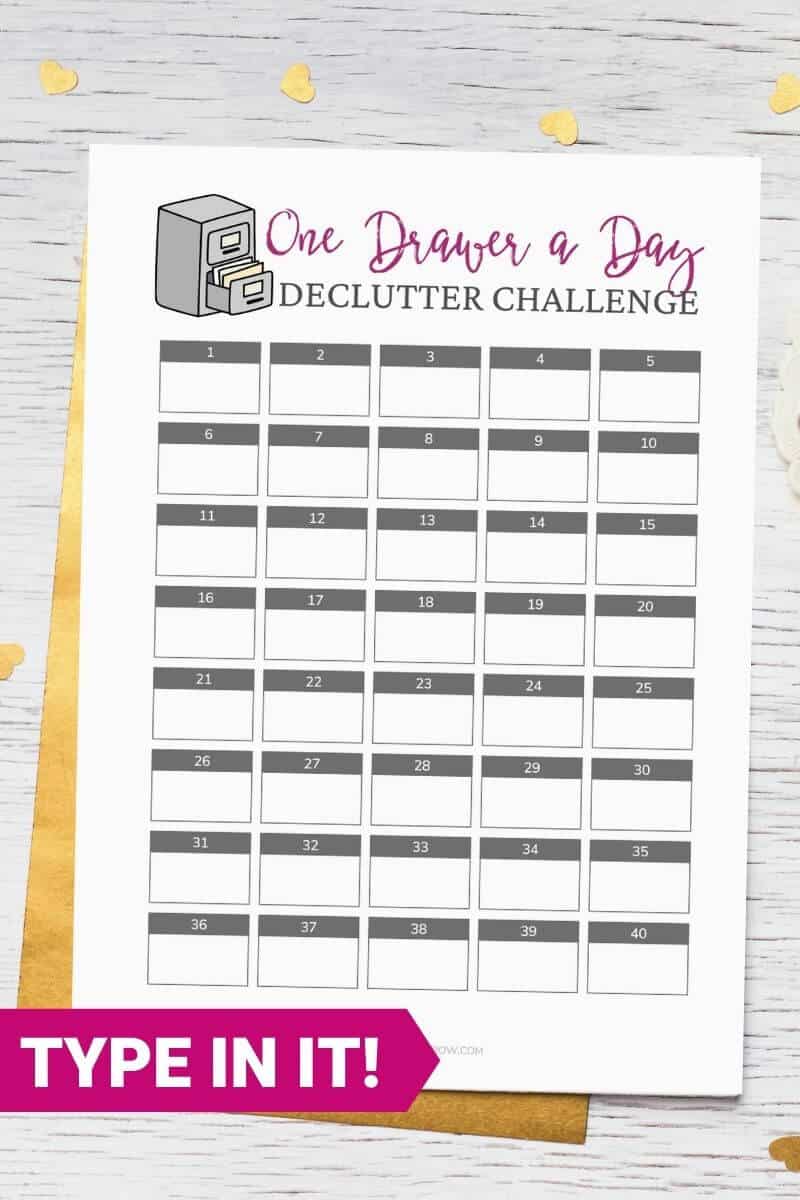 1) Go to the Adobe website here and download and install Acrobat Reader to your computer (it's free!): https://acrobat.adobe.com/us/en/acrobat/pdf-reader.html (If you already have Adobe Acrobat installed you can skip this step).
2) Open the One Drawer Decluttering Challenge PDF using Adobe Acrobat Reader… You should be able to right click on the file icon on your computer (wherever you saved it) and select Open With>Adobe Acrobat Reader.
3) Once the file is open, click File>Save As> and then name it whatever you like and save it to somewhere on your computer where you can easily find it, like your desktop.
4) Then you can start editing the challenge printable to fit your needs! Just click on the blue boxes and type in what you want. The blue boxes won't show up when you print out your decluttering checklist.
Free Printable Drawer Decluttering Checklist
Want the FREE printable drawer decluttering checklist? When you sign up for my FREE email newsletter, you'll get access to my entire library of FREE printables, and I'll send you the instructions for how to access the challenge! Just use the form below and then check your email inbox:
*NOTE – Immediately after signing up you'll be redirected to my Shop page. The FREE printable will be in your cart, and you'll notice the total will be $0.00… don't worry, you won't have to enter in a credit card number. Just checkout and the file will be sent to your email!
Other Free Printable Declutter Challenges to Try
If you're feeling more ambitious, I've also got LOADS of other decluttering challenges that you can print out! Whether you want to try and declutter your whole house in just one week, or you want a more broad monthly decluttering calendar, I hope these can help you:
This challenge is great if you only want to devote 30 days to decluttering, because it tackles some of the areas in your home that are most prone to collecting clutter. However, some of the days will require more time than others so plan accordingly.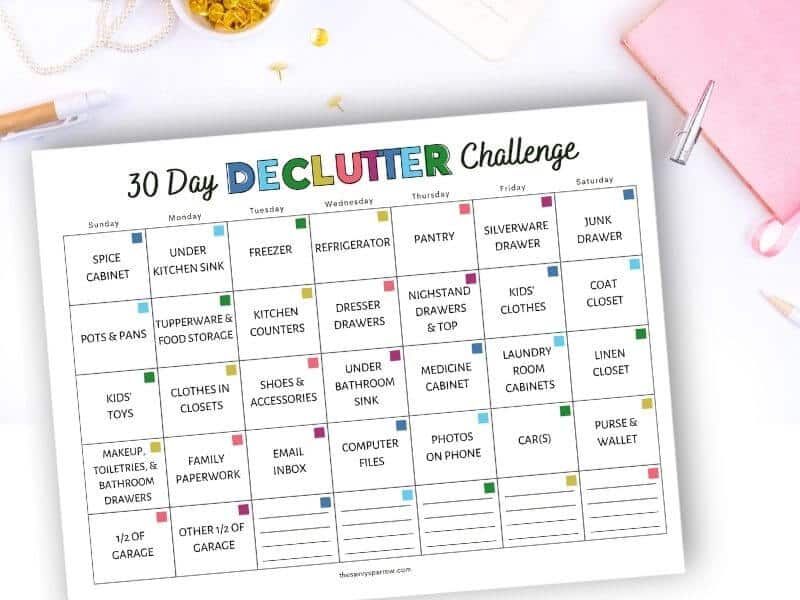 Only have time to declutter one bag of stuff a day, then this challenge is for you! It's similar to the One Drawer Declutter Challenge, but it focuses on removing just one bag of clutter from your home each day.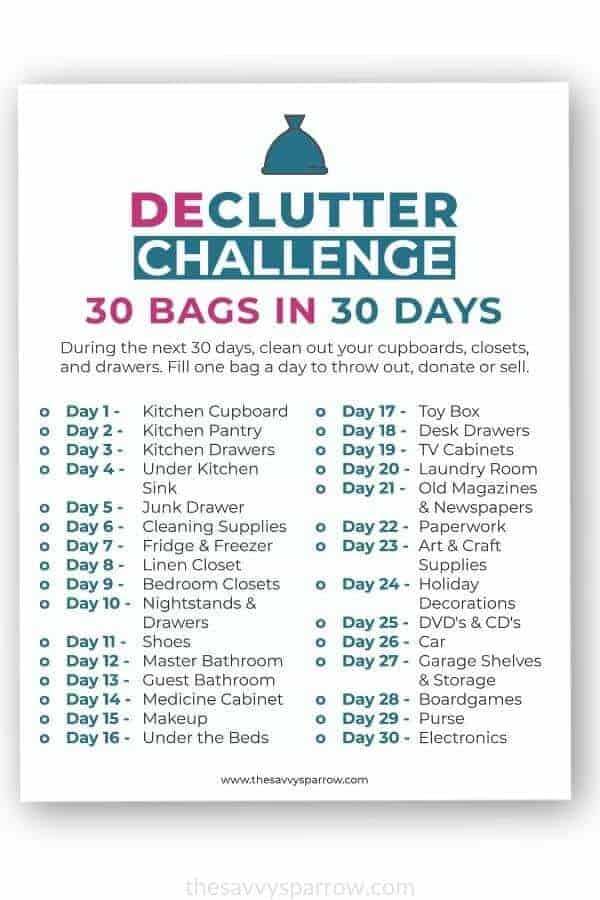 And don't forget to PIN this post for later: