Need ideas for Thanksgiving traditions for family? Here's a list of 18 fun family traditions you can start for Thanksgiving this year!
Thanksgiving is right around the corner, and if you're looking for fun ways to spend the holiday with your family this year, then I've got you covered!
I've hosted many Thanksgiving dinners, from large gatherings of 35 people to smaller dinners with just the grandparents. And besides having the traditional Thanksgiving turkey dinner, we always spend the day indulging in our favorite family traditions.
If you're looking for fun and creative things to do this Thanksgiving, then you'll love this list of ideas!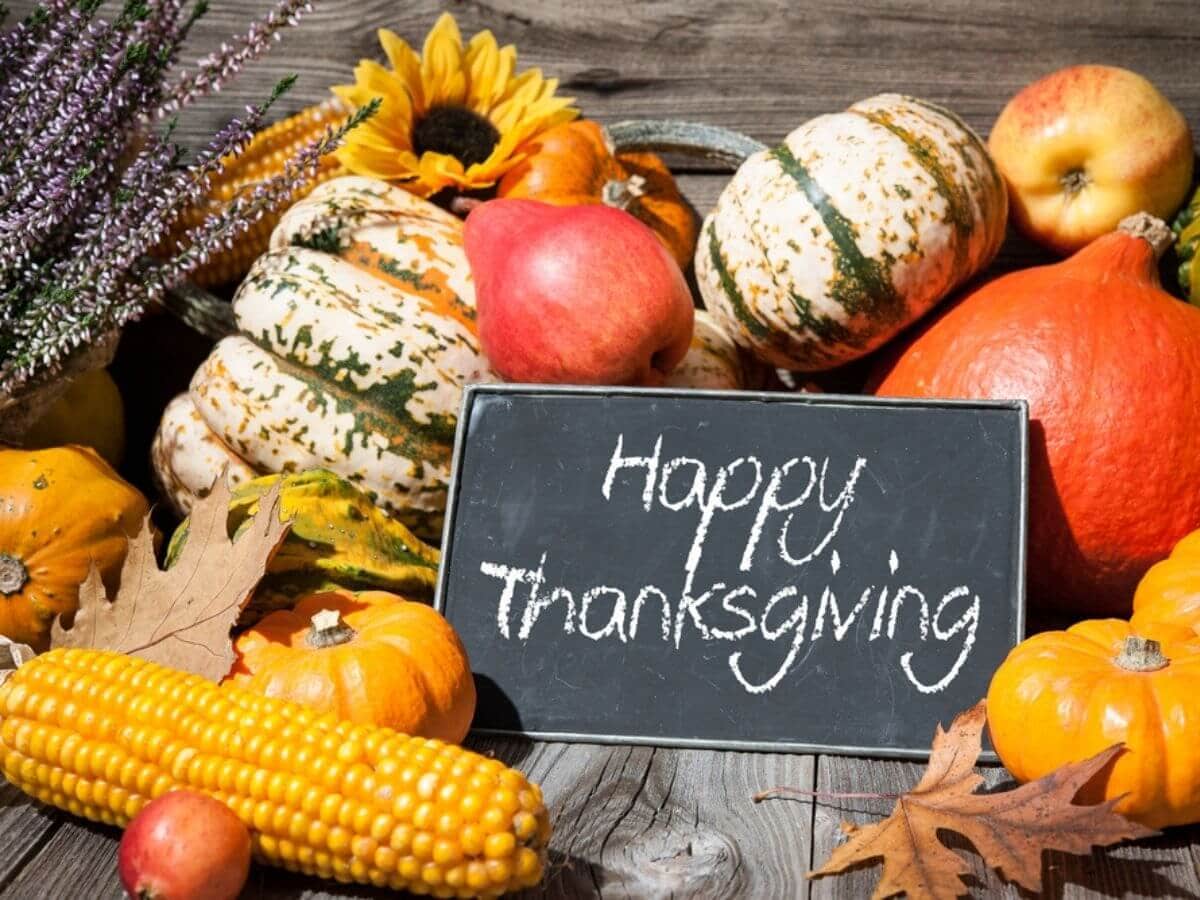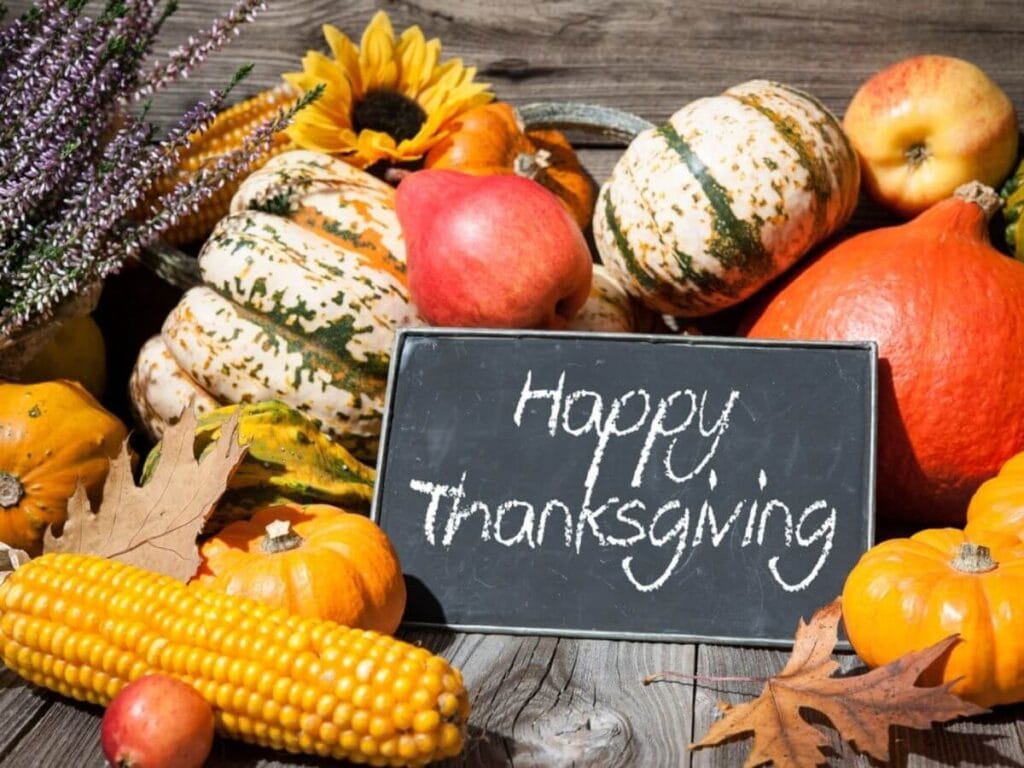 Here are 18 fun family Thanksgiving traditions to start this year:
Put the "non-cook" in charge of a dish.
This is one of the Thanksgiving traditions in my family… My dad, who would probably struggle to make a grilled cheese, is in charge of making the mashed potatoes each year. He makes them from scratch, boiling the potatoes, adding the perfect seasonings, and expertly whipping them to perfection.
He doesn't prepare a single other dish for the rest of the year, but come Thanksgiving, you can find him in the kitchen making his famous mashed potatoes. And because it's so rare, it's something that I'll always remember from my childhood Thanksgivings.
Try a "Thankful Pumpkin".
Every night while you're having dinner with your family during the month of November, pass a small pumpkin around the table like a "spirit stick". Each person says something that they're thankful for when they get passed the pumpkin… but here's the kicker… there can't be any repeats for the entire month.
Just wait until the last week of November when your family members start saying they're thankful for random objects around the house because everything else has already been said… It could get pretty funny!
Have a special breakfast that you only eat on Thanksgiving morning.
For my family, it's Monkey Bread. My Mom always makes the classic monkey bread recipe with canned biscuits and instant pudding mix, but this 2 ingredient apple cinnamon monkey bread makes an awesome Thanksgiving breakfast also!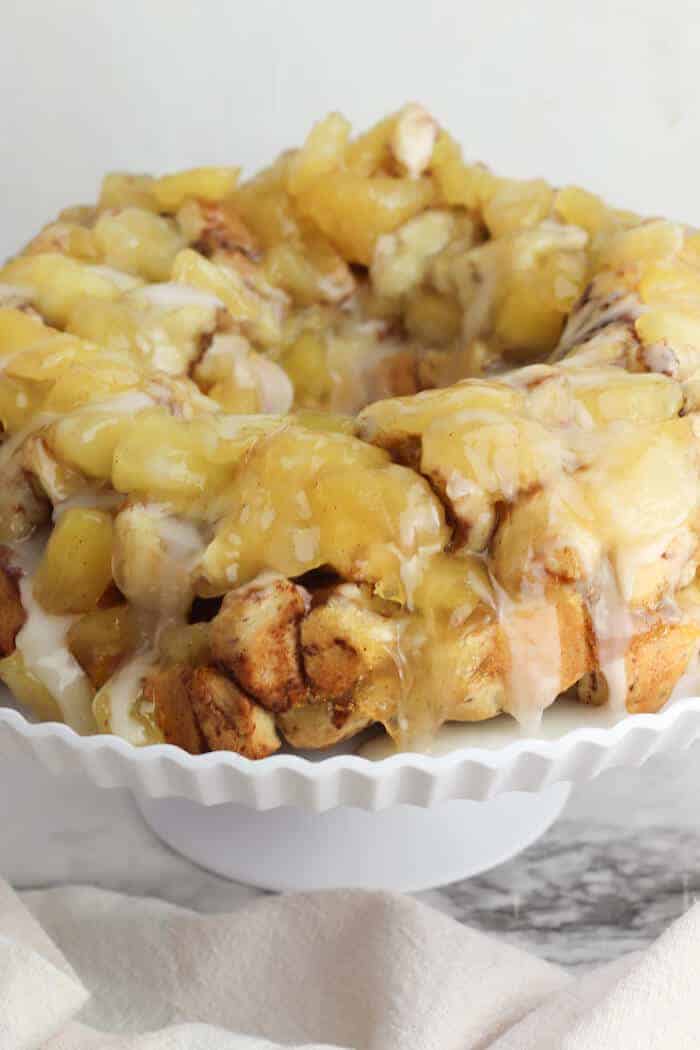 Pick up a newspaper and watch the parade while searching the Black Friday ads.
As a tween and teen, I remember spending hours sitting on the living room floor on Thanksgiving morning, flipping through the Black Friday ads in the newspaper and watching the parade at the same time. Us kids used the ads to make out our Christmas lists for the year, and the festive sights and sounds of the Thanksgiving Day parade served as the perfect backdrop to our nice and relaxing Thanksgiving family tradition.
Start a "Thankful Tablecloth" as one of your family Thanksgiving traditions.
Purchase a light-colored fabric tablecloth to use each year for Thanksgiving dinner. After the meal is done, pass around a Sharpie marker and have everyone write what they're thankful for that year. Include the person's name and date with each thankful message, and use the same tablecloth year after year.
It's fun to read through the messages of gratitude from years past while you're eating Thanksgiving dinner!
And to make your Thanksgiving keepsake last even longer, you can also embroider over each person's writing using different colors of embroidery floss… This would be a great job for a grandparent!
Make your shopping list for needy families.
After you enjoy your bountiful Thanksgiving dinner around your beautiful dining table, turn your attention to those less fortunate. Peruse the Black Friday ads, and make a shopping list of things that you want to purchase for needy families in your community.
You can speak to your church ahead of time to gauge needs, or you can call local women's shelters or children's homes to see what they need donated.
Watch a Christmas movie together.
When your bellies are stuffed, what's better than laying on the couch and watching a movie?! My family loves to relax at the end of the busy Thanksgiving holiday and just watch a good holiday movie on Netflix.
Start a "Thankful Turkey" craft on November 1st.
If you're looking for family Thanksgiving traditions for young kids, then try the popular "Thankful Turkey" craft from Busy Toddler.
This easy Thanksgiving activity for families involves taping a paper turkey template to your wall, and letting your kids write one thing that they're thankful for on a colored paper "feather" each day. Then, you simply tape the feather to the turkey's body, and by the time Thanksgiving day rolls around, you'll have an awesome paper turkey filled with colorful feather reminders of everything that your family has to be grateful for.
This activity is an awesome way to teach kids about gratitude… and what better lesson to learn during the Thanksgiving holiday!
Thanksgiving Day parade BINGO.
If your family Thanksgiving traditions already include watching the Macy Thanksgiving Day parade, then why not add this fun activity to the mix?!
Simply print out these free printable Thanksgiving parade BINGO cards, pass them out to your family members, and watch the parade to find things on your card. Winner gets to skip dinner clean up or pick the family movie for the night!
This is an awesome game to play with the whole family, and the BINGO cards include pictures, so even your little ones can get in on the fun!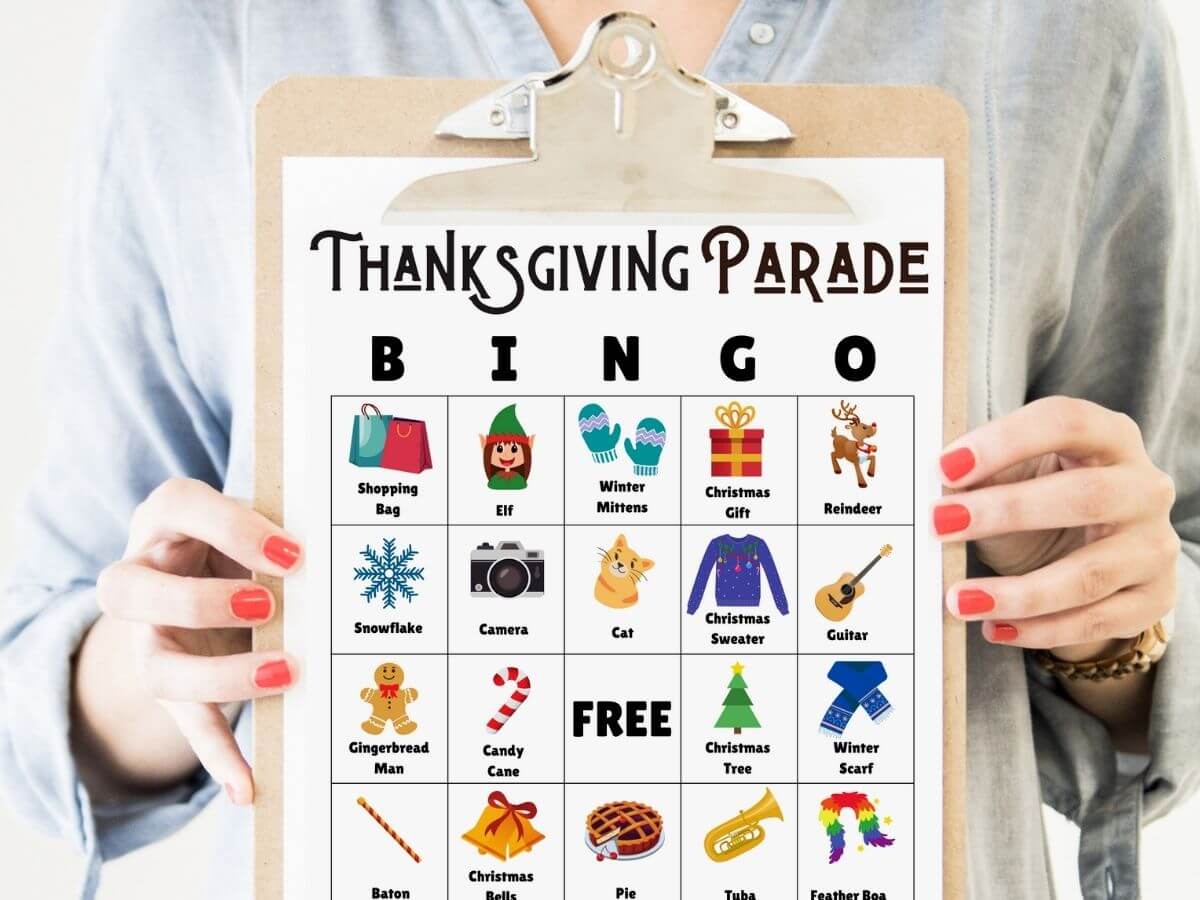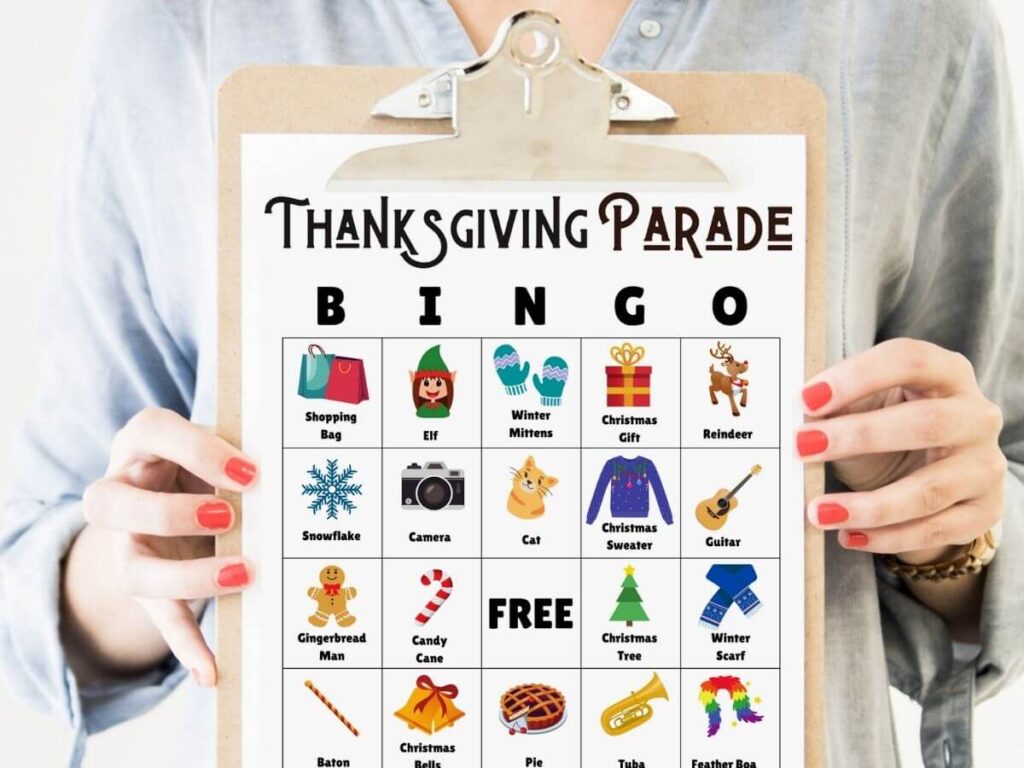 Start the day with pie and the parade.
Dessert is the BEST part of Thanksgiving day, in my opinion, and I'm always too stuffed to eat it at the end of the meal. So why not have pie for breakfast instead?!
Turn on the Macy's parade and break out the dessert plates for a sweet Thanksgiving Day tradition that will make your family (and their stomachs!) happy!
Watch Charlie Brown's Thanksgiving and have his famous meal.
There are 3 things most people associate with Thanksgiving: the Macy's Thanksgiving Day parade, turkey, and the Charlie Brown's Thanksgiving movie. If you've seen that famous holiday movie, then you know that Charlie serves his friends a non-traditional meal of popcorn, buttered toast, pretzels, and jelly beans. So take a cue from his hosting playbook!
After dinner, cuddle up on the couch with your family and serve the same odd foods. You can even create a charcuterie board of Charlie Brown's Thanksgiving meal to make it fancy!
Use conversation starter cards at the dinner table.
Afraid that your Thanksgiving dinner conversation will hit a lull or, even worse, end up in a political argument? Try these fun Thanksgiving dinner conversation starters!
Print out the free printable conversation cards and hide one or two cards under each place setting. Then, in the middle of dinner, have everyone find their card and take turns asking the questions.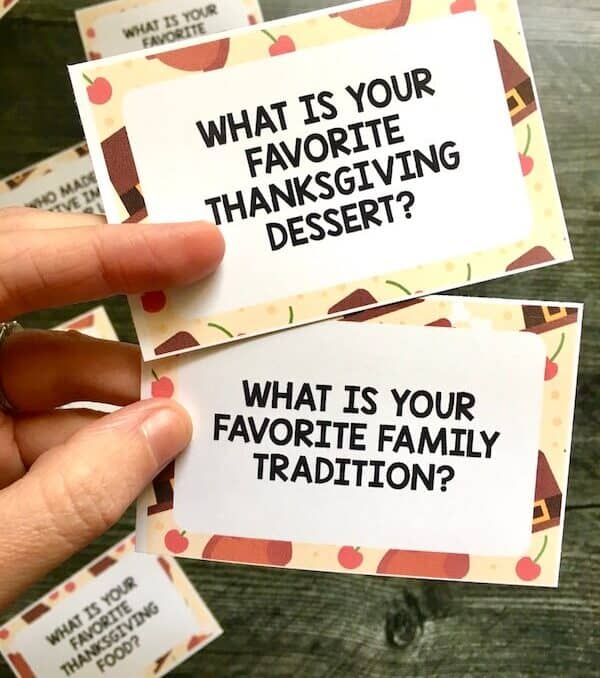 We use conversation starters for kids at our dinner table almost every night, and my kids absolutely LOVE them!
Have a "Pie Day" on the Wednesday before Thanksgiving.
If you've ever hosted a big Thanksgiving dinner, then you know that there's a lot of baking involved. So why not have the whole family help and make it part of your family's Thanksgiving traditions?
You can order pizza delivery (pizza "pie") and spend the day before Thanksgiving baking all of your pies and other desserts for the big day!
Host friends that don't have local family.
The original Thanksgiving meal involved more than just family members gathering around the table, so why not invite friends that don't have a big family Thanksgiving dinner to attend.
You can offer to host solo friends, neighbors, or coworkers… or let those people know that they have a standing invitation to join your family each and every year. The more, the merrier, right?!
Play the Saran Wrap Ball Game.
My family played this fun game a few Christmases ago, and everyone loved it! And if you have a large group of people over for Thanksgiving, this Saran Wrap Ball Game would be an awesome activity to try!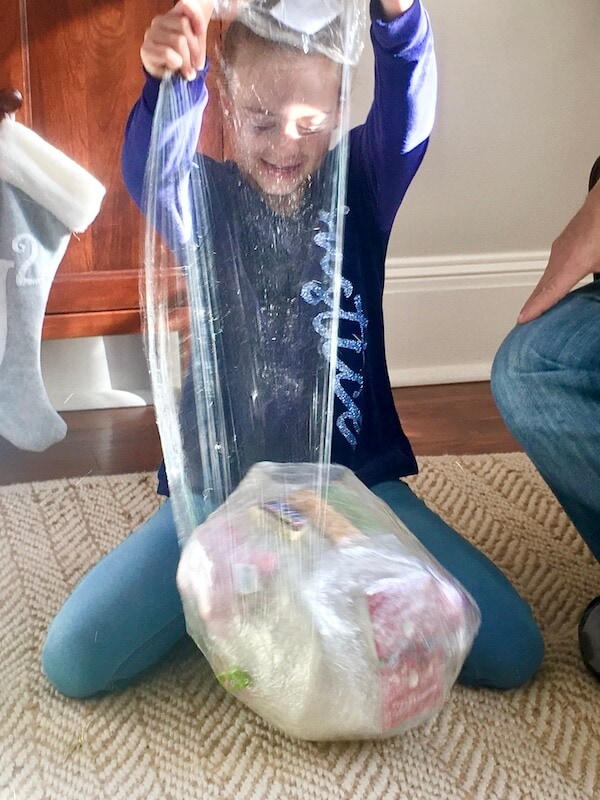 Or hop over here for more family Thanksgiving games!
Make Cinnamon Roll Turkeys
If you need fun Thanksgiving traditions for kids, then try making cinnamon roll turkeys using store bought cinnamon rolls!
These cute cinnamon roll turkeys from Seeded at the Table would be an awesome (and delicious!) breakfast activity for your younger kids to make on Thanksgiving morning. All you need to do is make the cinnamon rolls for them, and then set out the edible decorations – candy corn, candy eyes, bacon, etc.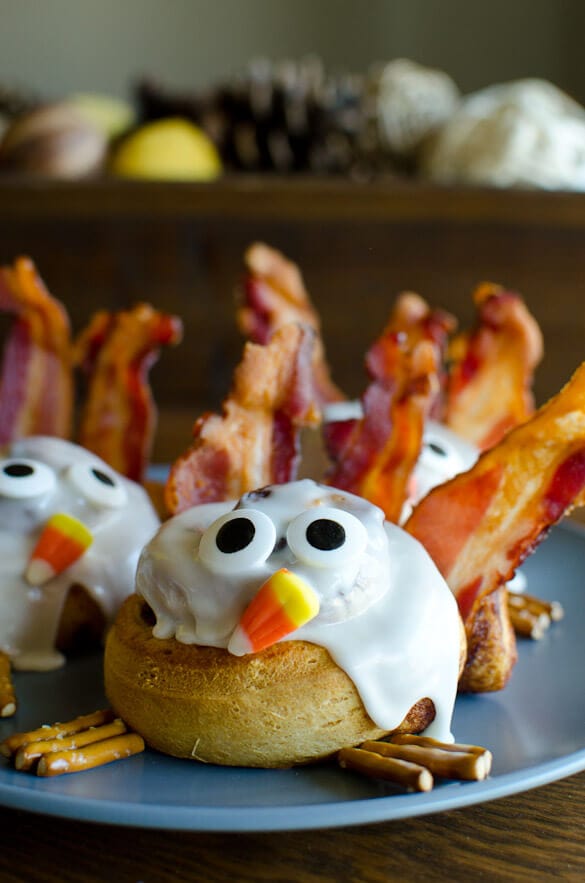 Then let your little turkeys make their own sweet breakfast turkeys while you finish up the actual Thanksgiving turkey.
Gift holiday pajamas after Thanksgiving dinner.
Most people probably have the family tradition of opening one present each on Christmas Eve night, and that one gift is probably holiday pajamas to wear to bed that night. But why not gift your family matching holiday pajamas after Thanksgiving dinner instead? That way, everyone can get more use out of their seasonally specific pj's!
What are your favorite Family Thanksgiving Traditions?
I hope you enjoyed these fun family Thanksgiving tradition ideas! Let me know if you try adding one of these activities into your family's Thanksgiving plans! Or, leave me a comment down below with your own family Thanksgiving traditions that you do each year!
And if you're hosting Thanksgiving dinner this year, then be sure to check out my free printable Thanksgiving countdown checklist to make your hosting duties less stressful: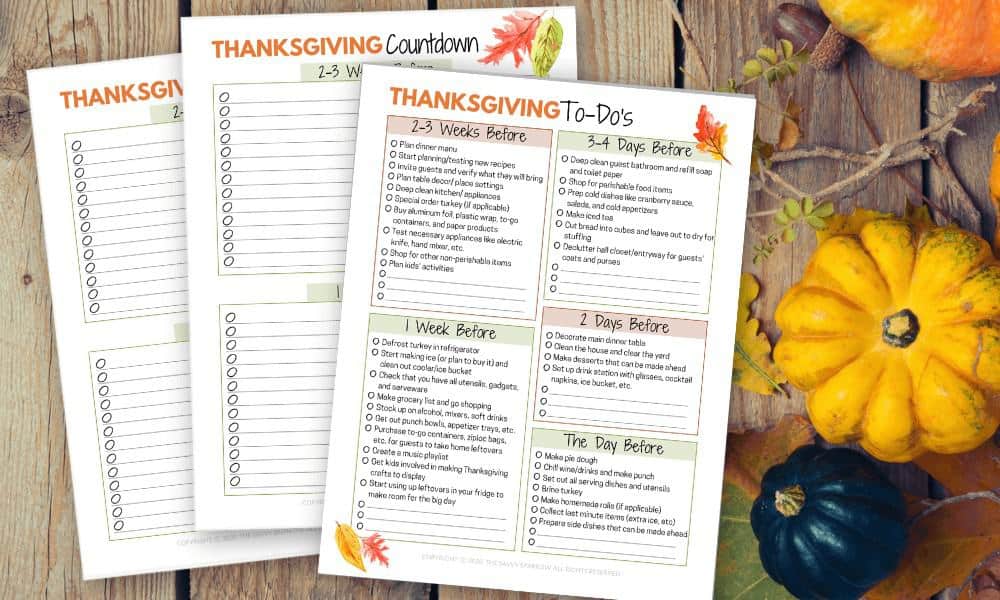 Or check out my full printable Thanksgiving planner here!
And don't forget to PIN this post for later: