Need a fun Christmas game to play with your entire family this year? The saran wrap ball game is fast-paced fun for everyone, from toddlers to adults!
Picture this… Grown men sitting in a circle on the floor and frantically clawing at a giant ball of plastic wrap in a desperate attempt to get to a cheap prize.
That's exactly what happened a few years ago at our family Christmas party when we played the popular Saran Wrap Ball Game! And it was a HUGE hit for everyone, adults and kids alike!
If you've never heard of the saran wrap game (sometimes called the plastic wrap ball game, the cling wrap game, or the Christmas ball game), then you're in for a treat! Find out how to play this fun plastic wrap game during your next holiday party or family get-together!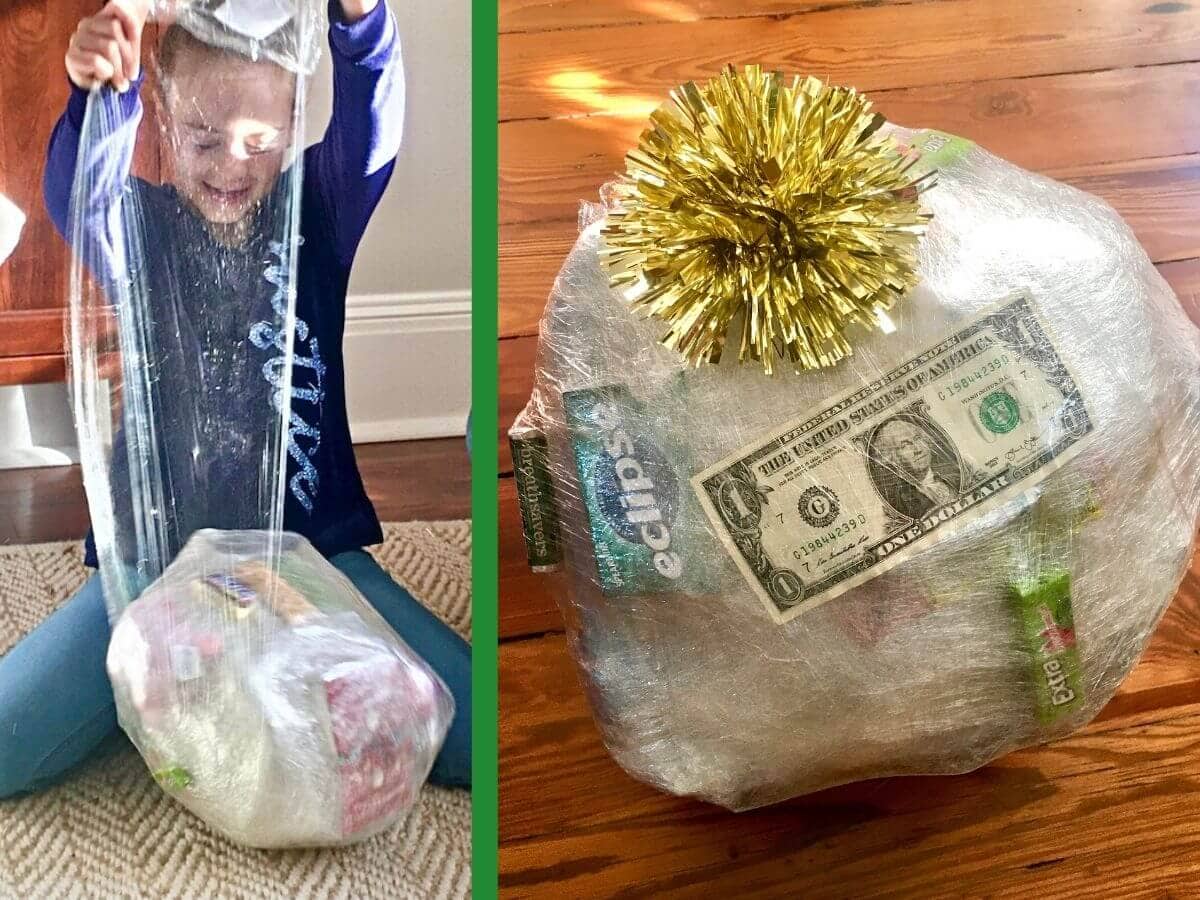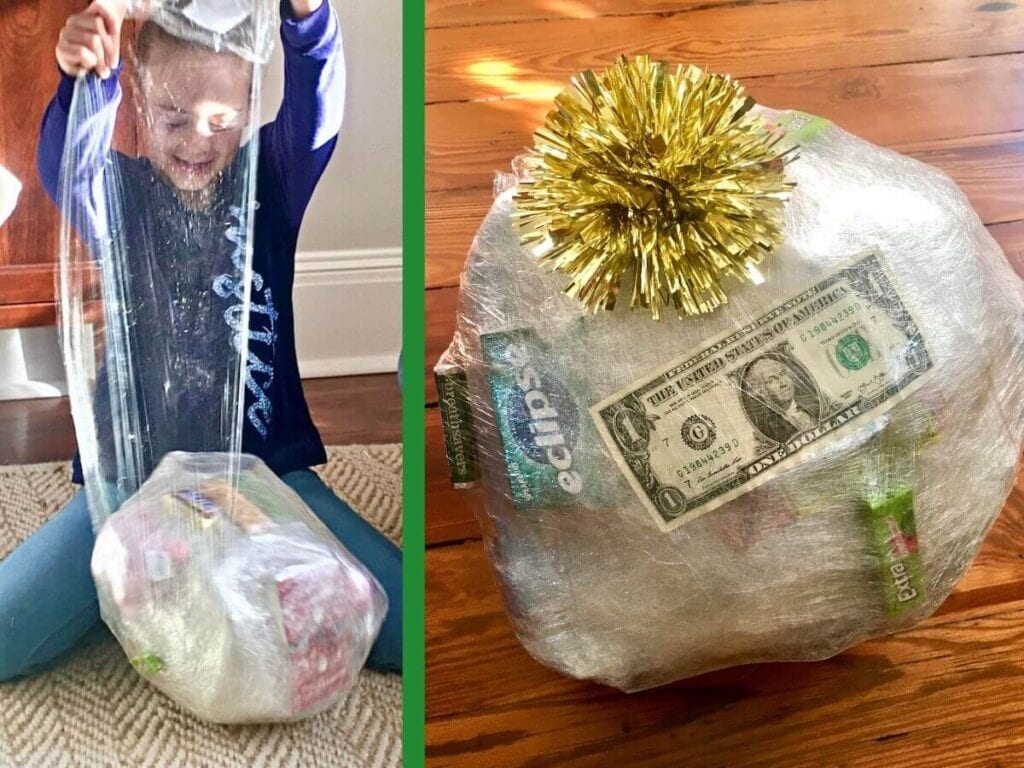 *This post contains affiliate links, which means if you click a link and make a purchase, I earn a commission at no additional cost to you. Read my full disclosure for more info.
What is the Saran Wrap Ball Game?
Before we dive into how to play this fun Christmas party game and how to make your plastic wrap ball, you may be wondering what the heck the Saran Wrap Ball Christmas Game actually is!
The Saran Wrap Game involves a giant ball of plastic wrap, with lots of small prizes wrapped up inside. Players take turns trying to unwrap the layers and layers of Saran wrap to get to the prizes hidden in between the plastic layers, all while trying to "beat the clock".
You get to keep whatever falls out of the Saran wrap ball during your turn. And you get to keep unwrapping the ball until the person to your right rolls doubles on a set of dice.
Supplies Needed
In order to play this popular Christmas game with your family, you will need:
plastic wrap – I HIGHLY recommend using a box of plastic wrap that has a built-in easy slide cutter, even if it costs a bit more. My plastic wrap prize ball was SUPER easy to make thanks to the easy slide cutter! This is the plastic wrap that I used!
a variety of small prizes
2 dice
oven mitts or other "props" to make the game more difficult
a large plate or cookie sheet to use as a base for rolling the dice
Optional – Printable "Wrap Trap" Cards at the end of this post! Fun challenges to add to your saran wrap game!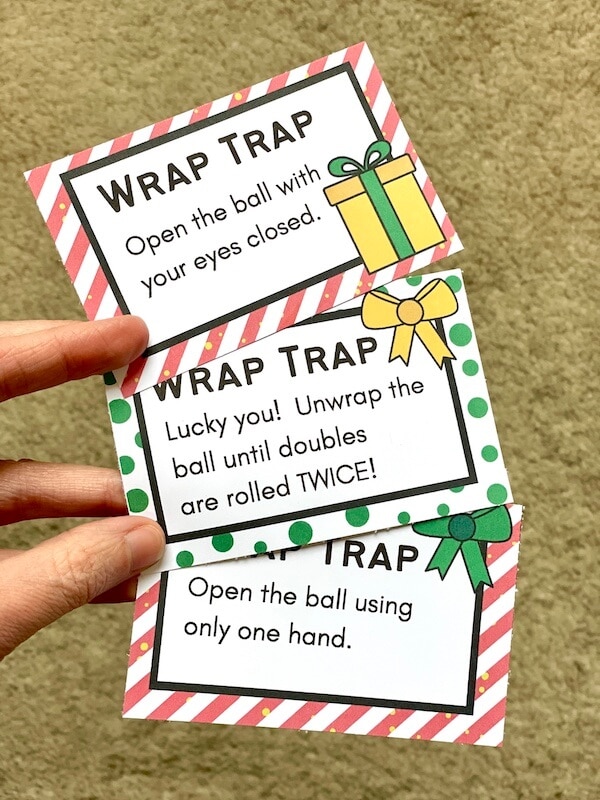 *By the way, if you need fun Christmas games that require pretty much zero prep and that you can do totally last-minute, then try these Christmas Charades game cards!
How Much Saran Wrap Do I Need to Make a Prize Ball?
The length of plastic wrap needed to make the plastic wrap ball largely depends on how many prizes you are going to include, how many people will be playing the game, and how large you want the finished ball to be.
I used about 375 feet of plastic wrap, or about half of a foodservice roll of plastic wrap that was 750 feet long. For reference, we played the saran wrap game with 10 people.
How to Make a Saran Wrap Gift Ball
Here are some tips for making your plastic wrap ball: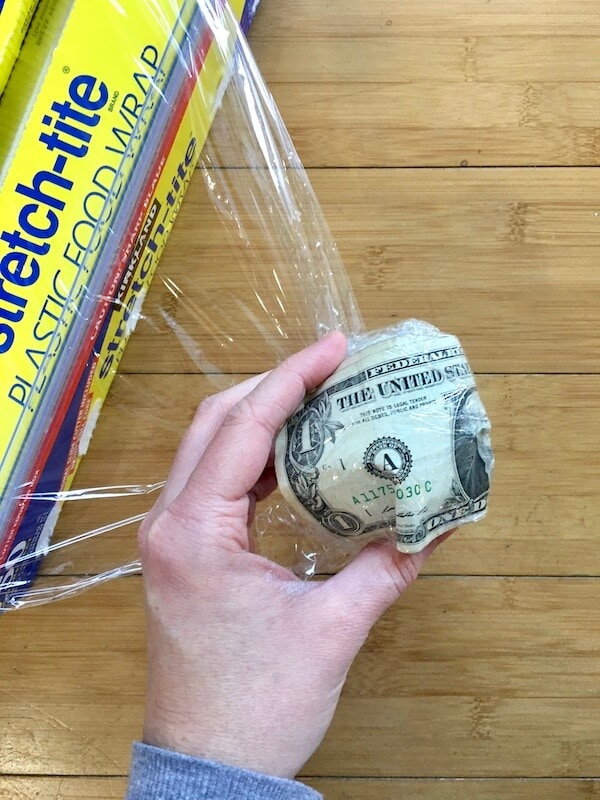 Start by wrapping an actual ball or other round object in plastic wrap. Some people recommend starting your ball with the best prize, but I found it easiest to start with a round prize and I mixed the "good prizes" (like the gift cards) in so that they were evenly dispersed through the different layers.
Wrap your first prize about 3-4 times with plastic wrap. If you like, you can also wrap it once or twice, then tear the plastic wrap, and wrap it a few more times with a different sheet of plastic.
Add your second prize to the plastic wrap ball, and cover it with a few layers of plastic wrap. You can see in the picture above that I chose to use a dollar bill as my second prize, because it was flexible and easy to make into a ball shape.
Tear the plastic wrap every few rotations, and alternate the direction of the next piece of plastic wrap. This makes it more difficult to get to the prizes, and it will also help to prolong the duration of the game.
When your ball is small, use items that are flexible and able to bend into a curved shape. Things like small sheets of stickers, temporary tattoos, fuzzy socks, or dollar bills are great to add to the ball first. Also, you can put very small prizes like mini erasers in the ball first to help it keep its round shape.
Continue to add prizes to the saran wrap ball and cover them with a few sheets of plastic. Be sure to tear the plastic wrap every foot or so, and add the next sheet of plastic going the opposite direction.
As the plastic prize ball gets larger, you can add in bigger prizes, like this bag of gummy bears I got from Dollar Tree: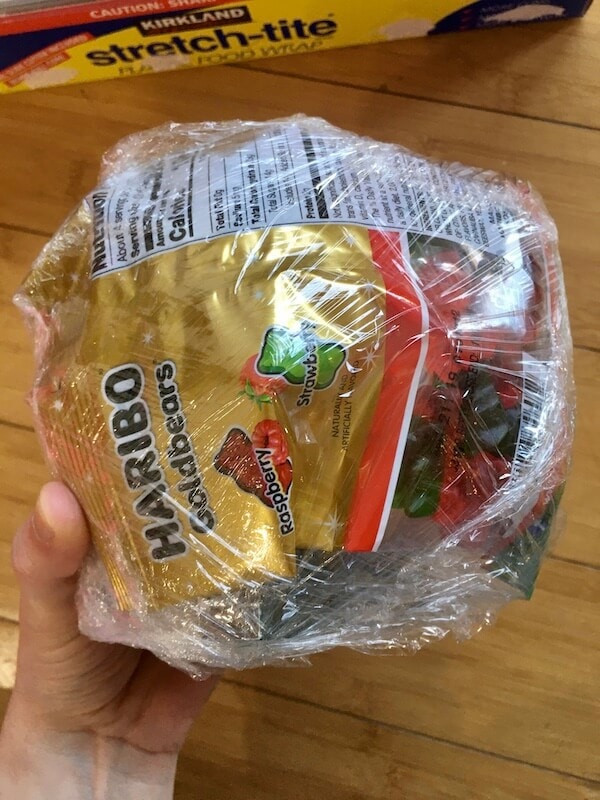 Once the ball reaches the size that you want, or once all of your prizes have been wrapped up, tear the plastic wrap and press it down into place so that the end is difficult to find.
You can also add a cute gift wrap bow to the outside for a festive look!
How to Play the Saran Wrap Ball Game
Playing the plastic wrap ball game is super easy, making it an awesome Christmas game to play for the entire family! Even my niece and nephew who were just 4 and 6 at the time had a blast playing this game!
Here's how to play:
Step 1: Determine who will start the Saran Wrap Ball, and sit in a circle.
Before you start playing, you'll need to decide who gets to open the ball first. My family decided to go in order of age, from youngest to oldest, but here are some other ideas for determining which "player" will go first:
Pass the two dice around the circle and let each person roll both dice. The person that rolls the highest number (adding the two dice together) gets to go first, the person with the second highest number goes second, and so on.
Play in alphabetical order of first name. The person whose name starts with the letter "A" goes first, etc.
Play in order of age… either youngest to oldest or vice versa. We chose to let my nephew get a turn opening the plastic wrap ball first, because he was the youngest in our group, so he had the most difficulty tearing into the plastic wrap.
Draw numbers out of a hat to determine who gets to go first.
Once you've figured out an order for playing the game, everyone should sit in a circle according to their position. So our family sat in a circle starting with the youngest person and ending with the oldest person.
Step 2: Give two dice to Player 2 and the saran wrap ball to Player 1.
Once everyone is seated in a circle, you're ready to play the plastic wrap ball game! Pass the Saran wrap ball to the first player, and pass the two dice to the player that will go second.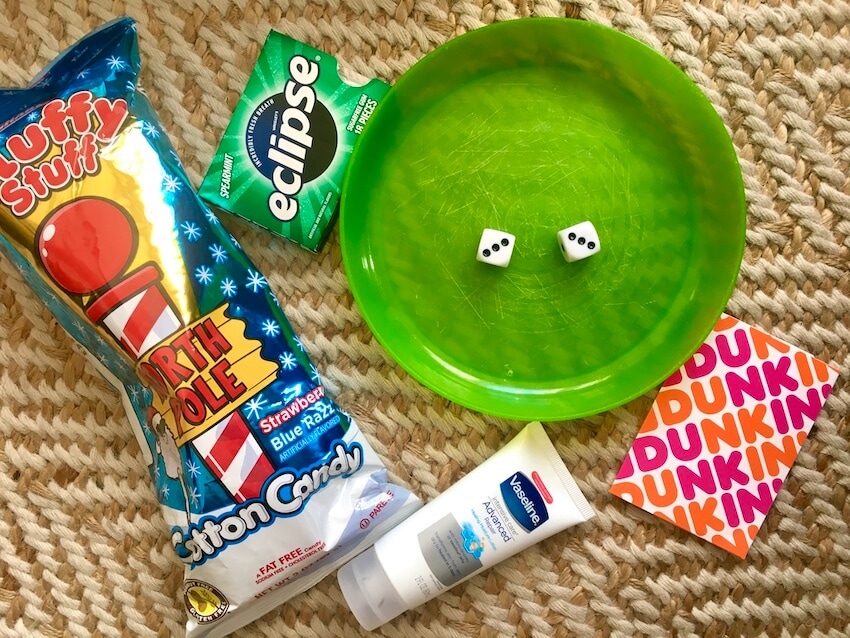 If you are playing on carpet, you may also want to use a large plate or cookie sheet to make rolling the dice easier. Plus, a cookie sheet has taller sides to prevent the dice from rolling away.
Step 3: Player 2 rolls the dice, while Player 1 unwraps the plastic wrap ball.
3… 2… 1… GO! The game starts with player 2 rolling the two dice repeatedly until the dice land on doubles (so both dice show the same number). While player 2 is rolling the dice, player 1 is unwrapping the plastic prize ball as fast as possible to get to the prizes inside.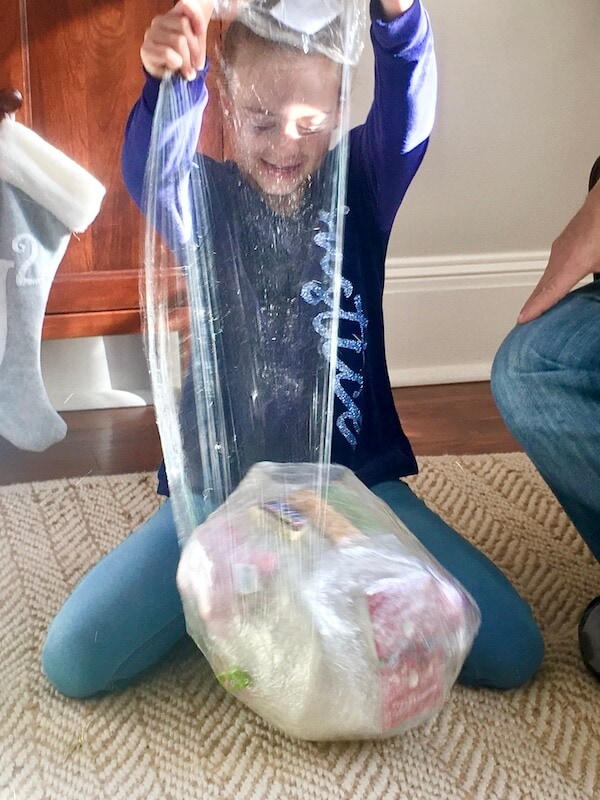 Player 1 gets to keep any prize that "falls out" of the plastic wrap ball while he or she is unwrapping it.
Step 4: When Player 2 rolls doubles on the two dice, then the prize ball gets passed to Player 2 and the dice get passed to Player 3.
Once player 2 rolls doubles, then the prize ball gets passed to player 2 and the two dice get passed to player 3.
Someone should do a countdown (3… 2… 1… GO!), and player 2 and player 3 should start unwrapping the plastic wrap ball and rolling the dice at the same time.
Step 5: Continue passing the plastic wrap ball and the dice around the circle until there are no prizes left.
The game continues with the prize ball and the dice being passed around the circle until the ball is completely unwrapped and there are no prizes left.
The plastic wrap ball will probably get passed around the circle several times before it is completely unwrapped, and it's not uncommon to not unwrap a prize on every turn. Sometimes the person to your right will roll doubles on the first or second try, and you won't even get a single layer of plastic wrap off the ball!
That's what makes this family Christmas game fun! You never know how long you'll have a turn at trying to unwrap the prize ball!
Christmas Saran Wrap Ball Prize Ideas
For me, the hardest part of making my plastic wrap ball was coming up with prize ideas. I created my Saran Wrap ball game to be played with both adults and kids, so I wanted to include prizes that would appeal to a variety of age groups.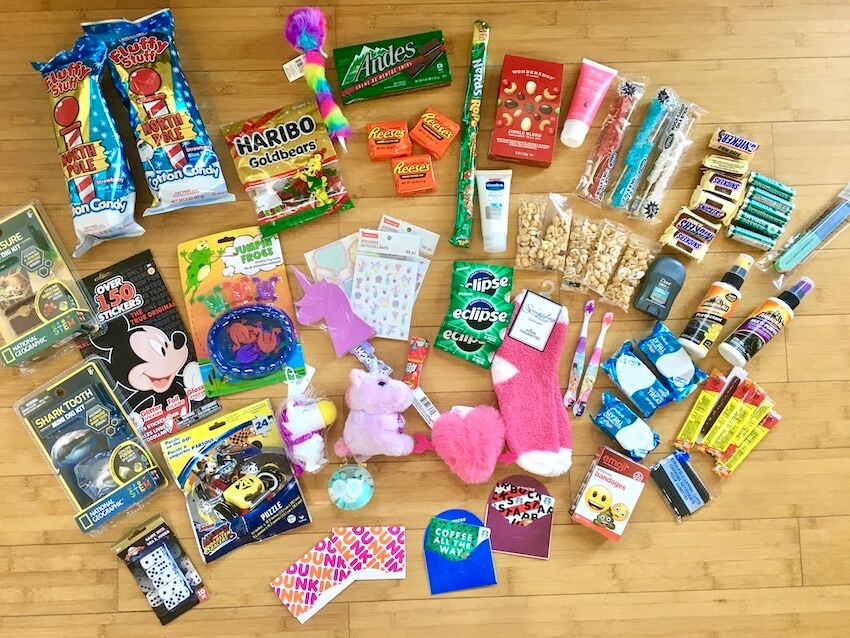 Here are some saran wrap ball gift ideas:
Saran Wrap Game Prizes for Kids
bouncy balls – You can buy these in multi-packs at Dollar Tree or get a single, larger ball. A ball is a great prize to use when you start wrapping your Saran wrap ball because it's already round.
$1 bills
$5 gift card to an ice cream shop
small packs of stickers
temporary tattoos
individually wrapped candy
small stuffed animals
keychains
small toys from Dollar Tree or Target Dollar Spot
pack of crayons
hair ties or scrunchies – I bought these velvet scrunchies a few years back to add to my daughters' Christmas stockings – They're a GREAT price for 45 scrunchies!
Hot Wheels cars
printable coupons for prizes to be used at a later date – Like these "Mom Bucks" or these printable reward ticket coupons
fun size candy bars – But be careful using chocolate as prizes if you'll be playing your plastic wrap ball game in a warm climate!
mini erasers
fidget toys – like fidget spinners, finger traps, squishies, mini pop-its, etc.
friendship bracelets
glow sticks or glow bracelets
mini candy canes
Saran Wrap Ball Game Prize Ideas for Adults
To come up with ideas for what to put in my plastic wrap ball game for adults, I basically just roamed the aisles of Dollar Tree. Here are some prize ideas for adults:
small packs of mints or gum
$5 gift cards to Dunkin or Starbucks
$5 gift card to Target
fuzzy socks – Items like this are flexible and can be used to "reshape" the plastic wrap ball as you are wrapping it.
mini bottles of car cleaner spray – I found some Armor All car cleaners at Dollar Tree!
car air freshener
individual packs of nuts
scratch-off lottery tickets
lip balm or Chapstick
mini bottles of hand lotion or sanitizer
individual sheet face masks
make up brushes or sponges
Make the Plastic Wrap Ball Game More Difficult with Challenges!
This Christmas wrap ball game is super fun to play with just two dice, but if you're playing with a large group of adults or teenagers, you may want to up the ante by adding in a few "challenges".
That's where my printable Wrap Trap cards come in handy!
These Saran wrap game challenge cards can be used a few different ways:
Mix the cards in to the plastic layers as you're wrapping your Christmas ball game. Then, when a player gets to a card, they have to complete the challenge.
Shuffle the cards before you begin playing the game. Then, have each player draw one card before they begin their turn.
There are 14 different plastic wrap ball challenges included, plus 2 blank cards for you to fill in your own ideas. Here's a list of the fun "Wrap Trap" challenge cards you'll receive:
Open the ball with your eyes closed.
Uh Oh! Your turn is over!
Wear oven mitts while opening the ball.
Sing a song while you open the ball.
Open the ball while hopping on one foot.
Open the ball using only one hand.
Choose 1 of your prizes to give to the person on your left.
Open the ball while running in place.
Lucky you! Unwrap the ball until doubles are rolled TWICE!
Take your turn, then skip the player to your right.
Unwrap the ball using only your left hand.
Wear socks on your hands to unwrap the ball.
Unwrap the ball behind your back.
Oh no! Pass 1 of your prizes to the person on your right.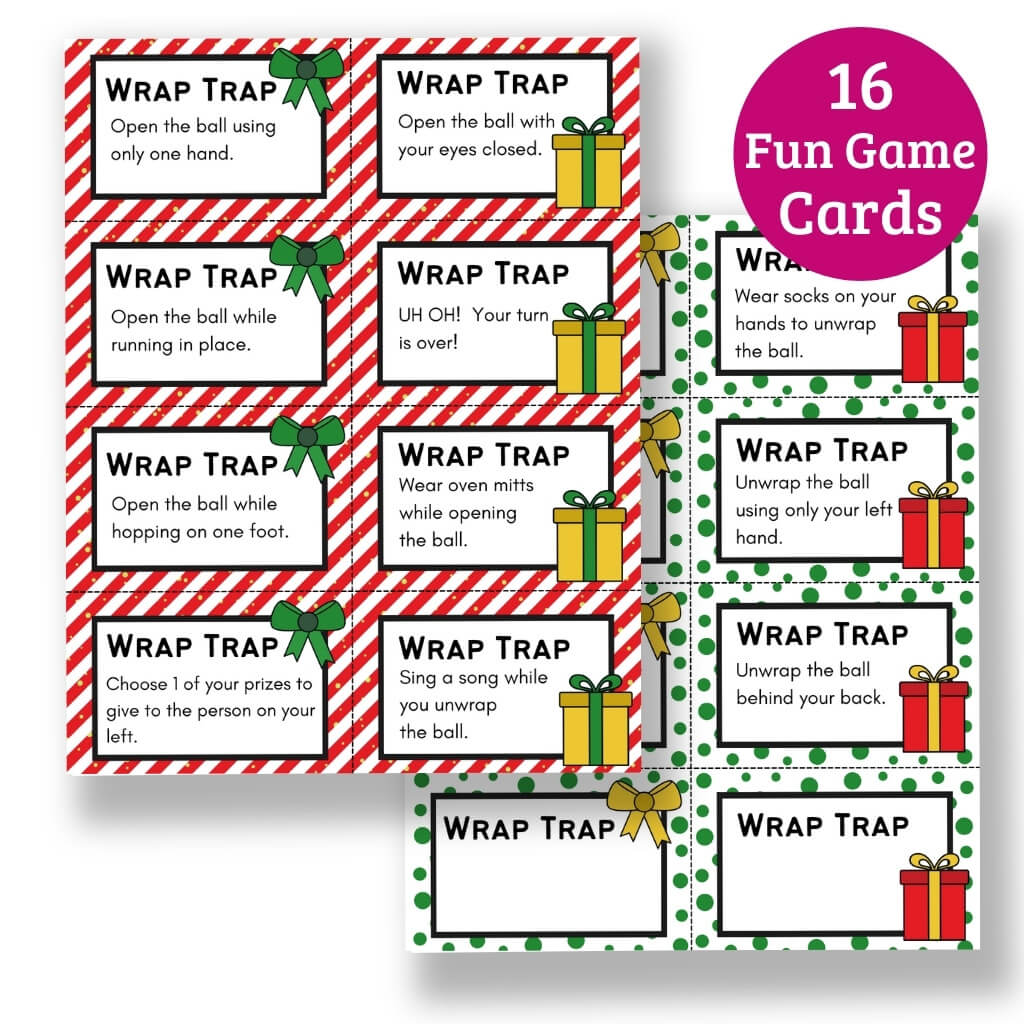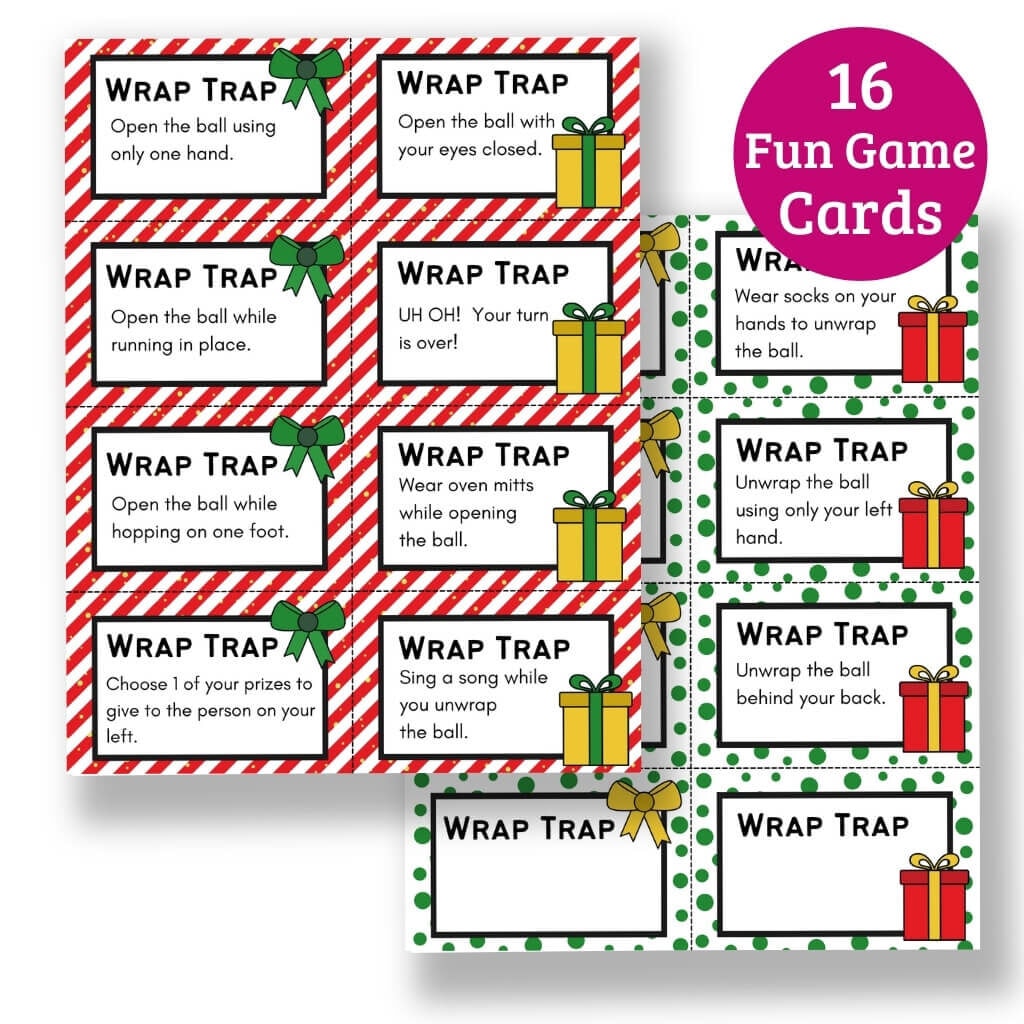 Click HERE to purchase the Plastic Wrap Ball Game Challenges!
Hope you enjoyed this fun family Christmas game idea! Want some other Christmas ideas that your family will love? Check out these posts:
And don't forget to PIN this post for later: