Christmas Charades is a fun and easy holiday party game to play this year! Just download the printable Christmas Charades cards, cut them out, and enjoy this fun family game with both kids and adults!
Christmas is all about spending quality time with your family and friends and making fun memories with those you love most. And a great way to do that is with a fun Christmas game that everyone can play together!
Christmas Charades is the perfect holiday activity for entertaining because it can be prepped in about 5 minutes, it's super easy to play, and you can customize the charades word list to fit a wide range of player ages.
Not to mention, it's hilarious to see everyone frantically trying to get their team to guess the right Christmas terms. Talk about tons of giggles!
Here's everything you need to know about this popular Christmas family game, including how to play and a Christmas Charades word list to use: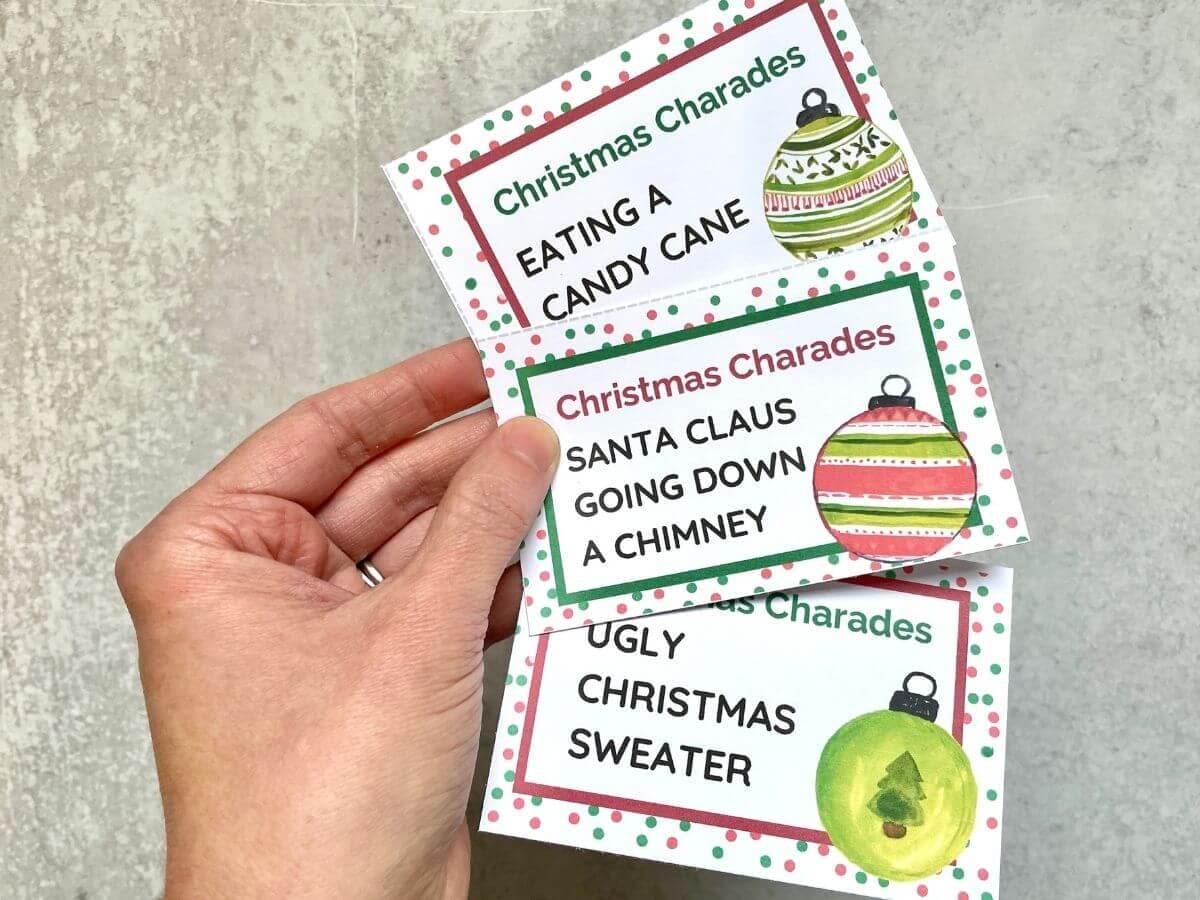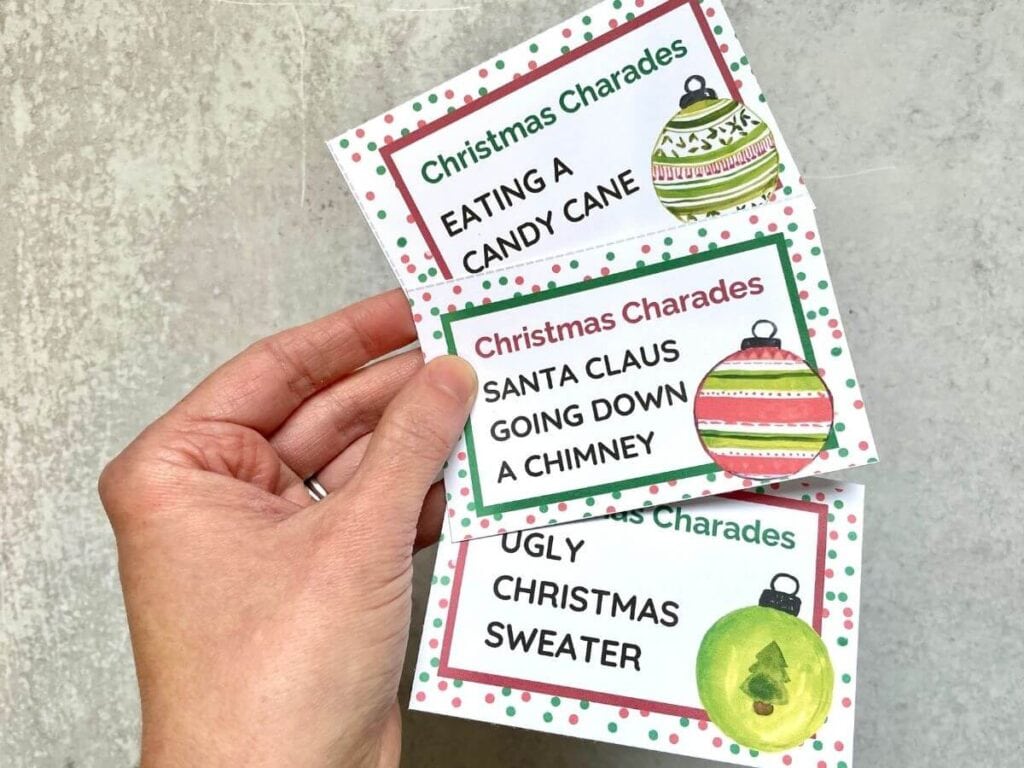 What is Christmas Charades?
Christmas charades is a game where players act out Christmas-themed words or phrases for others to guess. Think regular Charades except with a Christmas word list.
This fun game requires pretty much zero prep work, and it's a great way to get into the Christmas spirit and have some laughs with family and friends!
Whether you're having holiday gatherings this December with a big group of family or you need an easy classroom activity for your elementary aged kids, this easy Christmas game is sure to be a hit!
How to Play the Christmas Charades Party Game
There are many different ways to play charades, but here are the basics:
Divide players into two teams.
The first team sends up one player to draw out a Christmas-themed word or phrase from the bowl or bag.
Set a timer for one minute.
The player from team A acts out the chosen word or phrase for the other players on their team to guess.
If team A can't guess the word within 60 seconds, then the word gets passed to a player on the opposite team. The player from team B then gets a set amount of time to act out the same word for their teammates to try and "steal" the point.
Then, a player from team B draws a card and takes a turn.
One point is awarded for each correct guess.
The game goes on until one team reaches a specific number of points or the game time runs out. For instance, the game ends once a team gets 10 points or after 30 minutes of play.
*You can also skip the "steal" option… so if team A is not able to guess the Christmas charades phrase, then it gets thrown out, instead of giving team B a chance with the same word.
More Challenging Ways to Play Holiday Charades for Adults
To make this fun Christmas party game more challenging for older players, you can also use these fun variations:
Option 1: "Steal" the Point in ONE Guess
Set the timer for one minute. If team A is able to guess the word before the timer runs out, then they get a point. But if not, then team B gets to make ONE guess of what the Charades word is… but here's the kicker, team B has to guess based on the actions that they just watched from the player on team A. This helps the game move along a bit faster.
Option 2: How Many Can You Guess in One Minute?
Set the timer for one minute. The first team gets to guess as many words as they can in that one minute… so after the players from team A guess one card, then they immediately draw another one. Either the same player can continue to act out each word or a different player can come up to do the acting. After the one minute is up, then add one point for each correct answer.
Then, team B gets one minute to see how many they can guess.
Option 3: Act or Draw?
Combine Christmas Charades and Christmas Pictionary in to one epic holiday party game!
After the designated player draws a card, have someone flip a coin. If the coin lands on heads, then that player has to ACT OUT the card. If the coin lands on tails, then the player must DRAW what's on the card.
*My printable Christmas game cards are perfect for this!
What Do I Need to Play Christmas Charades?
The great thing about the Christmas Charades party game is that it requires very few supplies. Here's what you need:
Christmas Charades word list – You can use my Christmas charades printable cards at the end of this post, use a Christmas charades generator, or come up with your own words depending on the ages of the players.
Timer – This can be a portable oven timer, a cheap 2 minute sand hourglass timer from Dollar Tree, or even the timer on your iPhone.
Decorative basket or gift bag to store the word cards – So players can't see what word they are choosing!
Inexpensive prizes or treats for the winning team
*Note – If you're going to use printable Christmas Charades cards, you'll need access to a printer plus white card stock, and scissors or a paper trimmer. I prefer printing my holiday Charades game on card stock because the game cards are much sturdier and I can use them year after year.
Charades Rules
The rules of Christmas Charades are simple:
no talking or making noise of any kind
no lip movements
no pointing at things in the room
no props
Christmas Charades Printable Cards
To get your family game night started, print off my Christmas charades game cards! You can use these to play the traditional version of charades, or you can make the game more difficult for adults using the fun variations mentioned above. Either way, get ready for lots of laughs this Christmas season!
The printable Christmas Charades game cards are available in my shop here!
To prep your game, print out the PDF onto white card stock to make the charades words and phrases sturdier.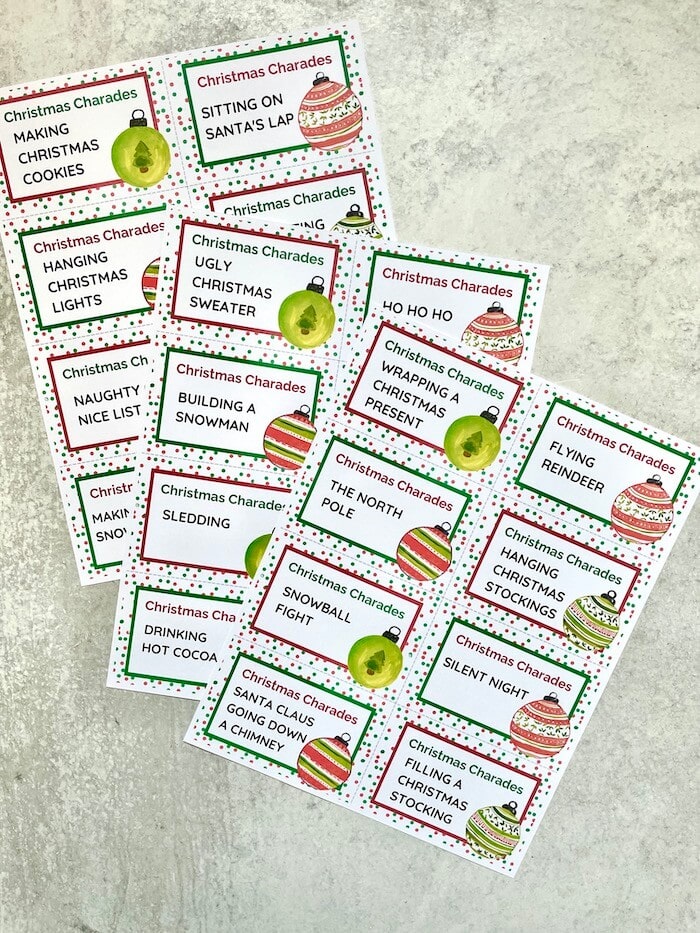 Once you've printed off your game cards, cut the cards apart with a paper trimmer or scissors. You can also laminate the cards to reuse next year if you want, but just using card stock instead of regular printer paper will help to keep the cards from wrinkling.
Then, gather everyone around for some fun (and maybe a few laughs!).
Christmas Charades Word List
The printable charades cards are filled with 72 different holiday words and phrases. Some of the words you can expect to find on the printable Christmas charades cards are:
Wrapping Christmas presents
Flying reindeer
North Pole
Hanging Christmas stockings
Snowball fight
Silent night
Home Alone movie
Snow skiing
Rudolph the Red Nosed Reindeer
Cutting down a Christmas tree
The Nutcracker Ballet
Frosty the Snowman
Kissing under the mistletoe
Decorating the tree
Ugly Christmas sweater
The Grinch
Egg nog
Wrapping paper
Eating a candy cane
Ho Ho Ho
Jingle bells
Santa coming down a chimney
and many more!
Use this list to make your own Charades game or grab the printable cards in my shop!
Your New Favorite Christmas Party Game
Planning a family game night is great, but there are so many other ways to get a good game of holiday charades going. Whether you have a crowd to entertain or just a few friends, this holiday game is so adaptable.
Use one of these ideas to play charades:
Host a Christmas game in the classroom as a reward or holiday party activity for kids.
Set up the game for your yearly office party.
Play this fun Charades game with your church youth group.
Entertain the kids at home with a quick game of Christmas Charades, or let them play with their siblings so you can get some Christmas wrapping done.
Instead of acting out words and phrases, try something different like drawing the phrase on the game card on a dry erase board.
Christmas Charades Ideas for Kids
Christmas charades can be adapted for any age group by changing the words and phrases used.
For example, young children will enjoy using images that they're familiar with rather than words and phrases. You can print out some common Christmas pictures (Christmas tree, candy cane, snowman, etc) and let preschoolers and kindergarteners act out or draw the picture for their team to guess.
You can also turn this game into a fun educational activity by teaching kids new grade level appropriate reading words and phrases while letting them play their own version of charades! For instance, you can use simple words like:
bell
doll
angel
toy
sled
scarf
snow
elf
More Holiday Printables
If you're looking for more Christmas-themed activities, don't forget about my beloved Christmas Light Scavenger Hunt!
Or play my personal favorite Christmas game, the Saran Wrap Ball Game with printable challenge cards to make it extra hilarious!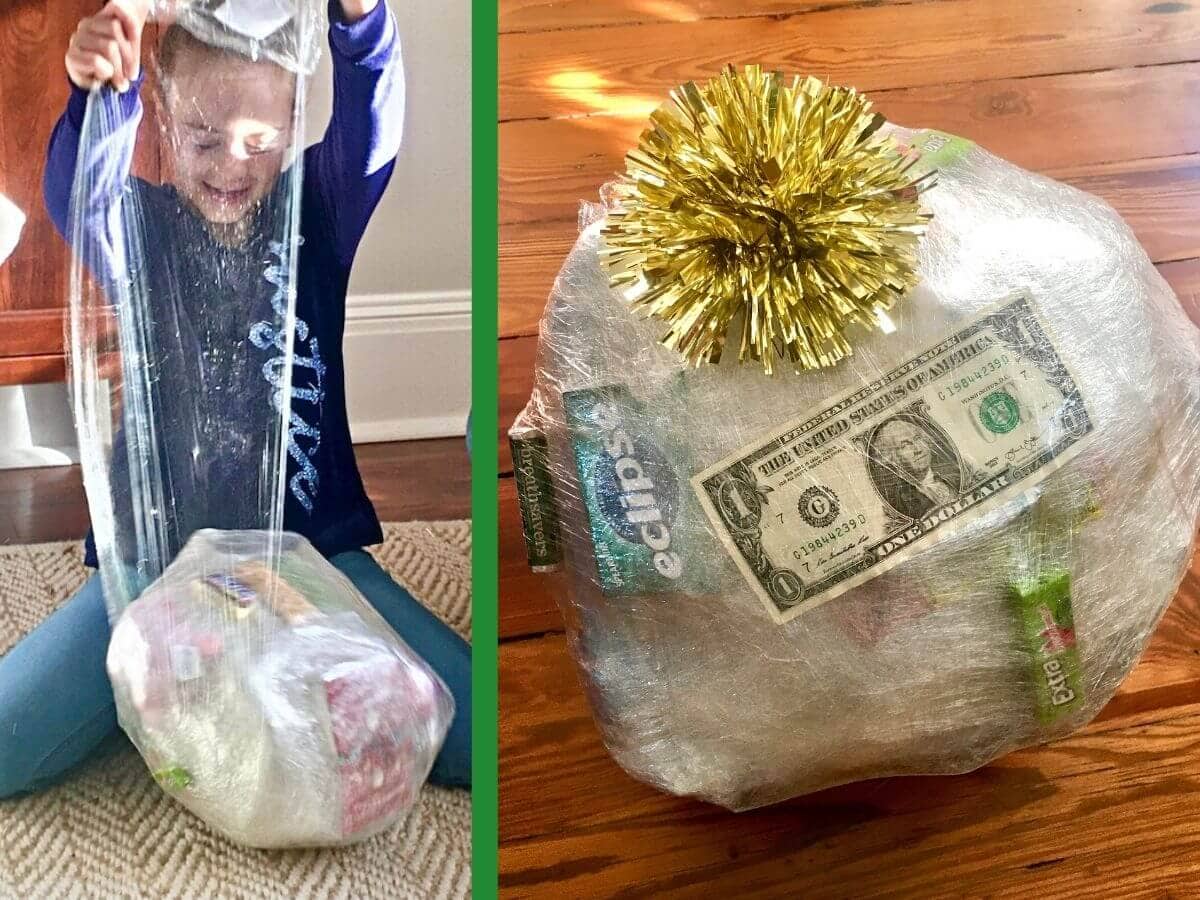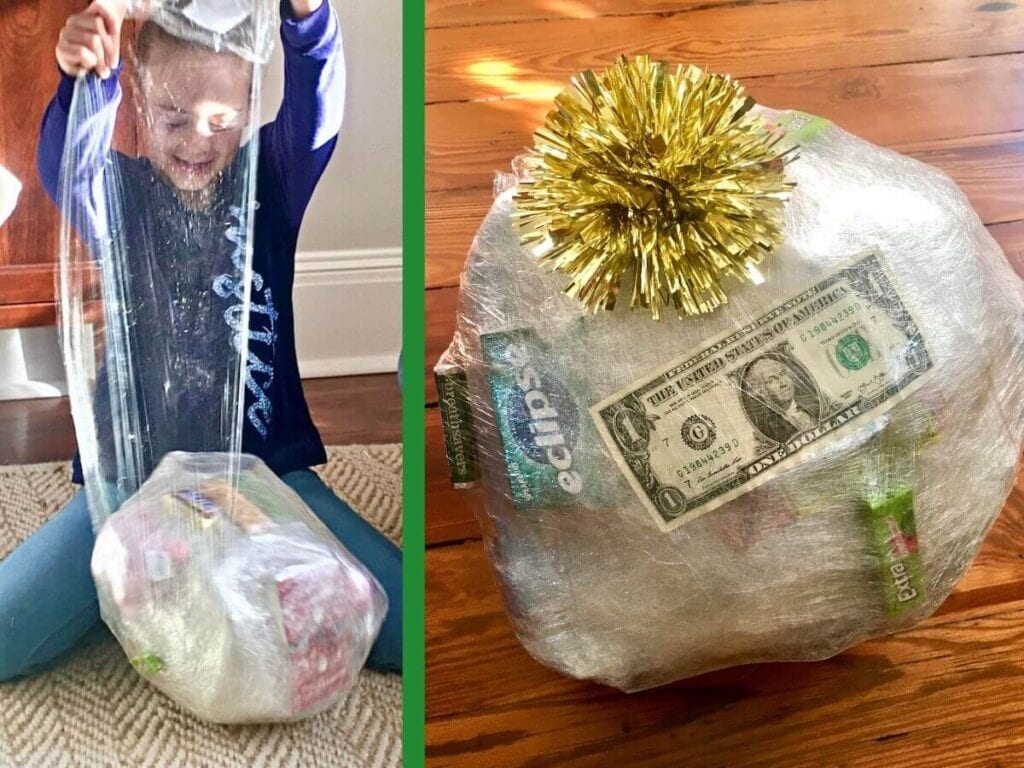 Or, if you're looking for an easy activity that kids can do on their own, check out this Christmas Countdown Calendar printable!
And here are some other Christmas ideas that I know you'll LOVE:
And don't forget to PIN this post for later when you're needing last minute Christmas party games!