These chocolate pretzel Christmas trees are an easy holiday treat to make with your kids! Add them to a decorative tin to give as neighbor or teacher gifts, or serve them as fun treats for your kids!
Christmas is my favorite time of the year… and I'd have to admit, it's largely because of Christmas cookies and sweet treats!
I had a neighbor a few years ago that would always spend hours in the kitchen baking a variety of sweets, cookies, and candy and then box them up in cute gift tins for neighbor gifts. She was the type of lady that you wanted to live next door to!
But just because baking Christmas treats is an annual tradition doesn't mean it has to be difficult! With the help of a no-bake recipe, you can prepare an adorable holiday treat without even turning on your oven. (Want another easy no-bake Christmas treat? Check out these No-Bake Snowflake Pizzelle Cookies!)
These cute chocolate pretzel Christmas trees are so easy to make – even the kids can help out. And since they're made with just three ingredients, you can whip them up in an afternoon without any additional prep work needed.
Here's how to make these easy chocolate Christmas tree pretzels: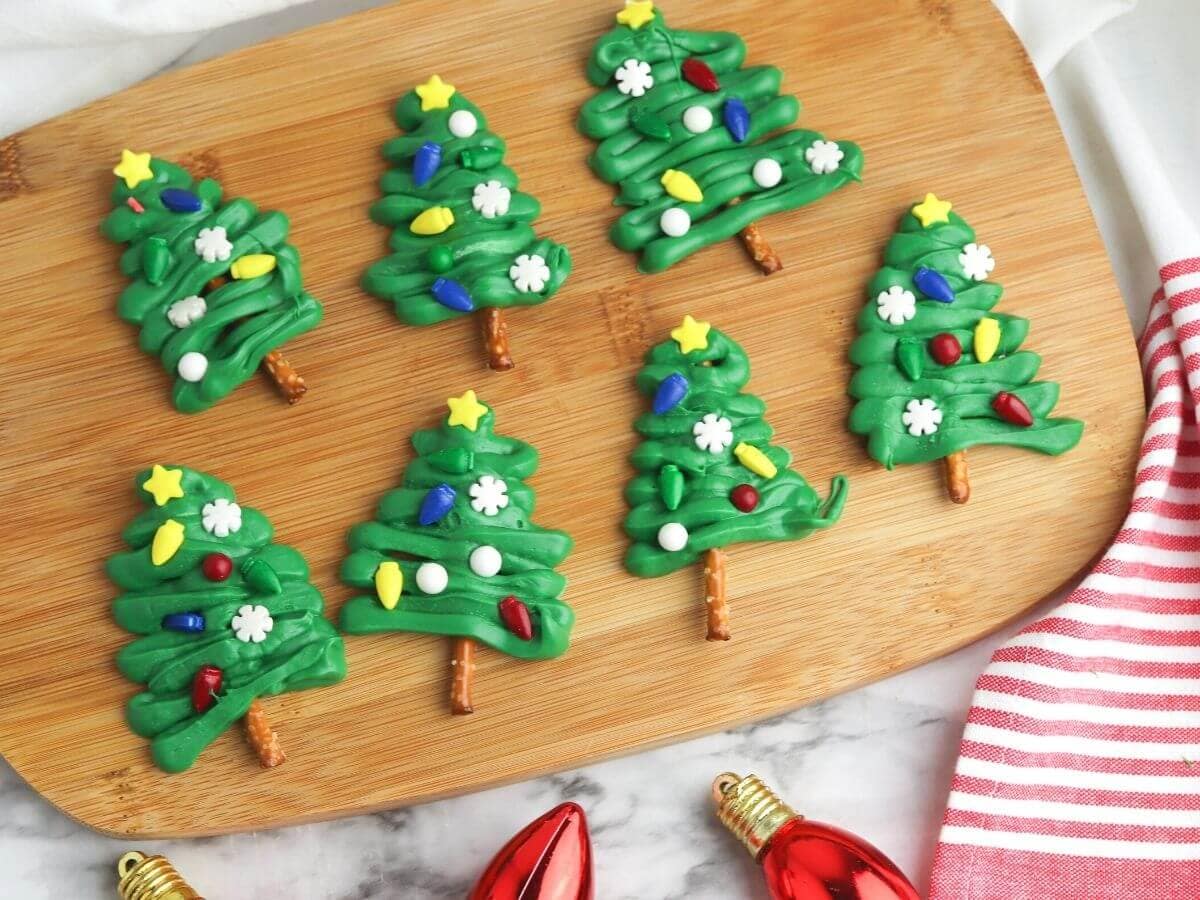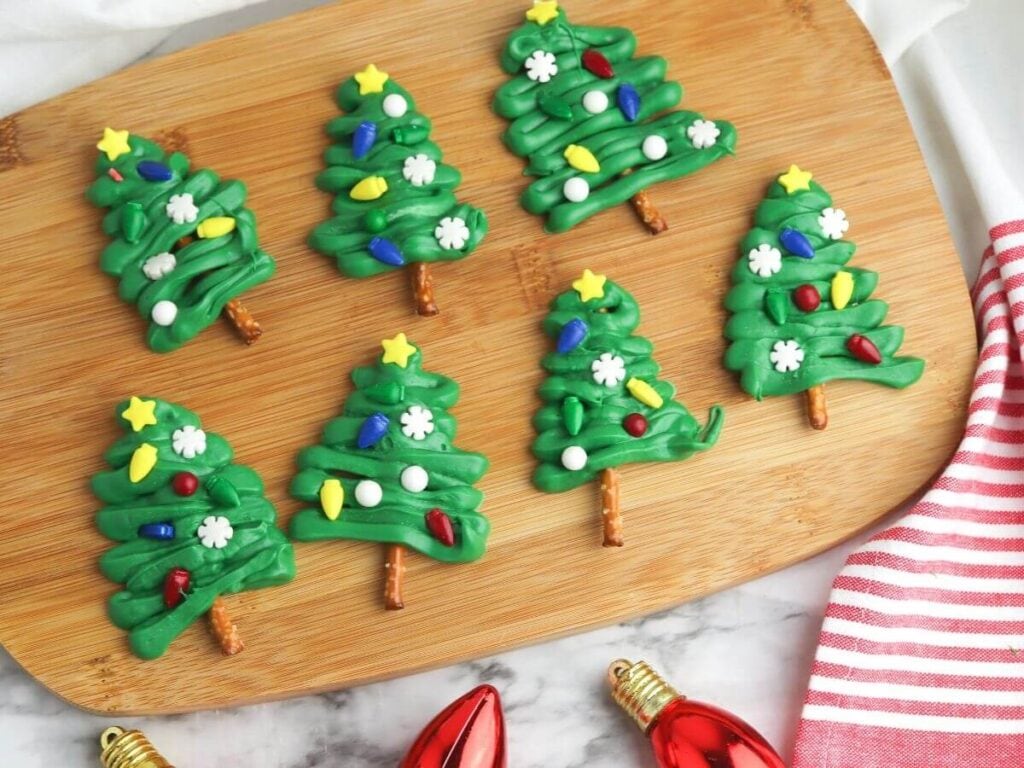 Pretzel Christmas Tree Ingredients
The best part about this easy recipe is that it's made with just three ingredients! To prepare these adorable no-bake Christmas pretzels, you'll need:
Green candy melts
You can find these colorful melting chocolates in the wedding or party section of your favorite store, like Wal-Mart. They can also be found in the cake decorating aisle of most craft shops. Melting chocolate comes in a variety of colors and flavors, but to give your pretzel treats a classic look, dark green is a great choice.
Pretzel sticks
Make mini trees by using traditional pretzel sticks. Or make big no-bake Christmas treats with pretzel rods. If you choose pretzel rods for your treats, I suggest doubling the amount of melting chocolate. You can even use gluten free pretzel sticks to make a gluten free treat.
Christmas sprinkles
You can leave your pretzel trees plain, but where's the fun in that? Add some Christmas spirit to your no bake cookies with the help of sprinkles. I used Wilton sprinkles that look like Christmas lights, but any sprinkles would work perfectly with this easy recipe.
How to Make Chocolate Pretzel Christmas Trees
What I love about this simple recipe is that you don't need your oven! All you need is a microwave and some wax paper to prepare these simple treats. That means your kids can make these cute Christmas pretzel treats with just a little bit of adult supervision.
To make your own pretzel Christmas trees, just follow these three simple steps:
Step 1: Melt the chocolate.
Follow the instructions on the back of your melting chocolate bag to melt your chocolate. Once the green candy is melted, transfer it to a piping bag. Cut off the very tip of the bag when you're ready to start making your Christmas trees.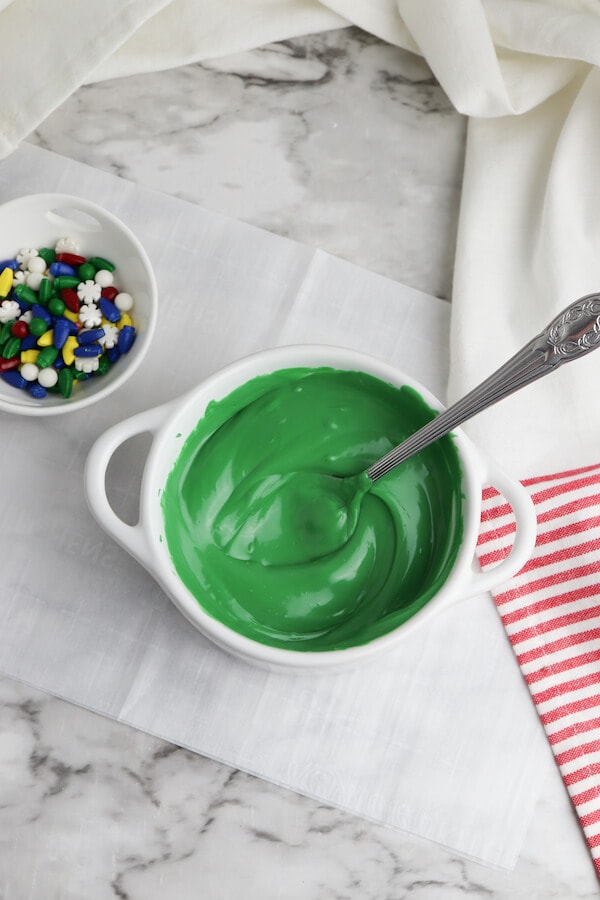 Step 2: Drizzle the chocolate.
Lay your pretzel sticks on top of a piece of wax or parchment paper. Drizzle the green chocolate over the top of the pretzel sticks, starting at the top and working your way down the stick. Start with small lines and gradually make the drizzles longer to create the shape of a Christmas tree like this: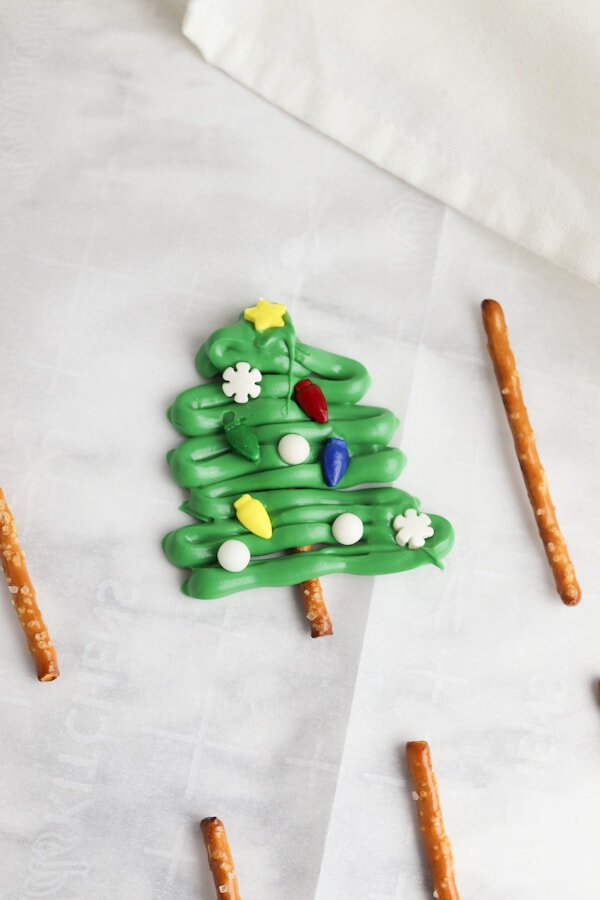 Step 3: Decorate your chocolate Christmas trees with sprinkles.
Working quickly, add the sprinkles to the top of each tree. Since the melting chocolate sets quickly, it's a good idea to decorate your tree immediately after drizzling the chocolate over the top of the pretzel. You can place the sprinkles with your fingers or simply sprinkle the decorations over the top of each tree.
And then you're done! So cute, right?!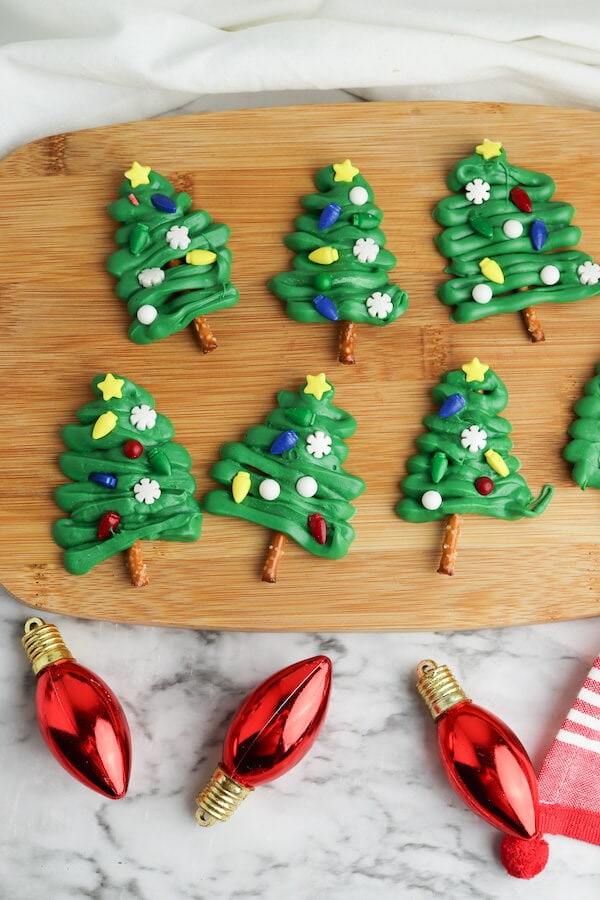 Pretzel Christmas Tree Tips & Tricks
While these easy treats are very simple to make, it doesn't hurt to have a few tricks in your back pocket. With the help of these tips, you'll be making beautiful Christmas tree treats in no time.
Use a gallon zip-top bag. There's no need to purchase piping bags if you don't have any at home. Just use a gallon zip-top bag instead. After filling your bag with chocolate, just twist the top to secure the chocolate in place. Then, cut off one corner of the bag to drizzle the chocolate over the pretzels.
Place your bag in a wide mouth jar for easy pouring. It can be difficult to fill a piping bag with hot chocolate while holding it in your hand. To protect yourself and keep from making a mess, put your bag in a wide-mouth jar to hold it in place. After putting the bag in the jar, fold the top of the bag over the top of the jar. The bag will stay in place as you fill it, then simply pull the ends up off the jar and twist to use.
Only cut the tip off the end of the bag. The higher you cut the tip of the bag, the bigger your drizzle will be. To keep your trees from looking sloppy, make sure to cut just the tip or corner off your bag. The chocolate drizzle will be smaller and easier to control using this method.
Let adults take care of the chocolate. If you'll be making these no bake treats with small kids, let the adults be in charge of the chocolate. In addition to being hot, the melted chocolate can be messy if you're not in complete control of the piping bag. After you drizzle the chocolate to create the trees, let the kids add the sprinkles and other decorations to the chocolate before it sets.
Try different decorations. Any type of Christmas sprinkles is perfect for decorating your chocolate trees, but they're not the only option! To give your trees a snowy look, dust some powdered sugar over the top of the trees after the chocolate sets. Or use different colors of melted chocolate candy to decorate your trees with lines for tinsel or dots for ornaments.
Loved this easy Christmas idea? Check out some of my other Christmas posts:
And don't forget to PIN this post for later:
Yield: 15 chocolate trees
Chocolate Pretzel Christmas Trees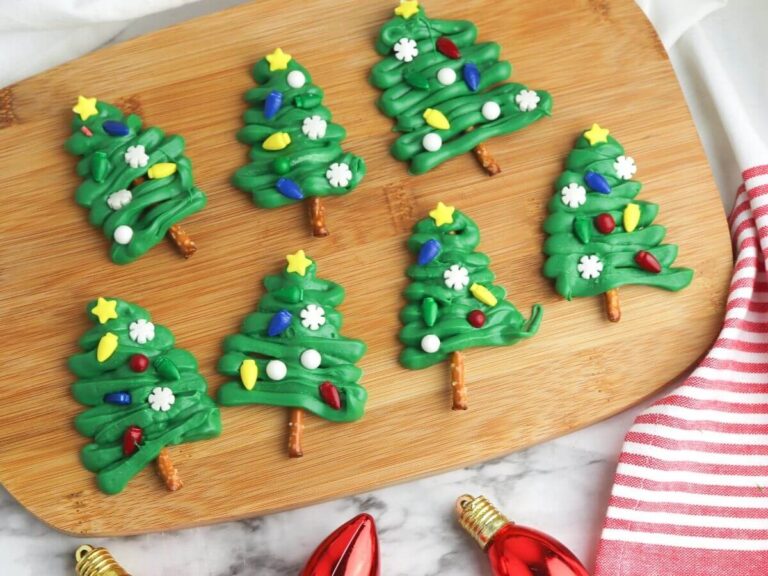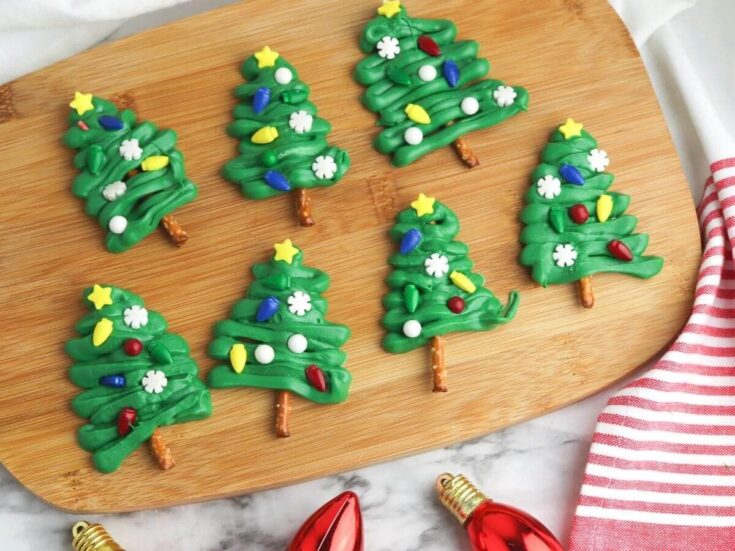 These chocolate pretzel Christmas trees are fun and easy holiday treats to make as gifts for neighbors, teachers, or your kids' classmates. Let your kids lay out the pretzel sticks and sprinkle the decorations on top, and you've got a fun Christmas activity, too!
Prep Time 20 minutes
Total Time 20 minutes
Ingredients
1 12-ounce package green candy melts
15 mini pretzel sticks
Sprinkles or small candies for decorating
Instructions
Heat the green candy melts in the microwave according to the package instructions.
Transfer the melted candy to a piping bag or Ziploc bag, and cut the tip off the bag.
Lay the mini pretzel sticks on top of a piece of wax or parchment paper with enough space in between each to create your Christmas trees.
Drizzle the candy melts over the top of the pretzel stick in a zig zag pattern, making the lines slightly larger as you move down the pretzel to create a Christmas tree shape.
Immediately decorate the chocolate trees with sprinkles while still wet.
Allow the chocolate to cool and set before serving.
Nutrition Information:
Yield:
15
Serving Size:
1
Amount Per Serving:
Calories: 200
Total Fat: 1g
Saturated Fat: 0g
Trans Fat: 0g
Unsaturated Fat: 1g
Cholesterol: 0mg
Sodium: 360mg
Carbohydrates: 45g
Fiber: 1g
Sugar: 15g
Protein: 3g
Nutritional information is provided as a courtesy and is an estimate only. Different online calculators may calculate nutritional information differently. Also, the addition of optional ingredients and varying brands and products may change the information. For the most accurate data, you should calculate the nutritional information with the actual ingredients that you use.
*Go here for more easy homemade Christmas treats to give as gifts!