A Christmas bucket list is a great way to keep track of all of the fun holiday activities you want to do this year! Grab the free printable Christmas bucket list and plan out your own fun holiday things to do!
If there's one time of year that calls for a big old to do list, it's Christmas! Not only are there fun family Christmas traditions like going for your annual Christmas lights drive and baking cookies for neighbors, but there's also special seasonal events that pop up like local Christmas tree lightings and Christmas parades.
But with so many things going on during the holidays, how do you keep track of everything?
A Christmas Bucket List!
This super cute holiday bucket list printable can help you stay organized, and it's a great way to involve your kids in planning out fun family activities! And, you can actually type in the editable bucket list template!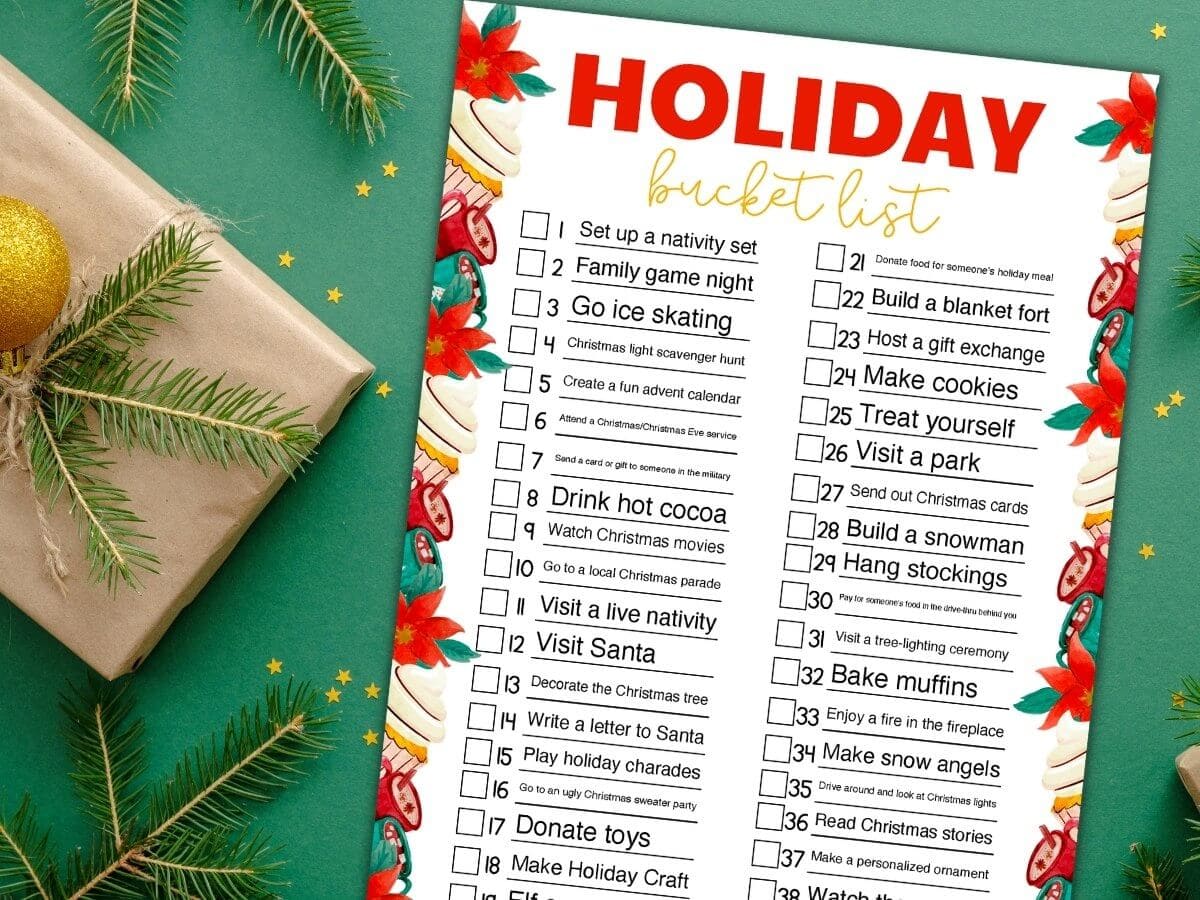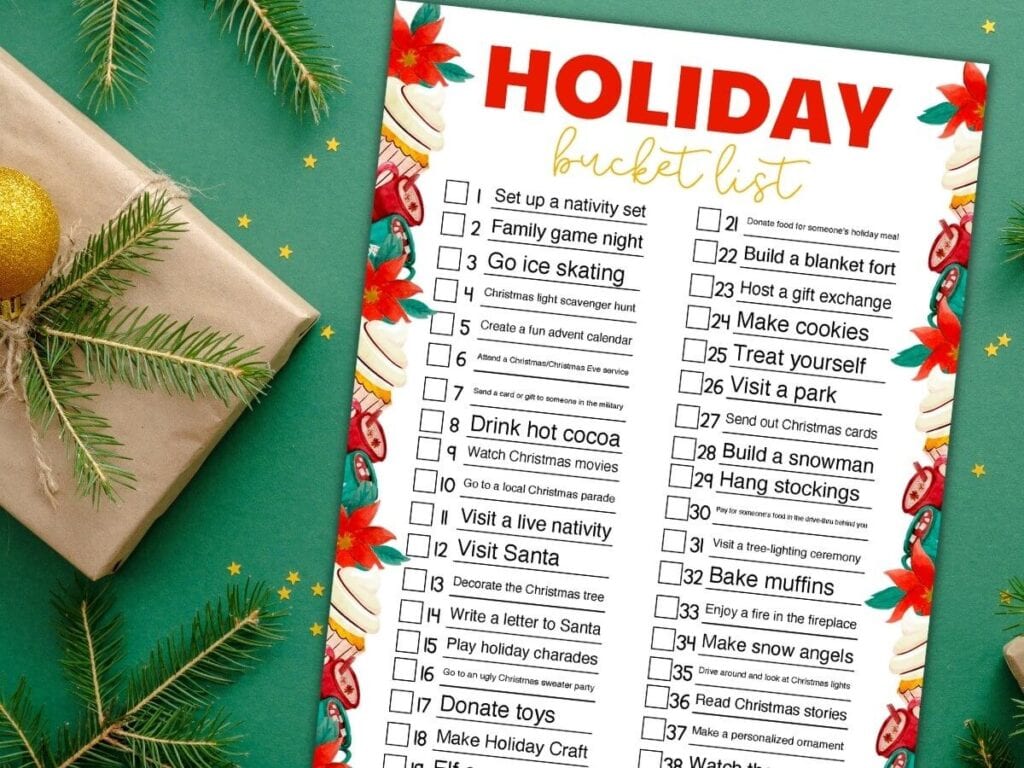 What is a Bucket List?
A bucket list is just a list of things that you want to do or achieve in a given amount of time. Typically, when someone says "That's on my bucket list", they mean that they want to do it before they die… but in recent years, holiday bucket lists have grown in popularity!
You can have a Summer Bucket List or a Fall Bucket List too!
Ideas for How to Complete Your Bucket List
Let's face it… the holiday season is super busy even without having a list of things to do in December… from buying and wrapping gifts to sending out Christmas cards to attending 421 different school and extracurricular Christmas programs!
But the great thing about a family bucket list is that you can customize it fit your busy schedule! Here are some ideas for how to use your own family holiday bucket list:
Work your way down the list from top to bottom
Choose a couple of days (say, Wednesday and Saturday) and do a bucket list activity on those days each week
Pre-plan on your calendar (so you are prepared) when you will do each activity and announce it to your family on the day of (this adds a fun surprise element for the kids!)
Choose a Christmas bucket list activity to do whenever you have free time
Look at your calendar each week and plan the activities you will do on a weekly basis
Let your kids choose their favorites from the list and help you write them on your family calendar. This is a great way to help your children learn time management and planning skills.
Write the Christmas Bucket List activities on little strips of paper and draw one out of a hat
Our family is going to do a combination of letting our daughters choose their favorite holiday bucket list activities while mom and dad figure out the logistics of which day works best.
Why You Should Make a Holiday Bucket List
I LOVE making bucket lists with my family for a few reasons:
A bucket list can make your kids feel loved – Creating a list of fun family activities to do together shows your kids that you want to spend time with them, and including them in the creation of your family's list makes them feel like you value their opinions!
A bucket list can save you money – Especially if you fill it with cheap or free activities to do in December!
A bucket list helps you not forget any fun Christmas activities – Keep your list of Christmas things to do on the fridge so you don't forget about any activities that your kids want to do!
50 Christmas Bucket List Ideas
So without further ado, here are some awesome holiday activities to add to your December bucket list:
Christmas Activities to Do at Home
set up a nativity set
family game night
make Christmas cards to send to military members serving overseas
make hot cocoa with fun mix-ins
decorate your Christmas tree – To add a little excitement to this sometimes mundane activity, try to incorporate something new into your decorations like wide wired ribbon!
have a Christmas movie marathon
Countdown to Christmas with printable coloring sheets – I've got some super cute free printables that your kids will LOVE!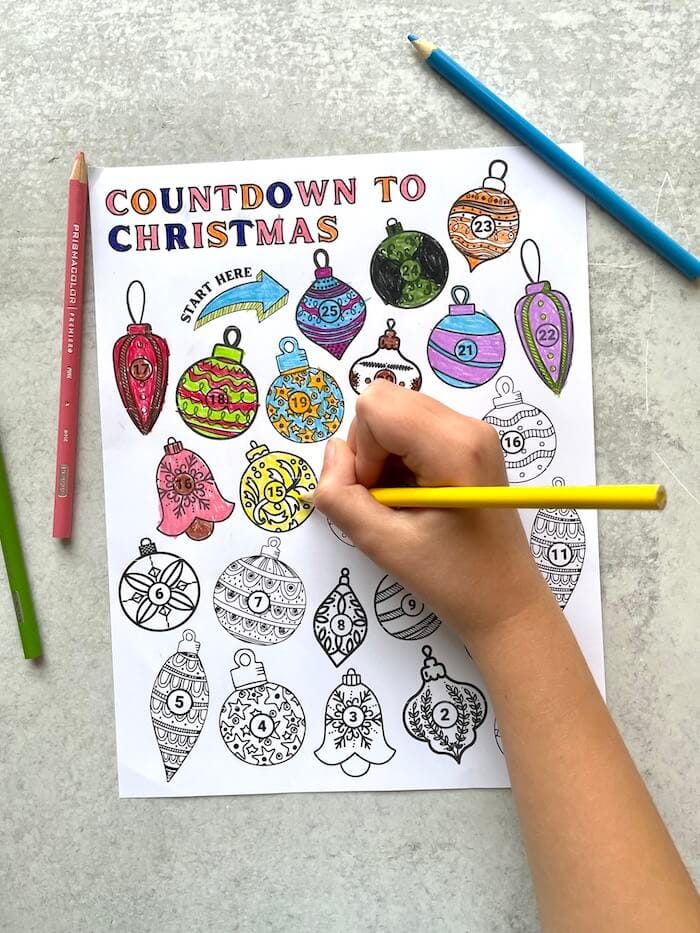 play holiday charades
make holiday crafts
go through your kids' playroom and pick out toys to donate to those in need
wear matching holiday pajamas and have a family Christmas movie night
read Christmas stories in front of the fireplace
bake muffins for Christmas morning
enjoy a fire in the fireplace
host a "Cookies and Cocoa" party
make your own Christmas ornament
make snow angels
make a Christmas craft for DIY holiday decor – Try this awesome "Merry" DIY Christmas sign!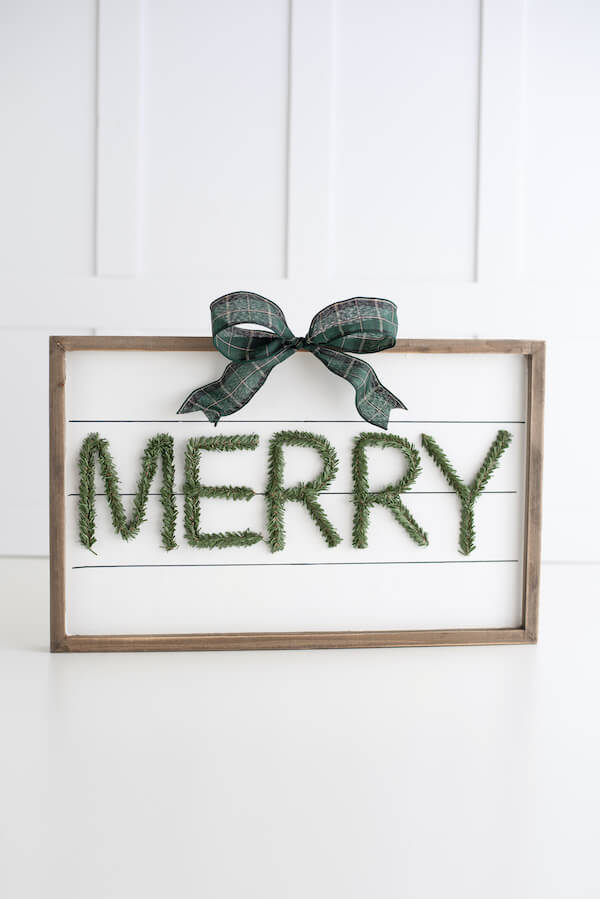 have a Christmas gift wrapping competition – See who can wrap the prettiest or most creative gift!
drink eggnog – Or make a wacky eggnog recipe like eggnog pancakes or eggnog milkshakes
send out Christmas cards
make Christmas cookies
write letters to Santa – You can use these free printable Santa Letter templates!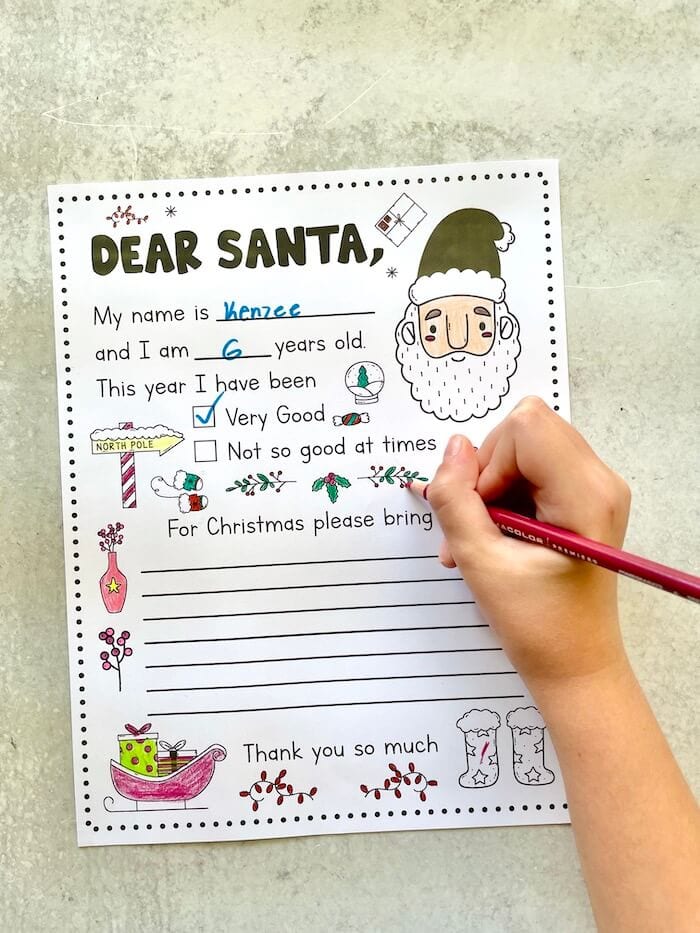 make gingerbread houses
bake a birthday cake for Jesus – This is something on our family's Christmas bucket list every year, and my kids LOVE it (even if Jesus's cake looks like a sprinkle factory exploded on top of it)!
make homemade cinnamon rolls for Christmas morning
take your family Christmas card photo
Christmas Bucket List Ideas for a Night Out on the Town
While nothing says "Christmas time" like sitting on the couch and watching a Hallmark movie with a cup of cocoa, it is nice to get out of the house sometimes! Here are some "out on the town" ideas for your Christmas to do list:
go ice skating
visit a tree-lighting ceremony
go shopping for a few kids from the Angel Tree
go to a local Christmas parade
attend a Christmas Eve service
head to a Christmas specialty shop and buy one new ornament – This is one of our family Christmas traditions… We let each of our daughters pick out a new ornament each year, and we label them with a small tag that says the year. Then, when they get older, they'll have a whole collection of Christmas ornaments started for their own trees!
visit a live nativity
visit a local craft fair
cut your own Christmas tree at a Christmas tree farm
see a Christmas play or musical in your town
take your kids shopping separately so they can each pick out gifts for their siblings
drive around and look at Christmas lights – You can even up the fun factor with these free printable Christmas Lights Scavenger Hunts!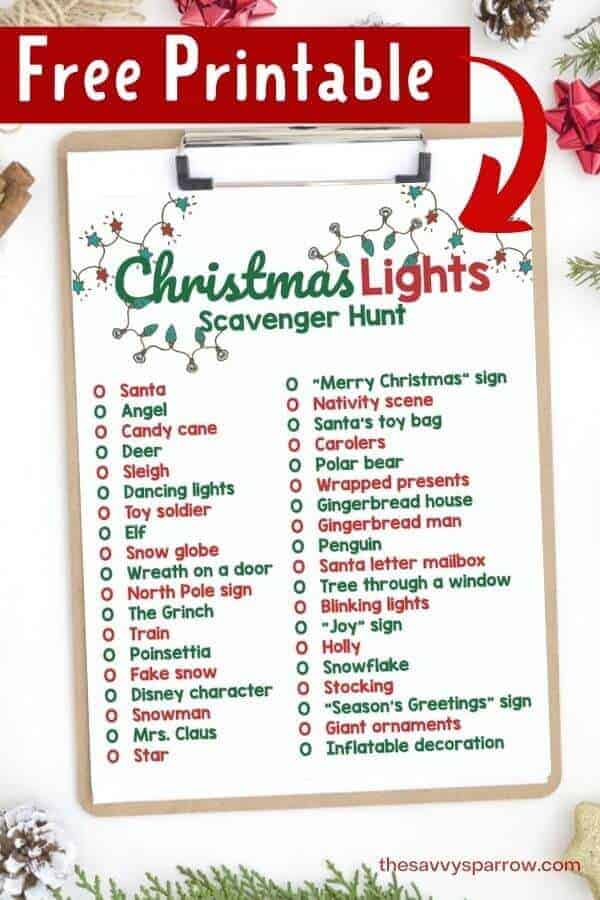 Christmas Acts of Kindness for Your List
I've got a whole post on ideas for random acts of kindness for Christmas (plus a super cute printable!), but here are a few easy Christmas kindness ideas you can add to your list: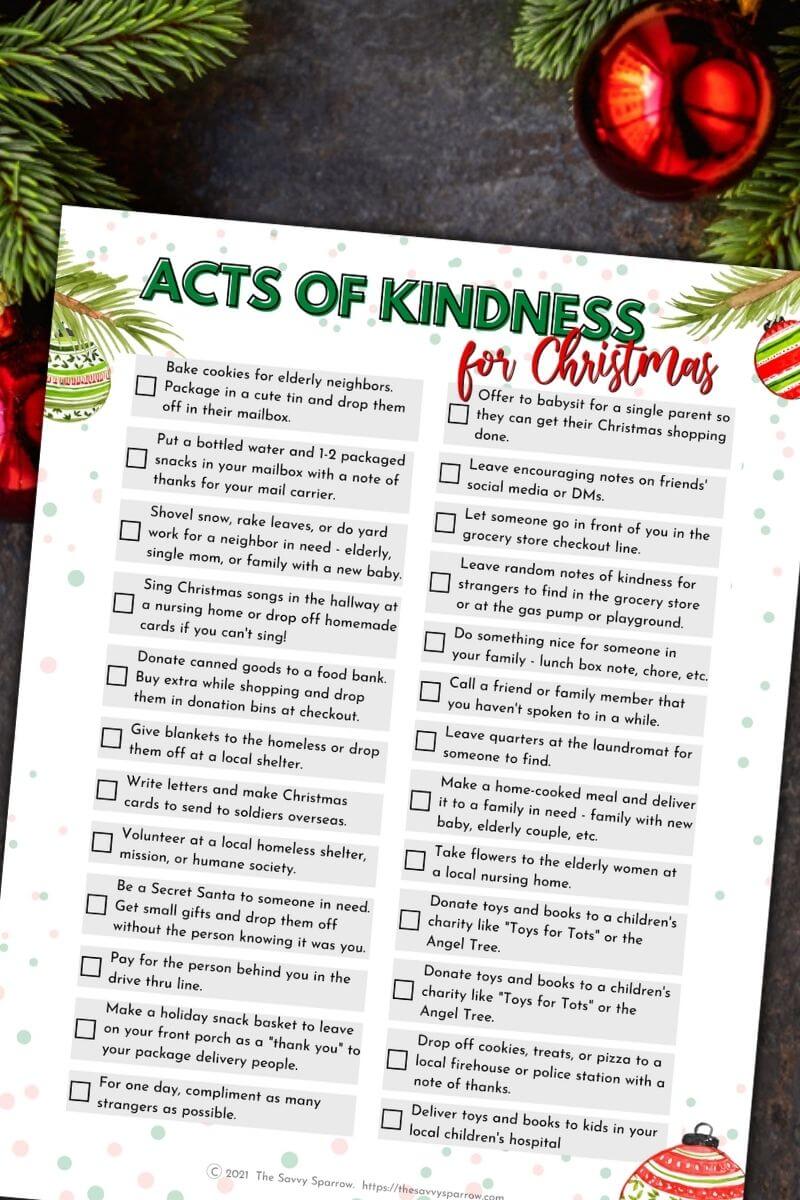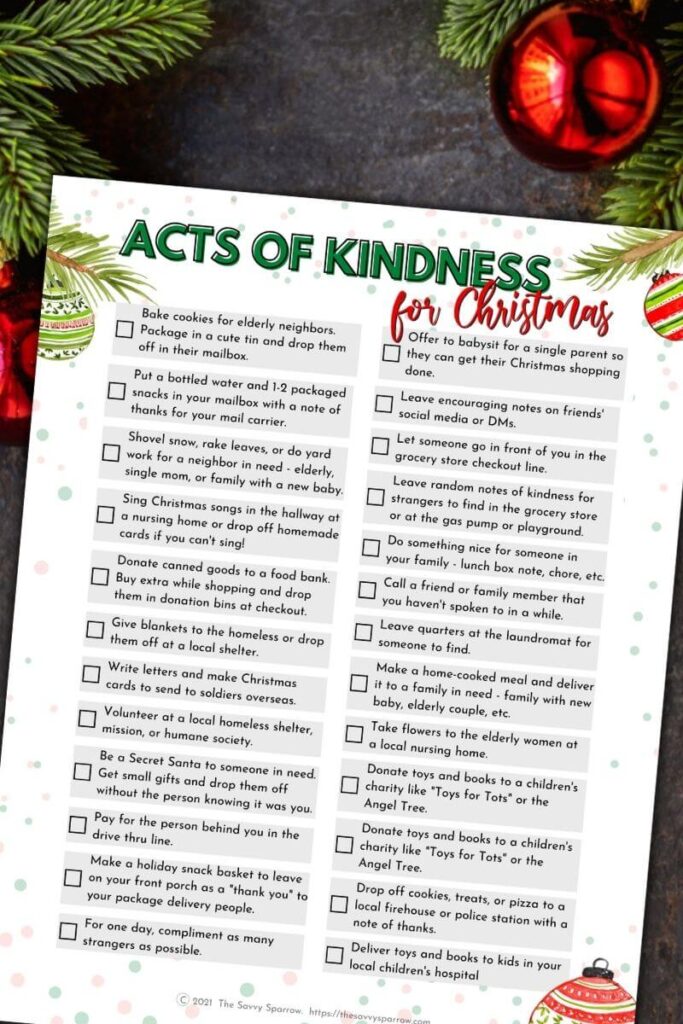 bake cookies to deliver to elderly neighbors
pay for the person behind you in the drive thru
make a holiday snack basket for delivery drivers with a cute printable "Thank You" sign
donate canned goods to a local food bank
offer to babysit for a single parent so they can get their Christmas shopping done
drop off new or gently used blankets to a homeless shelter
hide encouraging notes around the grocery store for other shoppers to find
How to Type In the Editable Holiday Bucket List PDF
If you have awful handwriting like I do, then you'll appreciate being able to actually TYPE in to the editable Christmas bucket list! Here's how to do it: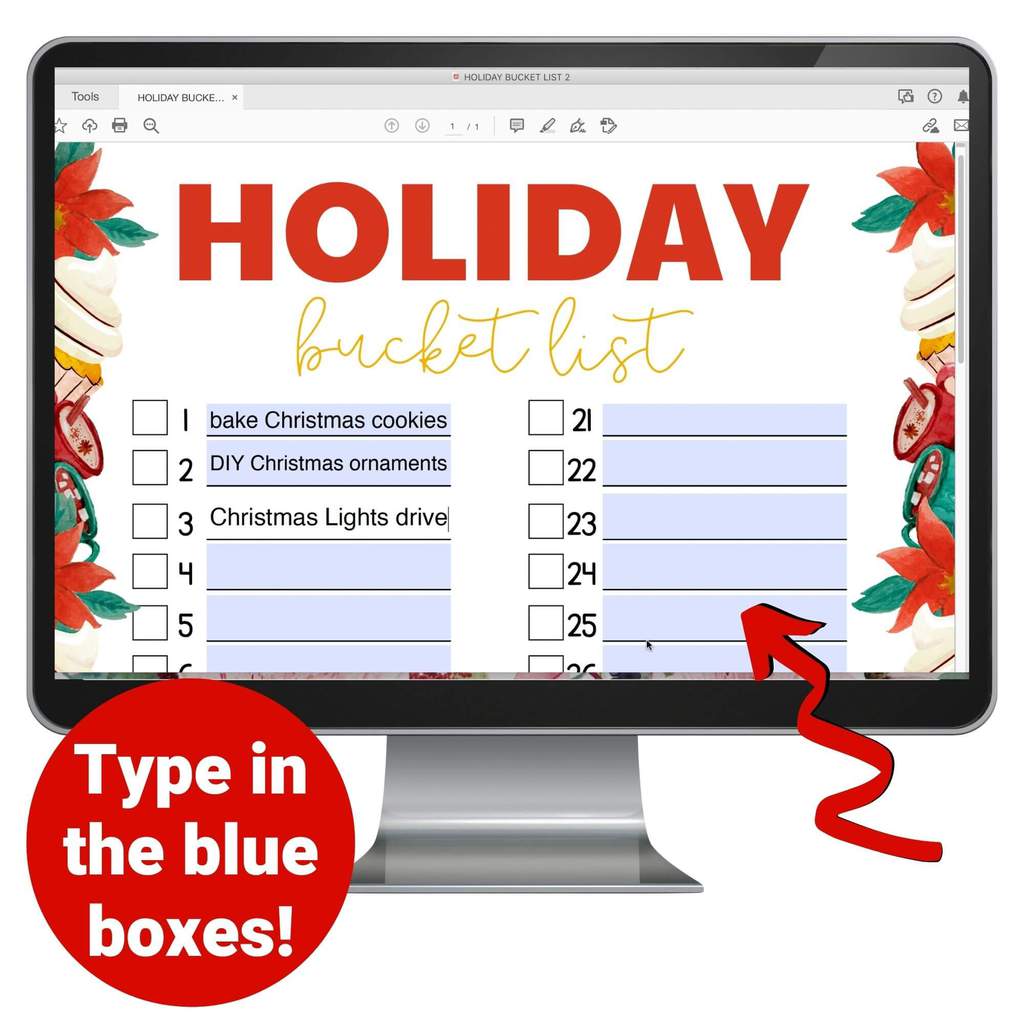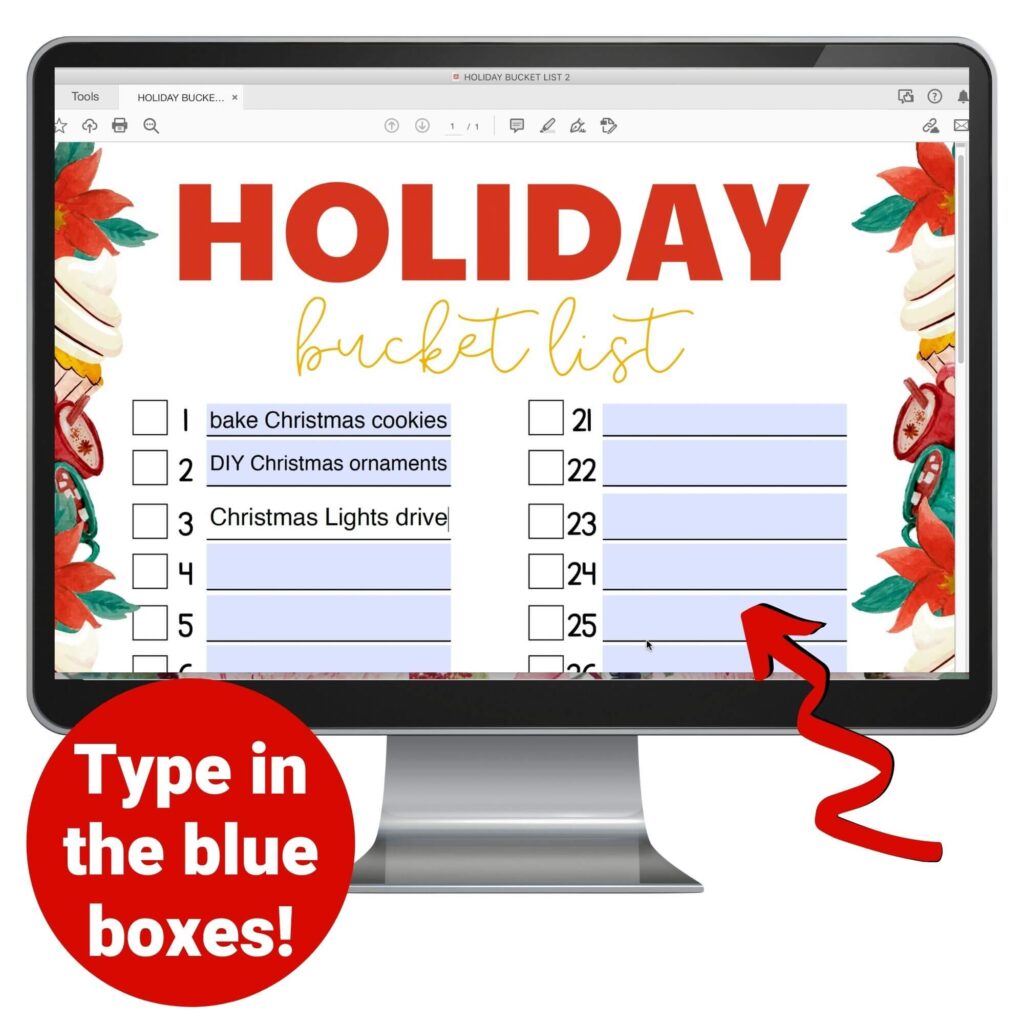 Go to the Adobe website here and download and install Acrobat Reader (it's free!) – If you already have Adobe Acrobat installed you can skip this step.
Open the Christmas Bucket List using Adobe Acrobat Reader… You should be able to right click on the file icon on your computer (wherever you saved it) and select Open With>Adobe Acrobat Reader.
Then you can start customizing your Christmas bucket list with fun activities that your family wants to do for the holiday!
The size of the text will change automatically to fit the number of words that you type in to each line!
Free Printable Christmas Bucket List
Want the super cute free printable template to make your own list of Christmas things to do?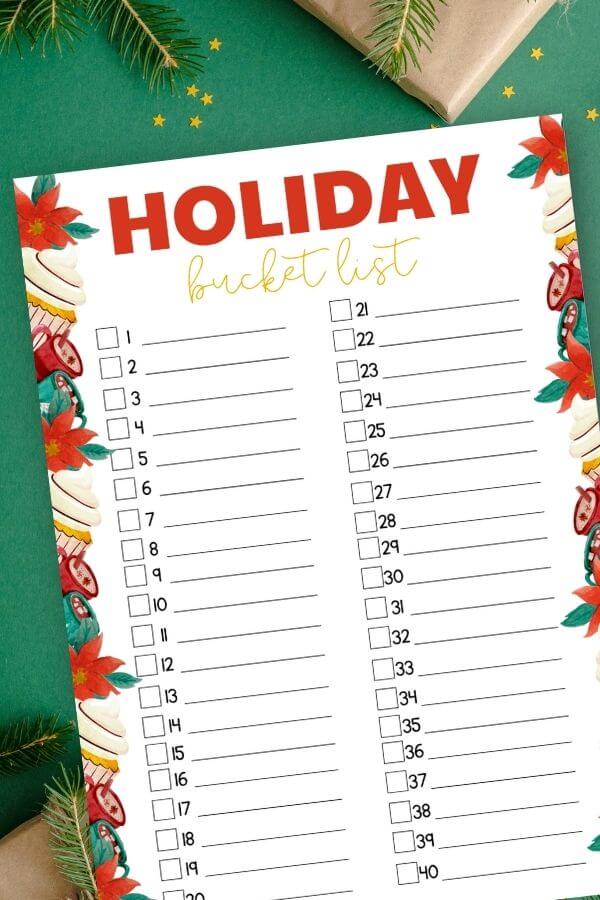 Click HERE to Download the FREE Printable Christmas Bucket List!
*Note – The link goes to my Shop, where you can find this free editable Christmas to do list. Just add it to your cart and the total will be $0.00!
So which of these fun Christmas family activities sound best to you?
Some of the Christmas Bucket List activities I'm looking forward to most are the Christmas Lights Scavenger Hunt and baking cookies for neighbors. I love finding opportunities to teach my kids about the importance of GIVING, and this Random Act of Kindness is perfect for that!
I hope this printable Holiday Bucket List filled with fun things to do this Christmas helps you feel less stressed and more excited to create beautiful memories with your family!
And don't forget to PIN this post for later: