Whether you say "You've been booed" or "You have been boo'd", this fun Halloween activity is a treat for all! Grab the "boo'ed" printable tags and learn how to "boo" your neighbors this Halloween!
Our neighborhood goes ALL OUT for Halloween! From decorations to trick-or-treating to the families that relocate their fire pits to their driveways on Halloween night and have neighbors roast marshmallows as they're walking by… our entire neighborhood resembles one big block party!
It's so fun that usually my husband and I are the ones that are begging to visit just one more house, while our tired kids are done with the trick-or-treating and just want to go home.
So this fun "You've been booed" neighborhood activity is right up our alley!
If you live in a lively neighborhood also, then try this "You have been booed" activity! And even if you don't want to "boo" your neighbors, you can still use these cute printable tags to "boo" your mailman or gift some fun Halloween treats to your child's teacher!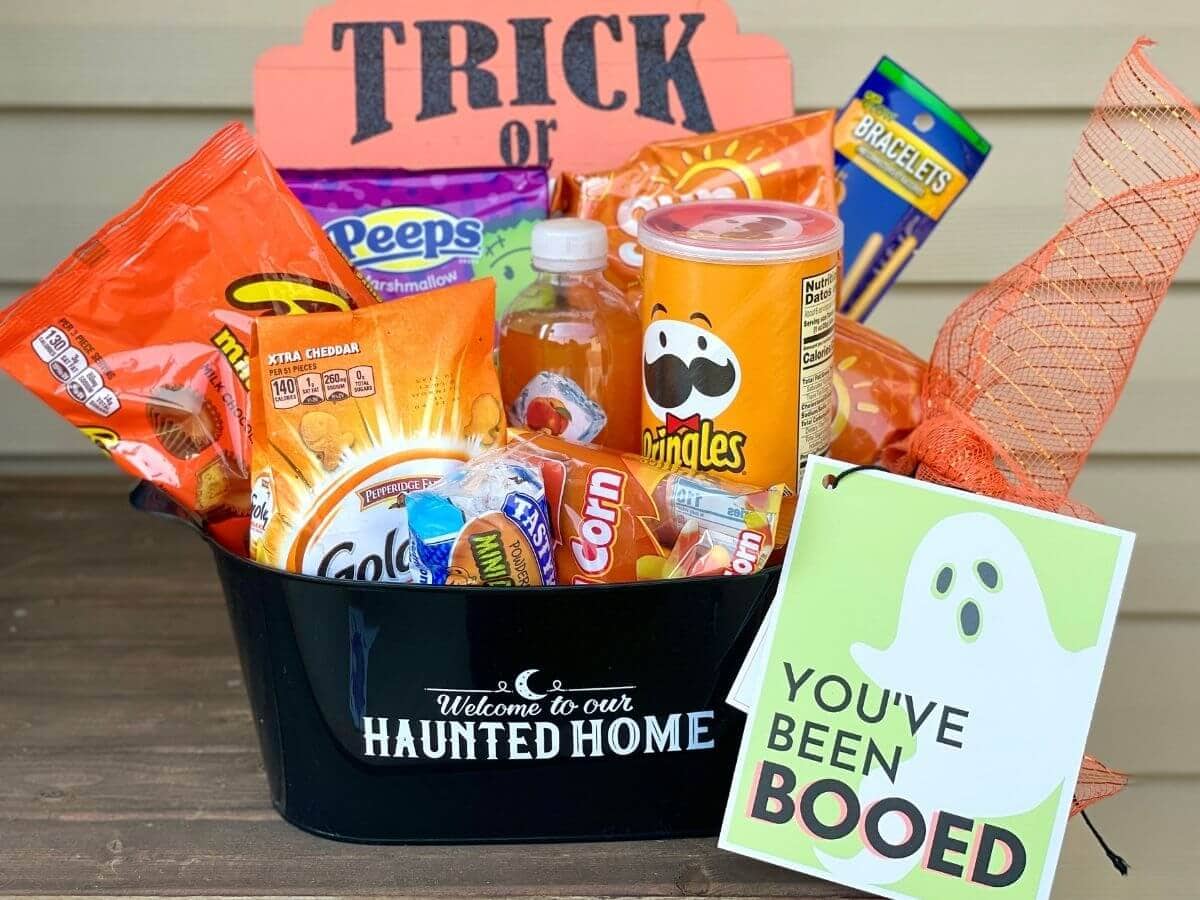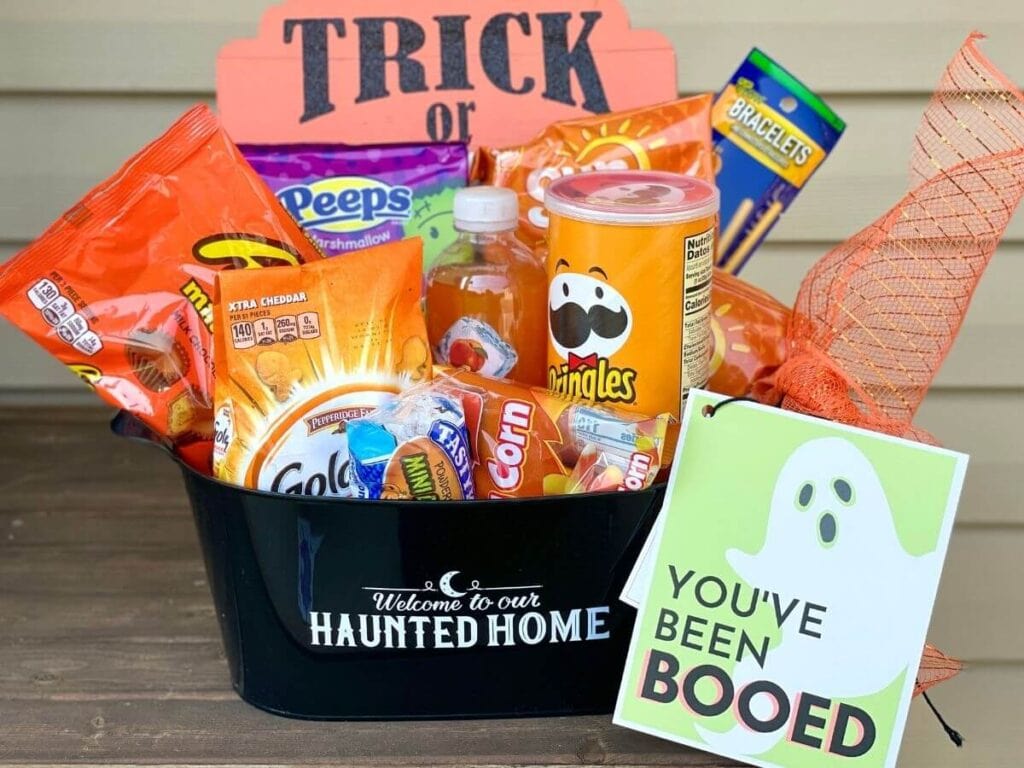 What Does "You've Been Booed" Mean?
"You've Been Booed" is a Halloween tradition that has grown in popularity in the last few years, typically in neighborhoods. Think of it as a cutesy way for neighbors to give each other a small, surprise Halloween gift basket (aka, a boo bucket, boo gift, or boo basket).
During boo-ing, one family will drop off some Halloween goodies on a neighbor's front porch in secret – while the neighbors are sleeping or at work, for instance. Then, the neighbor that got "booed" will pay it forward and "boo" someone else.
Usually, once one family has been booed, they'll hang a sign on their front door or mailbox that says "We've been booed". That way, other families know to pick a different neighbor.
Who Can I Boo?
While "booing" is typically an activity between neighbors, you can also use the free "You've Been Booed" printable gift tags to create cute gifts for other people also!
A small boo basket full of Halloween goodies would make an awesome gift for:
teachers
your child's bus driver
the front desk workers at your child's school
the mailman – Leave a small "boo" bag in your mailbox for a fun surprise!
UPS and FedEx delivery drivers – Leave a little goodie bag on your front porch when you know you're going to be getting an Amazon package.
coworkers
Just create a small Halloween goody bag and tie on one of the cute Halloween themed gift tags for a sweet and inexpensive surprise!
I'll be leaving this small gift in my mailbox for my mail lady… whenever we get a package she takes the time to love on our black lab: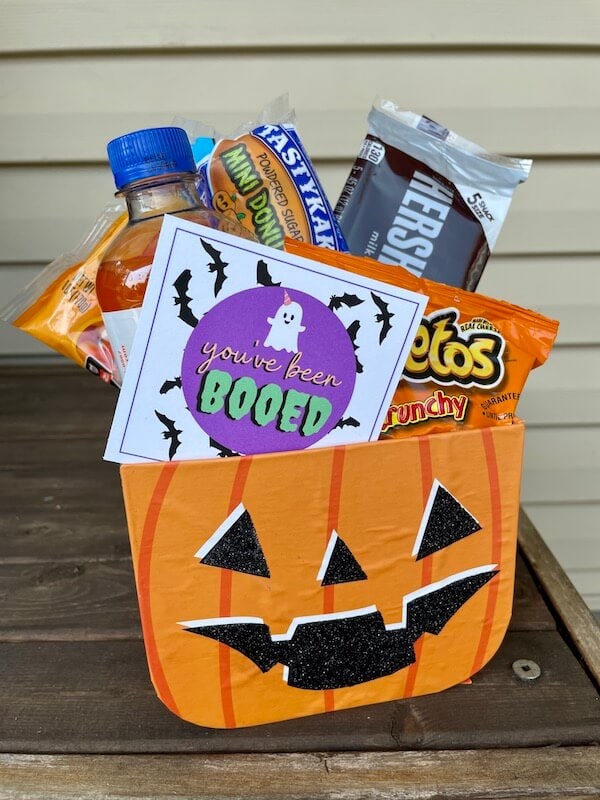 How to Boo Your Neighbors
Step 1: Print the "You've Been Booed" Printable Tags
You can print the printable "You've Been Booed" tags below! I recommend printing on white card stock, since your boo basket may be sitting outside for a little while until it's discovered by your neighbors. The card stock is a bit sturdier!
You can also go ahead and print an extra copy or two to include in the gift basket so that the person you're booing can easily boo someone else. No need for them to run to the printing store!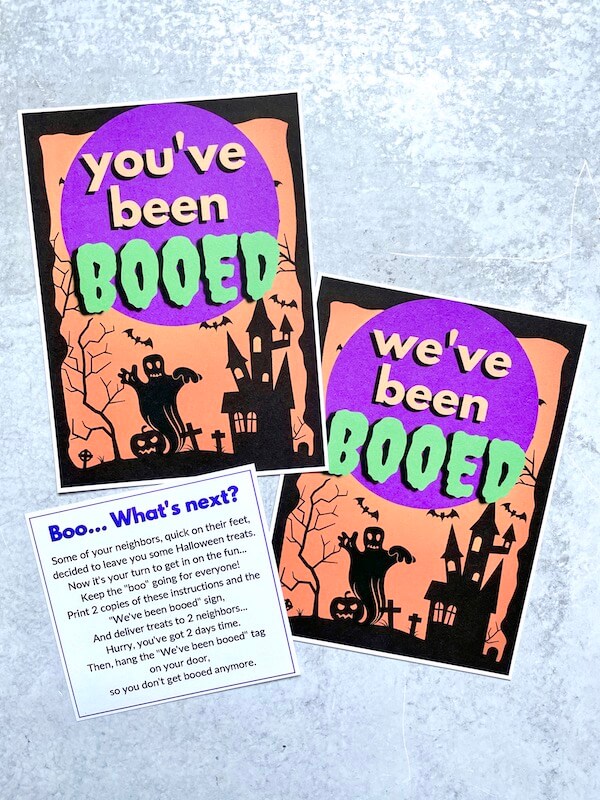 Step 2: Find a Gift Basket or Bag to Use
You can find some awesome basket ideas at Dollar Tree to keep the costs down. I especially like the idea of using one of the large Halloween plastic bowls from the dollar store, because then your neighbors can use the same bowl for passing out candy to trick-or-treaters.
And there's no rule that says you have to put together a HUGE "You have been boo-ed" basket… A small gift box or bag works just fine also! Here are a few of the cute options that I picked up from Dollar Tree recently: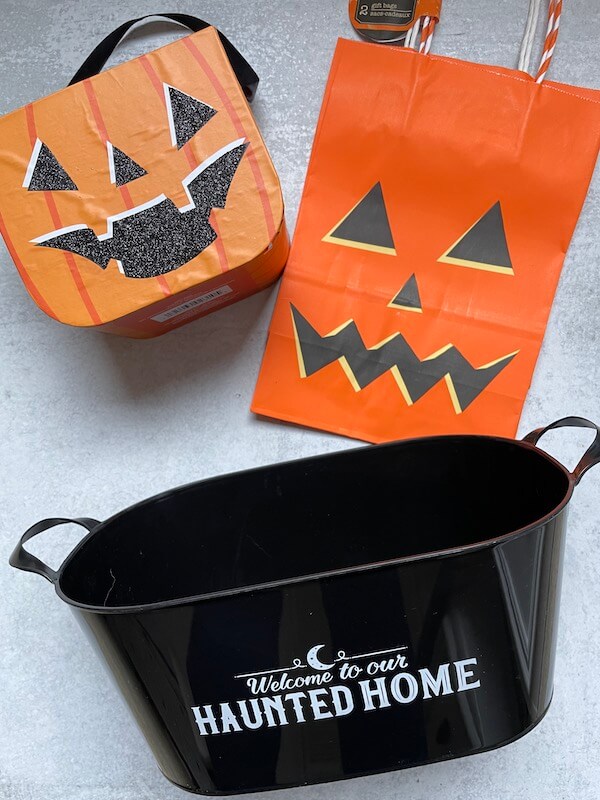 The small pumpkin basket is the perfect size to hold a 20 oz. bottle of soda or water and a few individually packaged snacks… A great teacher, bus driver, or mailman gift for about $5!
Step 3: Fill the Basket with Halloween or Fall-Themed Goodies
Next, you need to fill your bag or basket with an assortment of Halloween goodies! I've got a big list of ideas down below, but here are some things you should consider when deciding what to put in the basket:
Think about the weather
If your basket will be sitting outside for 4+ hours, be sure to pick items that can stand up to the weather. For instance, steer clear of chocolate if it will melt in the sun and if you live in a super cold climate, don't let soda bottles or cans sit outside on your neighbors' porch overnight… Your thoughtful "You've been booed" gift could turn into a big mess for your neighbors to have to clean up, and that's not the Halloween surprise you're going for!
Include a variety of sweet and salty snacks in the "boo" gift
Unless you're super familiar with your neighbors likes, dislikes, and dietary restrictions, then it's best to include a good variety of sweet, salty, crunchy, and healthy-ish treats.
Use small toys from Dollar Tree for the kids
If the neighbors that you're booing have kids, you can include some fun items just for them. Look at Dollar Tree for coloring books, slime, or other small toys. To give you an idea, I put some Halloween stampers and glow sticks in my basket!
Step 4: "Boo" Your Neighbors
Once your basket is made, it's time to drop it off on an unsuspecting neighbor's front porch.
Simply drop the basket off and go! Try not to get caught, because the whole point of "boo-ing" your neighbors is for it to be a surprise! Try dropping the goodie basket off while your neighbors are at work, or when you know they're out running errands.
Things to Put in a Boo Basket
Here are some ideas for treats to put in a "You've been booed" basket: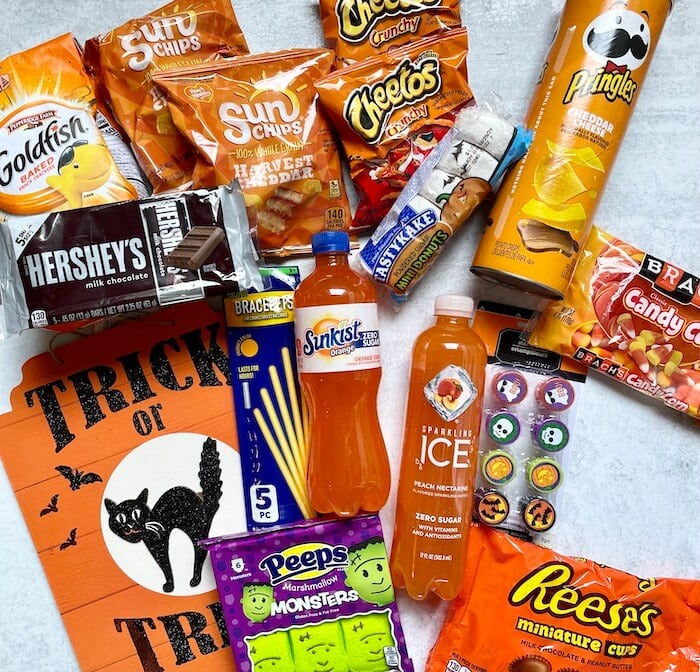 candy apple
assortment of Halloween candy
small Halloween decorations for the home – window clings, the cheap spider webs, small wood decor for the front door, etc (You can find some awesome decor at Dollar Tree)
a few 20 oz bottles of soda
bottle of flavored water
bottled Starbucks frappuccino
a few full size candy bars
a $5 Starbucks or Dunkin gift card
a fall scented candle
bag of candy corn
stack of Pringles chips
individually wrapped snacks like chips, pretzels, or granola bars
fall scented hand soap – like from Bath and Body Works
pumpkin carving kit
Halloween themed paper products like paper plates, napkins, cups, etc – These are useful things that your neighbors can use to celebrate Halloween!
trick-or-treat bags – if your neighbors have kids
glow sticks – A useful gift for when kids go trick-or-treating!
miniature pumpkins to use as decor
a potted mum
pumpkin spice or other fall flavored K-cups – if you know that your neighbors have a Keurig coffee machine
a pack of Halloween cookies – like the Oreos with orange cream
Themed Neighbor Boo Basket Ideas
You can also do a themed boo basket like:
Fall Themed Boo Gift
If you know that there are certain neighbors in your area that don't celebrate Halloween, then you can still include them with a fall themed basket. Just add seasonal items like a fall hand towel, a fall scented candle or hand soap, a potted mum, or a few apples and some caramel dip.
Movie Themed Boo Basket
Add some packs of microwave popcorn, movie theater style boxed candy, a couple of 20 oz. sodas, and a $5 Amazon gift card to a gift bag for a fun movie themed "boo" gift.
Orange Themed Basket
Fill your "You've been booed" basket with orange colored goodies, like I did! Here are the orange goodies that I put in my gift: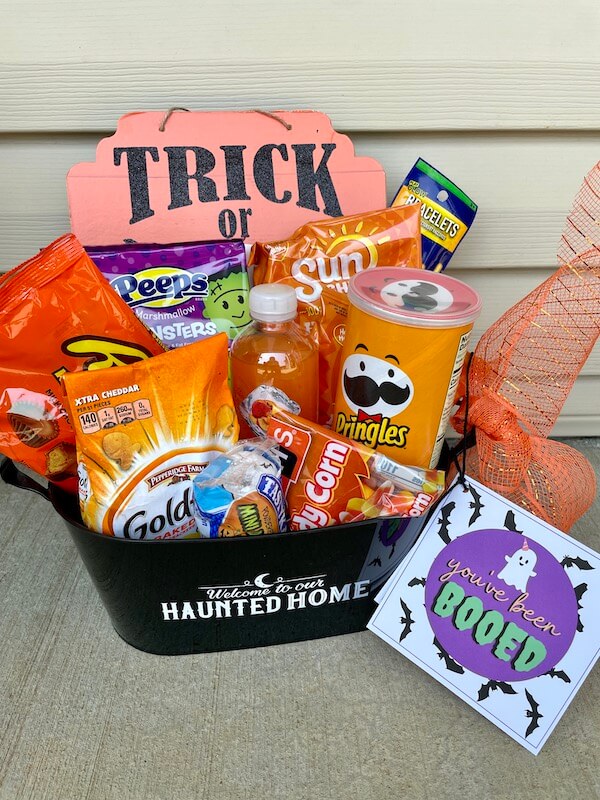 orange flavored sparkling water (Ice brand)
bag of goldfish
a can of cheddar Pringles
a few single serve bags of cheddar flavored Sun Chips
a few single serve bags of Cheetos
Reese's cups
orange glow sticks
bag of candy corn
orange "Trick or Treat" home decor sign
And most of the items in my gift basket came from Dollar Tree or my own pantry, so my cute "boo" gift was super inexpensive, too!
What about the "We've Been Booed" sign?
When you deliver your boo basket to a neighbor, be sure to include the printable "We've been booed" sign.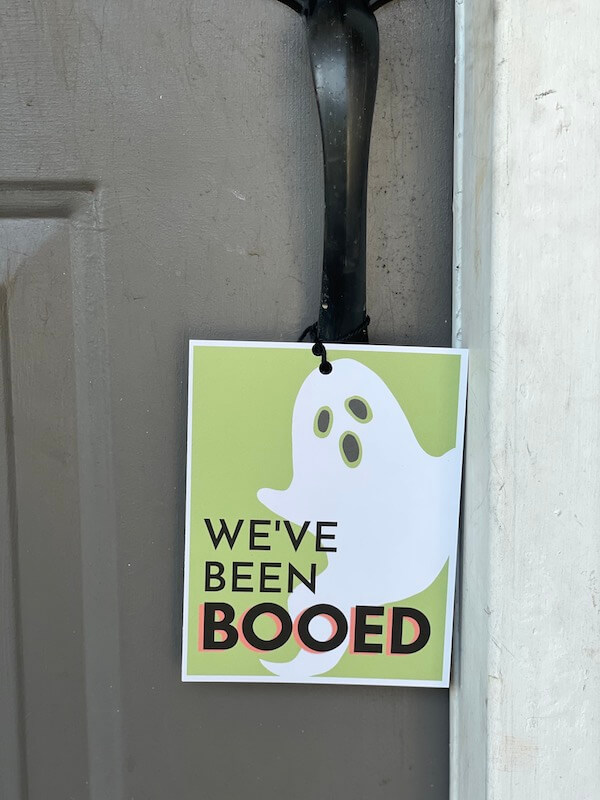 The object of this fun neighborhood Halloween activity is for as many of your neighbors to be "booed" as possible. So, each house that has already been gifted a boo basket should hang the "We've been booed" tag on their front door or somewhere that it's clearly visible from the street. That way, everyone knows that they've already received a gift.
Or, as my printable instruction tags say,
"Hang the "We've been booed" tag on your door,

So you don't get booed anymore!
Boo ing Your Neighbors on a Budget
I get it… You just bought Halloween costumes for all of your kiddos and enough trick-or-treat candy to feed a neighborhood full of sweet tooth kids… But you don't want to be the one neighbor to NOT pay it forward when you get boo'ed.
But don't worry! You can still get in on the boo-ing action without spending a ton of money! Here are some ideas for booing your neighbors on a budget:
Get boo basket supplies from Dollar Tree. Most of the items in my basket came from Dollar Tree, making this "boo" basket really inexpensive to put together!
Buy treats in bulk.
Shop the Target Dollar Spot for cute fall and Halloween themed goodies.
Use items you already have in your "boo" gift. Some of the items that I used in my basket were straight from my pantry. I buy individually packaged chips and treats as well as 20 oz. bottles of soda already, so I just included a few of those items that I already had on hand.
Bake homemade treats. You can bake a big batch of brownies for about $3, cut them, and put them in a Dollar Tree tin for your "You've been booed" gift.
Gift a potted plant instead. I was at Costco recently and picked up a 4-pack of 8″ mums for only $12.99… These would make a great "You've been boo-ed" gift! Just tie a burlap ribbon around a pot and you've got an easy and inexpensive gift!
You've Been Booed Printable Tags
The "You've Been Booed" printable tags that I used on my baskets are available in my shop! And they include some cute instruction tags for booing your neighbors! The "Booed" poem says:
Some of your neighbors, quick on their feet,
decided to leave you some Halloween treats.
Now it's your turn to get in on the fun...
Keep the "boo" going for everyone!
Print 2 copies of these instructions and the
"We've been booed" sign,
And deliver treats to 2 neighbors,
Hurry, you've got 2 days time.
Then, hang the "We've been booed" tag
on your door,
so you don't get booed anymore.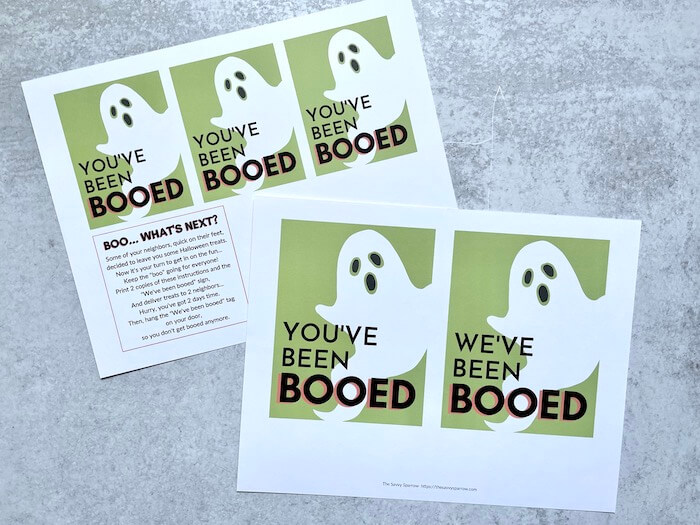 Click HERE for the Green Ghost "You've been booed" tags!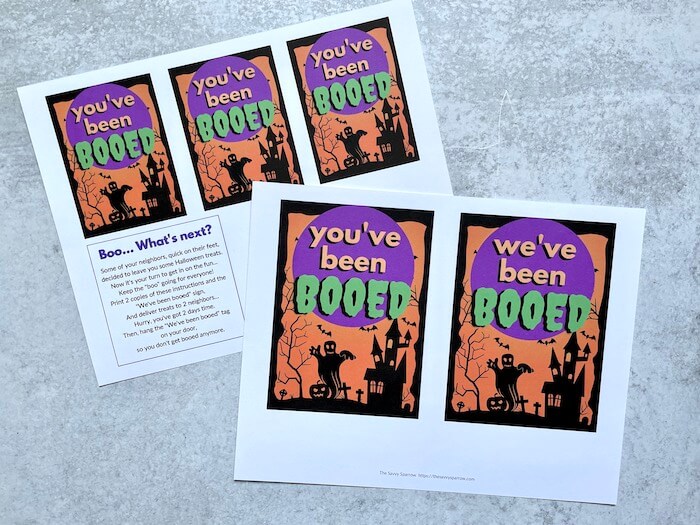 Click HERE for the Haunted House "You've been booed" tags!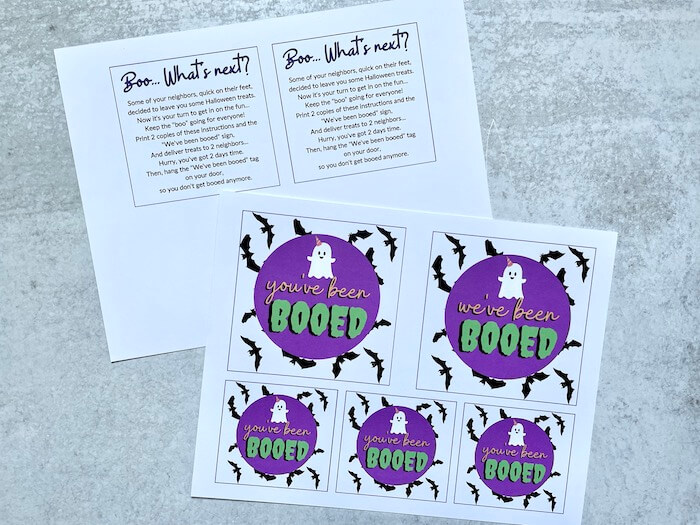 Click HERE for the Ghost and Bat "You've been booed" tags!
And if you can't make up your mind on which tags to get (they're ALL so cute!), then you can grab ALL 3 of the "You've been booed" tags for a special price here!
Other Neighborhood Halloween Activities
If you live in a tight-knit community like I do, you may enjoy some of these other Halloween neighborhood activities also:
Halloween Scavenger Hunt – Print this fun Halloween activity and take your kids for a walk around the neighborhood to search for the decorations on the list!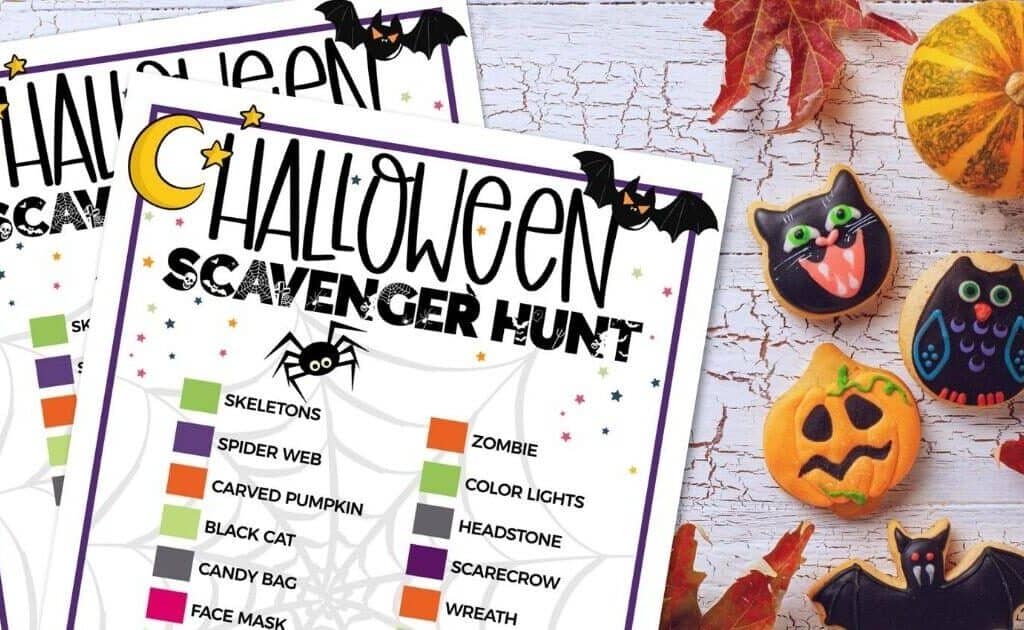 Neighborhood Pumpkin Hunt – Just like a Halloween scavenger hunt, except you're searching your neighborhood for specific pumpkins! You can either pass out the flyer below to your neighbors and have them color the pumpkins and hang them in their windows, OR use the jack-o-lantern scavenger hunt in this post!
Either pumpkin hunt is super fun for families! Or try them both!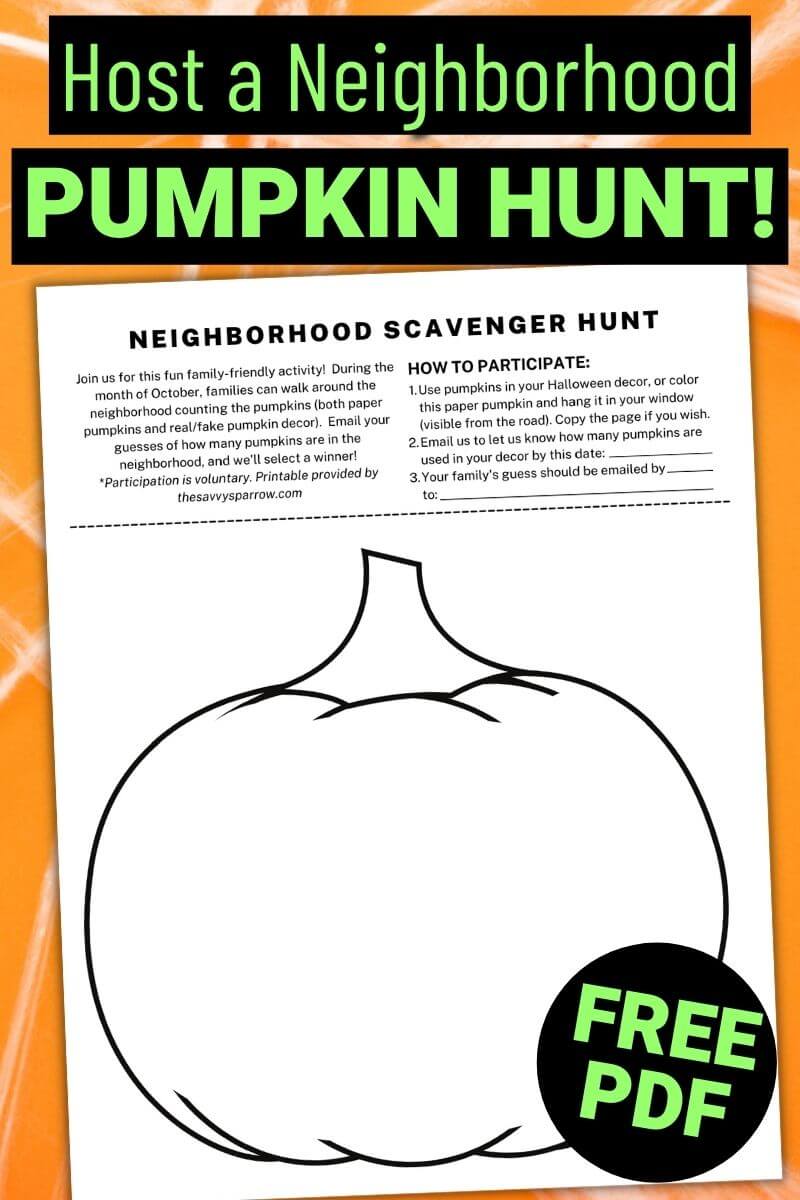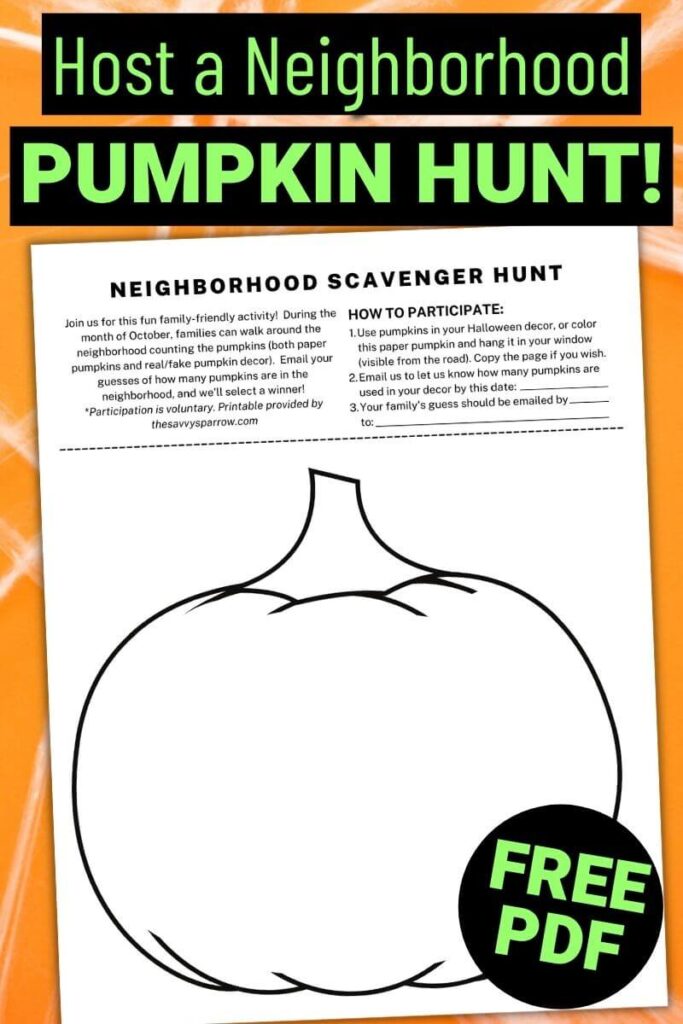 Hope you've enjoyed these "You've been boo'd" ideas! Does your neighborhood do this fun Halloween activity? Have you ever been boo-ed? If so, what were some of the things that were in your basket?
Leave me a comment down below… I'd LOVE to hear from you!
And don't forget to PIN this post for later: