Looking for free printable October calendars for 2021? Look no further! Whether you want a Sunday start date or Monday start date, you'll find cute October calendar PDFs to use here!
Planning is one of the keys to my organizational success, and being able to manage a home with two kids and a husband, while juggling three businesses. Monthly planning or weekly planning, it doesn't matter… Just take the time to write out a plan and then stick to it!
Which is where printable calendars come in…
I LOVE using printable calendar PDFs because 1) they're free (and I'm cheap) and 2) they're super easy to use for a wide variety of household or work tasks.
And since you all LOVED my free printable September calendar designs, I decided to duplicate them for these printable October calendars! Just click on the links below to download whichever printable 2021 October calendar PDFs that you like, or print them all!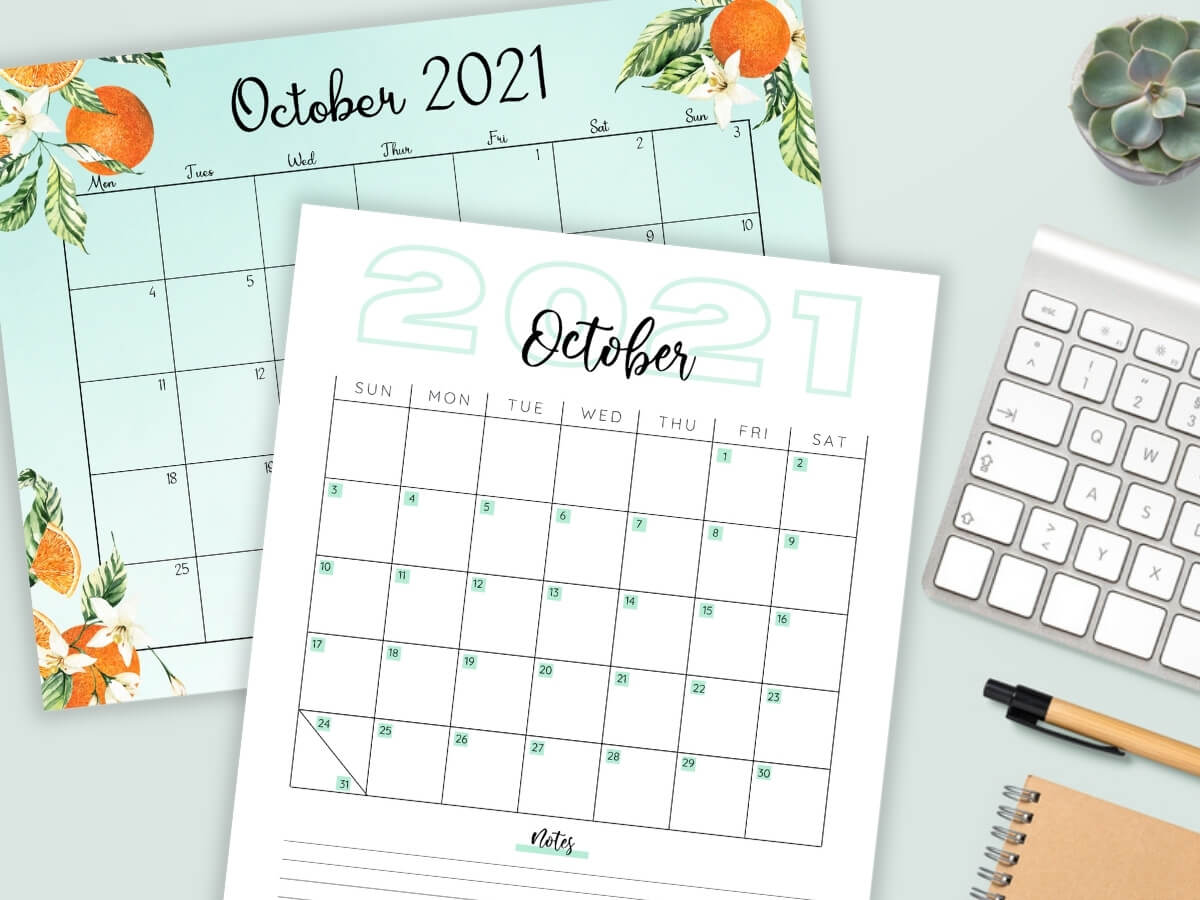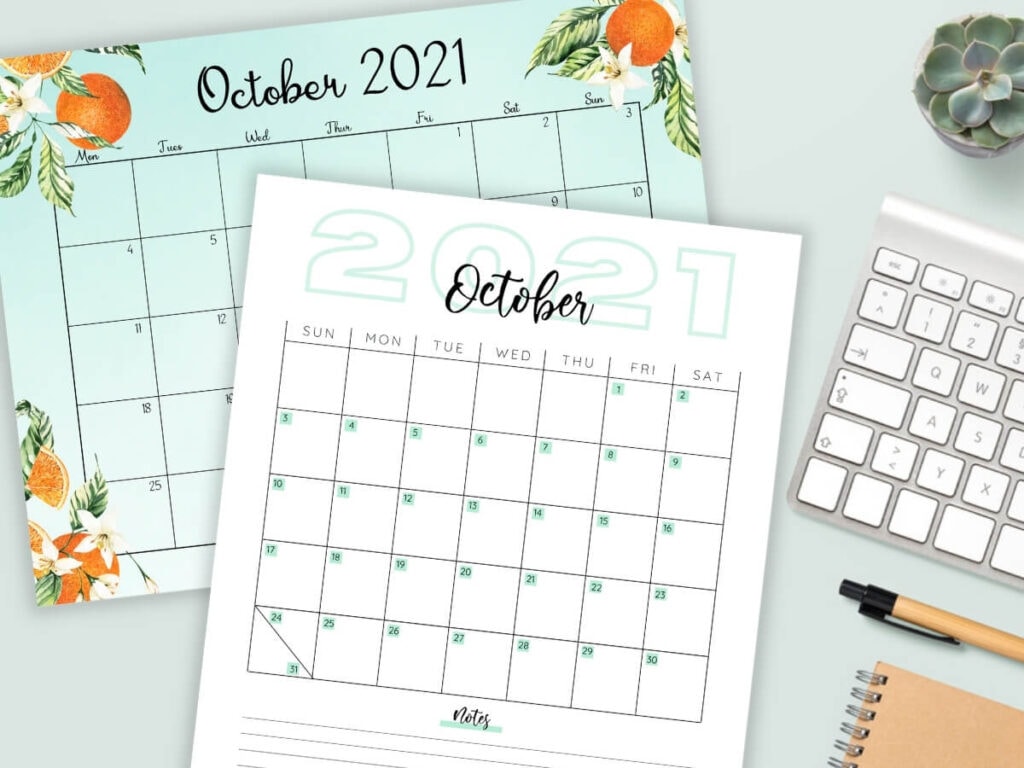 How to Use the Calendar Printable PDFs
Printing out a cute calendar is one thing, but actually putting it to good use is another. Here are some ideas for how to use your October calendar PDF:
Add it to your planner – You can find instructions for how to re-size US Letter PDFs to fit different Happy Planner sizes here!
Tape the printable calendar into your bullet journal
Print and hang on your fridge or family command center
Print extra copies for your kids to track their homework and after-school activities – This is a GREAT way to start teaching them about self-accountability!
Print separate copies for family and work-related tasks
What's Happening in October?
After you've got your printable October calendar ready to go, it's time to fill it in with important holidays and family activities. Here are some major October holidays and happenings you may want to include on your 2021 calendar:
October 5 – Amazon Prime Day
October 5 – World Teacher's Day
October 11 – Columbus Day
October 16 – Boss's Day
October 17 – National Clean Your Virtual Desktop Day – I've got an awesome guide for how to organize your computer desktop with a fun desktop wallpaper here!
October 31 – Halloween
You may also have your child's Fall Break from school during the month of October, and don't forget to add some fun Fall family activities to your October 2021 calendar as well!
Free Printable October 2021 Calendar PDFs
To download the printable October calendar PDFs, simply click on the link below the design that you want. A new window will open with the calendar, and you can click "download" or "print" from there.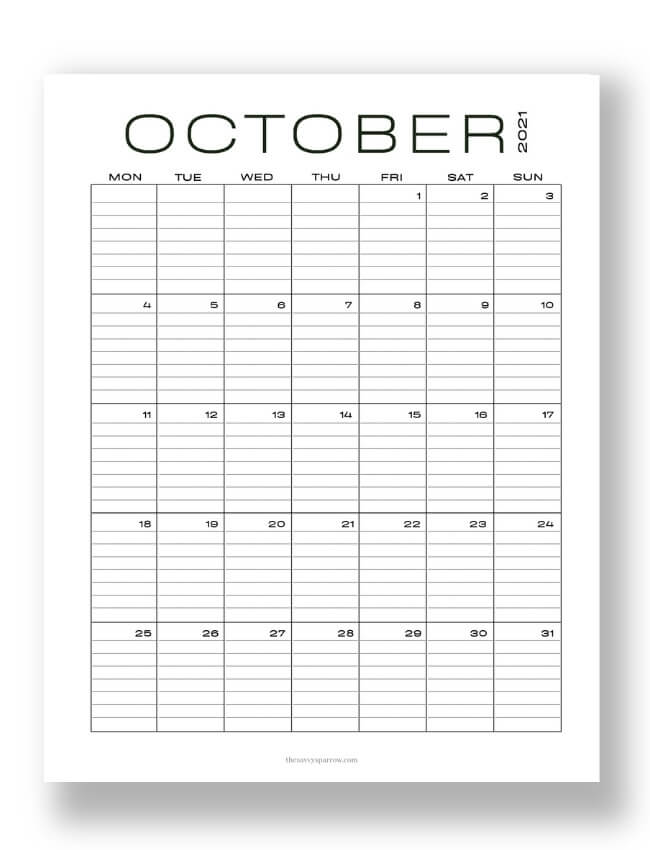 Modern Lined October 2021 Calendar – DOWNLOAD HERE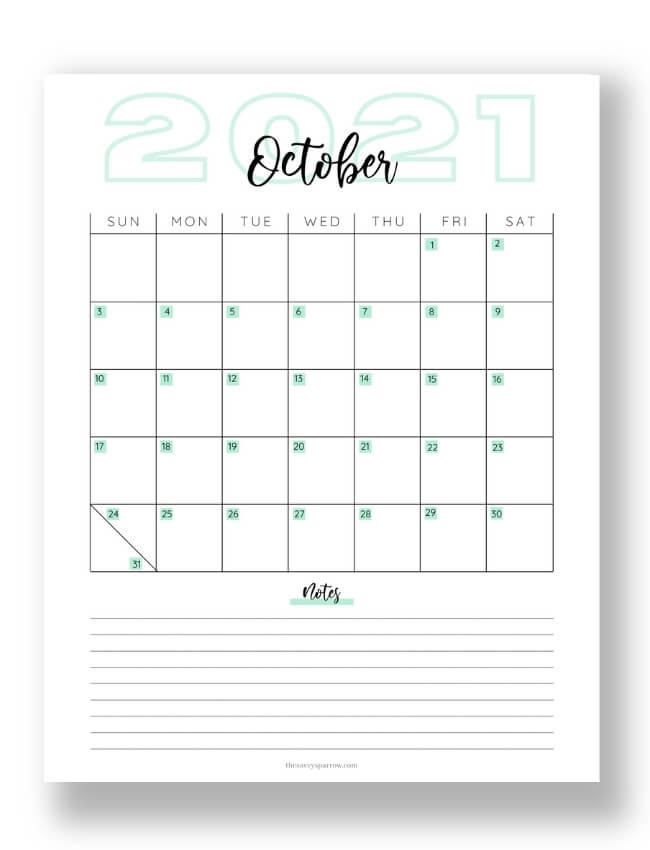 Simple Teal October 2021 Calendar – DOWNLOAD HERE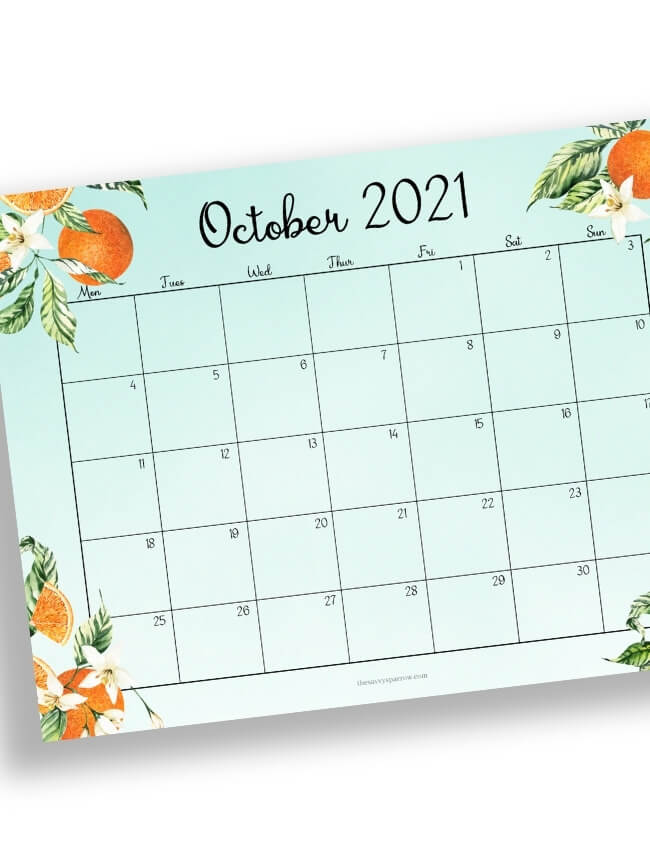 Orange Blossom October Calendar – DOWNLOAD HERE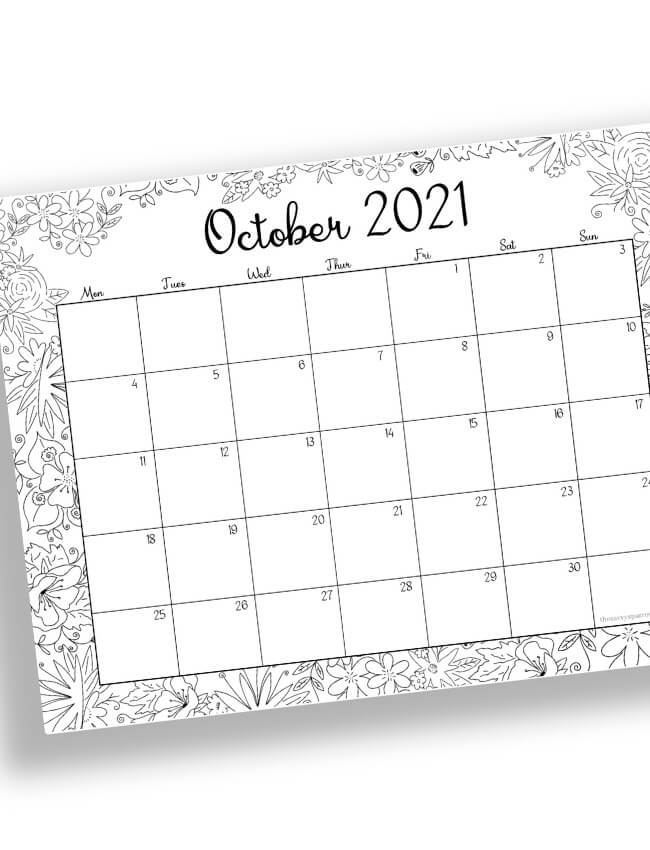 October Floral Coloring Calendar – DOWNLOAD HERE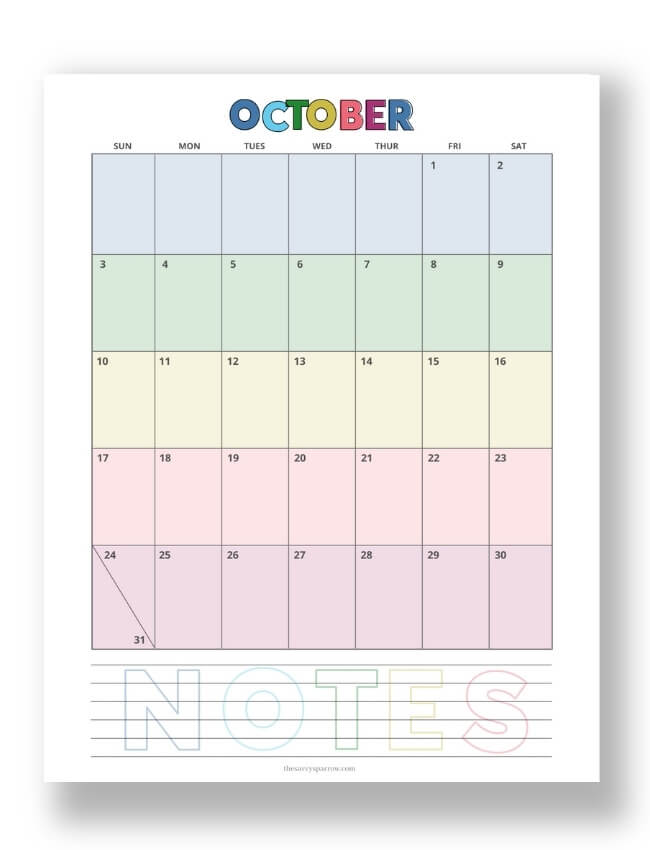 Rainbow Colored October Calendar – DOWNLOAD HERE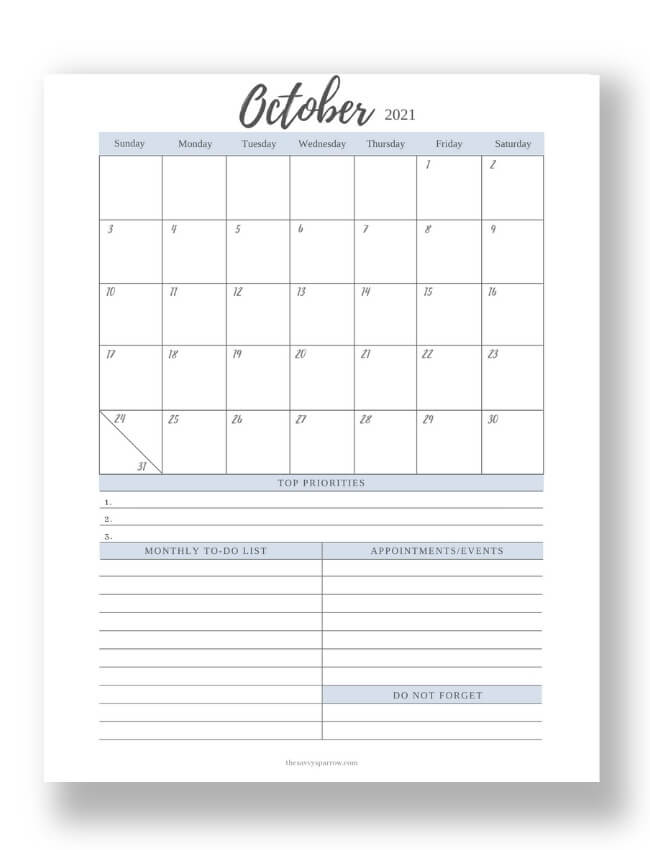 Pastel Colored October Calendar with To-Do's – DOWNLOAD HERE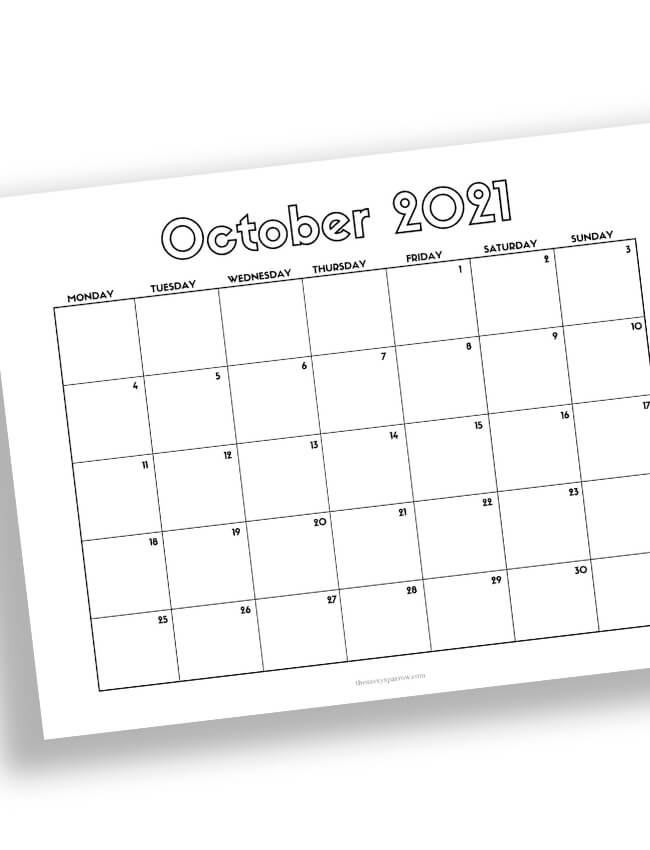 Simple Horizontal Layout October Calendar – DOWNLOAD HERE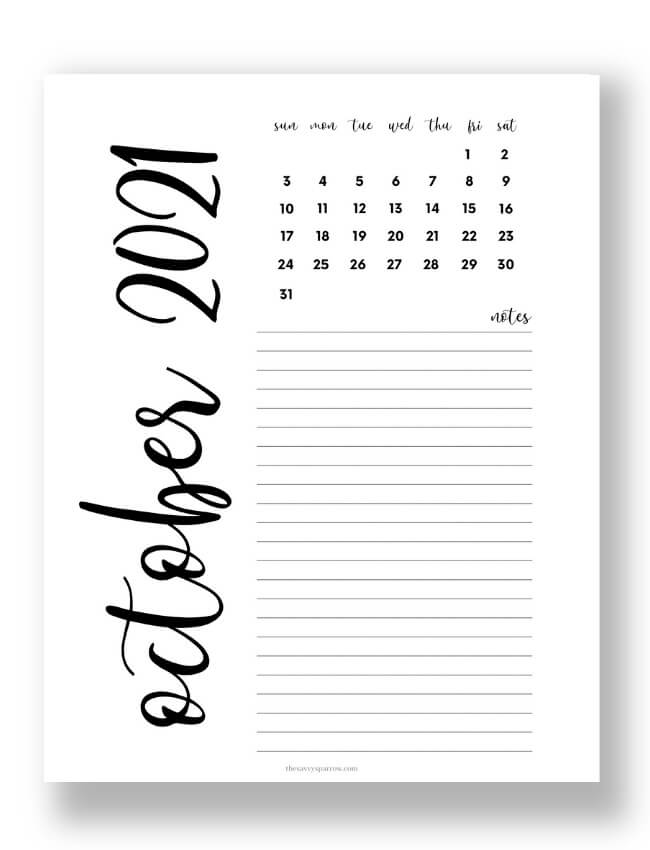 Unique October Calendar Printable with Notes – DOWNLOAD HERE
After you're done printing your October calendar, check out some of these posts that can help you get organized and be more productive:
Then come back next month to grab your free printable November calendars!
And don't forget to PIN this post for later: