This pumpkin scavenger hunt is a fun family activity to enjoy this Halloween! Just print the free Halloween scavenger hunt checklist, and walk around your neighborhood looking for the carved jack-o-lanterns on the list! Or throw a neighborhood-wide pumpkin hunt and get your neighbors involved for a fun Halloween community activity with the free PDF!
I love a good scavenger hunt! Probably because it's such an easy activity for younger kids, and it's a great way to get them outside and exercising in a fun way. And when your little ones are busy "hunting" for random items as they walk by your neighbors' homes, they don't have their faces buried in an electronic device and they're not complaining of boredom. So that's a win!
Plus, this pumpkin scavenger hunt is a great way to enjoy some quality time together as a family without spending any money. Another win!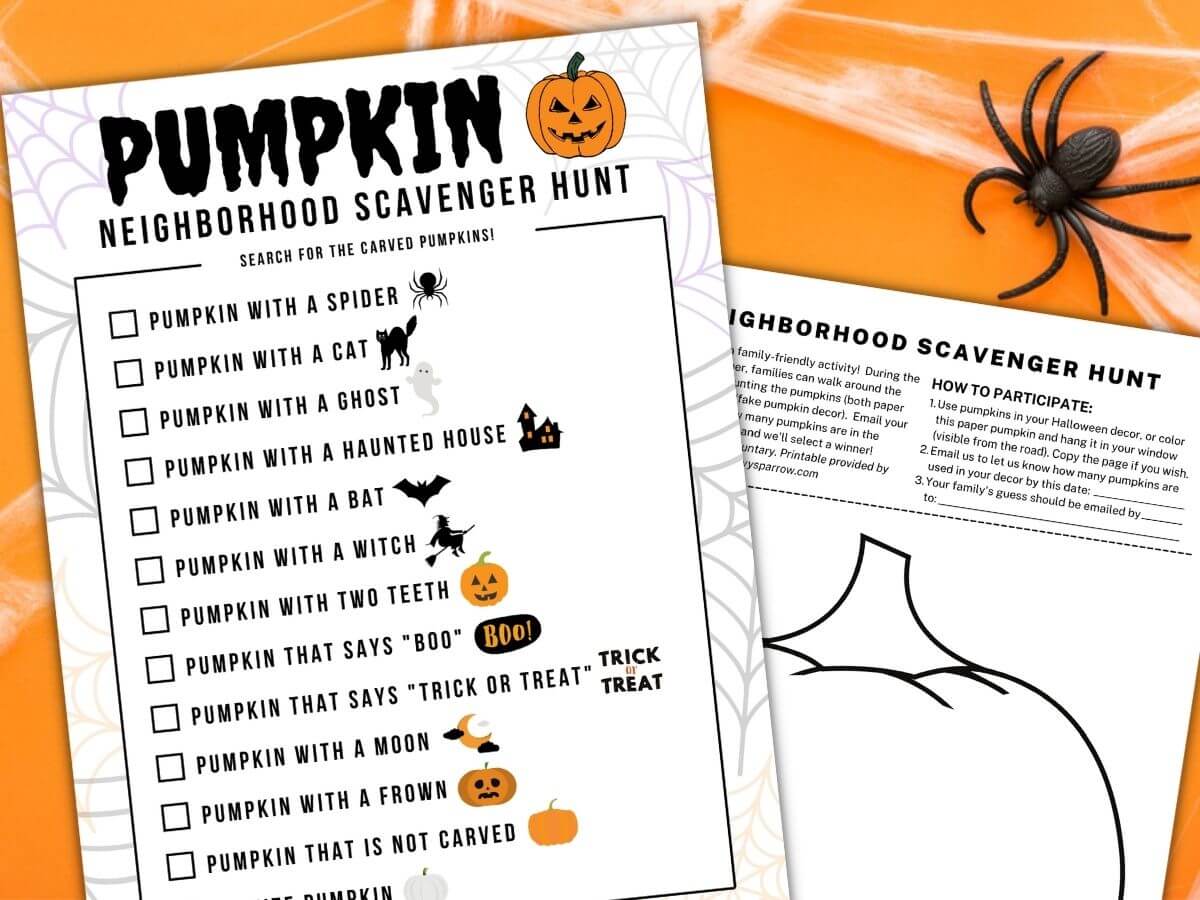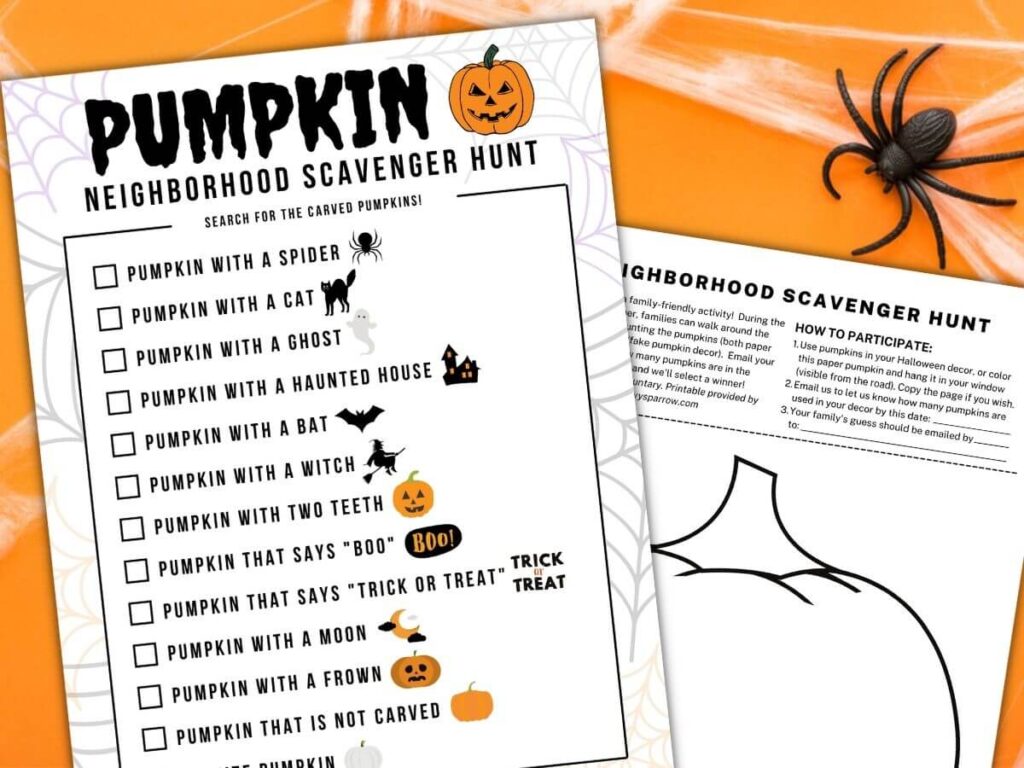 Here are some ideas for how to do your own neighborhood Halloween pumpkin hunt:
How to Do a Pumpkin Scavenger Hunt in Your Neighborhood
This Halloween themed scavenger hunt is super easy to do, and it's an awesome and inexpensive activity for your family OR your entire community!
Pumpkin Scavenger Hunt for Your Family
One option is to do the pumpkin hunt for just your family. To enjoy this Fall family activity, simply print the colorful pumpkin hunt list, and take a walk around your neighborhood. Have your kids cross off their lists as they find the different pumpkins.
My printable Pumpkin Scavenger Hunt includes the following pumpkins for you to find:
pumpkin with a spider
pumpkin with a cat
pumpkin with a ghost
pumpkin with a haunted house
pumpkin with a bat
pumpkin with a witch
pumpkin with two teeth
pumpkin that says "Boo"
pumpkin that says "Trick or Treat"
pumpkin with a moon
pumpkin with a frown
a pumpkin that is not carved
a white pumpkin
Or, if you want to make your own list, here are some other pumpkins you can hunt for:
a sad pumpkin
a pumpkin family
a pumpkin with candy corn carved on it
a green pumpkin
a toothless pumpkin
a scary pumpkin
a teal pumpkin
a giant pumpkin
a tiny pumpkin
a painted pumpkin
If your kids are younger, you could even load them in the stroller or wagon with some hot chocolate and cute Halloween cookies to turn this into a super fun Halloween activity for the whole family!
Neighborhood-Wide Pumpkin Scavenger Hunt
Another option is to turn the Halloween scavenger hunt into a community-wide event.
You've probably heard of the neighborhood "bear hunts" that rose to popularity in 2020 as parents were desperately looking for ways to keep their kids occupied at home. If not, the basic premise was that neighbors hung pictures of bears or stuffed animal bears in their windows for kids to search for during neighborhood walks.
My neighborhood did a similar version with Easter eggs this past spring, which gave me the idea for this Fall-themed hunt.
If you live in a family-friendly neighborhood with lots of kids, then you may want to do a neighborhood pumpkin hunt also! Here's how to do it:
Print out the free Pumpkin Neighborhood Scavenger Hunt PDF.
Add the date and a contact email address to the instructions at the top.
Make enough copies for all of the houses in your neighborhood, and put one copy in each neighbor's newspaper tube.
Encourage families to walk around your neighborhood in the month of October to see how many pumpkins they can find.
You could even offer a prize to the family that guesses the correct number of pumpkins! For instance, you could award the winning family a restaurant gift card or even one month of free HOA dues!
And of course I have a free printable that you can use to make hosting this fun neighborhood event super easy!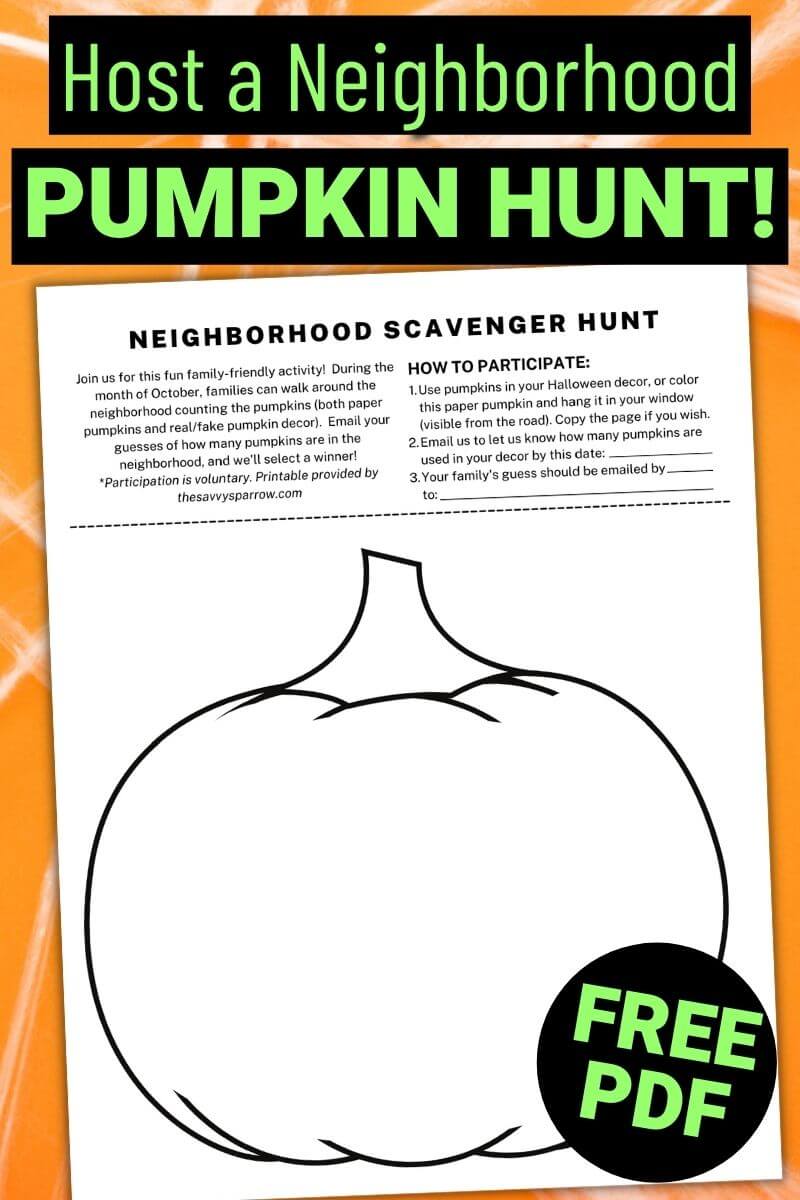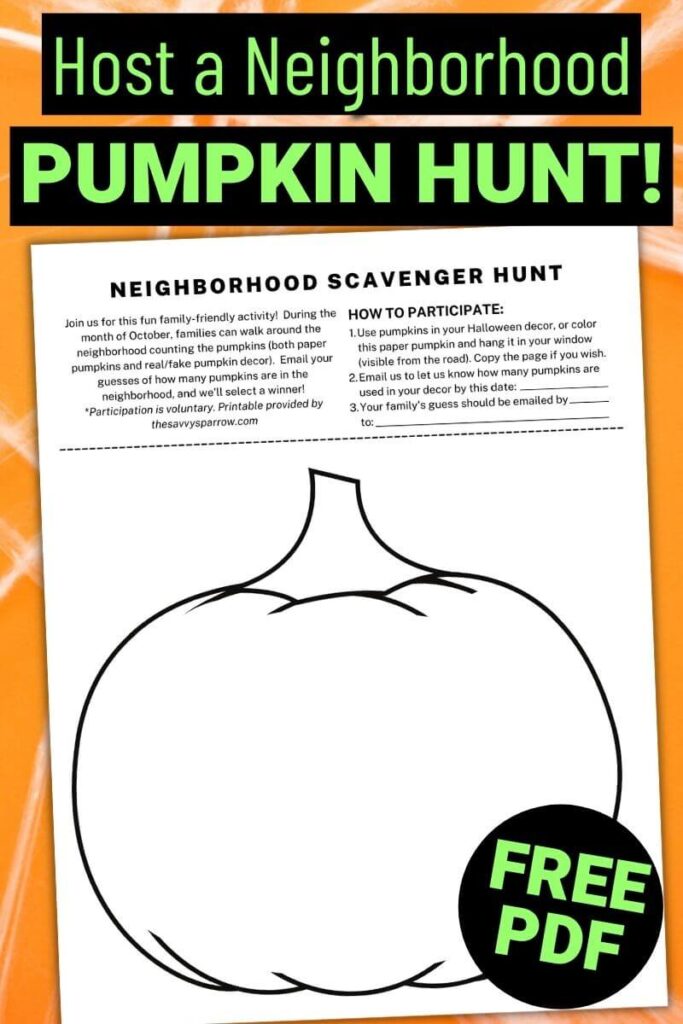 The PDF includes the following information at the top to explain the idea to your neighbors and encourage participation:
Join us for this fun family-friendly activity! During the month of October, families can walk around the neighborhood counting the pumpkins (both paper pumpkins and real/fake pumpkin decor). Email your guesses of how many pumpkins are in the neighborhood, and we'll select a winner! *Participation is voluntary.
How to Participate:
Use pumpkins in your Halloween decor, or color this paper pumpkin and hang it in your window (visible from the road). Copy the page if you wish.
Email us to let us know how many pumpkins are used in your decor by this date: _______.
Your family's guess should be emailed by ________ to: ________________________.
Free Printable Scavenger Hunts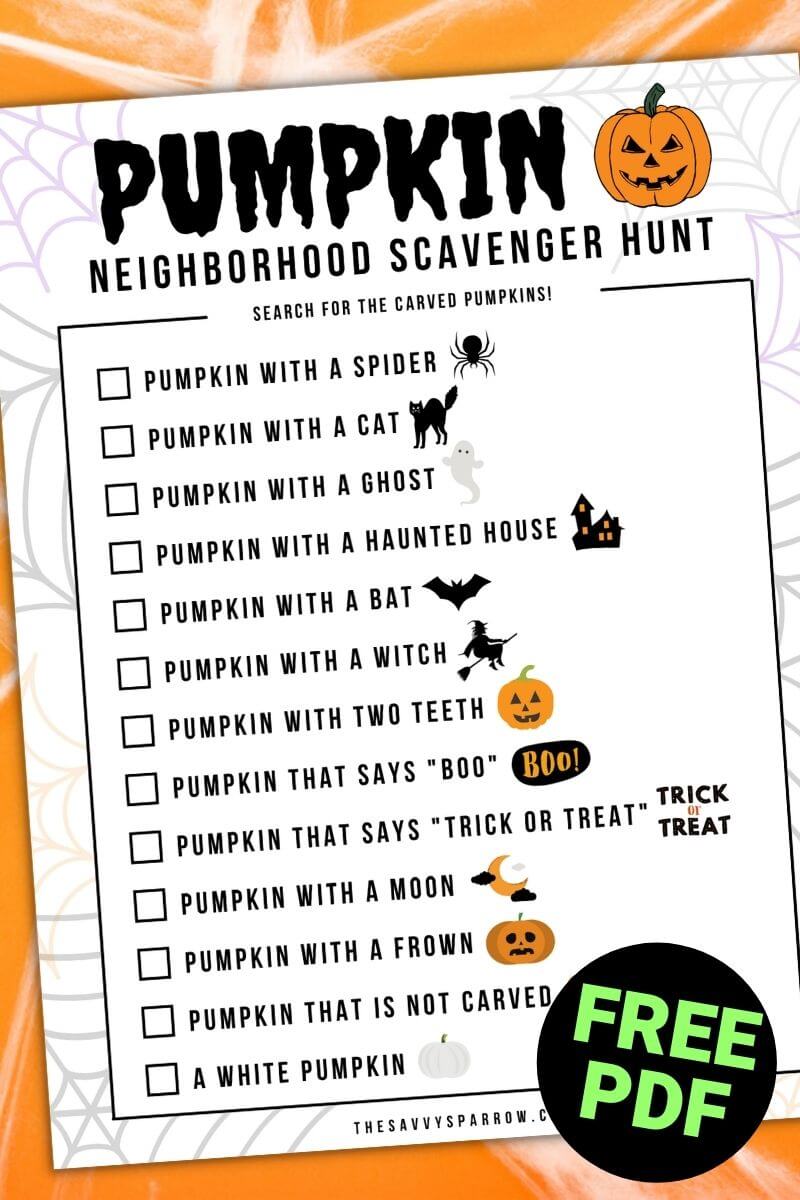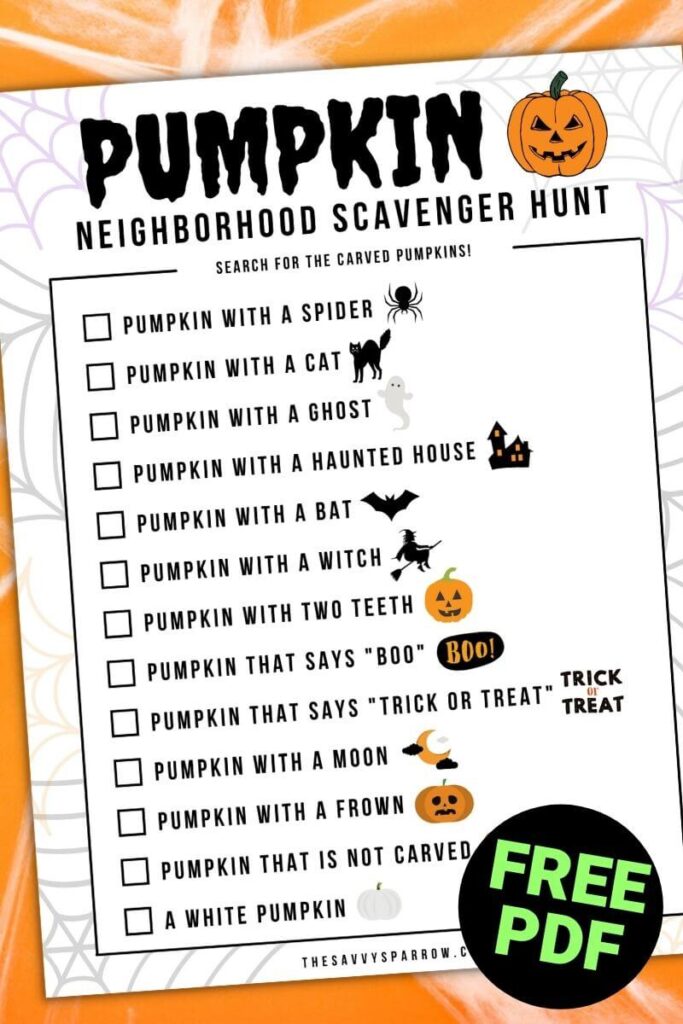 Want the free PDF pumpkin scavenger hunts? Just click the link below for both versions:
Neighborhood Pumpkin Scavenger Hunts – CLICK HERE
And if you loved this scavenger hunt, then be sure to print my other Halloween Scavenger Hunt also! This hunt involves walking around your neighborhood and looking for different Halloween decor, like skeletons and gravestones.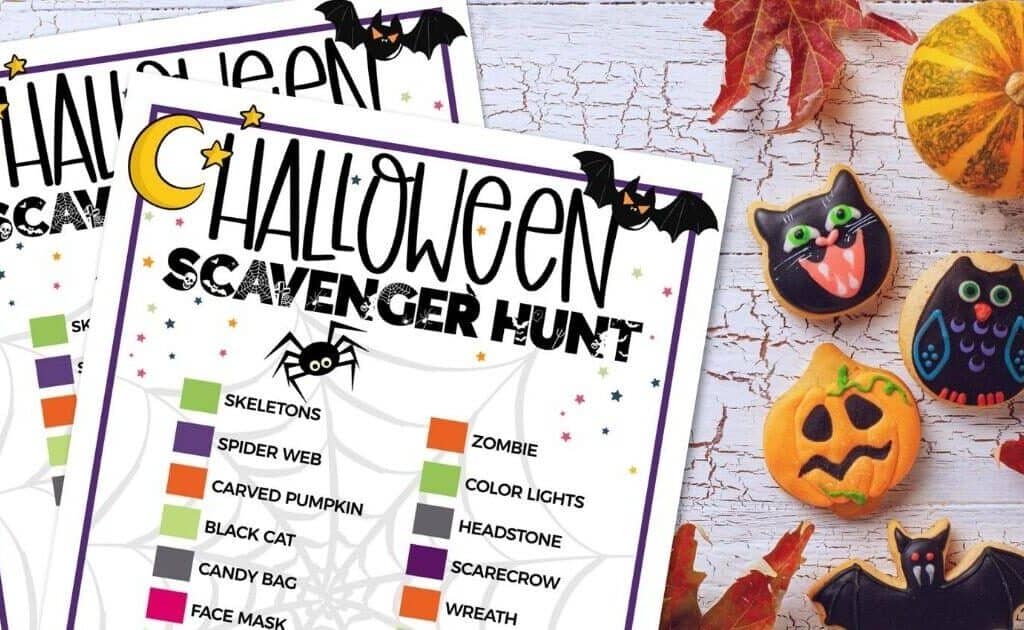 And for Christmas time, check out my Christmas Lights Scavenger Hunt!
If you use the scavenger hunts, I'd LOVE to hear about it! You can tag me on social media (Facebook or Instagram), or leave me a comment down below!