A 100 Day Goal Journal or Planner is a great tool to help you accomplish the big goals that you set for yourself. Learn how to use a goal setting planner and check out my printable version at the end of this post!
I'm a big believer in setting goals and having an action plan to accomplish them. I even have a sign hanging in my office that says "Dreams don't work unless you do" that serves as a constant reminder to hustle each day.
So when I heard the term "100 day goal" recently, I was instantly intrigued.
If there's something big that you want to accomplish and you've been putting it off because it seems overwhelming, then setting a 100 day goal and starting a goal setting journal to track your progress may be the right move for you. Here's what you need to know to get started: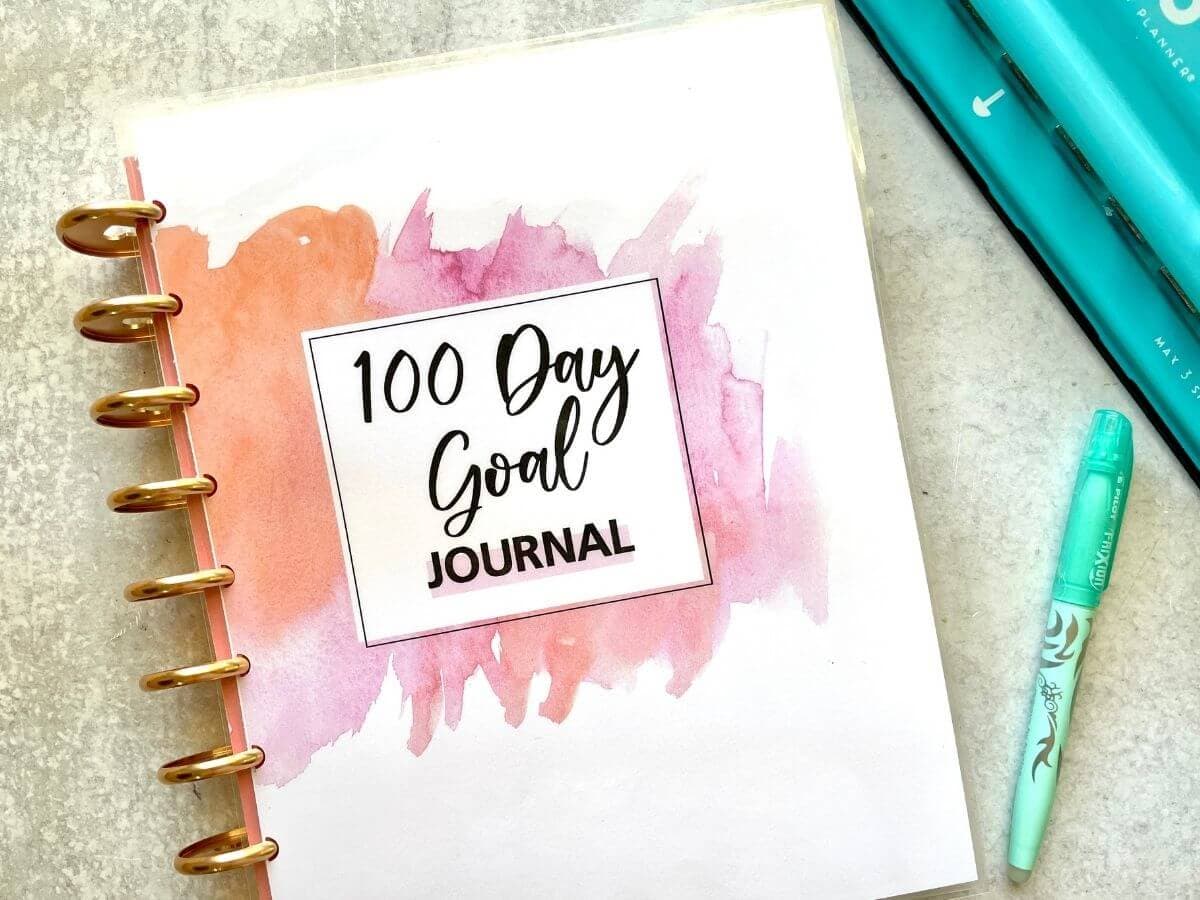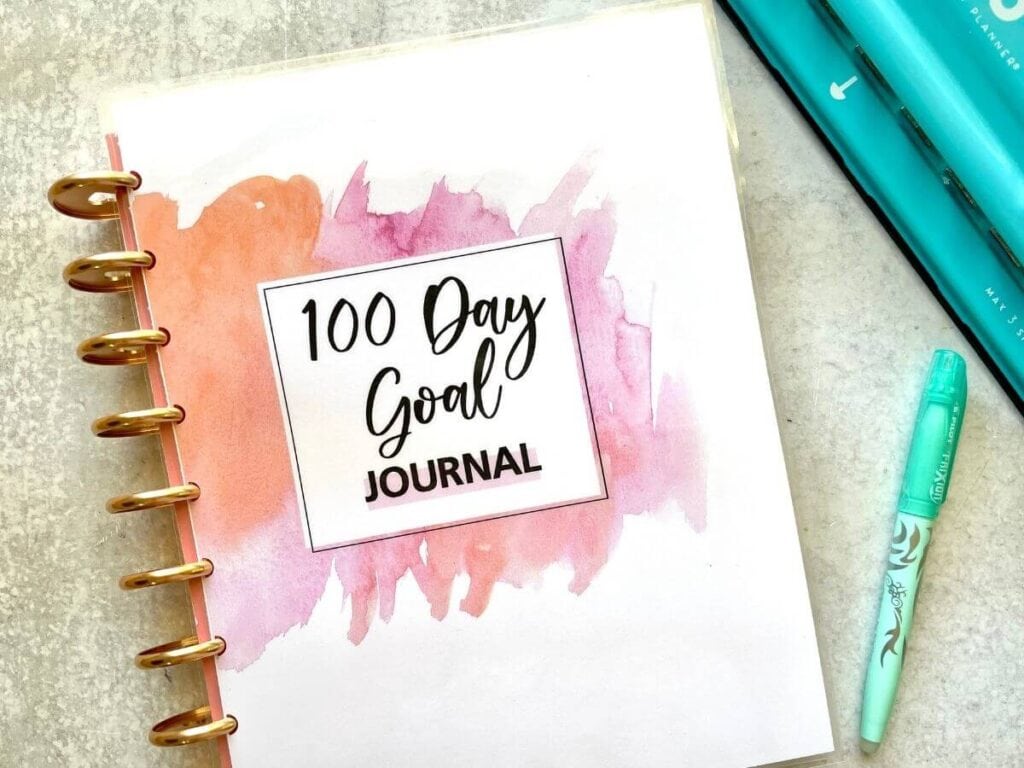 *This post contains affiliate links, which means if you click a link and make a purchase, I earn a commission at no additional cost to you. Read my full disclosure for more info.
What is a 100 Day Goal?
A 100 Day Goal is a big goal that you want to accomplish after, you guessed it, 100 days. A 100 Day Challenge is a way to hold yourself accountable for a big goal, and a 100 Day Goal Planner is like your roadmap to success.
If you're an entrepreneur, you could have the big goal of launching your next product or course or overhauling your website. If you're a homemaker, your 100 day goal could be decluttering and organizing your entire home, one room or one closet at a time. Or if you're a Mom of toddlers, your goal could be potty training your child in 100 days.
Anytime that you have something big that you want to accomplish, you can create mini action steps (or micro goals) to get you there. And you can use a 100 Day Goal Journal to help keep you on track!
Why 100 Days?
You may be asking, "Why 100 days?". A 100 day challenge is a popular time frame to use for a few reasons:
It's doable.
Three months… it's only 3 months. Well, actually 3 months and a few days. But if you think about it like that, it's a lot less intimidating. You're more likely to meet your big goal because there's a realistic timeline, and there's a "finish line".
It's a long enough time period to see results.
If you have the goal of getting in shape, but you only give yourself 7 days to accomplish it, you probably won't see much measurable progress. But if you commit to working out for 100 days, your results at the end of the challenge will be much different.
You can accomplish a lot in 100 days, which is why it's the perfect amount of time to make big changes and work on big goals.
The Science Behind Writing Down Your Goals
So why would you want to fiddle with a journal and take time out of your day to write down your goals? Simply, it works.
According to a 2015 study done by psychologist Gail Matthews, people that wrote down their goals were 33 percent more likely to achieve them than people that did not. Plus, the act of journaling has a wide range of other benefits also, from boosting your mood to helping to reduce stress. So the potential benefits definitely outweigh the 5 or so extra minutes of time each day that it will take you to journal your progress.
How to Do a 100 Day Challenge for Big Goals
Step 1: Decide on a goal.
The first step is to figure out what goal you will work towards in the 100 days. Try to think of something that is challenging but not impossible, and something that you can actually accomplish in the 100 day time period.
*You can also check out 30 Day Challenge Ideas You Need to Try (but not all at the same time!) for 40 different goal ideas that you could easily make into a 100 day goal!
When you set your 100 day goal, it's important to ask yourself these questions to determine if your goal is S.M.A.R.T.: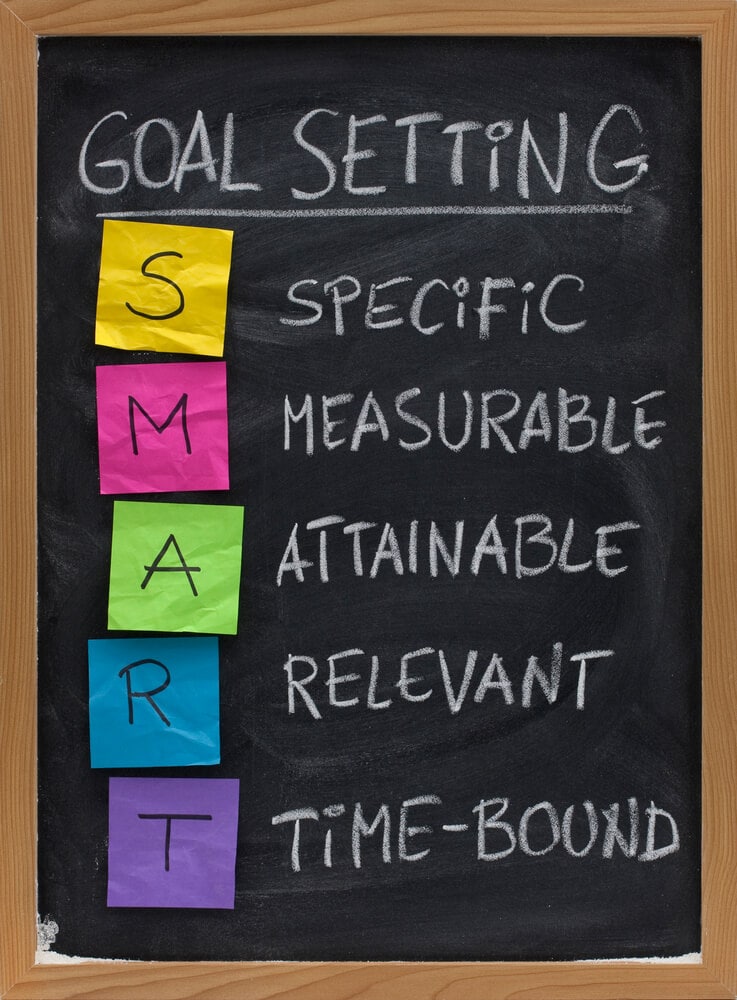 S- Specific: Is my goal specific enough? Instead of "I want to eat healthier" you can have the goal of only eating dessert or sweets one day per week and drinking eight glasses of water each day.
M – Measurable: Can I measure my goal? For instance, you can measure your weight for a weight loss goal or time if you want to run a mile in a certain period of time.
A – Attainable: Am I setting myself up for failure by setting an impossible goal?
R – Recorded: Did I write my goal down somewhere?
T – Timely: Is there a deadline for my goal? Do I have a specific period of time to accomplish it? For a 100 day goal, obviously your time frame is 100 days.
After you've determined what your SMART 100 day goal will be, it's time to move on to the next step.
Step 2: Decide how you will track your progress.
The next step is to figure out how you will track progress made. There are a few options:
Use Your Planner
If you use a self-care planner or a Happy Planner, then you can make a little note on each day that you complete an action step that moves you closer to your big goal. If you like to decorate your planner, you can even use a small sticker on each day to indicate that you did something to advance your progress for that day.
You may even want to add some motivational quotes to inspire you to keep moving ahead, like this one that's included in the goal setting planner PDF at the end of this post: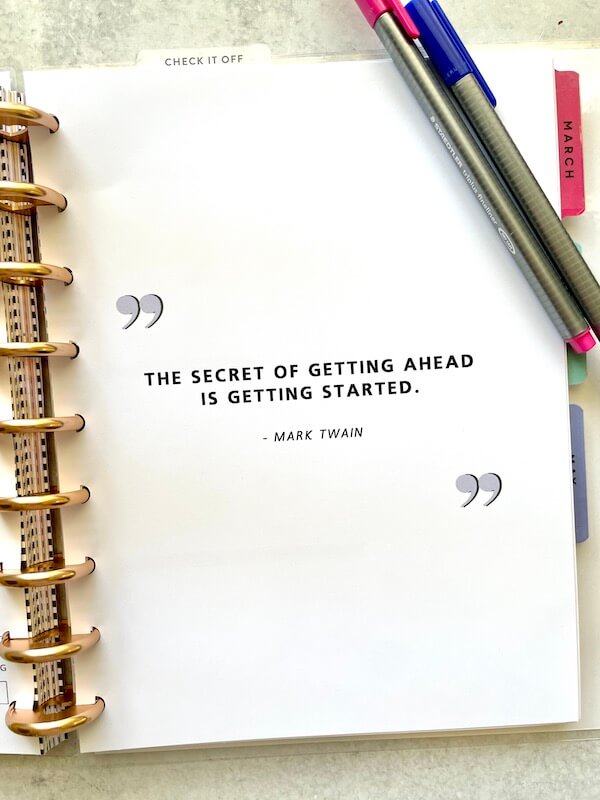 Use a Goal Tracking App
If you prefer to use your phone instead of pen and paper, then you could choose to use a goal tracking app. Here are some awesome goal tracking apps to consider.
Use a 100 Day Goal Journal or Planner
You can purchase a pre-made 100 Day Goal Journal like this one if you're more of a pen and paper kind of girl. This done-for-you journal has prompts for each day to guide your writing and help you plan and reflect on your progress.
Or, you can use my printable 100 Day Goal Journal… more about that at the end of this post!
Use a Printable 100 Day Challenge Tracker Worksheet
A 100 Day Challenge Tracker is a great way to track the progress you've made and to hold yourself accountable for your goals, without having to commit to a full journal. By crossing off a box on the tracker each day, it's easy to see your successes.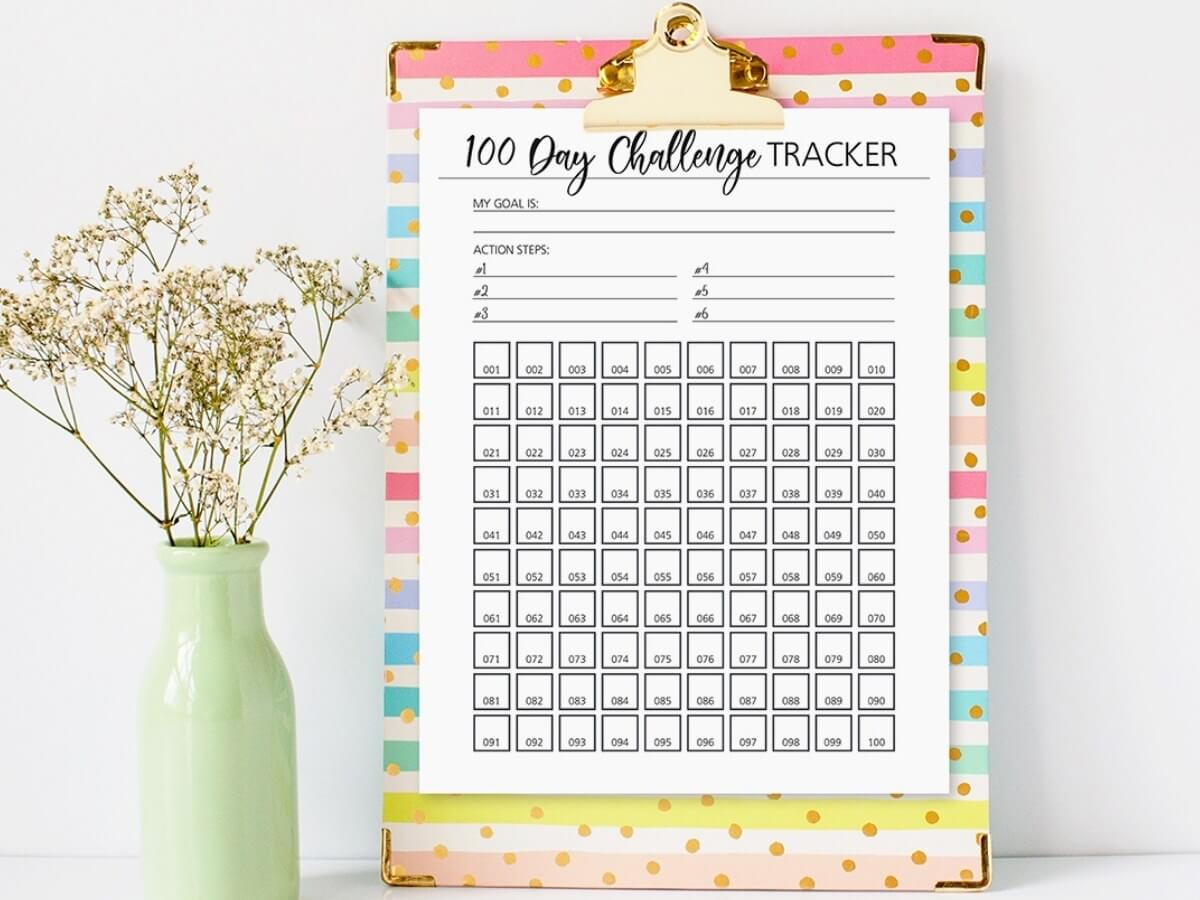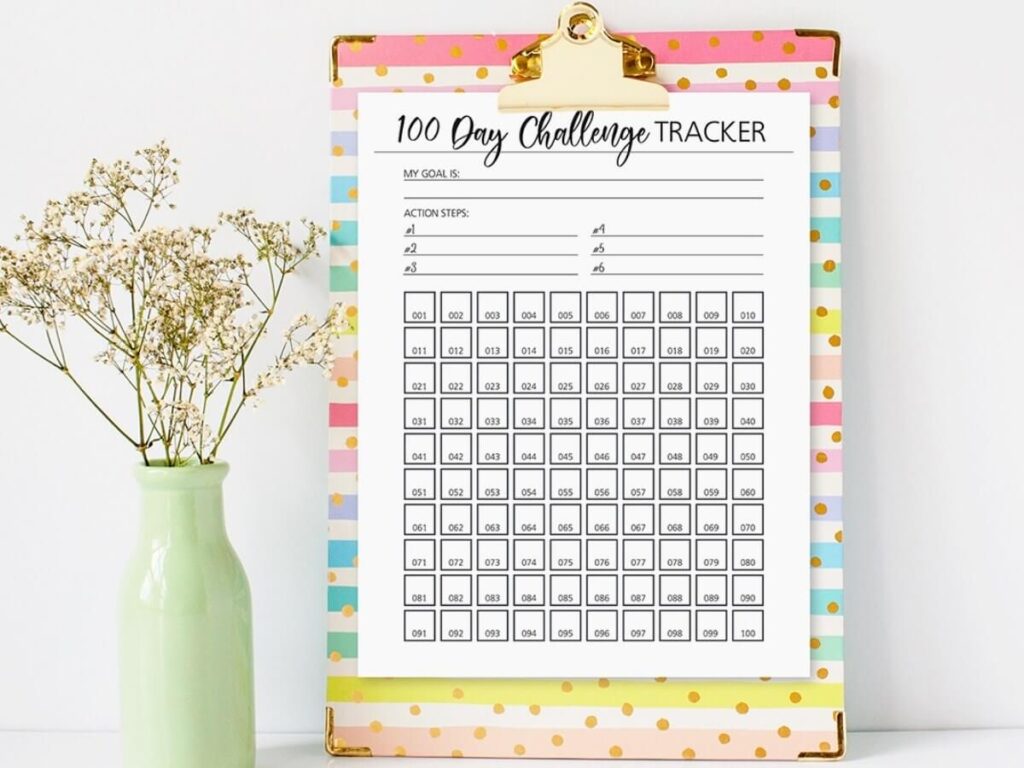 I've got a super cute free printable 100 Day Challenge Tracker worksheet here! Just print it out and hang it on your fridge or insert it into your planner as a constant reminder to work towards your objectives each day.
Step 3: Take action and take notes!
The next step is the hardest… you actually have to start!
You can dream up all of the 100 day goal ideas that you want, and buy all of the cute goal planners, but if you don't take meaningful action, you won't get anything accomplished. So pick a day and start working on the action steps that will get you closer to meeting your goal.
And on day 1, be sure to write down how you did for the day, what steps you took to get closer to meeting your objective, and what you can work on for tomorrow. It may seem odd for the first few days, especially if you're not use to journaling, but over time you'll get used to the process and it will become a natural part of your routine.
100 Day Goal Ideas
Want some ideas for goals that are perfect for your 100 Day Goal Journal? Here are some suggestions for a wide variety of bigger goals that you can accomplish with the help of a 100 Day Goal Planner:
Train for an upcoming marathon.
Eat healthier (cut out sugar, soda, etc).
Lose a set amount of weight (for instance, 10 or 15 pounds).
Get in a good daily exercise routine.
Organize and declutter your whole home.
Learn a new skill. My daughter is currently learning how to create clipart with the Procreate app on her iPad… this would be an awesome 100 day goal!
Run a mile without stopping.
Launch an online business like a blog or an Etsy shop.
Potty train your toddler.
Improve your relationship with your spouse.
Quit smoking.
Learn a new language.
Develop a system to track your finances or start budgeting.
Complete a big work project.
Break a social media addiction and spend more time being present.
Make Your Own 100 Day Goal Journal with Printables
One option for writing down your goals is to create your own goal journal with printable pages. With a done-for-you PDF, all you have to do is press "Print", hole punch the pages, and insert them into a binder or create your own binding with a disc bound system, similar to The Happy Planner.
Click HERE to get the 100 Day Goal Journal PDF in my Shop!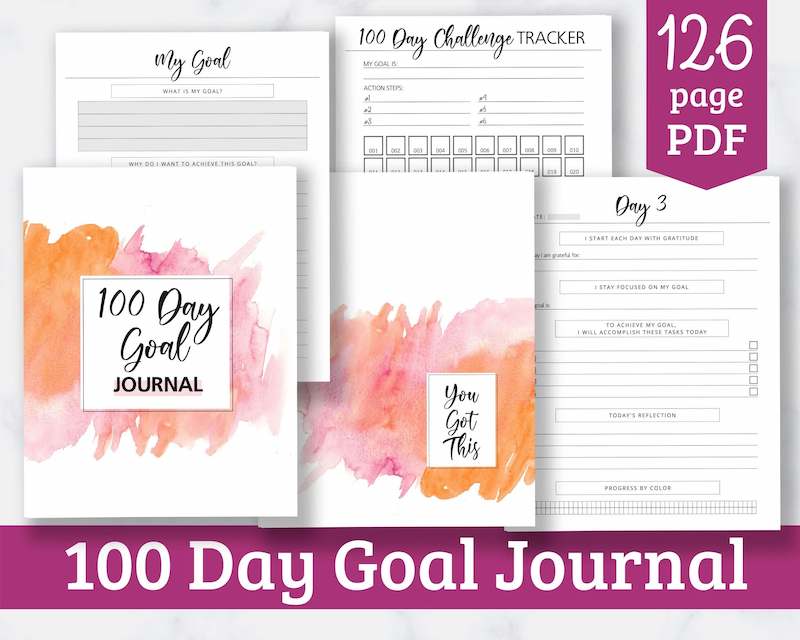 I created this goal setting planner to use with my Happy Planner discs, but you can easily use the 100 day goal journal PDF with a 3 ring binder also: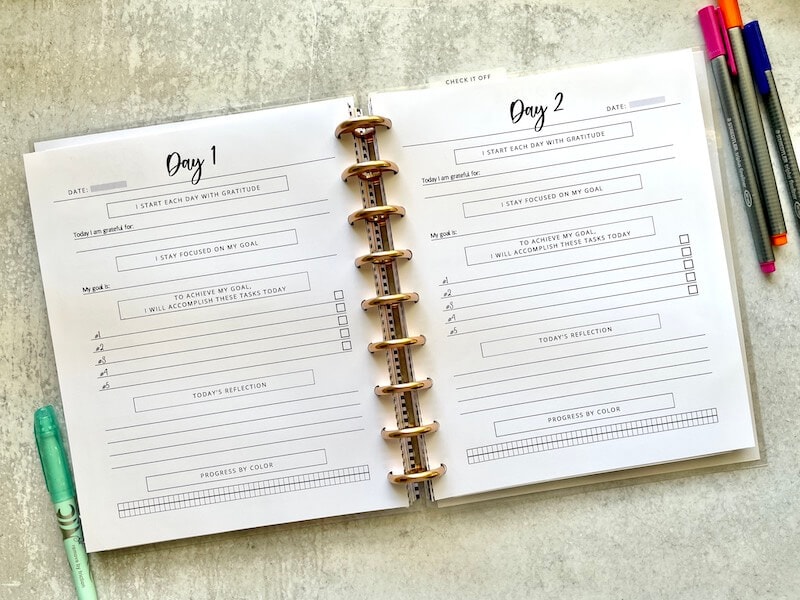 Why Choose a 100 Day Goal Journal PDF?
So why would you want to purchase a printable version instead of a physical journal? It comes down to three main reasons:
To Save Money
The great thing about purchasing printables and PDFs is that you own the file, so you can print it again and again. So, instead of spending about $15.00 on ONE goal journal, you can purchase a PDF that you can print multiple times for different goals.
You Can Personalize It
Yes, using a printable 100 Day Goal Journal does require a bit more work on your part… you have to print it out and put it together (either in a 3 ring binder or with a DIY disc bound system), but it also allows you the opportunity to personalize your journal with a cute cover!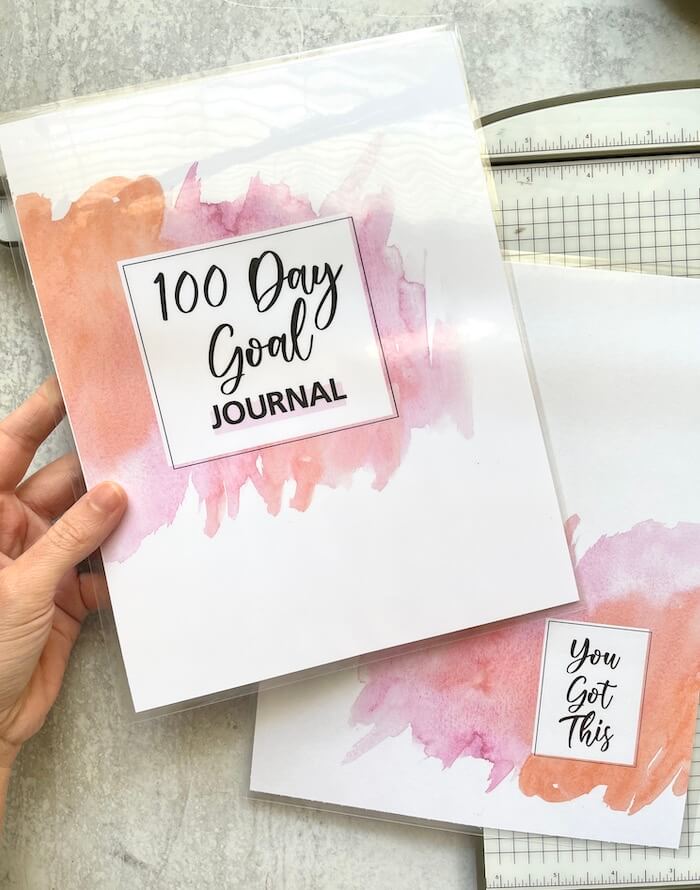 You can go here to see how to make your own DIY Planner Covers for the Happy Planner, and then use the discs from the Happy Planner like I did to create your own cute planner or journal!
Add the Pages to An Existing Planner
If you already use a paper planner and you don't want to worry about having to keep up with a second one, then you can add the printable goal pages to your existing planner, assuming that it has that capability. (That's one of the things that I love about the Happy Planner… you can insert your own custom pages easy-peasy!).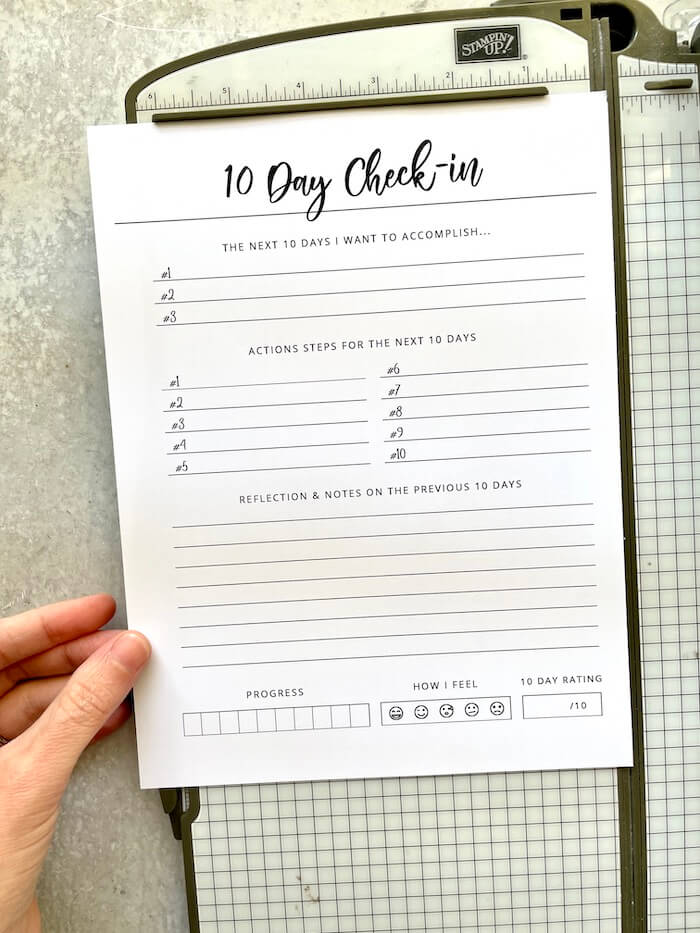 To add these goal setting planner pages to my Classic Size Happy Planner, I simply resized the PDF to 82% scale in the printer settings, trimmed them down to 7″ x 9.25″, and hole punched them using my Happy Planner paper punch. So easy!
You can also print out the pages and glue them into a bullet journal.
What is your big 100 day goal?
So now that you've seen how to create your own goal planner, it's up to you to take the first step and START! And in the words of Henry Wadsworth Longfellow,
Success is not something to wait for, it is something to work for.

Henry Wadsworth Longfellow
So what will you be working for?
Have you ever tried a 100 day challenge? What big goals do you have that could be accomplished in 100 days? Leave me a comment down below. I'd LOVE to hear from you!
And happy nesting!