Looking for a free printable 100 Day Challenge Tracker for your upcoming challenge? This cute tracker worksheet PDF is perfect for your fitness, spending, or other personal challenges!
I'm always amazed at what I can accomplish in just 100 days when I'm really determined. I launched a new Etsy shop in 100 days at the beginning of this year, and last year I lost over 15 pounds in 100 days after committing to a low carb diet.
My latest 100 day challenge that I set for myself is to be able to run one mile without stopping. If you know me, you know that's a huge deal, because I don't run. Ever. But I've been walking every single day for the past month (with the help of this free printable Walking Tracker!), and I've slowly started to throw a little jogging in there also.
If there's a big goal that you want to accomplish, like decluttering your entire house or launching a new home-based business, then you may want to try a 100 day challenge also. And this cute free printable 100 Day Challenge Tracker worksheet can help you stay on track!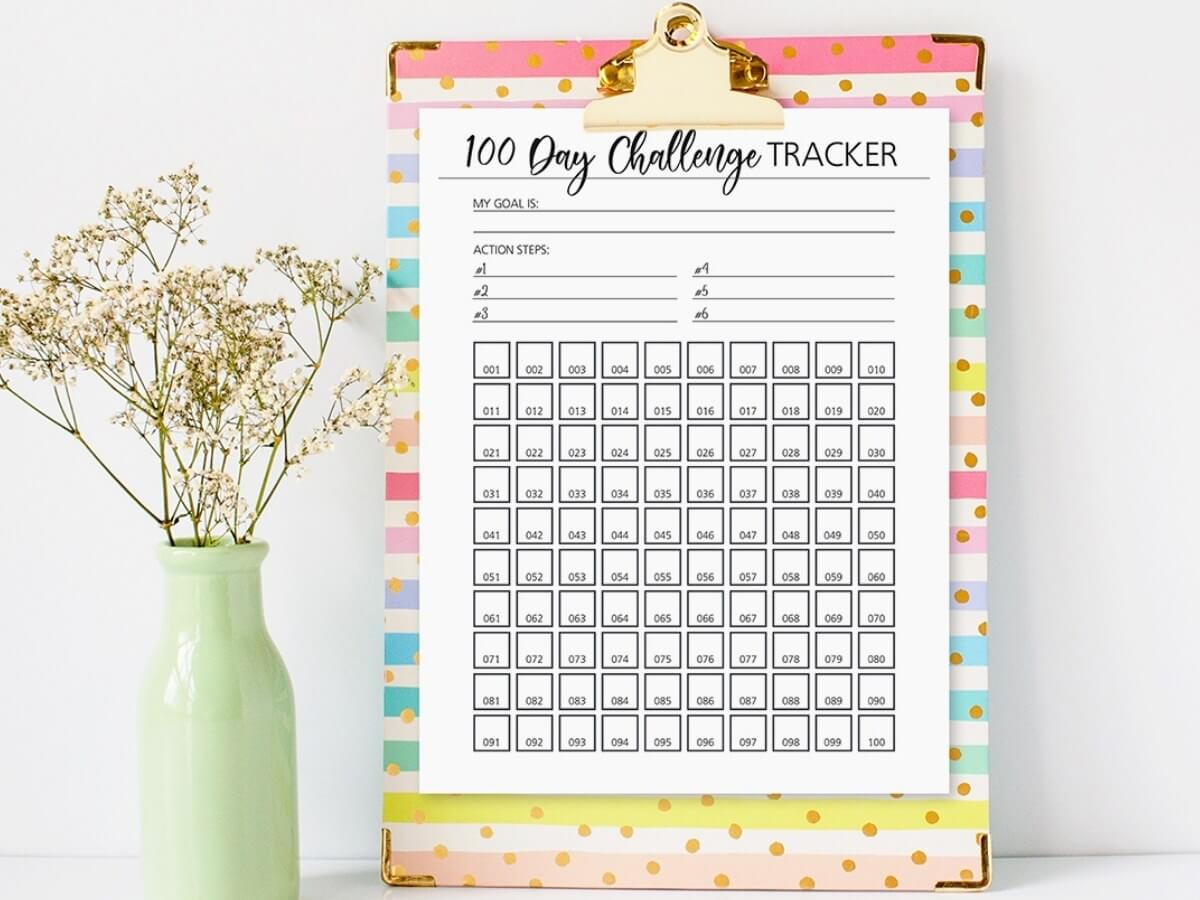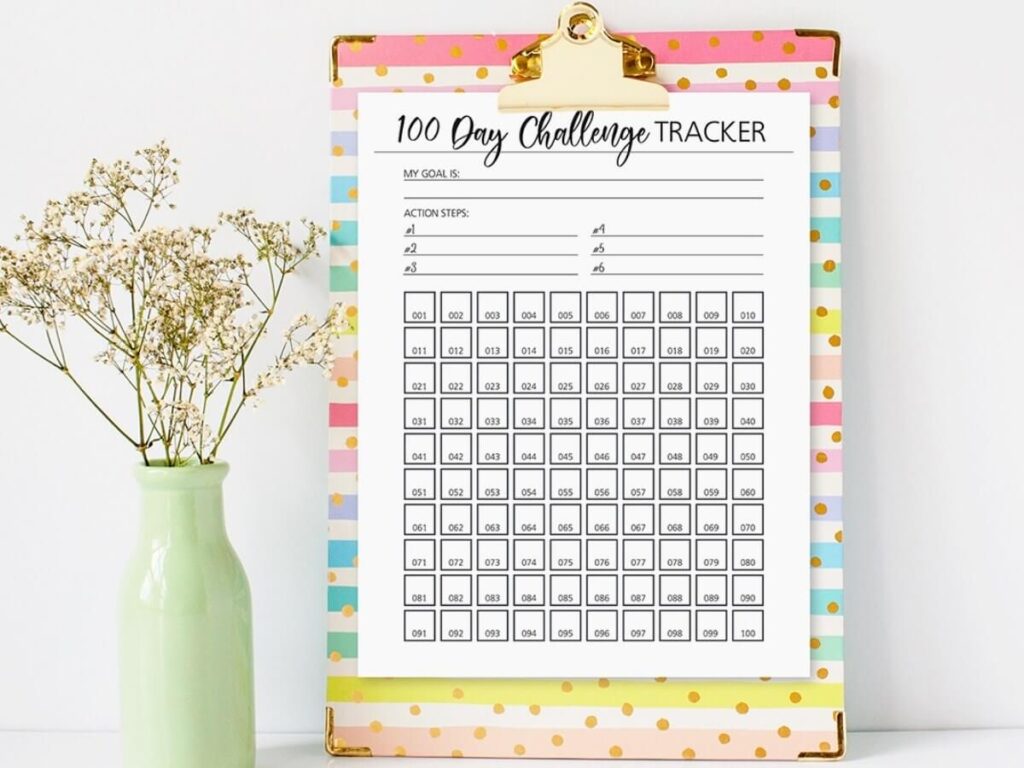 How to Use the Free Printable 100 Day Challenge Tracker
1. Download and print the 100 day tracker.
Just click here for the free printable 100 Day Challenge Tracker!
2. Fill out the top of the tracker with your 100 day goal and action steps.
Before you begin your challenge, you need to set a 100 day goal and record it on the tracker. This may seem insignificant, but a recent study has proven that the simple act of recording your goals (or physically writing them down) increases your chances of success.
*The same study also concluded that the more frequently that you monitor your progress, the more likely you are to meet your goals… which is why this 100 Day Challenge Tracker is a great idea!
And remember,
"A goal without a plan is just a wish."

Antoine de Saint-Exupéry
So once you decide on a goal for your 100 day challenge, you need to think about what action steps you will take to get there. For instance, if you want to challenge yourself to walk a mile each day for 100 days, your action steps may be to download an app that counts your steps and to make a playlist of upbeat music to keep you motivated.
3. Hang the tracker on your fridge or add it to your planner.
The next step is to put your tracker in a place that you will see it everyday and be reminded to complete it. For you, that may be on the front of your fridge, taped to your bathroom mirror, or in your planner.
My challenge tracker is pinned to the bulletin board in my office, and I fill it out immediately when I get home from walking each morning.
4. Record your progress each day.
After you've set your 100 day goal and you've got a tracking system in place, then it's time to start your 100 day challenge, and in order to be successful, you need to incorporate some record keeping into your daily routine.
Simply pick a day to start your challenge and record your progress as you go. Cross days off your challenge tracker printable or make notes in your planner when you meet your goal for the day. It may seem insignificant, but the simple act of recording your progress can help to keep you accountable for reaching your goal.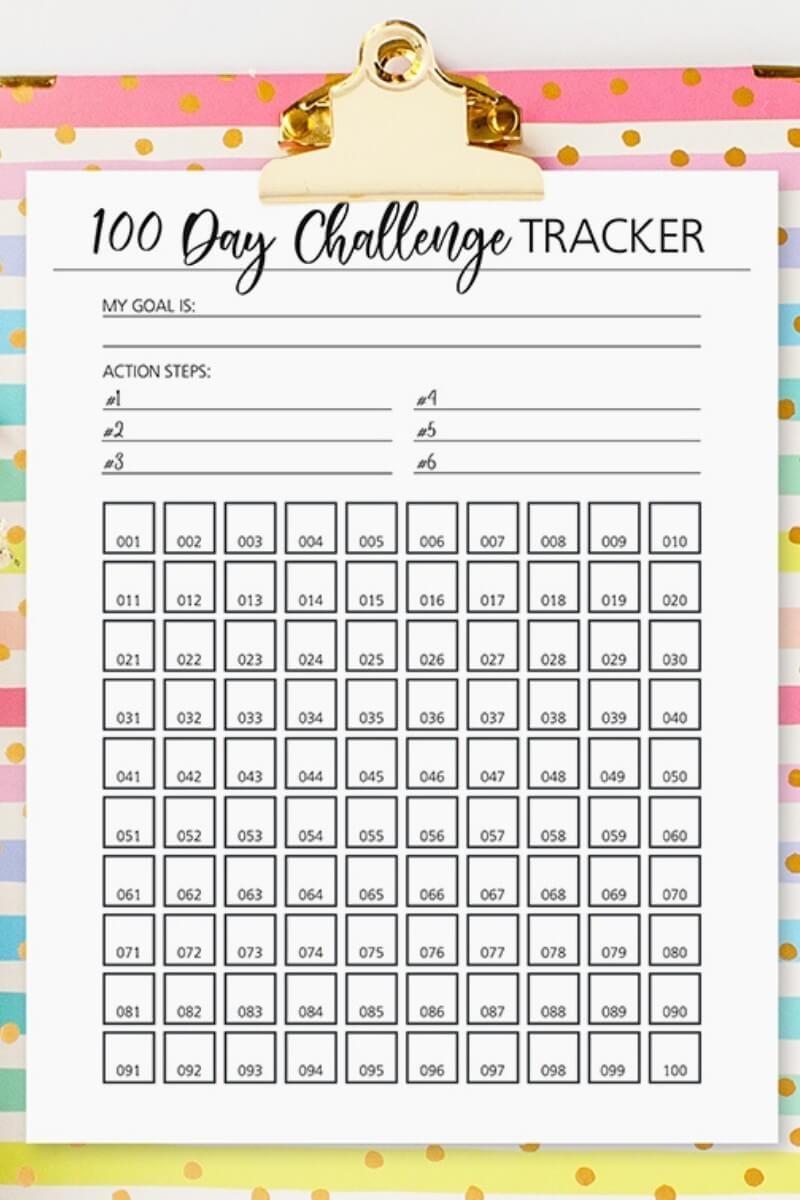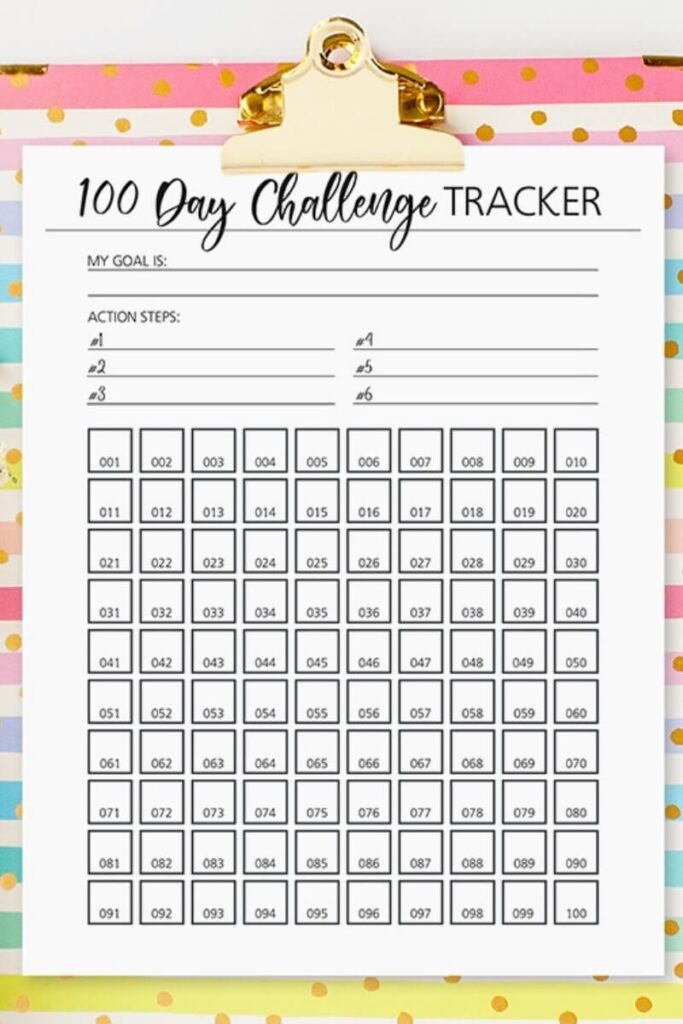 100 Day Challenge Ideas
Need ideas for what type of challenge you can do over 100 days? Here are some ideas to get your creative juices flowing:
Don't eat dessert for 100 days.
Walk at least 1 mile every day for 100 days.
Don't buy anything that's not a necessity for 100 days. You can also click here for How to Do a No Spend Challenge – It's my favorite way to save a TON of money FAST!
Organize or clean one small area of your home every day for 100 days – junk drawer, medicine cabinet, under the kitchen sink, sock drawer, etc.
Drink 8 glasses of water a day for 100 days.
Don't eat out at restaurants for 100 days.
Practice daily gratitude by writing in a gratitude journal each day for 100 days and see how it improves your overall well-being and attitude. I've got a whole post here for How to Start a Gratitude Journal – Plus Daily Journal Prompts!
Fill one grocery bag of clutter and unused items each day and get rid of it… just imagine how great your home will look after 100 days!
You can also head to this post for 50 personal challenge ideas that would work for a 100 days challenge!
Other Free Printable Challenge Trackers
If 100 days is too long of a commitment for you, then why not try a 30 day challenge? You can head here for some cute printable 30 day challenge trackers and get loads of ideas that you can use for your month long challenge.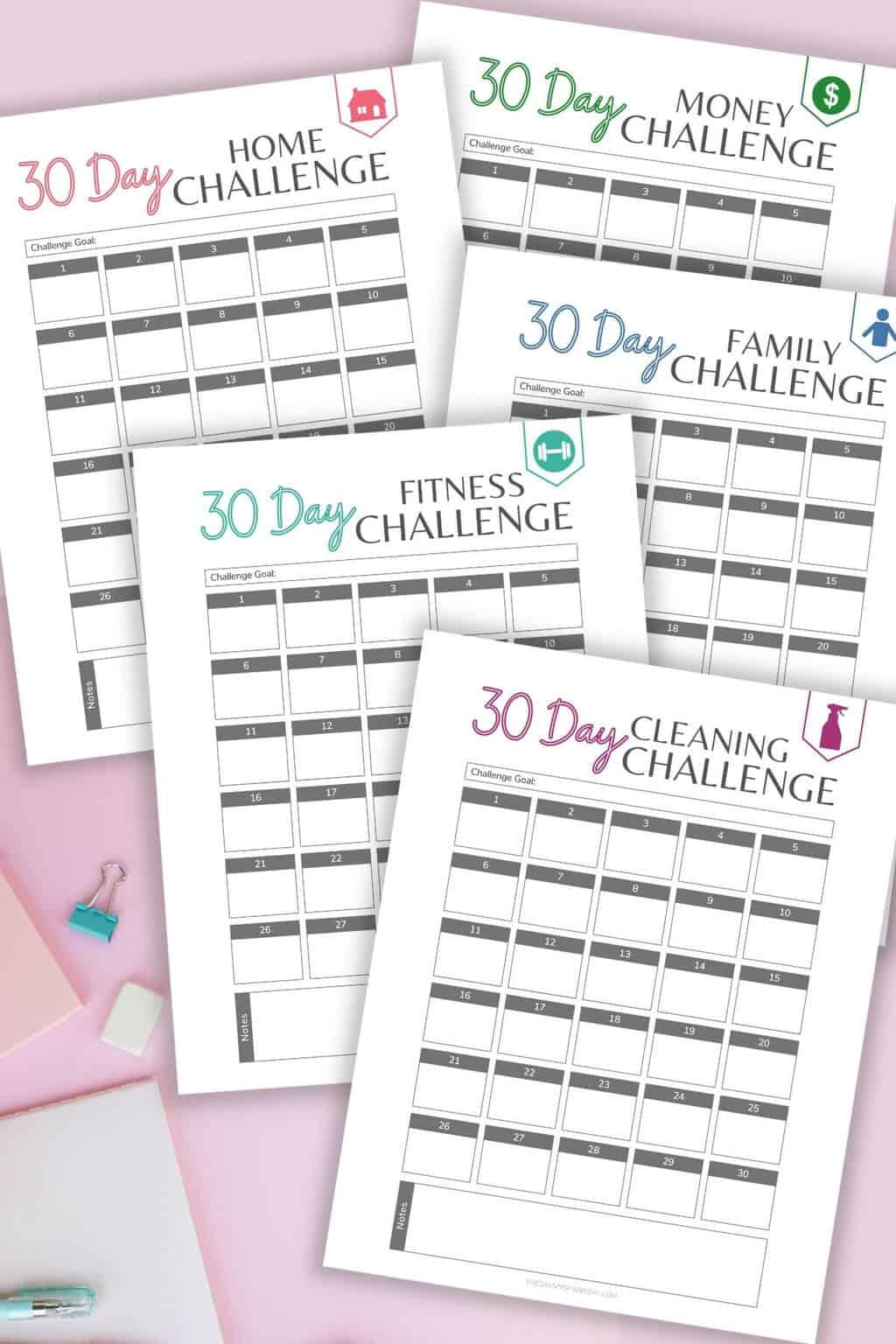 I've also got loads of other free printable challenges that you can use for a variety of other goals, like these cute printable walking trackers: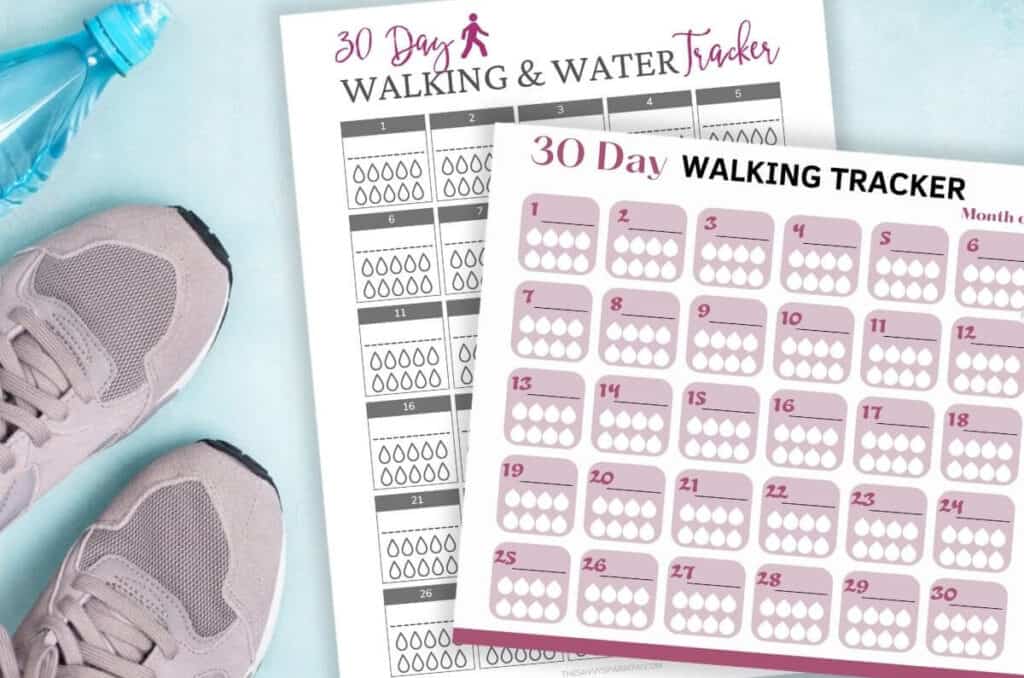 Or if you want to focus more on organizing your home, then try this 30 day decluttering challenge: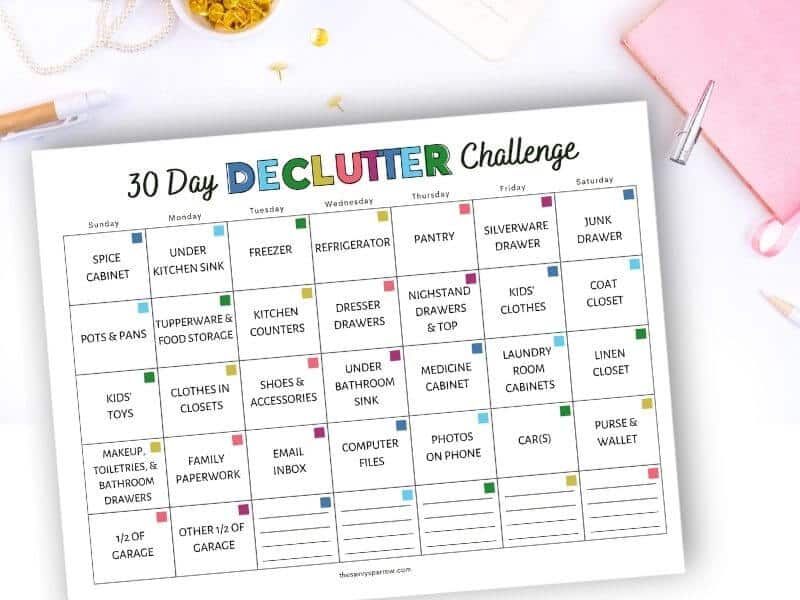 Have you ever tried a 100 Day Challenge? If so, what did you challenge yourself to do? Leave me a comment down below. I would LOVE to hear about how you plan on using your free printable 100 day challenge tracker!
And don't forget to PIN this post for later: