Want to combine your love of DIY projects with your love of pretty plants? Try one of these DIY planter ideas! No matter what your skill level, you'll find some awesome succulent planters, outdoor wood planter boxes, and more!
I can't keep a plant alive to save my life. In fact, I used to say "Lord help me if my kids start growing roots and photosynthesizing!". So I stick to fake plants in my home decor. But I still love plants!
I love how a few simple plants like succulents, snake plants, or fiddle leaf figs can add a subtle pop of color to any room. And of course, if you're going to use plants in your decor (either outdoors or indoors), you've got to have some planters to plant them in. Is it just me, or does it always seem like you collect plants faster than you collect planters? And then you're fishing around trying to find something to put your new plants in and they end up calling a tin can home for far too long.
And if you're a bit too plant happy, then buying a bunch of planters can get expensive. Most of the time, the plants themselves are much cheaper than the planter! So why not make your own planters?
These DIY planter ideas are the perfect way to combine your love of crafts and DIY decor with your "plant lady" obsession! No matter what size planter you need, you're sure to find a cute DIY planter that you love on this list:
DIY Outdoor Planter Box Ideas
If you want a multifunctional outdoor planter box, then try this awesome pallet wood hose holder planter from DIY Candy. Not only does it look beautiful, but it also hides your unsightly garden hose! And it's made from recycled pallet wood, making it an inexpensive planter box option.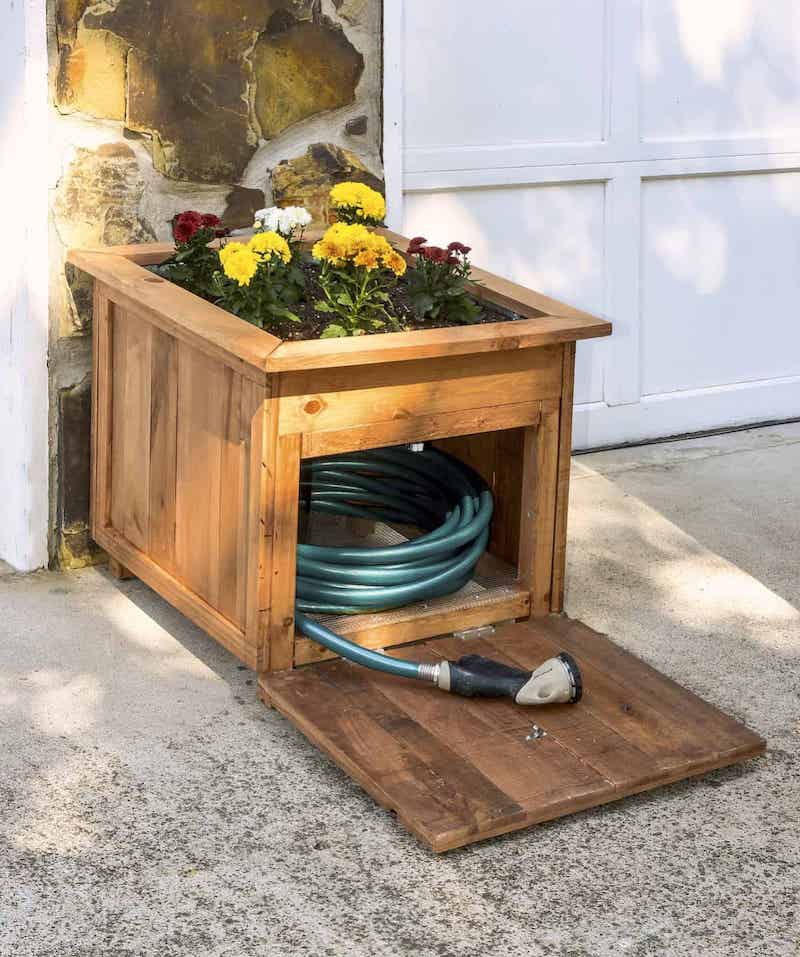 If you like the look of concrete planters, but you don't want to go through all the hassle of mixing up your own concrete and making your own molds, then these modern DIY paver planters from DIY Candy are a great option! These sleek planters would look awesome on either side of a big front door.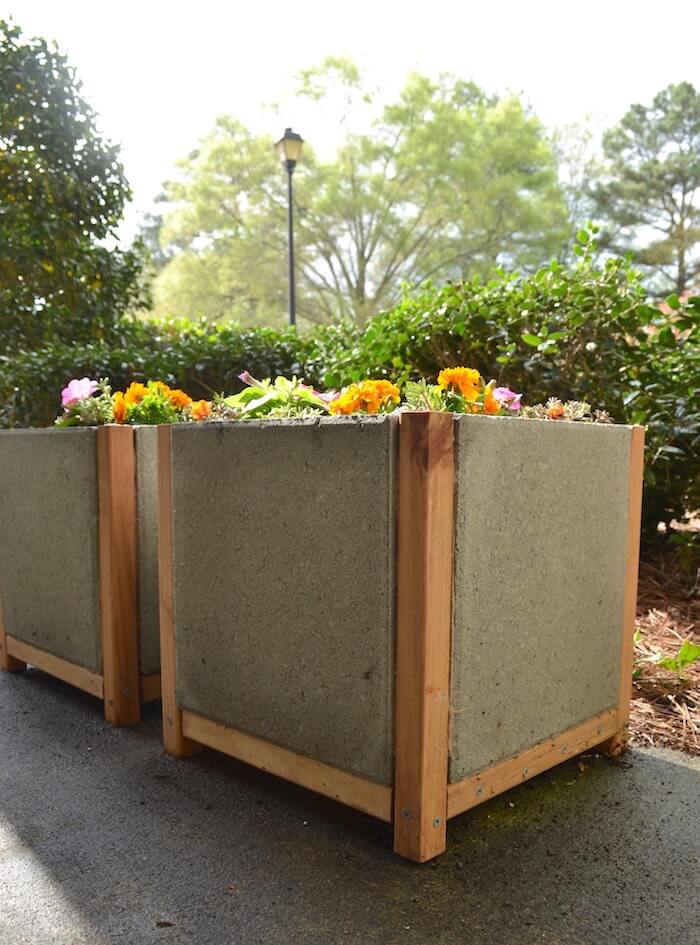 Railing planter boxes are the perfect way to add some greenery to your porch or deck without compromising floor space. Build these DIY railing planter boxes from The Handyman's Daughter using the step-by-step tutorial.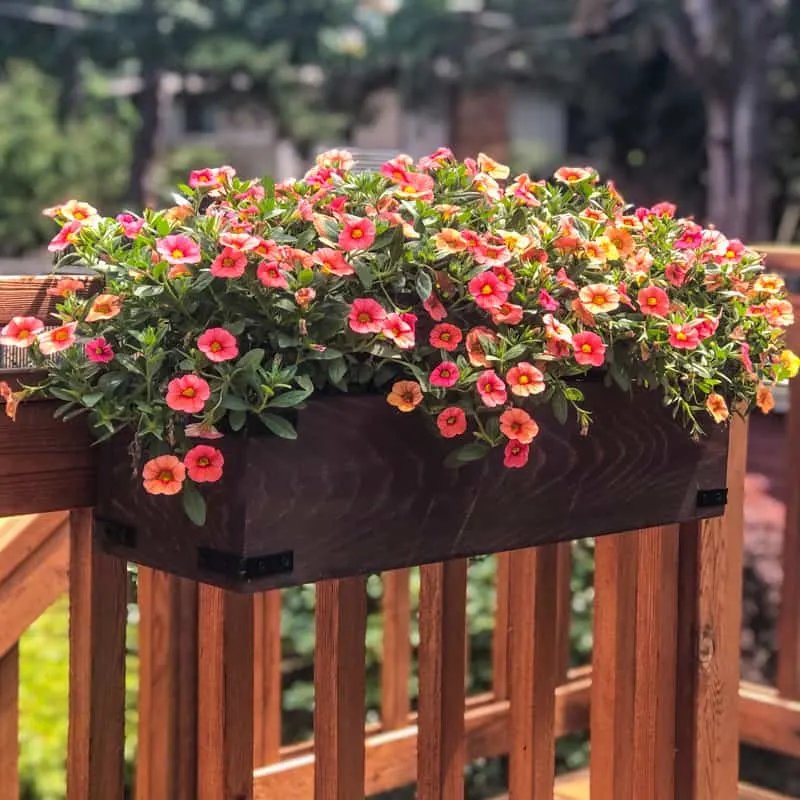 These sleek and modern DIY trellis planter boxes from The Handyman's Daughter are great if you're not afraid of a little woodworking! And she shows you step-by-step with tons of pictures of how to make these cool planters, so this would be a great DIY wood project if you're just starting out!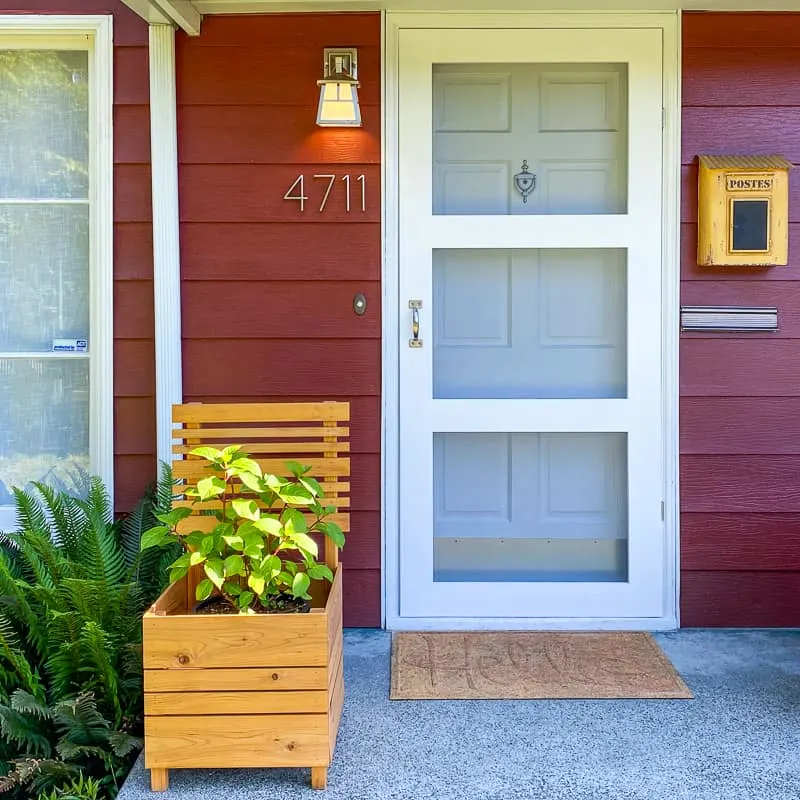 If you want another multifunctional design, then this cute cedar picket planter from Dream a Little Bigger is a great option! It serves as a home for your plants AND the birds living in your yard!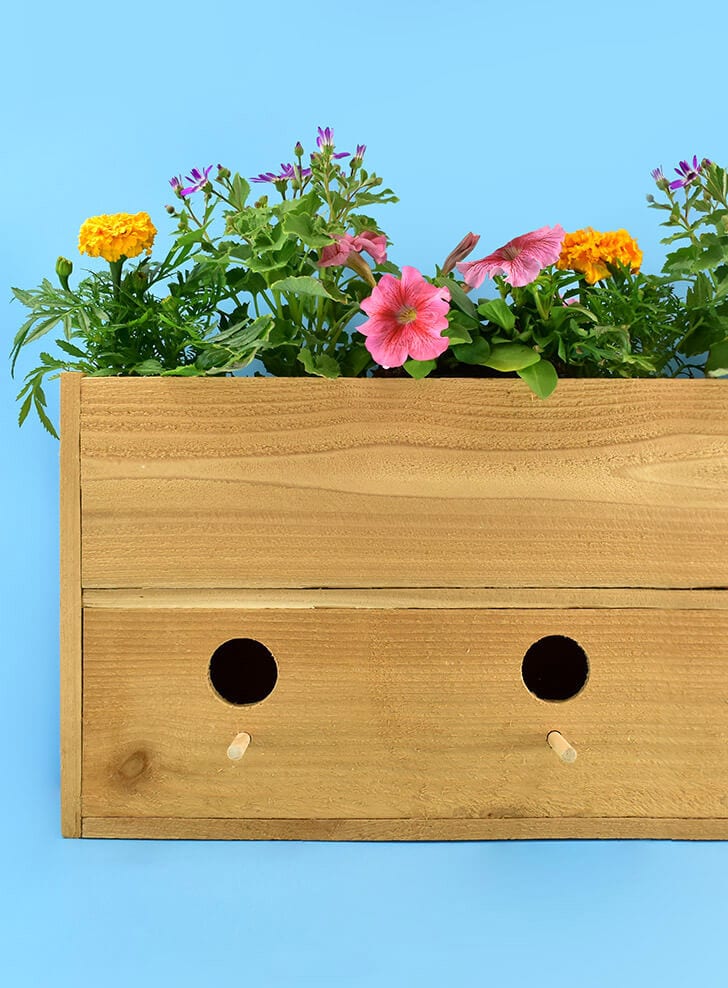 DIY Succulent Planter Ideas
Smaller plants like succulents are more suited to these DIY vase ideas. No matter what your style or skill level, you'll find some super cute homes for your small indoor plants here:
This DIY vase idea from Say Not Sweet Anne is made to look like beautiful white bone, perfect for a more eclectic vibe.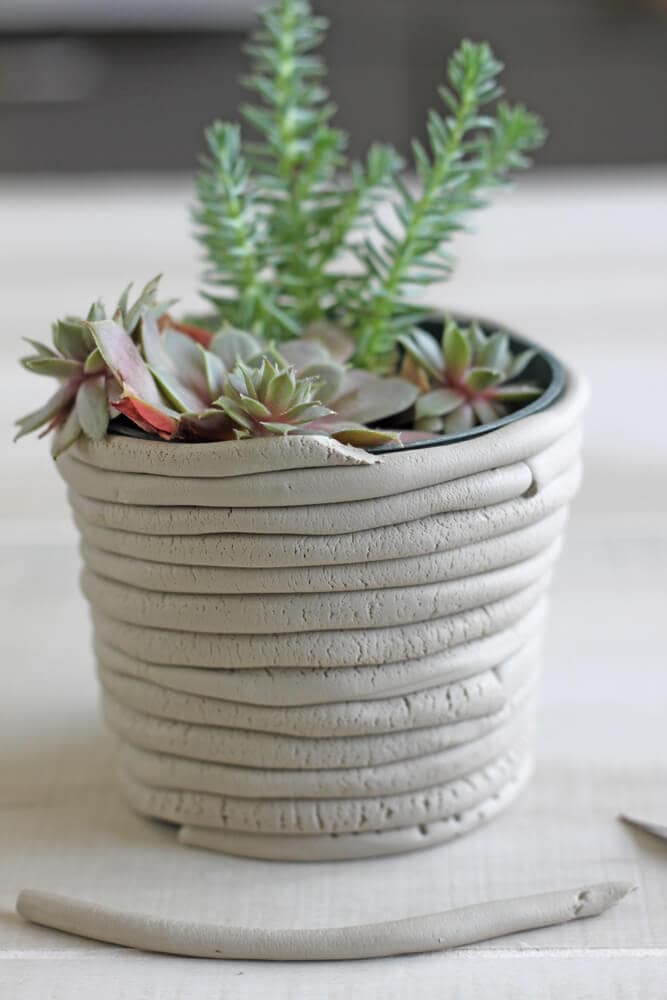 If you want more of an ambitious DIY planter, then break out the concrete mix! I love these DIY gold and concrete succulent planters from The Soccer Mom Blog, and they would also be perfect for your outdoor spaces… You don't have to worry about these concrete planters blowing away!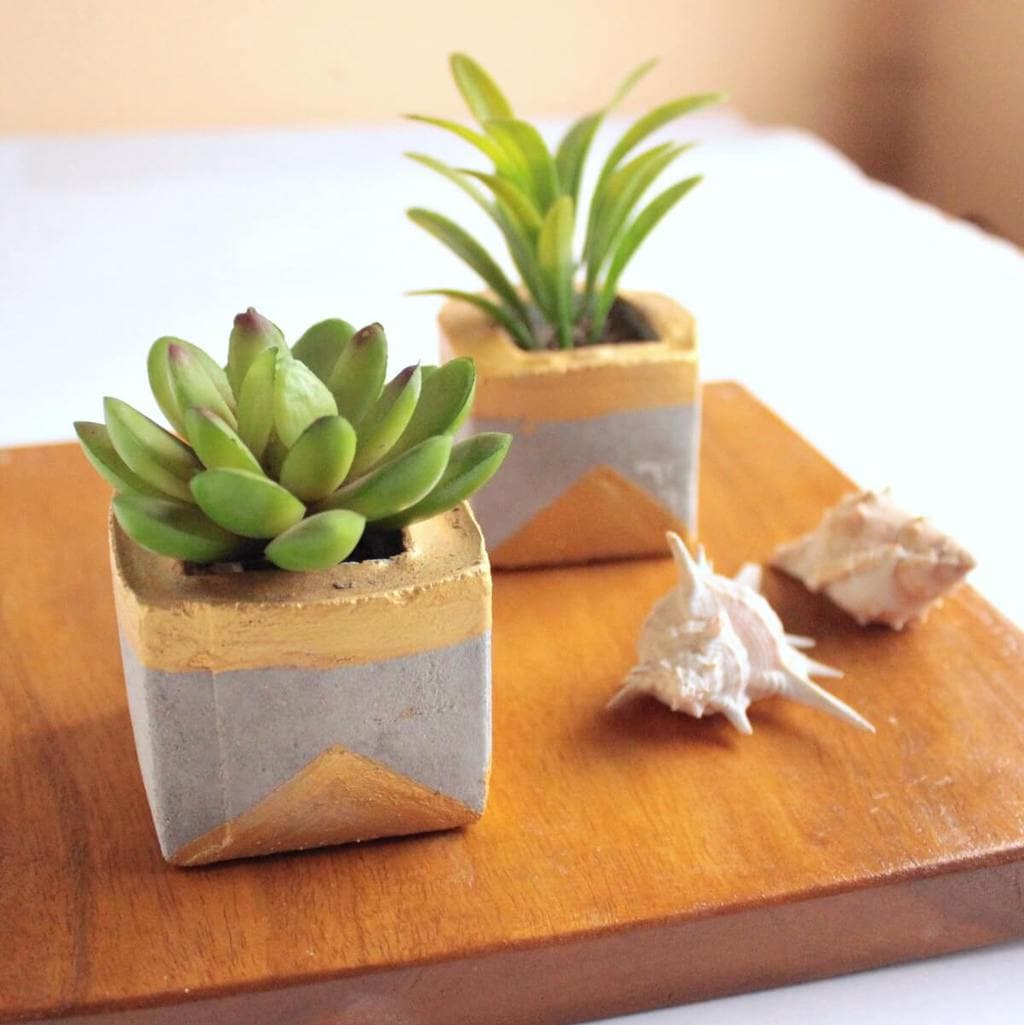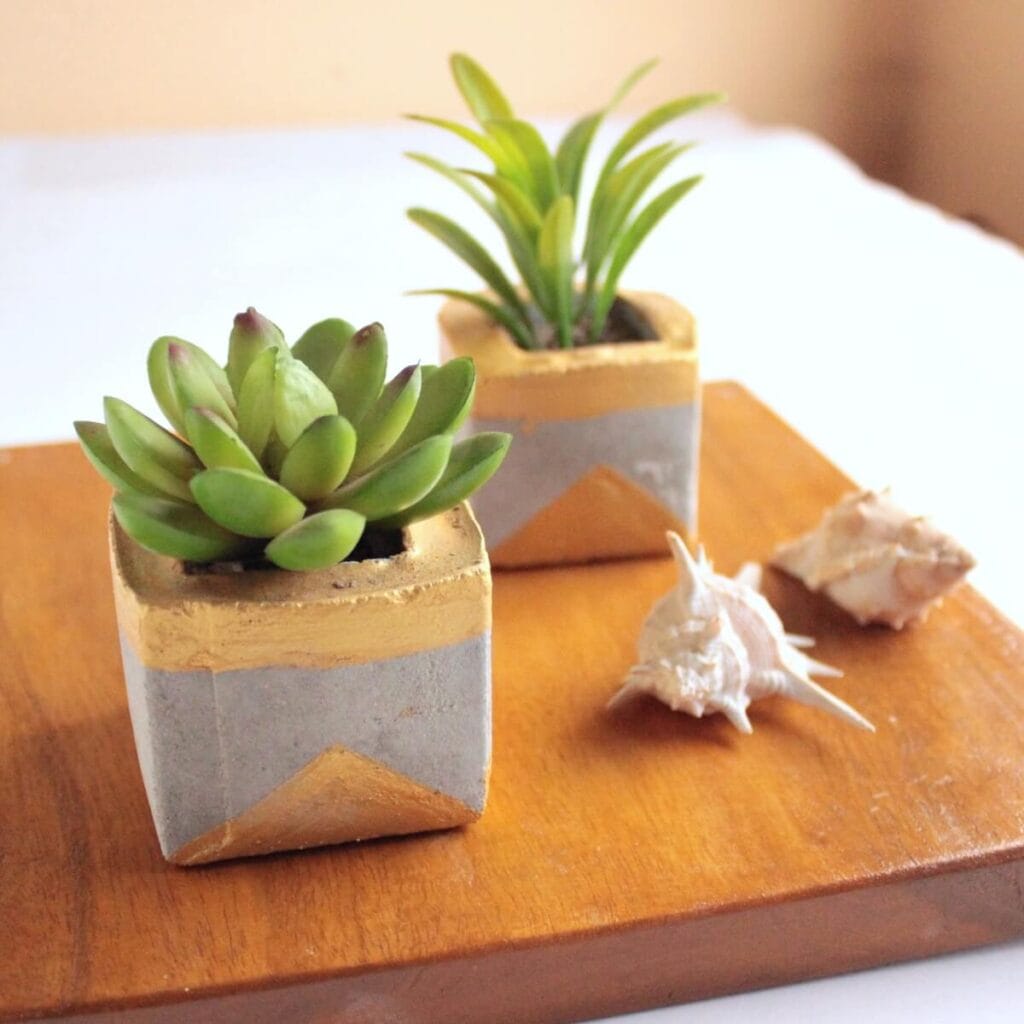 You can also follow the same tutorial and use different sizes of styrofoam or paper cups to make circular versions of these concrete succulent planters like this: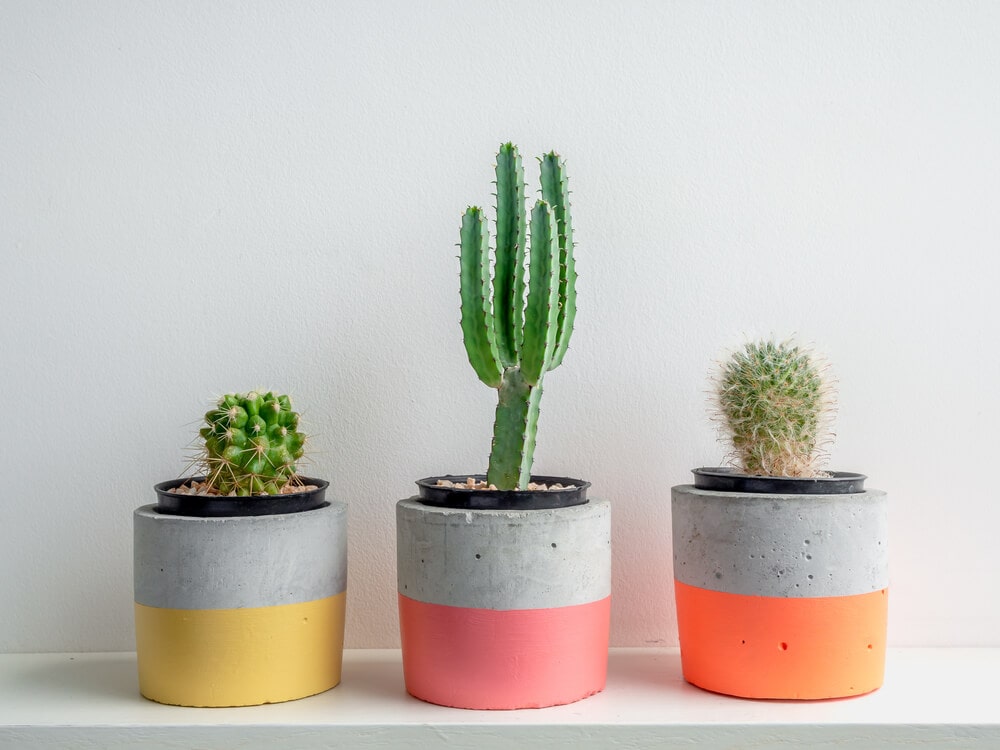 Or paint them with a cool wavy ombre pattern like this: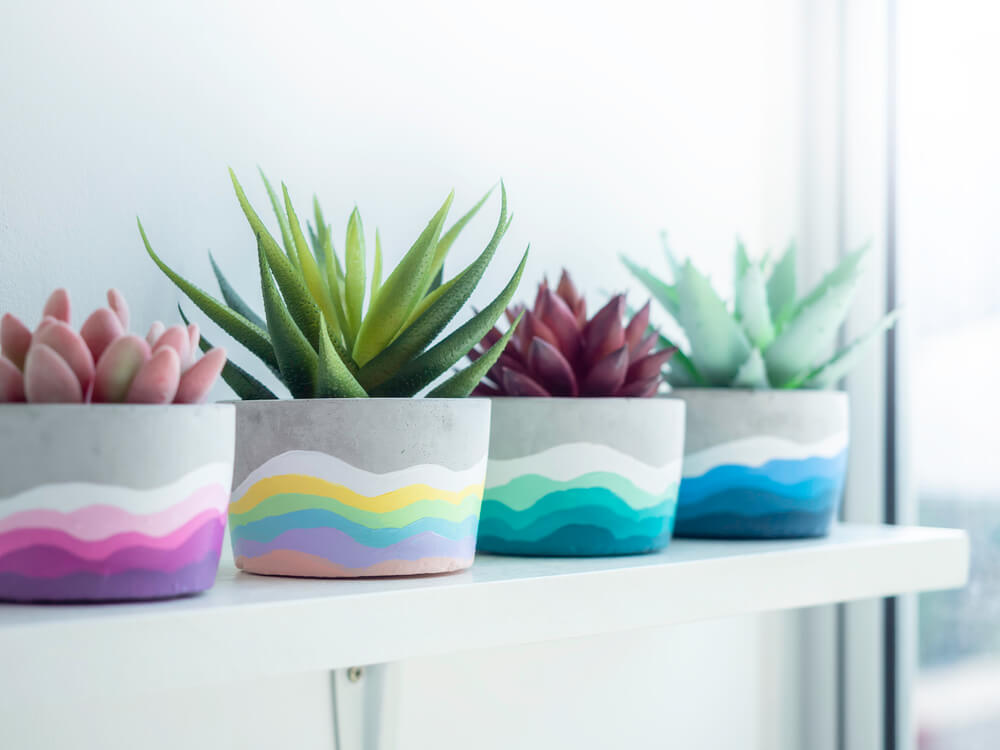 If you like the look of ceramic glazed pots, but not the price tag, then make your own! These super cute faux ceramic glazed planter pots are absolutely adorable, and the painting possibilities are endless. I LOVE the hot pink ombre painting effect that ModPodge Rocks Blog did on hers!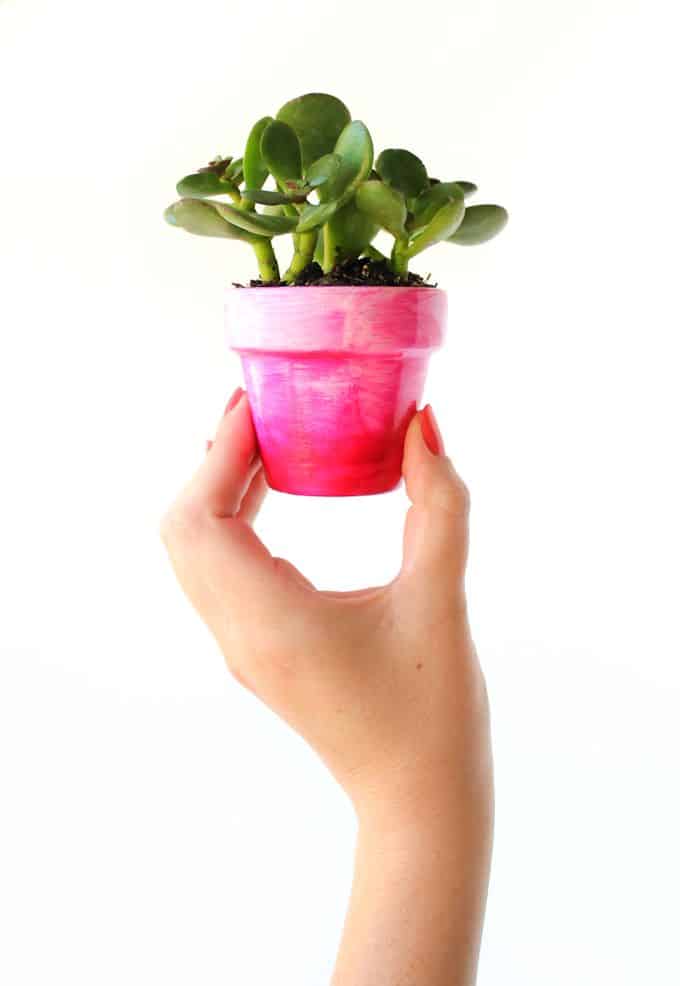 A plastic bowl is the base for this awesome DIY faux copper succulent planter from Where the Smiles Have Been, but you would never know it by looking at it! Learn how to make this awesome planter with just a few simple supplies, and then give it as a housewarming gift or keep it for yourself!
DIY Painted Glass Planter Vases
If you want a nautical themed planter that isn't too in-your-face beach decor, then this beautiful painted sisal rope glass planter from Petticoat Junktion is a great choice. I've even seen similar square vases and rope at Dollar Tree, which would make this a perfect inexpensive centerpiece option for weddings also.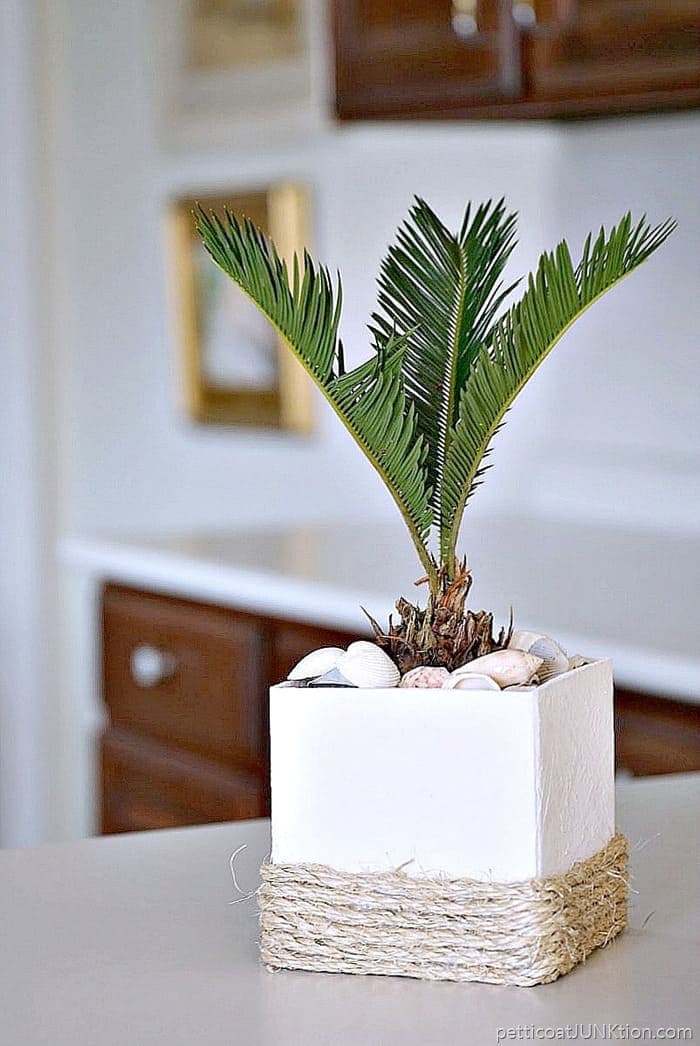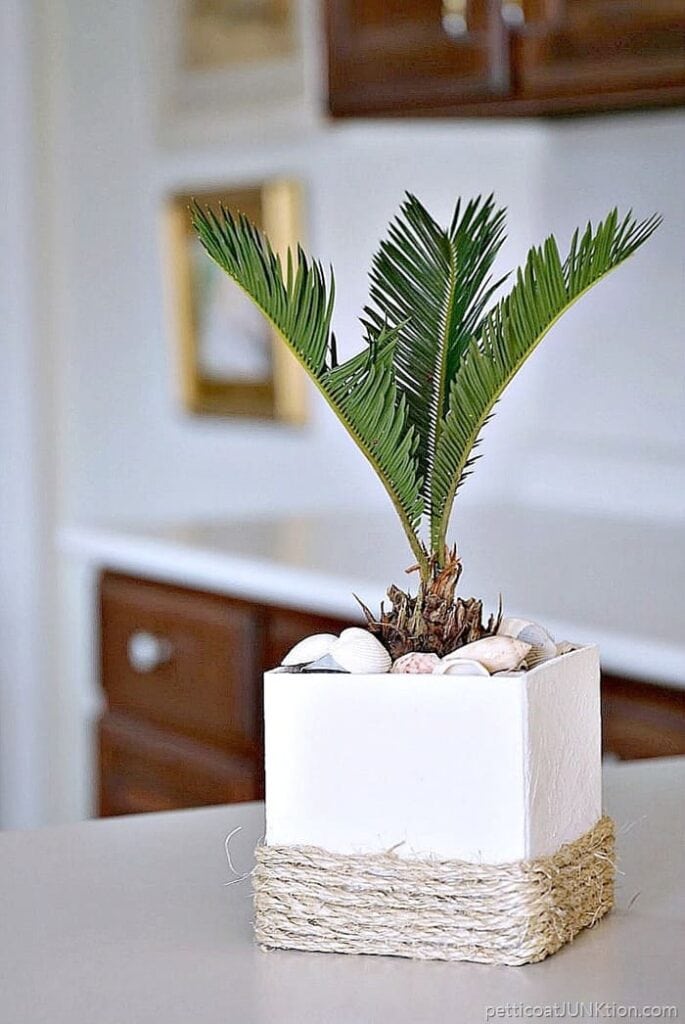 Painted mason jars like the ones from Hunny I'm Home DIY also make awesome indoor planters! I especially like the chippy look of these shabby chic pink jar planters!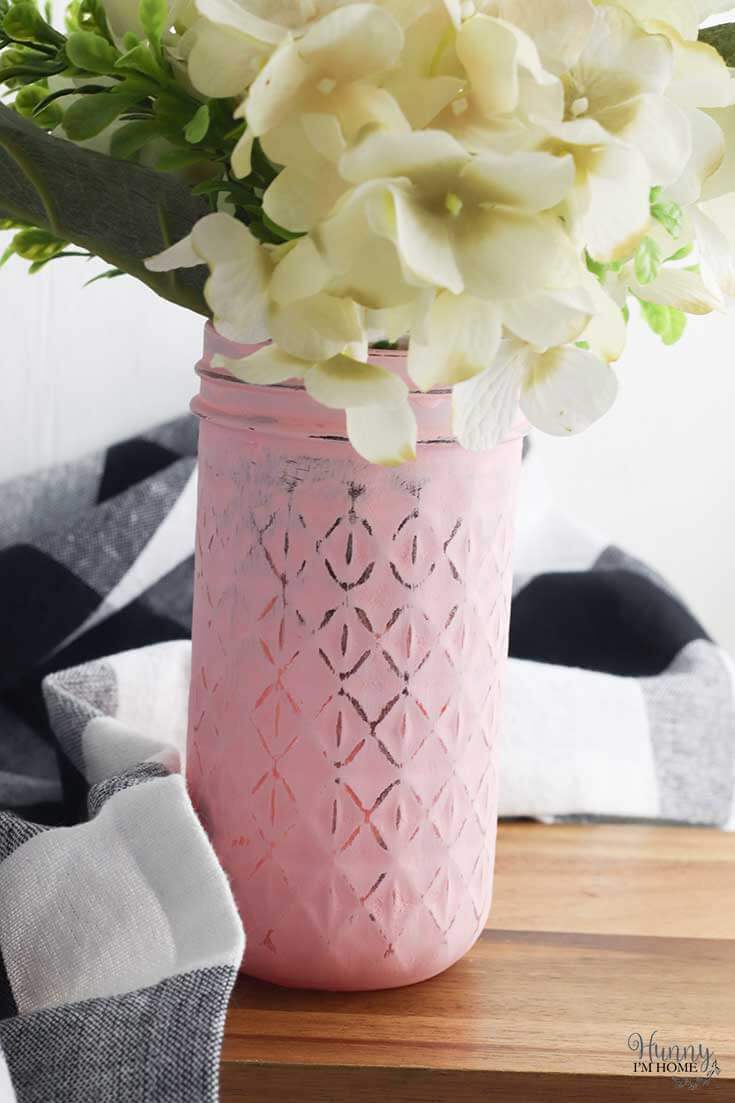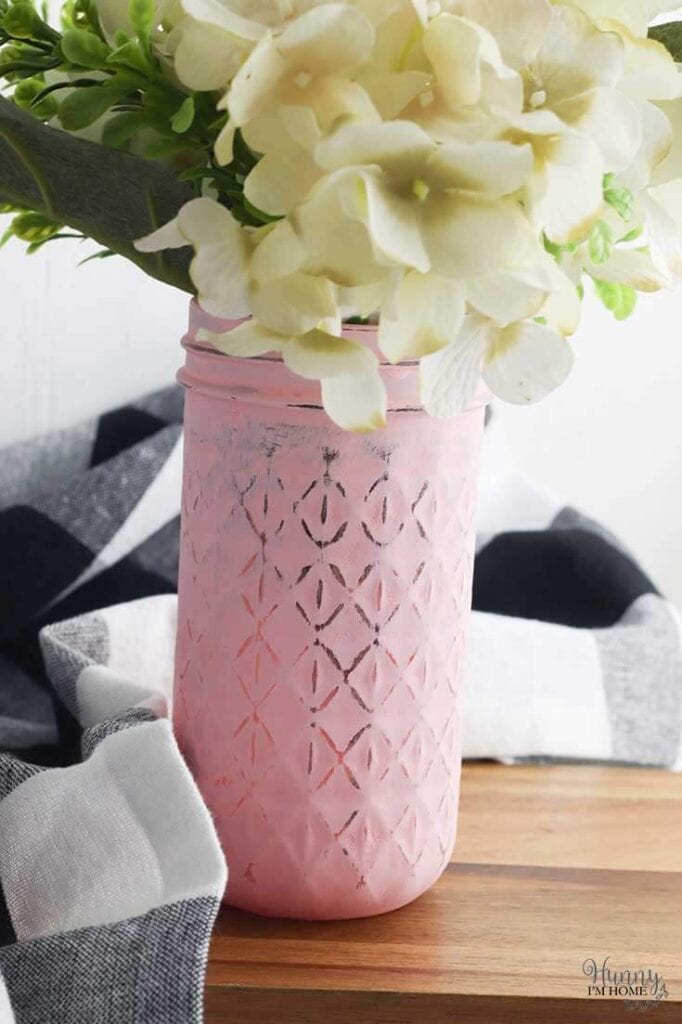 These DIY mason jar succulent planters from Down Redbud Drive are so cute, you'll want to keep them up well past the 4th of July! And, bonus, they can double as silverware holders for your patriotic parties!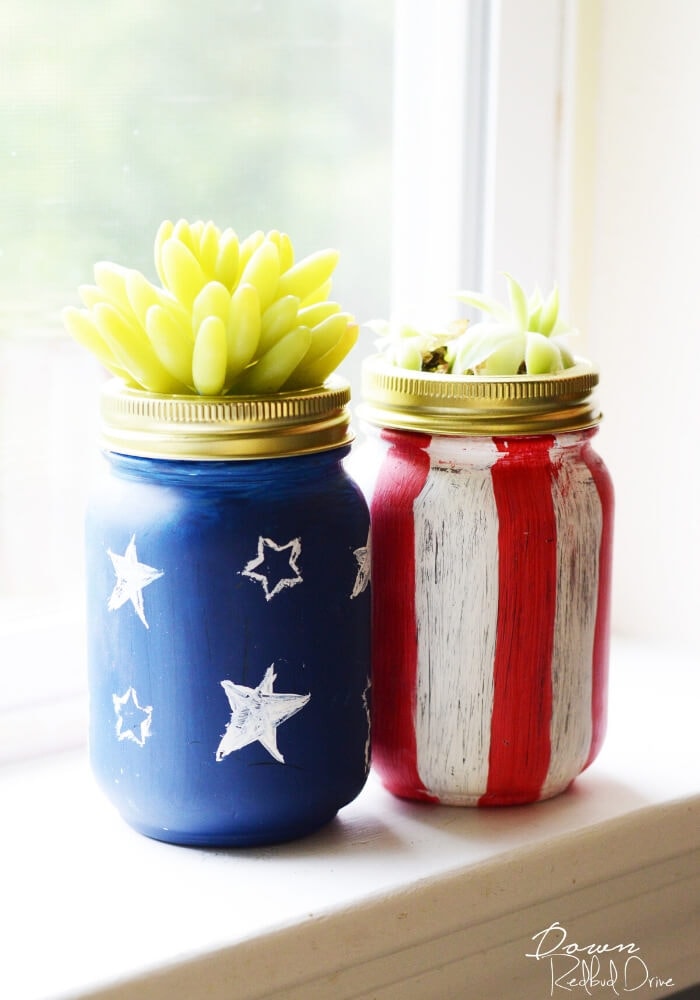 Or, you could also try painted striped mason jar vases like I did! These were so easy to make with painter's tape and glittery acrylic paint, and they would make awesome inexpensive centerpieces for an outdoor wedding or use them to store makeup brushes on your bathroom counter!
Keeping in the painted glass vase planter category… these DIY faux mercury glass vases! These adorable glass vases are made from old Bath and Body Works candle jars and spray paint, and I love how they add a bit of rustic glam to any room.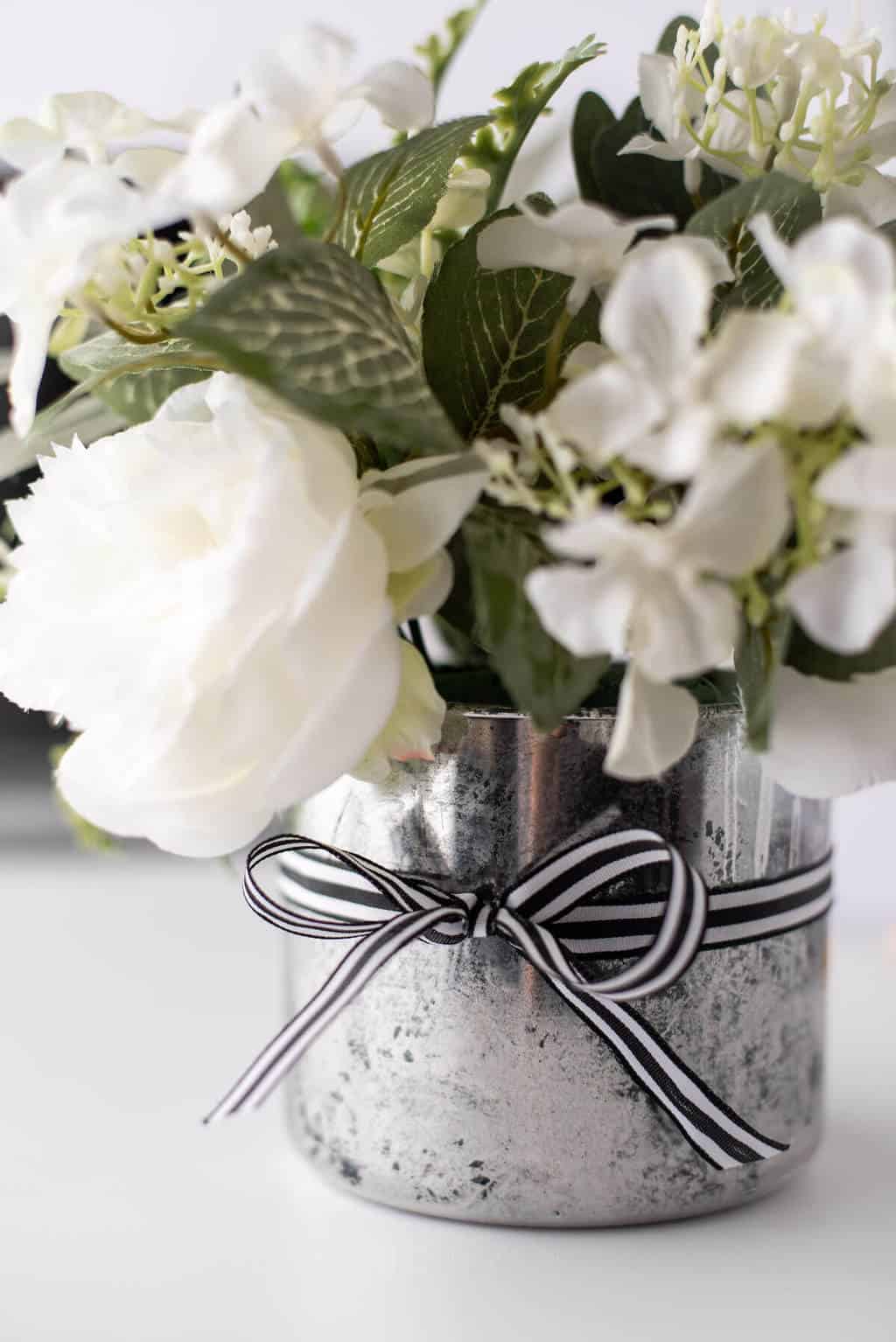 DIY Planters from Recycled Materials
If you're lucky enough to have an old wood wagon lying around your house, then why not repurpose it into a beautiful DIY wagon planter like The Soccer Mom Blog did! This cute planter box would be the perfect way to add a bit of whimsy to your country front porch decor, and since it's so large, you can fit a ton of flowers inside.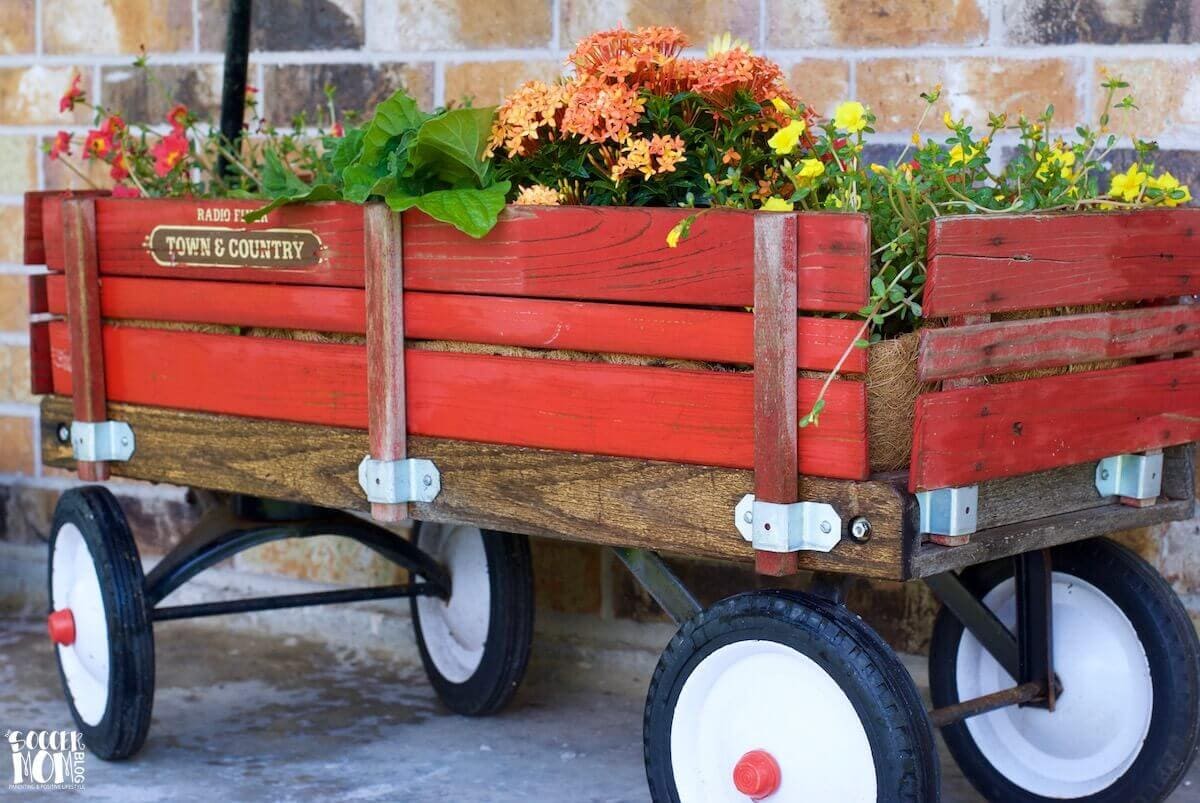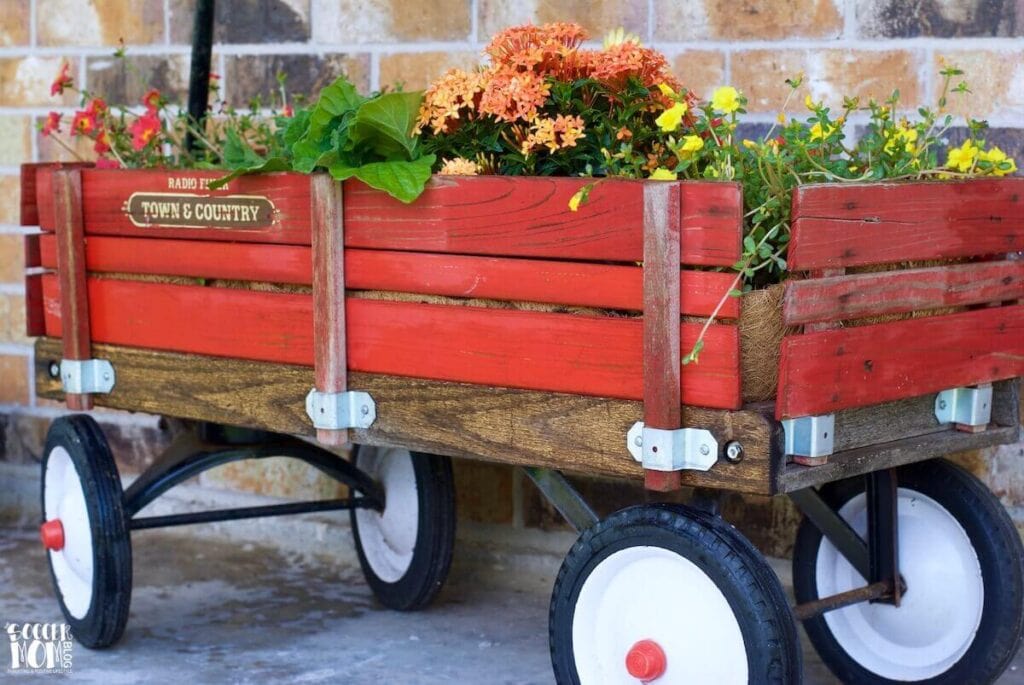 If your DIY skills are lacking, or if you just want a super quick planter idea, then it doesn't get easier than a DIY tin can planter like this one from Moms and Crafters. Just clean out an old vegetable or soup can, add some pretty ribbon, and plant your flower or herb inside. Since this planter craft is so inexpensive, it would also be perfect for giving as teacher gifts with a pretty succulent!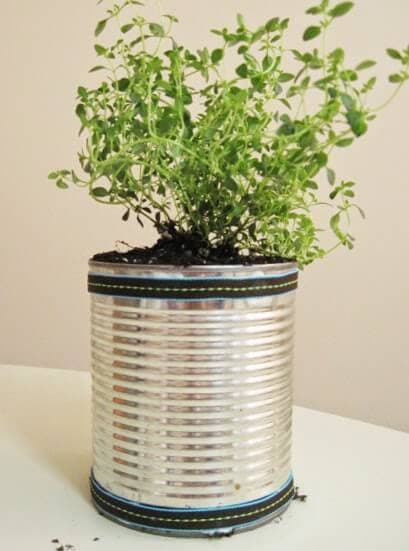 This cool outdoor plant stand from The Kim Six Fix is actually a repurposed magazine rack… see it now?!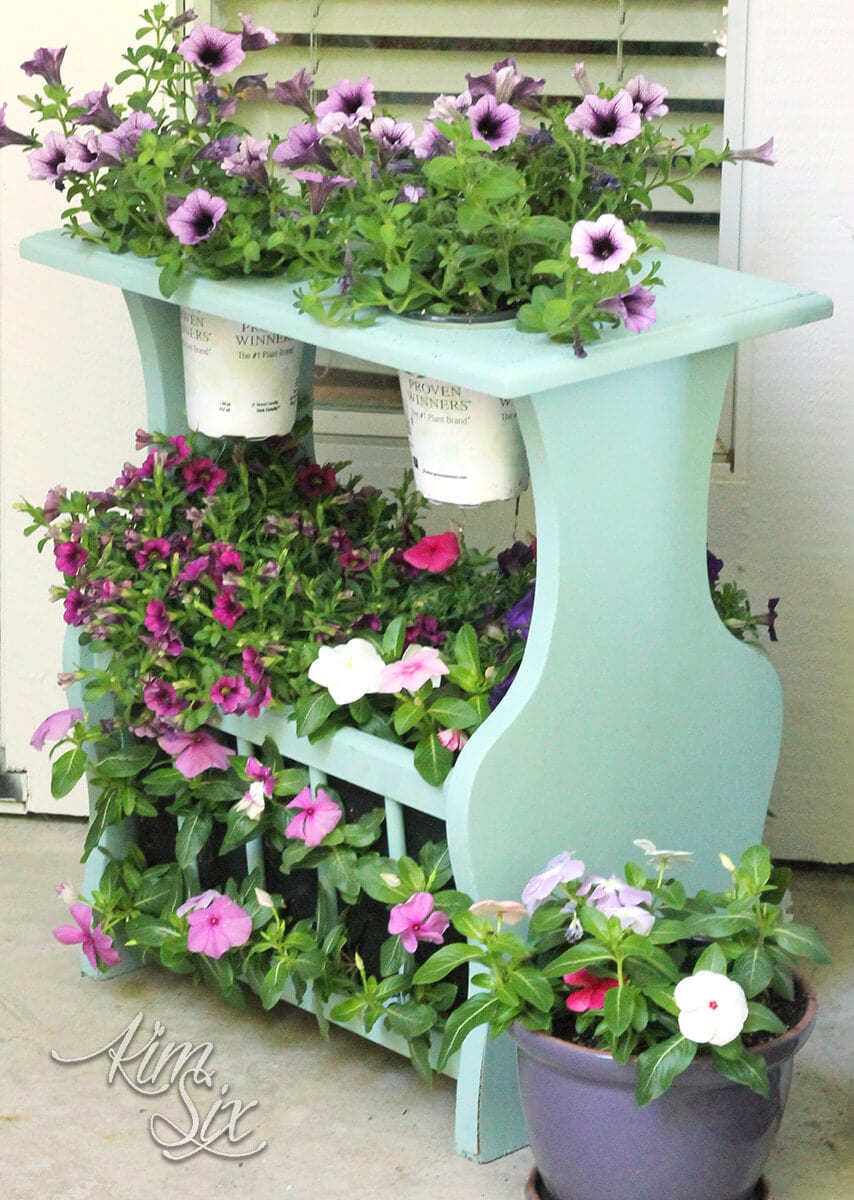 You can also use other found objects as DIY planters. My husband, a cast iron enthusiast, was recently gifted an antique cast iron tea kettle. The condition was a bit rough to use as an actual tea pot, so I had the idea to use it as an outdoor planter! I just added a bit of gravel to the bottom so that the water could drain down, then put potting soil on top of that.
Other Cute Planters You Can Make Yourself
This ceramic tile planter box from Our Crafty Mom would be great for indoors OR outdoors. Since it's made with a beautiful store-bought ceramic tile, it should be able to withstand the elements on a covered back porch. Or use it for your larger indoor plants also!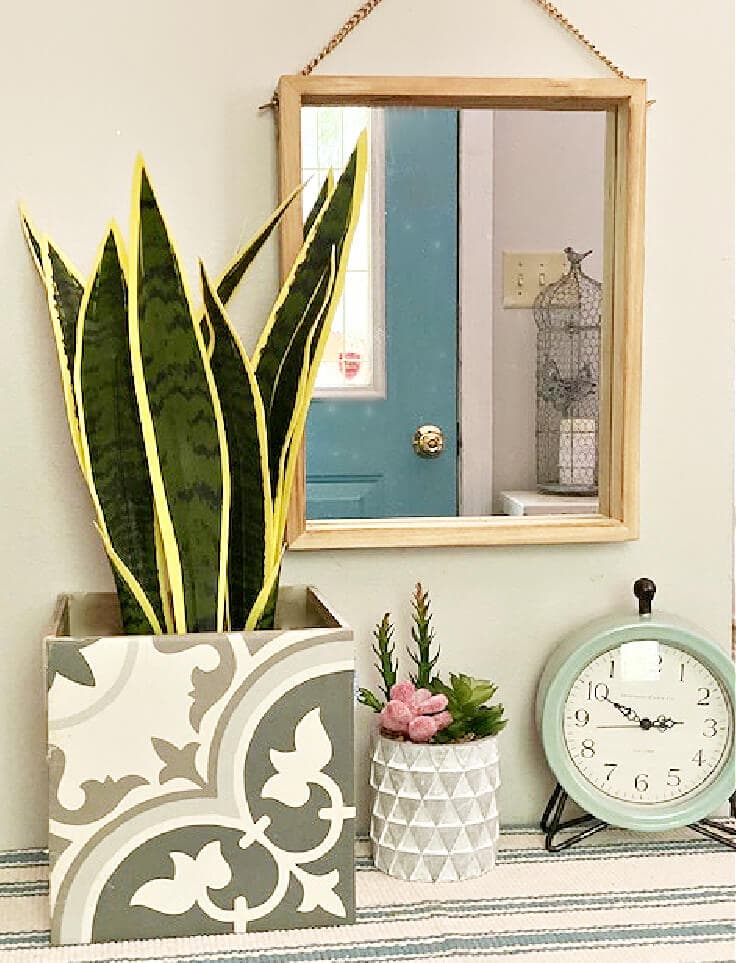 If your style leans more towards eclectic, fun, and funky then this DIY Topsy Turvy Plant Stand from Must Have Mom is for you! This cool, colorful outdoor planter would be great if you're limited on outdoor space, because it makes use of vertical space. And the possibilities are endless with this planter… you could add it to a front yard garden bed and have it double as a cool sculpture, or plant a trailing plant like ivy in it for a beautiful cascading effect.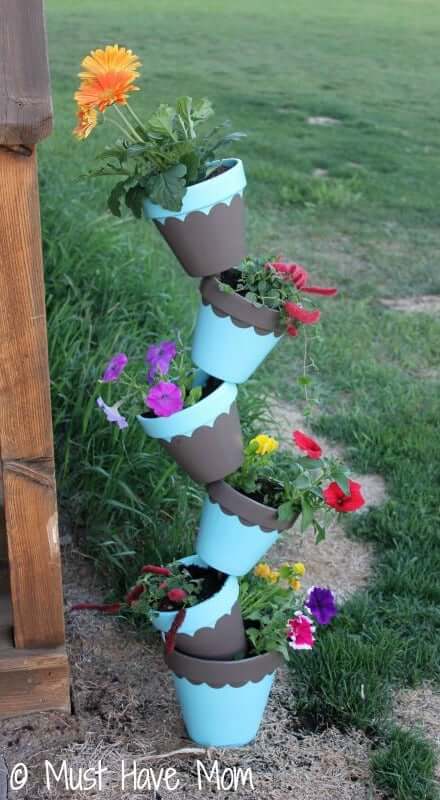 This DIY wood shim planter box from Crafts by Amanda is another cute and easy option for plant lovers! I love that it uses wood shims that are easy to work with and cheap! No having to try and finagle long lumber boards in your car!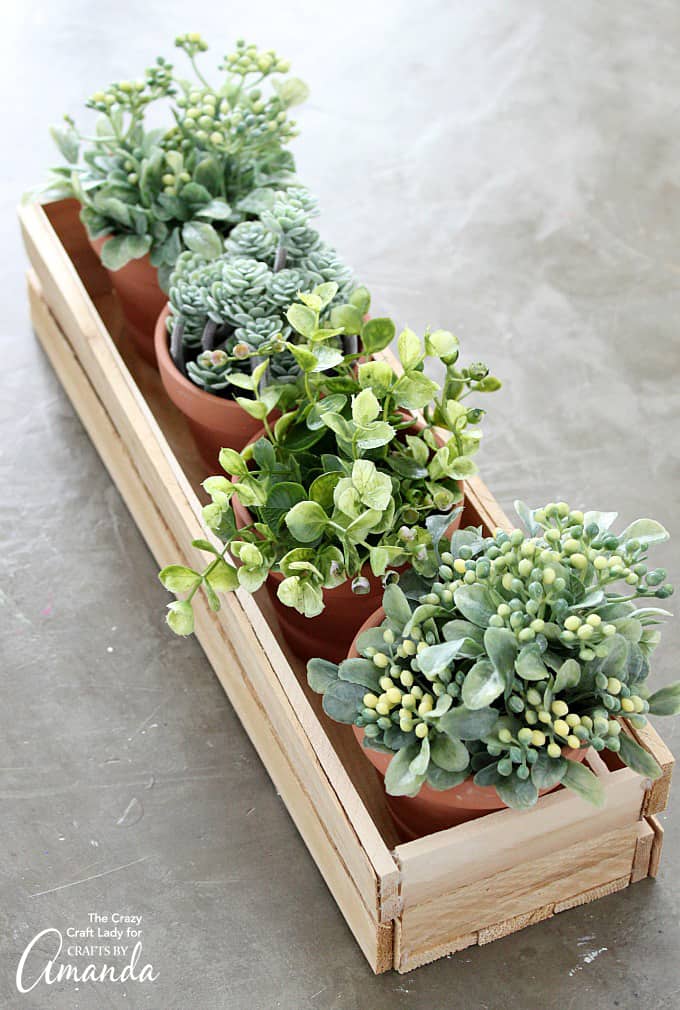 I hope you've been inspired to create your own planters, no matter what your skill level! If you try one of these awesome tutorials for you plants, then let me know how it goes. Just leave me a comment down below!
And don't forget to PIN this post for later: