Amazon Prime Day is coming up soon, so I thought I would do a round-up of my absolute favorite Amazon purchases of all time! These are all products that I have actually purchased from Amazon and still use!
We were "early adopters" of Amazon… We've been Prime members for over 10 years… Well before "Amazon Prime Mom" was a trending phrase and before Amazon started offering crazy cool benefits to their Prime members.
And over the last decade, we've bought a TON of items on Amazon, mostly due to convenience but sometimes because you just can't find exactly what you need in a brick and mortar retail store. So to write this post, I combed through 1,000s of my own personal Amazon orders to come up with a list of products that are my must-haves and household staples… things that I never knew that I needed and now can't live without!
Here are my favorite Amazon purchases ever:
*This post contains affiliate links, which means if you click a link and make a purchase, I earn a commission at no additional cost to you.
The only no-show socks that don't slip down
I wear sneakers pretty much everyday, and I struggled for years to find the perfect no-show socks. I had basically given up and accepted the fact that I would just have to walk around all day with bunched up socks inside my shoes, and then I discovered these AMAZING socks on Amazon that DO NOT BUDGE!
I've been wearing these socks exclusively for over a year now, and the only time that they slid down inside my shoe was when I put them on inside-out without realizing it. Even my two daughters love them!
The best home printer I have ever owned
Raise your hand if your printer always seems to be out of ink, even though you've only printed about 50 pages with your cartridge!
For years I wanted to throw my printers through the window… the printer specs stated that you could print about 10,000 pages on one cartridge, but I only seemed to be able to print about 100 before the ink was completely dried out and the printer window was throwing out "Low Ink" warnings. I tried at least 5 different at home inkjet printers and they all seemed to have the same problem.
But then I discovered this printer that I absolutely LOVE!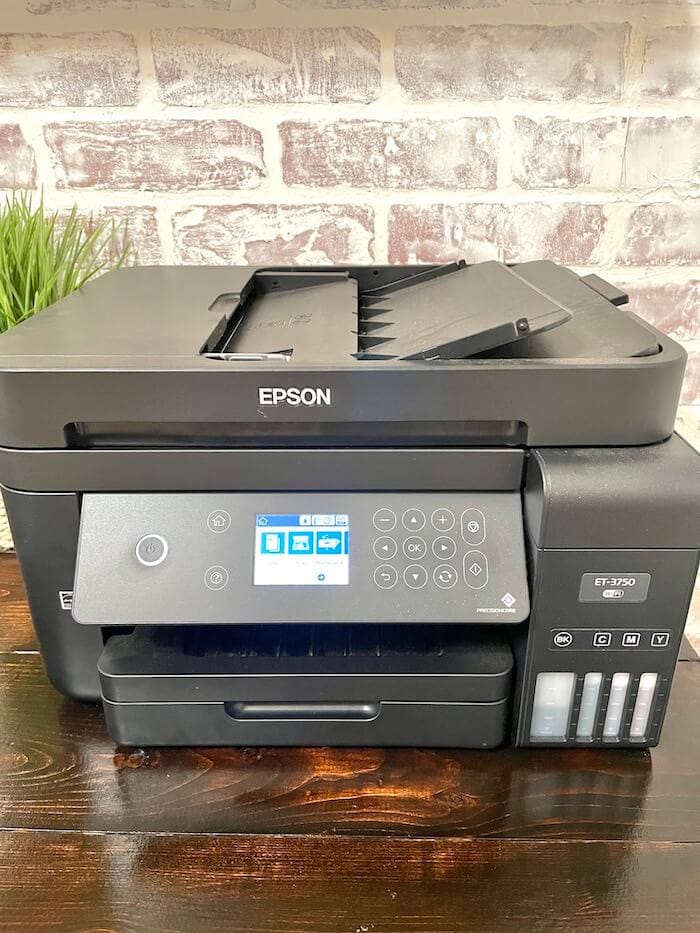 Yes, it is a bit more expensive than the cheap $80 printers… but you'll save money in the long run on ink!
I've printed at least 3,000 pages in the last year since I purchased it, and the ink levels are still over halfway full… See the ink levels in the clear "tanks" on the right side? And I've still got ink left in the original bottles that came with the printer!
This printer was seriously a game changer for my home office! (That and the super awesome DIY faux brick whitewashed wall in the background).
The Amazon Echo… Mom's best friend!
I bought an Amazon Echo as a Christmas present to myself a few years ago, and I loved it so much that I've purchased 3 more of the smaller versions for each of our bedrooms.
I love listening to music when I clean the house or when we're getting ready for school in the morning, and Alexa makes it SO easy! We create different playlists in our Amazon account and then we just say "Alexa, play my Cleaning Playlist."
The Echo is also handy for finding out what the weather is for the day, when your Amazon packages are scheduled to arrive, and even what the current time is… I often ask Alexa what time it is while I'm getting ready in the morning so I can see how far behind I am.
You can also use your Echo as a kitchen timer, an alarm clock, or to tell you a joke. And my kids love asking her to fart too, so there's that!
My laminator
You may be scratching your head about why I've included a laminator on my list of favorite Amazon products… it's definitely not the most obvious choice.
But a laminator is the perfect household tool if: 1) You have kids or 2) You love to be organized.
I have used my laminator SO much over the last few years, whether it was to create my kids' chore charts with velcro and removable chore cards or to print and laminate a small card with my middle school daughter's class schedule so she didn't have to worry about getting lost and forgetting which class she needed to go to next.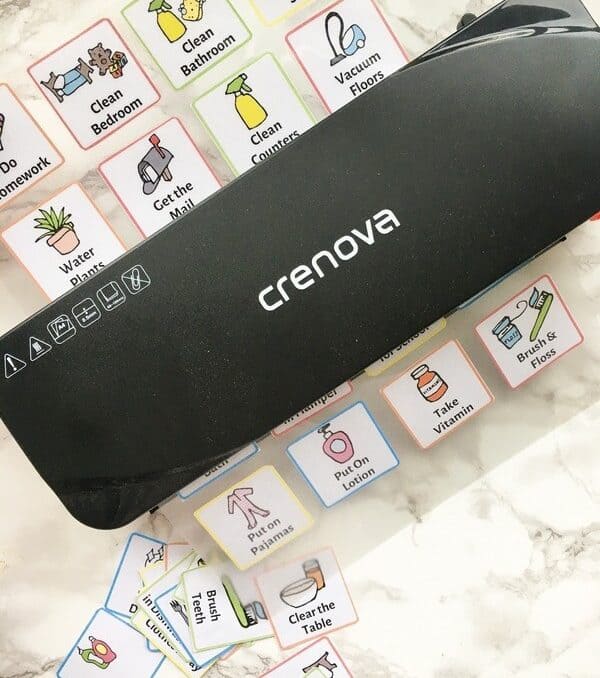 I also used my handy laminator to create this freezer inventory sheet to keep track of what's hiding in the depths of our freezer, and I'm always coming up with new ideas for how to use it!
If you're in the market for a laminator, then this is a great one… and I definitely recommend these lamination pouches because they are nice and sturdy, and they're a great value for a pack of 100!
On-the-go cell phone battery charger
At around $20, this is one of the best value Amazon products on my list! I love it so much that I recently gifted my parents one, and they also rave about it! Our portable battery charger was a lifesaver when we took a trip to Disney World a few years back, because so much of the park information like ride wait times and restaurant menus are on the app.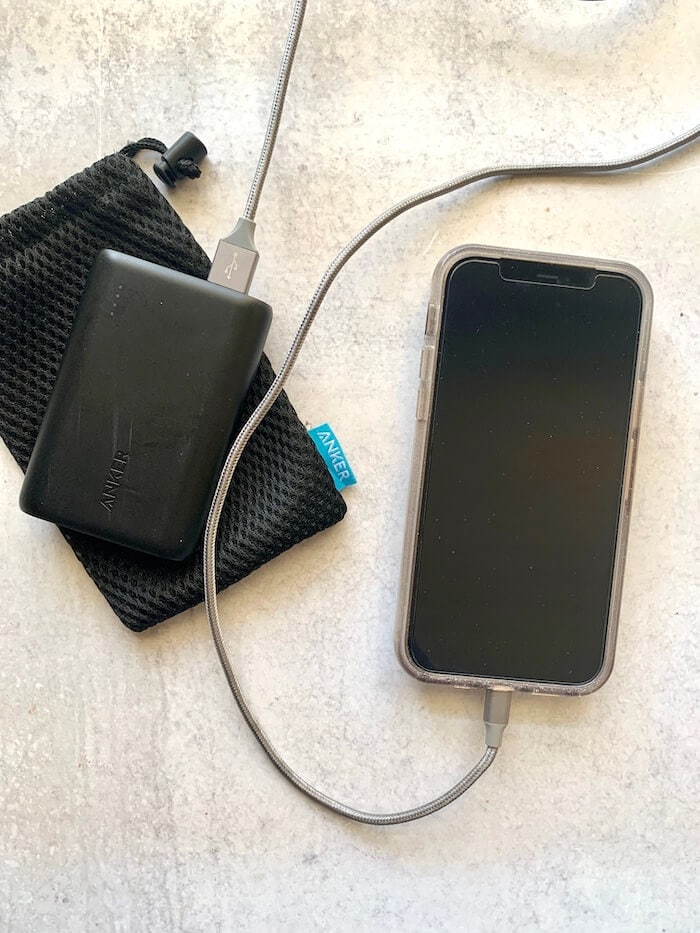 I also take it to the park to charge my computer so I can work while my kids play.
If you're looking for a great inexpensive gift option that will actually get used, this is it!
My favorite way to clean hardwood floors
If you're looking for the BEST way to clean your hardwood and tile floors, then I absolutely recommend this steam mop!
For years I had always used an inexpensive squeegee style mop or the spray and wash type mops, mostly because they were only about $15 and I'm pretty cheap! But when my kids got paint or melted crayon or some other mystery art substance on the wood floors of our rental house, and I couldn't get it up for the life of me, I borrowed my father-in-law's steam mop in a fit of panic.
The offending art supply came right up almost immediately, and I raved about the steam mop so much that my father-in-law let me keep it, and he bought himself another one! I especially love the thick and plush cleaning pads that come with it, and you can remove them and throw them in the washing machine… no more disposable sweeper pads to buy!
Chair leg pads to protect your floors
You don't think about felt furniture leg covers as a must-have… until you realize you've got major scratches in the hardwood floors under your dining table!
After years of constantly having to change and reattach the small circle felt stickers on the bottoms of our chairs, we finally found these clear plastic chair leg pads that don't come off! We ordered these about 2 years ago, and we haven't had to change them since. Yes, you can see them on the bottom of the chair legs, but they aren't that noticeable and it's a small trade-off for not finding clumps of hair stuck to the felt sticker-type protectors.
Drain clog remover
With three girls in our house, our shower drains get clogged pretty quickly. We've tried the clog buster liquids that you can dump down your drain, but I'm weary of the damage that those chemicals can cause to your pipes. So we bought these drain "snakes" instead and they work great!
You just stick the orange apparatus down your sink or shower drains and pull it back out… It'll probably be covered with gross hair and random toothpicks, and then your drains will be clear.
We've even used them to unclog the hose on our Shark vacuum after it lost suction!
Wet brushes for my daughters
Both of my girls have long hair, and my oldest's hair is so dang thick you can barely get a hair tie around her ponytail twice. So their hair gets tangled!
I had put off buying the super popular Wet brushes for a long time, but I finally broke down and tried them out, and now that's the only brush my girls will let me use on their hair. It does take a bit longer to brush through their hair than a square paddle brush, especially if it's a real rat's nest, but there's no pulling and no tears, so I'll take it!
And for just a few dollars more than a regular hairbrush, the Wet brushes are a great value, too!
My blue light blocking glasses
I spend well over 8 hours a day on the computer, so my blue light blocking glasses are a must! Before using blue light glasses, I would get headaches from starting at a screen all day long, but after wearing them everyday while I was working, the headaches went away.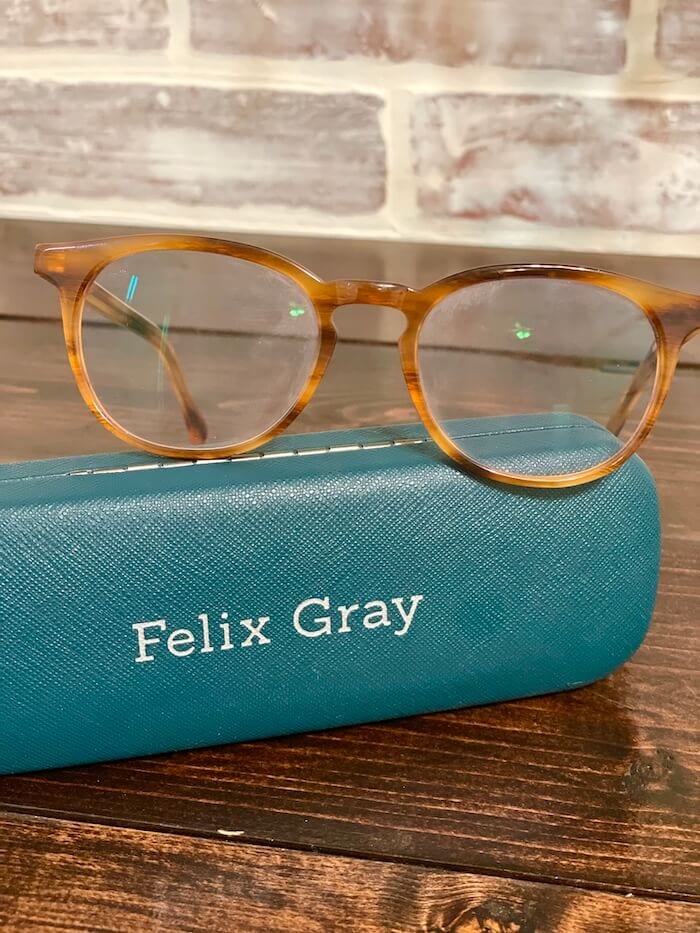 If you have a job that requires you to use an electronic device all day, then I HIGHLY recommend these glasses! I had a much cheaper pair before, but then I switched to these because my eyesight is too important to risk just to save a few bucks.
Your Favorite Amazon Purchases
What are your favorite things that you've bought on Amazon? I'd LOVE to hear what household products are your must-have items! Leave me a comment down below, so fellow readers (and fellow Amazon shopaholics!) can check them out!
And don't forget to PIN this post for later: