A DIY Teacher Survival Kit is an awesome teacher gift idea for the first day of school! Read through this list of ideas for what to include in a teacher kit, and grab the cute free printable gift tag to create a Survival Kit for your kids' teachers this year!
If 2020 taught us anything, it's that being a teacher is no joke! And while our necessities as makeshift homeschool teachers probably included a Zoom instruction manual and a nightly glass of wine, our kids' real classroom teachers probably have a different list of must-haves.
So if you're looking for creative ideas for DIY teacher gifts for the first day of school, then why not put together a cute basket of teacher must-haves?!
A teacher survival kit is one of my all-time favorite back to school teacher gift ideas because it's an easy and inexpensive way to show your appreciation for all of their hard work right from the get-go.
Here are some tips for making a teacher survival kit and ideas for what to include: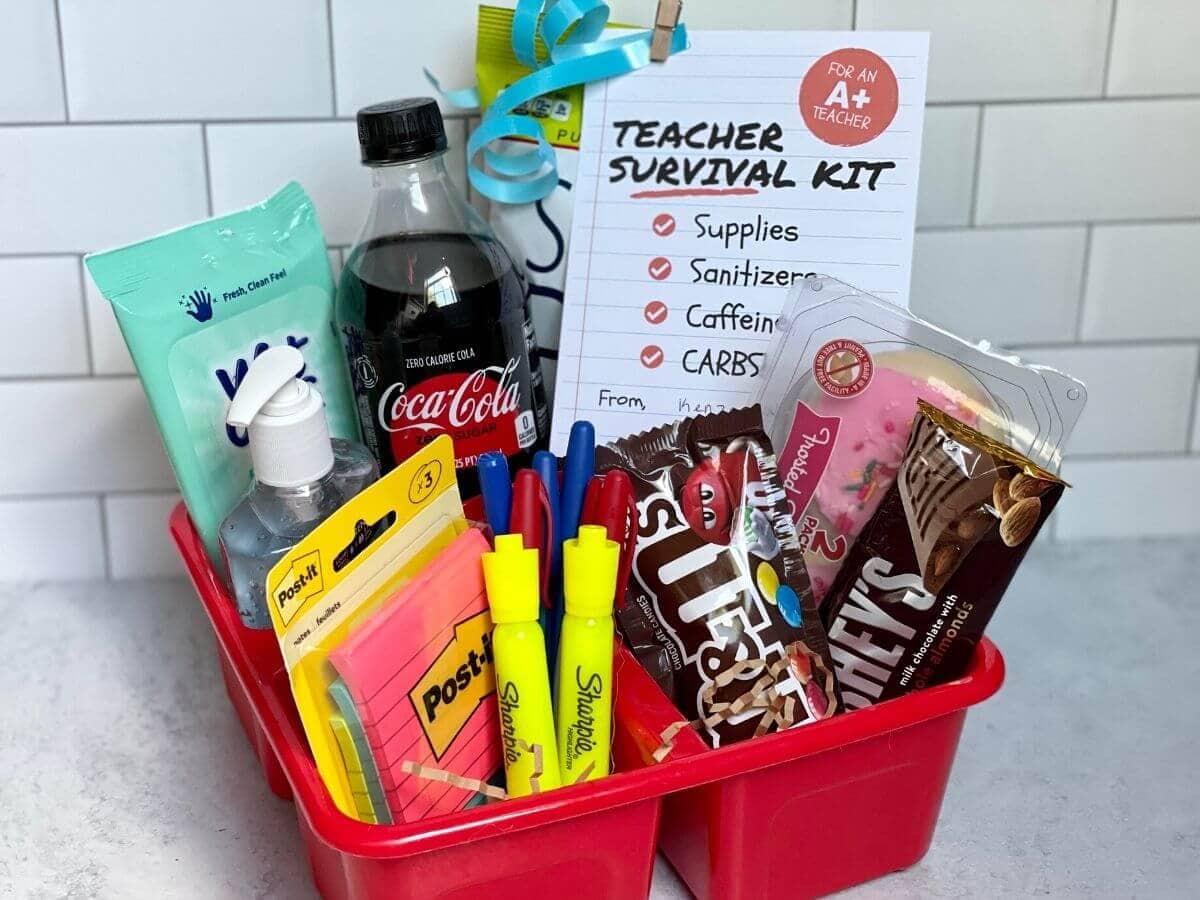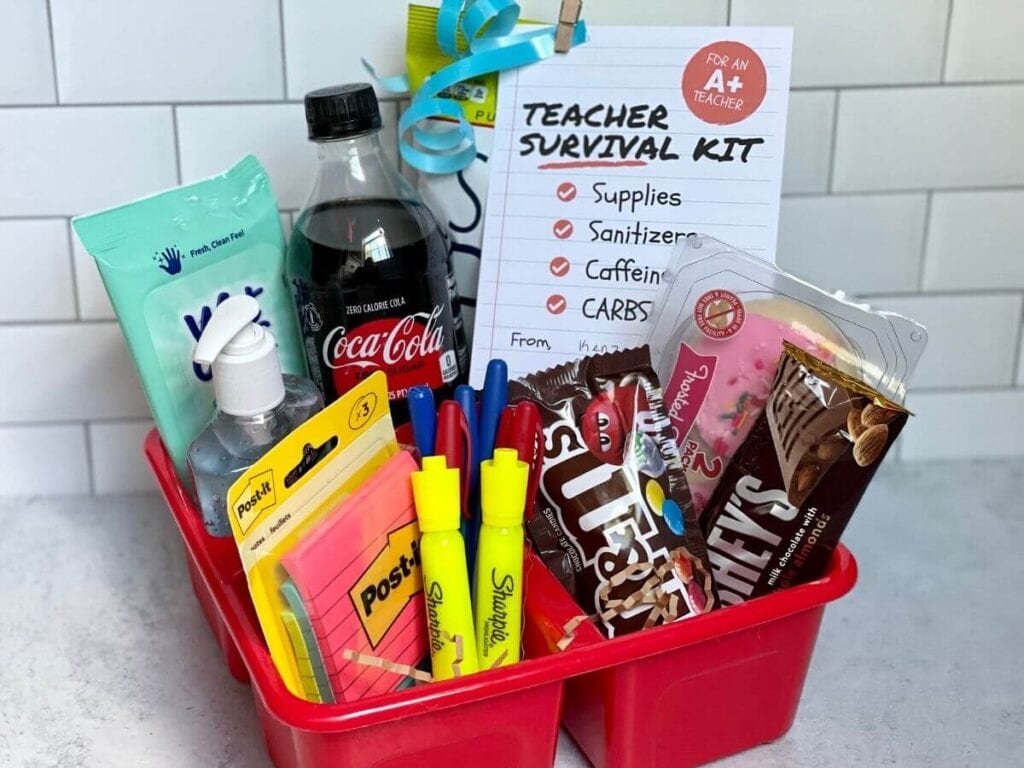 How to Make a Teacher Survival Kit
Step 1: Pick out a bin or basket to use as the base.
Dollar Tree and the Target dollar spot are both great places to look for a bin or basket to use for your teacher necessities. I recommend trying to find something sturdy that the teacher can use to store classroom supplies afterwards.
I found this cute red supply caddy at Target for $3.00, and after my daughter's teacher takes all of the goodies out, she can use it to store scissors, glue sticks, or other school supplies for students.
Step 2: Add cute paper shreds as filler to the bottom of the basket.
Successful gift giving is about two things: thoughtfulness and presentation. So rather than just throwing your items into the basket or a paper gift bag, take the time to make the presentation pop!
I like to use the decorative paper shreds that you can find in the gift wrap section at Dollar Tree. These basket fillers come in a wide variety of colors, and they're perfect for propping up smaller items and adding height to gift baskets.
For this specific teacher survival kit, I actually used paper shreds from a FabFitFun subscription box that I had recently gotten in the mail, but the shreds were pretty much identical to the ones that you find at Dollar Tree.
If you have time and you want to be extra creative, you can even create your own school-themed paper shreds by using a paper cutter (or even an automatic paper shredder if you have one) to cut thin strips of notebook paper. Then crumple the paper shreds up a bit and mound them in the bottom of your Teacher Survival Kit.
Step 3: Fill the Teacher Survival Kit.
How you fill your survival kit will vary based on the number of items that you have and the type of basket or bin that you are using, but in general, it's best to start by placing the larger items towards the back and fill in with the smaller gift items.
You can even use small pieces of Scotch tape to hold smaller items in place so that the gift recipient (those hard working teachers) can see everything in the basket.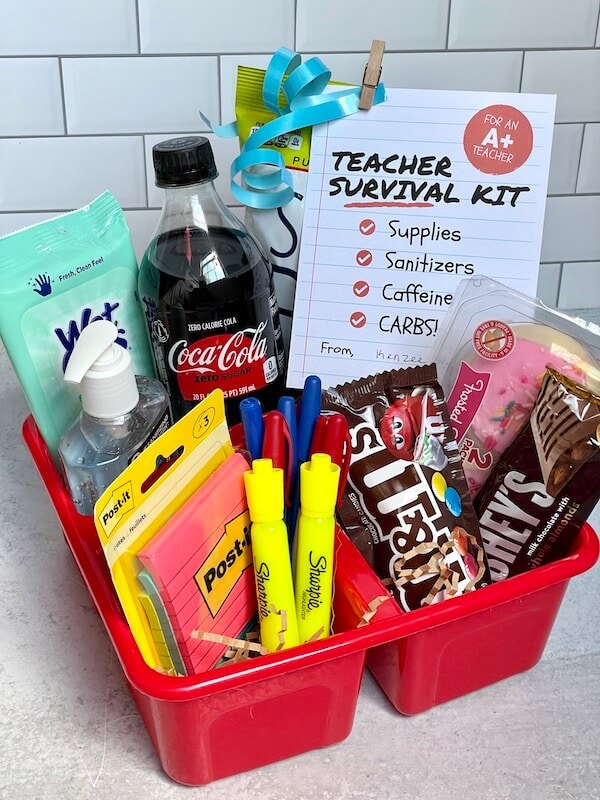 Step 4: Tie on a pretty gift tag.
As the final touch, add a cute printable gift tag to the teacher gift. You can make your own tag or grab the printable Teacher Survival Kit gift tag at the end of this post! And don't forget about the curling ribbon!
What to Put in a Back to School Survival Kit for Teachers
Creating any type of gift basket with multiple items can get expensive, but you can still create an awesome and frugal beginning of the year teacher gift without spending a fortune. The trick is to add bulk with inexpensive, larger items like a bottle of hand sanitizer, a bag of popcorn, a can of Clorox wipes, or a ready to drink coffee drink (like a Starbucks Frappuccino bottled beverage or a 20 oz. soda).
And if you're creating survival kits for more than one teacher, then don't be afraid to buy school supplies or other fun teacher items in bulk and then open the packages to split between multiple gifts to save money.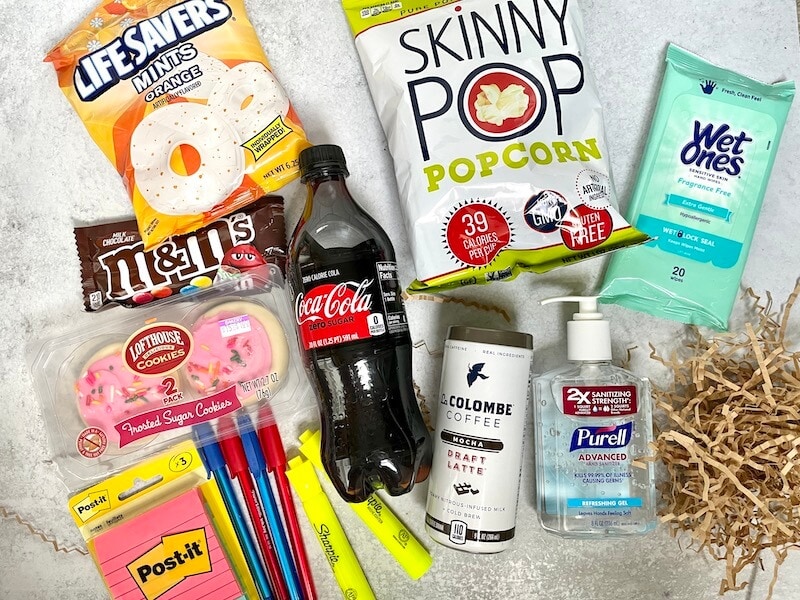 When making beginning of the year teacher kits, I like to include things from four main categories:
Sweet or Salty Treats
I don't know about you, but when I've had a rough day, I turn to carbs! Whether it's cake, candy, chocolate, or cookies… give me 'em ALL! And I imagine that if I were a teacher, I would want to have a stash of salty and sweet snacks in my desk drawer for those days.
Granted, at the beginning of the school year, you don't yet know the teacher's dietary restrictions or preferences, but here are some basic snacks that you could include:
granola or protein bars
mints (Lifesaver mints, Tic Tacs, etc)
gum – You could do a few packs of different flavors.
a Hershey's chocolate bar
a bag of popcorn (like Skinny Pop or Smartfood White Cheddar Popcorn)
M&M's
School and Office Supplies
Did you know that most teachers are responsible for purchasing at least a portion of their own supplies with their own money? That can get expensive, especially given the average teacher's salary!
So why not help them out on the supply front with some of these supply staples:
pencils (pre-sharpened are nice!)
a set of nice red pens for grading papers
dry erase markers
highlighters
Scotch tape
paper clips or binder clips
a cute set of colored pens or Sharpies
STICKERS – Elementary teachers, especially, use a bunch of stickers for grading papers and student incentives! These are GREAT consumable items to gift teachers!
Post It notes
Sanitizers and Other Supplies
hand sanitizer (both large and purse-sized bottles)
Clorox wipes
"Thank You" notes – Teachers typically use a lot of stationary-style note cards to send "Thank you" notes or other correspondence to parents. Another awesome consumable gift!
Hand lotion – Teachers probably sanitize their hands a gazillion times a day, which can be incredibly drying. A small bottle of hand lotion that they can keep in their desk drawers would be an awesome addition to your teacher kit!
a Tide pen or other stain remover to be kept in the desk – Because if there's one thing I learned as a preschool teacher, it's that teaching can get messy!
Caffeine
$5 Dunkin Donuts gift card
$5 Starbucks gift card
a single can or bottle of a ready to drink coffee beverage
the instant Starbucks VIA coffee packets
a 20 oz. bottle of soda (if you know the teacher's favorite soda)
I've also seen some teacher survival kits that include items like headache medicine or even a bottle of wine, but I would be weary to use those in a teacher gift since kids aren't allowed to bring those items to school.
Make a Smaller Survival Kit for Teachers
Don't think that you have to create a giant gift basket filled to the brim… a smaller teacher survival kit would also be hugely appreciated by your child's teacher. Instead of buying a bin or basket for all the goodies, just get one item from each gift category, and add them to a party favor-style clear cellophane bag.
If you're going to go this route, I would suggest you include the following items:
a small bottle of hand sanitizer
a chocolate bar or pack of M&M's
a Diet Coke or bottled coffee drink
a few red pens
a few black Sharpies or highlighters
Here's a smaller Teacher Survival Kit that I created for about $6: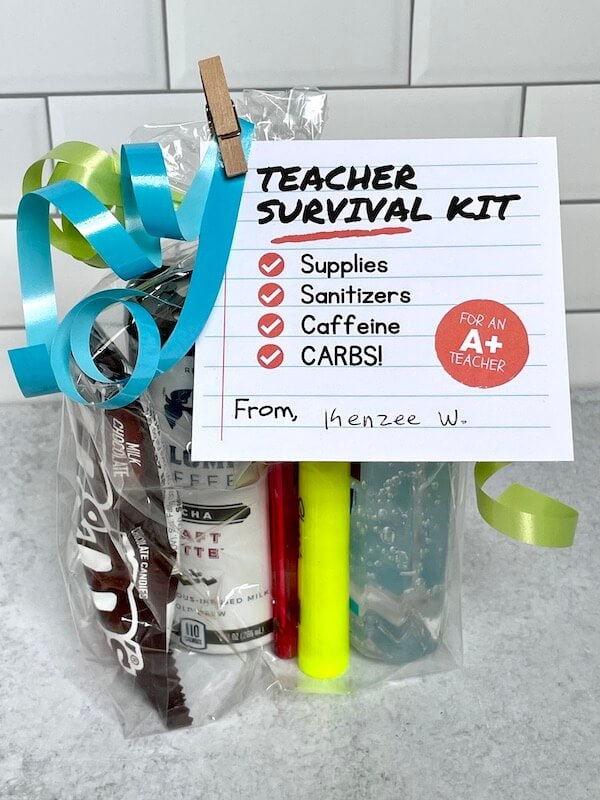 small bag of M&M's – $0.89
La Colombe Mocha Latte can (from a 12 pack I got at Costco) – $1.25
Purell hand sanitizer – $2.50
2 red pens (from a larger set) – $0.50
yellow highlighter (from a larger set) – $0.50
Free Printable Teacher Survival Kit Gift Tag
Your teacher gift wouldn't be complete without a cute gift tag explaining what the gift actually is… if not, it's just a basket of random items. My printable Teacher Survival Kit gift tags are great because they can be used to give a wide variety of gifts, instead of specific items.
The printable gift tags also come in two different versions… one for larger gifts in bins or baskets and a smaller tag for gifts in small cellophane bags.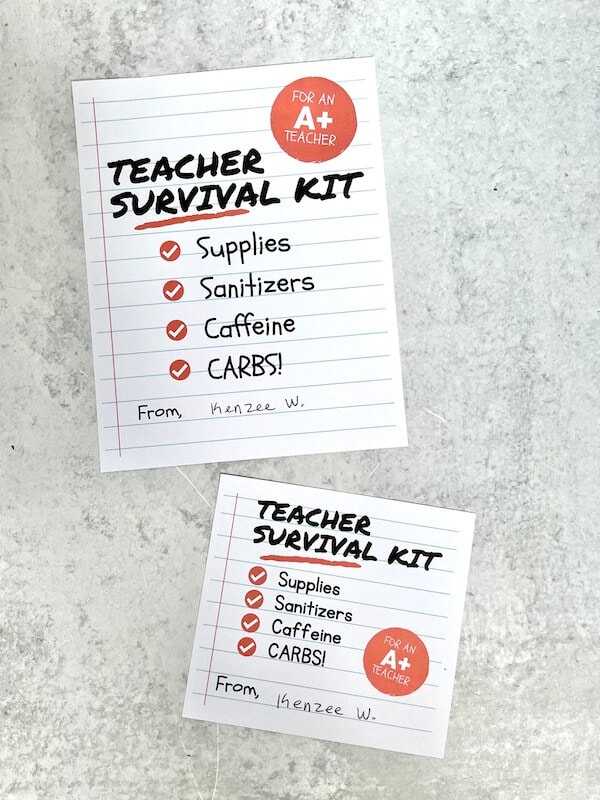 Click HERE for the Free Printable Teacher Survival Kit gift tags!
And if you loved this teacher gift idea, then be sure to check out my "One Smart Cookie" teacher gift here! This sweet treat gift can be made for about $1, and it's perfect for Teacher Appreciation Week!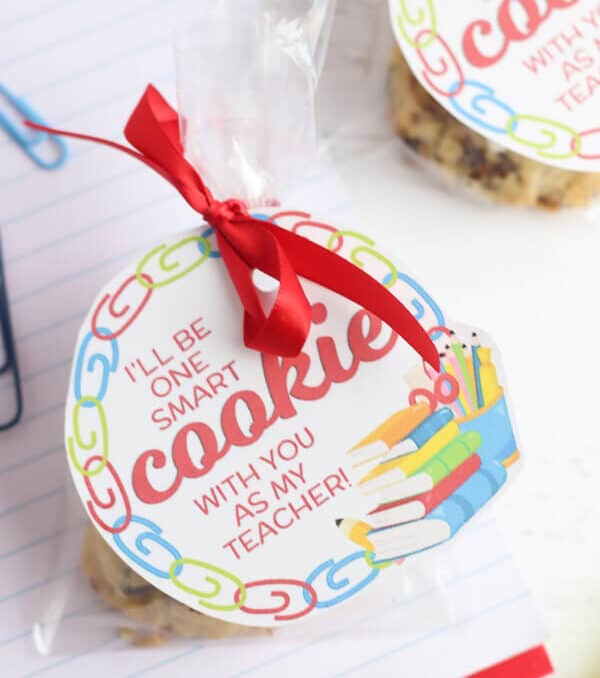 Or, if you want a more personal gift for the end of the year, then grab my free printable teacher appreciation letter here!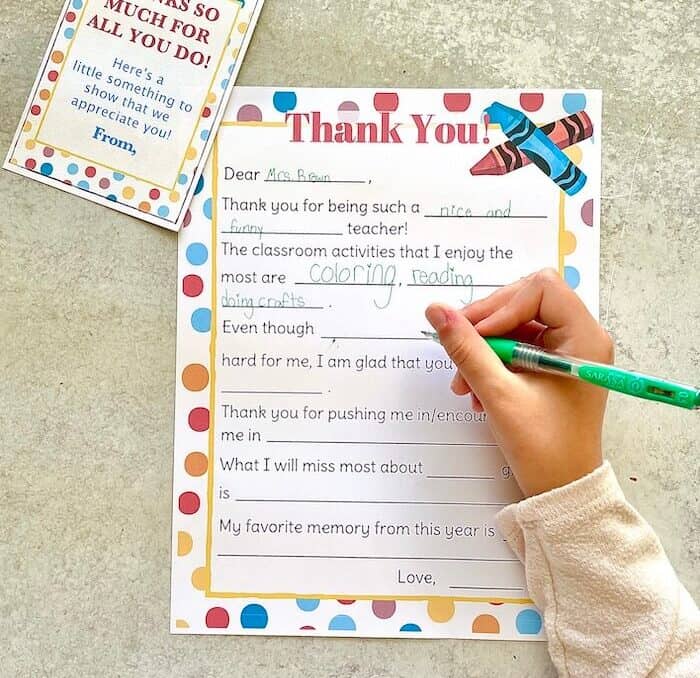 And don't forget to PIN this post for later!
Happy Nesting!