Need easy and inexpensive teacher gifts for teacher appreciation? Want some cute and FREE printable gift tags for teachers? Well, I've got BOTH for you! These Teacher Cookie Gifts with FREE printable gift tags are so easy to make, AND super cute!
The time is finally upon us…
BACK TO SCHOOL!
(And all the Mamas said, "Amen!").
Or, maybe your kids are doing virtual learning this school year… in which case, you deserve to bake YOURSELF a big 'ol batch of cookies! Because if you're teaching your kids long division, and you're anything like me, then all you want to do at the end of the day is curl up in bed with a plate of carbs!
But back to these cute teacher cookie gifts…
If there's ONE thing that I've learned as a Mom of two in 2020, it's that teachers are WAY under-valued! Trying to keep up with house work, Mom work, wife work, AND work work… that's a lot as it is. Why not throw in some progressive pronoun lessons and at home science experiments just for fun!
Do you sense the sarcasm?!
So teachers deserve ALL THE GIFTS.
But let's face it… sometimes it's just not in your budget to buy teacher gifts every year, especially if you've got a litter of kids, and each child has 2 or 3 teachers. That's a TON of moolah for teacher gifts.
So try one of these inexpensive but still thoughtful and cute teacher gifts…
Cookie Gifts for Teachers! And throw in a printable "punny" gift tag just for fun. 🙂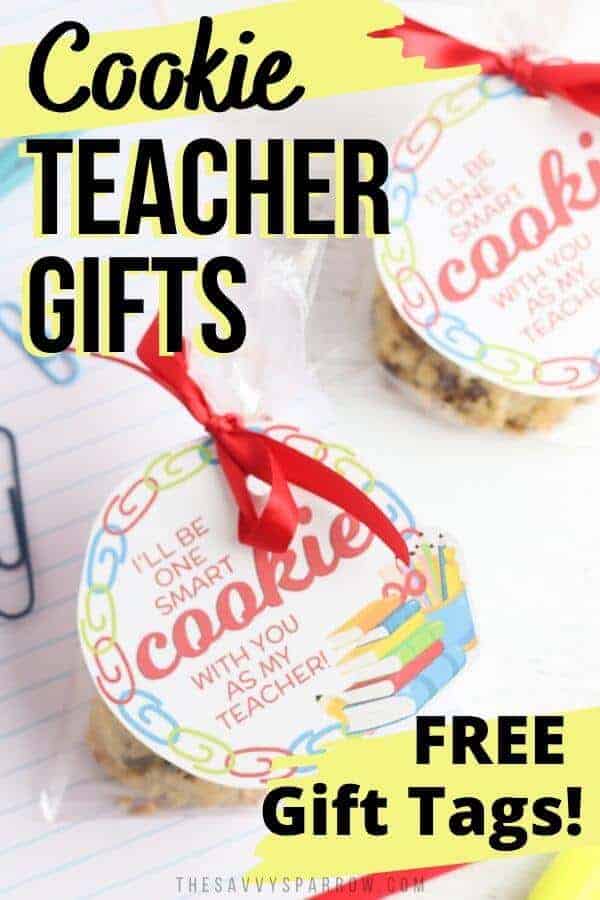 Supplies Needed for Easy Teacher Cookie Gifts
1 batch freshly baked cookies – Try my Grandma's DELICIOUS Cherry Coconut Cookies AKA Snowball Cookies… or if you're more of a Sugar Cookie fan, I can personally recommend these chewy sugar cookies from Life Love and Sugar.
Printable cookie gift tags for teachers – You can click HERE to download your free teacher gift tags!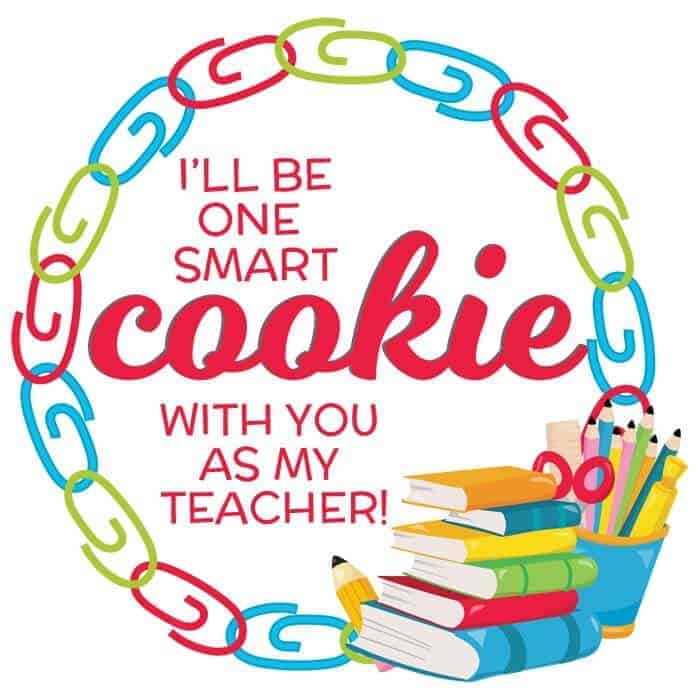 Card stock – White card stock works best for these printable cookie gift tags.
Scissors
Hole punch
Treat bags – Dollar Tree has some clear plastic treat bags that are perfect for these teacher gifts!
Ribbon
How to Make Cookie Gifts for Teachers
If you can bake, then these cookie teacher gifts couldn't be easier to make! And if you can't bake, then head to your local bakery and pick up 2 or 3 cookies to make these easy gifts.
Here's how to put them together:
Bake your favorite cookie recipe (try my Grandma's Cherry Coconut Cookies!) and allow to cool completely.
Print out the printable gift tag on heavy card stock.
Cut the cookie gift tags out around outer edge and punch a hole in the upper right side of the tags.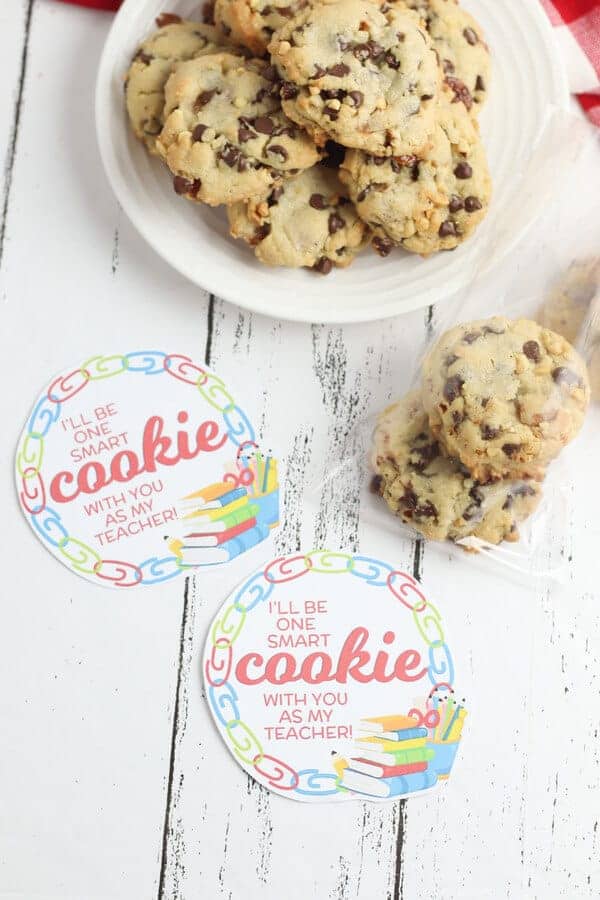 Place cookies inside a clear treat bag.
Tie a ribbon around the top of the bag to close it. Then, thread the ribbon through the hole in the gift tag and secure the tag to the bag with a bow.
Easy Peasy!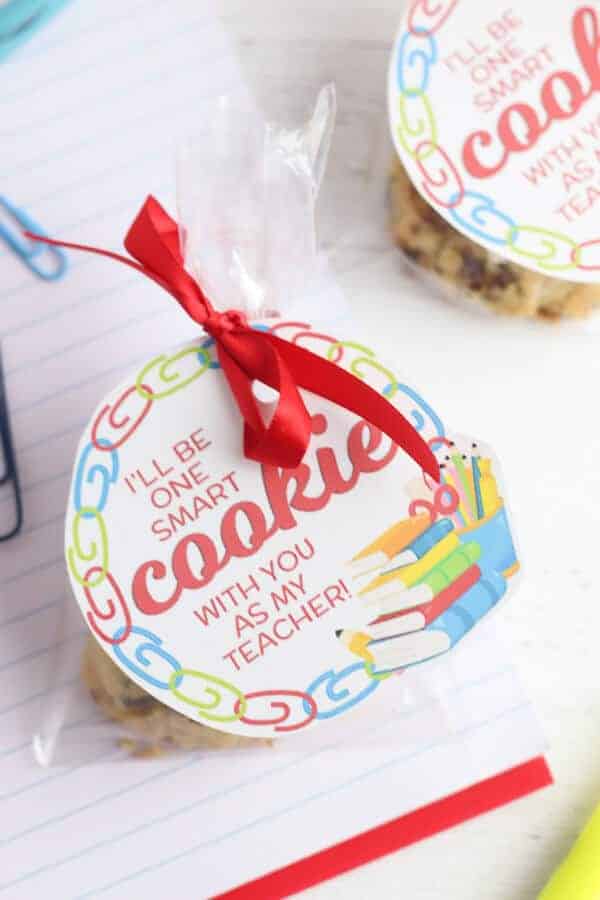 These easy teacher gifts would be great to give in the fall, to start the school year on a "sweet" note… see what I did there? 🙂 Or, use these cookie gifts as teacher appreciation gifts in the spring.
No matter when you decide to give your teacher's this easy gift, I'm sure they'll love them! Because who doesn't love a fresh-baked cookie, right?!
Not the baking type? Grab a box of donuts to give as easy gifts with these Free Printable Donut Gift Tags!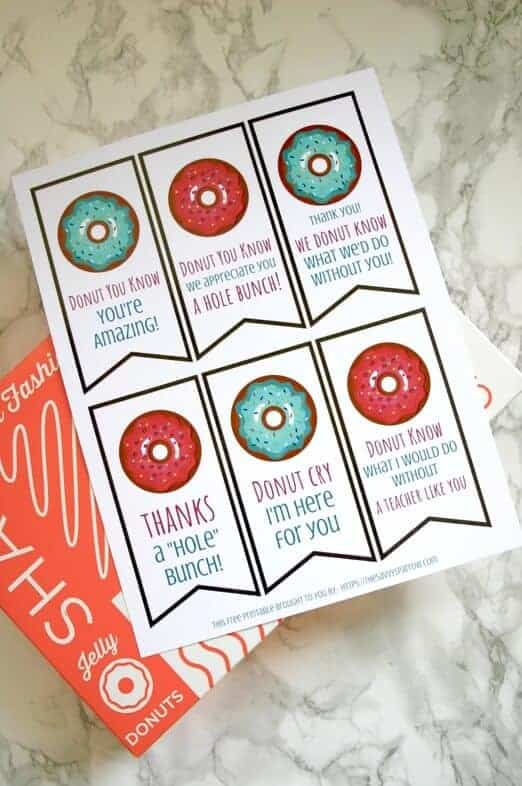 What are some of your favorite teacher gifts to give for teacher appreciation and end of the year gifts? Leave a comment down below!
And happy nesting!