This FREE Printable Secret Santa Questionnaire takes the stress and guesswork out of your annual Christmas party or office holiday gift exchange. Grab your copy of my Secret Santa form and envelope, give one to each participant, and spread some holiday cheer!
Participating in a Secret Santa gift exchange at your workplace or with extended family members can be lots of fun.
But it can also be difficult, especially if you're doing it with a group of people you don't know very well.
You'd hate the be THAT PERSON who gave a chocolate lover's gift basket to someone with diabetes. Or a trio of holiday-scented candles to the person who's dreadfully allergic to scented things.
And then there's the pressure of finding the perfect gift as if you really NEED one more thing to stress over during the holiday season. Honestly, there's nothing that makes me nervous sweat more than worrying about whether or not someone likes the gift I gave them. Whew. Is it getting hot in here?
Gift-giving should be a fun and exciting experience for everyone, and that's where a printable Secret Santa questionnaire can help.
Instead of guessing about Linda from Accounting's favorite movie, you can give each person a Secret Santa form to fill out! It's genius (if I do say so myself)!
These cute and jolly printable Secret Santa questions are the perfect way to learn more about co-workers, friends, and family. Each person can clearly fill out their favorite things, preferences, and items they don't need or are allergic to.
And when each person is done, they get an adorable Secret Santa Questionnaire envelope to conceal their answers!
Read on to discover how to organize the perfect gift exchange using my free printable Secret Santa template.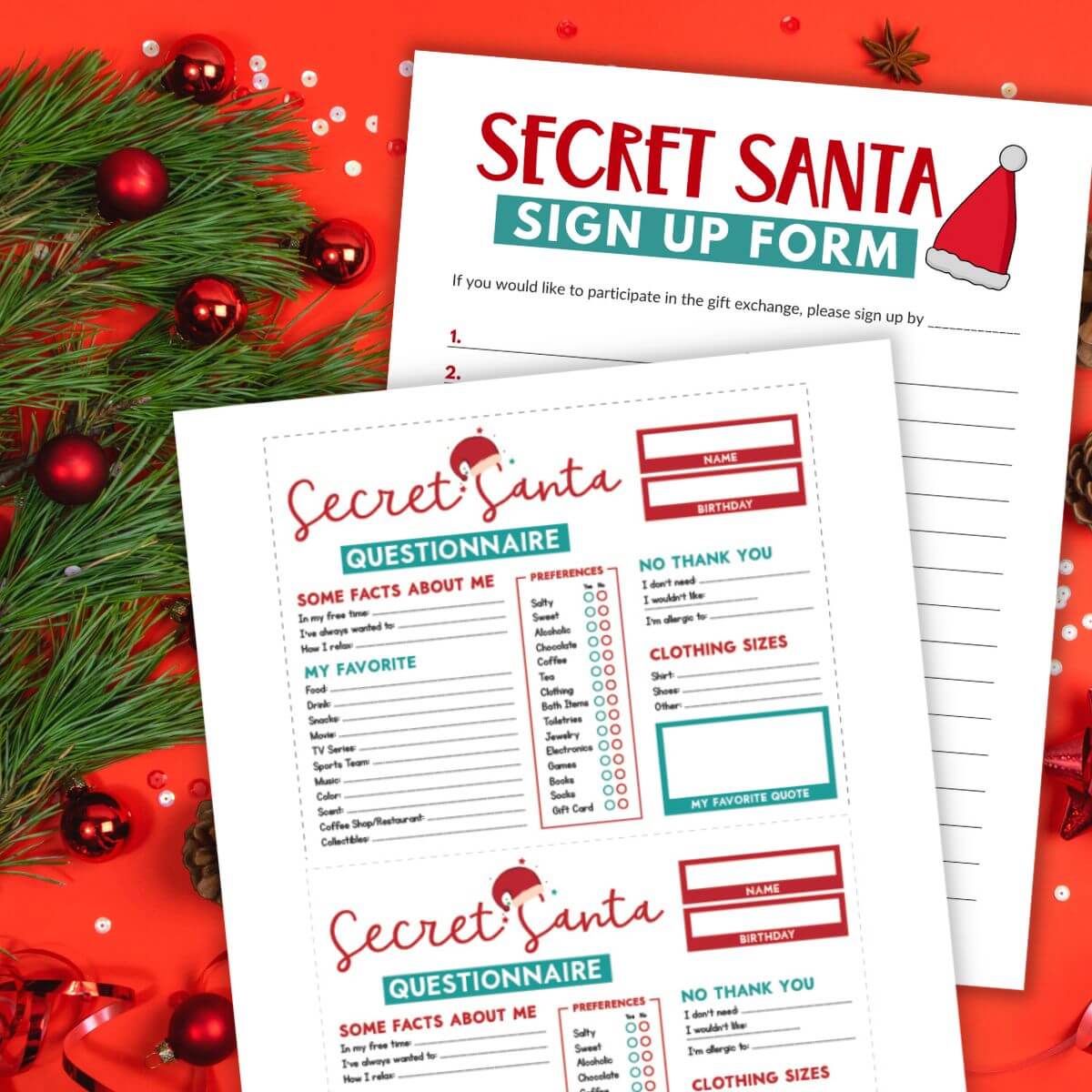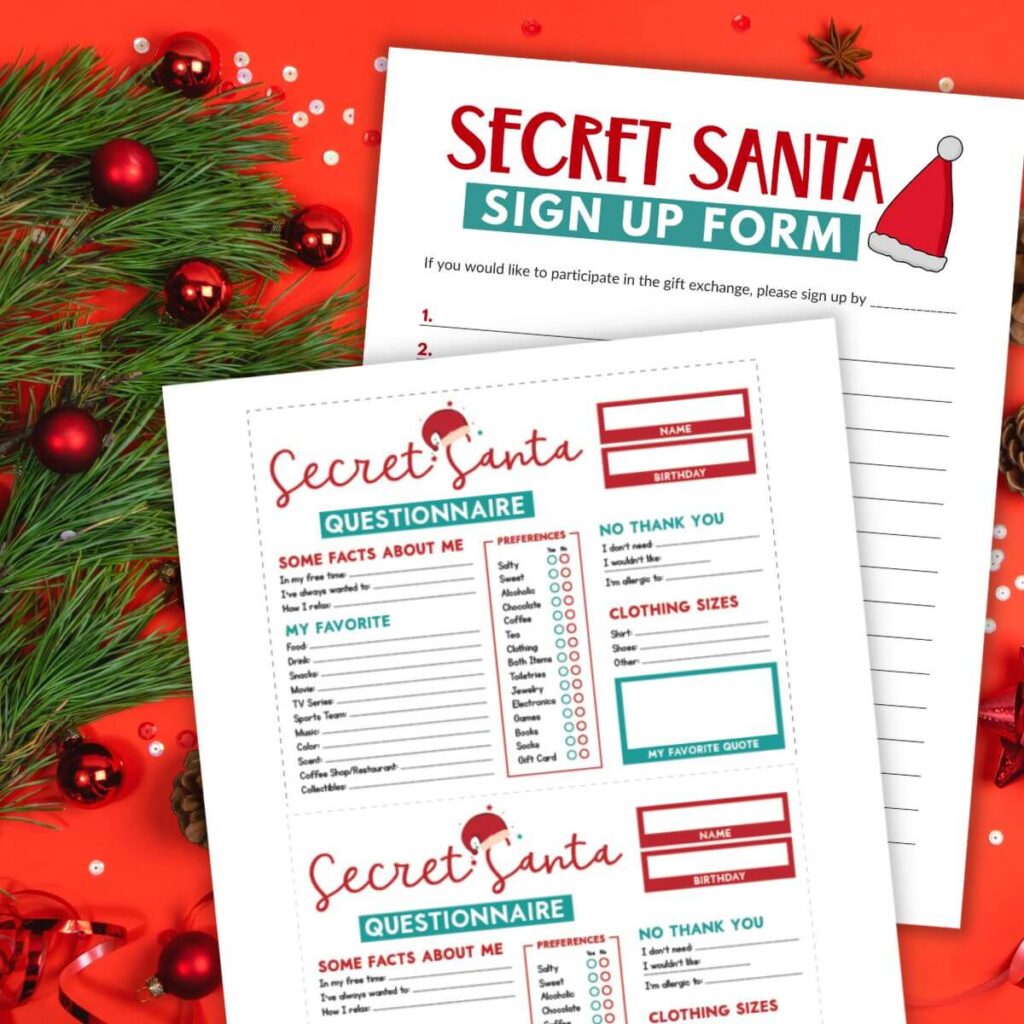 How to Do Secret Santa with the Printable Templates
You'll need to do a little prep work first in order to get everything organized for your Secret Santa gift exchange.
1. Have people sign up to participate in the Secret Santa gift exchange.
It's helpful to inform everyone about the event a few weeks ahead of time so they can mark it on their calendars. Send out an email or text announcement to let people know when and where they can sign up for the Secret Santa gift exchange, and follow up a few times before sign-up day.
Post your free printable sign-up sheet in an obvious spot where everyone can see it, such as an employee break room, front office, etc. You can find it at the end of this post!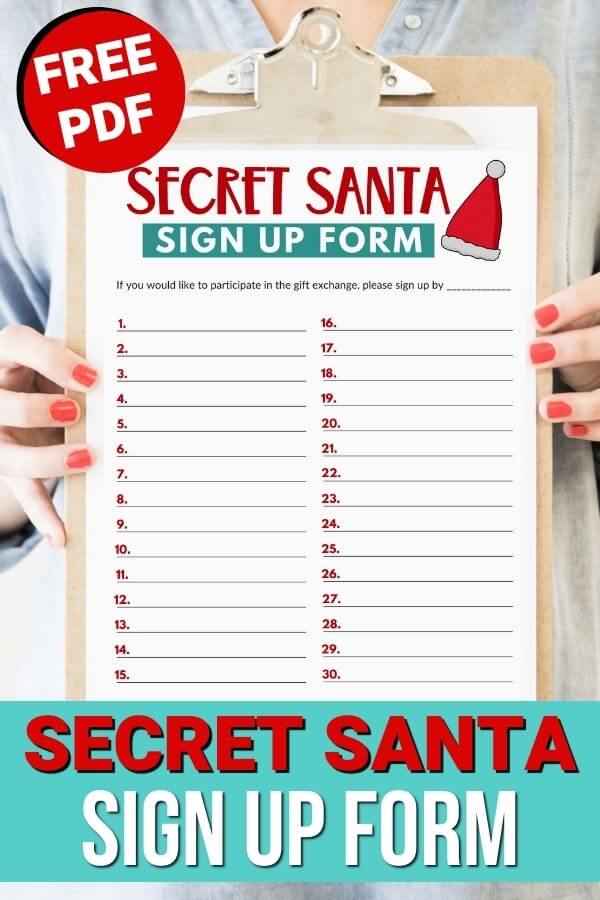 2. Set a budget for the gifts.
Next, you'll want to set a universal budget for the Secret Santa gifts. This depends on many factors, but most Secret Santa gift budgets are around $10 to $15. I recommend not going over $25, and that's on the high side.
It's important to be considerate of everyone's spending limits during the holiday season, especially if they have children and families they're buying gifts for.
3. Assemble Secret Santa Questionnaire Envelopes.
Before you pass out the printable Secret Santa form, I suggest cutting out and assembling the envelopes.
You can use either tape or a glue stick to connect the sides. That way, you can just paperclip the envelope to each person's Secret Santa questionnaire and minimize the time between filling them out and drawing envelopes.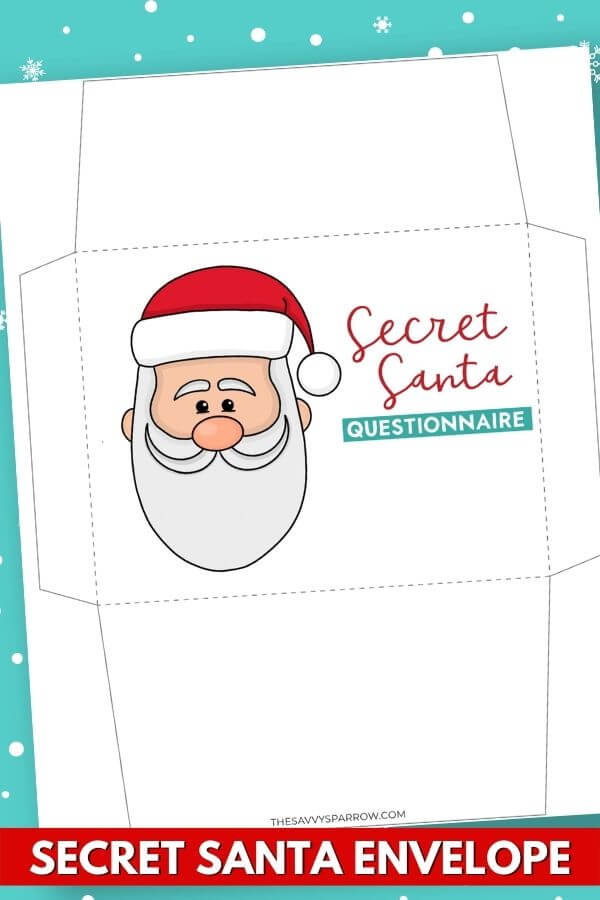 Reminder: Each printable Secret Santa template includes two questionnaires and one envelope, so you'll have to print two envelopes for every form (since there are two questionnaires per page).
4. Pass out the printable Secret Santa questionnaires.
Now we're on to the fun part! Give a copy of the Secret Santa questions to each participant in the gift exchange.
Provide pens and pencils and give them 10-15 minutes to answer the questions. Once they're finished, ask each person to return their printable Secret Santa form in the envelope provided.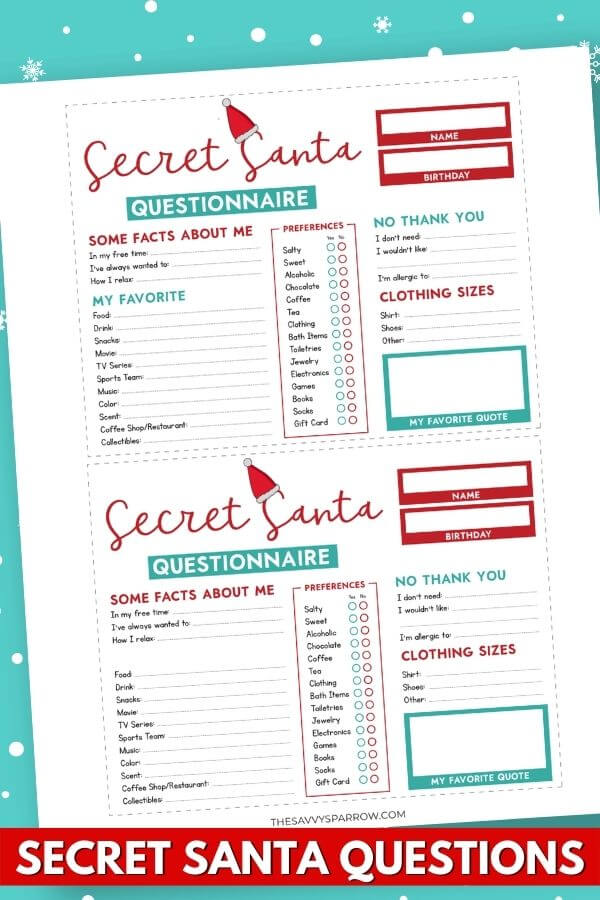 The Secret Santa questionnaire PDF includes two question forms on each 8.5″ x 11″ page, so you can save a little paper and ink! Just cut the page in half and give each gift exchange participant a Secret Santa form to fill out.
The printable Secret Santa questionnaire forms include these questions/spaces for each participant to fill in their likes and dislikes:
Some Facts about Me
In my free time
I've always wanted to
How I relax
My Favorites
Food
Drink
Snacks
Movie
TV Series
Sports Team
Music
Color
Scent
Coffee Shop/Restaurant
Collectibles
No Thank You
I don't need
I wouldn't like
I'm allergic to
There is also a lot of options for each participant's preferences and columns to check "Yes" or "No" for things like: salty, sweet, coffee, chocolate, etc.
5. Have each participant draw an envelope.
Next, combine all the envelopes in a basket, bowl, or whatever acceptable container you have on hand.
If your workplace is having a themed office party, you could put the envelopes in something related to that theme. I'm thinking of The Sorting Hat or Goblet of Fire for a Harry Potter Christmas Party.
Have each person draw an envelope out of the basket. That's the person they buy for unless they draw themself. Then it goes back in the basket, and they pick another one.
6. Do your Secret Santa gift exchange.
I suggest making the gift deadline a few days before the Secret Santa exchange is set to take place. That way, you can ensure that each person brings a gift for the person they drew out of the basket.
Send out a few reminders that everyone needs to put the recipient's name on the present but not the name of who it's from. After all, the whole point is to create a sense of holiday mystery!
If possible, go through your printable questionnaire sign-up form beforehand and check off each recipient. A mad dash to the Dollar Store is worth avoiding that awkward moment when someone realizes they didn't get anything. That would definitely put a damper on the party…
Ideas for Doing a Secret Santa
Need ideas for where you can host a Secret Santa gift exchange? Here are a few suggestions:
With your co-workers at the office
With all the teachers and staff at your school
With your women's group or bible study group at church
As a book club holiday activity
With neighborhood friends during a holiday potluck
With your family members (this works especially well when you have LOTS of relatives)
With a group of close friends
At your child's youth group
As a fun activity for your immediate family
The beautiful thing about organizing a Secret Santa event is that it's so versatile, and the Secret Santa questions work for all age groups.
Free Printable Secret Santa Questionnaire Form
Want to use this fun and simple Secret Santa Questionnaire printable at your next holiday party? Just click the link below to gain access to my Freebies Library, where you can find this and over 60 other free printables!
Other Fun Ways to Spice Up Your Next Holiday Party!
Searching for low-prep ways to add a little spice to your next office party? Check out these posts: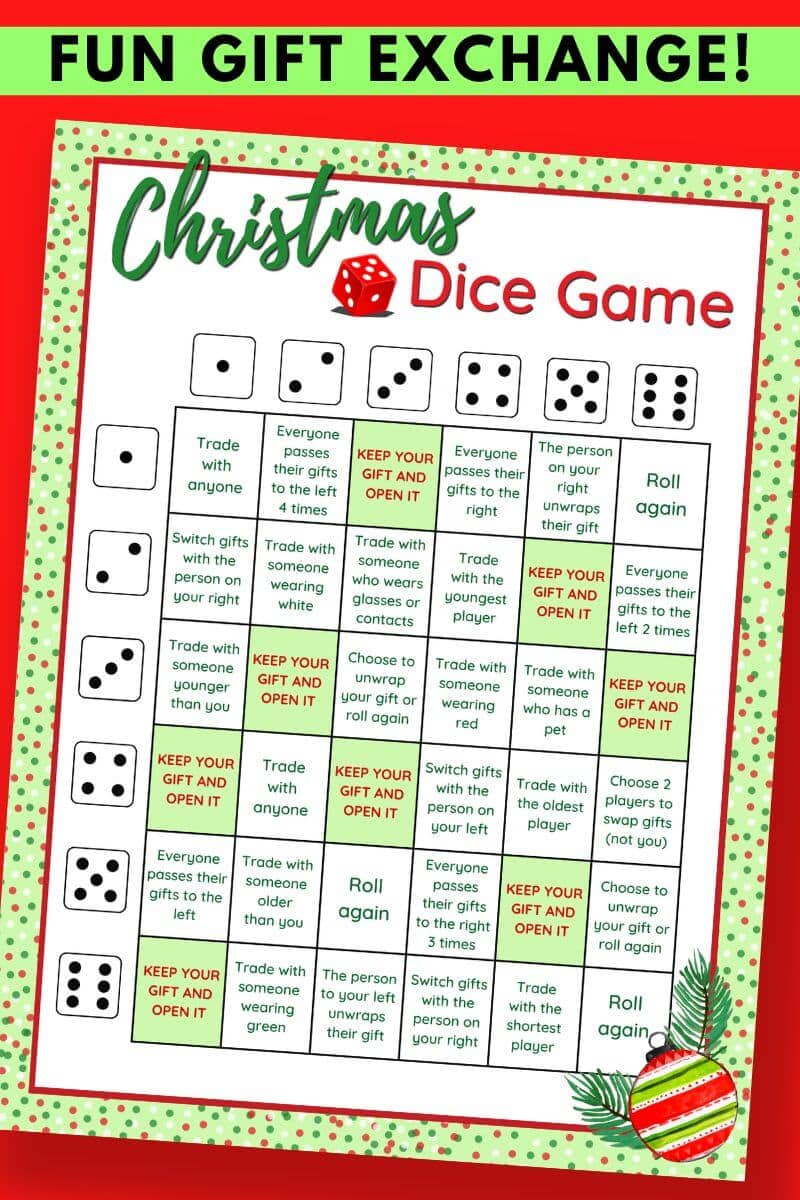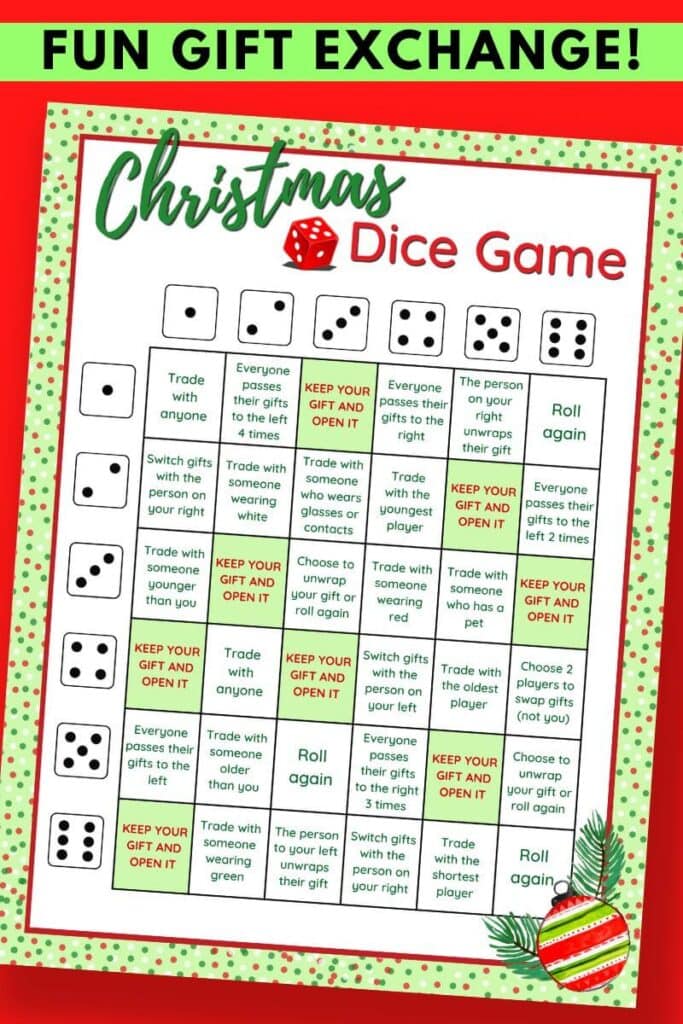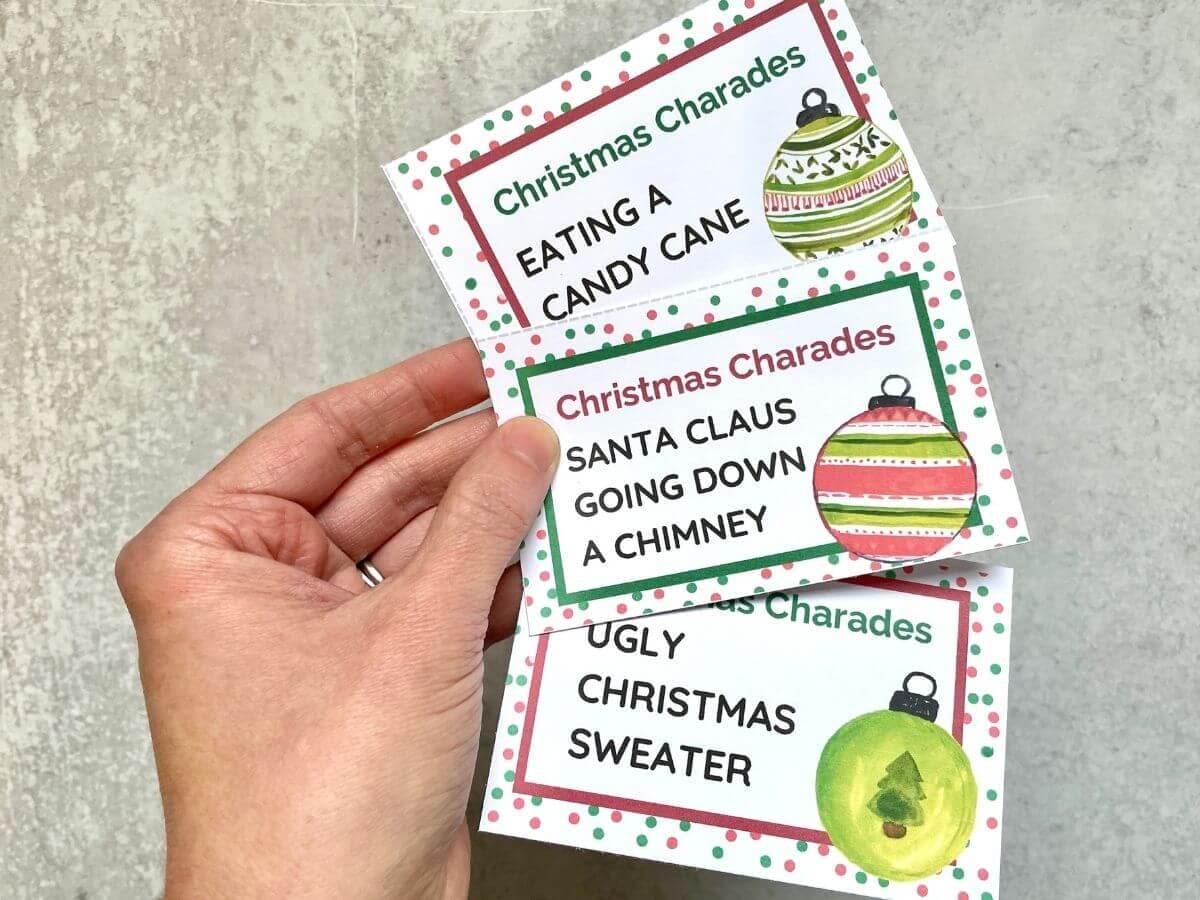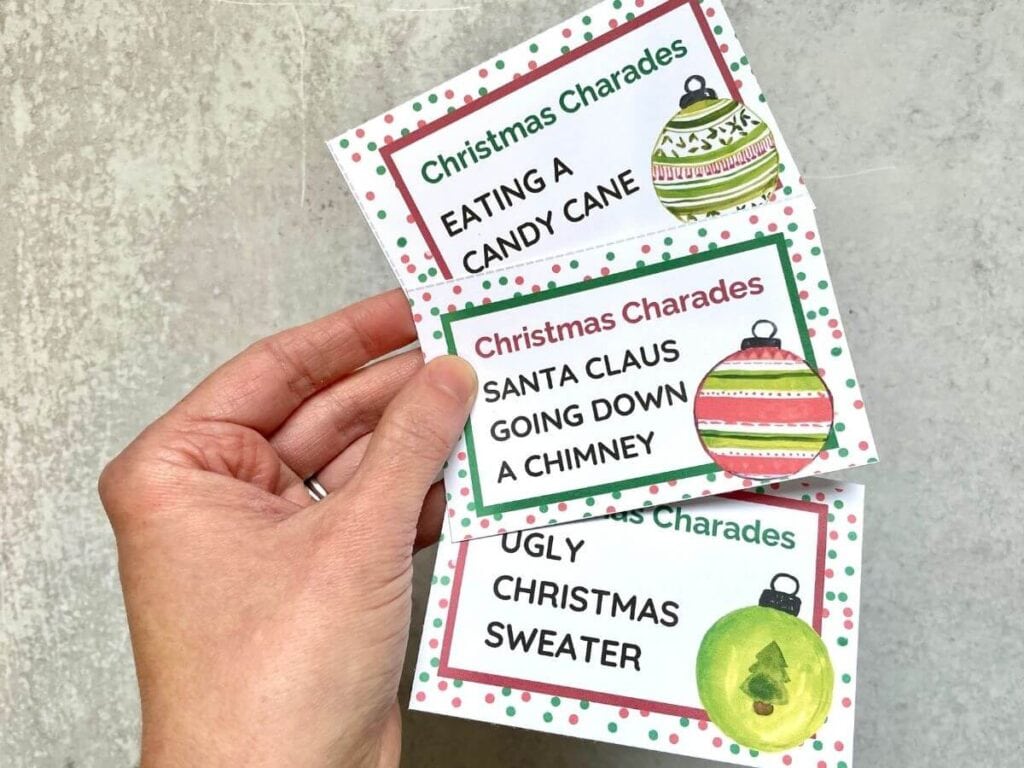 I hope that everyone who participates in your Secret Santa gift exchange has a blast, laughs a lot, and gets something they'll enjoy this Christmas season. What's your favorite Secret Santa gift you've ever received? Tell me in the comments below… I'd LOVE to hear from you!
Happy holidays, and may your gift-giving game be strong!
And don't forget to PIN this post for later: