Need Christmas charcuterie board ideas for your upcoming holiday parties? Whether you need inspiration for wreath or Christmas tree charcuterie boards, or other holiday meat and cheese platters, you'll find some beautiful charcuterie ideas here!
Charcuterie boards are all the rage right now, and from the beautiful photos in this post, it's not hard to see why! With a variety of colors, flavors, textures, and ingredients, these holiday grazing boards are perfect for serving at your Christmas party this year!
I don't know about your holiday gatherings, but when we host a large group of family and friends, most everyone congregates around the food table. So artful, fancy, and delicious displays like this are perfect! In fact, these Christmas charcuterie boards, sometimes called "grazing boards", are for just that… standing around the buffet table and grazing.
Of course you could have a stack of appetizer plates nearby, but your party guests may want to stay within arm's reach of these beautiful Christmas appetizer display boards!
If you want to serve up your own piece of delicious art this year, then here are some awesome Christmas charcuterie board ideas to inspire you: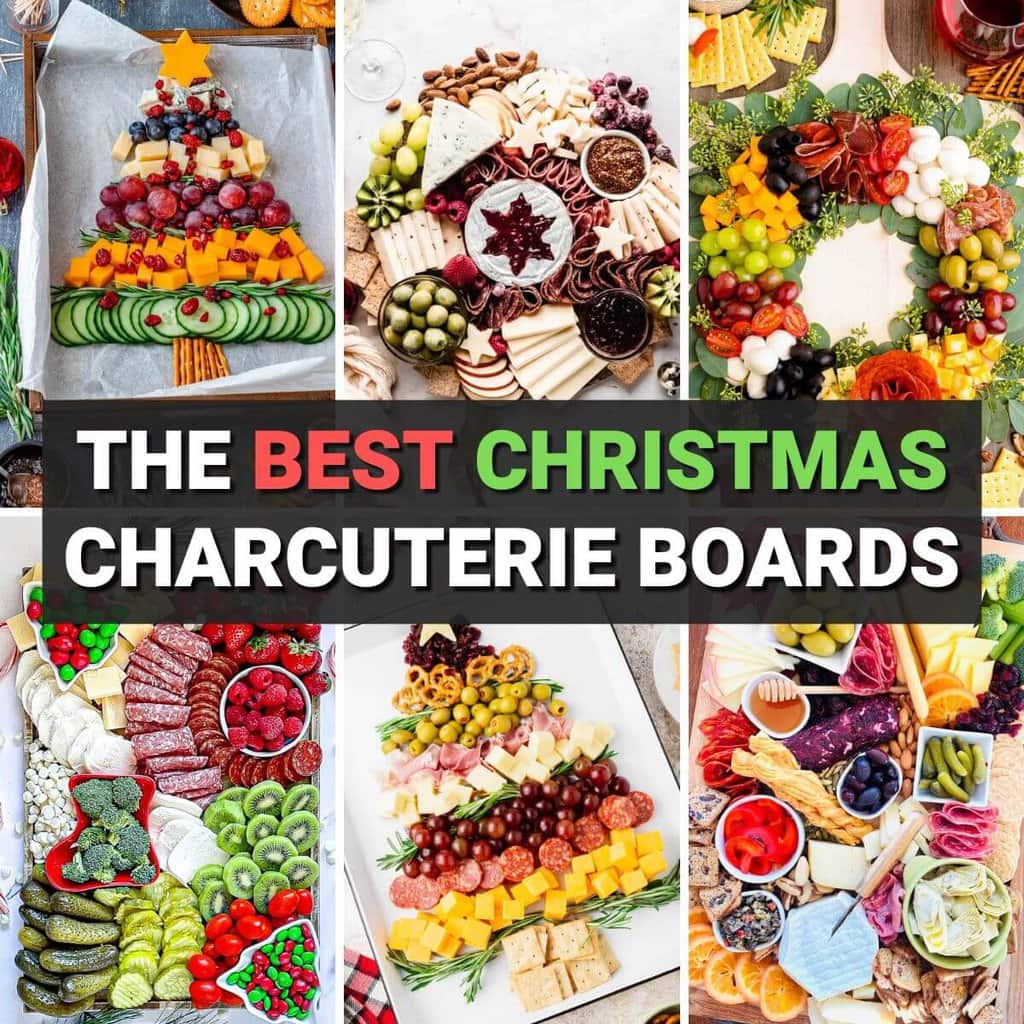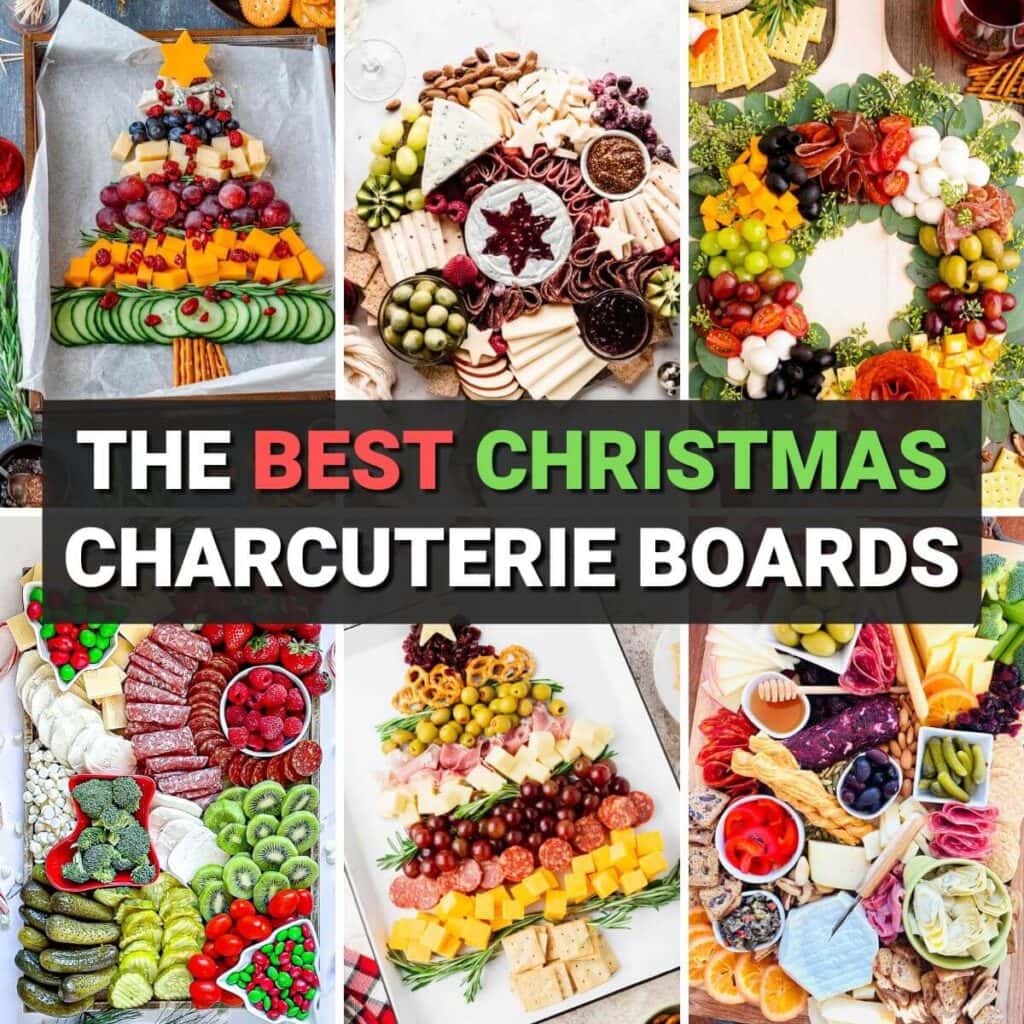 How to Make the Perfect Christmas Charcuterie Board
Before we jump into the beautiful pictures of Christmas grazing boards, let's discuss just how easy these holiday appetizers are to make! Here's the basic steps for how to make a charcuterie board this holiday:
Choose a theme for your board. Are you going to go with a traditional meat and cheese board? Or do you want to try a dessert board based around a huge variety of Christmas cookies? Maybe an Italian theme with antipasto skewers or even a breakfast board stuffed with breakfast meats, fruits, and waffles? Pick your theme first!
Pick a board or platter to use. A large cutting board is pretty common for making charcuterie boards, but you can also use a platter or other tray-type base. When choosing your board, consider how many party guests you have and what your budget is… a larger board will take more ingredients to make it look nice and full.
Time to go shopping! Try stores like Trader Joe's for more budget-friendly charcuterie items, or even big box stores like Costco may have assorted meats and cheeses packaged together to help keep costs low.
Arrange the charcuterie board ingredients in piles. The key to a perfect grazing board is the piles! Pile like ingredients together, and you can even separate larger quantities of the same ingredients into a few different piles across the board. Continue to place your piles on the board until it looks full.
Add your fillers. The "fillers" help your board look nice and full. Think handfuls of cashews or raspberries or sprigs of fresh herbs.
40+ Christmas Charcuterie Board Ideas
The possibilities are truly endless when it comes to putting together a holiday charcuterie board, but here are some gorgeous boards to inspire you:
Christmas Tree Charcuterie Boards
The easiest way to make a festive charcuterie board for your holiday party is to arrange the meats, cheeses, and fruits into a Christmas-themed shape! Instead of spreading the appetizers out over the entire cutting board, simply form them into a tree shape, and top with a star cut out of cheese or even a slice of starfruit.
Here are some beautiful Christmas Tree Charcuterie Boards to inspire your holiday appetizers:
This beautiful Christmas tree charcuterie board from Happy Foods Tube uses very common ingredients artfully displayed in a layered Christmas tree shape… but the thing that ties it all together for the perfect finishing touch – the dried cranberries and pomegranate seeds that look like bright red ornaments!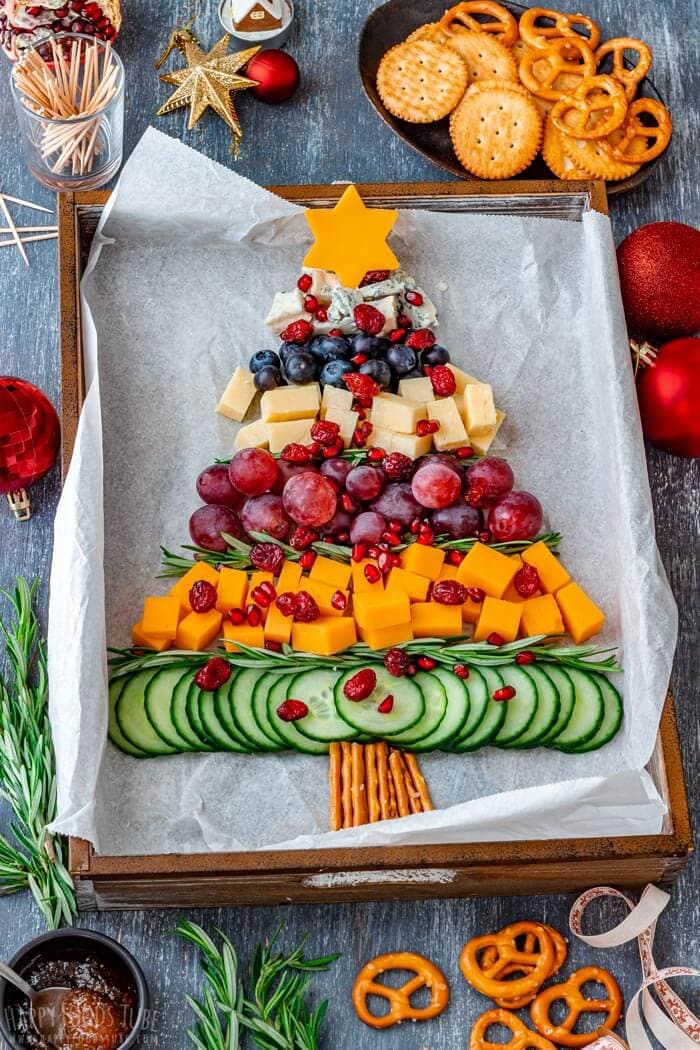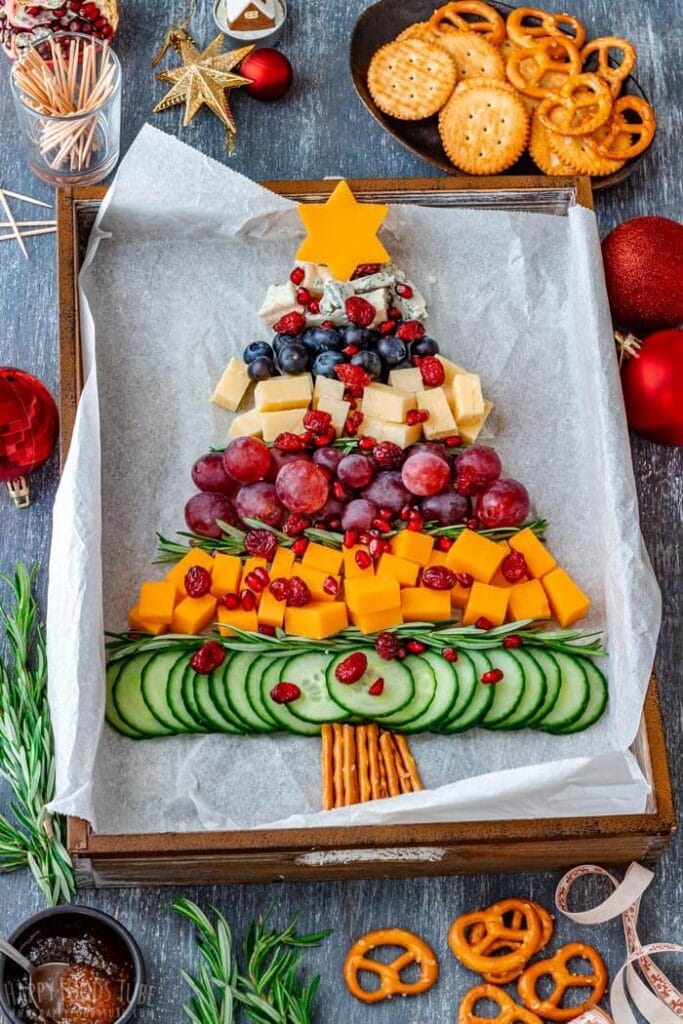 If you want to stick with a meat, cheese, and cracker tray, then the cute Christmas tree charcuterie board from Homemade Heather is perfect for you! Smoked salmon, chorizo, and mini dill pickles are a creative and delicious addition to this gourmet board also!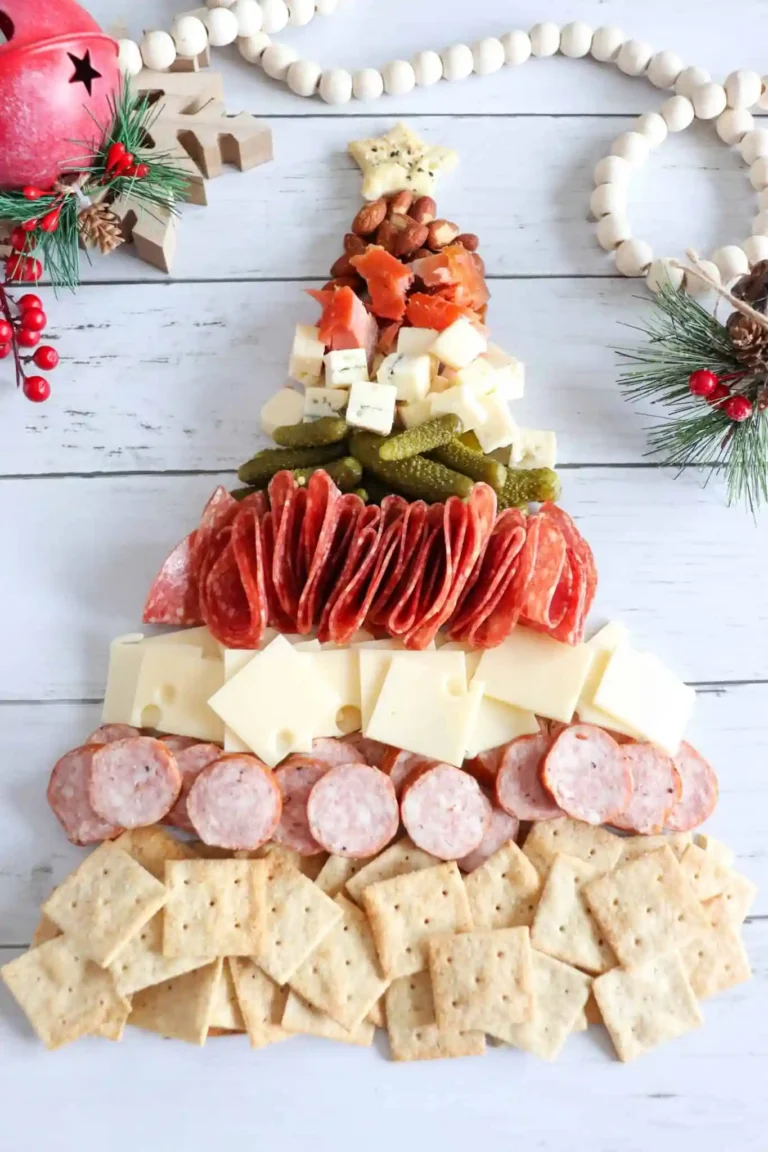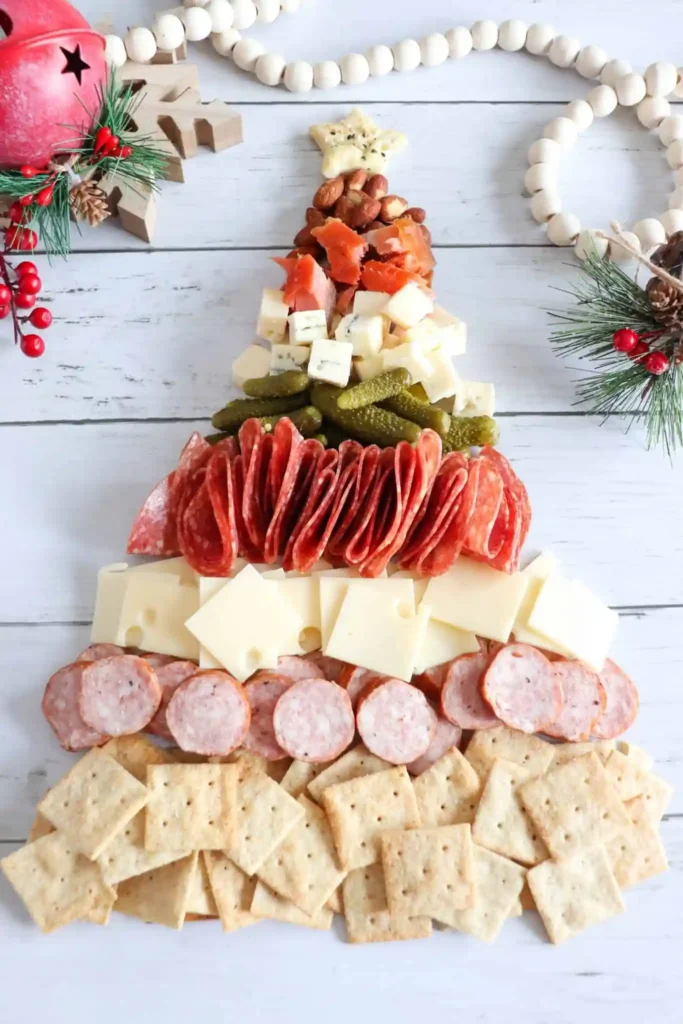 The Christmas tree charcuterie board from Completely Christmas is another beautiful grazing board for your holiday buffet table! The fresh rosemary sprigs add a nice separator between the layers, and this board includes the perfect mix of sweet and salty snacks… everything you want while you're grazing at the food table!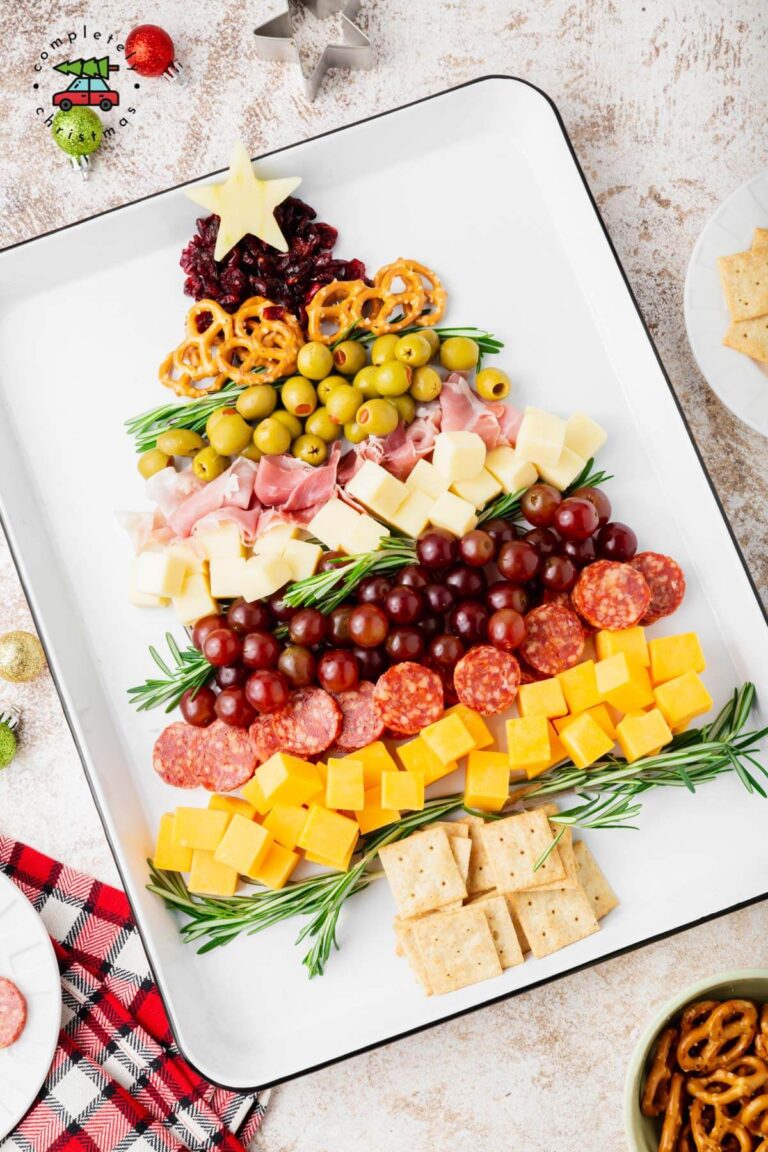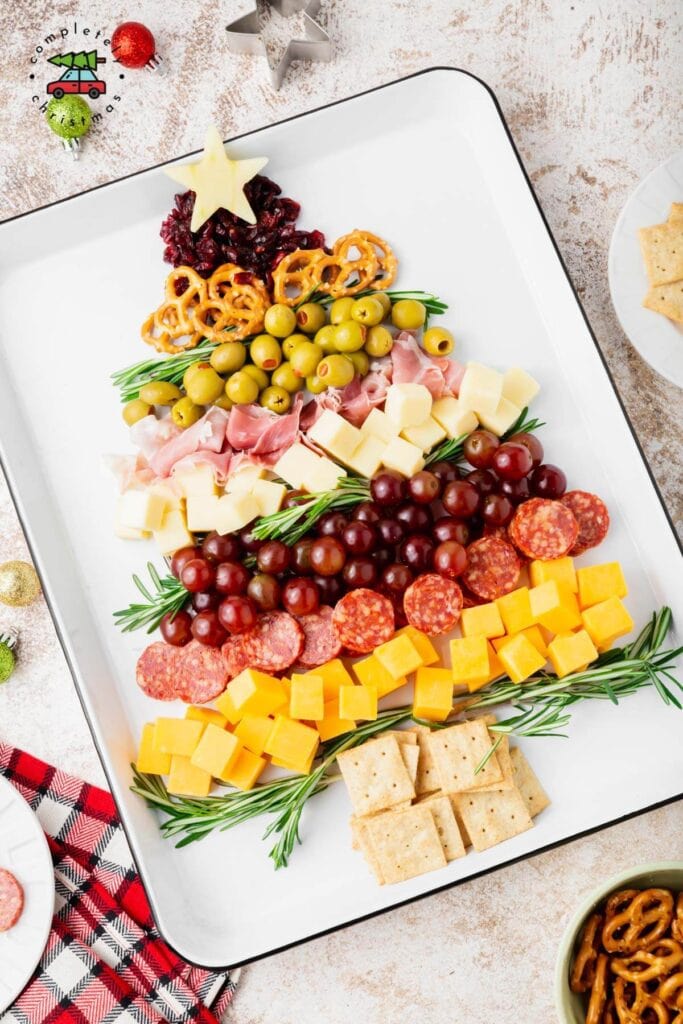 The Christmas tree charcuterie board from Get on My Plate is another awesome holiday grazing board option! This board is stuffed with Boar's Head meats and cheeses, and a strategically placed bowl of gourmet mustard to serve as the tree trunk!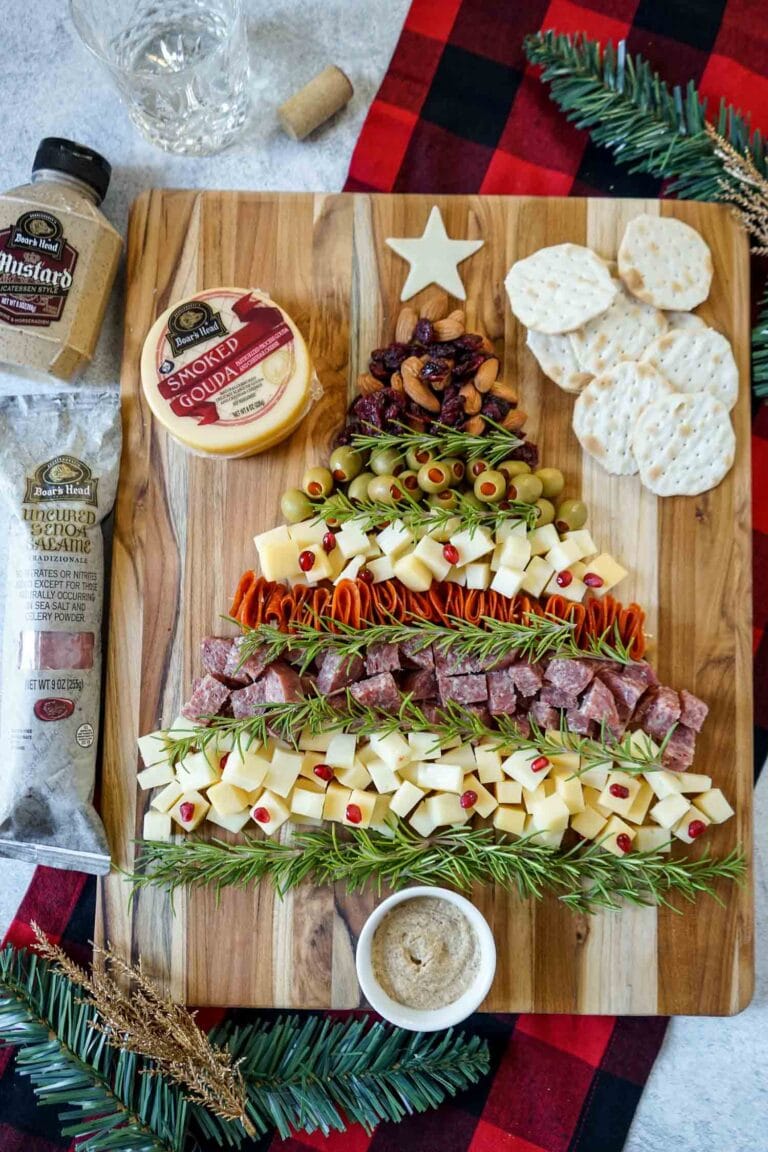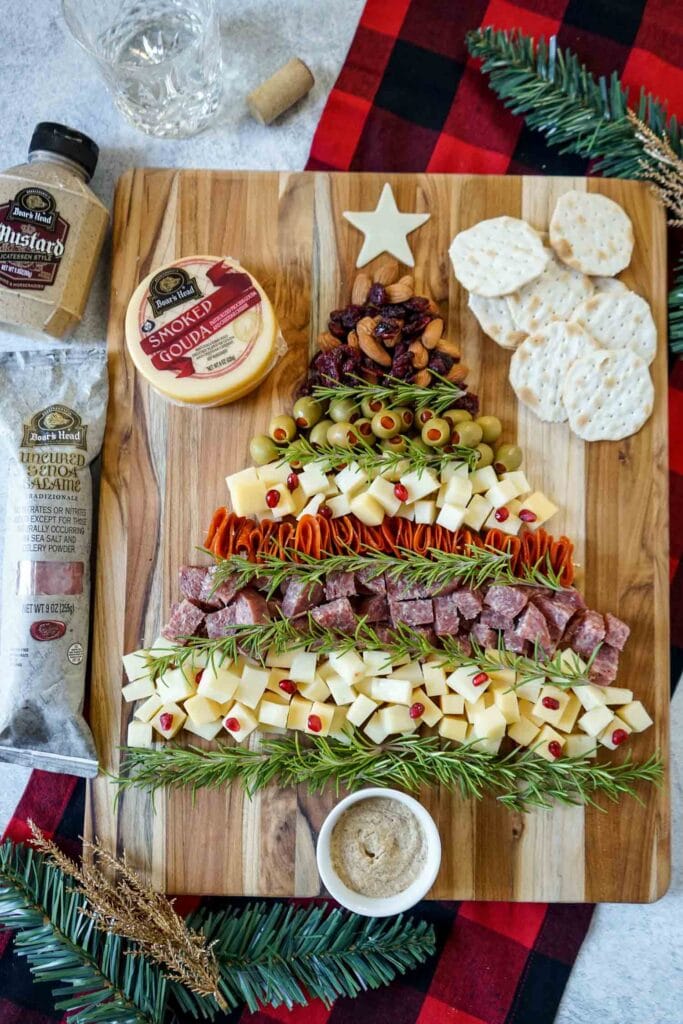 The mozzarella balls intertwined with salami slices on this Christmas tree charcuterie board from Sugar and Soul are a nice touch, and I love the variety of both sweet and savory ingredients! This board is especially great because it uses some common and inexpensive items beautifully arranged with fresh rosemary sprigs.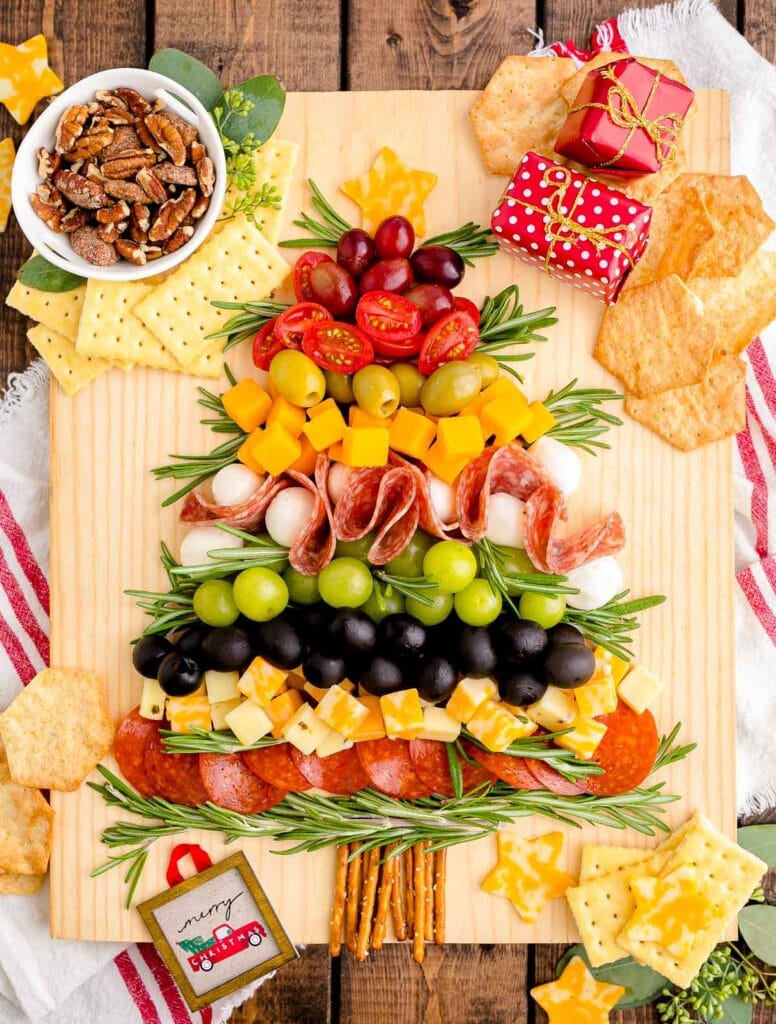 This Italian-style Caprese Christmas Tree from Sparkles to Sprinkles is a creative take on an appetizer board! And with just a few ingredients, it's super easy to make also! Great if you're serving an Italian meal for Christmas dinner!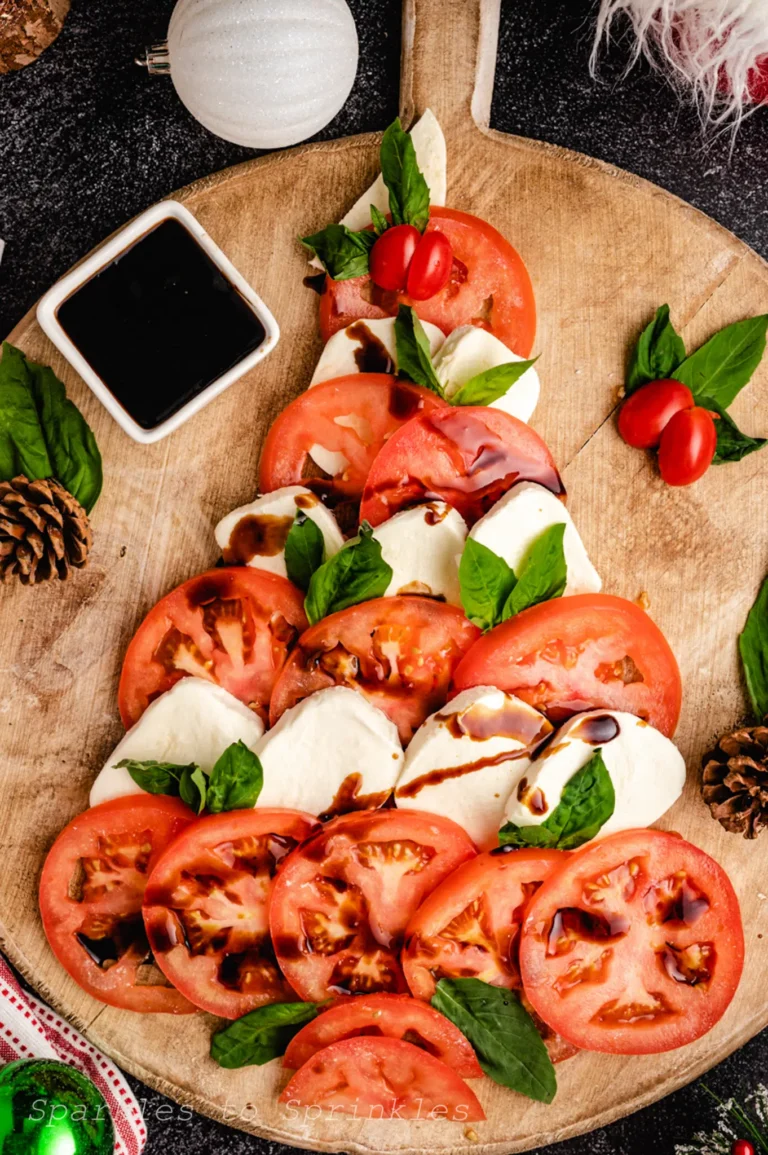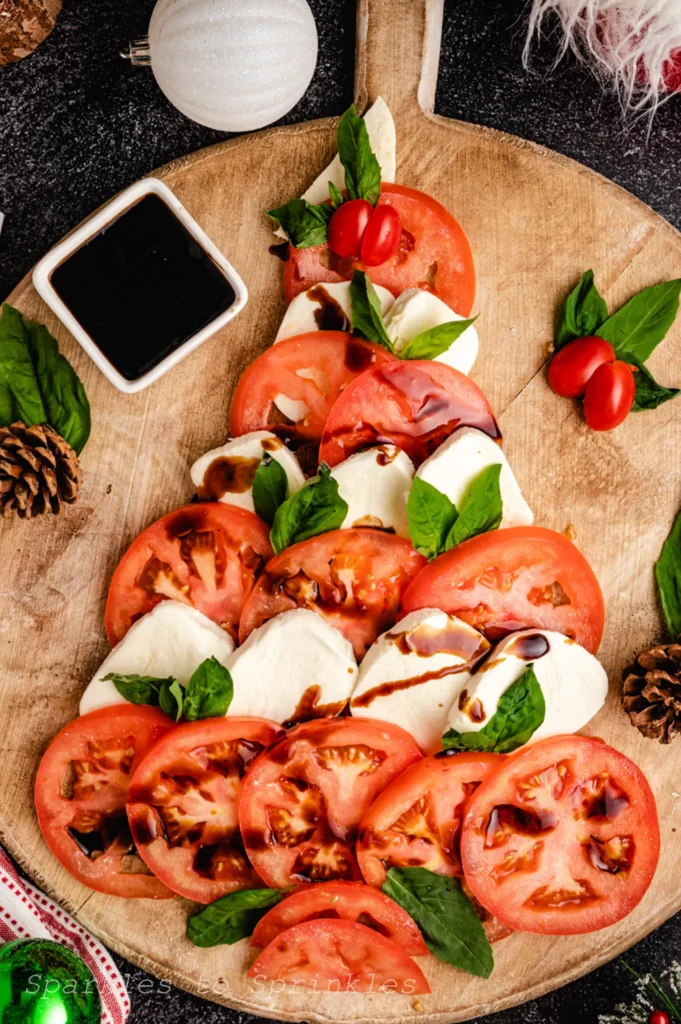 Want to offer your holiday guests a healthy option? The Christmas tree veggie tray from My Kitchen Love is easy to make and budget-friendly! And the star of the tray (no pun intended!) is the homemade buttermilk dip at the top of the platter!
The fruit and veggie Christmas tree appetizer tray from Healthy Family Project is another great option for both kids and adults. With cheese cubes, green apple slices, and pretzels, there's a little something for everyone to enjoy!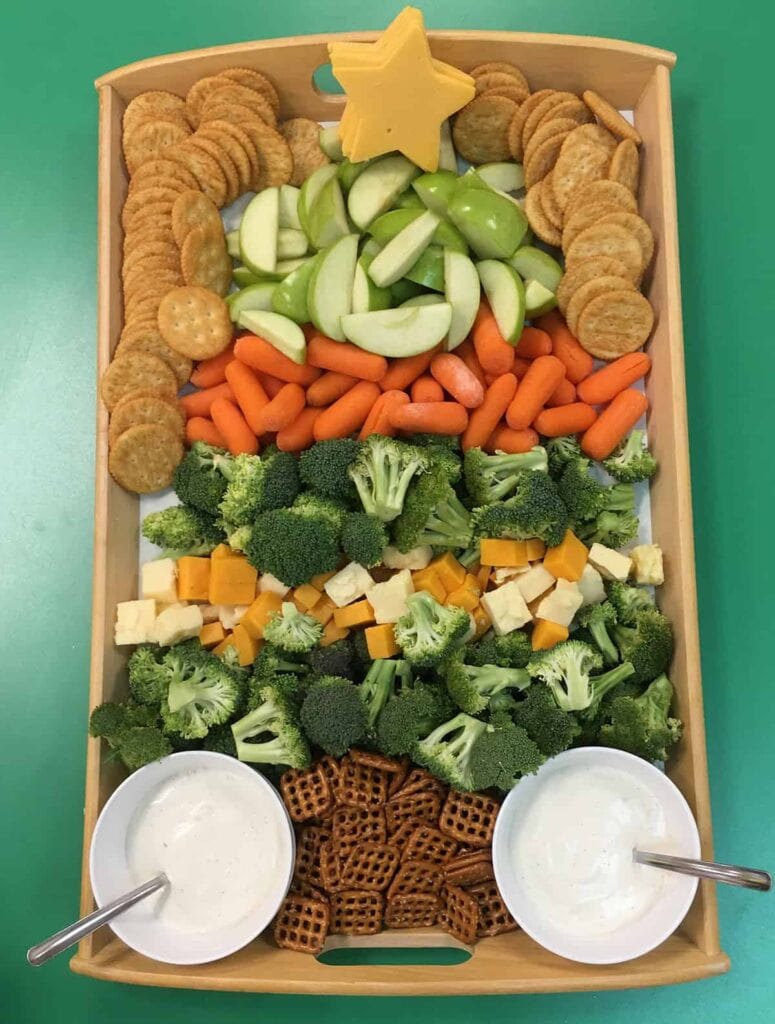 Wreath Charcuterie Boards
Make an all-veggie grazing tray for Christmas with all of your favorite green vegetables artfully arranged in a wreath shape! The Christmas wreath veggie tray from Completely Christmas is a bright and healthy addition to your holiday appetizers!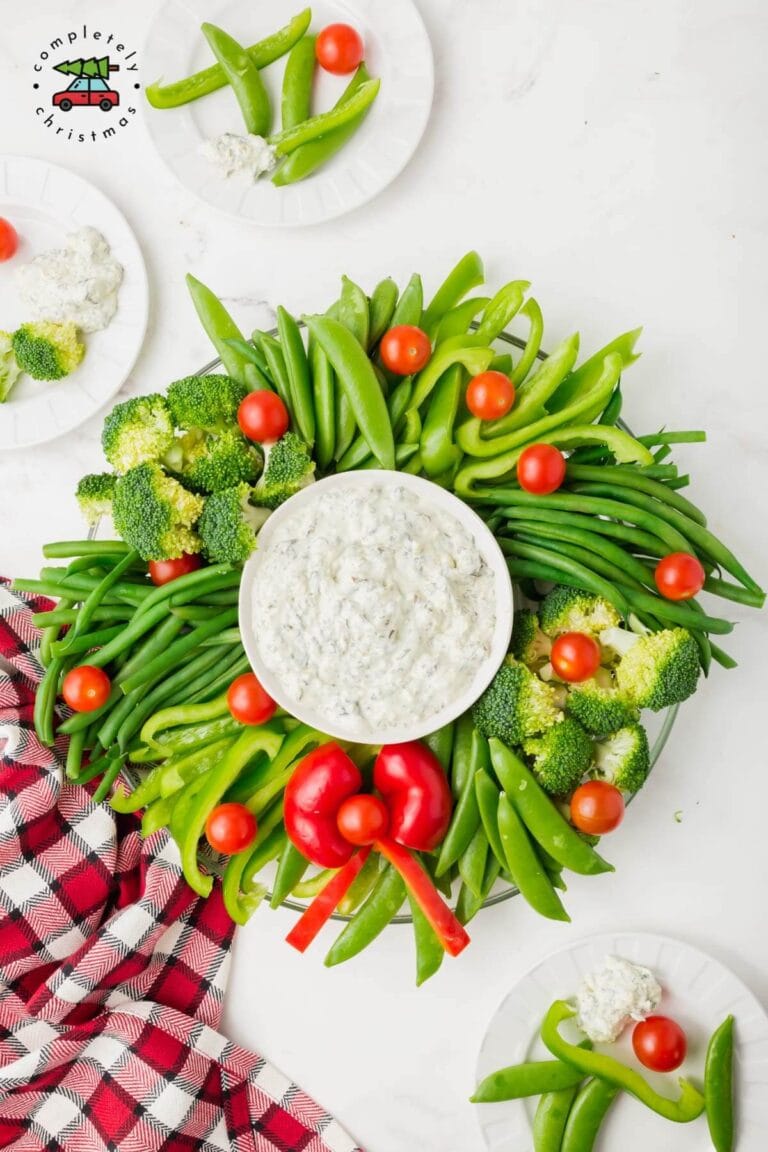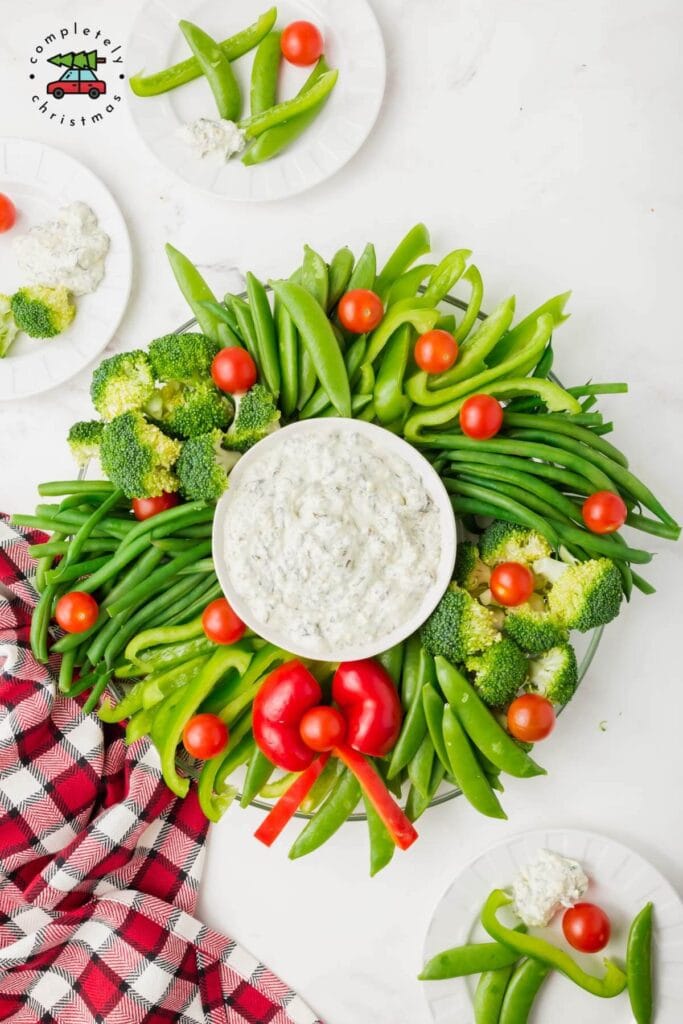 If you're serving lasagna for you holiday meal, then why not go with an Italian themed grazing board as well! This antipasto wreath appetizer from Easy Weeknight Recipes includes individually skewered bites of salami, mozzarella balls, olives, and other savory Italian treats!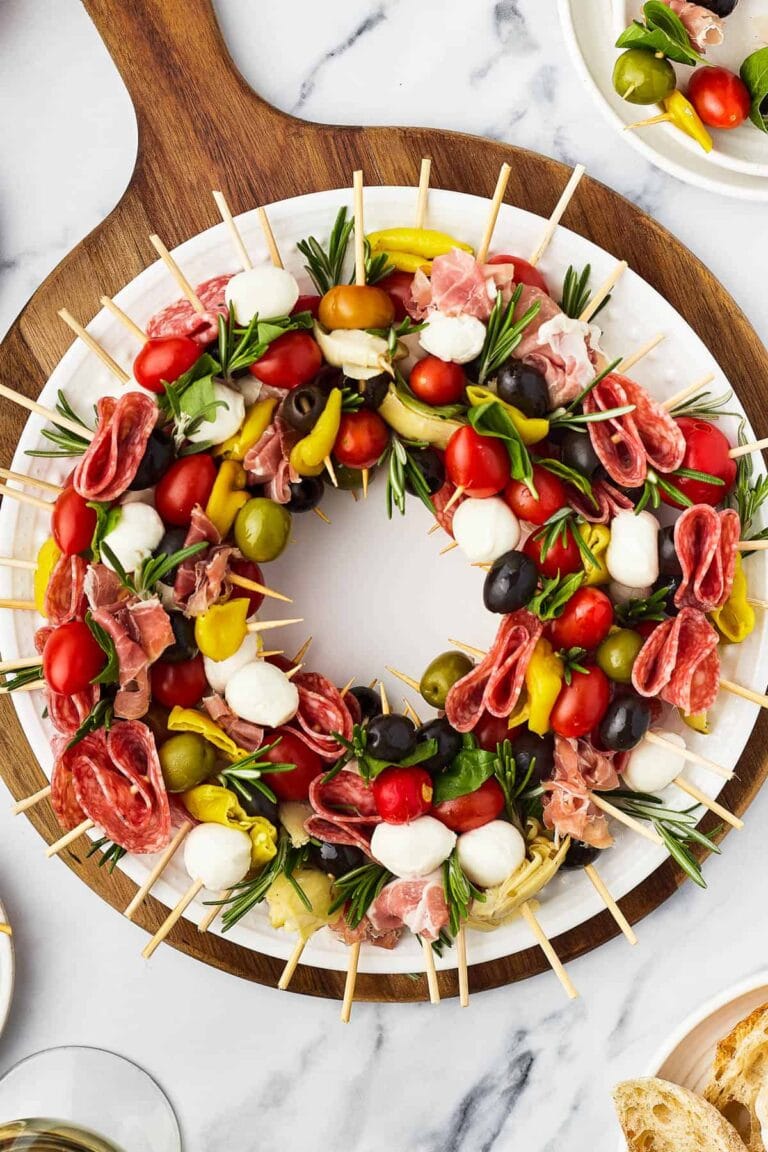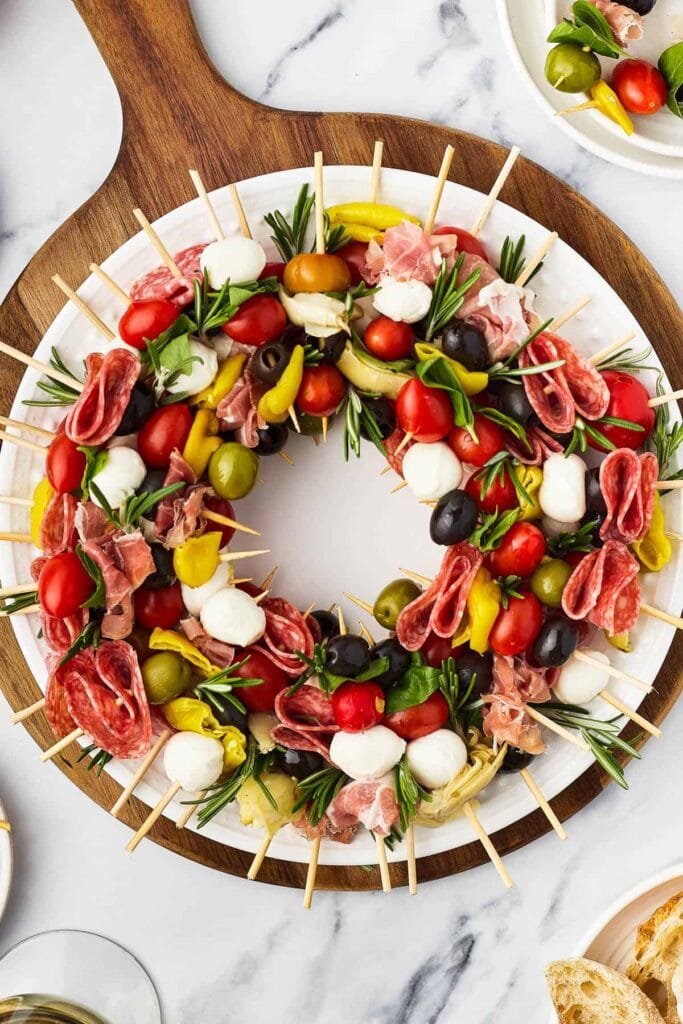 With a base of rosemary and a nice assortment of olives, cheeses, and vegetables, this Christmas wreath cheese board from Appetizer Addiction is pretty to look at and delicious to eat! You can easily fill in the wreath shape with your favorite meats and cheeses to customize the pretty party platter, too!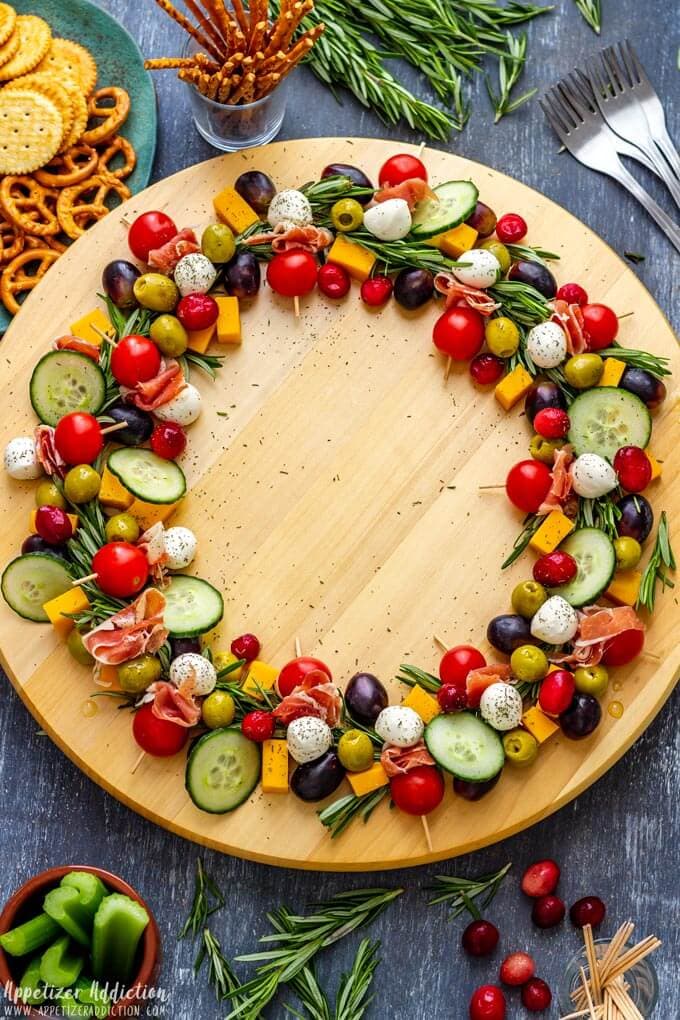 Fresh herbs like rosemary, thyme, and basil serve as the "greenery" in this elegant wreath shaped Christmas charcuterie board from Not Entirely Average. And this grazing board includes one of my personal favorite holiday treats, candied pecans!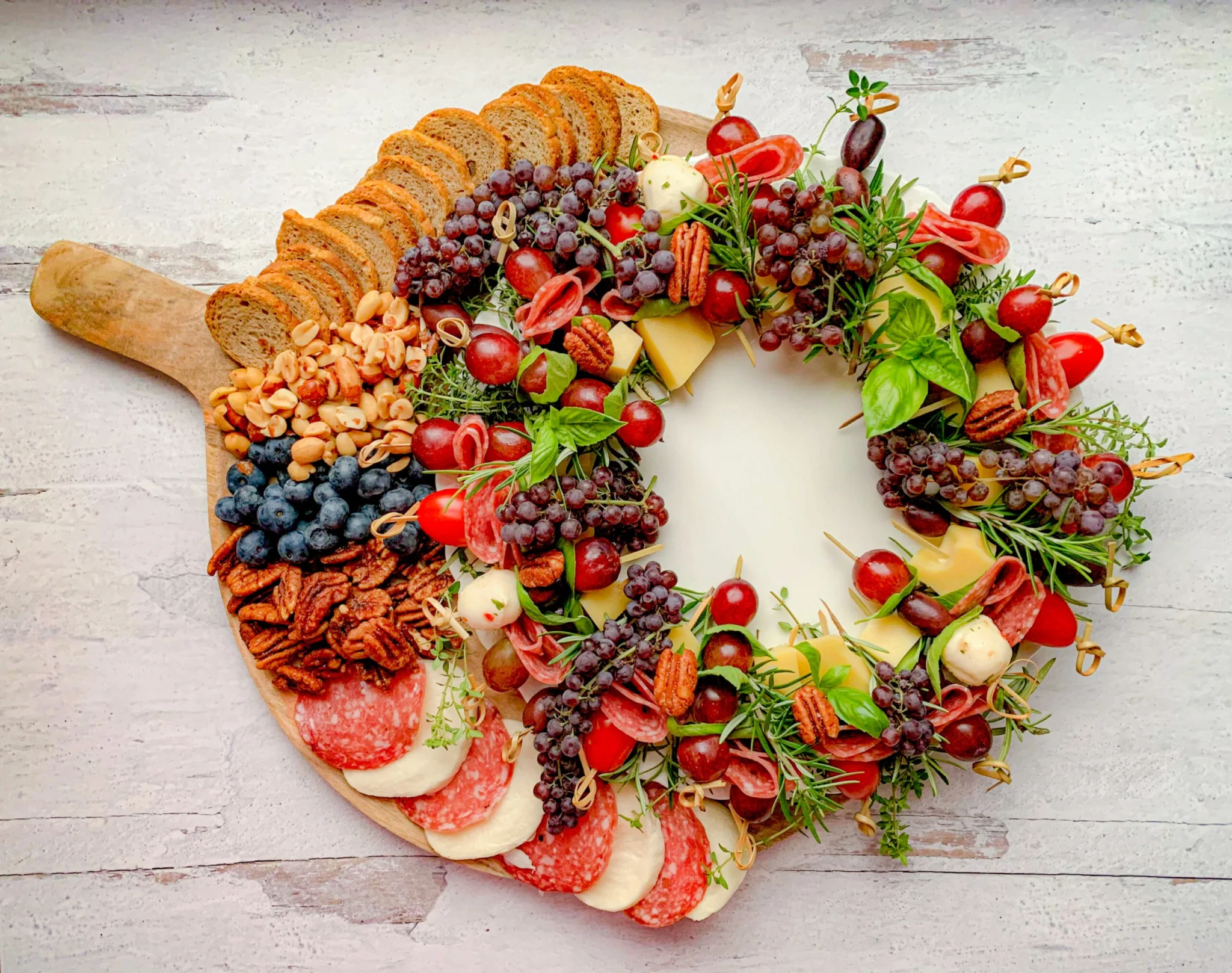 One thing that may deter you from making a grazing board for Christmas is the cost… Many times, the gourmet ingredients used to create these amazing charcuterie boards come with a gourmet price tag, too! But this wreath charcuterie board from Little Sunny Kitchen includes some more common ingredients like jarred olives, cubed cheeses, and grape tomatoes on a bed of herbs.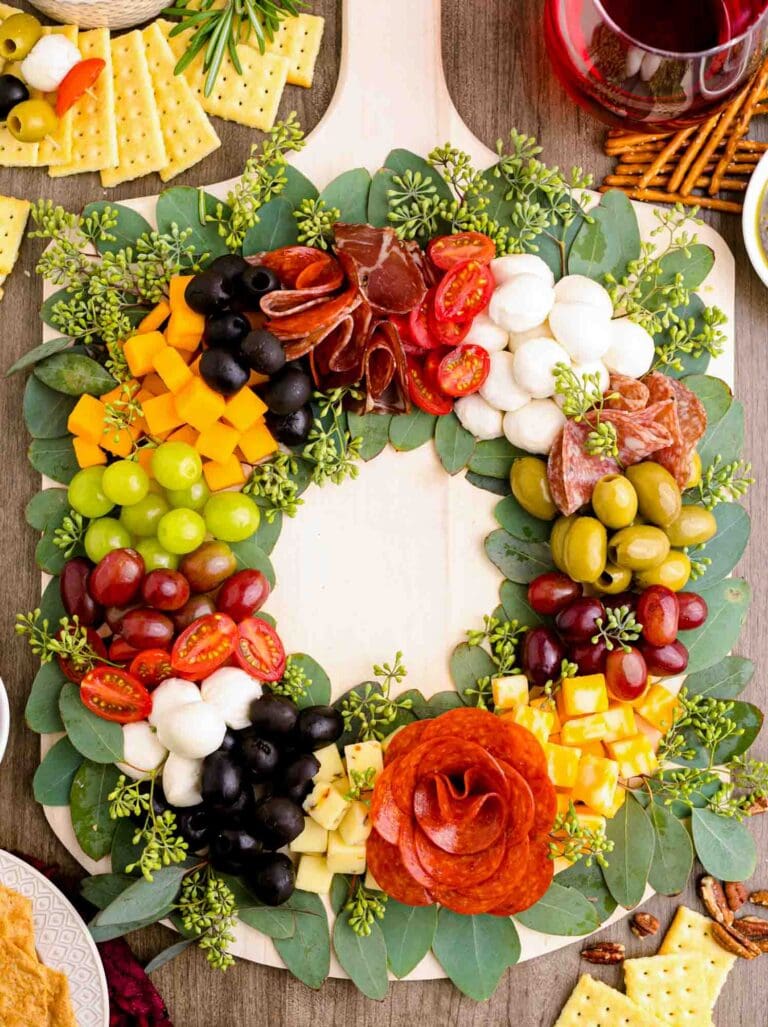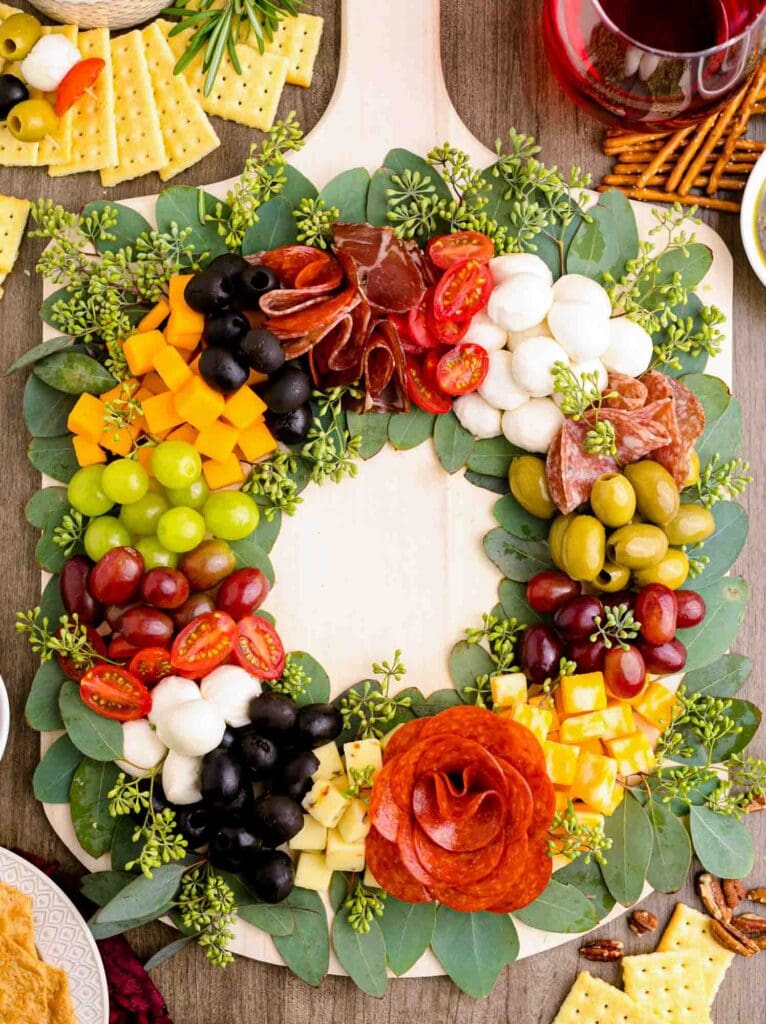 Another great Italian option is the holiday antipasto board appetizer from XOXO Bella! The Capicola wrapped asparagus spears and marinated artichoke hearts add a fun gourmet twist, and I love the rosemary and parmesan in this beautiful wreath-like display, too!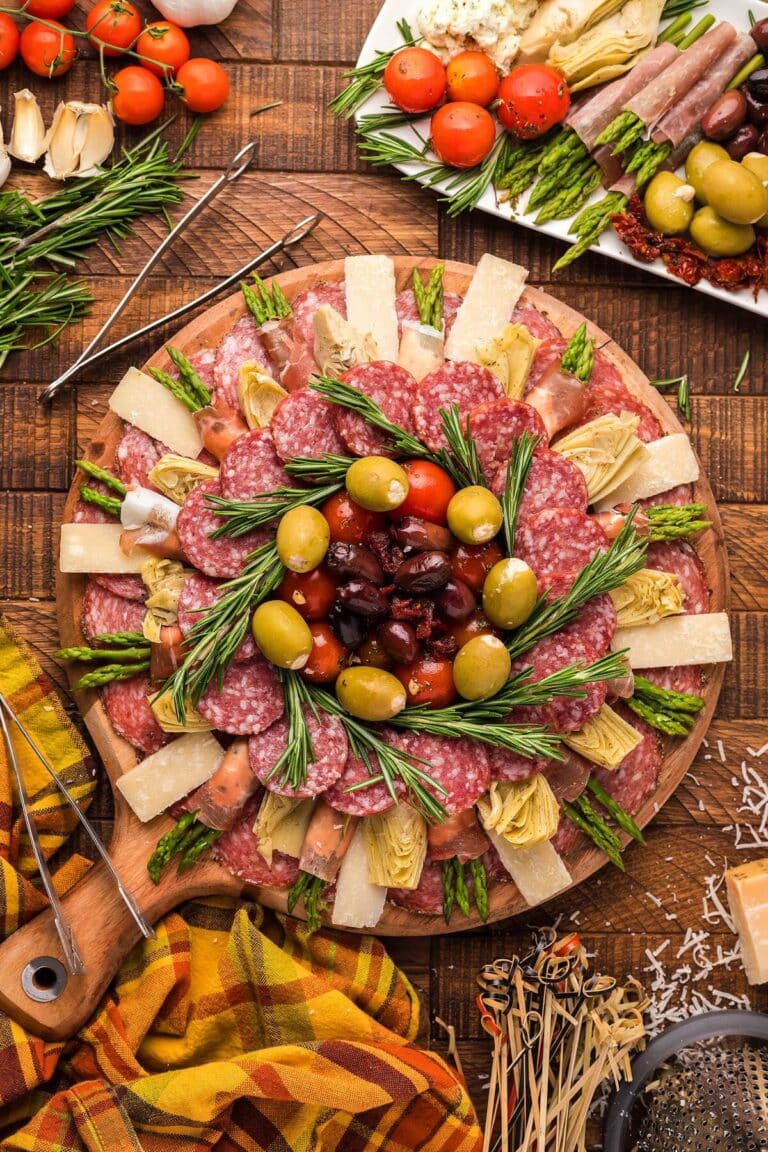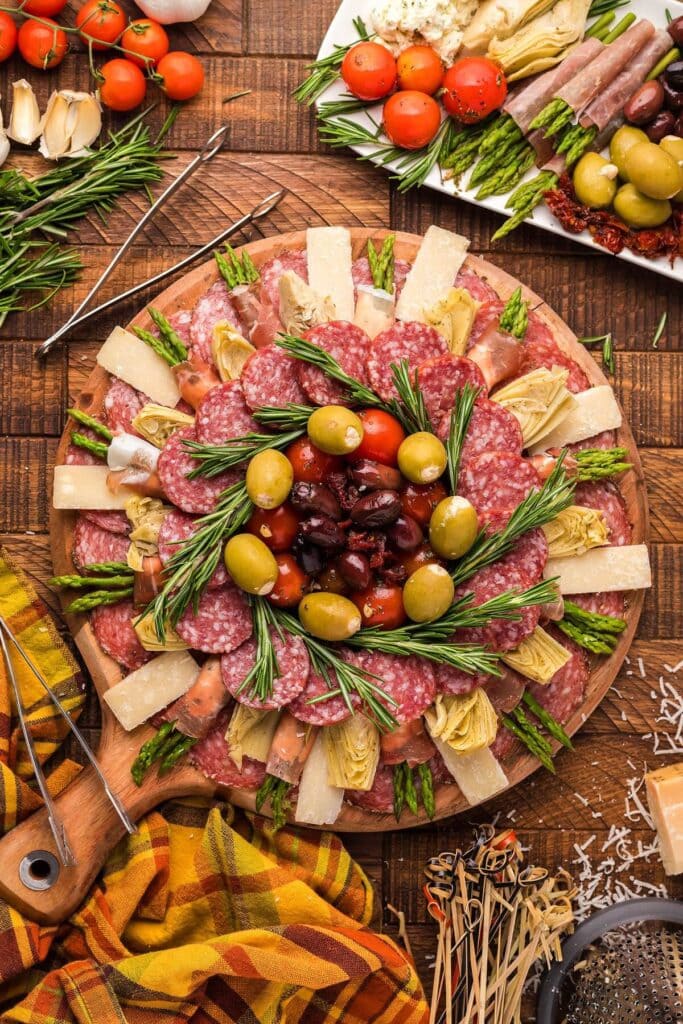 The charucterie wreath from The Diary of a Debutante looks full and beautiful, but it's actually one of the less expensive grazing boards to make because it only has a few common ingredients, a few of which are repeated in the wreath shape. In fact, this entire wreath charcuterie display only cost less than $20 to make! Now that's a Christmas miracle!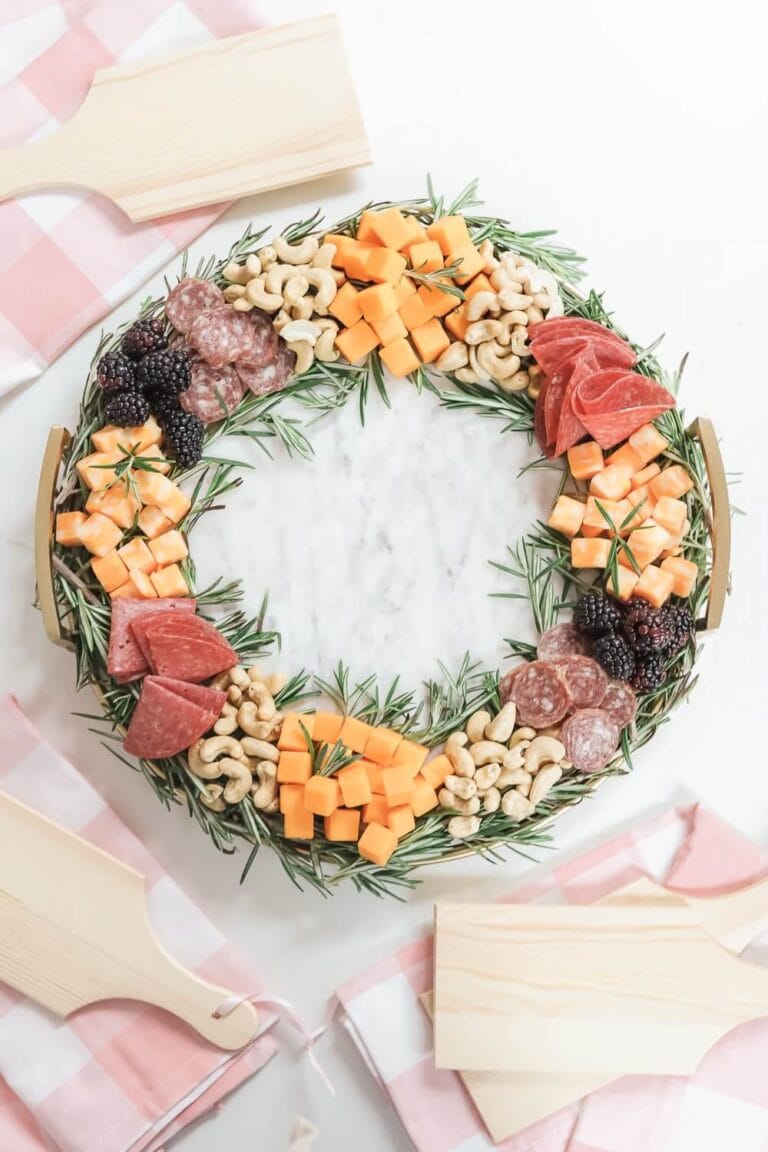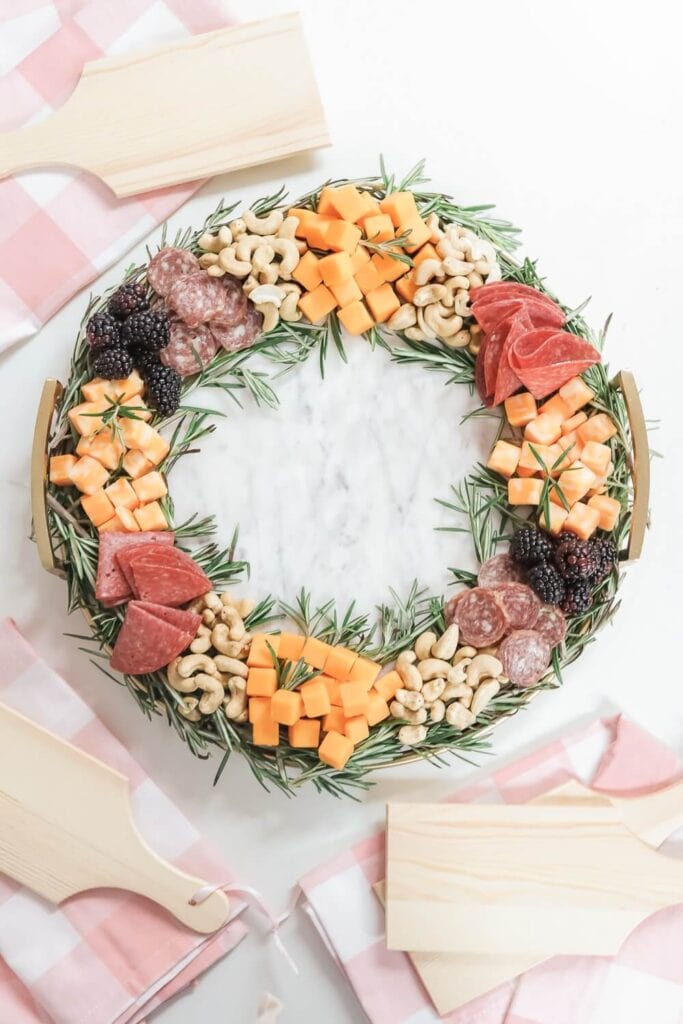 Other Christmas Appetizer Boards
If your holiday food budget allows for some fancier appetizers, then the stunning Christmas charcuterie board from Windy City Dinner Fairy is major party food goals! From the large variety of gourmet cheeses to the fig jam, this Christmas grazing board has a little something for everyone… including my personal favorites, kiwi fruit and gruyere cheese!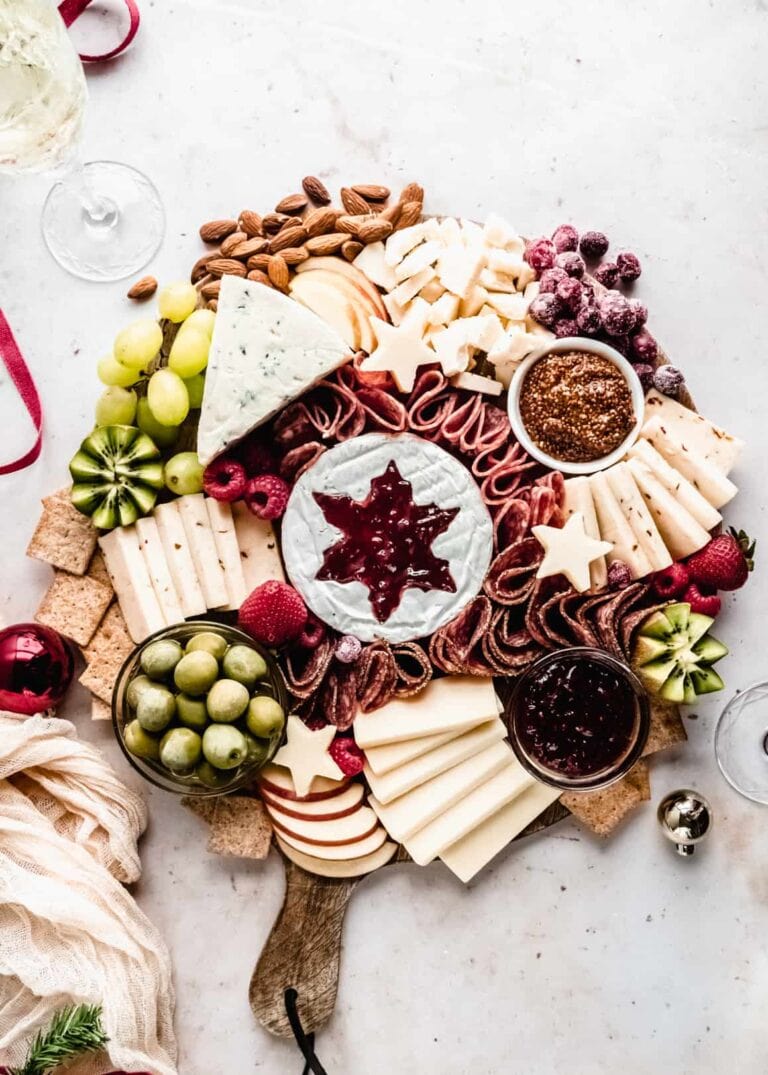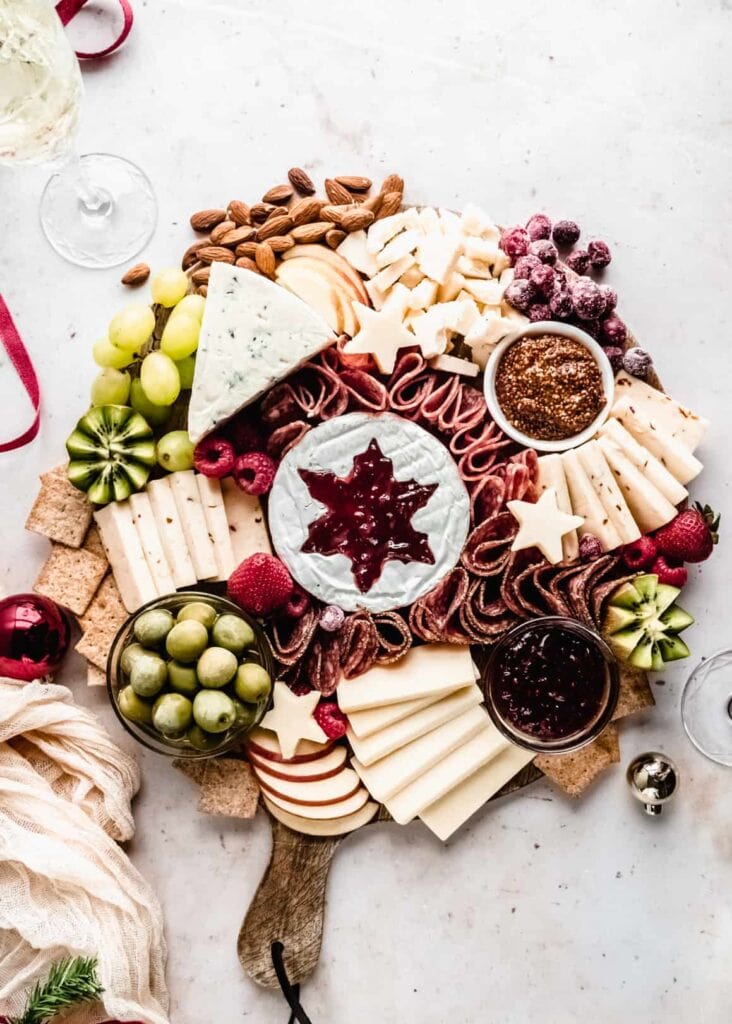 The star cut out of brie cheese and the pops of red from scattered cranberries are two stand-out details on this holiday charcuterie board from Baker's Table! So beautiful and so delicious!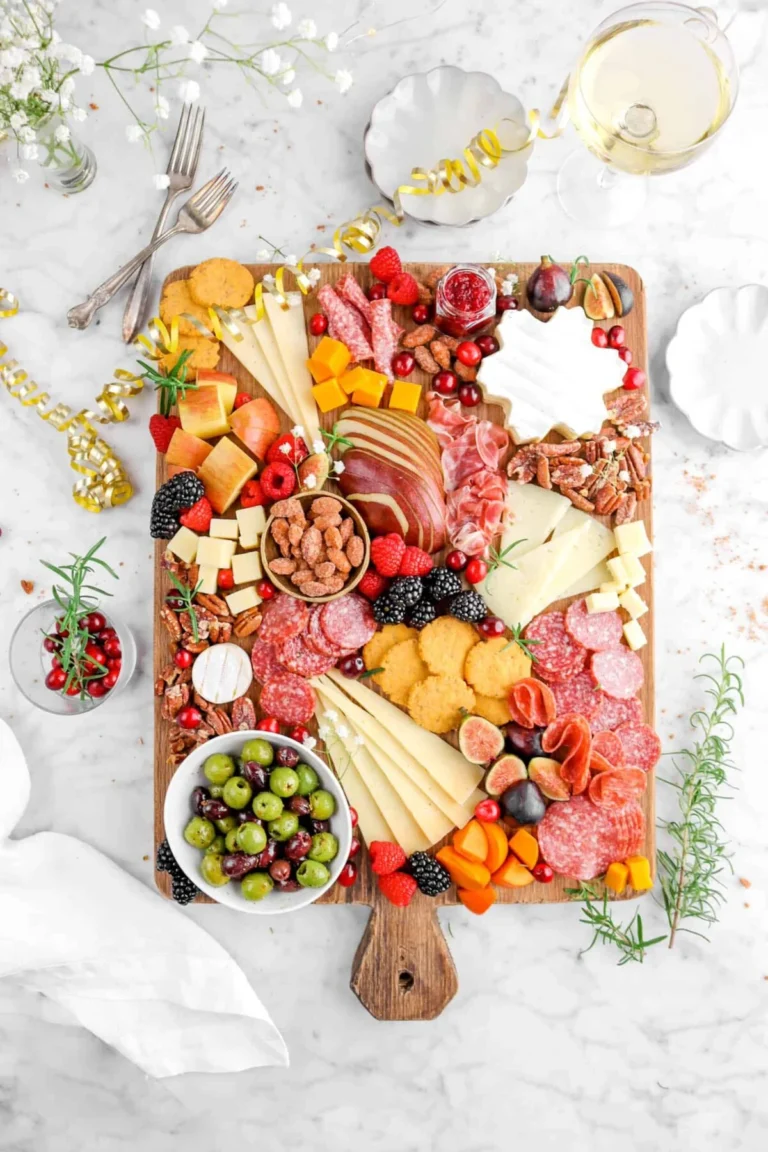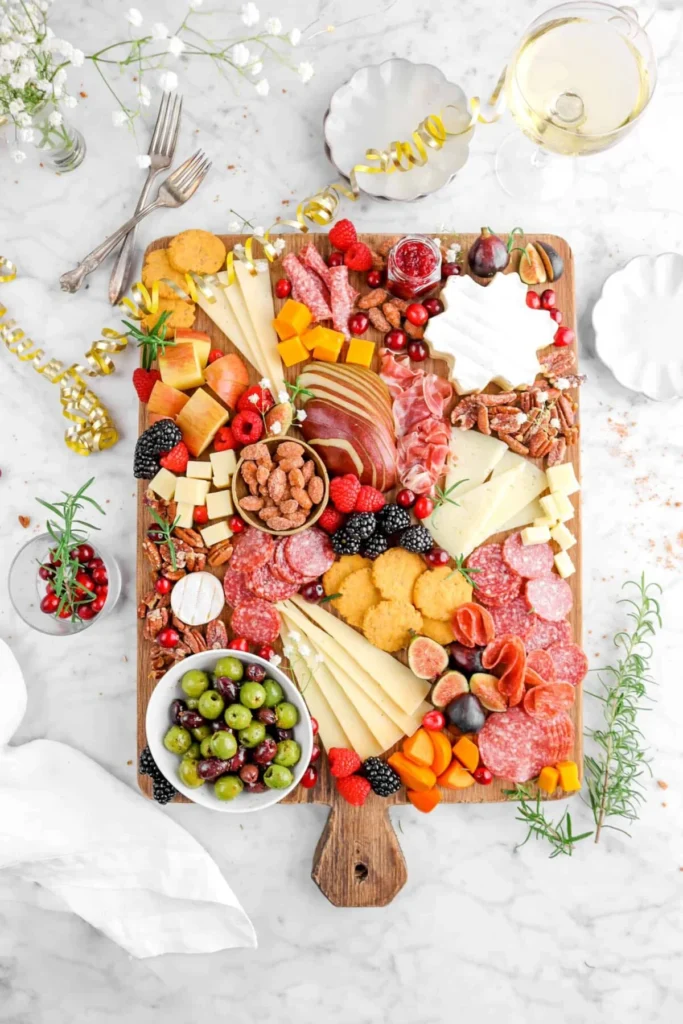 This Candy Cane shaped Christmas charcuterie board from Cutefetti is the perfect mix of red and white meats, cheeses, and fruits… and I LOVE the fun addition of white chocolate pretzels for a little sweet and salty dessert twist!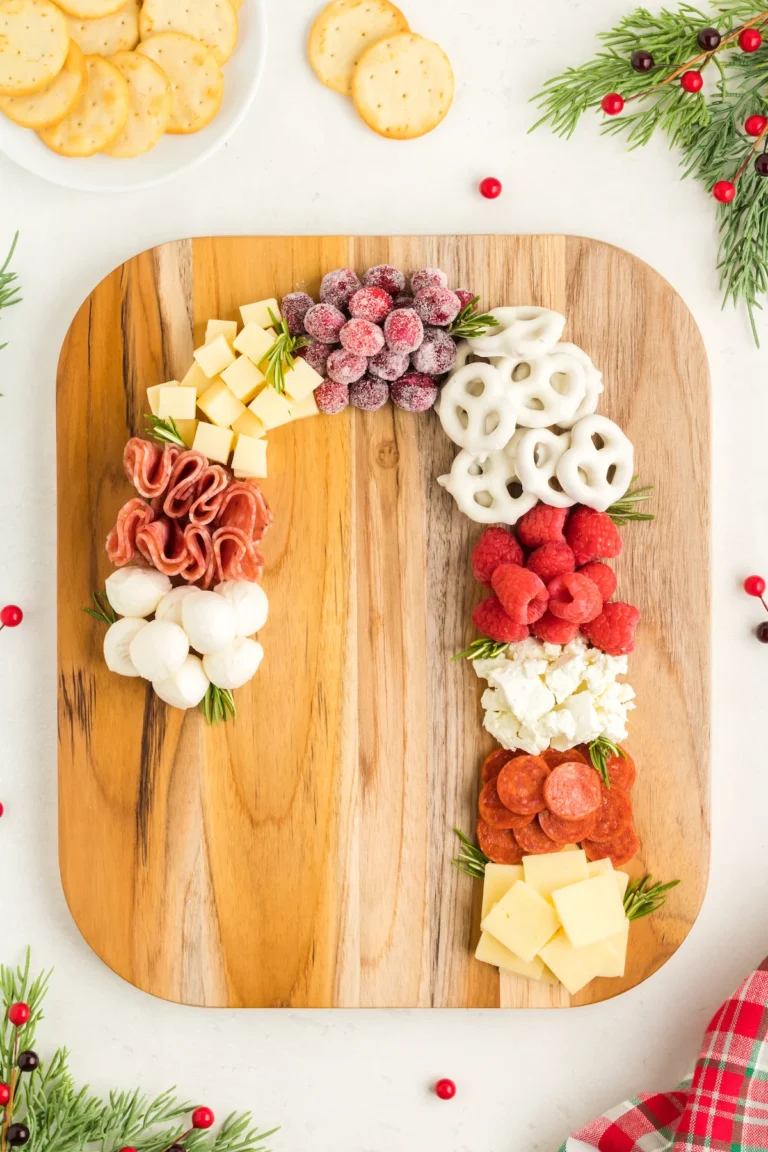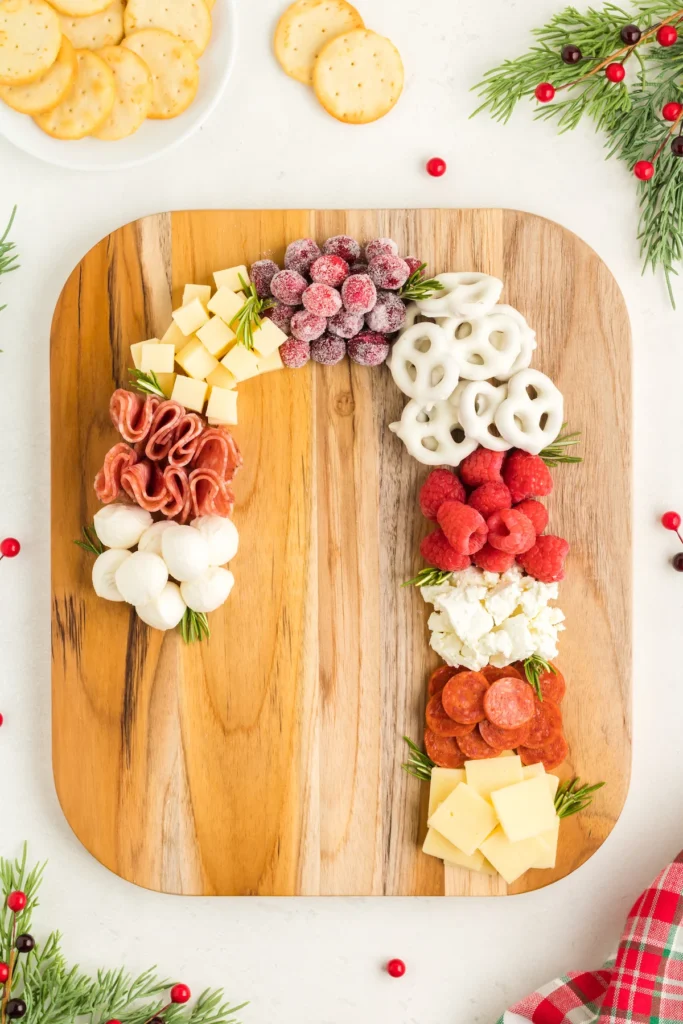 The holiday charcuterie board from Healthy Family Project is another beautiful grazing board to add to your Christmas appetizer table this year!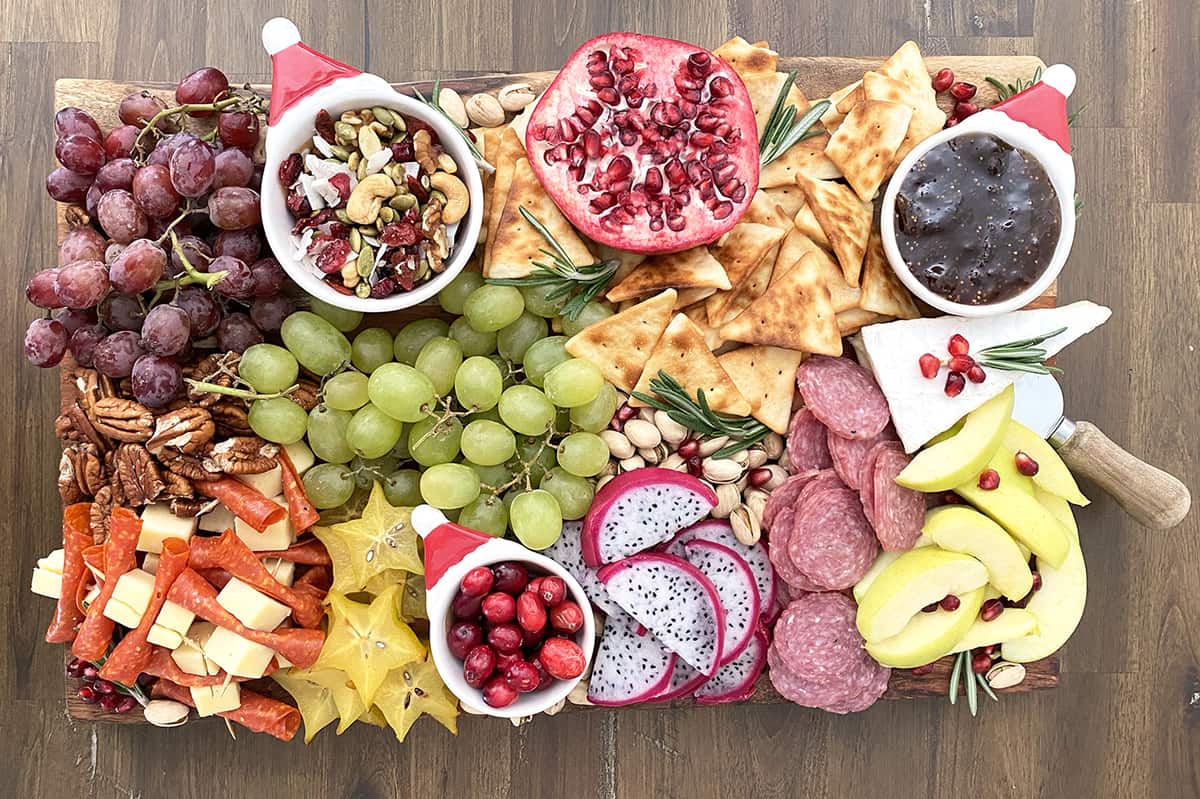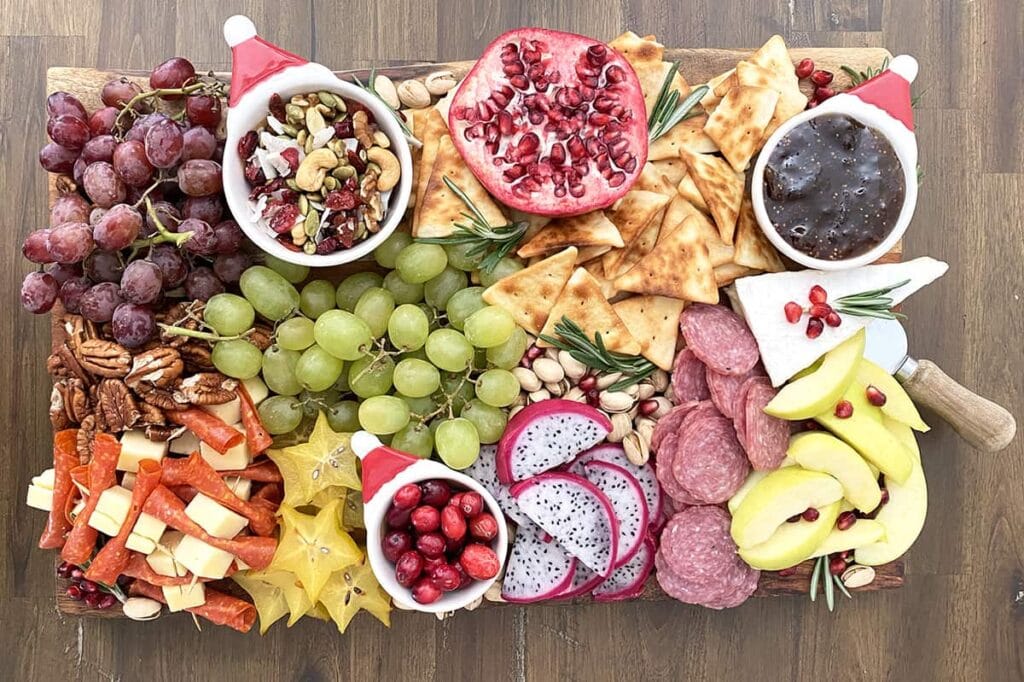 The Candy Cane charcuterie board from Served from Scratch is another fun option for your holiday appetizer table! The skewers of tomatoes and mozzarella balls add the red and white stripes of a candy cane, and the large variety of delicious finger foods are perfect for grazing!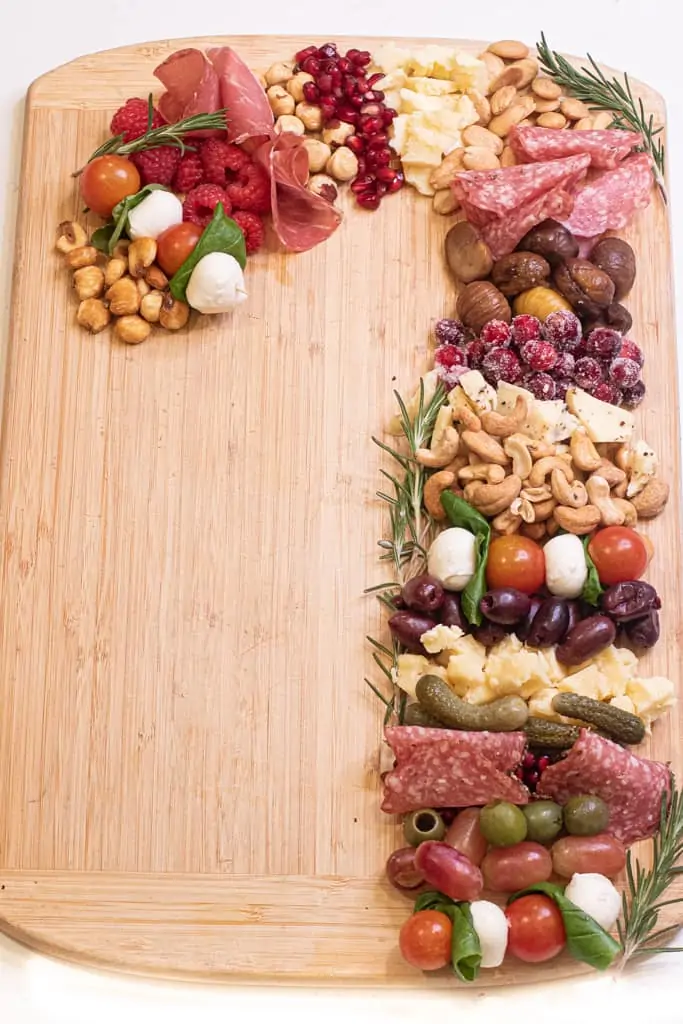 Charcuterie boards typically include a selection of cheeses AND meats, but this vegetarian charcuterie board from Wholefood Soulfood Kitchen is perfect if you're hosting guests with special dietary needs this Christmas! You may miss the meat on this board, but you definitely won't miss the flavor!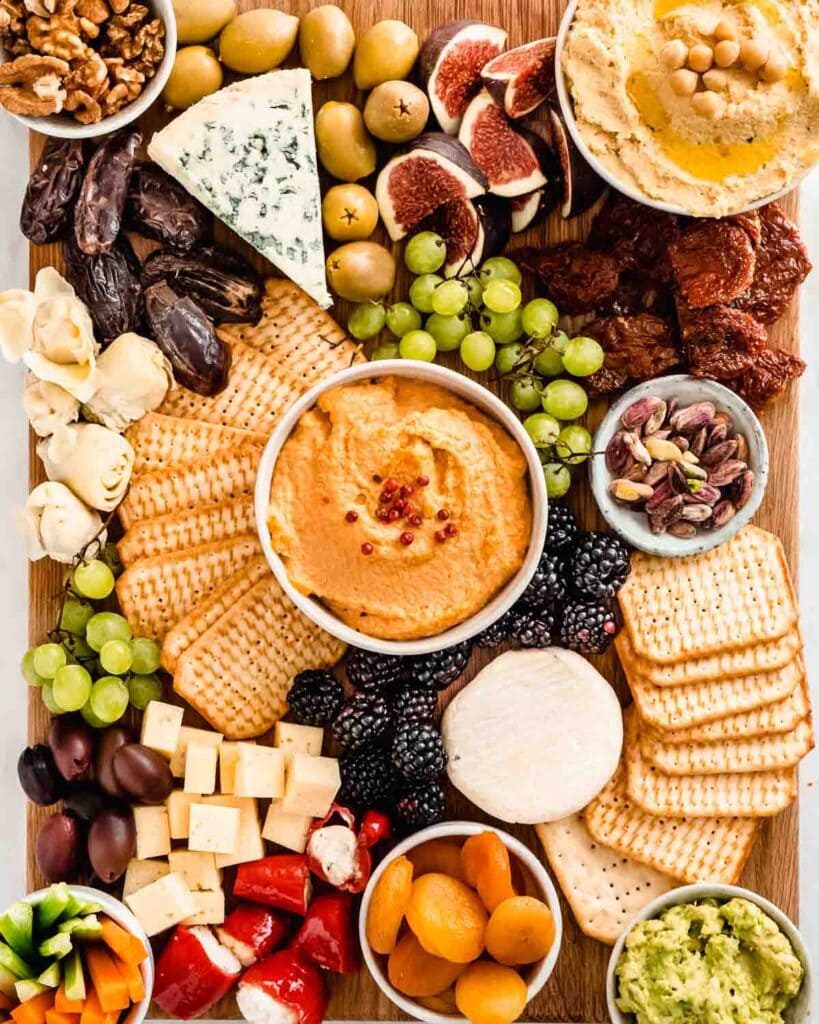 The best Christmas charcuterie boards are the ones that are stuffed to the brim with a large variety of meats, cheeses, fruits, nuts, and spreads… and the Keto Charcuterie Board from Joy Filled Eats definitely delivers! If you're hosting a large holiday party this year, then this grazing board is sure to be a hit!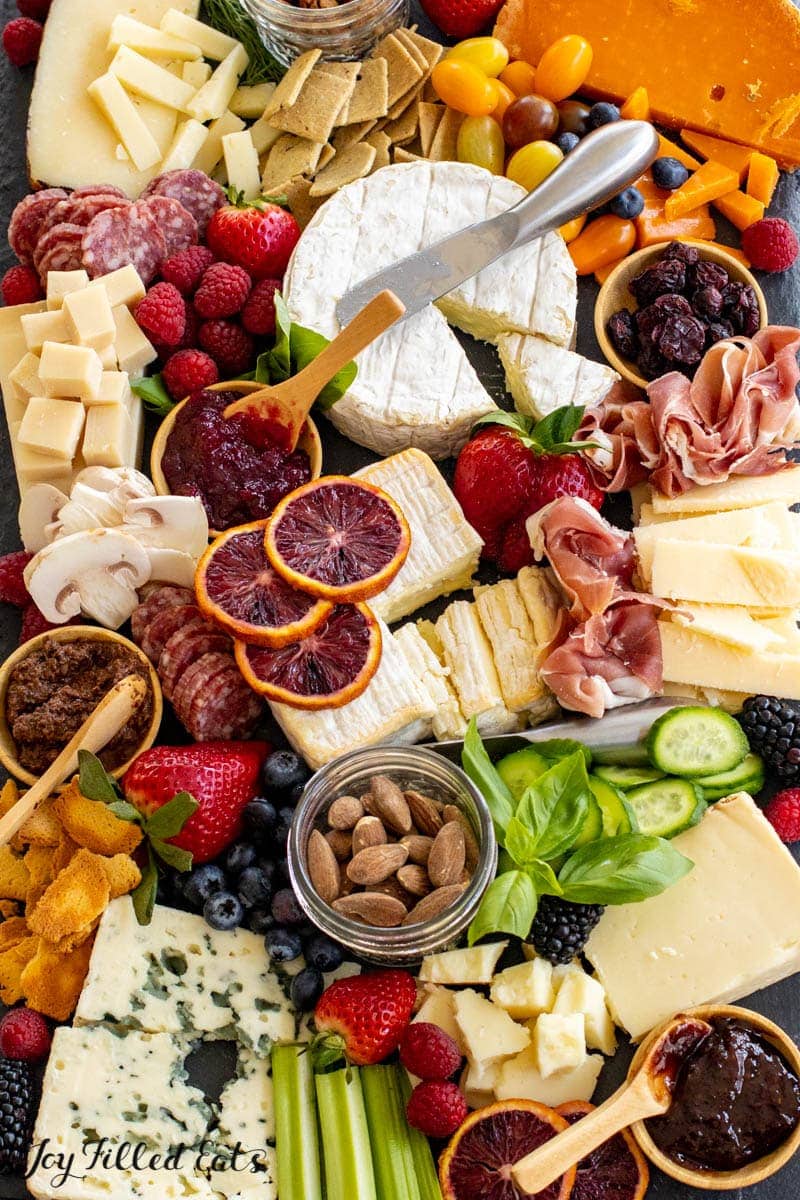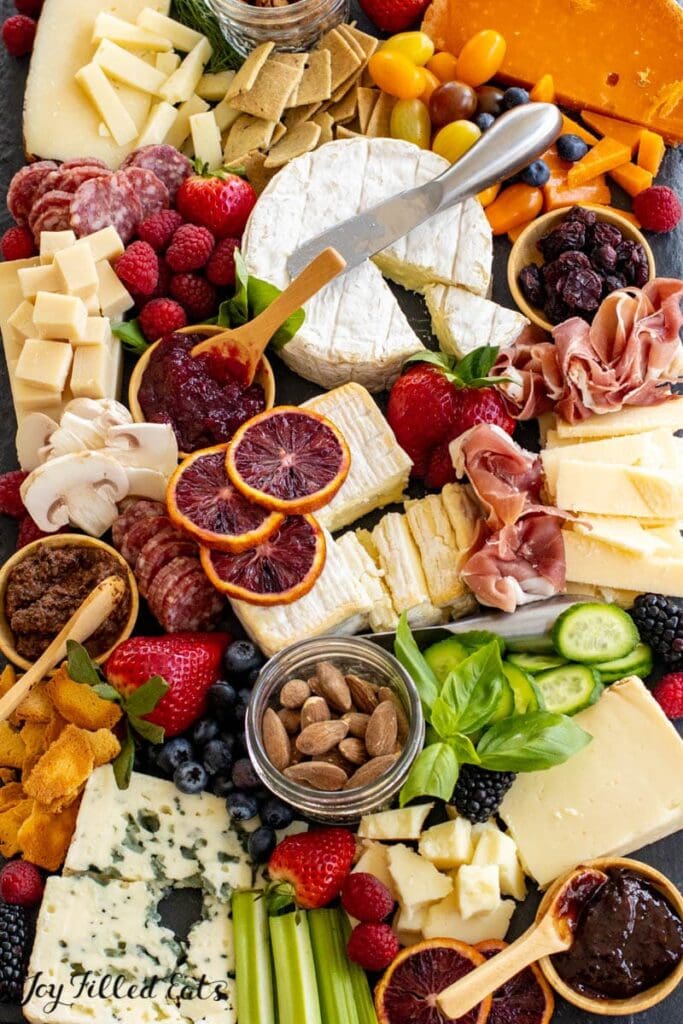 What's red and white and Christmas-themed? How about this candy cane Caprese salad display from Daisies and Pie! This easy appetizer idea consists of sliced tomatoes and mozzarella layered into a candy cane shape… cute, festive, and it'll only take you a few minutes to make!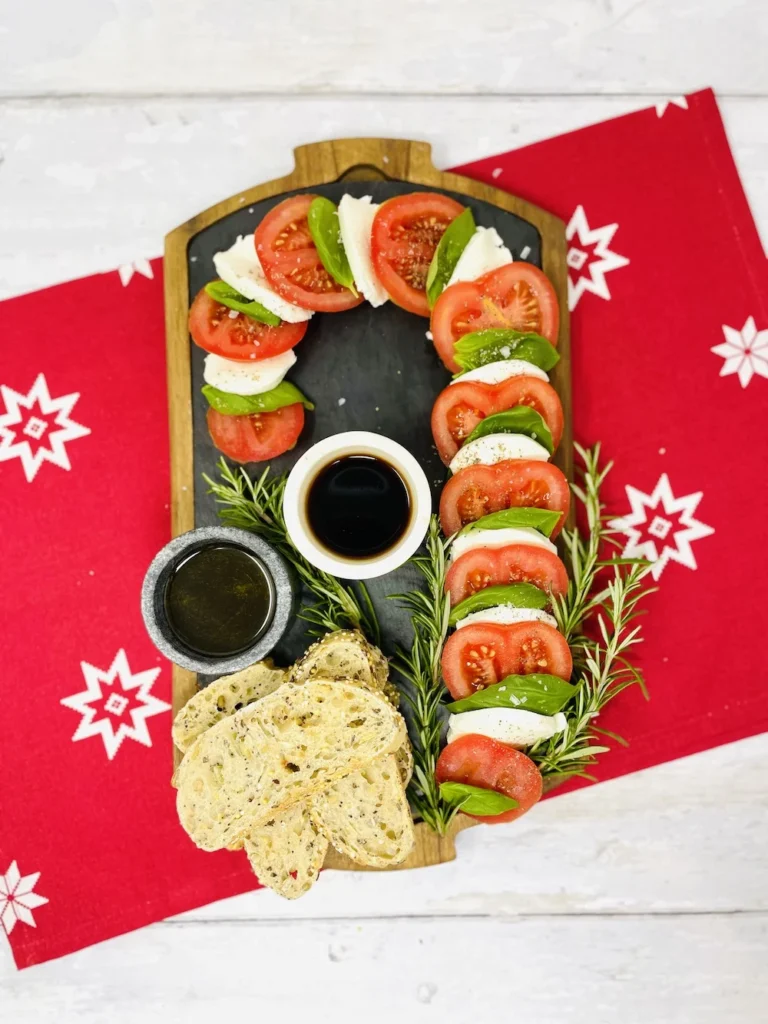 If you're hosting lots of younger kids at your holiday gatherings this year, then why not make a special Christmas charcuterie board just for them?! The kid-friendly Christmas grazing board from Made in a Pinch has tons of goodies for picky eaters, like tortilla chips, orange segments, and Little Debbie Christmas tree cakes!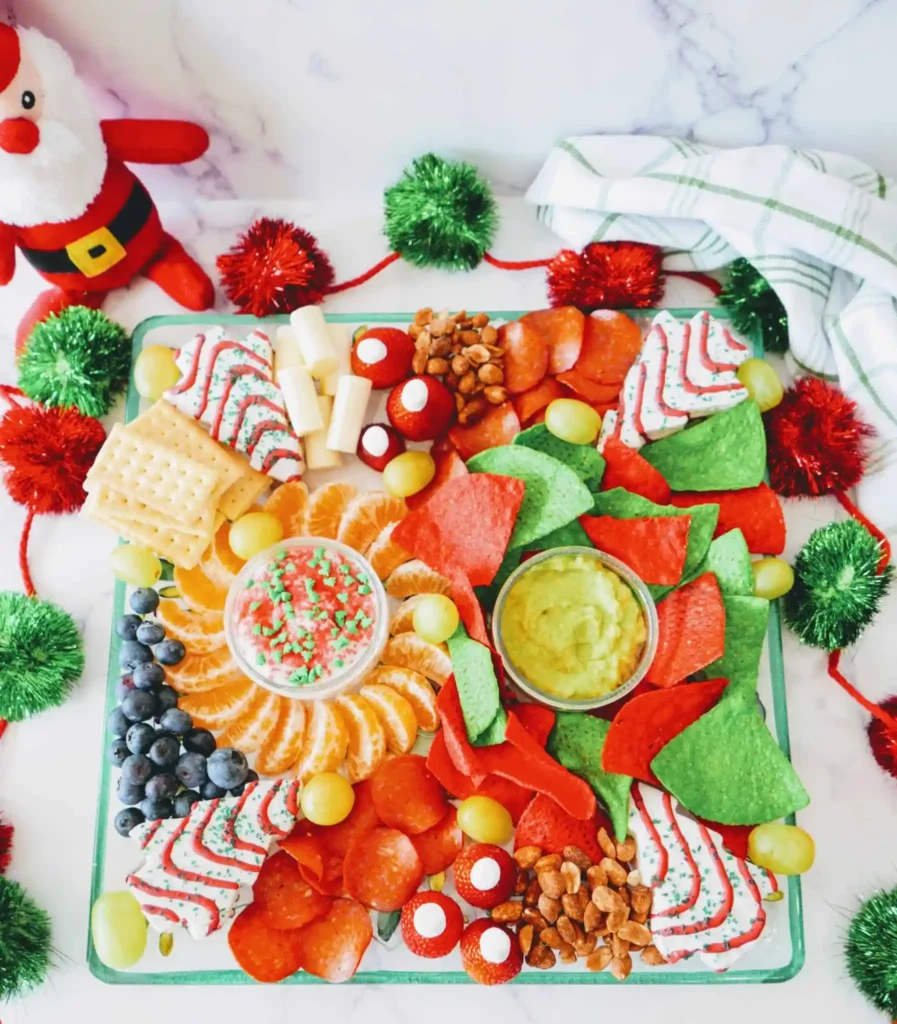 The holiday watermelon snack board from Healthy Family Project is another kid-friendly take on the Christmas grazing board! With cute star-shaped cucumbers and watermelon Christmas trees, even the pickiest eaters may want to eat their fruits and veggies!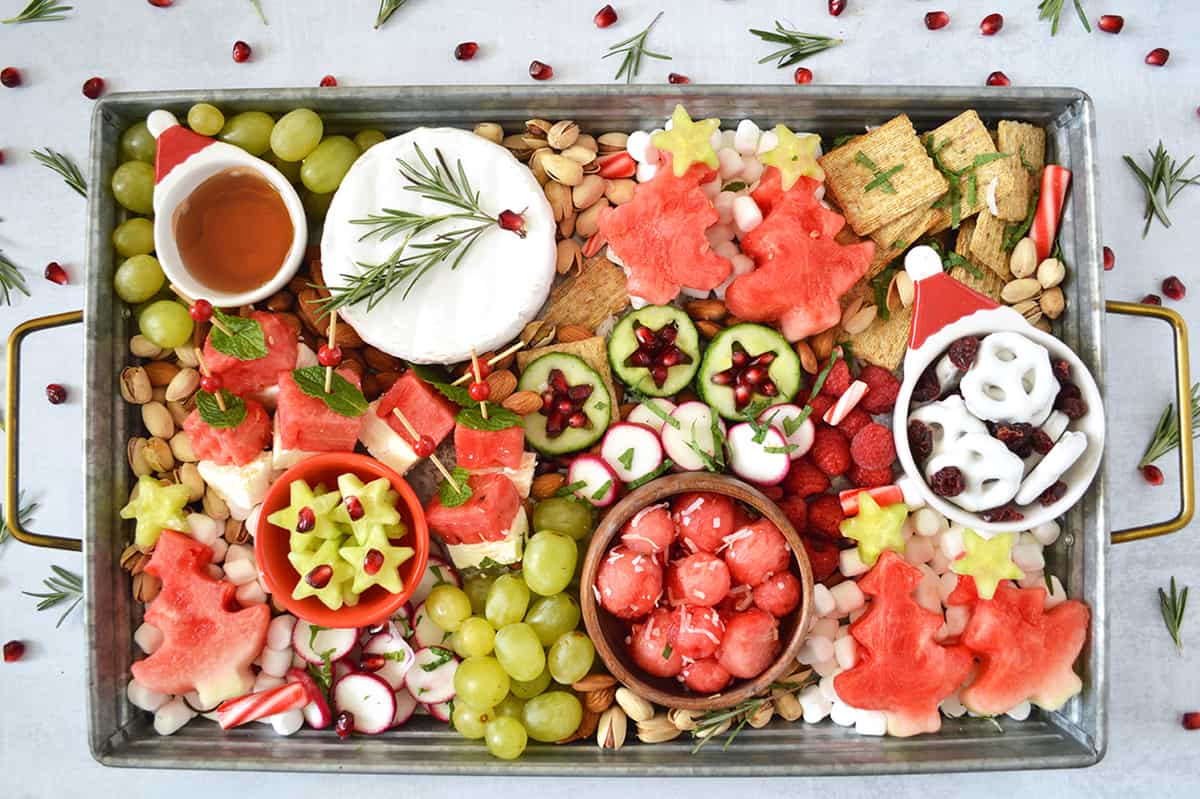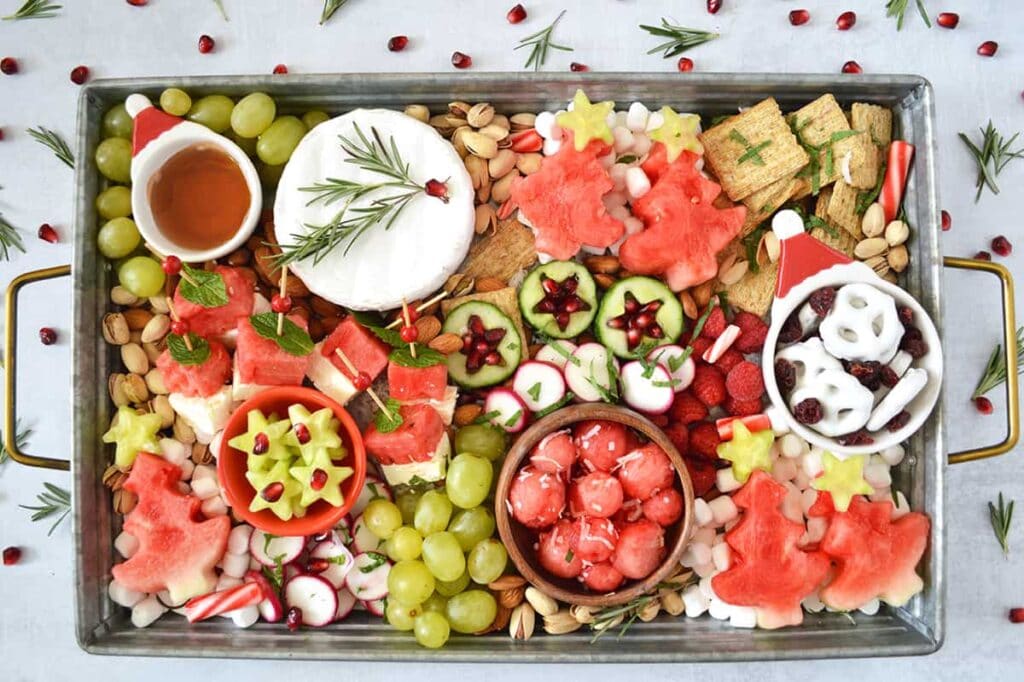 The Christmas charcuterie board from Kim Schob is another beautiful grazing board to try for your holiday gatherings, but you could make this one year round for other parties as well!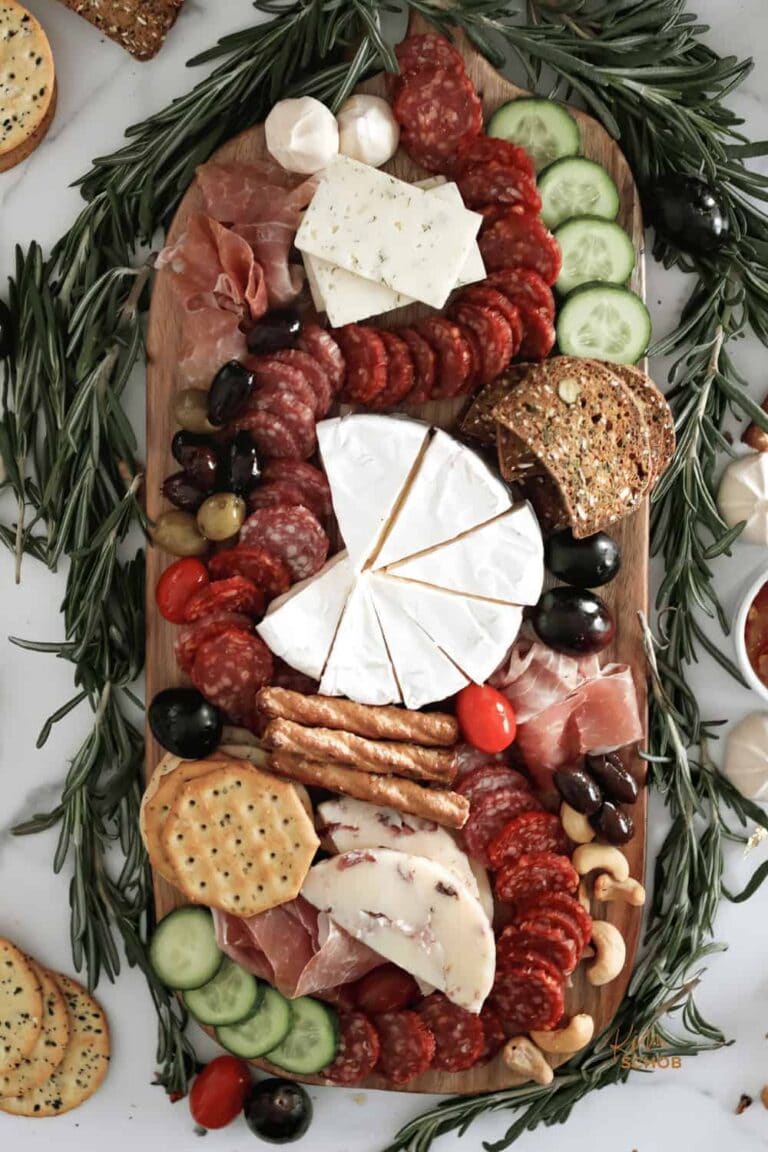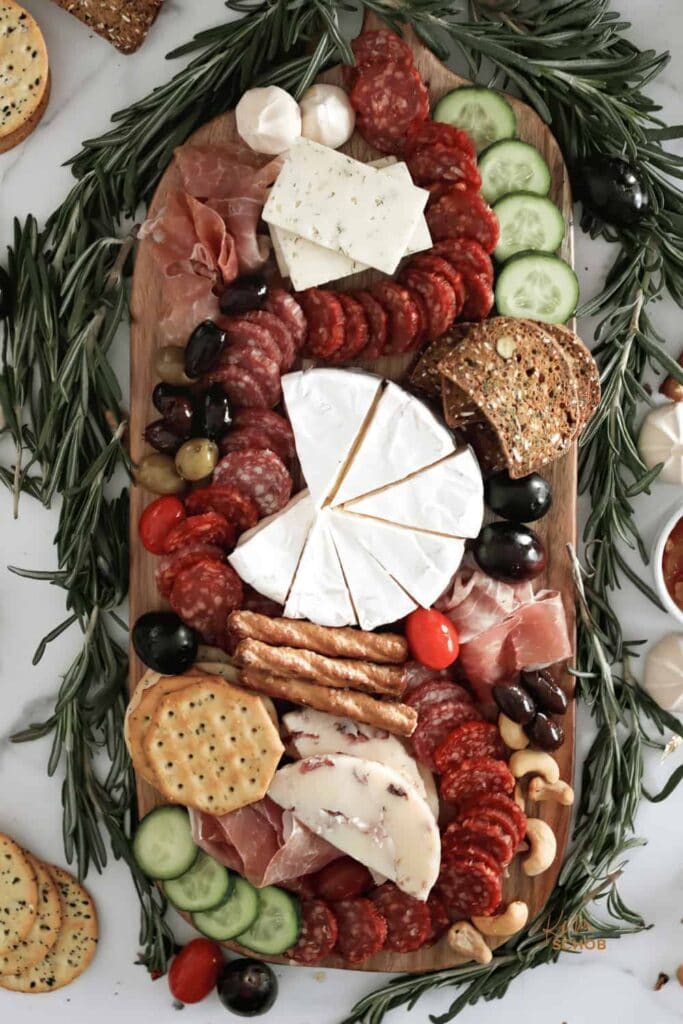 Breakfast Board Ideas for Christmas Brunch
Who says that Christmas boards are just for appetizers? Why not make a Christmas brunch board with all of your favorite breakfast foods?! From waffle boards to pancake and bagel boards, here are some awesome and beautiful breakfast charcuterie ideas to serve your overnight holiday guests.
The breakfast charcuterie board from Britney Breaks Bread is an absolute show-stopper and the perfect thing to serve to your out-of-town holiday guests! With such a large variety of breakfast meats, fresh fruits, and bagels, your family will remember this perfect brunch board long after they've headed back home.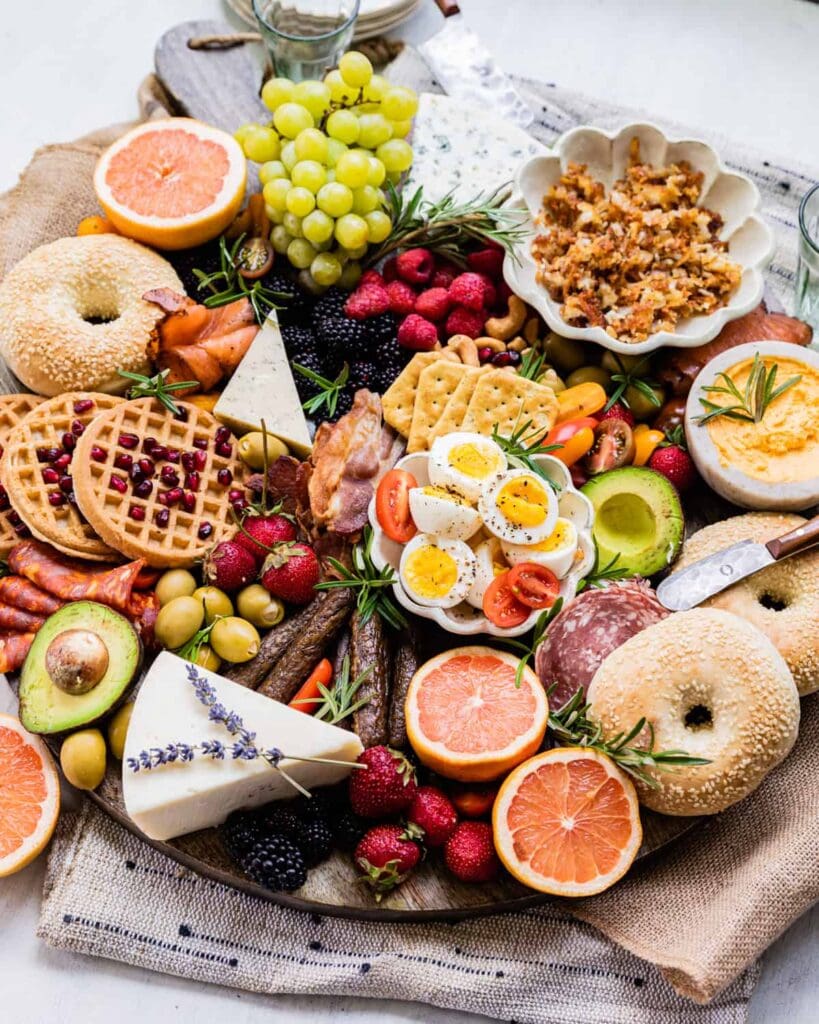 This delightful breakfast charcuterie board from Feast and Farm has something for everyone! Like a bountiful breakfast buffet beautifully displayed on a cutting board, this spread is perfect for serving breakfast or brunch to a crowd.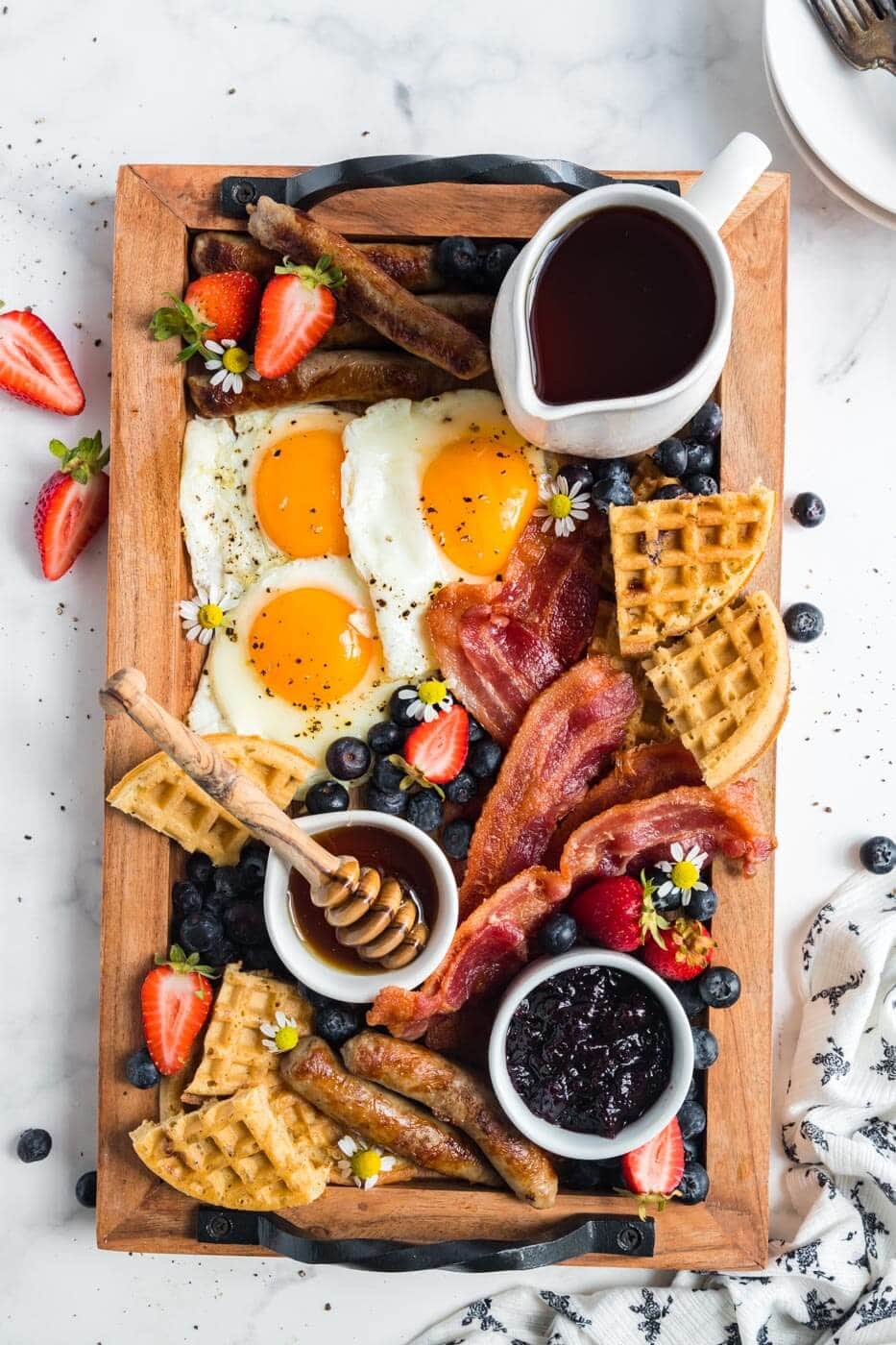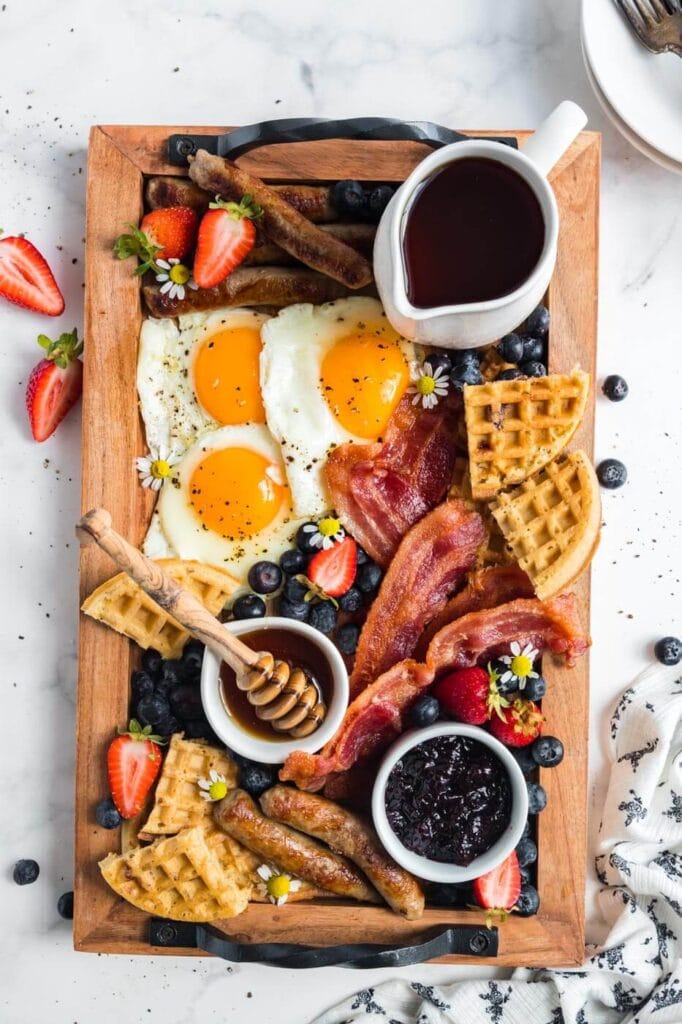 What goes well with brunch? Bloody Marys, of course! And if you want to let your Christmas guests customize their own drinks, then this Bloody Mary charcuterie board from Amanda's Cookin is the perfect tray for you! Sure to please even the most discerning of your cocktail drinking guests!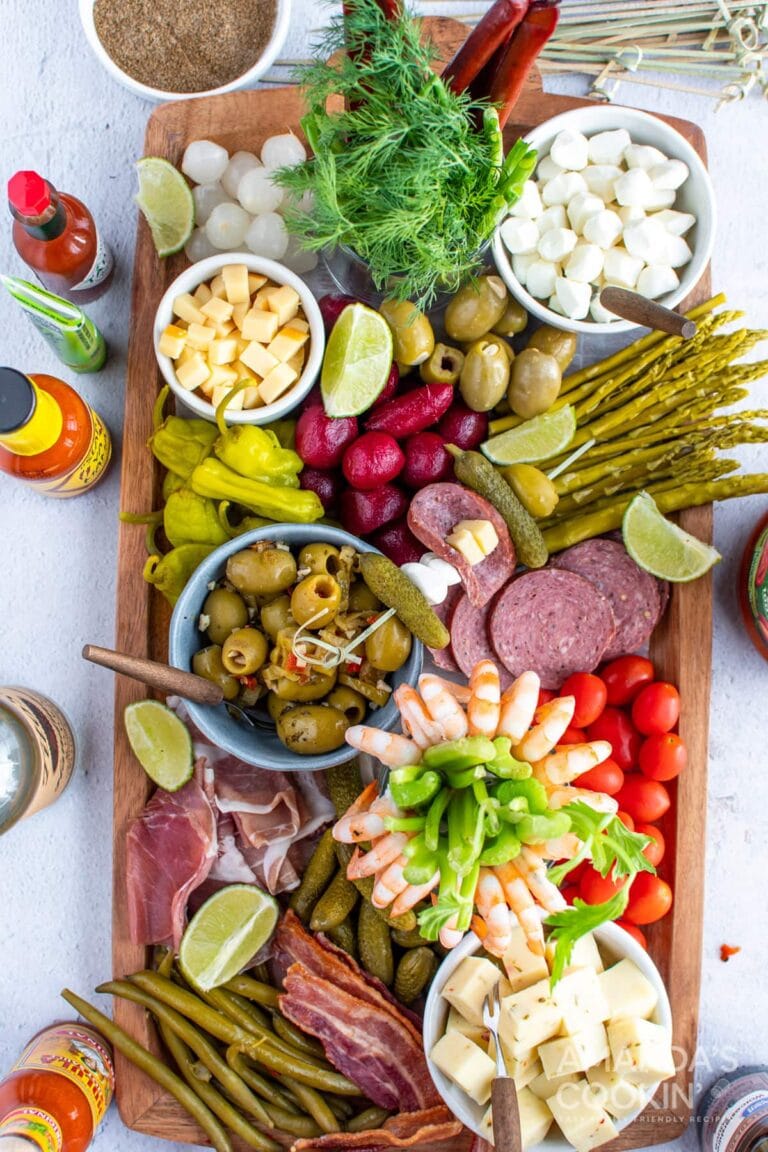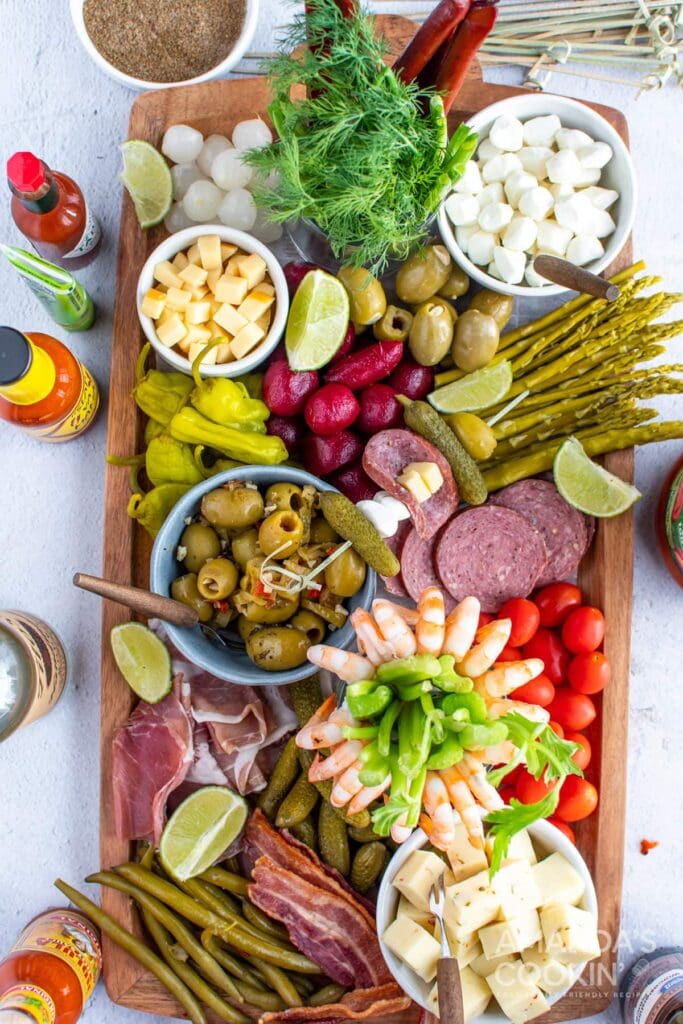 Don't just serve your pancakes stacked up on a platter for Christmas morning? Up the wow factor with a pancake breakfast board like this one from Make and Takes instead! The Christmas tree sprinkles and candy cane pieces are fun pancake toppings, and your kids will love them, too!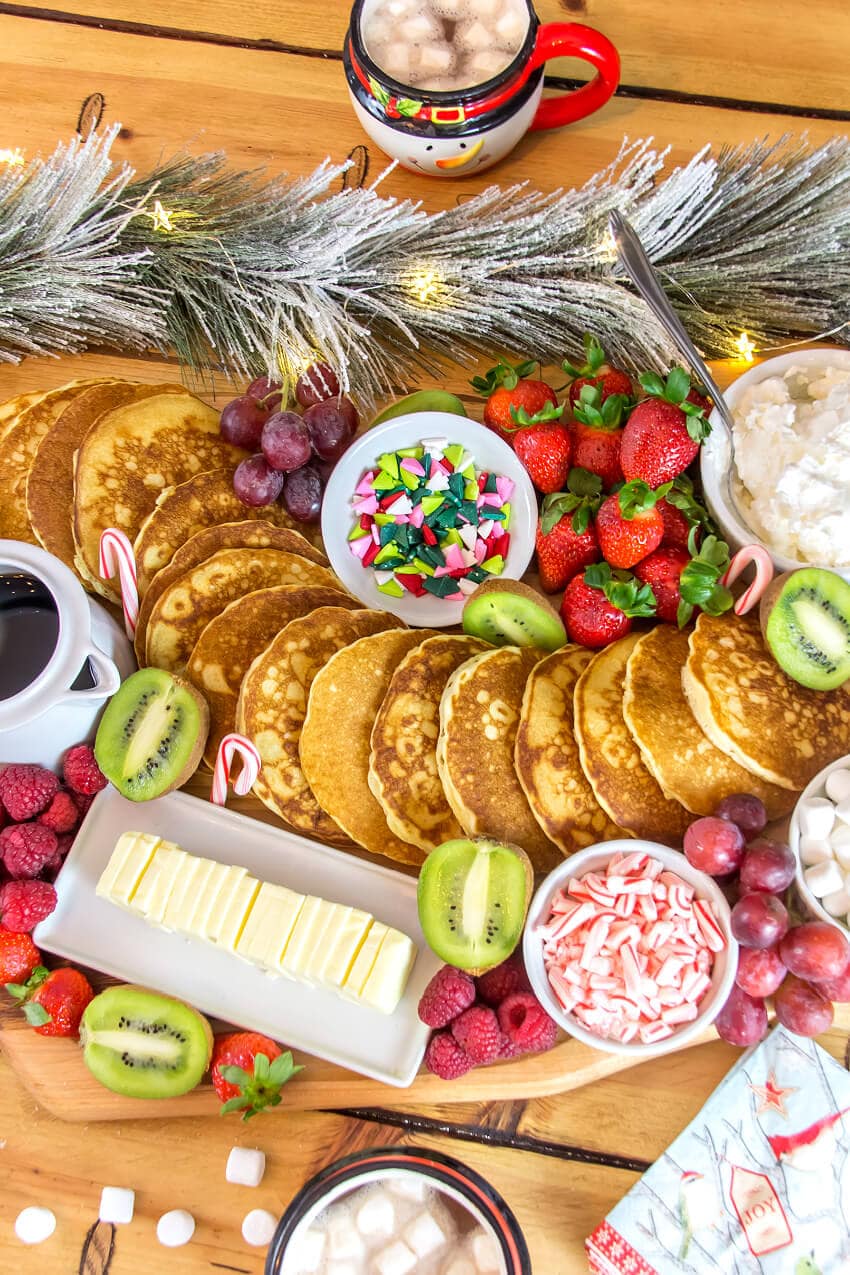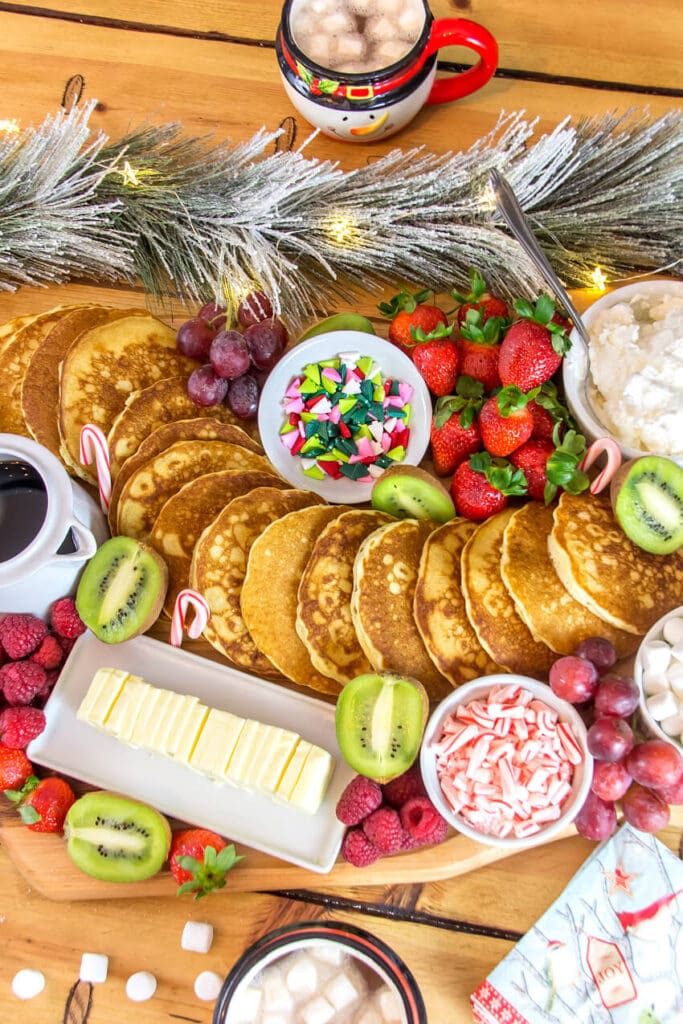 Hot Cocoa Boards for Christmas
Another fun Christmas grazing board to make for your holiday party is a hot cocoa board! Stuffed with mix-ins for a warm cup of cocoa, like candy canes, butterscotch chips, Andes mint pieces, and marshmallows, this fun take on a Christmas grazing board is the perfect after-dinner treat!
And you can even make your own hot cocoa bombs to add to your board!
Here are some awesome hot cocoa boards to inspire your own cocoa creation:
Have a cup of cheer with this beautiful and sinfully-sweet hot cocoa charcuterie board from Pizzazzerie! With gourmet cookies, hot chocolate spoons, and too many different marshmallow varieties to count, this delightful dessert board is sure to be the talk of your holiday party!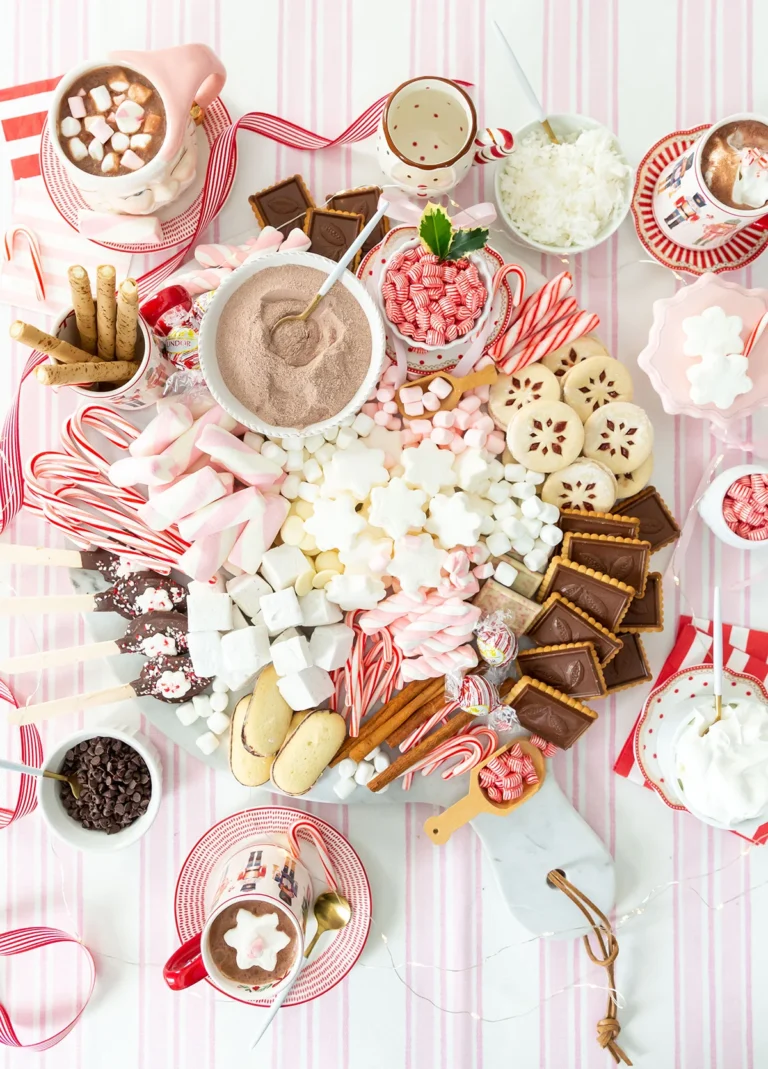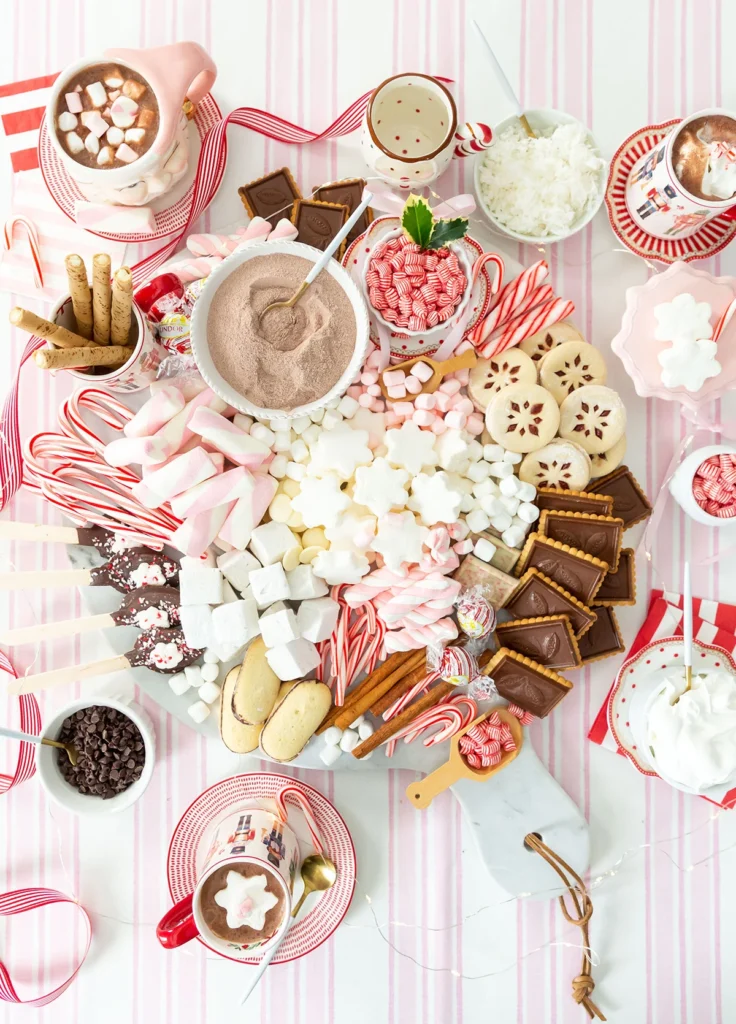 What pairs better with hot cocoa than a Biscoff cookie, caramel sauce, and whipped cream?! This show-stopper hot cocoa board from All She Cooks has all three, plus some fun and unexpected additions like Pocky sticks and Rolos!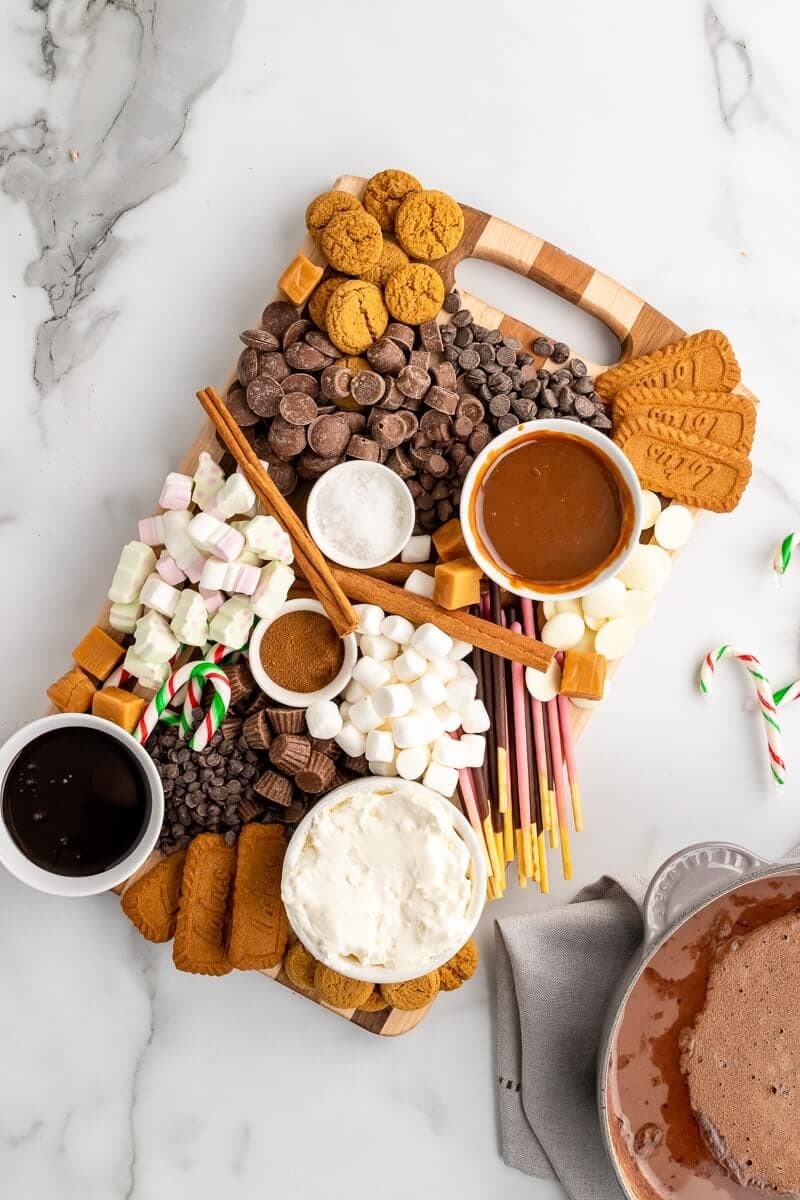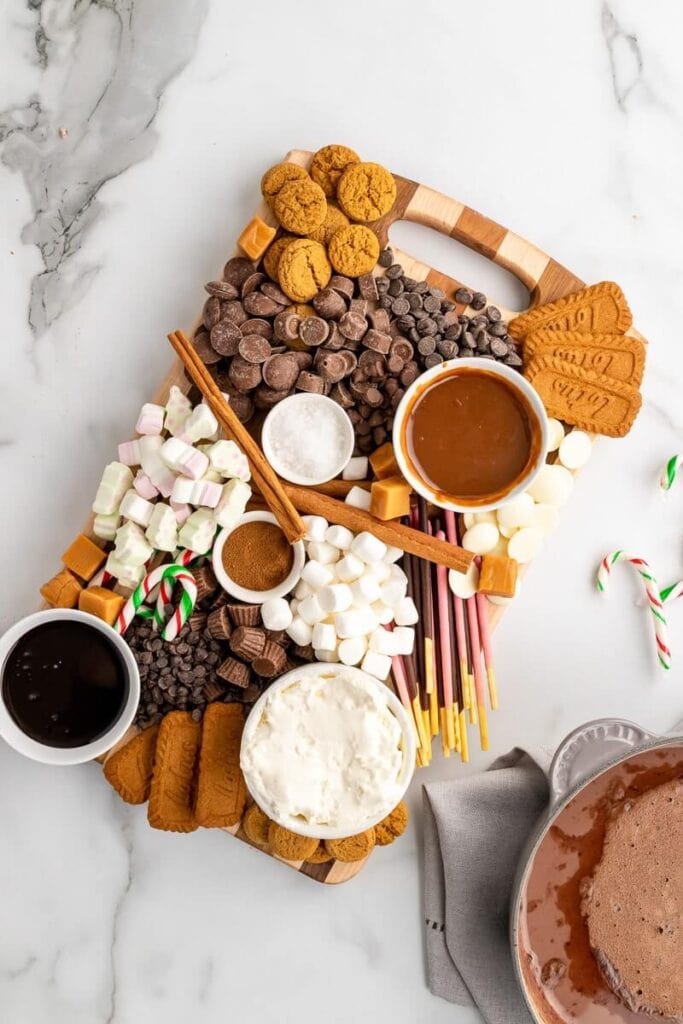 Try making your hot cocoa board into a fun Christmas-themed shape! The hot chocolate charcuterie dessert board from Tasty Oven is loaded with chocolate candies and marshmallows strategically placed in a snowman shape… So cute for the dessert table!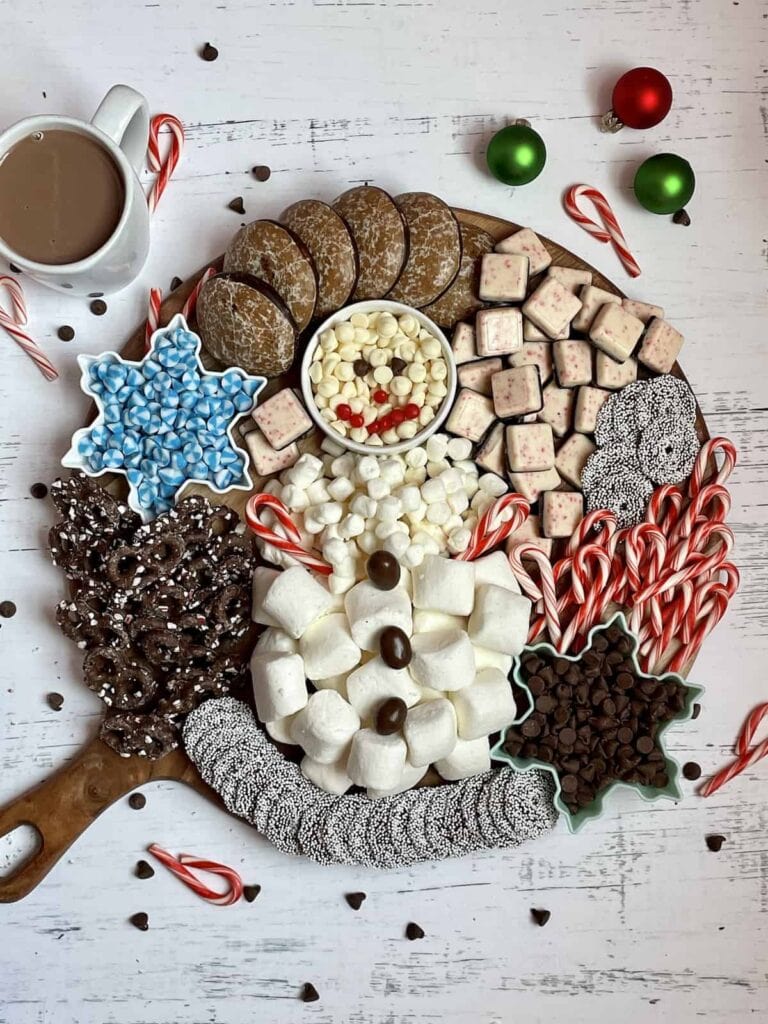 The hot chocolate charcuterie board from Kim and Kalee is another great option for your hot cocoa bar this year! Stuffed with store-bought sweets, this tray would be perfect for some festive after-dinner drinks or even for a Christmas movie marathon!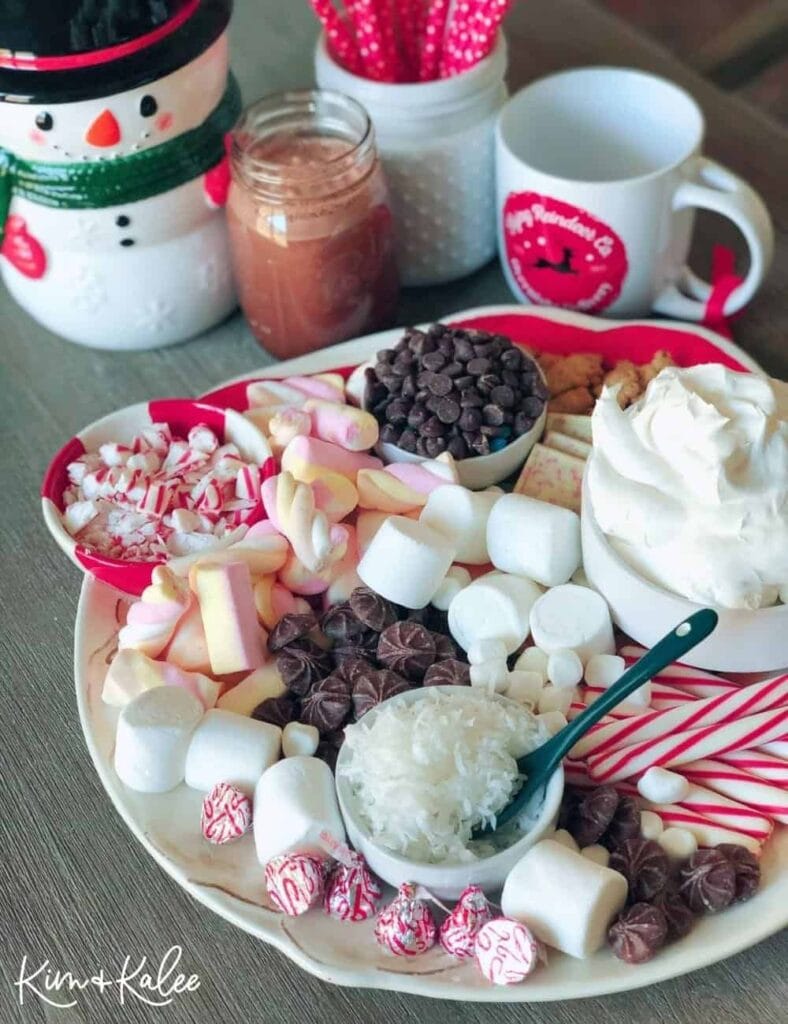 This cute hot cocoa board from Burlap and Blue is perfect for the kiddos (or any marshmallow lover!) at your Christmas party! The bear and snowman marshmallow mug toppers are a super fun addition, and I love the festive red, pink, and white theme of this board!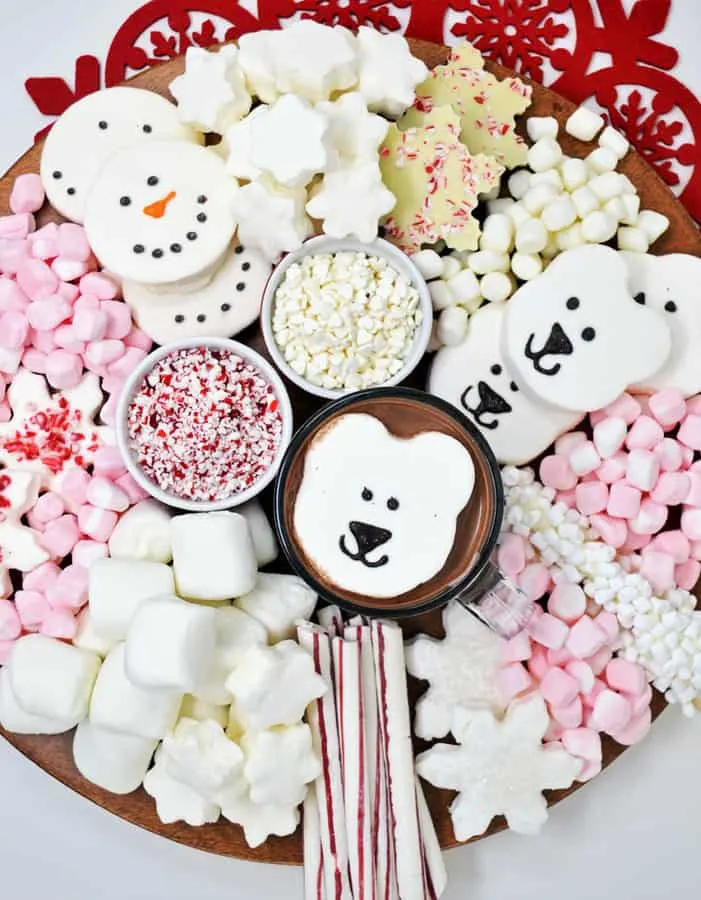 Christmas Dessert Board Ideas
This Christmas dessert charcuterie board from Chenee Today has a good mix of store-bought and homemade treats. And the pops of red and green from the marshmallows, candy canes, and M&M's add a festive touch that's sure to brighten up your dessert spread!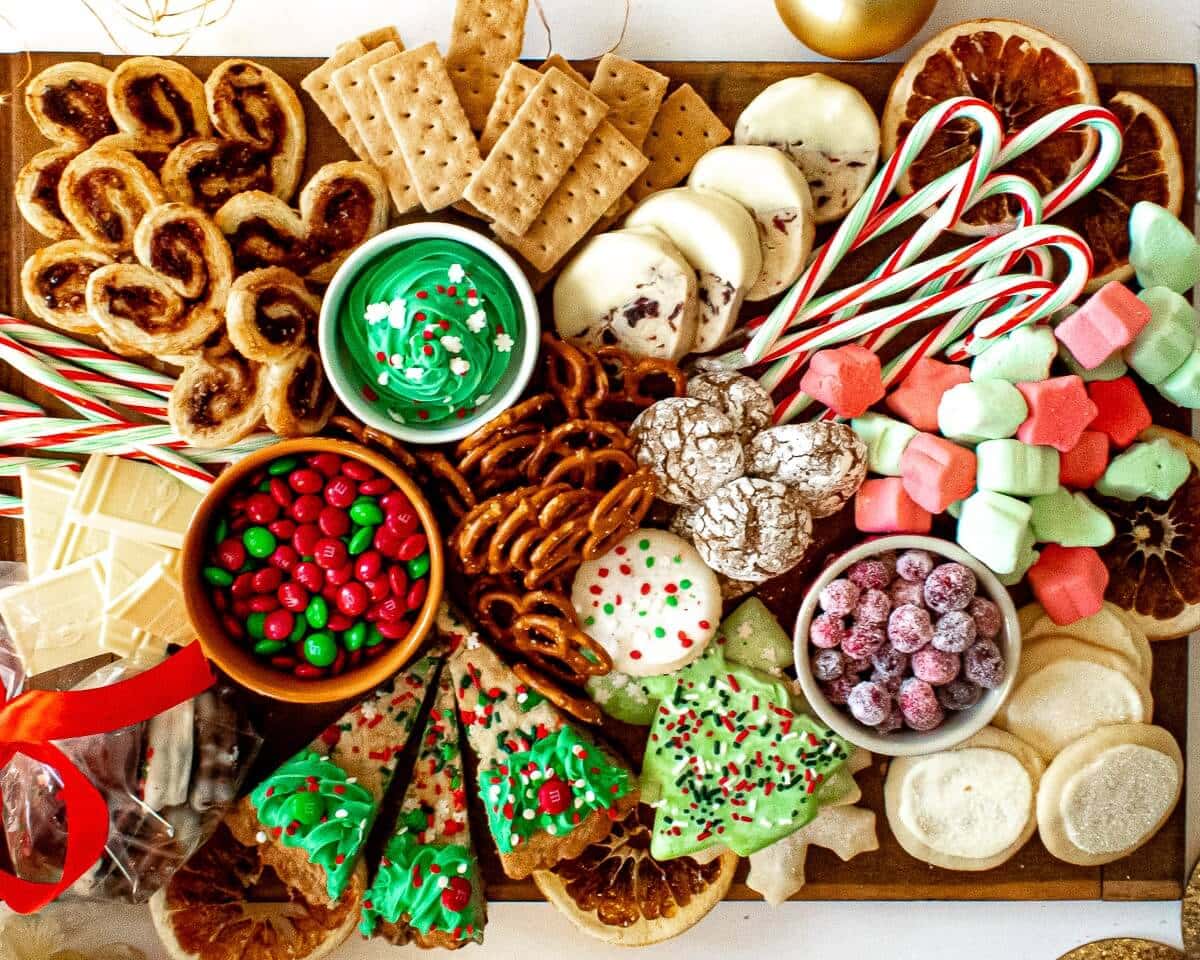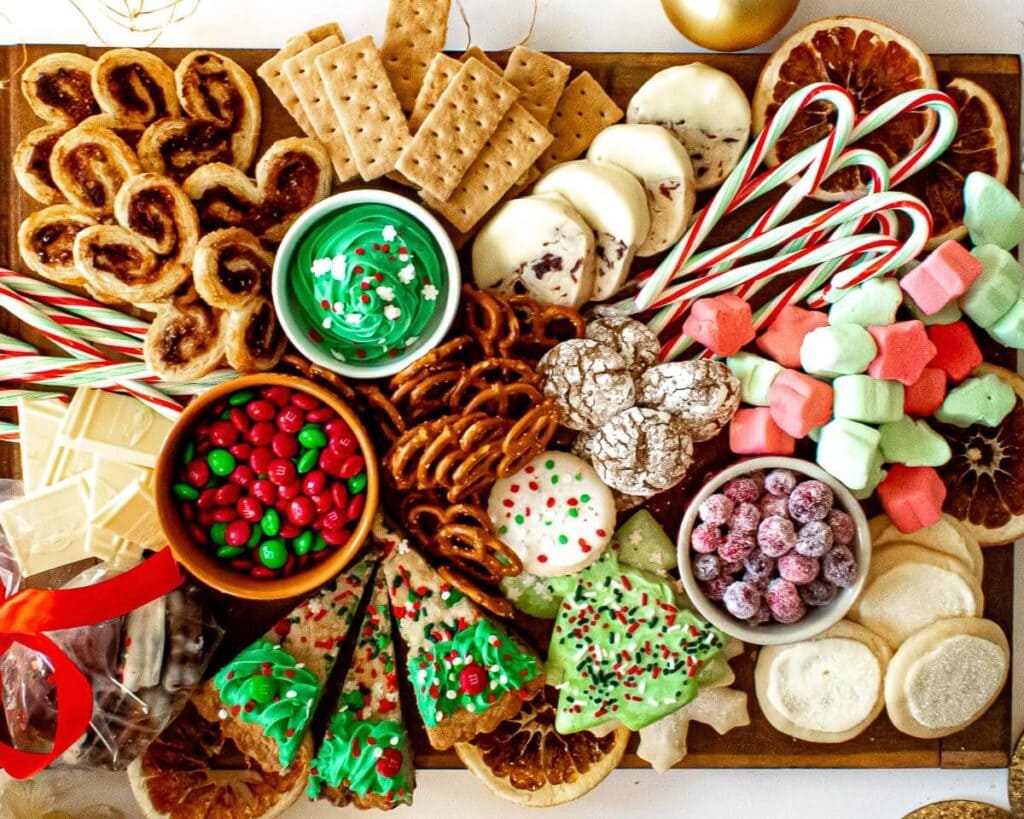 Christmas cookies are perfect for creating a holiday dessert board! And my own Christmas cookie dessert board is made entirely of fancy store-bought cookies and candies, so it's the perfect dessert to serve is you need to save room in your fridge or your oven, or if you're looking for something easy but still elegant to serve for your holiday party dessert!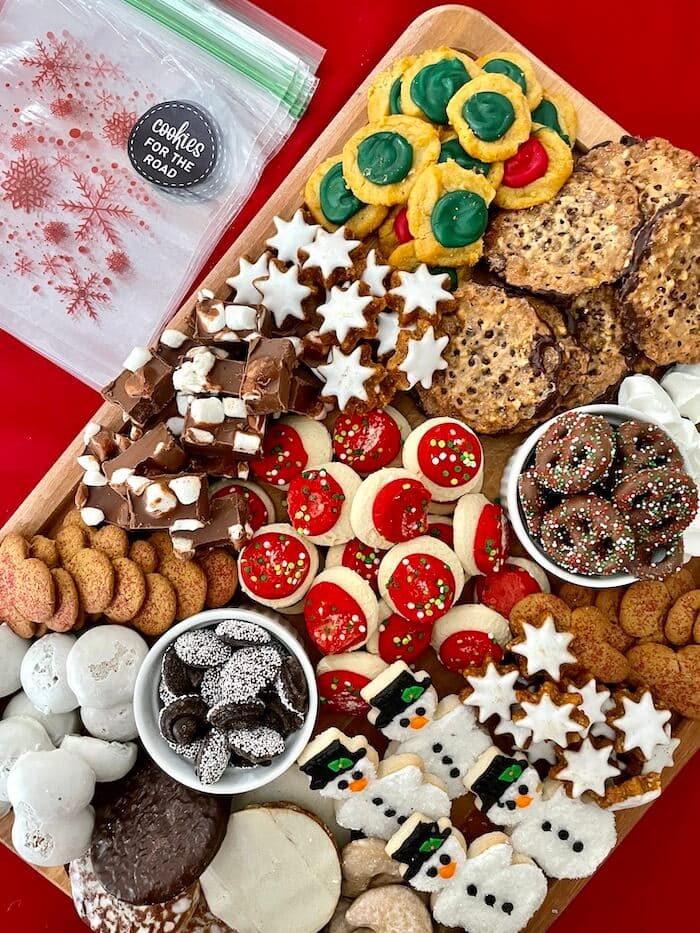 Want to go with a themed dessert board for your holiday party? Try a winter white dessert charcuterie board like the cookie board from This Simple Sweet Life. I love the star-shaped sparkly cookies on this board, and the red fruits add a nice pop of color and offer a healthier option to your party guests as well!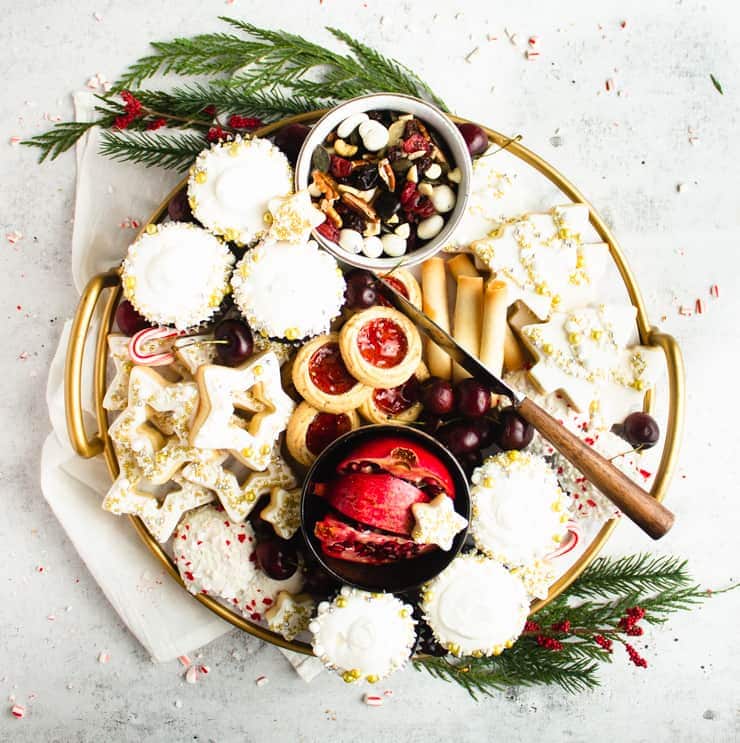 Hosting some kiddos this Christmas? Why not add a fun gingerbread house decorating session to your holiday itinerary? And instead of just laying out a variety of candies for decorating, turn the gingerbread house ingredients into a Gingerbread House cookie decorating board like the one from Pizzazzerie! Such a cute and creative idea!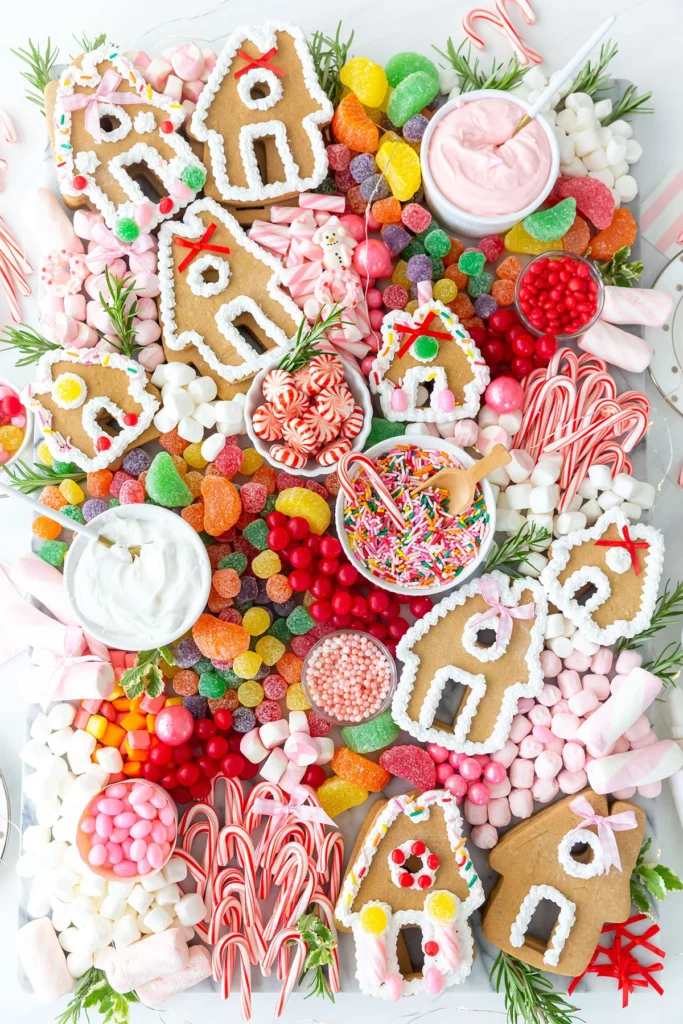 If you love to bake all season long, then this homemade Christmas cookies dessert board from Harbour Breeze Home is just the thing to put your baking skills on display! With homemade fudge, ginger snaps, and sugar cookies galore, this sweet board is great to serve with a Crock Pot of hot cocoa, too!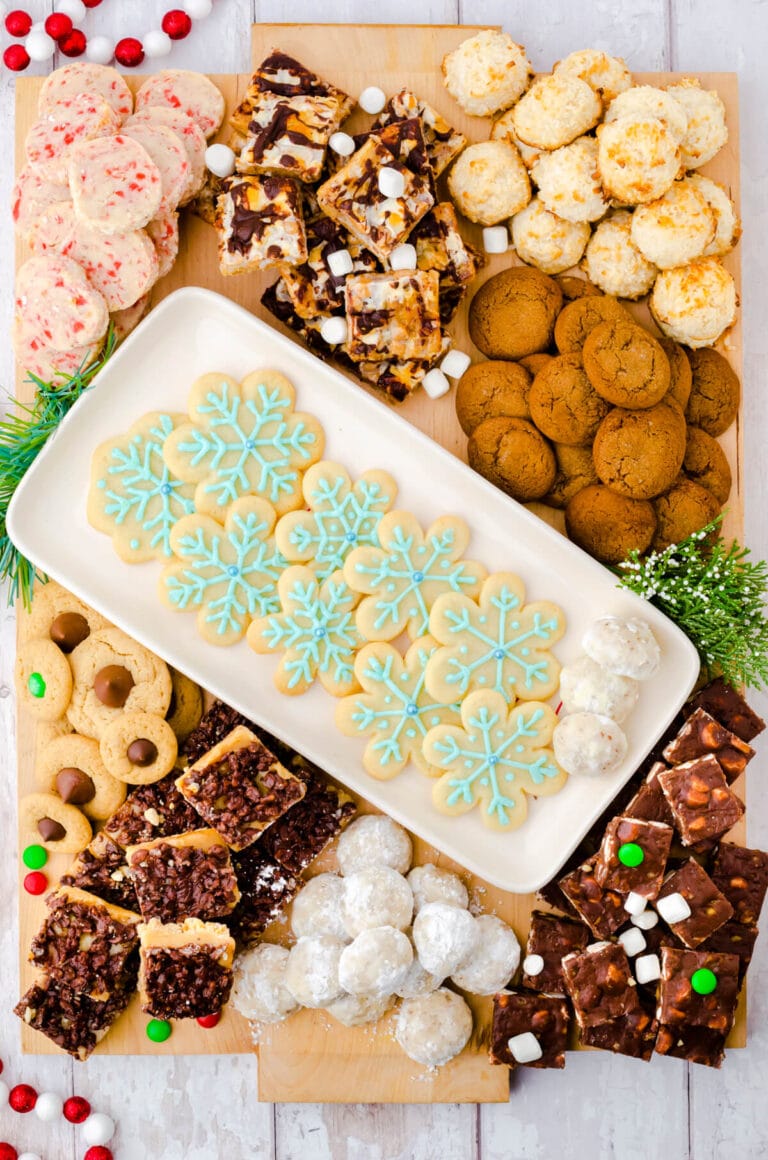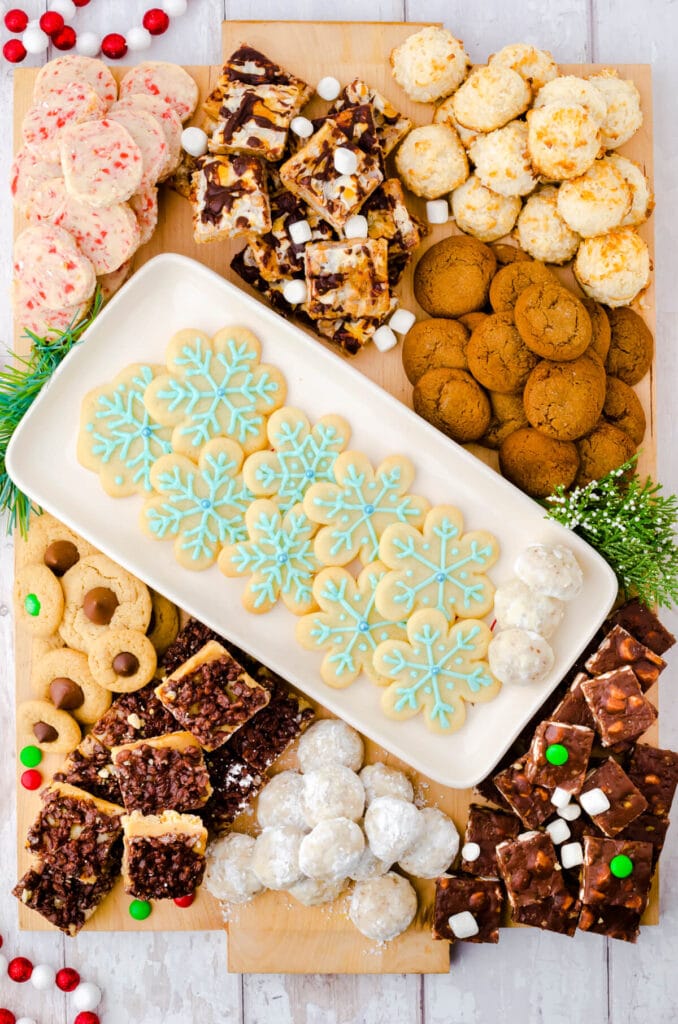 The Christmas dessert charcuterie board from Live to Sweet is another fun holiday cookie display with a mix of homemade and store-bought goodies! And the hot cocoa dip and candy cane dip are fun "spreads" for this beautiful sweet tray!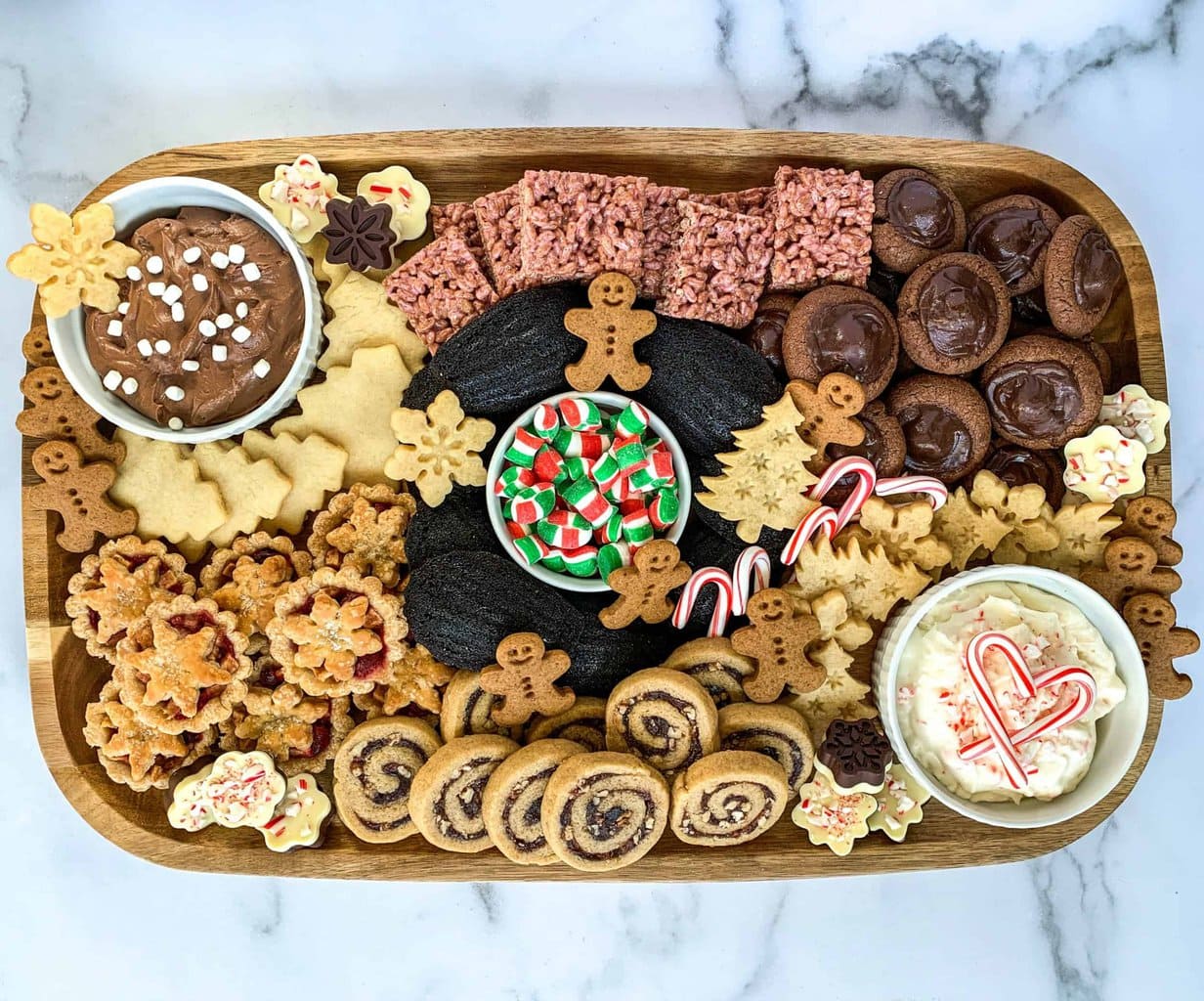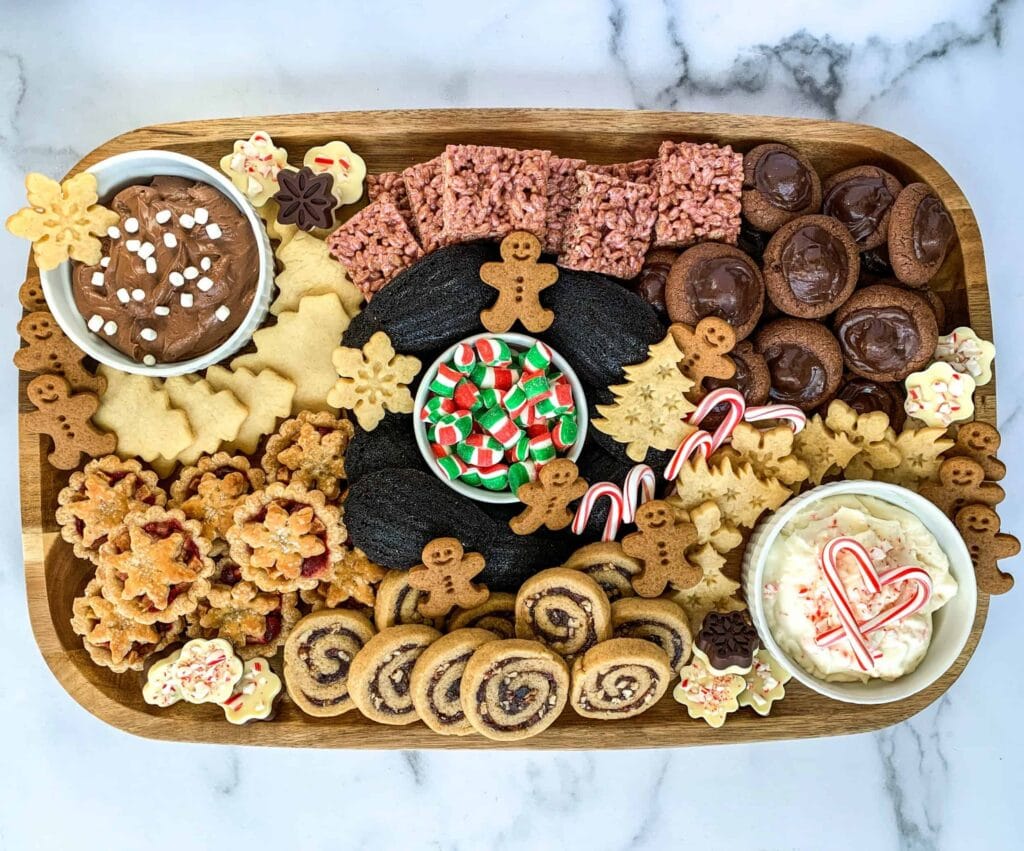 For a fun and interactive dessert idea, try this dark chocolate fondue board from Barley and Sage! The fondue is super simple to make and you can add your favorite fruits to the board to customize it, too!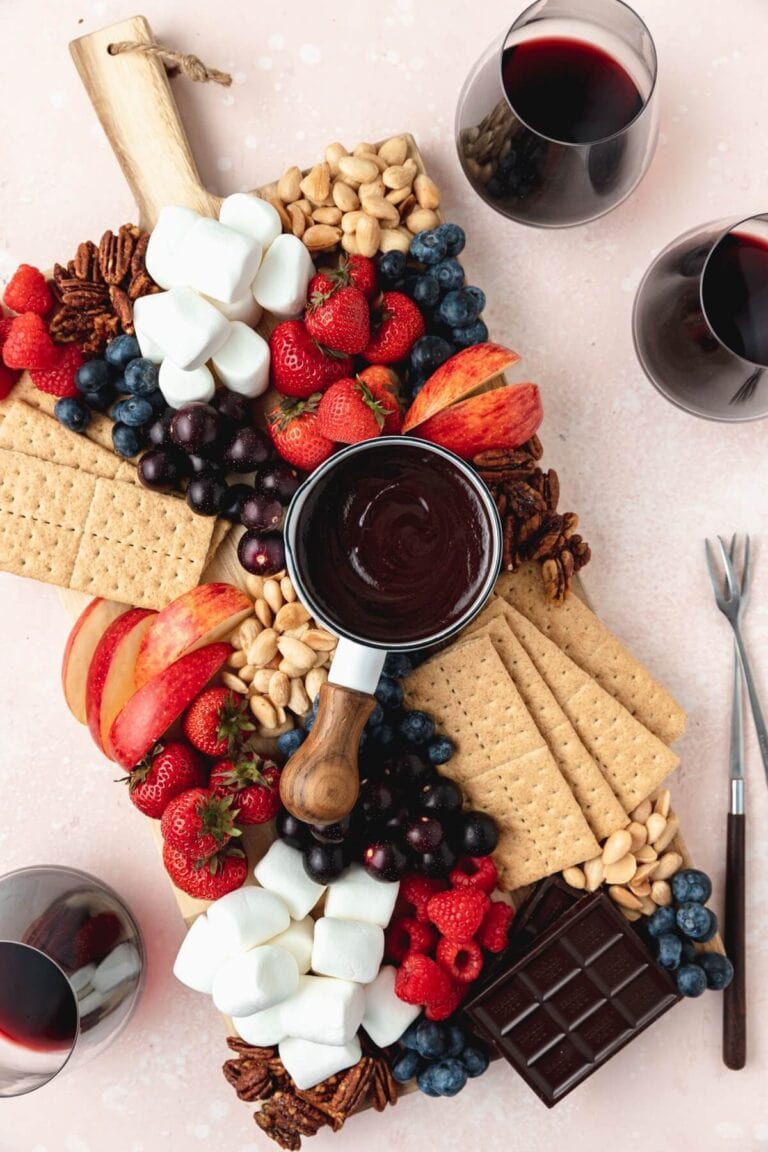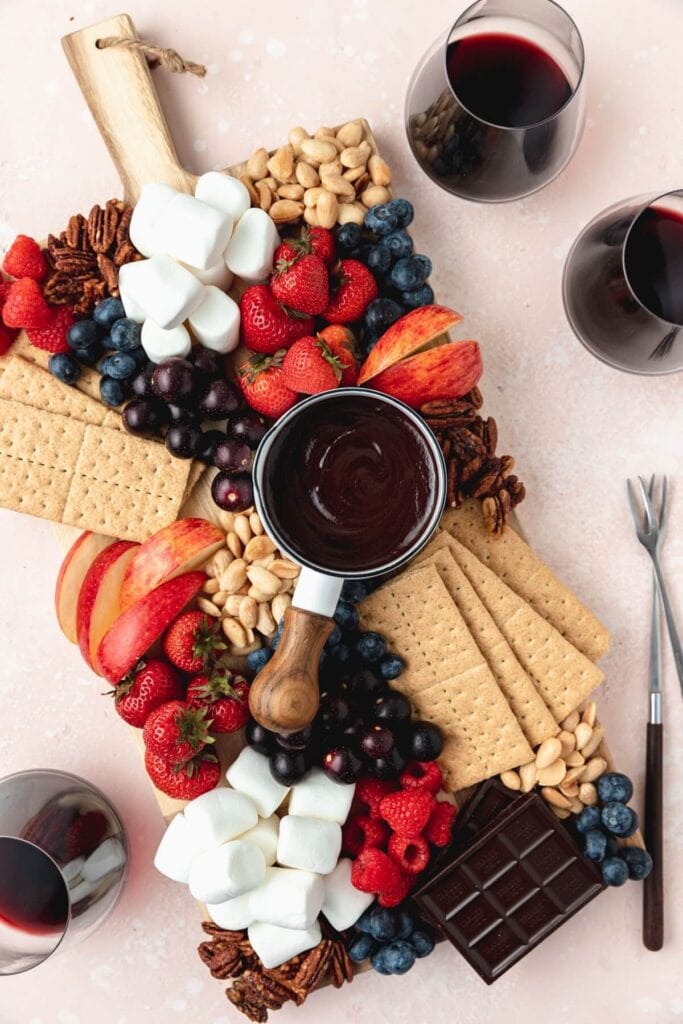 If you're hosting lots of kids (or kids at heart!) this Christmas, then this Santa themed candy board from Cutefetti definitely deserves a spot on your dessert table! The red and green Christmas candies and cute Santa chocolates are so fun and whimsical… And this board is sure to satisfy all of the guests with a sweet tooth!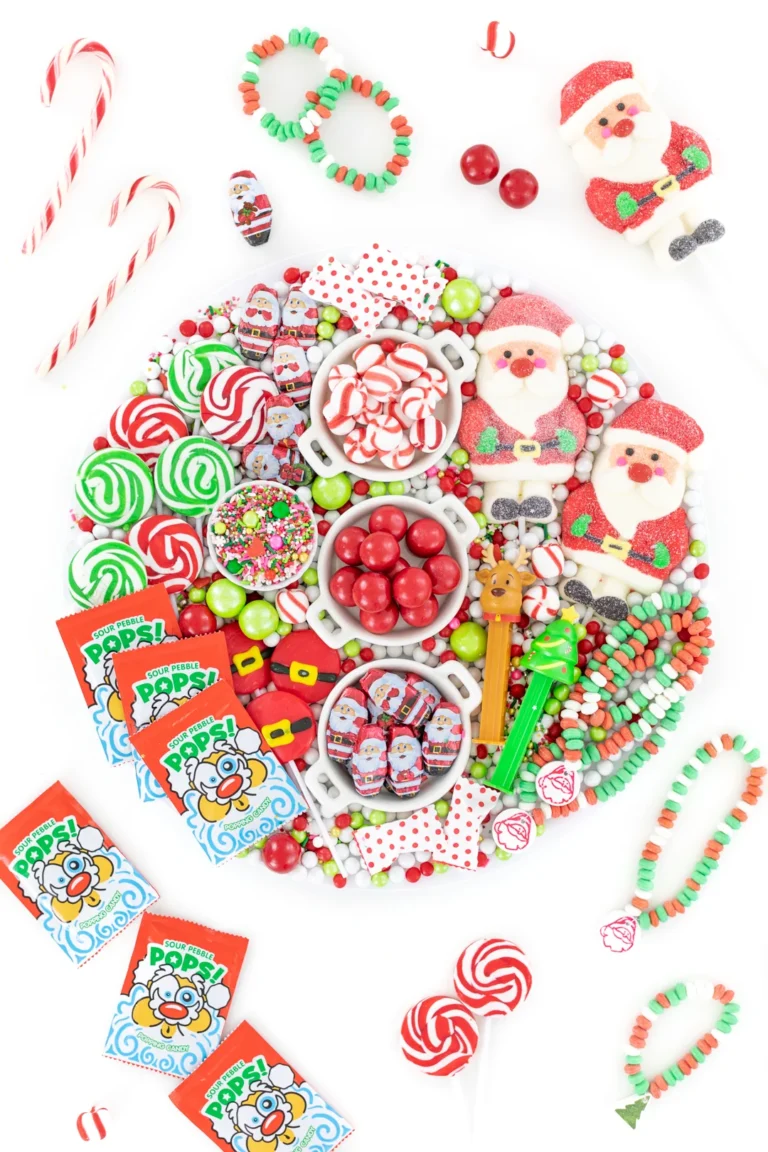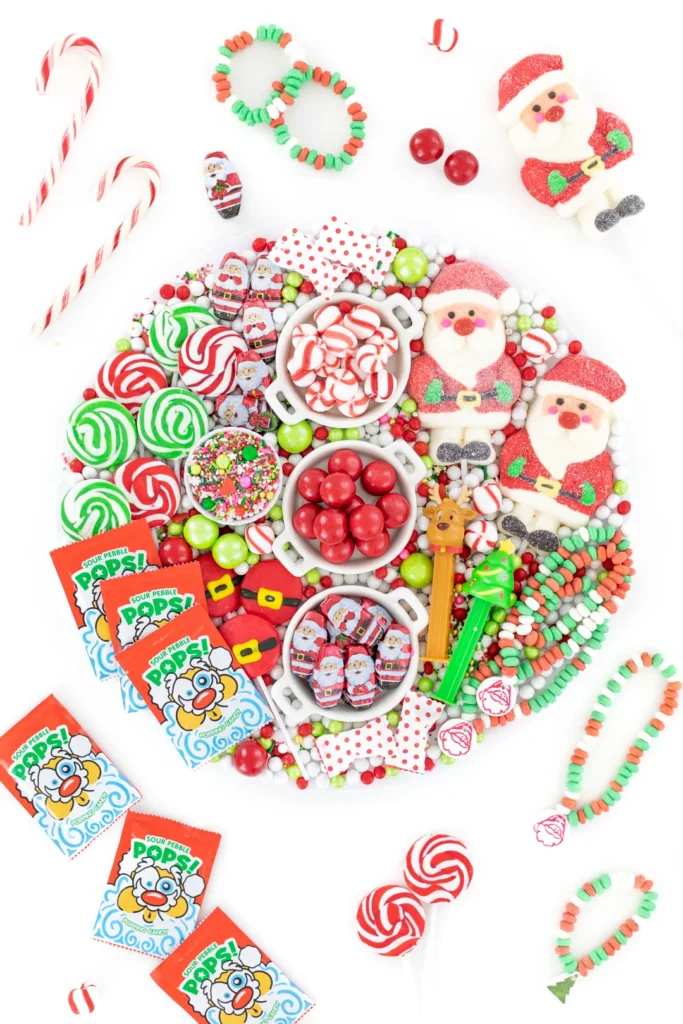 I hope you're inspired to try your own Christmas charcuterie board this year! Or maybe you've made these fun appetizer boards in the past and now you're hooked! If so, leave me a comment to let me know your favorite things to put on a holiday grazing board… I'd LOVE to hear from you!
And don't forget to PIN this post for later: