If you're looking for beautiful Christmas food boards to serve at your holiday party this year, then this Christmas dessert charcuterie board should be at the top of your list! Make it with store-bought cookies and sweet treats for a no-stress party dessert idea!
Charcuterie boards, or "grazing" boards, are all the rage right now. And instead of just meat, cheese, and fruit versions, now you can find snack and dessert charcuterie boards as well!
So, when I was looking for some sweet treats to serve up alongside my hot cocoa bar for our annual Christmas party, I decided to try my hand at making a Christmas cookie dessert charcuterie board!
The great thing about a Christmas dessert board, besides the fact that it's absolutely beautiful, is that it's a great way to serve a big variety of Christmas desserts! So it won't take up a ton of room on your dessert table, and your guests can enjoy little nibbles of lots of different sweets.
If you want to make some of your own homemade Christmas cookies for your charcuterie board, then I highly recommend my Mom's peanut butter blossoms or my grandma's Cherry Coconut Cookies.
Or, you can skip the baking and make a dessert board with store-bought treats like I did!
Here's how I made my super easy Christmas dessert display, plus some ideas for what to include on your own Christmas cookie charcuterie board: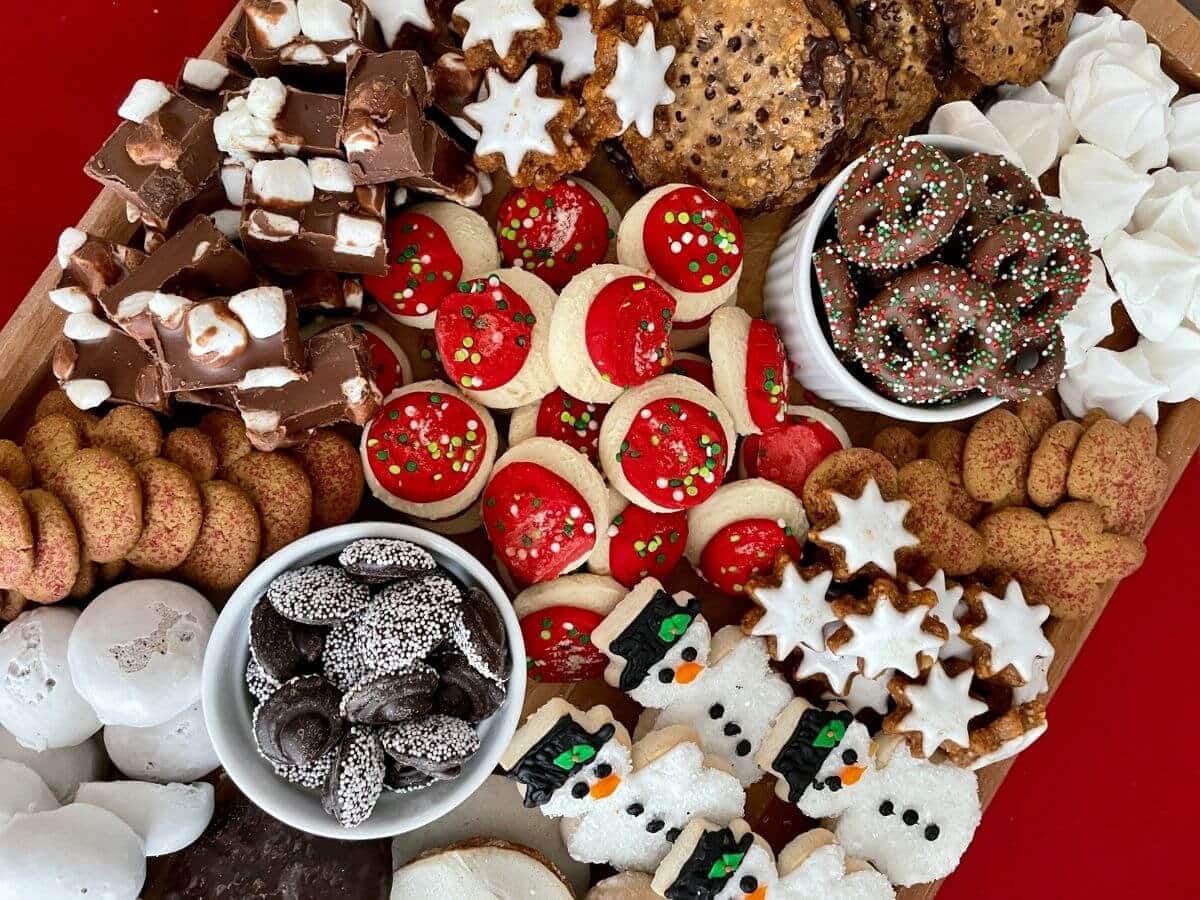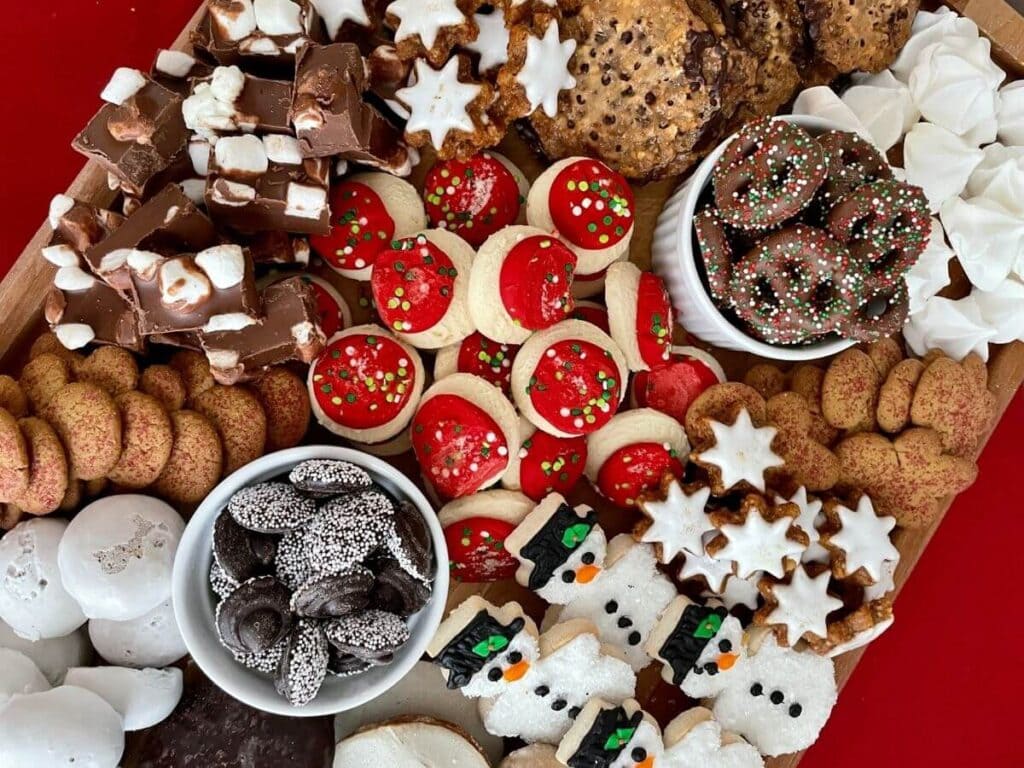 *This post contains affiliate links, which means if you click a link and make a purchase, I earn a commission at no additional cost to you. See my full disclosure for more info.
What is a Christmas Charcuterie Board?
Traditionally, a charcuterie board is simply a large board (usually a wood cutting board) with assorted meats artfully displayed on top. Often served as an accompaniment to wine or beer, the traditional meat-only charcuterie board has slowly evolved to include other items as well, like assorted hard and soft cheeses, fruit spreads, crackers, olives, and other butcher shop snack finds.
In recent years, however, the charcuterie board has gotten a major makeover, with everything from movie snack charcuterie boards to hot cocoa charcuterie boards being served at parties.
For Christmas, you can even create your own charcuterie board of homemade Christmas candies or cookies, or even set up savory bite-sized snacks in the shape of a Christmas tree, star, or snowman.
As long as you have a large board and a good variety of goodies, the possibilities are endless!
How to Create a Christmas Dessert Charcuterie Board
Step 1: Select a base for your dessert charcuterie board.
I didn't want to spend a bunch of money on my dessert board, so I used the largest cutting board that we had in our kitchen instead of buying something new. My board measures 21″ x 15″, and it also has a small cut-out groove around the perimeter which was handy for keeping the piles of cookies from sliding off the sides.
You can also use a large marble or slate cutting board or serving board.
Before you start to build your Christmas dessert board, be sure to set the base board wherever you plan to keep it for your party. That way, you don't have to try and move it after it's already piled high with goodies!
*If you are going to be taking it to a party, then you can also saran wrap the entire board for easy transport.
Step 2: Shop for desserts to add to your cookie charcuterie board.
I slowly gathered sweet treats from a few different stores over a two week span leading up to my holiday party. A lot of the treats that I purchased were shelf-stable, so it was nice to not have to cram all of the shopping in to one day. Just be sure to check expiration dates if you're going to do it this way, so that your desserts are as fresh as possible.
I've got a huge list of Christmas dessert charcuterie board ideas for you at the end of this post, but if you simply want to hit up the grocery and specialty stores near you, then I had some good luck finding items at:
Cost Plus World Market – I highly recommend their lacey cookies from the brand Desserts on Us!
Marshall's, TJ Maxx, and HomeGoods – You can often find gourmet dessert items in the specialty food aisles of these discount stores.
Local grocery store bakeries – The day before my Christmas party, I purchased an assortment of homemade candies and cookies from two local grocery stores. During the holidays especially, you should be able to find items like fudge, buckeyes, or decorated sugar cookies in the bakery departments.
When you're purchasing desserts for your Christmas food board, be sure to think about the different flavor profiles. Don't just stick to one type of cookie. Instead, mix it up with chocolate cookies, sugar cookies, gingerbread, etc. And look for a variety of textures too – chewy, crispy, soft, etc.
Step 3: Add small bowls and jars to the board first.
Start by placing a few small bowls or jars spaced out on top of the board. I used some white ramekins that I already had on hand, but you can also use festive small glass dishes in shapes like stars or Christmas trees.
Add small candies or sweets to the bowls, like red and green M&Ms, Hershey's kisses, soft peppermints, or chocolate covered pretzels.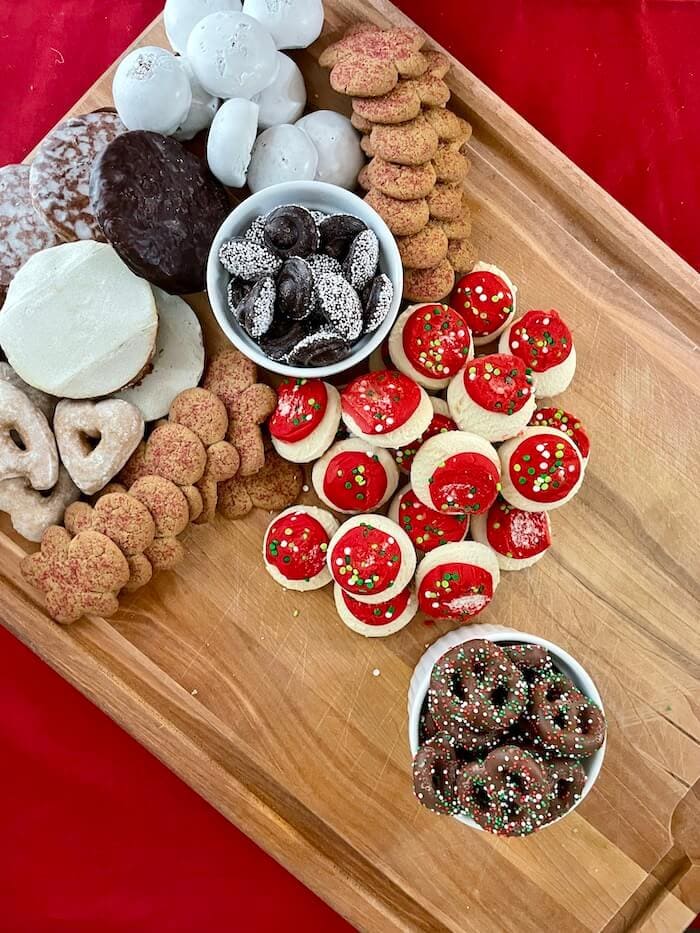 Step 4: Build the Christmas Dessert Charcuterie Board.
Once your smaller items are in place, it's time to fill in the rest of your Christmas cookie dessert charcuterie board.
Just start with one type of cookie or sweet treat and place all of them in a pile on the board. If you have a lot of one type of dessert, you can also divide it into two piles in different sections of the charcuterie board so that you don't have a large area of one sweet.
I found it easiest to start near the small bowls that were already in place, because then I wasn't left with any major gaps, but you can build your dessert board in any order that you like.
If you have any small holes when you're done, you can fill them in with small candies like Hershey's kisses, or simply rearrange the nearby cookies so that they're spread out a bit more and fill in the gap.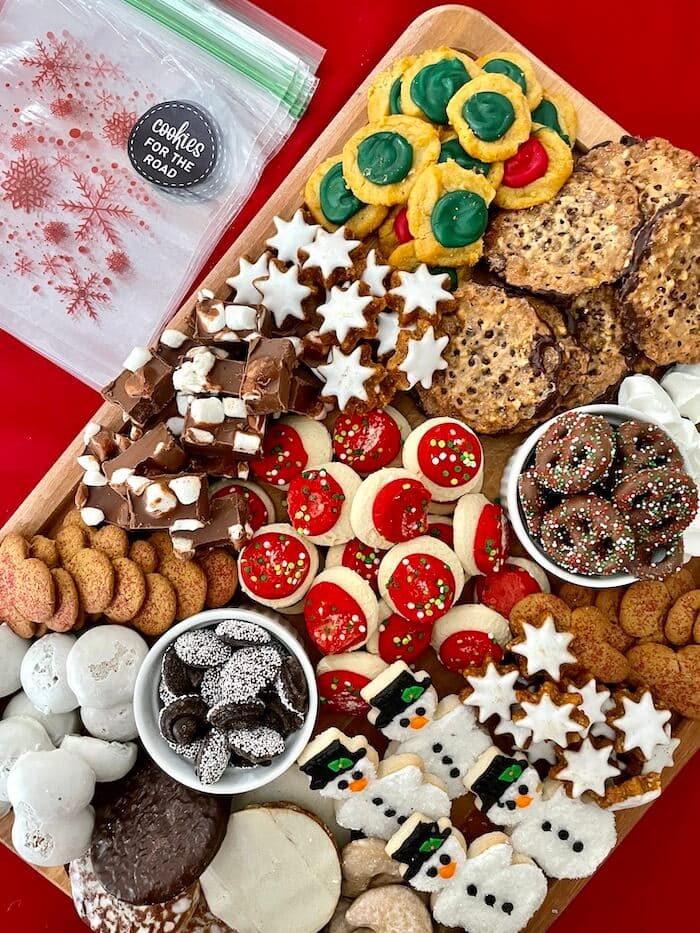 Tips for Creating the Perfect Christmas Dessert Board
Include a large variety of items. I had a total of 13 different store-bought cookies and candies for my dessert board.
Use Christmas candy to fill your dessert board for cheap. You can buy bags of M&Ms, gumdrops, or other Christmas candy to place in small bowls and take up more space on your board.
Place all of the gingerbread cookies to one side of the board. Gingerbread has a strong flavor that some guests don't like, and the spicy notes of some gingerbread desserts can actually transfer to other adjacent cookies if you're not careful.
Stick with finger food type items. No cupcakes or pies. You may need to cut your store-bought sweets (like fudge) into smaller pieces for your board.
Decide on a color theme, and alternate colors on the dessert board. When building your dessert charcuterie board, try to alternate colors… so don't put white snowball cookies right next to white chocolate fudge.
Use store-bought treats to save time. This is my best tip for an easy Christmas dessert charcuterie board for your holiday party! You're going to be so busy with other party prep, the last thing you want to worry about is making 10 different batches of homemade treats!
What to Do with Christmas Cookie Charcuterie Board Leftovers
Unless you want to have mounds of leftover Christmas cookies taunting you from your pantry, then I suggest having some sort of to-go containers for your party guests to take "cookies for the road"!
Guests really appreciate thoughtful details, and these to-go bags were a hit at our holiday party recently!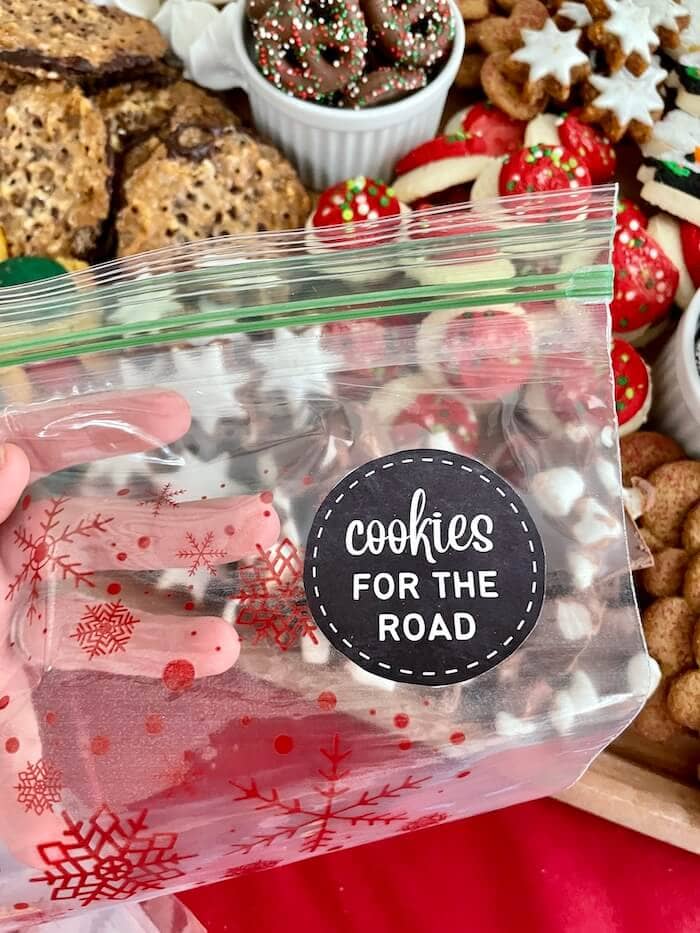 I printed out the cute labels on this sticker paper and used a 2 inch circle punch to quickly cut them out. Then, I stuck the labels on to holiday printed zip top plastic bags. So easy and so cute!
Grab the printable cookie to-go bag labels in my shop here!
You can also have cardboard or paper to-go boxes like these nearby for your guests to take some of their favorite Christmas cookies home. Stamp them with red ink and Christmas rubber stamps, have your kids draw small snowflakes on them with red Sharpie markers, or stick the cute labels that I used on the side of the to-go containers.
And if you really have a bunch of leftovers, package them up in cute holiday tins and gift them to your neighbors or mailman!
Christmas Dessert Charcuterie Board Ideas
Cookies and other treats to add to your dessert board
bite-sized sugar cookies – The small red iced sugar cookies on my dessert board are Lofthouse brand, and I found them at my local grocery store.
Pepperidge Farm gingerbread man cookies
peanut butter blossoms – If I were going to make homemade cookies for a dessert board, it would be these because they're a crowd favorite and they only take 5 ingredients! Roll them in red or green sugar for an extra festive touch!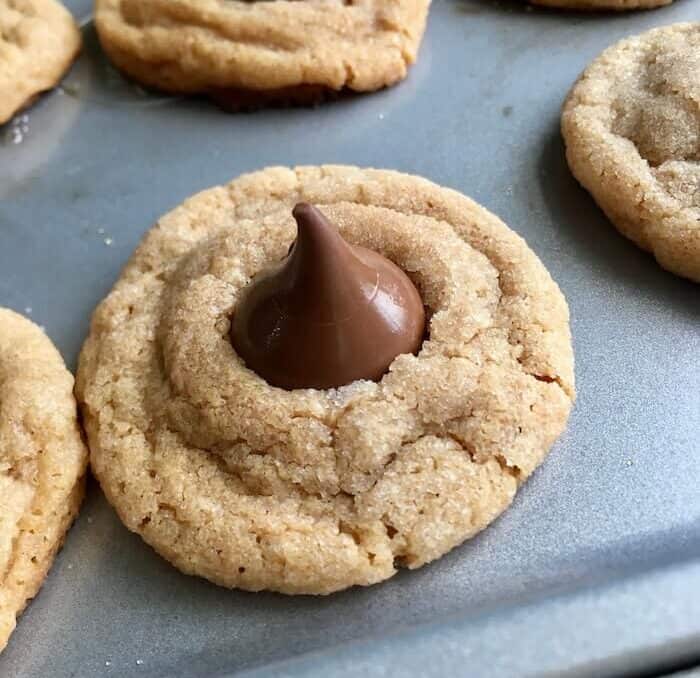 mini cinnamon star cookies – These German cookies are nutty, with strong notes of cinnamon, and they just taste like Christmas! Plus, they're super pretty on a Christmas dessert board!
pirouette cookies – Another store-bought favorite for the holidays!
thumbprint cookies – You can special order these tasty bite-sized cookies at some bakeries or grocery stores with icing to match your color scheme.
brownies – You can bake a batch of boxed brownies and use cookie cutters to cut them into fun shapes for an inexpensive dessert board item.
lacey cookies – I highly recommend these! But a word of advice, don't open the box a few days before the party to "test" them out… You'll end up eating the whole container and having to buy more like we did!
petit fours – Publix grocery stores has awesome petit fours that you can custom order in a variety of colors.
palmiers – You can find these pretty cookies made with layers of puff pastry and sugar at Costco. Dip one side of them in melted chocolate and top with Christmas sprinkles to dress them up a bit for your Christmas cookie board.
Ritz cracker cookie sandwiches – These are another easy semi-homemade treat that you can make without turning on your oven! (Leave out the lollipop sticks for your dessert board though).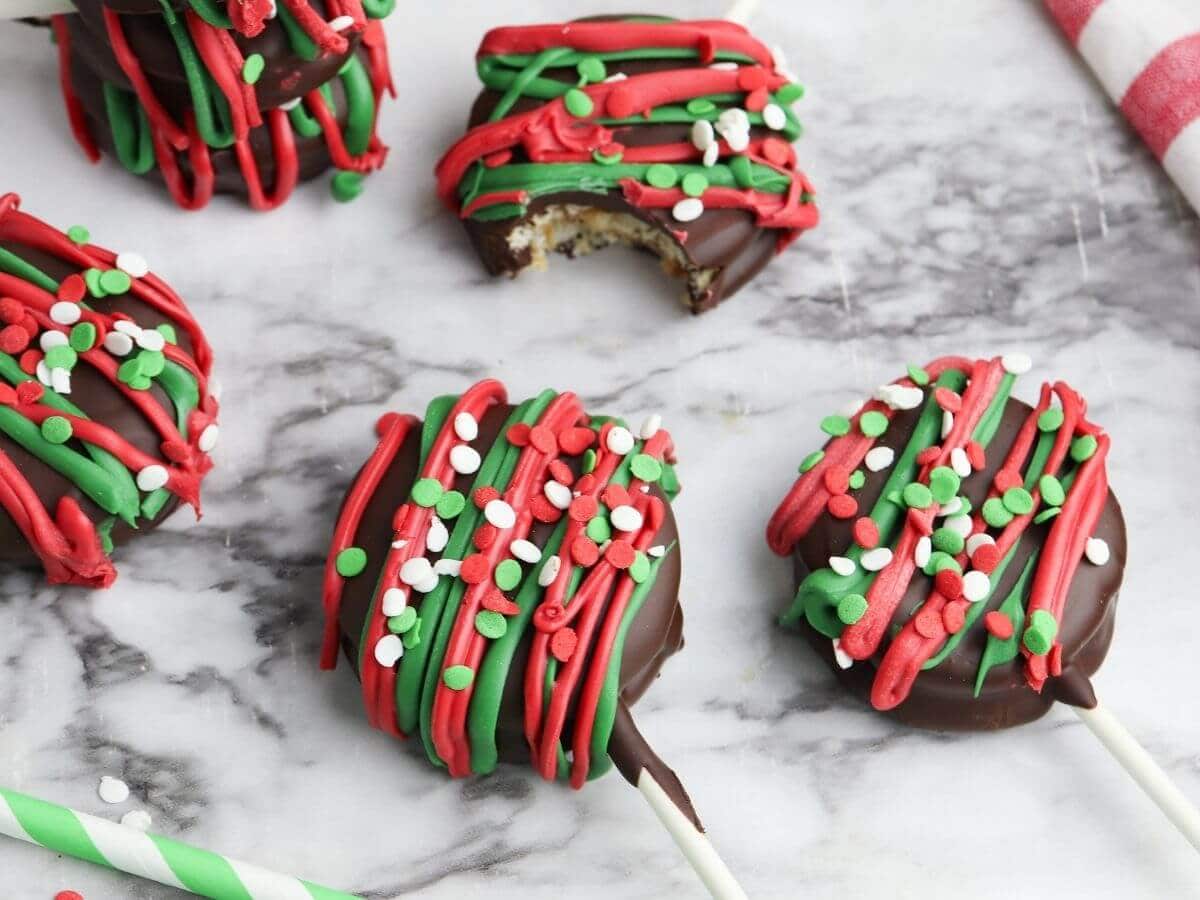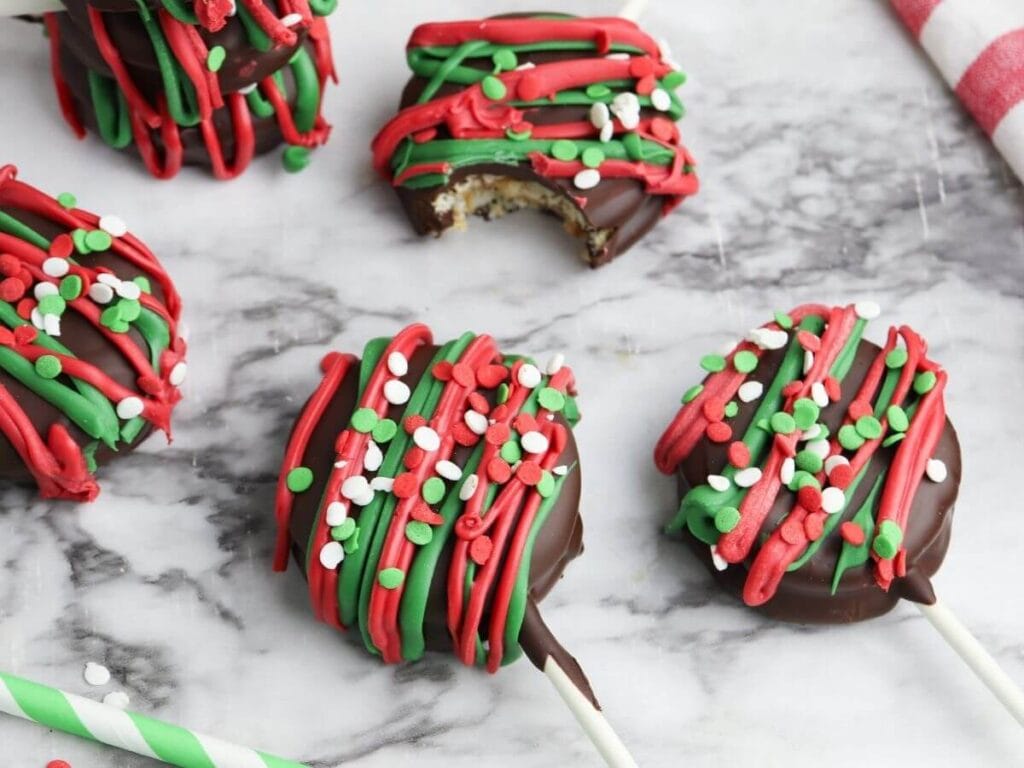 Candies for a Christmas dessert charcuterie board
Old-fashioned style soft peppermints – You can even find these at Dollar Tree!
Red and green M&Ms
Hershey's kisses – wrapped in colored foils to match your party theme
chocolate nonpareil drops – I found mine at Trader Joes.
red and green gumdrops
mini candy canes
spearmint gummy leaves
different flavors of fudge – Since fudge is so rich, I like to cut it into bite-sized cubes no larger than 1 inch square.
gourmet marshmallows
chocolate covered pretzels
chocolate truffles – Godiva, Lindor, etc.
meringues – These make a great "filler" item for your cookie board.
salt water taffy – in colors to match your theme
I hope you've been inspired to create your own Christmas dessert charcuterie board for your holiday party this year! Or, if you've ever made your own Christmas cookie board, I'd LOVE to know what you included on yours!
Drop me a comment down below… I'd LOVE to hear from you!
And don't forget to PIN this post for later: