With Valentine's Day coming up, your kids are probably looking for some cute valentines cards to pass out to their friends. This year, skip the store-bought valentine cards and make your own DIY valentines instead. With these free printable Goldfish valentines, your kids can show their friends how much they care with an adorable card and a fun snack.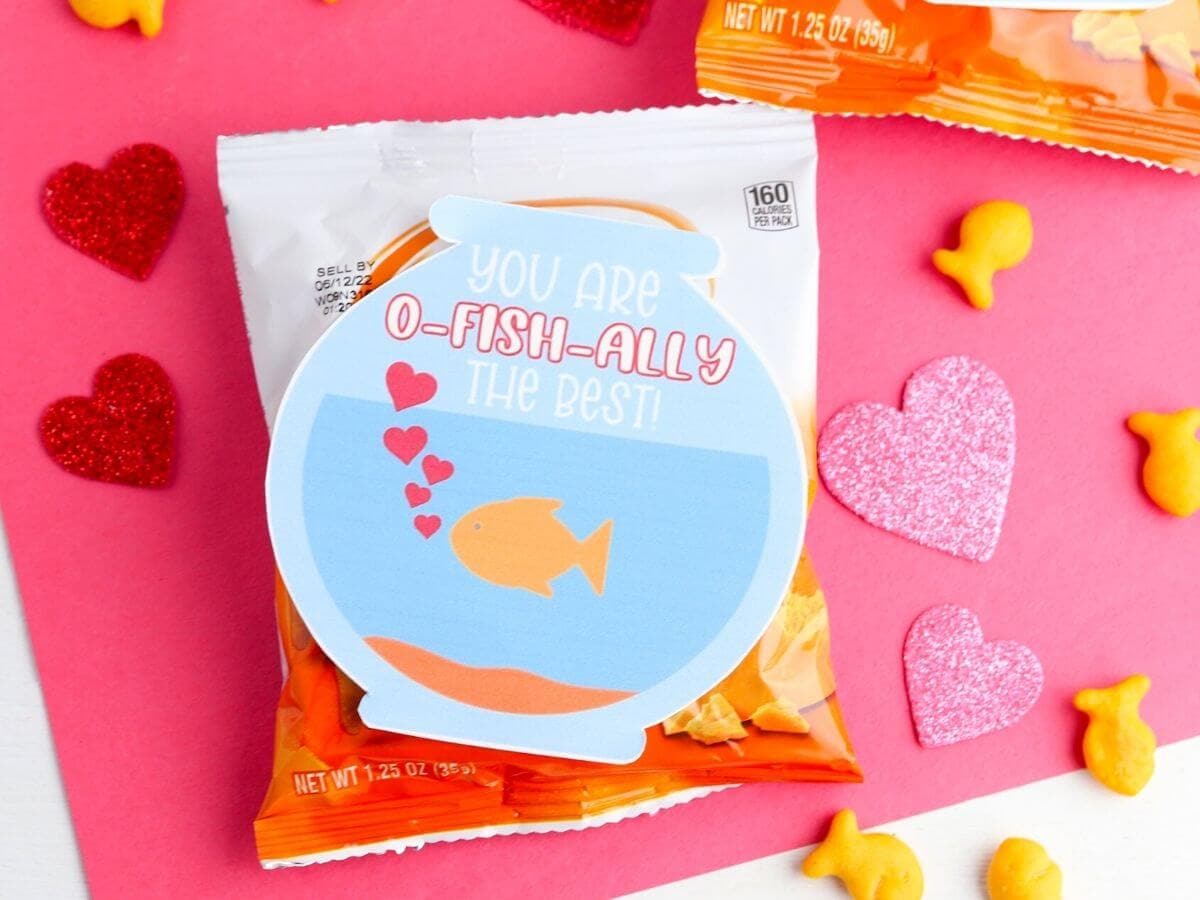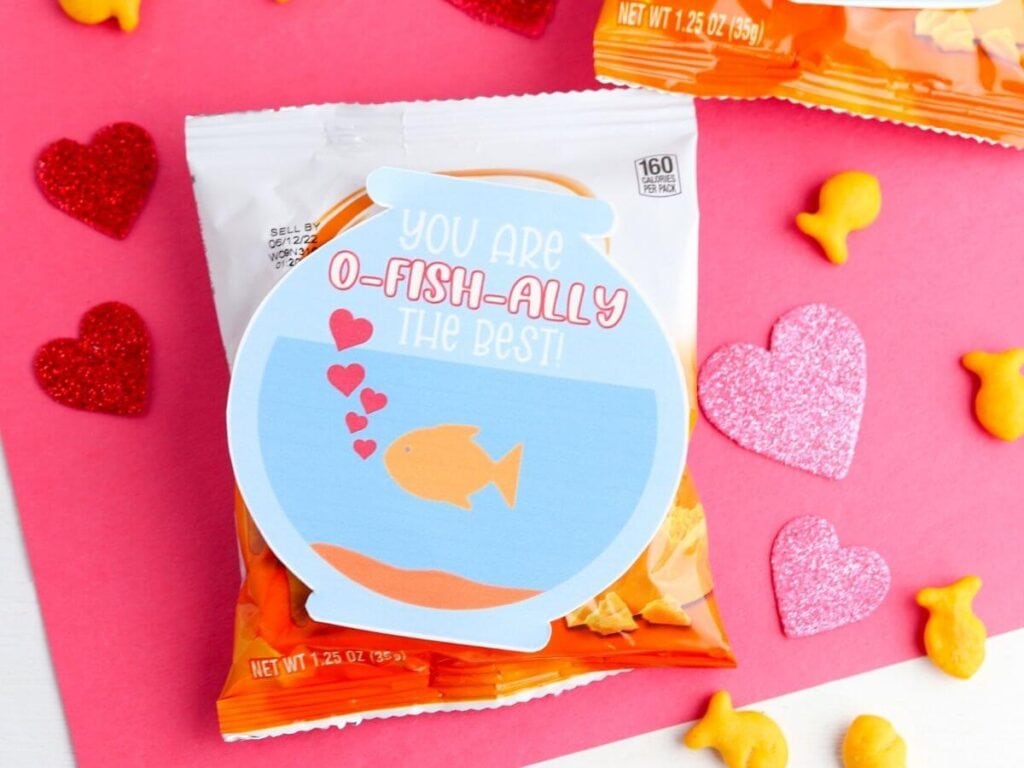 Supplies for DIY Goldfish Valentines
Making these homemade valentine cards couldn't be easier. That's because you only need a handful of supplies to put them together! To make your own DIY goldfish valentines for your kids' classmates this year, you'll need:
Free Printable Goldfish Valentines Cards
Download the PDF file featuring these cute cards by clicking on the link below.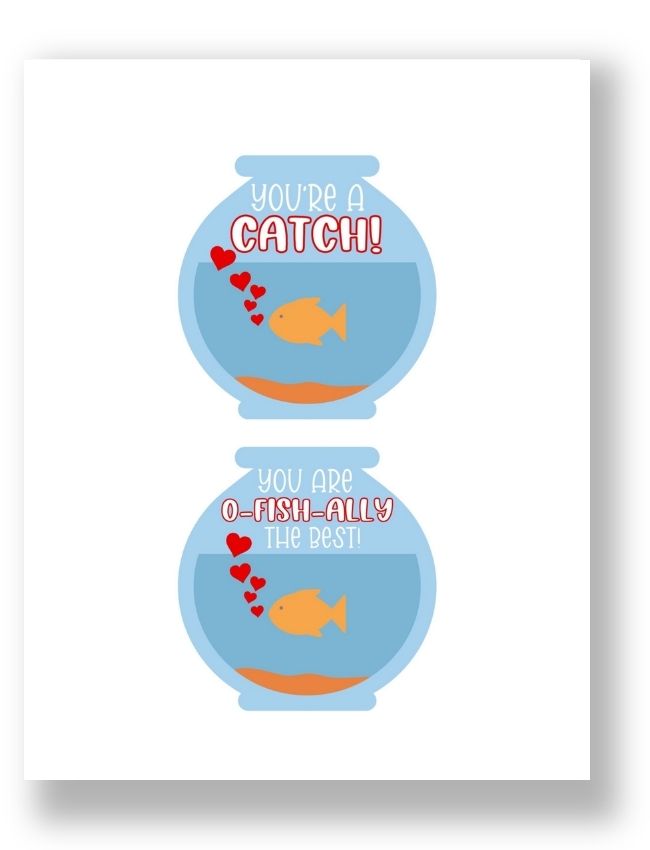 Click HERE for the FREE Goldfish Valentines Cards
White Cardstock
To ensure your cards are durable, it's a good idea to print them on heavy white cardstock. I used a 65 pound white cardstock and it worked great for my kids printable valentines!
Goldfish Crackers
The final element you'll need to make these cute cards is Goldfish crackers. You can use prepackaged snack-size bags or make your own snack bags with Ziploc bags to create your DIY valentines.
The mini cardboard milk box-style of goldfish crackers would work well also, but at about $1.00 each, that would definitely be more expensive.
How to Make Valentines for Goldfish Crackers
These printable valentines are so easy to make! That means your kids can easily get in on the fun and help put these cute class gifts together.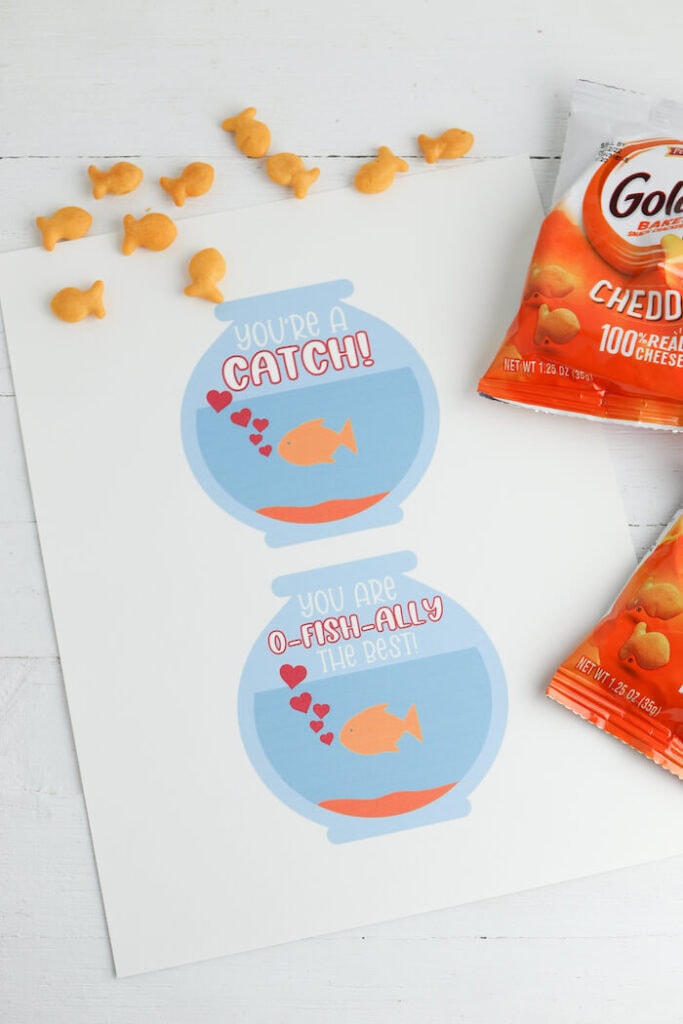 Start by downloading the printable cards and printing them on cardstock. Once you have all your cards printed out, you can start cutting. Use a pair of scissors to cut each card out around the outer border.
After all the cards are cut, give them to your child to fill out. They can write their name and the name of each classmate on the back of the card.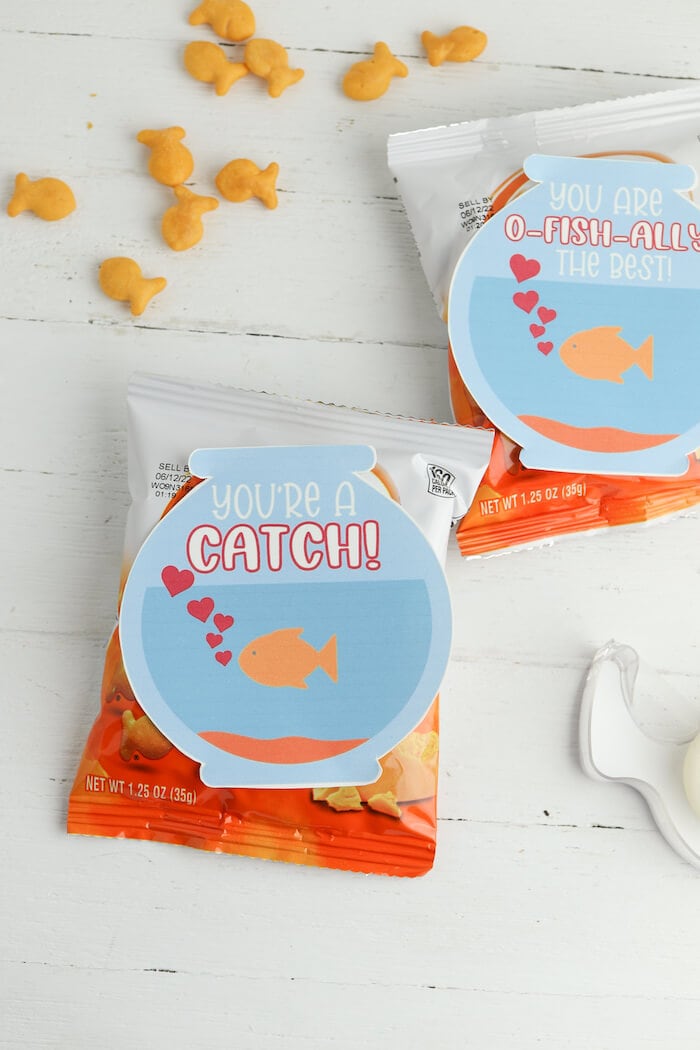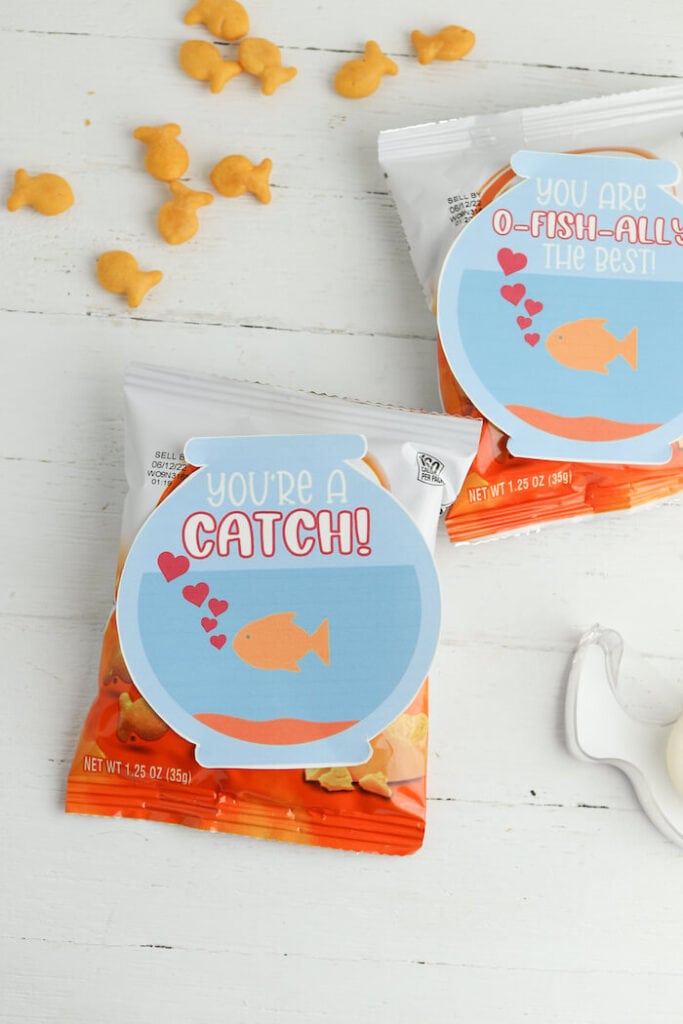 When all the cards are filled out, the last step to finishing this simple craft is attaching the cards to the crackers. Simply use tape to attach the cards, making sure they're securely attached to each bag so they don't fall off before you kid starts passing them out to their friends.
What is the Best Paper for Printable Valentine Cards?
When making your own valentine cards at home, the type of paper you use is important. It's not a good idea to print out your valentines on plain copy paper. This type of paper is too thin, making it easy to rip and tear.
To ensure your valentines are sturdy, thick cardstock is the best option. When selecting cardstock for your cards, there are a couple different factors to consider:
Color. Since these cards feature several different colors in the design, it's a good idea to choose white cardstock for printing. Bright white paper will ensure the colors print correctly on all your DIY cards.
Weight. When it comes to printing your own cards at home, it's best to choose a paper with a heavy weight. Cardstock ranging between 65 and 80 pounds is a good option for DIY cards because it's sturdy enough to attach to your gift without being too thick for your printer. Printing at home on 110 pound card stock may cause your printer to jam.
Goldfish Valentine Card Ideas
While this non-candy valentine idea is simple to make, this gift idea isn't the only way you can use these cute printable cards! Try these valentine card ideas to put together unique class gifts for your kids to pass out to their friends this year:
Make your own Goldfish snack bags.
There's no reason you have to use pre-packaged Goldfish crackers with these cards! Make your own cute snack bags by filling snack-size zip-top bags with crackers. That way, you can use any type of Goldfish crackers, from rainbow to pretzels!
Just fill up the snack bags and attach the tag to the top with tape. Or use clear plastic treat bags and tie the top with ribbon. Punch a hole in the top of the tag with a hole punch and thread a piece of ribbon through the hole. After that, just attach the tag to the top of the bag with a bow.
Use the cards without the snack.
If your child's school has a rule against passing out snacks with their valentine cards, don't worry! This card is perfect without the Goldfish crackers attached. Just print out the cards, cut them out, and let your kids fill out their name on the back to create a unique valentine for your kids to give to their classmates.
Use different fish-themed snacks.
Goldfish aren't the only snack option you can attach to these cute cards! These fish-themed valentines would also pair well with other fish snacks, like Swedish fish candy or whale crackers.
Add some fish themed toys to your Goldfish Valentines.
Instead of attaching your goldfish valentines to snacks, why not add a cute fish-themed toy to the cards? Check the toy aisle at your dollar store to find some cute fish toys to give out with your cards. You could also attach mini fish figurines like these or these cute fish ring toss games.
More Free Printable Valentine Cards
Want some other free printable valentines to use for your child's classroom valentines? Check out these posts:
Free Printable Kool Aid Valentines Cards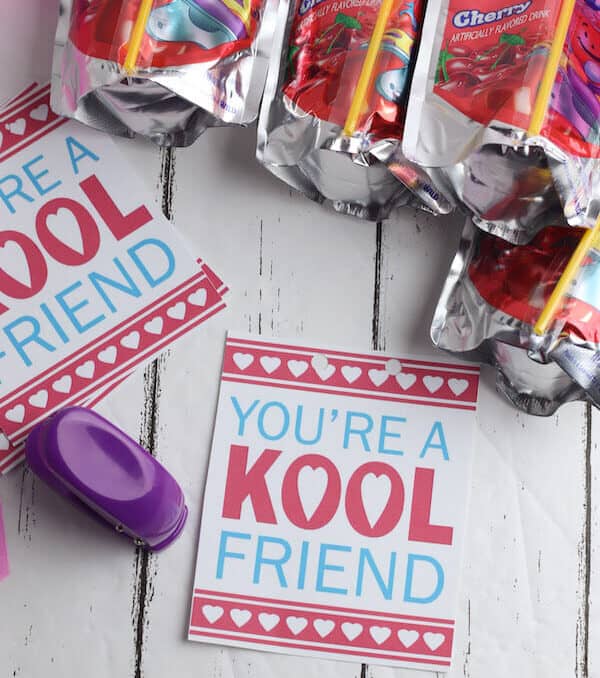 DIY Slime Valentines with Free Printable Cards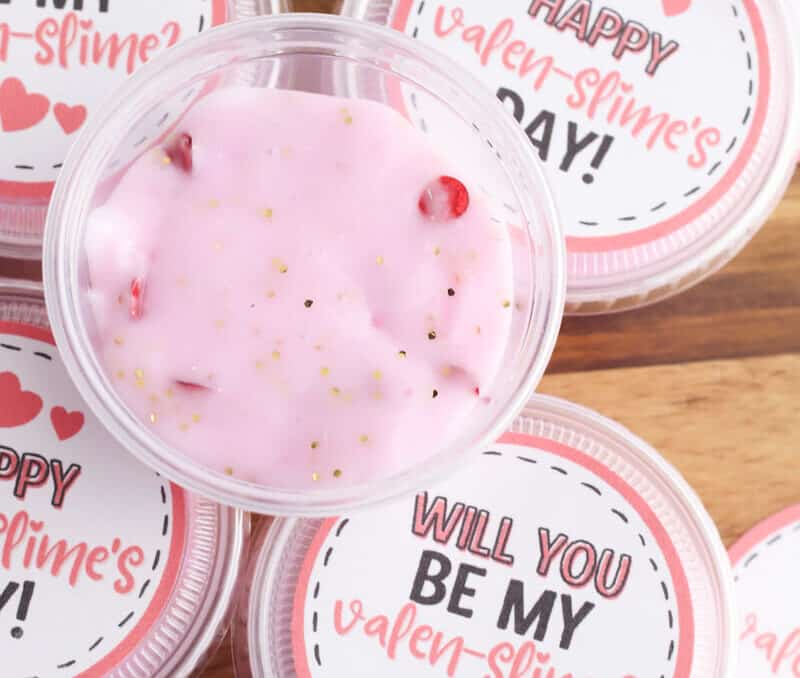 Or you can visit The Spruce Crafts for more DIY valentines ideas for kids!
And don't forget to PIN this post for later: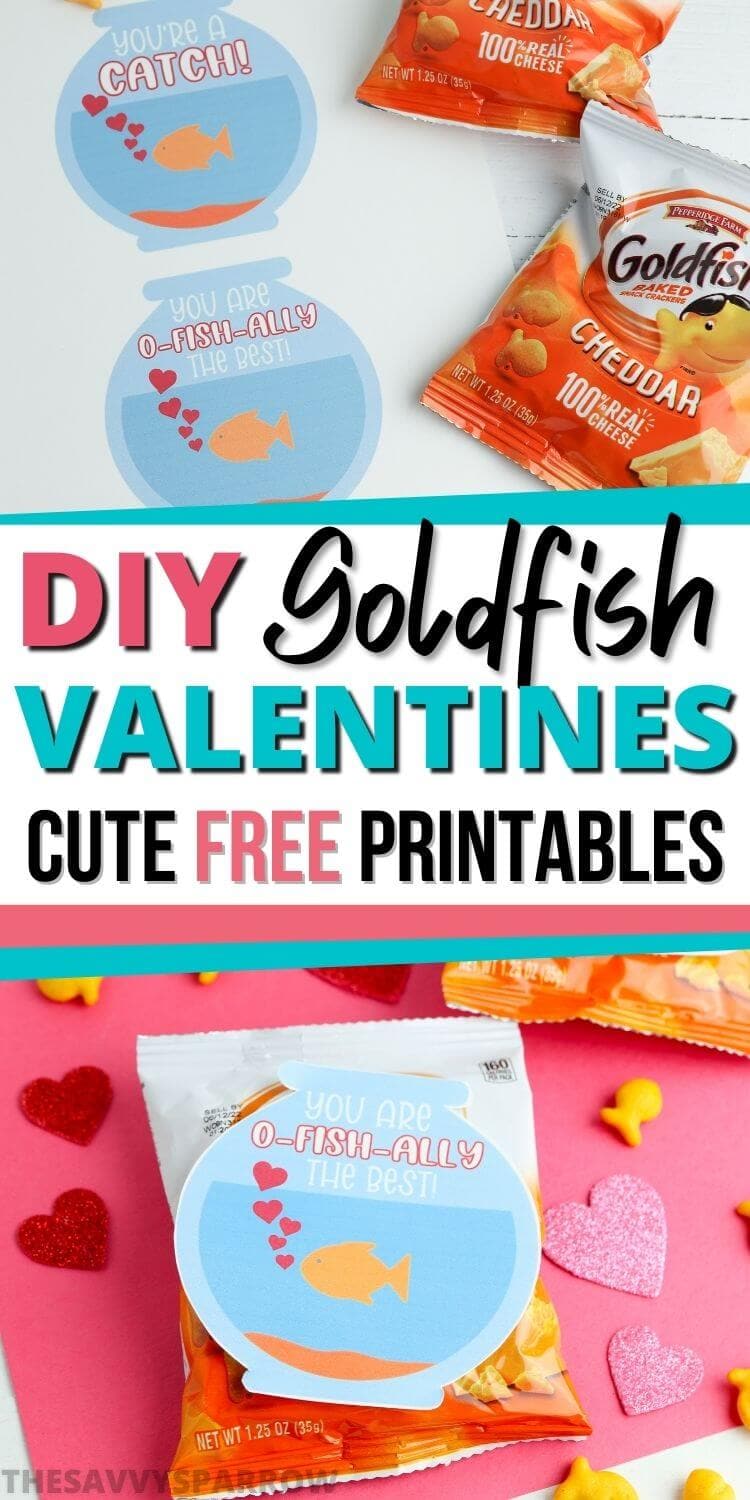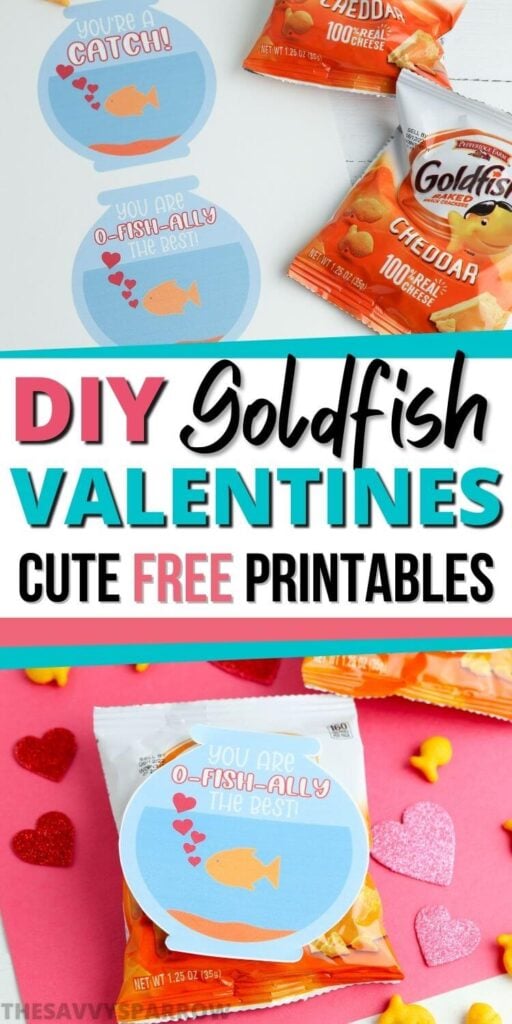 DIY Goldfish Valentines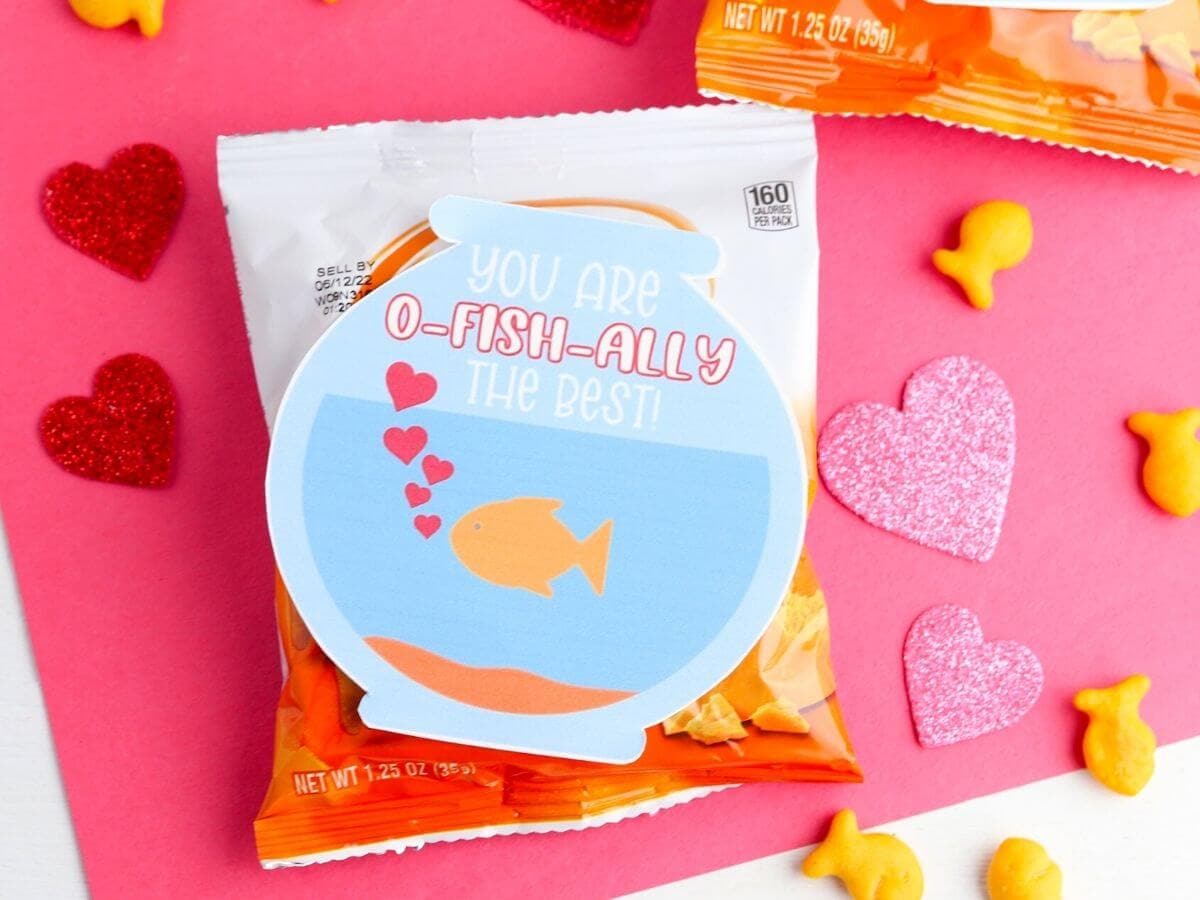 This Valentine's Day, skip the store-bought valentine cards and make your own DIY valentines instead. With these DIY goldfish valentines with printable cards, your kids can show their friends how much they care with an adorable card and a fun snack!
Prep Time 5 minutes
Active Time 20 minutes
Total Time 25 minutes
Difficulty Easy
Estimated Cost Varies
Materials
Printable goldfish valentines cards PDF
White cardstock
Bags of Goldfish
Tape
Instructions
Print out the valentines on cardstock and cut them out around the outer border.
Sign your name on the back.
Attach to a bag of Goldfish crackers with tape.
Notes
The printable goldfish cards can also be used with other fish-themed treats like Swedish Fish, Whale Crackers, or mini fish toys.