Non Candy Valentines with FREE Printables
Need non candy Valentines for your kids to pass out at school? If your child is in an "allergy aware" classroom, then these DIY valentines cards with free printables are perfect! These non candy Valentines ideas are so good, that the kids won't even miss the sugar!
So many schools today have strict rules against what classroom foods kids bring to share. With childhood obesity on the rise, I understand the push to get kids to eat healthier, but my kids can't even bring cupcakes on their birthdays anymore!
Like, who wants to celebrate turning six with a granola bar and some carrot sticks?!
And the same thing goes for Valentine's Day…
It's so hard to find non candy Valentines that, frankly, don't suck.
So when you can't buy 'em, DIY 'em!
To be inclusive to those little ones that DO have allergies, and to still be Super Mom sans the candy, try one of these super cute and creative DIY Valentines for your kids this year:
*This post contains affiliate links, which means I earn a commission if you click a link and make a purchase, at no additional cost to you. Read my full disclosure here.
The BEST Non Candy Valentines with Free Printables
Here are a few of my absolute FAVORITE non candy Valentines you can DIY with FREE printables:
These cute non candy Valentines from Where the Smiles Have Been are so creative… from the tire tracks to the washi tape, these free printable Valentines cards just make my crafting heart happy!
And they'll make the little boys in your child's class happy, too! Because what boy doesn't love toy cars?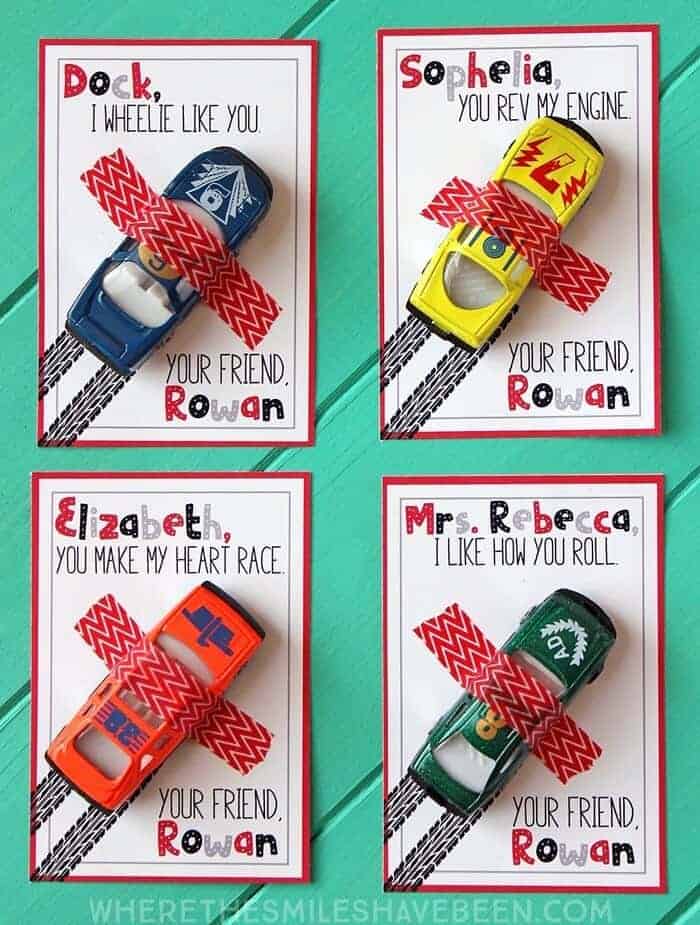 The free printables on these non candy Valentines from Elva M. Design Studio are so cute and whimsical, that even the girls will love them!
These contain a mix of gummy worms and plastic bug toys, but you can swap out the gummies for other bug-themed toys like stickers or bug erasers. (You can find more mini bug toys HERE!)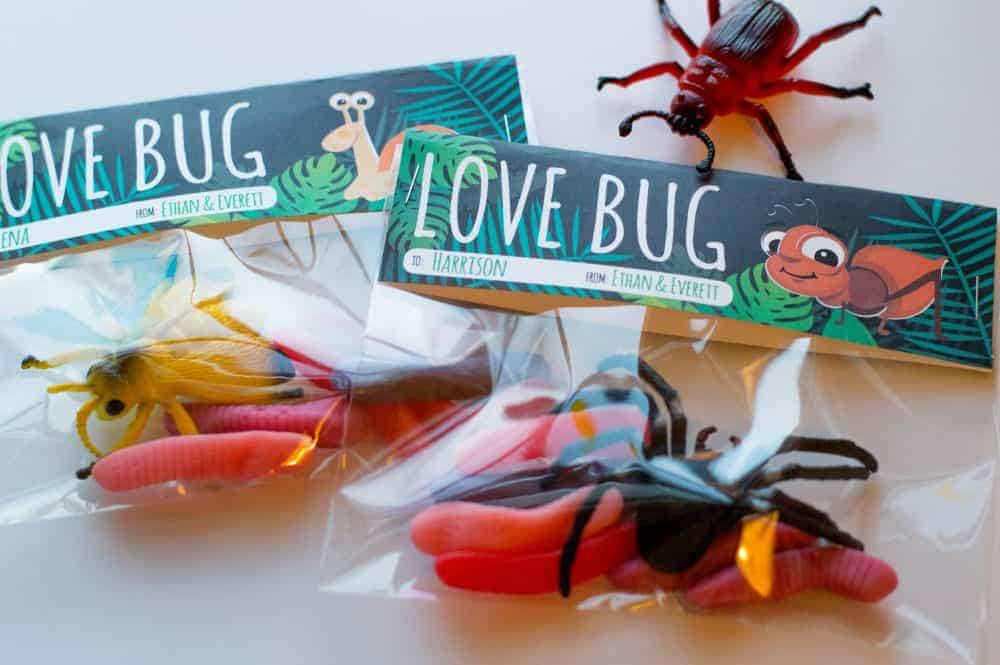 These glow stick Valentines with free printables from Hunny I'm Home are easy to make AND inexpensive! You can buy glow sticks at Dollar Tree in packs of 3 for $1.
Cute AND cheap Valentines cards… now that makes MY heart glow!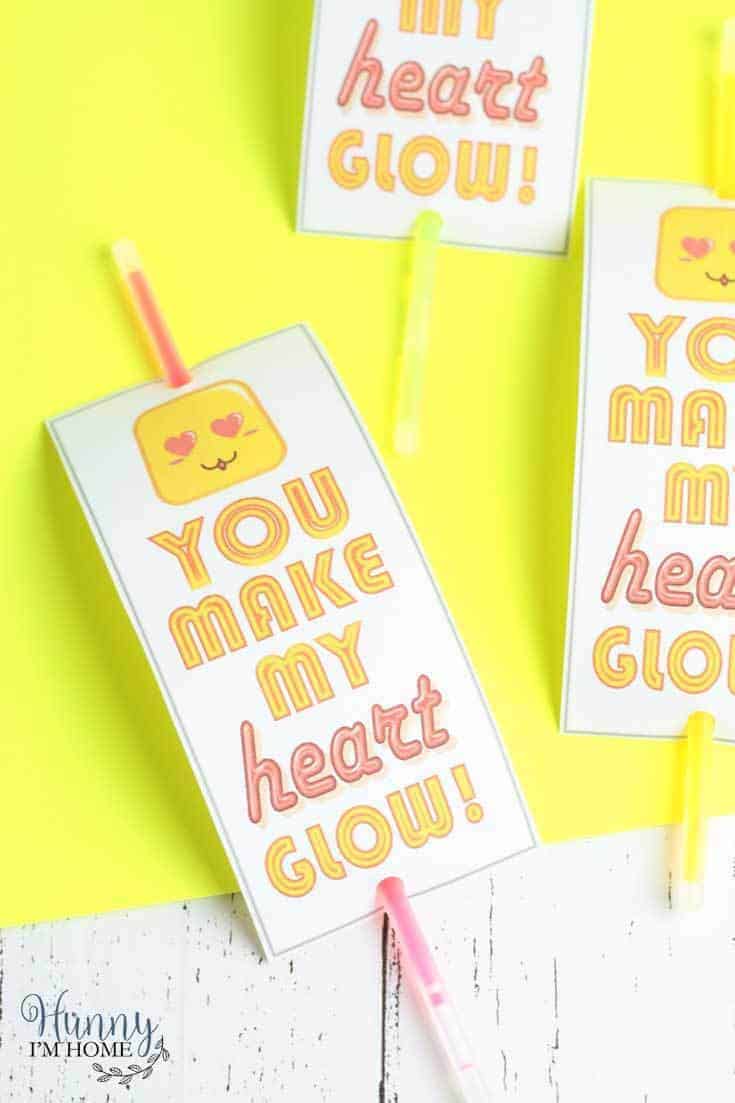 Our playroom is overflowing with random Lego pieces, so these creative Lego Valentines from Down Redbud Drive are perfect for us!
Not only are these Valentines a fun, interactive activity for both boys AND girls, they're also a great STEM activity for younger kids!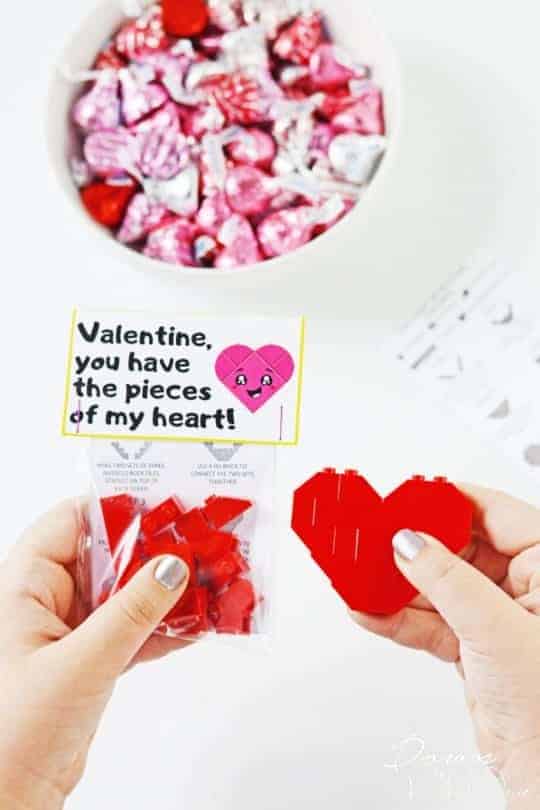 These Valentine's Day volcano packs from Natural Beach Living are another great STEM activity for kids!
The free printable Valentines cards that go with the volcanoes are super HOT! But, I would recommend adding a little piece of paper to the bag with directions for how to complete the science project at home: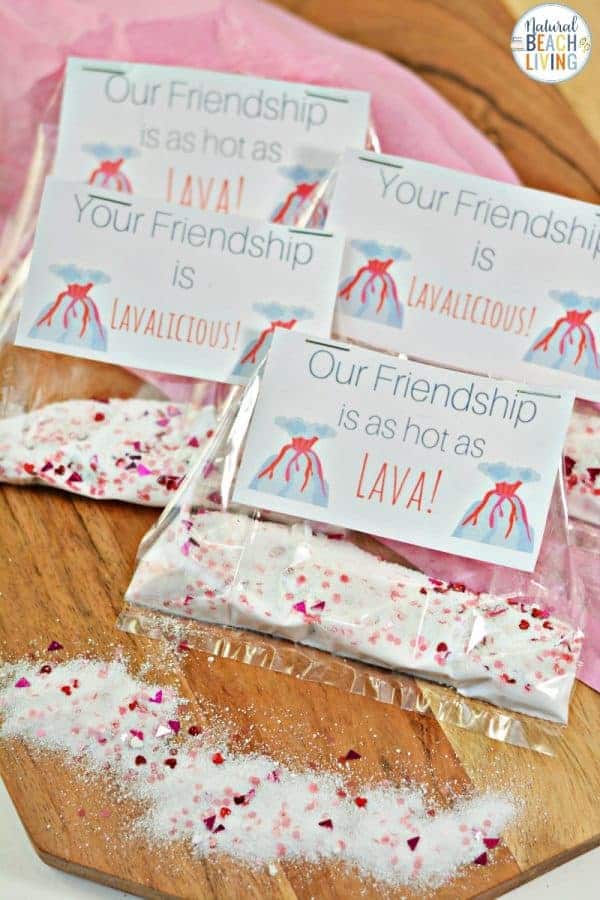 These Ruler Valentines are super cute AND a useful school supply, too!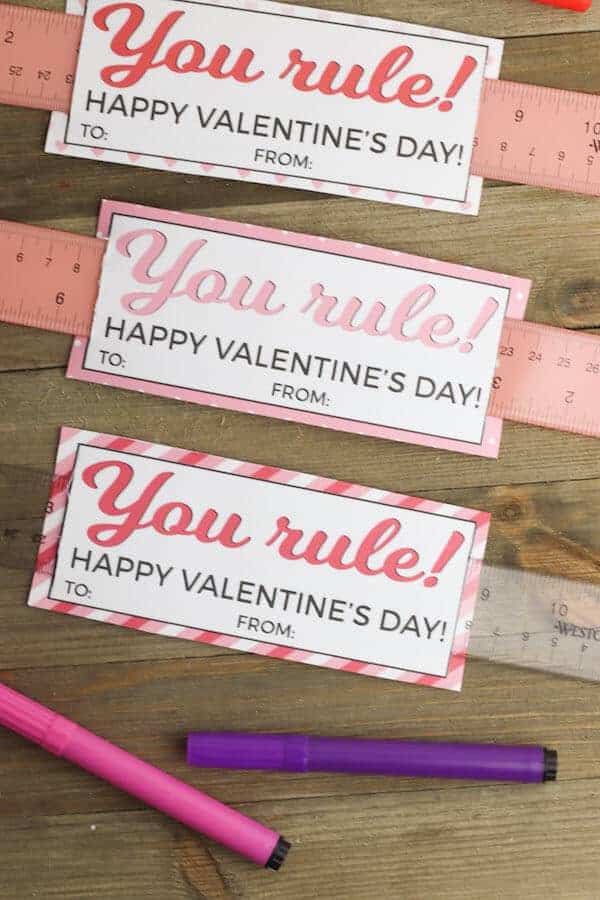 If your kids LOVE to make their own slime like mine do, then these Valentines are for you! Your kids will have a blast making this cute pink glittery slime for their classmates, and it's a great non-sticky recipe too!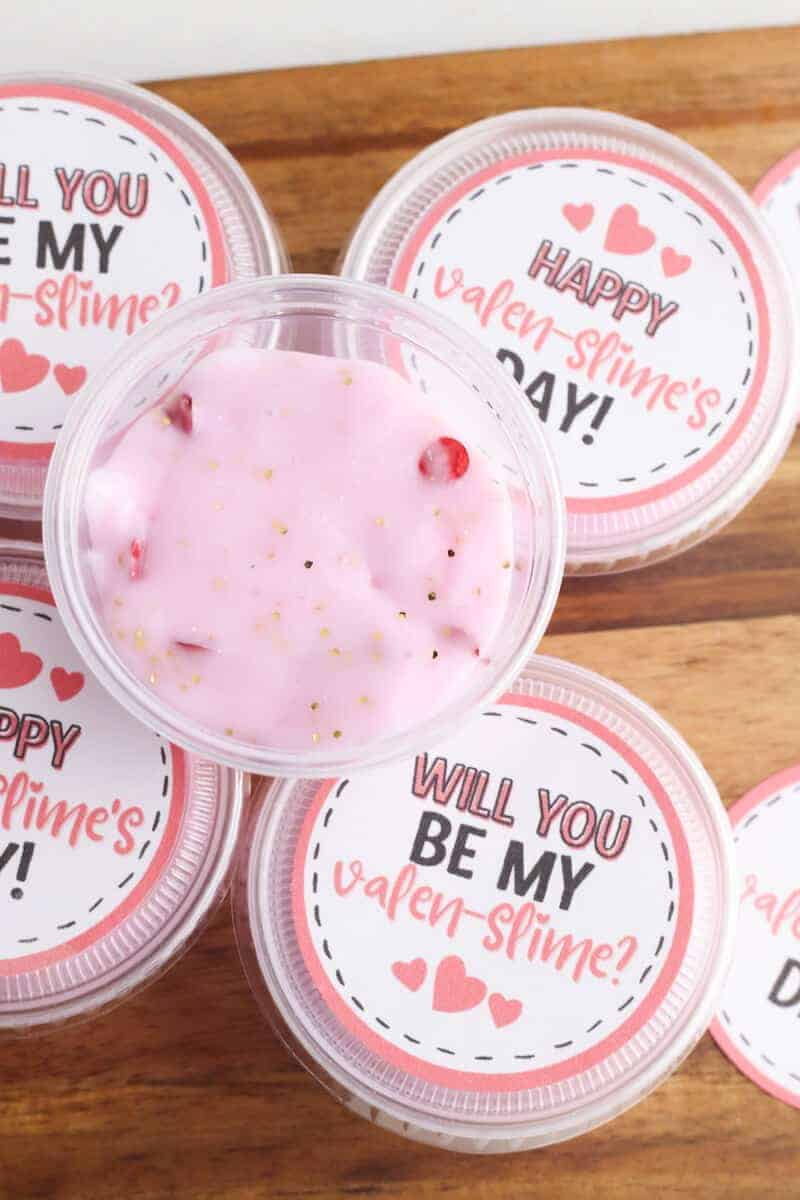 My glitter-loving girls are crazy for these unicorn headband, non candy Valentines from I Should Be Mopping the Floor!
Cute accessory and Valentine in one… double mom points!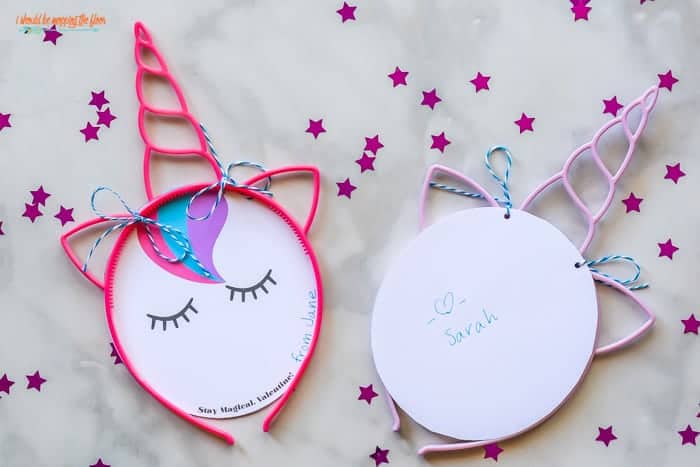 If you have no idea what to get for your toddler's or preschooler's class, then these non candy Valentines from Crayons and Cravings are perfect for you!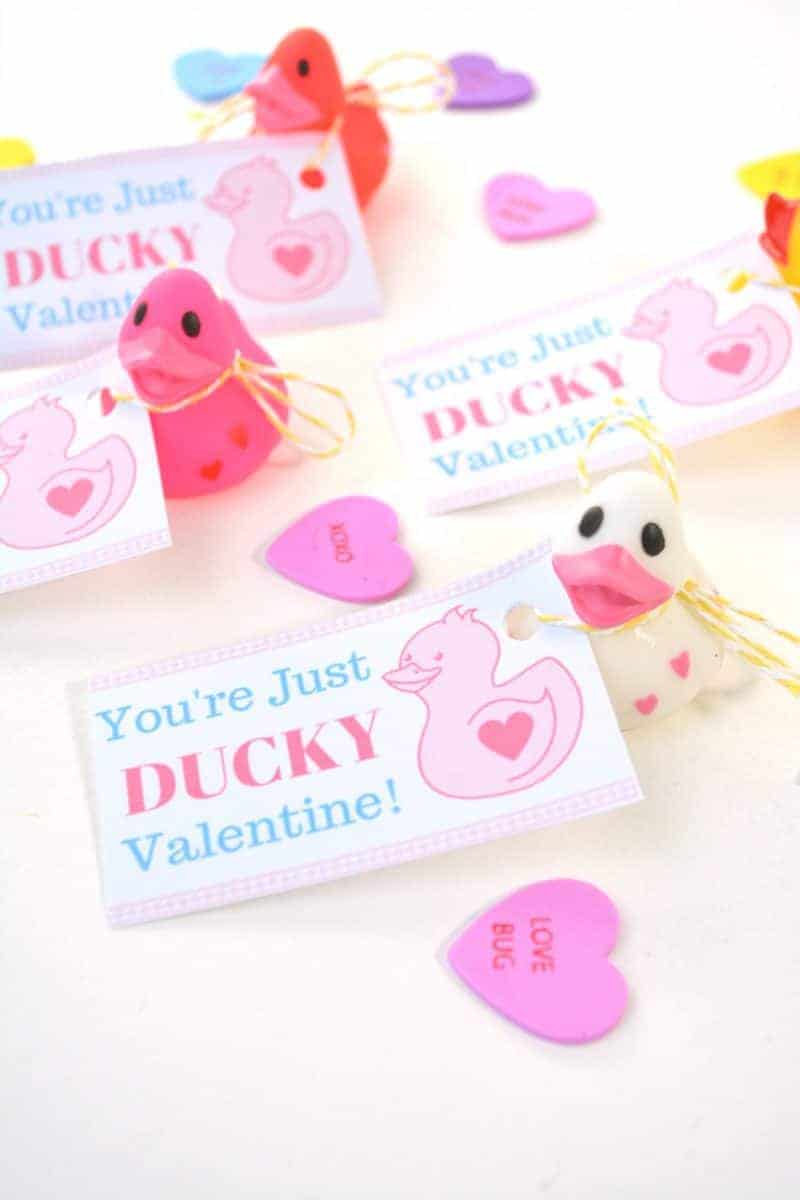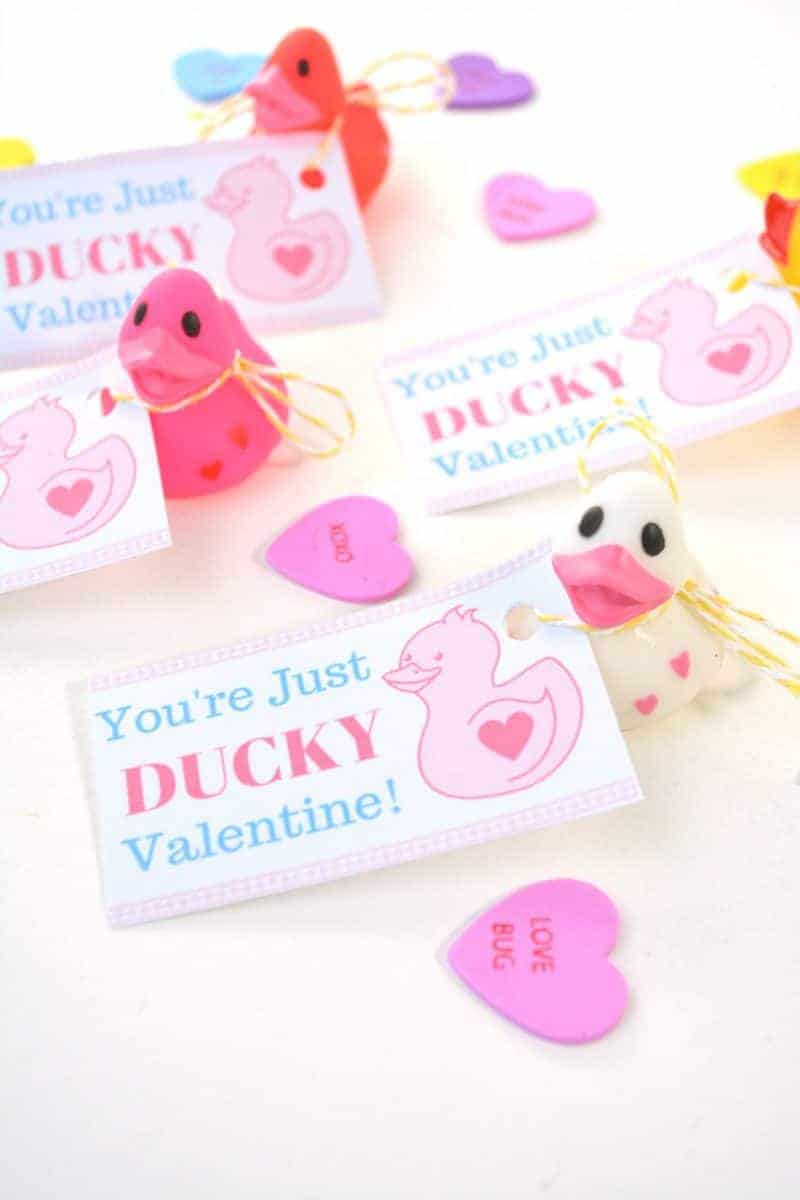 Whoopee! Kids young and old will LOVE these hilarious DIY Valentines from Building Our Story!
Even as an avid Pinterest user (where you can usually find about 156 versions of the same DIY project!), I've NEVER seen anything like these Whoopee cushion valentines.
Moms may hate them, but the kids will LOVE them, and that's all that matters, right?!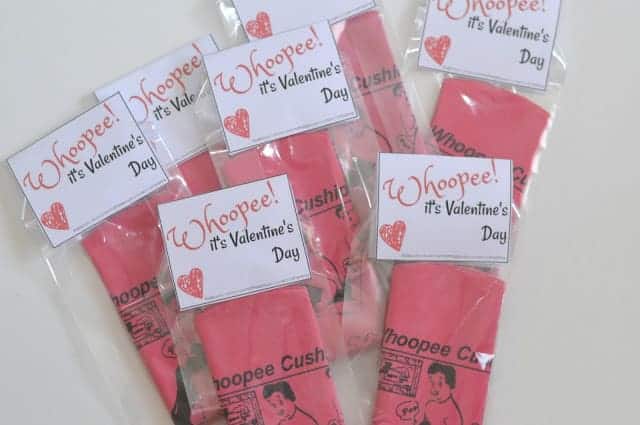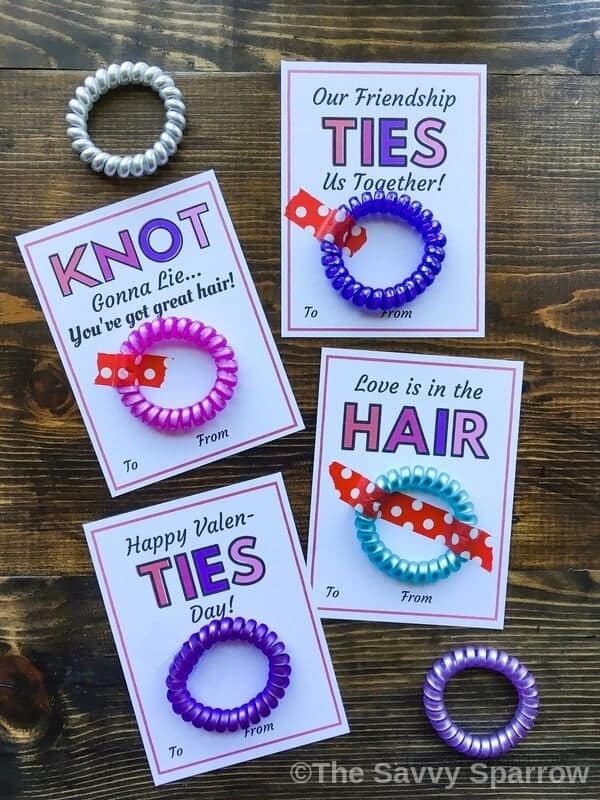 These printable Valentines for hair ties are great for older kids! And you can attach any type of hair accessory that you want… Switch out the coil hair band for a trendy scrunchy or elastic hair tie.
Your tween daughter will actually want to pass out these cute hair ties Valentines to her friends.
Disclaimer – These are NOT free, but you can grab these printable Valentine cards for hair ties HERE for less than the price of a cup of coffee!
The Best Non Candy Valentines that You Can Buy
I interrupt this DIY post to bring you a list of the BEST store-bought non candy Valentines… because, let's face it… between piles of laundry and cooking dinner, you don't always have time to get your Martha Stewart on!
If you're more of an Amazon Prime kind of girl (no shame in it!), then try one of these cute Valentines ideas that can be on your doorstep in two days or less:
Even More Creative Non Candy DIY Valentines Ideas
Here are even more non candy Valentines that will have you feeling like Super Mom (no one has to know how easy these actually are to make!):
Non Candy Valentines for Kids with FREE Printables
Need non candy Valentines that are easy to make and super cute! These candy free Valentines ideas come with FREE printables so they're loved by kids and Moms alike! And, they include such great treats, that your kids won't even miss the sugar.
Hope you enjoyed these creative DIY Valentines cards ideas!
If you want another easy-peasy Valentines treat for kids, then check out my No-Bake Valentines Brownies!
And be sure to PIN this post for later!