Learn how to make Valentine's Day slime with this easy slime recipe. Then, grab the free printable slime gift tags for fun and easy DIY Valentines for kids!
My 8 year old daughter is obsessed with slime! I've bought three different slime kits in the last 6 months, and she just got another DIY slime kit for Christmas.
The amount of slime in her room has gotten so overwhelming that we had to devote an ENTIRE drawer in her closet to slime and slime making supplies.
So, of course, she was super excited about making this Valentines Day Slime to hand out to her classmates at school. And I was excited because these non-candy Valentines meant that I wouldn't have extra chocolate and sugary treats hanging out in my pantry, tempting me to abandon the diet-ship.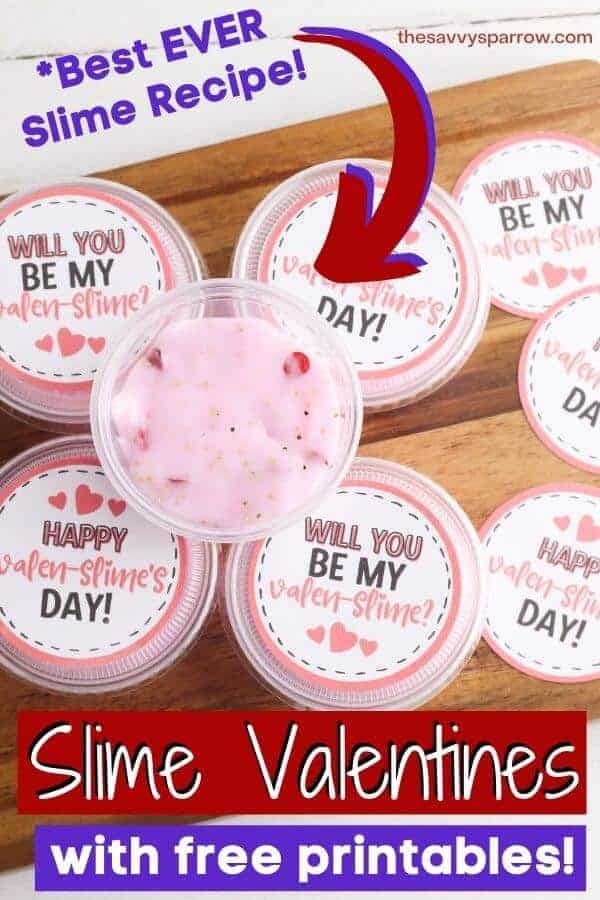 If your kids are slime fanatics, too, then they'll LOVE these hot pink glitter slime Valentines! Here's how to make this AWESOME slime recipe:
Valentine's Day Slime Supplies
Here's what you need for the PERFECT Valentines Day slime recipe: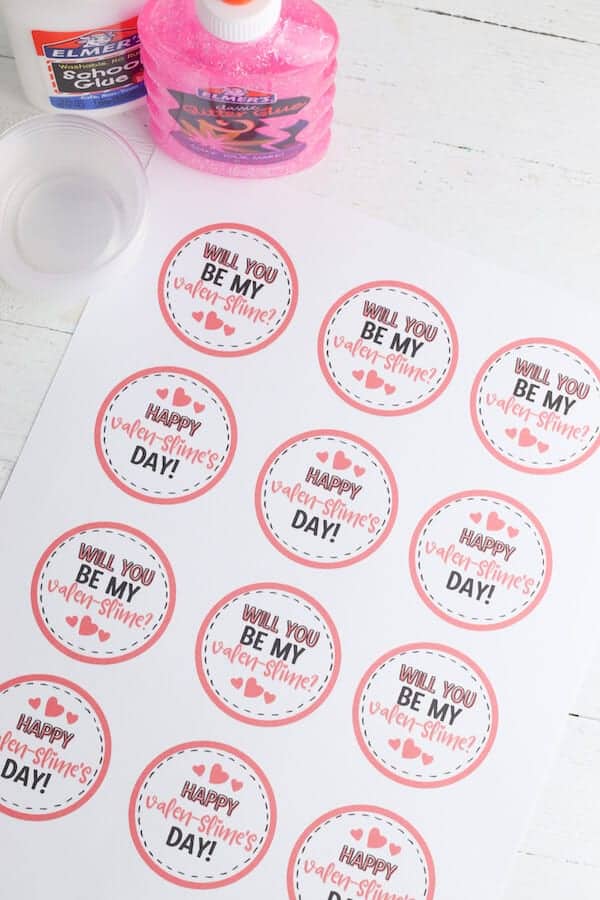 (2) 6-ounce bottles pink glitter glue – I like to use the Elmer's brand
(2) 4-ounce bottles Elmer's school glue
1/3 cup sequins and glitter – you could even do two batches, one with blue sequins and glitter and one with pink
2 teaspoons baking soda
5 to 6 tablespoons saline solution
(12) 2-ounce portion cups – I have tried multiple brands of portion cups because we use them for lunchbox sauces and treats, and the Walmart Great Value brand ones are the BEST!
Free Printable Slime Valentines – you can grab them down below!
White card stock – for printing the slime Valentines
Scissors and tape – for cutting and attaching the Valentines to the slime cups
How to Make Valentines Slime
Mix the pink glitter glue and the white school glue together in a medium bowl until well combined. A spatula or a disposable plastic spoon both work great for mixing your slime.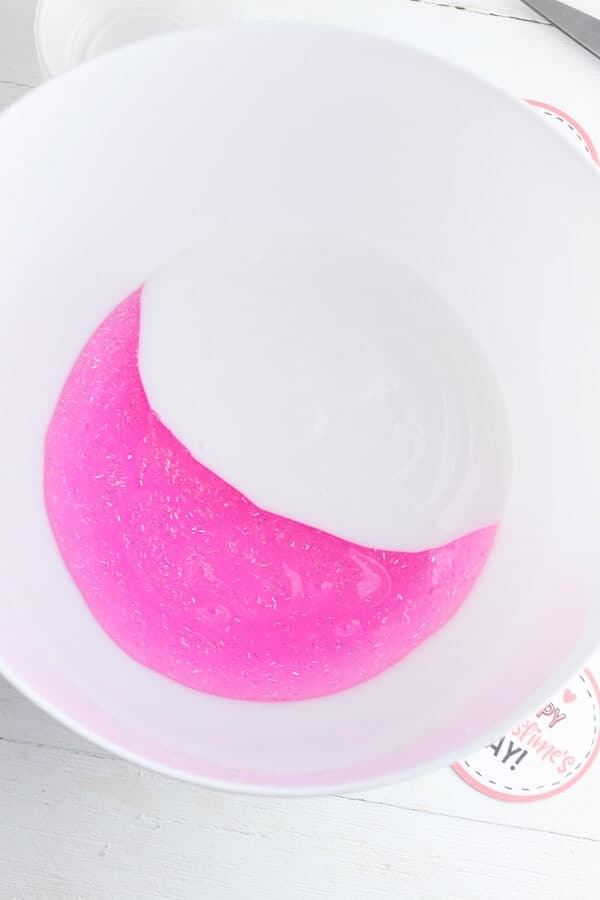 Stir in the sequins and glitter.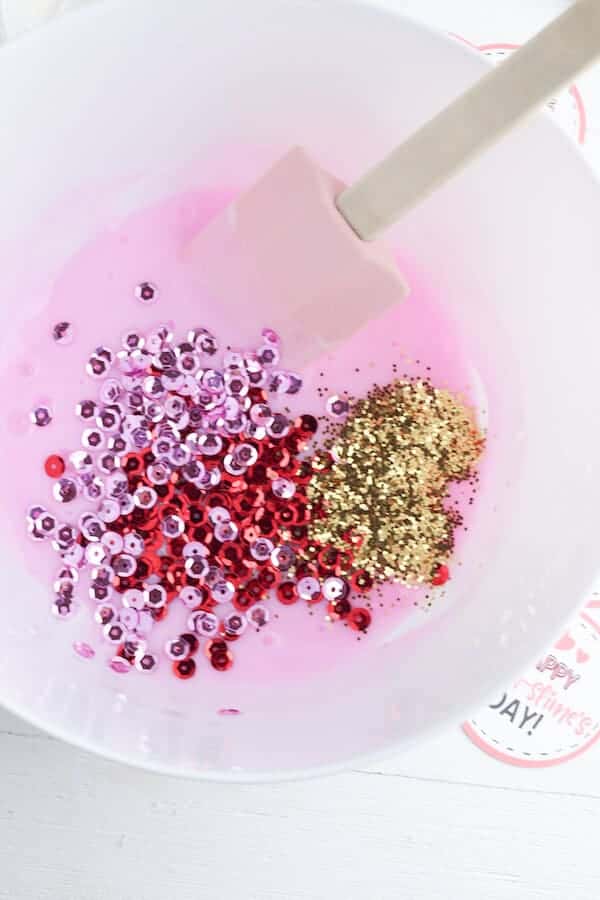 Stir in the baking soda until well combined.
Then, add four tablespoons of the saline solution, and work it into the slime using your hands. Continue to add saline solution, 1/2 tablespoon at a time, until your Valentines' Day slime is no longer sticky.
Then, after your slime is at the desired consistency, it's time to start putting together your Valentines. Just divide the slime evenly into your 2 ounce portion cups and put the lids on.
Cut out the printable slime Valentines tags, and attach one Valentine to the top of each cup with glue or tape. You can also use a circle craft punch to speed up the process.
And you're all done! They're so cute, right?! My daughter absolutely LOVED these Valentines that she passed out to her classmates… probably because she got to help me make the slime!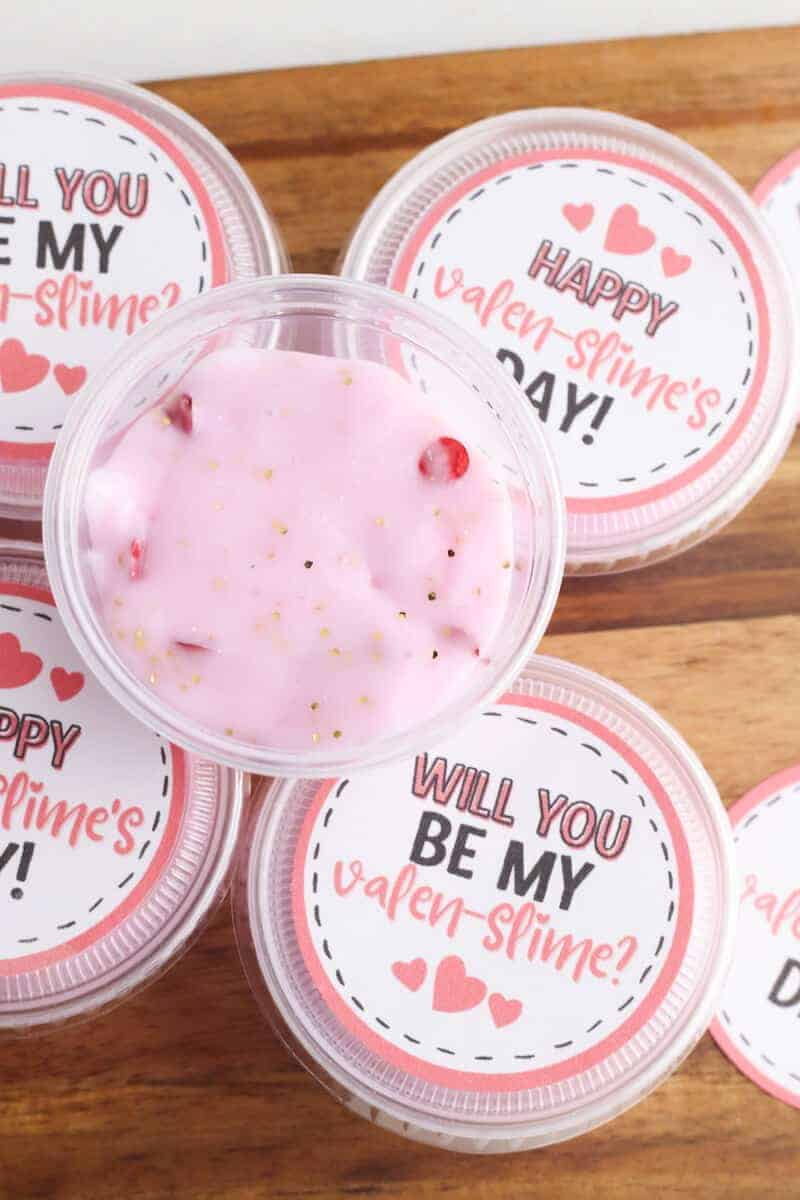 Valentine's Day Slime Printable Tags
Grab the FREE Valentine's Day slime printable tags by clicking the link below: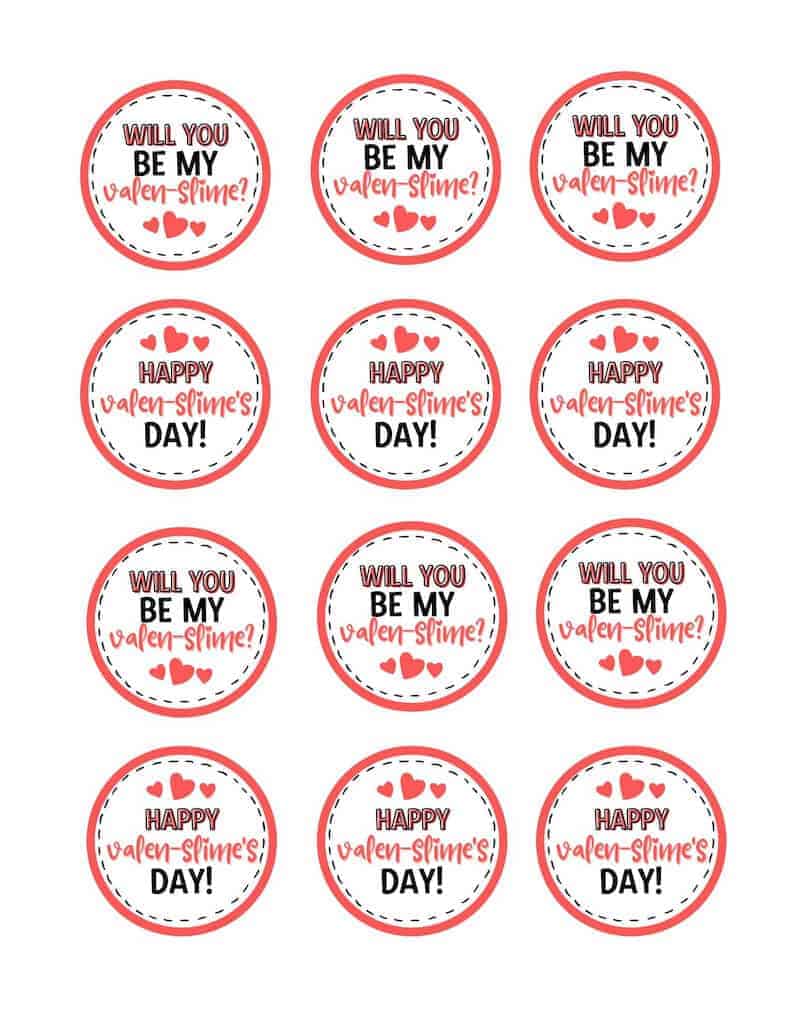 Printable Slime Valentines – Click HERE!
Other Non-Candy Valentines with FREE Printables!
Want other non-candy Valentines for your kids to pass out at school, without having to make slime from scratch? Check out these great ideas:
Hair Tie Valentines for Girls – These "phone cord" style hair ties are a HUGE trend right now, so these Valentines would be GREAT!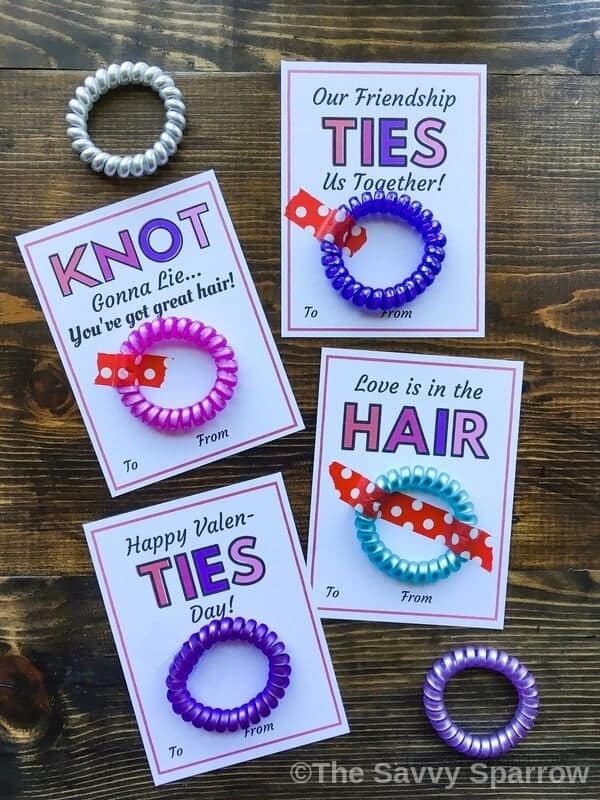 Non Candy Valentines with FREE Printables – Check out this list of 20+ Non-Candy Valentines, all of which come with FREE printables! These are great ideas if your child's school is allergy aware, or they don't allow edible treats.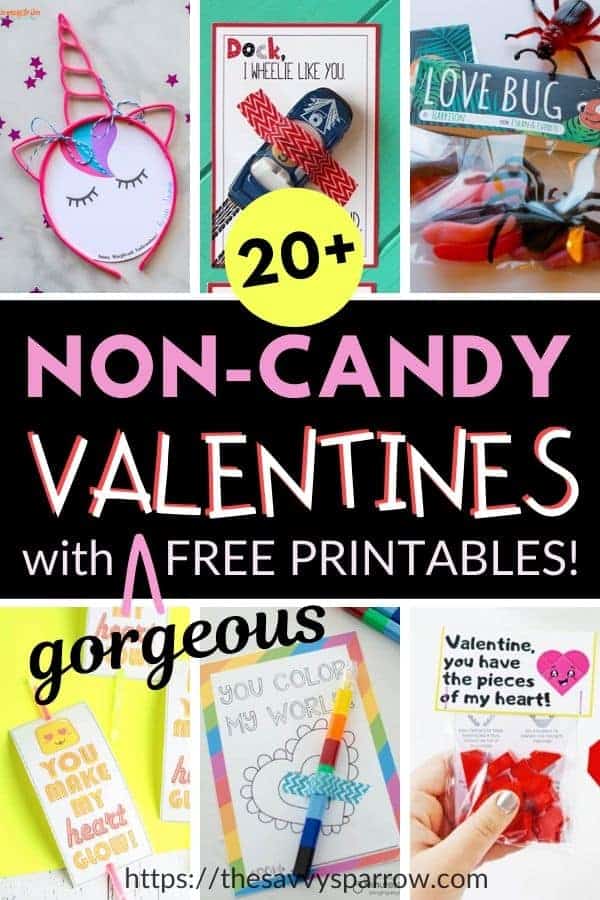 Want to try even more slime recipes with your kids? Check out this Slime Recipe post from Little Bins for Little Hands.
And happy nesting!