These printable hair clip gift tags are perfect for making small and inexpensive gifts for teens or tweens! Use them as hair clip valentines, party favors, or "just because" friendship gifts for girls to pass out at school!
My youngest daughter LOVES claw clips. So when we were brainstorming what valentines cards for girls that she could pass out in her class, we immediately thought about her #1 go-to hair accessory.
Of course, hair scrunchies come in a close second, and she actually passed out these hair tie valentines a few years back. But if you're a Mom of an 11 year old girl, then you know that repeating valentines is like repeating an outfit. So hair claw clips it is!
These make awesome girls' Valentines cards, because I know that her friends love the popular claw clips too… Let's just say I should buy stock in the Scunci brand because I've purchased so many claw clips as birthday presents over the last year.
If you're looking for super cute and creative printable valentines for girls, that your elementary-aged and teenage daughters will BOTH love, then check out these hair clip valentines with printable valentine cards: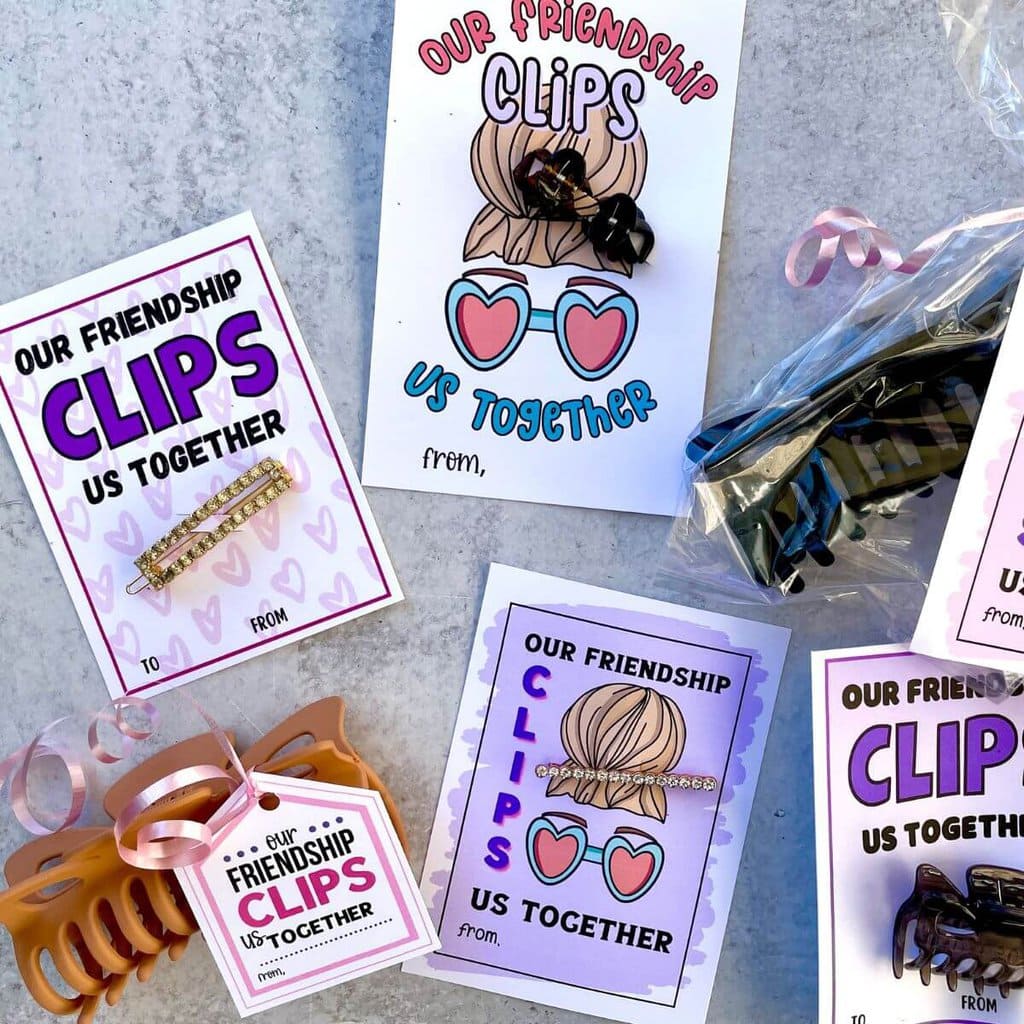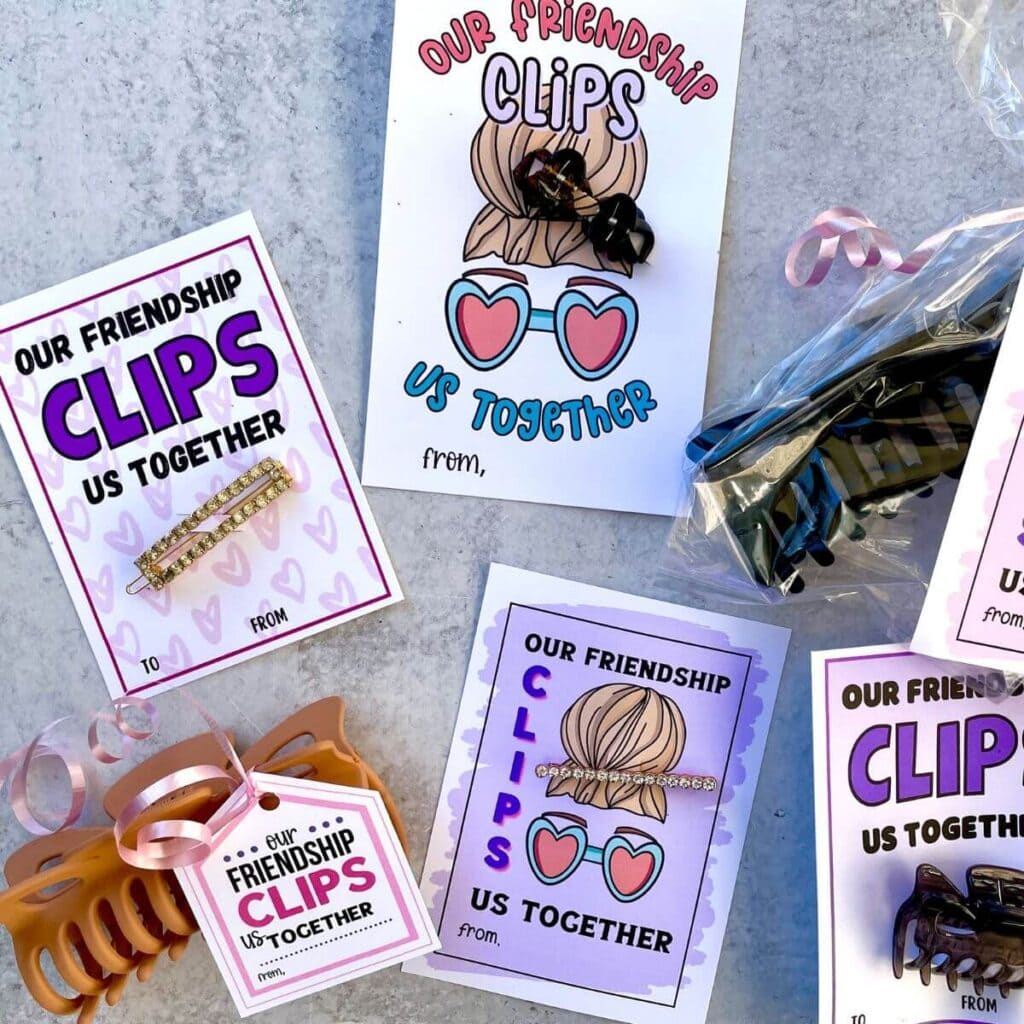 Supplies for Making Hair Clip Gifts for Girls
Here's what you need to make your own hair clip valentine cards for girls:
printable valentines cards – You can find them in my shop here!
white card stock – I recommend a card stock with a weight of at least 65 pounds, so that the paper can hold up to the weight of the hair clip.
printer
Xacto knife (craft knife) or scissors
hair clips – These cute printable valentines are great for a wide variety of hair accessories, from claw clips to bedazzled bobby pin style clips to the snap-in hair clips! I'll give you suggestions for making your own hair clip gifts for teens and tweens down below!
How to Make Hair Clip Valentines with Printable Gift Tags
These small girls for teen and tween girls are super easy to make with just a few basic supplies. Once you've purchased your claw clips, butterfly clips, or fancy bobby pins, just follow these steps:
Print the hair clip gift tags on white card stock.
Cut out the cards.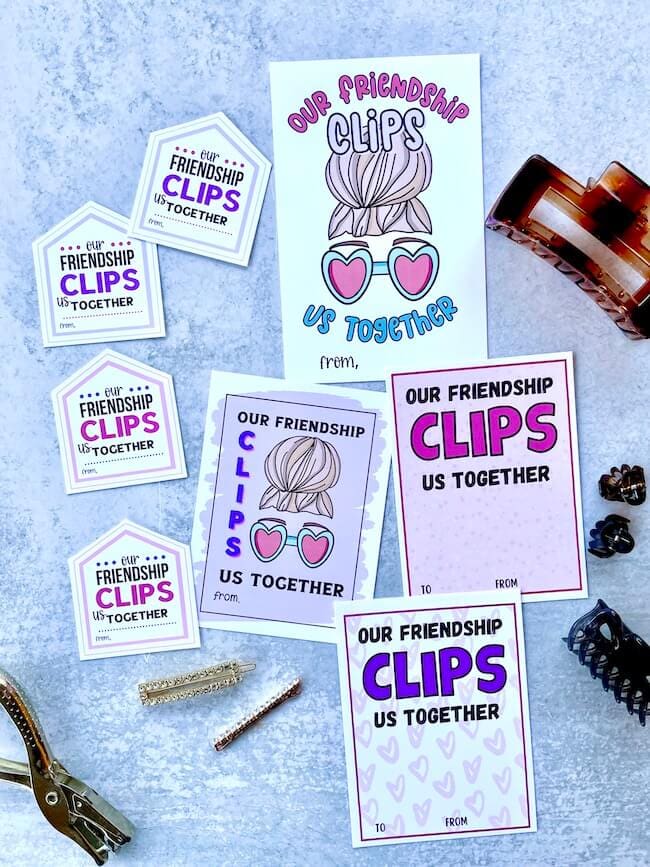 Have your child fill out the "From" section on each card.
Use a craft knife or a pair of scissors to cut two slits in the card where you want the clip(s) to go.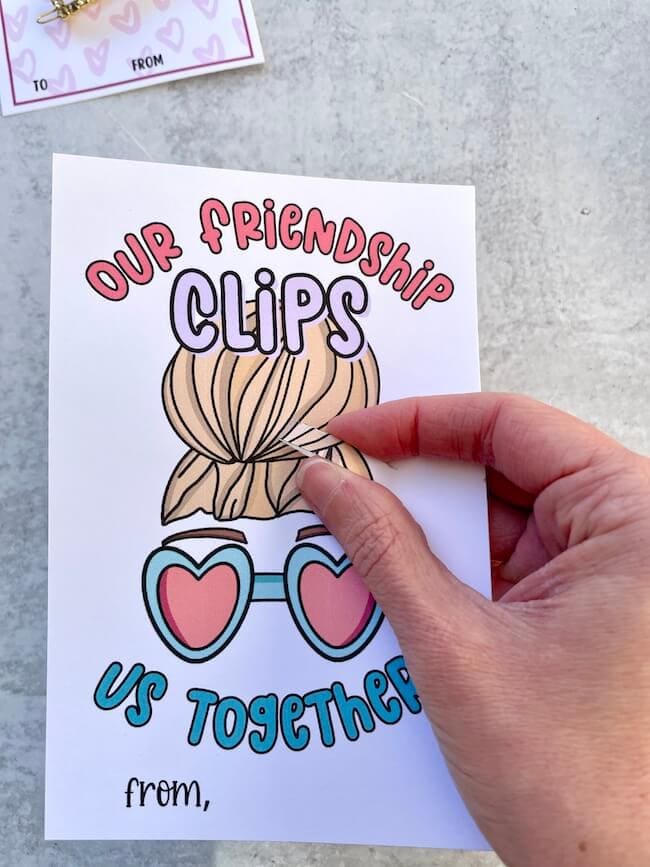 Slide the clip through the slits that you cut.
Tape over the clip on the back side of the Valentine card to keep it in place.
And then your cute printable valentines or friendship gifts are ready to be passed out to the girls at school!
Different Ways to Use the Hair Clip Gift Tags
The great thing about these printable hair clip valentines and gift tags is that you can use them for a wide variety of hair accessories! And since they don't actually say "Happy Valentine's Day" on them, these are perfect gift tags to use for end of the school year gifts for teen or tween girls as well!
I don't know about your daughters, but mine LOVE to bring small and inexpensive gifts to their friends during the holidays and right before summer break. That's why I created these Pura Vida friendship bracelet gift tags, too!
Here are some ideas for using the printable gift tags for hair clips, no matter what type of hair accessories that you're using:
For Larger Claw Clips:
Large hair claw clips can be tricky to use with printable valentine cards, but you have a few options… You can either add one of the printable valentines to a cellophane bag with the clip, and tie a pretty bow around the top of the bag like this: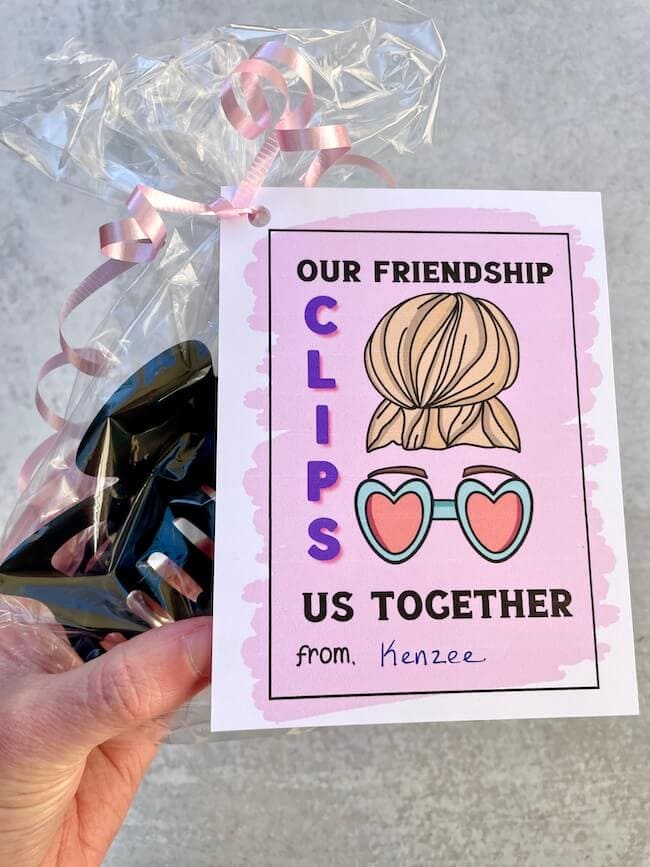 Or, just tie the smaller hair clip gift tag around the actual claw clip with some curling ribbon like this: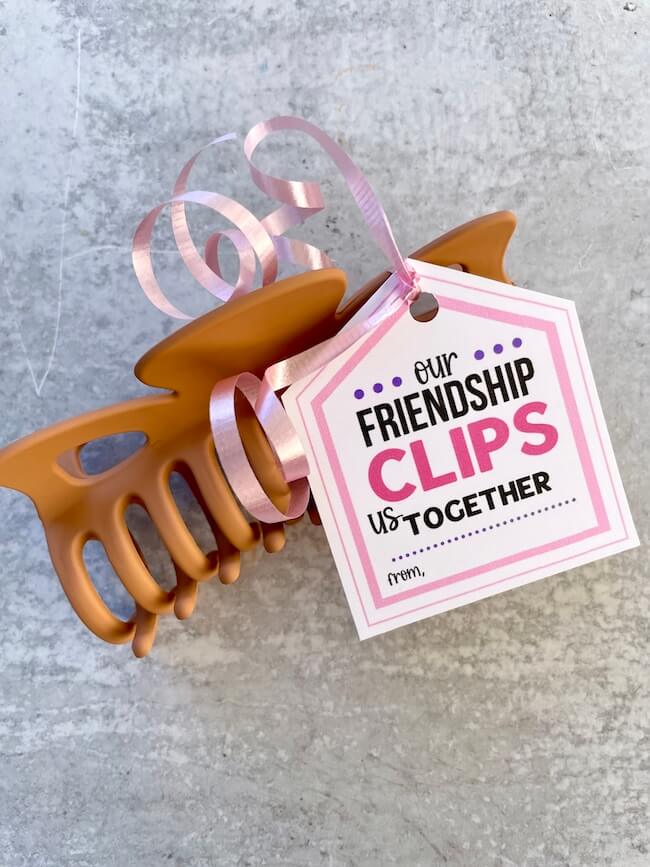 Either way, these claw clip gift tags are super cute, and they're perfect for when your teen has 5-6 best friends! Buying too many large clips can get a little pricey!
For Smaller Claw Clips or Butterfly Clips:
If you want to use the brightly colored mini clips or smaller claw clips, you can put two clips on the gift tag like this: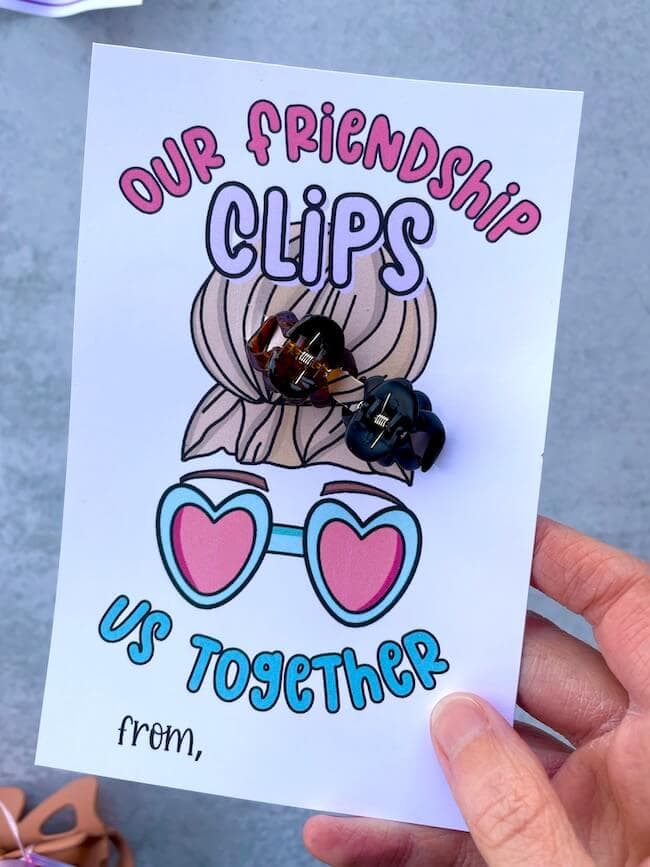 For Jeweled Barrette Style Hair Clips:
If you want to go with jeweled barrette style clips or the ones that are "V" shaped and snap into the hair, then the card style printables are perfect!
Just cut two slits that are about 1″ long and about 1/4″ apart from each other, and slide the back of the barrette through like this: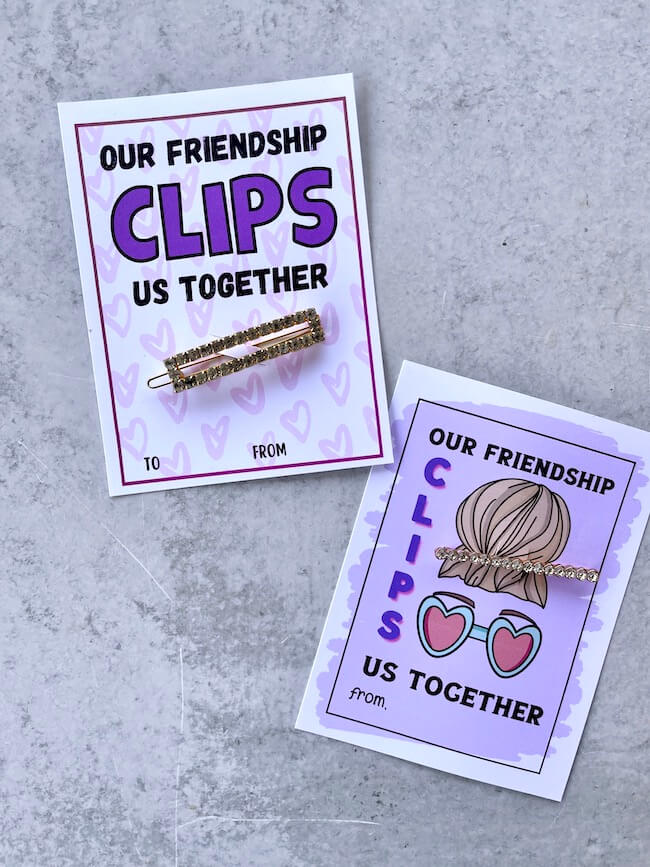 I used rhinestone barrettes for these, but the possibilities are endless! Just have your daughter search the hair accessories aisle at Target, and I'm sure she'll find loads of cute clips to use for these gift tags!
I'm absolutely thrilled with the result, and the great thing is that you can use the cards for a variety of different clips AND a variety of gifts – Valentine's gifts, end of school gifts, friendship gifts, or even party favors!
Printable Hair Clip Gift Tags
Think your tween or teen daughter would love these gifts for friends? You can check out the printable tags in my shop below! And you get ALL 4 PAGES of the hair clip printable gift tags, so your daughter can choose which ones she wants to use, or mix and match them!
Click HERE to see the Hair Clip Gift Tags in my SHOP!
Other Gift Ideas for Teen Friends
If you loved these small teen girl gifts, then check out some of my other gift ideas for teens to give friends: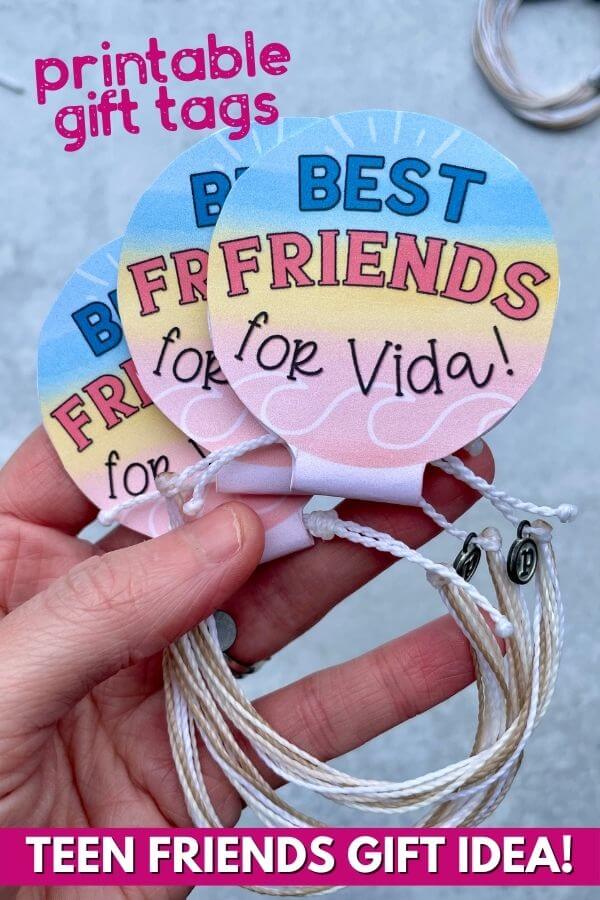 Printable Friendship Bracelet Gift Tags for Pura Vida Bracelets – These "Friends for Vida" gift tags are perfect for the popular Pura Vida bracelets… and you can buy the actual bracelets in a "friendship pack", so these make an inexpensive gift, too!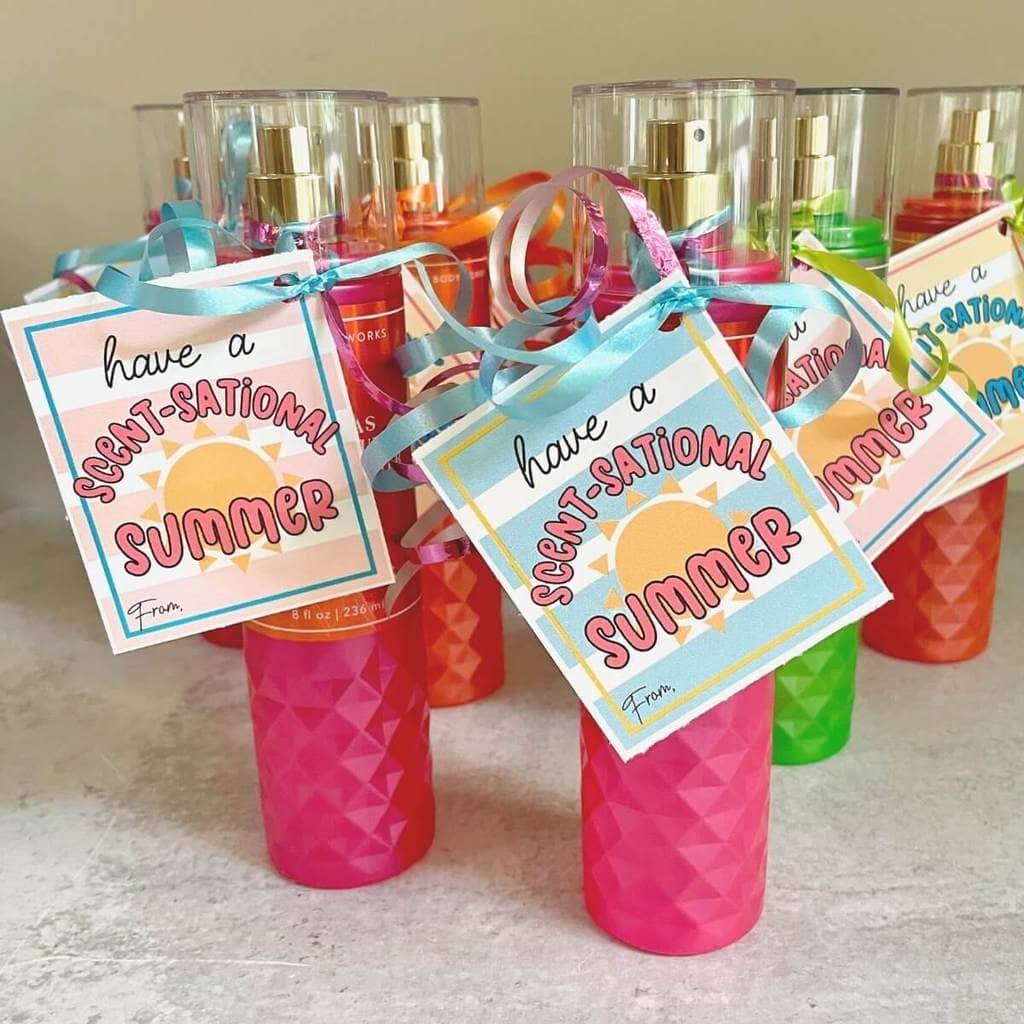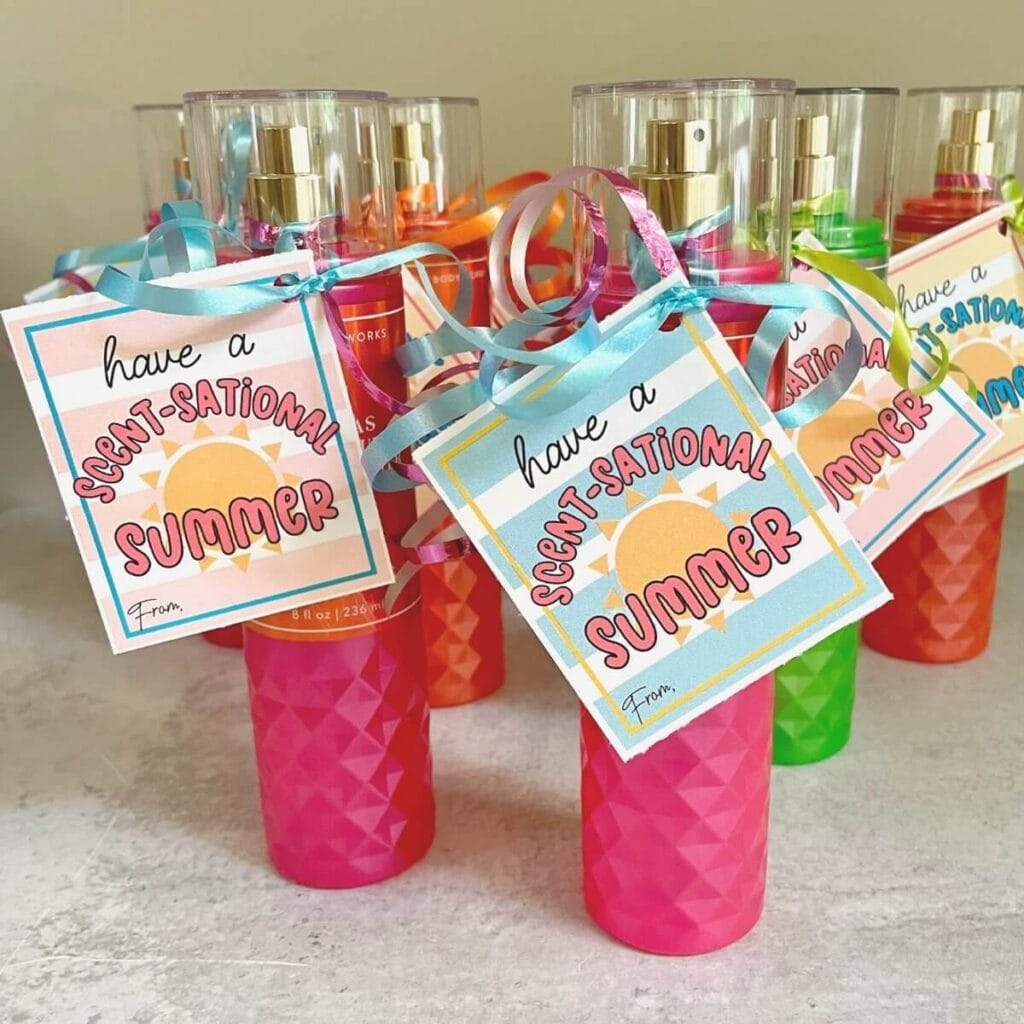 Have a Scentsational Summer Gift Tags for Body Mists – Both of my daughters are obsessed with the Bath and Body Works fragrance body mists, so when they went on sale for $5.95 each, I bought a bunch for these small teen girl gifts!
Hope your teens and tweens LOVE these cute hair clip gifts!
What are your go-to gift ideas for girls to pass out to their friends? Do your kids like to give small gifts to their best friends at school also, or is it just mine? Leave me a comment down below – I'd LOVE to hear from you!
And don't forget to PIN this post for later: