Looking for some of the best gifts for teenage girls to pass out to their friends? Make some super cute and cheap teen best friend gifts with these printable friendship bracelet gift tags, perfect for Pura Vida bracelets!
I know firsthand that good friends can make or break your teen daughter's school year… So when Christmas or summer break or some random Tuesday rolls around and my teenager wants to bring small gifts to school for her best friends, I'm happy to open up my wallet.
Even when she has 9 best friends that she wants to buy best friend gifts for!
But to save my budget a bit, I have to get creative and come up with cheap teen girl gifts that 1) don't suck and 2) are things that the girls will actually want.
In the past, I've made body spray mist gifts for summer time using the Bath and Body Works fragrance mists when they go on sale for $5.95 each, and I've also simply printed out gift tags that say something about "sweet friends" and attached them to boxes of movie theater candy.
So when I got an email about the 40% off sale at Pura Vida recently, I knew that I had to jump on it and make these super cute friendship bracelet gifts for teens! With the help of my teen daughter (who digitally drew the background of the cute sunset, beach-y inspired tags), we put together some super cute printable best friends gift tags for these Pura Vida bracelets. By the way, the popular Pura Vida bracelets are definitely trending right now… just ask your own teen daughter.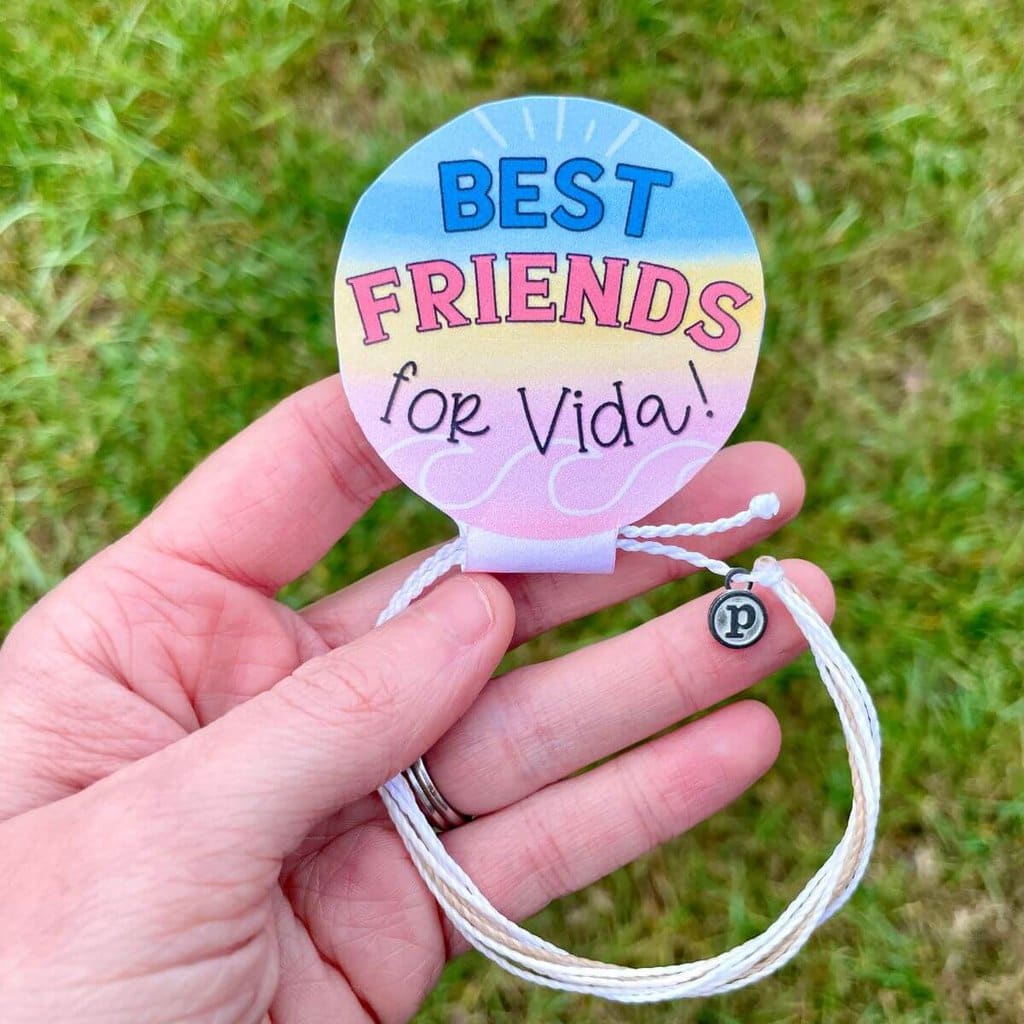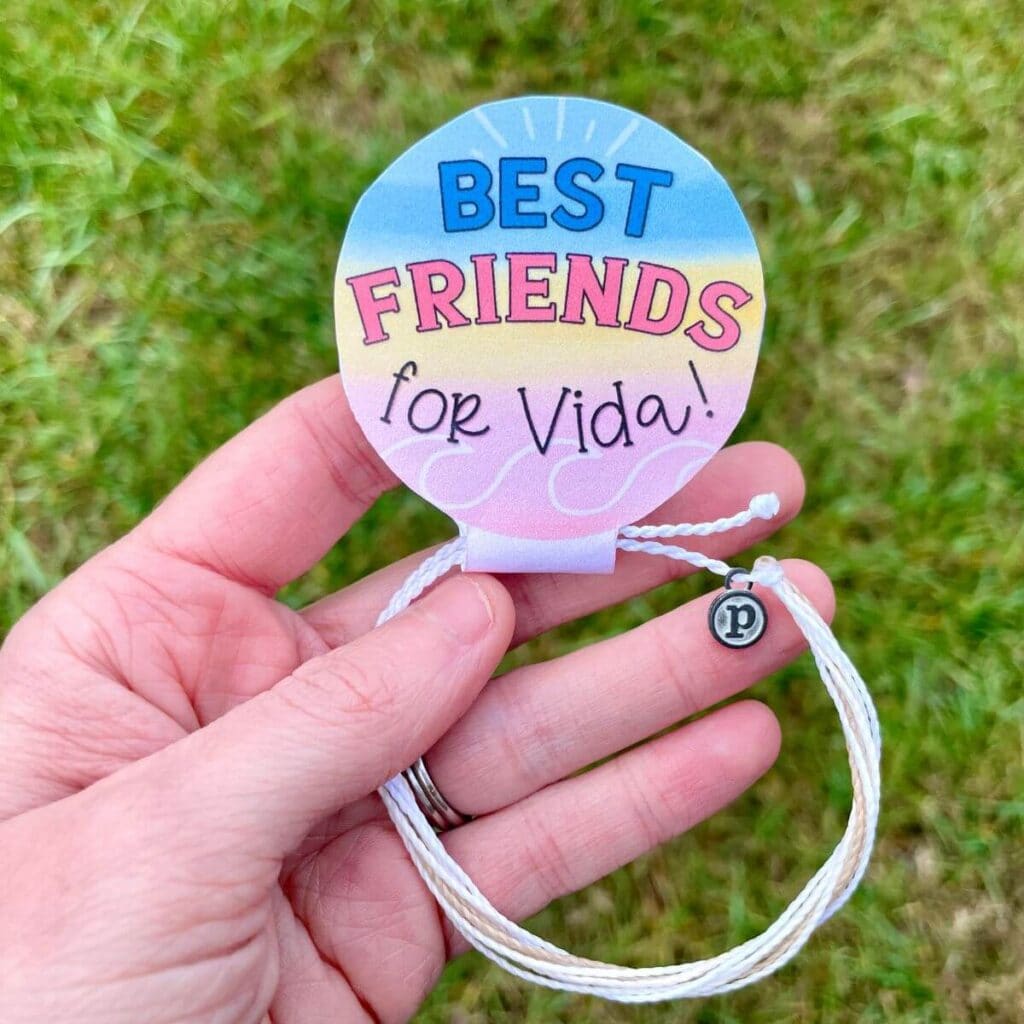 Here's how to make these super cute and cheap best friend gifts for teen girls:
How to Make Friendship Bracelet Best Friend Gifts
Making these cute teen best friend gifts is easy with the printable friendship bracelet tags, and your teen daughter could even make these gifts herself! Here's how to do it:
Step 1: Buy the Pura Vida bracelets.
First, you'll need the actual bracelets. These gift tags say "Best Friends for Vida" ("vida" means "life" in Spanish), so I would definitely recommend keeping with the theme and purchasing Pura Vida brand friendship bracelets for your gifts. Not only will all of the girls love them, but you'll love the price also!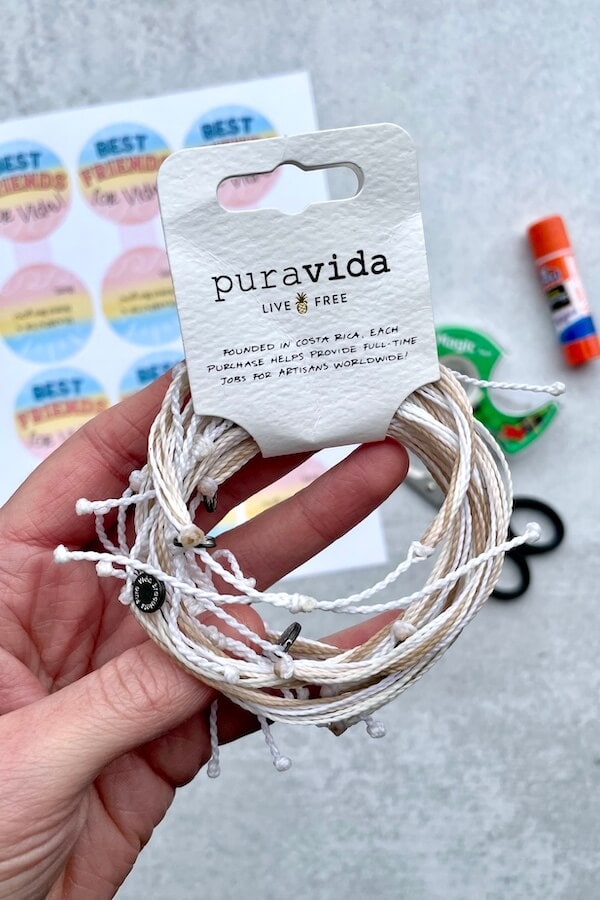 I was able to score my bracelets in a "friendship pack" of 10 matching bracelets for 40% off, making each bracelet only $2.70.
Pura Vida has some great sales pretty frequently, so be sure to get on their email list so you can start watching out for those to help with the cost. And you can also see if Rakuten is offering a cash back rebate for Pura Vida as well – If you've never heard of Rakuten, then be sure to check out my full Rakuten review for how to use this free service… It's one of my absolute favorite online shopping hacks!
Step 2: Print and cut the best friends gift tags for bracelets.
The best friends gift tags are available in my shop here.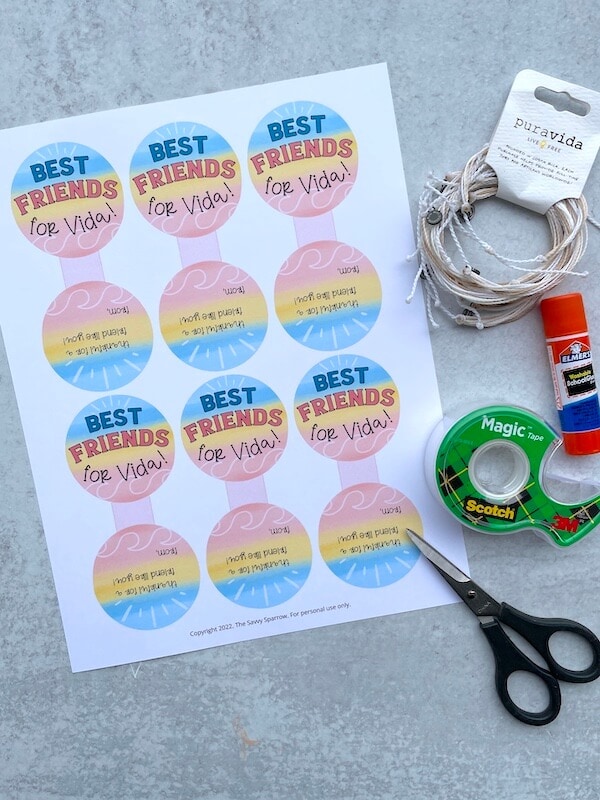 I would definitely recommend printing the bracelet gift tags on white card stock, because it's much sturdier and your tags are less likely to get wrinkled in your teen's backpack.
Once you have all of the gift tags printed, just cut them out around the colored border. Make sure that you leave the thicker light pink piece that joins the two circles in tact like this: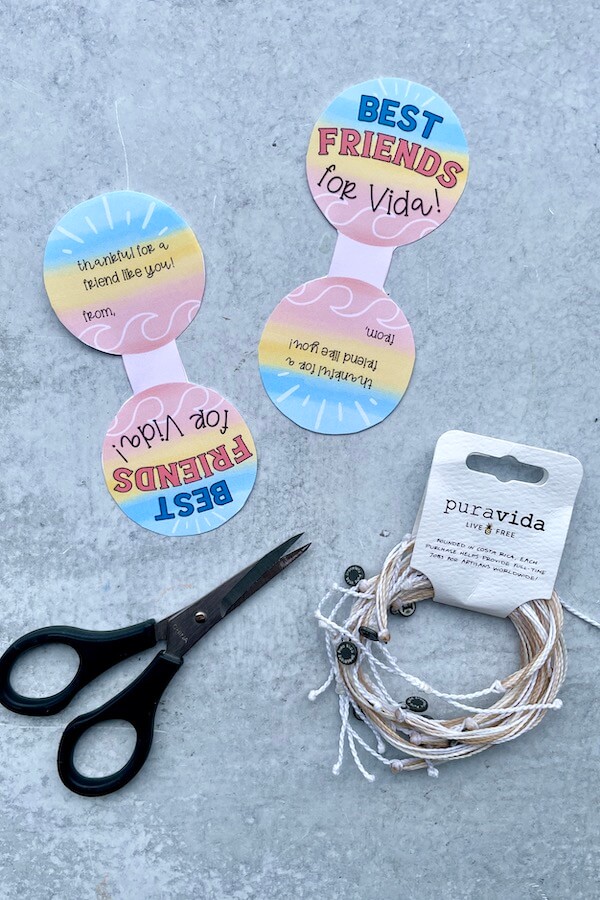 Go ahead and have your teen fill in the "from" section of the gift tag now. It'll be much easier to write on the printable tags before you put the bracelet gifts together.
Step 3: Attach a Pura Vida bracelet to each friendship gift tag.
When all of the gift tags are cut out, the next step goes super fast. Just slide one or two bracelets onto the gift tag, add some glue, and press the two circles of the tag together like this: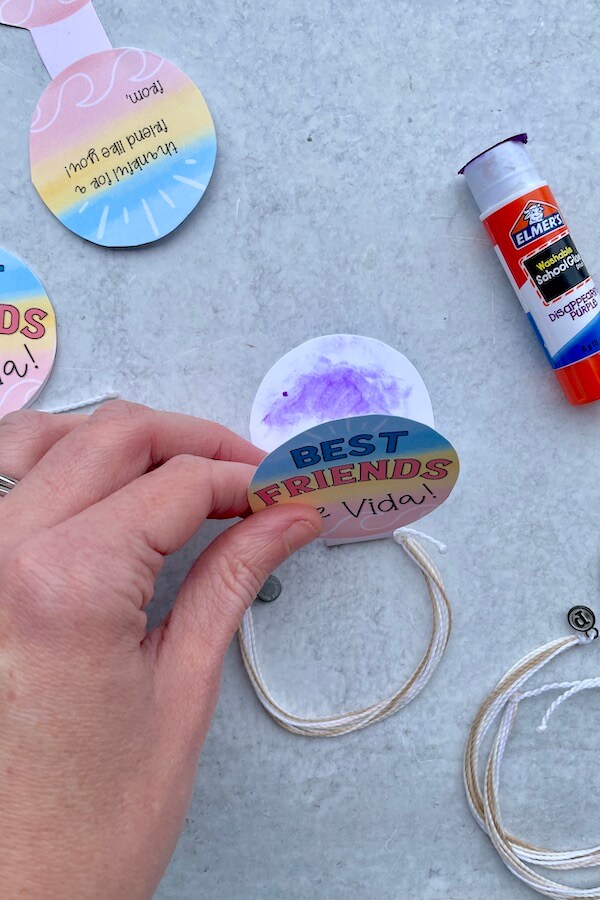 I tried making these tags with tape and regular white school glue, but I found that the glue stick worked best and left the finished gift tags nice and smooth. You could also try glue dots for attaching the printable best friends tags.
Get the Friendship Bracelet Gift Tags Here
Think your teen girls would want to pass out these cheap best friend gifts to their besties at school? You can grab the printable friendship bracelet gift tags in my shop at the link below: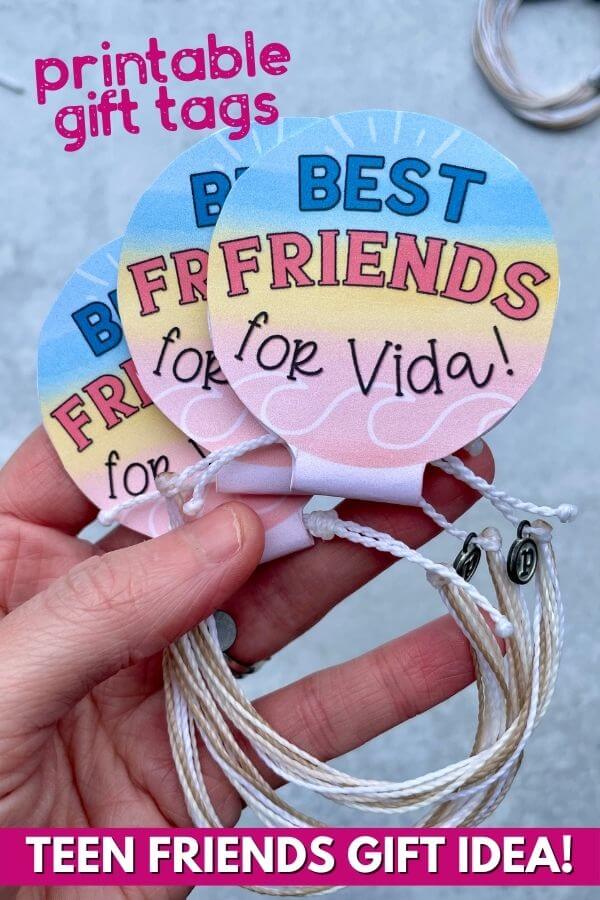 Click HERE to see the Friendship Bracelet Gift Tags
Other Gifts for Teen Friends
Want some other super cute and inexpensive gifts for teen friends? Check out some of these ideas: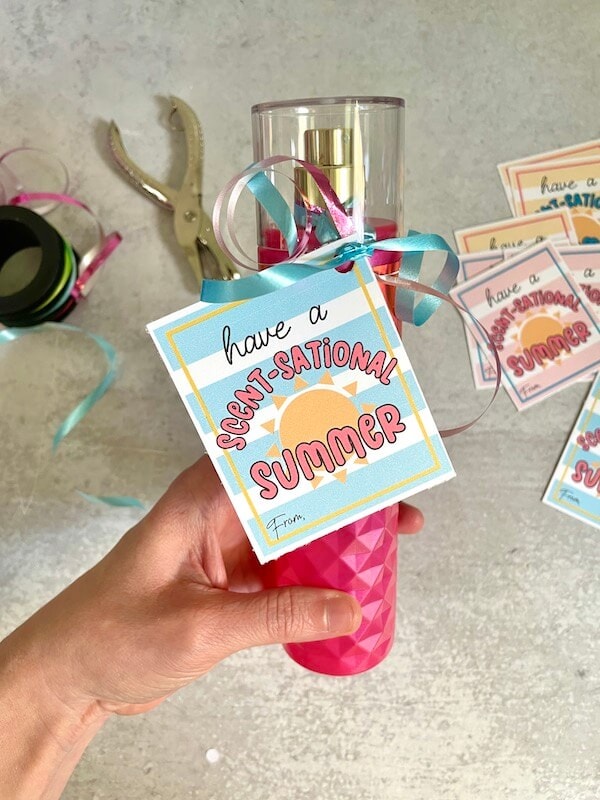 Scent-Sational Summer Gift Tags – Perfume Gifts for Friends – These printable gift tags are perfect for scented gifts like candles or body sprays… the perfect little gifts to pass out to friends before summer break starts!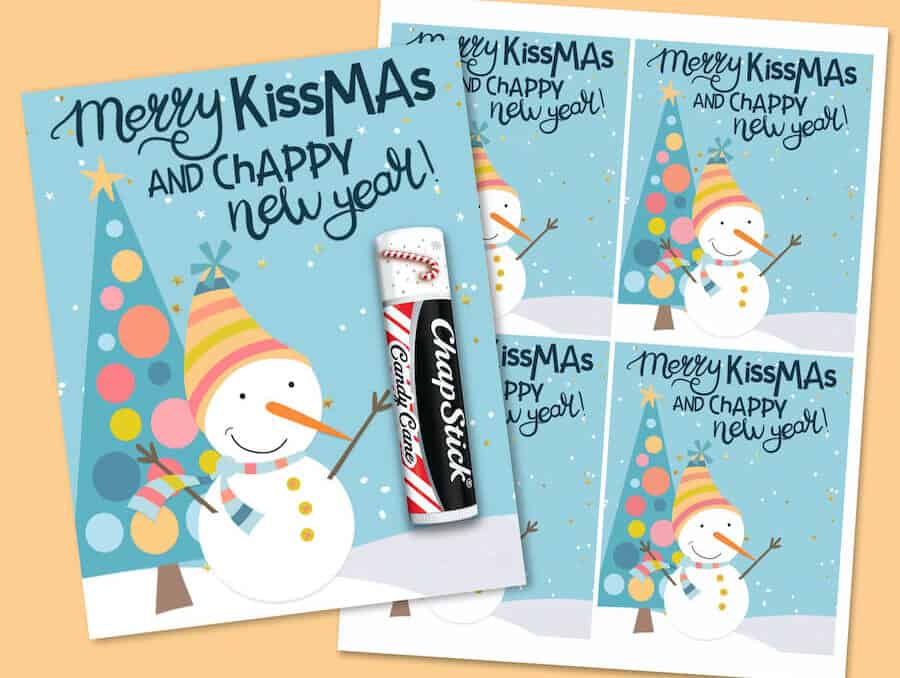 Merry Kissmas and Chappy New Year Gift Tags – Free Printable! – These super cute FREE printable gift tags are great for creating lip balm gifts for your teenager to pass out to her friends at school!
Or check out some other inexpensive gifts that teens can give their friends here!
And don't forget to PIN this post for later: