If you need cheap Christmas gifts for neighbors, then these cute printable gift tags for gifting paper plates and napkins are perfect for you! Send your neighbors some "Christmas wishes and a little something for less dirty dishes"!
What's one thing most Moms probably want for Christmas more than anything? How about less housework to do, especially around the holidays when Christmas to-do lists are a mile long already?
It's true that you can't buy time, but what if you could buy something to take one chore off your plate? No pun intended!
These printable "Less Dishes" Christmas gift tags are perfect for creating simple inexpensive neighbor gifts with paper plates and plastic cutlery… Just what all busy parents want in the month of December, less dishes to do so they can focus more on wrapping 87 gifts and baking 35 batches of Christmas cookies for their kids' school parties!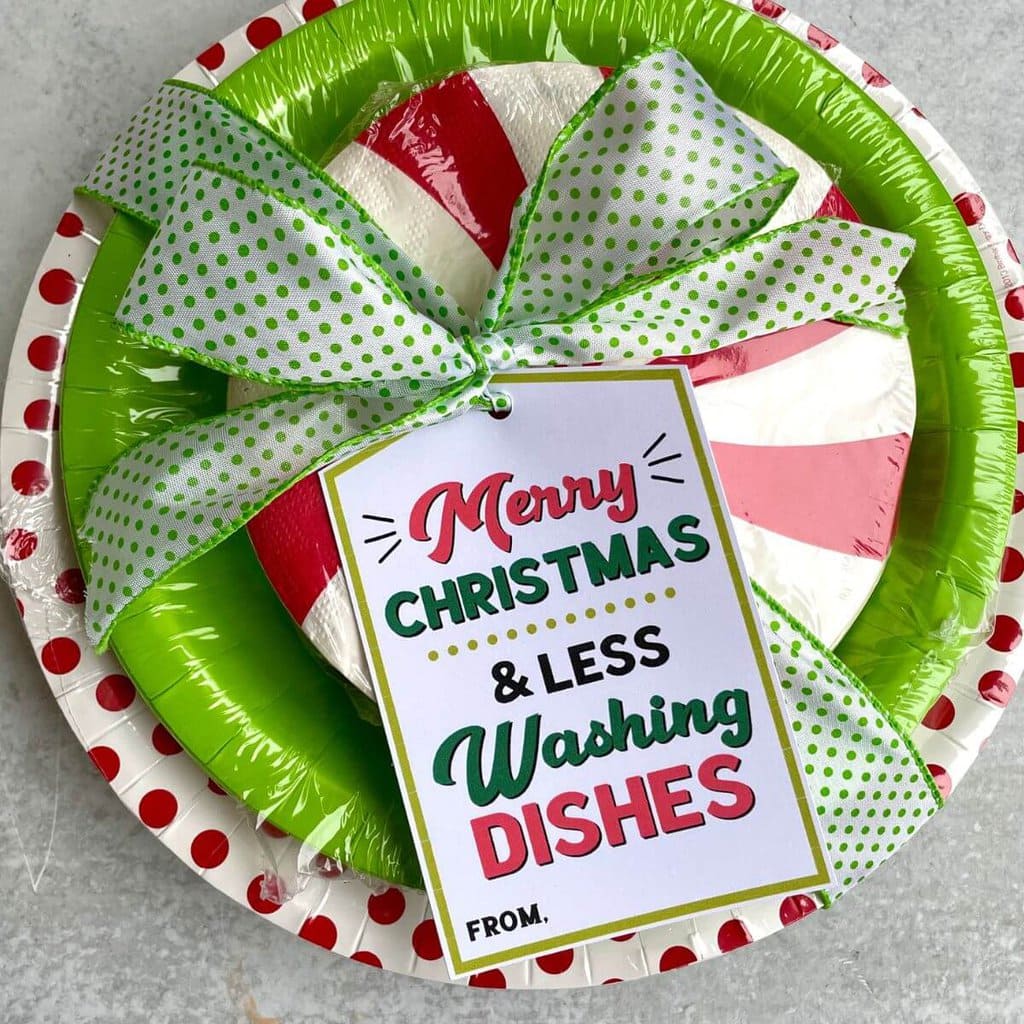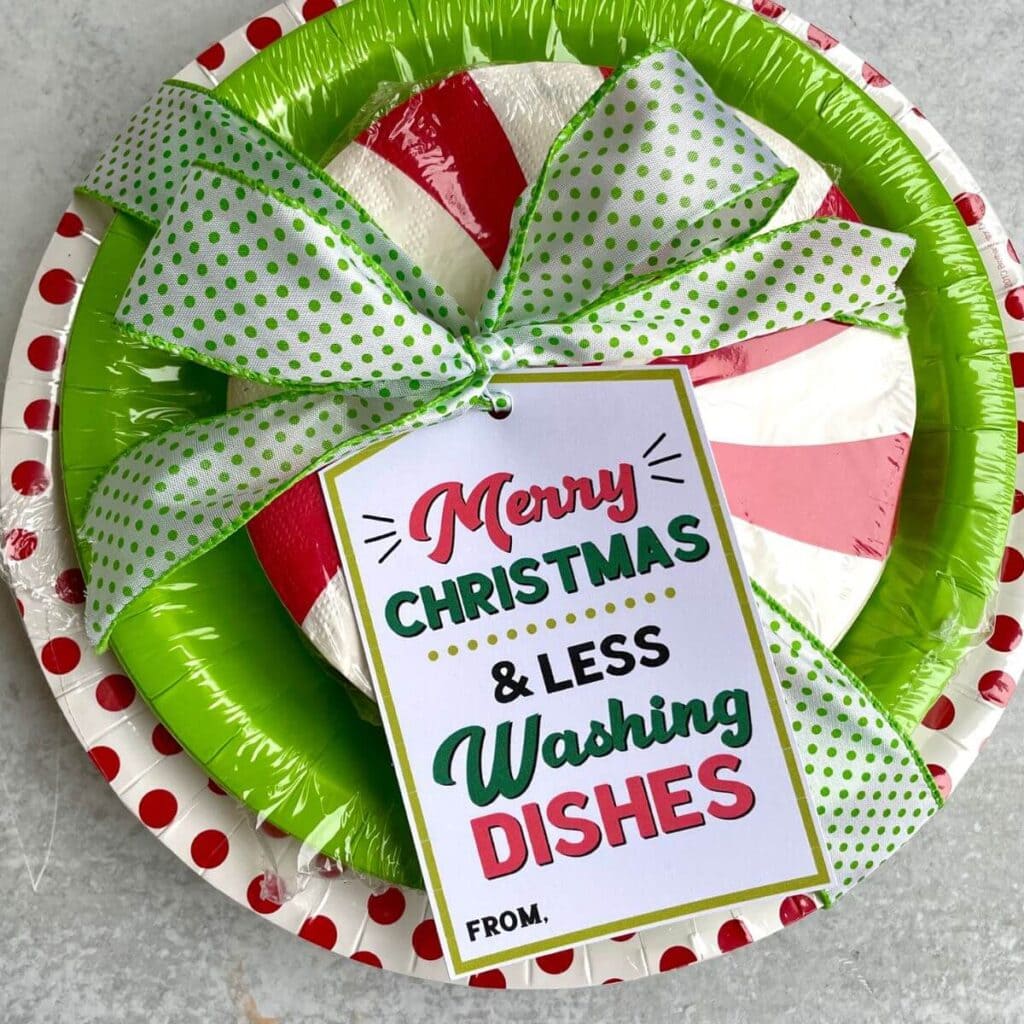 Where to Find Cute Paper Plates for Neighbor Gifts
If you're going to make these cute "less dishes" neighbor gifts, then you'll need some festive paper plates and silverware. I suggest picking one theme for your plates, cups, and napkins so that everything coordinates, and your neighbors (or friends or teachers) can use the items for their Christmas parties or family gatherings.
Some of my favorite places to buy holiday tableware are:
Hobby Lobby – They usually have great sales, like 50-60% off, during the month of December, so you can make a nice gift basket without spending a fortune. All of the paper tableware that I used for my cheap neighbor gifts was from Hobby Lobby.
Dollar Tree – Look for "filler" items or decorative pieces to go with your gifts.
Party City – Great selection of holiday plates that you can't find elsewhere.
Target – Sometimes during the Christmas season you can find cute paper plates and napkins in the Dollar Spot! Or they also have a great selection in their Christmas section, too.
"Less Dishes" Paper Plate Gift Ideas for Neighbors
Before you start putting together your gifts with the super cute "less dishes" Christmas gift tags, you'll need to do a little shopping to pick out your plates, napkins, cups, and silverware.
Here are some theme ideas for picking out matching Christmas plates and paper goods to use for your gifts:
Farmhouse Christmas Paper Plates
Use plaid or buffalo check dishes and napkins in holiday colors. You could also tie the items together with a matching wired ribbon and attach a sprig of rosemary or a few faux pinecones to the package for a cute and farmhouse-y look.
The red and black plaid paper plates Christmas gift tag that I created is perfect for a Farmhouse Christmas gift!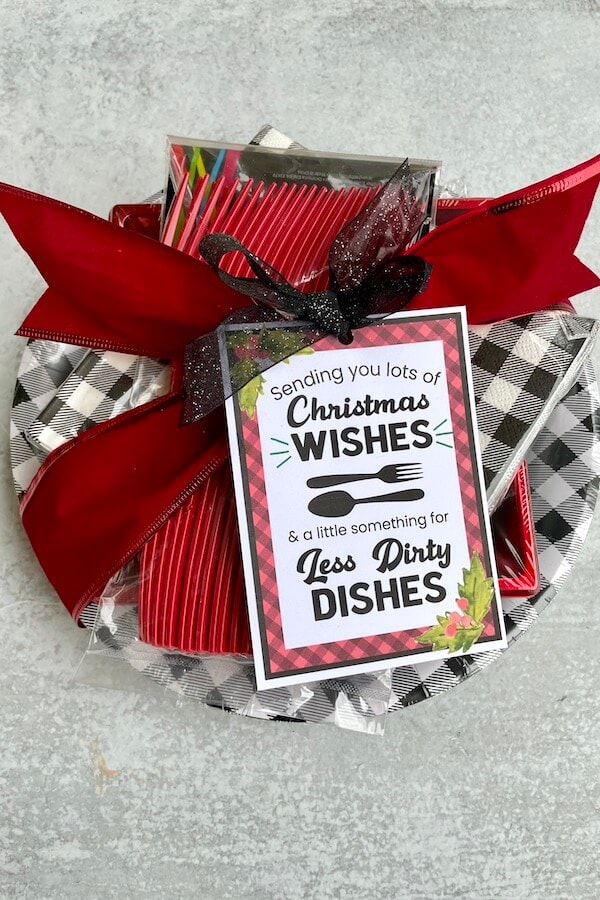 Black and White Theme
If you want to go with a more classic and modern gift, then try a mix of solid black and solid white plates, napkins, and silverware. The great thing about this gift idea is that your neighbors can use the items all year round! You can tie all of the items together with a bright red velvet bow to add a punch of color also.
Red and Green Theme
What says "Christmas" more than solid red and green colors? The great thing about going with this theme for your Christmas paper plate gifts is that it's more universal, so you don't have to worry about the dishes matching your neighbors' holiday décor.
You could do a mix of red and green items, and tie on a bold and graphic gift tag with some patterned ribbon for a cute "less dishes" Christmas gift like this: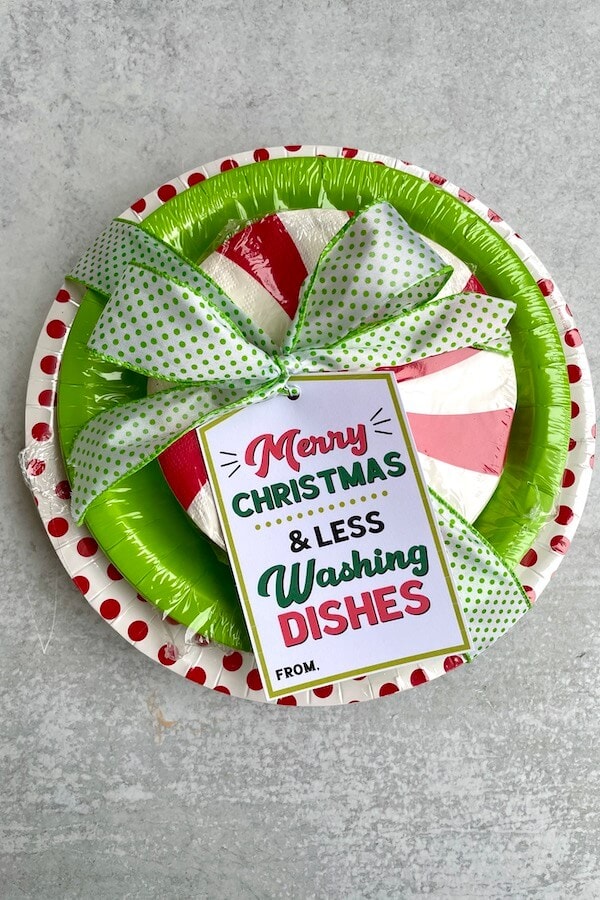 Grinch Theme
If your neighbors have younger children, then why not include a classic kids' Christmas character in your gift? Purchase neon green plates and napkins, and add in some Grinch-related items like red heart confetti for a fun gift idea!
You may even be able to find printed paper plates and napkins with the Grinch on them, but I would suggest mixing in one or two of those packs with some solid colored items so you don't overdo it.
How to Give a Holiday Gift of Paper Dishes
Making cheap neighbor gifts with paper plates is super easy with the printable gift tags! Here's how to put your paper plate "less dishes" Christmas gifts together… and really, the hardest part is trying to decide which cute tag you're going to use: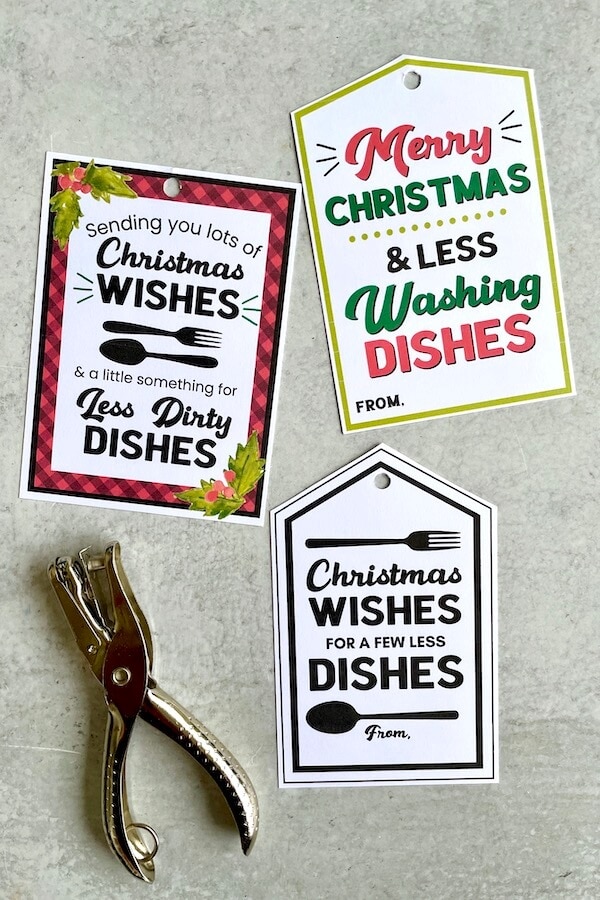 Print the paper plate Christmas gift tags of your choice on white card stock.
Cut out the gift tags, and use a hole punch to punch a hole in the top center of the tag.
Stack up your matching Christmas or holiday themed paper plates and napkins. Tie a ribbon bow around them, and thread the "less dishes" Christmas gift tag on the gift.
Printable "Christmas Wishes for Less Dishes" Paper Plate Gift Tags
Want to grab the "less dishes" Christmas gift tags to make your own paper plate gifts for neighbors or friends? You can find the printable gift tags in my shop here! And the best part is, you get ALL 3 gift tag designs with your purchase, so you don't have to decide which one you like best!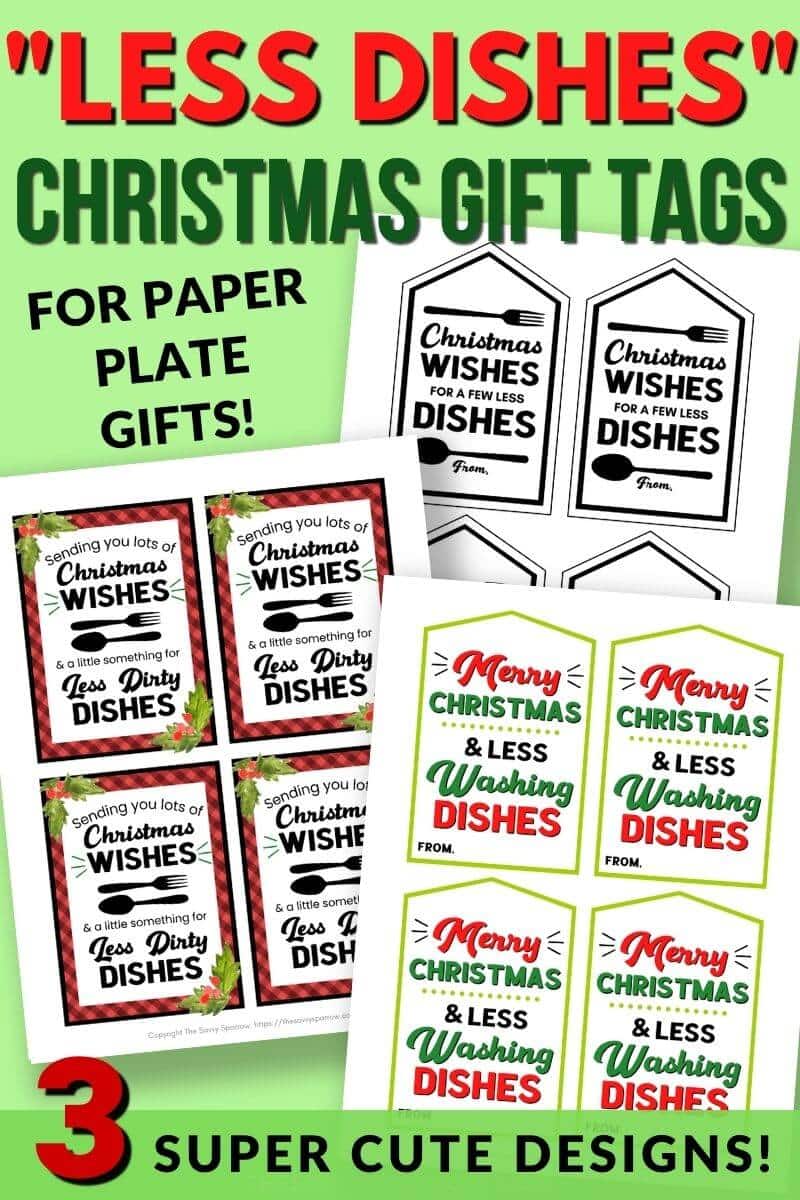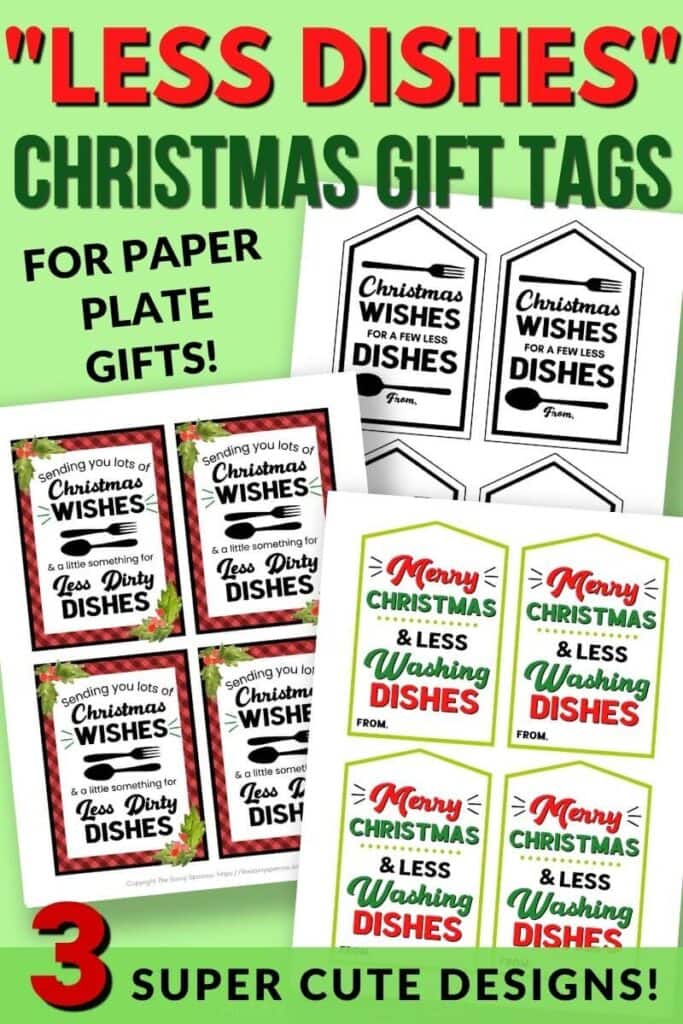 Click HERE to see the Paper Plate Christmas Gift Tags Printable in my Shop!
More Christmas Gift Ideas
Need more Christmas gift ideas? Check out some of these other posts:
I hope you guys LOVE this easy Christmas gift idea for neighbors! What is your go-to neighbor gift each year, or do you like to mix it up and keep 'em guessing? Leave me a comment down below! I'd LOVE to hear from you!
And don't forget to PIN this post for later: