Need a Nice List Certificate to print out for your kids this Christmas? I've got three super cute printable (and totally official looking) Santa's Nice List certificates that you can personalize with your child's name!
Making it on to Santa's Nice List is a BIG deal… especially if you have younger kids or toddlers that try their best to behave all year long just to get their names on the infamous Naughty or Nice Lists. So why not commemorate their hard work with a printable certificate straight from Santa himself?
These Nice List certificates can be personalized with your child's name, and the PDFs even come signed by Santa Claus and the Head Elf. The official North Pole seal completes the design of these cute certificates, and the best thing of all… you can print them right from home!
If you're looking for fun Christmas traditions for kids, then an official Nice List Certificate is just the thing for you!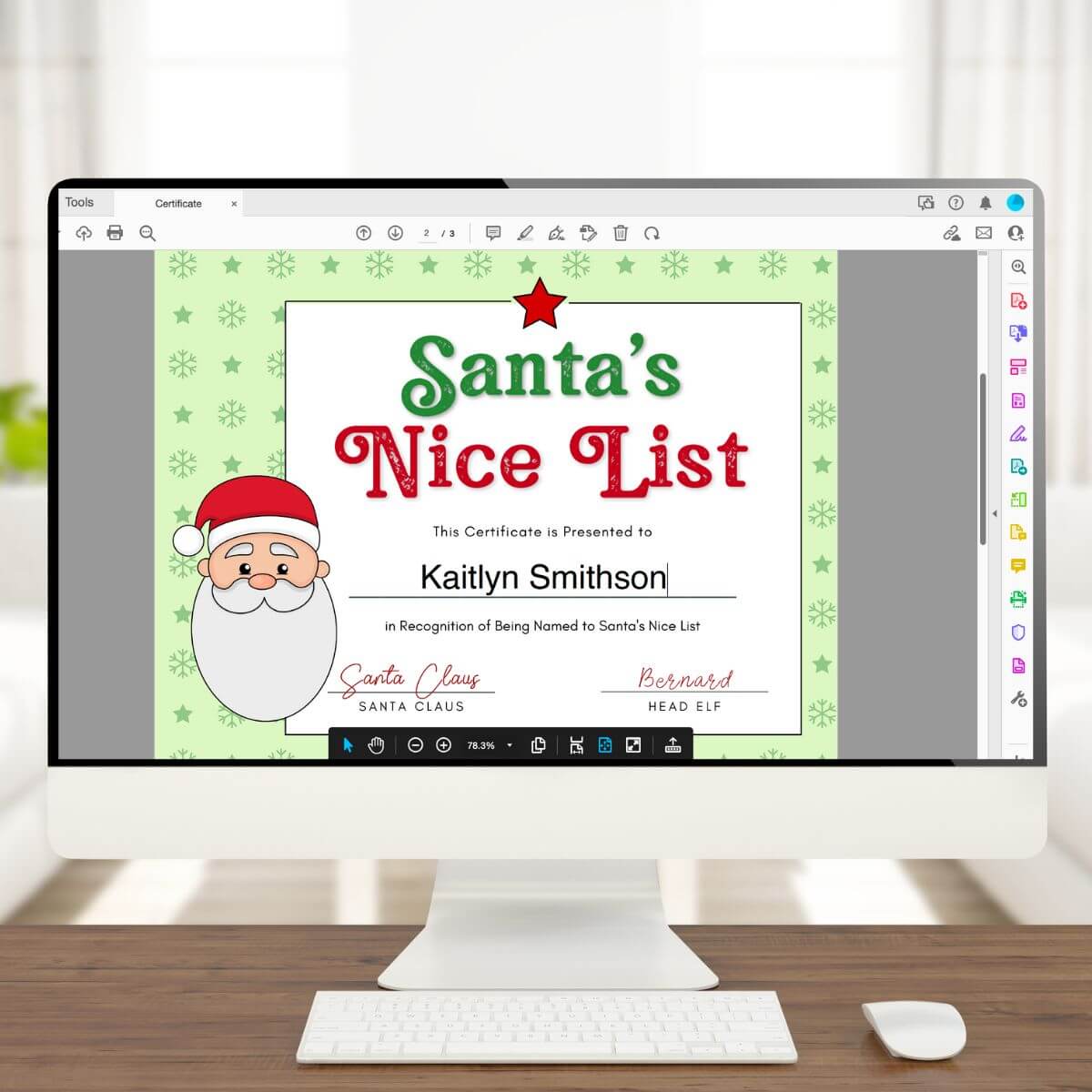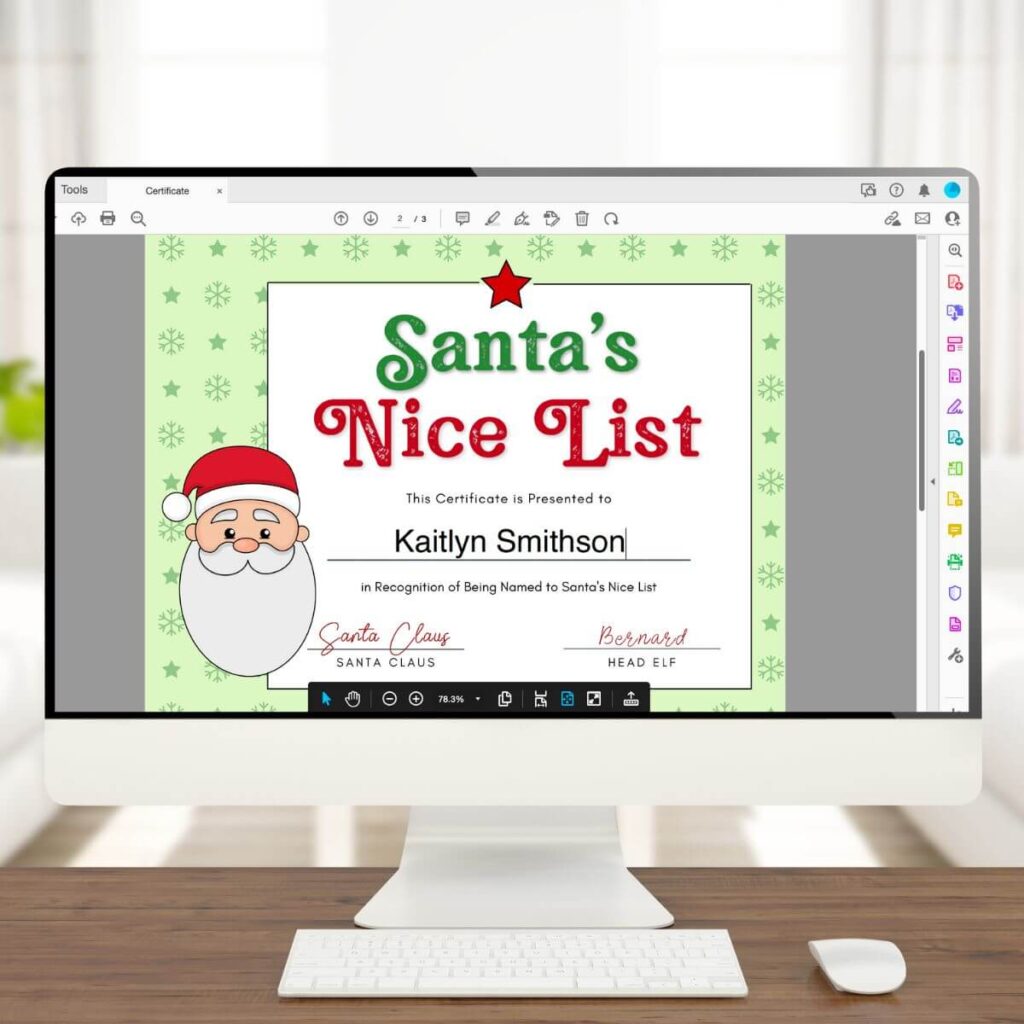 How to Give Out the Santa's Nice List Certificates
Printing a certificate and just randomly giving it to your child is okay, but a huge honor like getting your name on the Nice List deserves some razzle-dazzle and pageantry, right?!
Part of the magic of Christmas is in the details that we as parents go the extra mile for… Whether it's staying up late to set up a Christmas morning treasure hunt for our kids to wake up to, or adding some green food coloring and sprinkles to the pancake batter to make fancy Christmas tree pancakes. And it's those small details that your kids are more likely to remember and to continue on with their own families as they get older.
So I look for every opportunity during the month of December to make lasting memories with my kids! And if that includes something as easy as printing out an official piece of paper from Santa Claus and turning it into a bit of a spectacle, then so be it!
Here are some ideas for how to surprise your kids with their official Nice List Certificates… so much better than just laying it on the kitchen counter for them to find:
Have your Elf on the Shelf leave Santa's Nice List Certificate
If you partake in the the popular Elf on the Shelf Christmas tradition, then what better way to deliver your kids' certificate?! And since you're probably already racking your brain to come up with 24 ideas for how to pose Santa's helper, then this takes care of one of them for you!
You can set up your elf holding a manilla envelope like the one above.
And if you're feeling really crafty, you could even decorate the outside of the envelope with Christmas doodles or stickers to make it look extra festive, or add some fake snow or confetti in the envelope with the certificate! I found my scrapbook letter stickers, sparkle foam stickers, and green confetti for my envelope at the Dollar Tree!
Mail the Certificate from the North Pole
Have the post office deliver your child's Nice List Certificate right to your mailbox! Just print out the customized certificate, package it up in a large manilla envelope, address it to your kiddo, and pop it in your mailbox.
Or, if you want to take it a step further, you could use this printable official North Pole Shipping Label to address the envelope: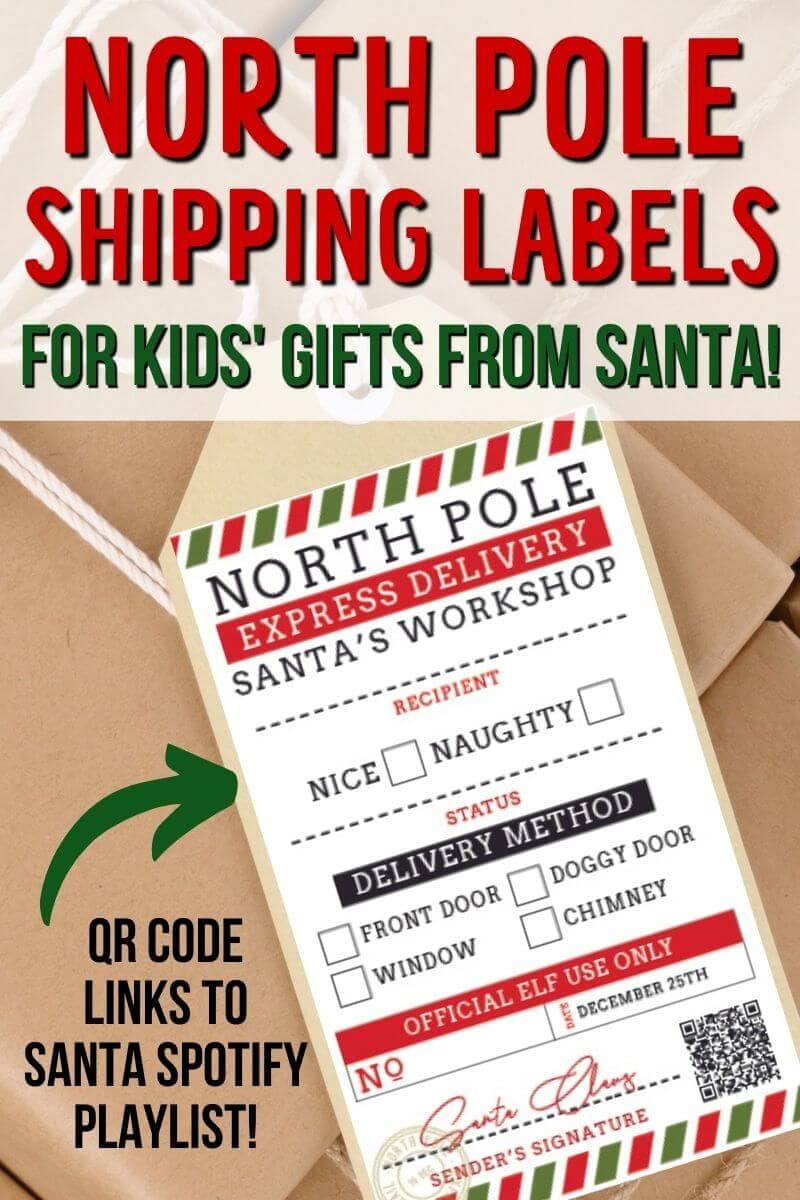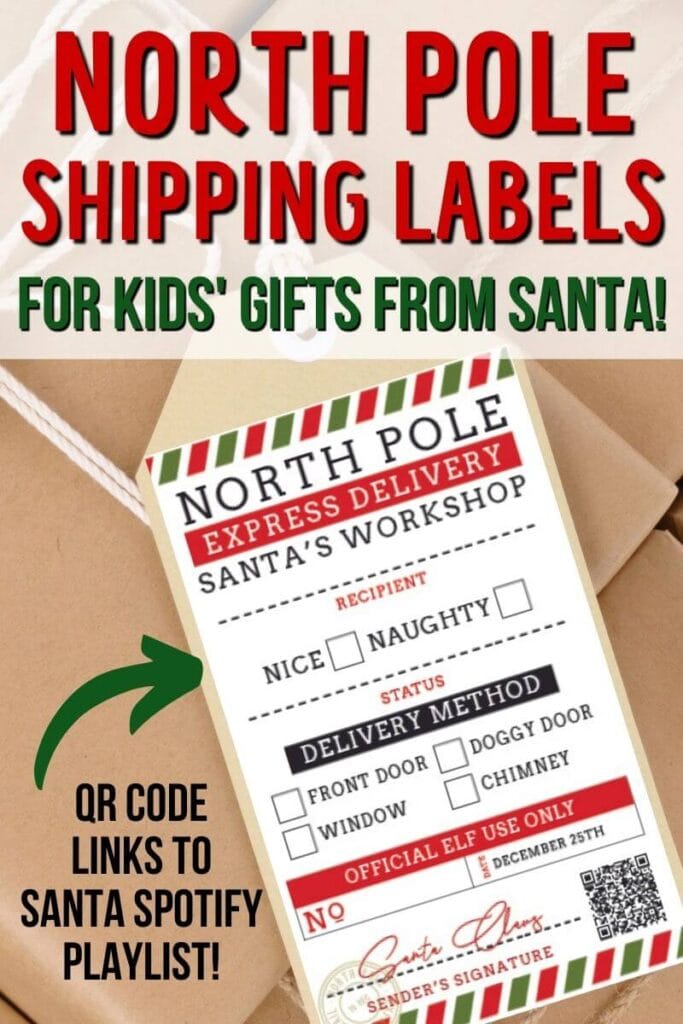 Hide the Official Nice List Certificate under their pillow
Who says under the pillow is just for the Tooth Fairy? While your kids are sleeping, you can sneak in and hide their certificates from Santa Claus under their pillows also!
If you go with this delivery method, then I suggest rolling up the printable template and tying it with a piece of ribbon so that the paper doesn't get wrinkled or torn in your kids' beds. And you can even leave a few of Santa's foot prints on their bedroom floors so that your kiddos know to look in their rooms for a fun surprise!
Add the Certificate to Your Child's Christmas Eve Box
If you make a Christmas Eve box for kids each year and you make it look like it was delivered from the North Pole, then you could definitely add the official Nice List certificate in to the box as well!
Just pack up some goodies for your kids to enjoy on the day before Christmas (like a Christmas movie and some popcorn, a pack of cookie mix to bake for Santa, and new holiday pajamas), and tuck the Nice List certificates inside the box. Then, grab these free printable Christmas Eve box signs and labels and place the box on your front porch for your kiddos to find!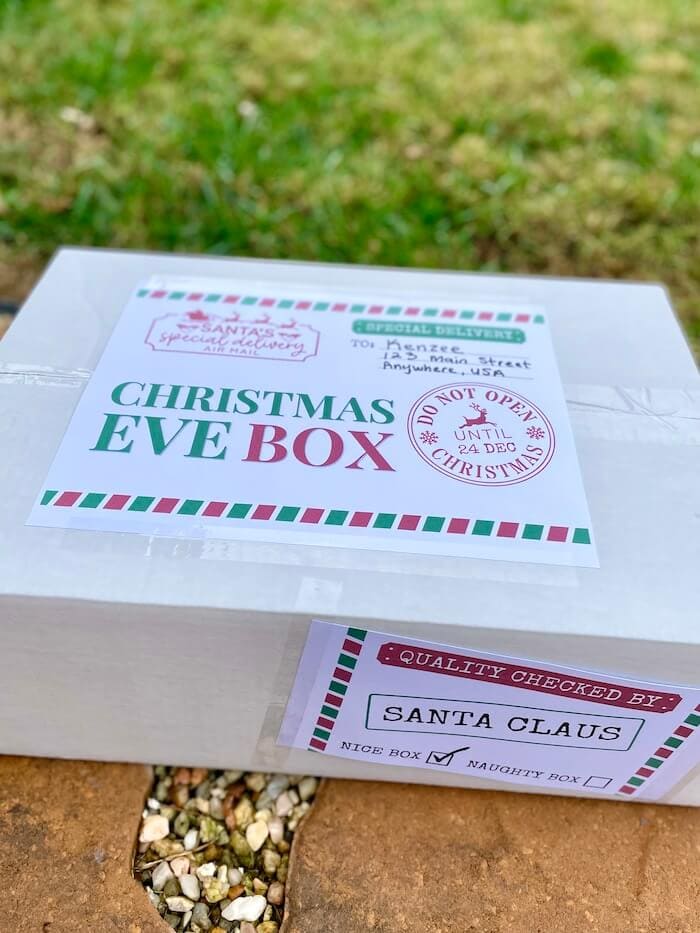 Imagine the delight when your kids open the box to find some fun goodies and the official Nice List templates with their names printed right on them!
How to Type in the Nice List Certificate Template
If you want to really go the extra mile, and make it look like your child's certificate came all the way from the North Pole, then you can type his or her name into it to make the Nice List Certificate look even more official.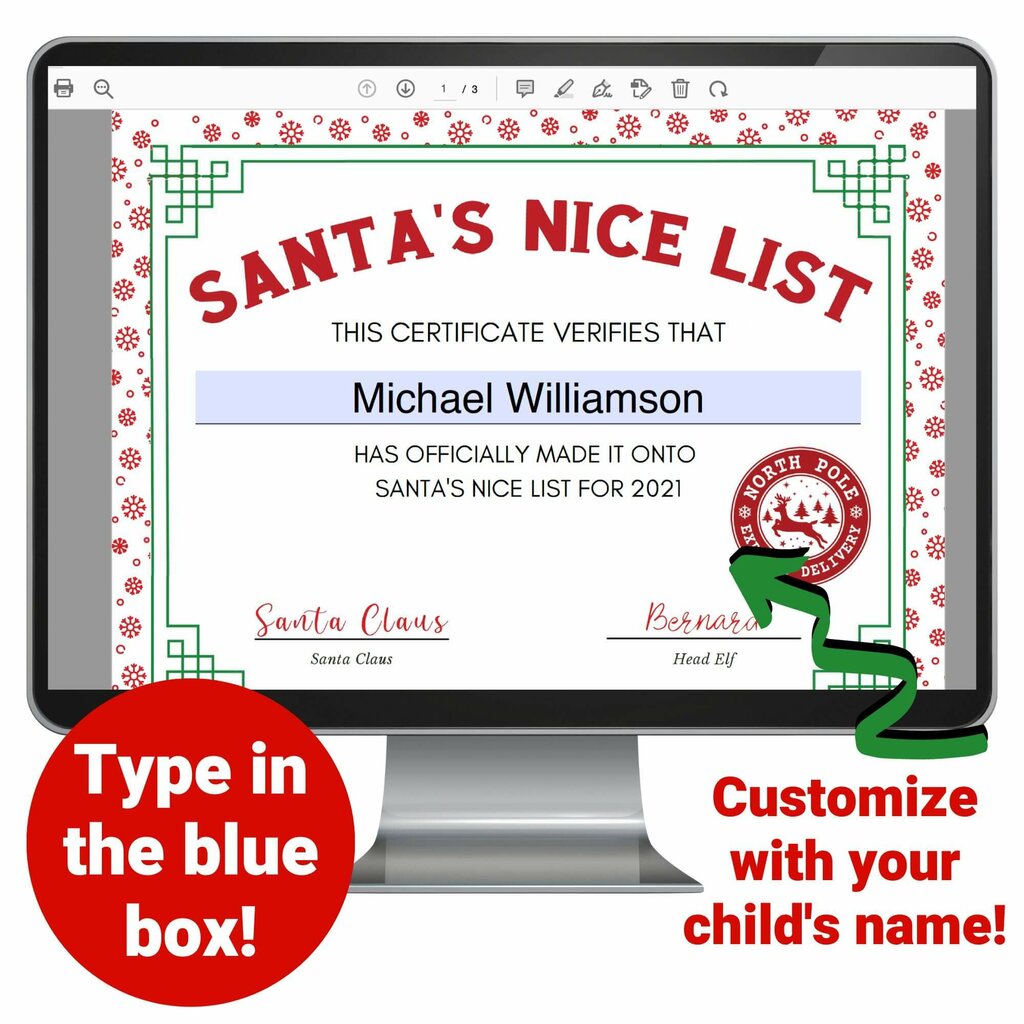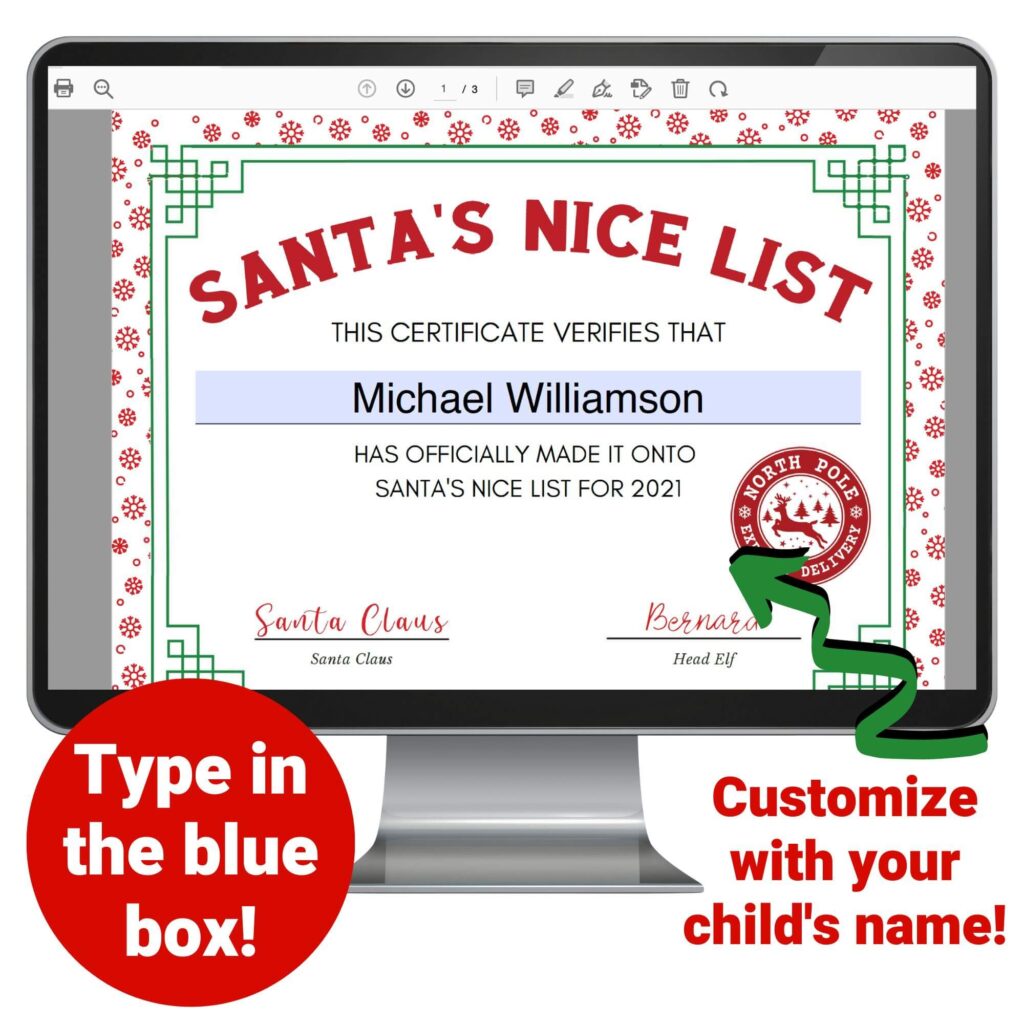 Here's how to do it:
Go to the Adobe website here and download and install Acrobat Reader (it's free!) – If you already have Adobe Acrobat installed you can skip this step.
Open the Nice List Certificates using Adobe Acrobat Reader… You should be able to right click on the file icon on your computer (wherever you saved it) and select Open With>Adobe Acrobat Reader.
Then you can start personalizing your printable certificate with your kids' names! The size of the text will automatically change depending on how much space you need for your child's name!
Printable Nice List Certificate Templates
These super cute Nice List Certificate printables are available in my shop here… along with a lot of other Christmas printables that your kids will LOVE!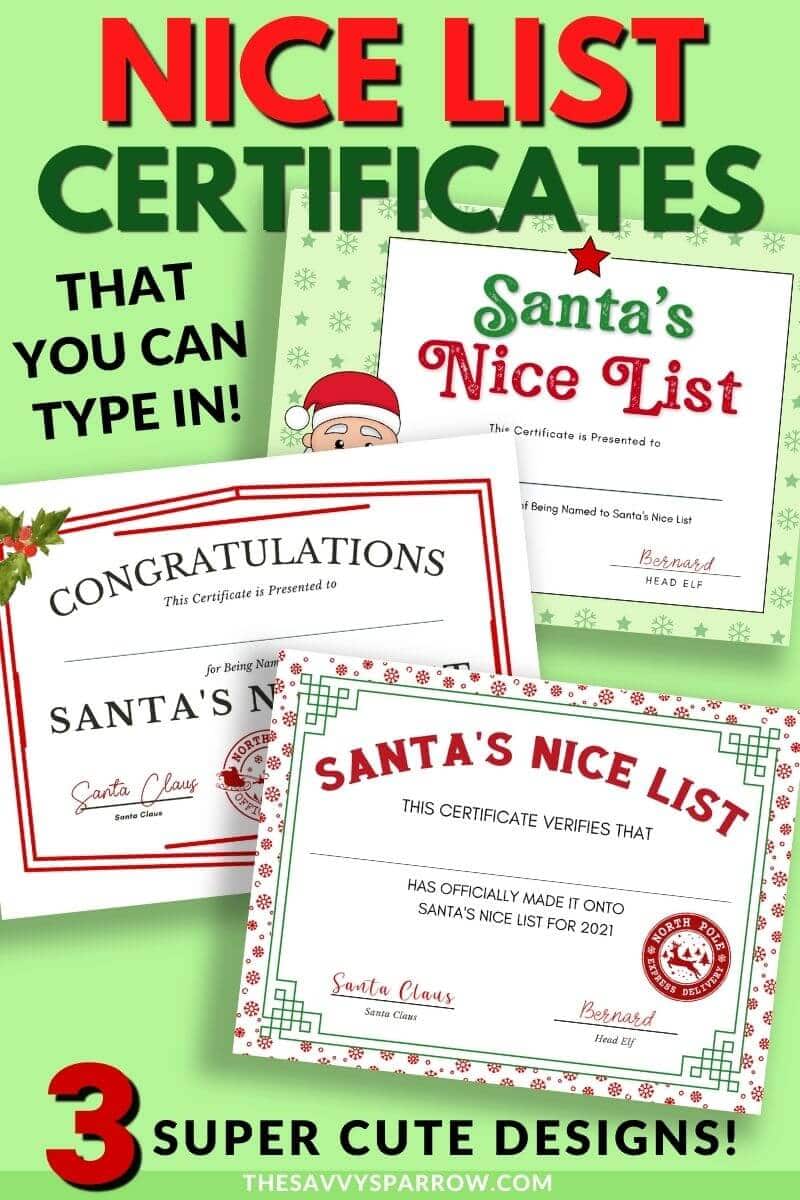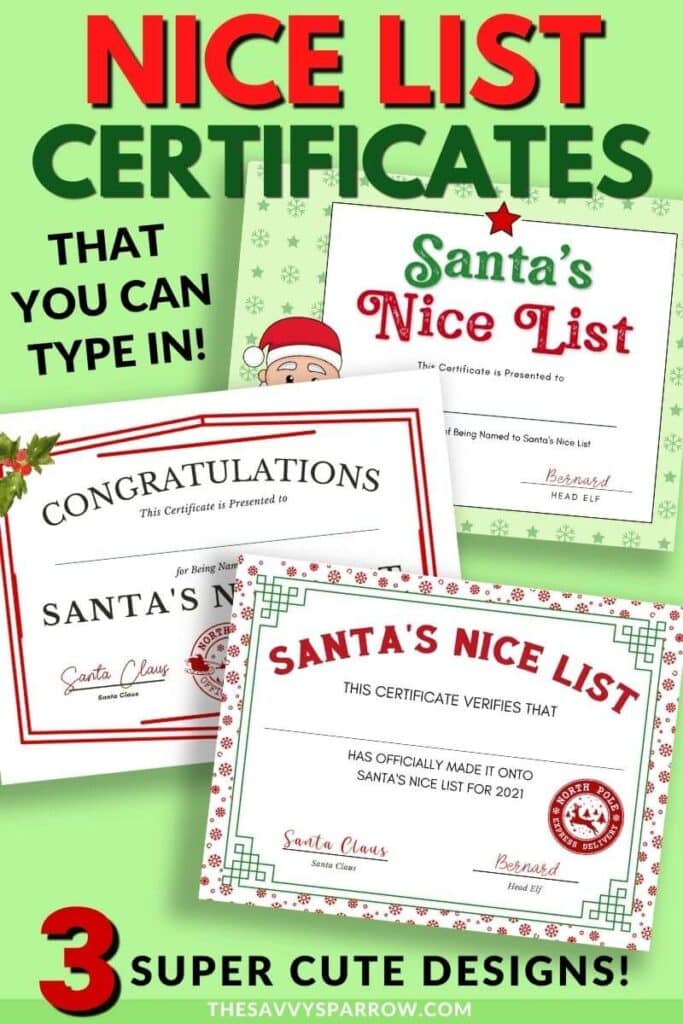 Click HERE to see the Nice List Certificates in my SHOP!
More Santa Printables Your Kids Will LOVE
Want some other fun Christmas printables to add to your festivities this holiday? Be sure to check out these posts for even more fun goodies to print at home:
Free Printable Santa Stop Here Door Hanger to Color – This easy print and color craft is a great activity to do with your kids on Christmas Eve!
Free Christmas Countdown Calendar for Kids to Color – Just print out this cute Christmas countdown and let your kids color in one square each day… kind of like a free advent calendar!
Free Printable Santa Letter Templates (and Matching Envelopes!) – Choose from 3 different printable Santa letter templates to use!
Hope your kids enjoy their customizable Santa's Nice List certificate! What is your favorite way to let your kids know that they made it to Santa's infamous list? Leave me a comment down below… I'd LOVE to hear from you!
And don't forget to PIN this post for later: