Need some magic elf dust because your Elf was accidentally touched? Learn how to make your own Elf recovery magic dust and package it up with this cute printable!
Each and every Christmas year, our family's Elf magically appears to usher in a new Christmas season. It's always fun to think of new places for our elf to pop up, and I love coming up with fresh elf ideas to keep everyone on their toes!
If you have small children, getting them to leave the elf alone can be tricky at first. He is adorable, after all! That's why I've created this cute magic elf dust craft. It helps prevent unwanted elf contact but keeps this fun Christmas tradition going!
Here's how to make your own Elf magic dust to use with your younger kids or even sell at holiday craft fairs!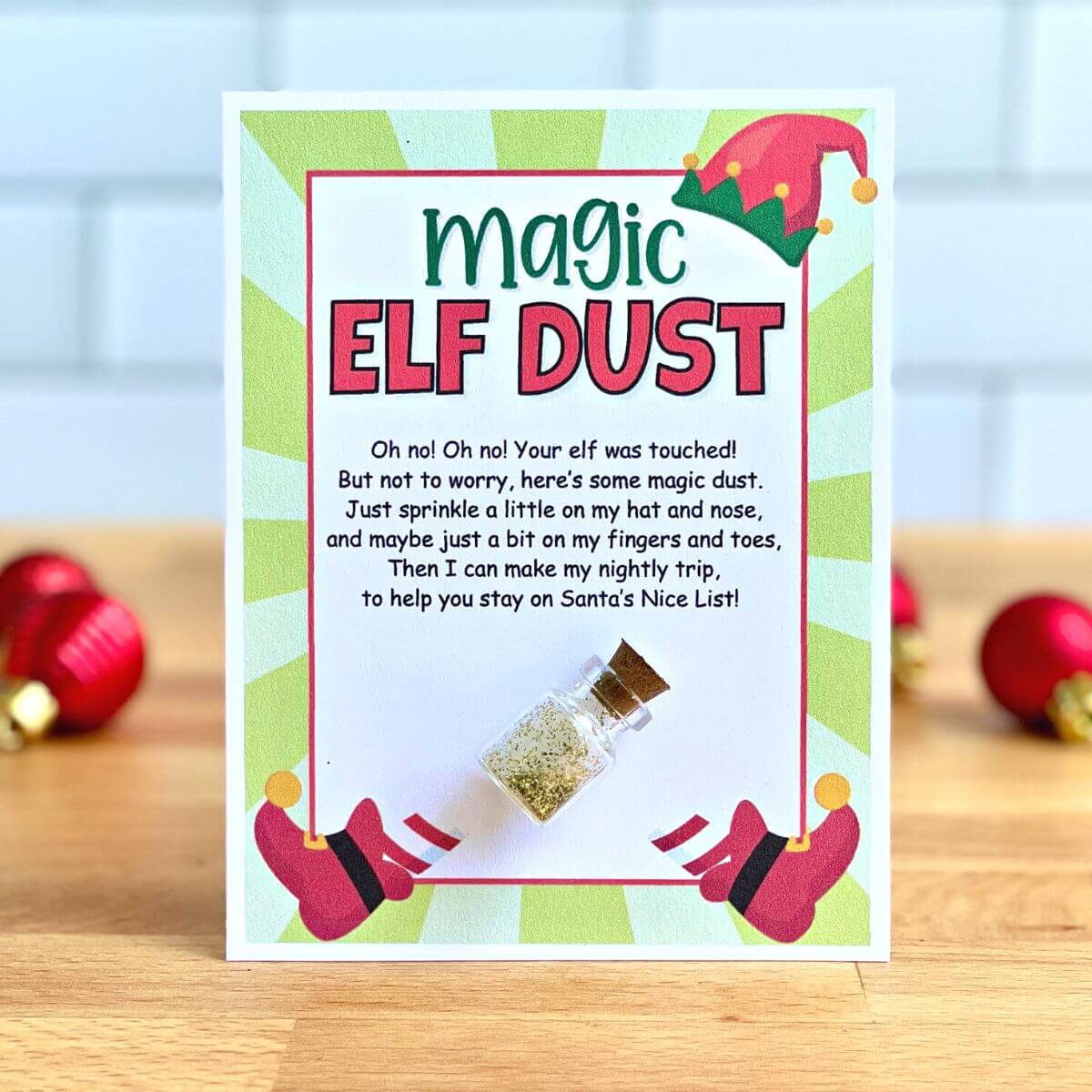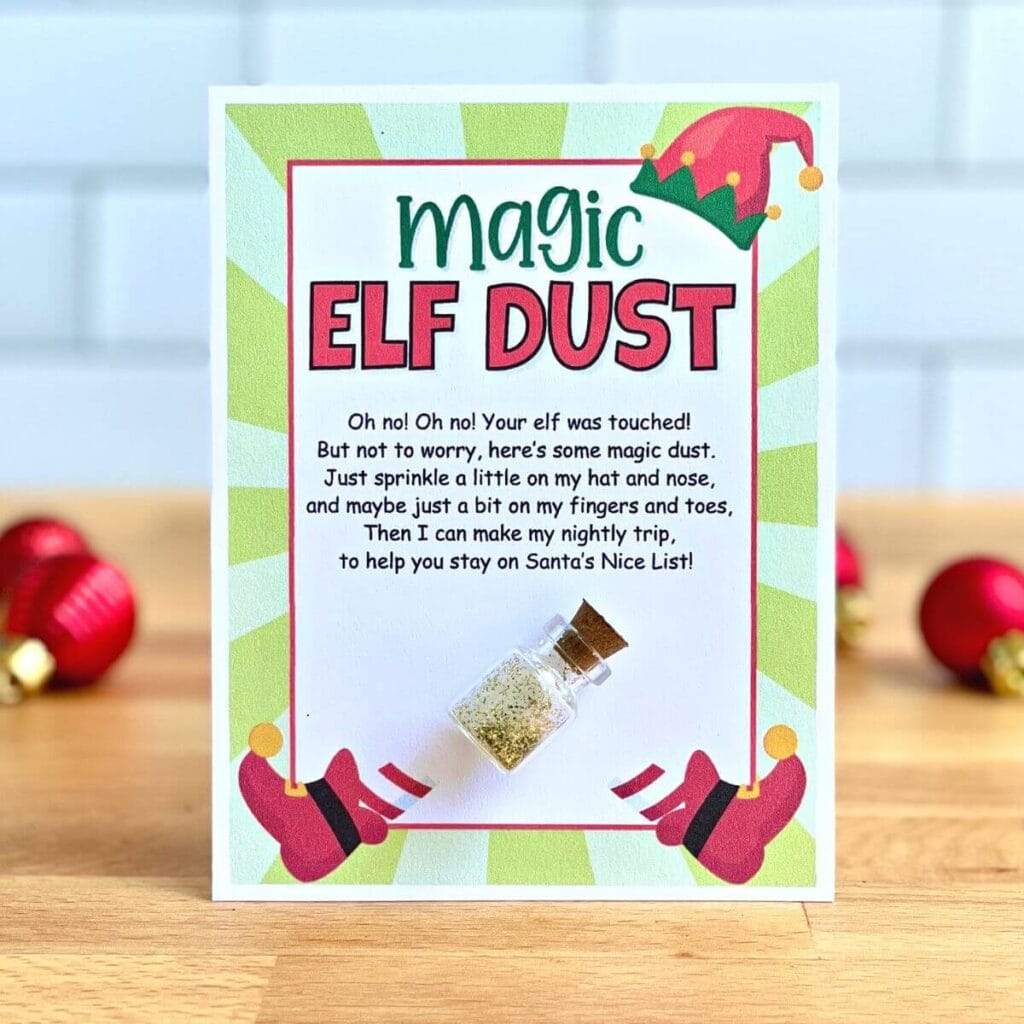 What is Magic Elf Dust?
So, what exactly is magic elf dust, and why is it a necessary part of your elf on the shelf tradition?
I'm glad you asked!
If you're new to the Elf tradition, here's the gist of the story: Every year on December 1st, your children's beloved elf appears! Then, the elf magically disappears every night to report back to the North Pole about whether or not your little angels have been naughty or nice. That's how Santa knows who qualifies for gifts!
However, your elf only keeps their magical transportation powers if little hands leave them alone. If a case of accidental elf touching occurs, said elf loses their gift and won't be able to depart each night to make their report! This is, of course, a big deal!
That's where elf magic dust comes in! This glittery mix brings the elf's magic back and restores their ability to make their nightly journey, thus ensuring that your child keeps their position on the Nice List. I mean, technically, it's just some craft glitter in a mini glass bottle, but your kids don't need to know that!
Keeping this fun Christmas tradition going is super easy! Here's how to make your own magic elf dust with a printable you can use in case someone breaks the "No Touching" rule!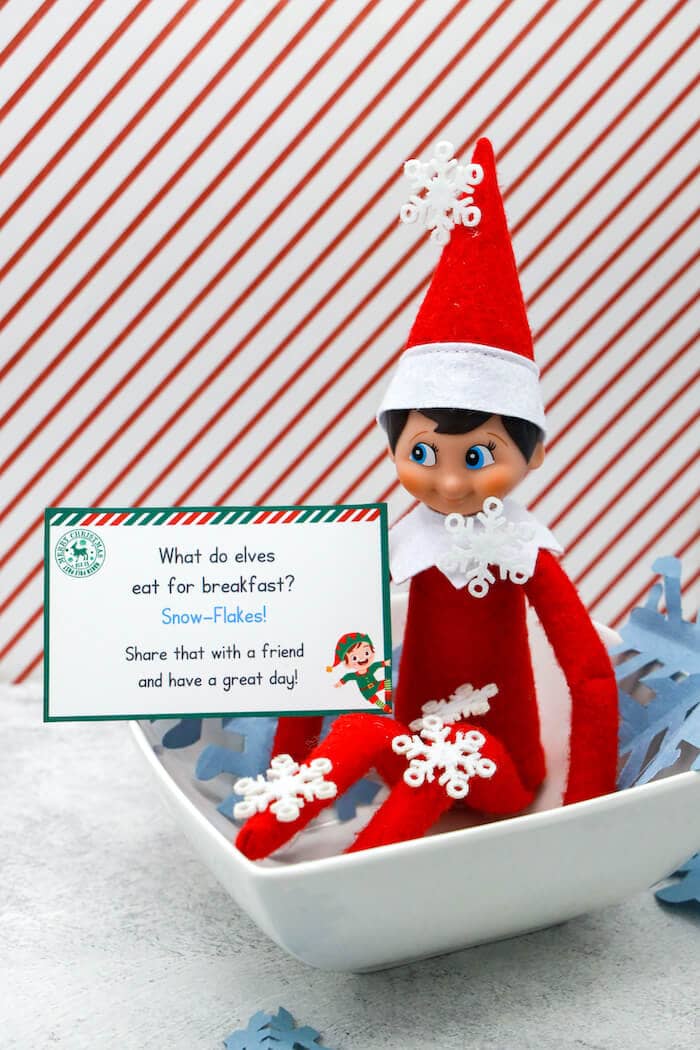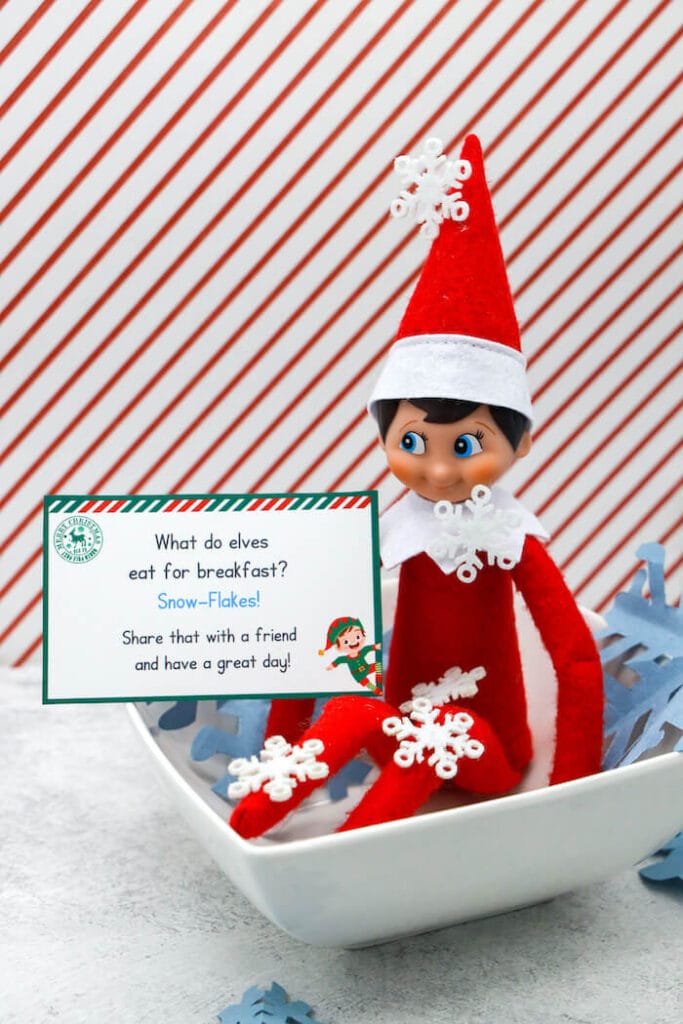 *By the way, you can grab 32 free printable Elf notes (like the one picture above) here!
OH NO! Our Elf was touched…
If you're a Christmas Elf veteran, you know someone will eventually touch the elf (especially if you have younger kids!).
So, what do you do if a human hand accidentally grazes your beloved elf?
1. Make it a big spectacle. After all, your child has broken the cardinal Elf rule!
2. Have your elf show up holding the bottle of magic glitter dust and magic elf dust printable. Be sure to place your elf in an area where you don't mind cleaning up a little glitter.
3. Read the magic elf dust poem to your child (or ask them to read it).
4. Have your child sprinkle the dust all over the elf so they can resume their nightly reports to Santa!
Supplies to Make Your Magic Elf Dust
You only need a few supplies to make this magic elf dust: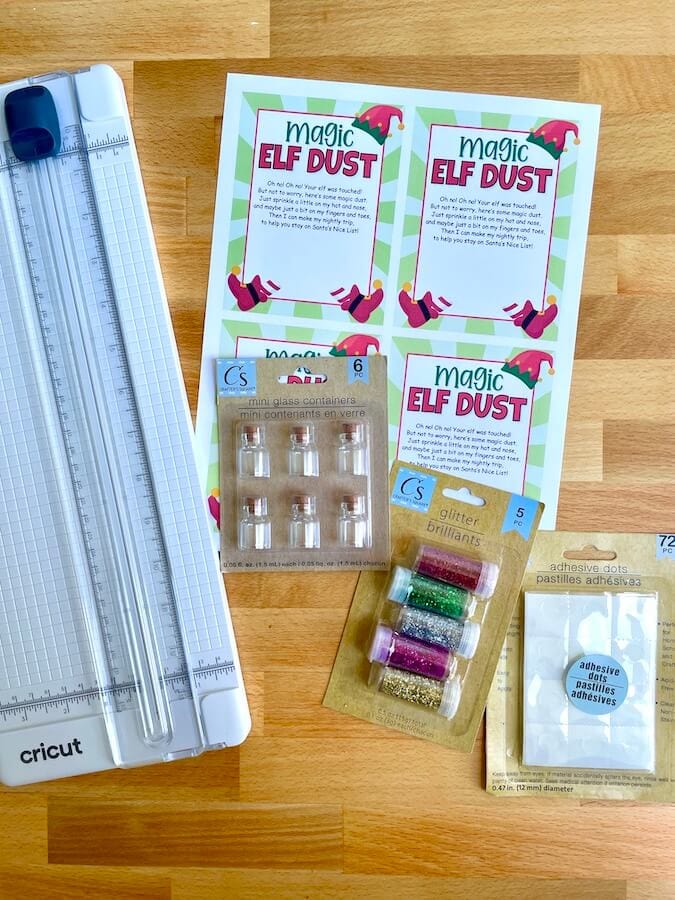 Mini glass jars – Here are the Dollar Tree bottles I used for my magic elf dust.
Craft glitter – I also found my glitter at Dollar Tree, but you can pick up any type of glitter at a craft store.
White card stock
Scissors or paper trimmer
Glue dots or hot glue gun and glue sticks – I used adhesive dots from Dollar Tree, but any good glue or adhesive that is strong enough to hold the glitter jars on to the card will work just fine.
Printable Magic Elf Dust cards – You can grab the printables that I used in my shop here!
How to Assemble the DIY Elf Dust
The good news is, these super cute Elf magic dust cards are SO easy to put together… Way easier than setting up an elaborate elf scene! Here's how to do it:
Step 1: Print and cut the Magic Elf Dust printable card.
These magic elf dust cards have a cute poem that explains how to use the dust to bring back your elf's magical powers.
Just click here to head to my shop and download the printable cards.
Then, print the cards on white card stock to give yourself a high-quality, sturdy background to attach to the bottle of magic glitter dust. Use scissors or a paper trimmer to cut out the card, leaving a small white border around the light green background if you wish.
Step 2: Fill your mini bottles with Elf Dust (glitter).
Next, it's time to fill your cute glass bottle with elf on the shelf magic dust (aka glitter).
Make a paper "funnel," or use an actual funnel to fill up your bottle with about a half teaspoon of glitter. This is especially helpful if your kids are helping you! Then firmly press the cork into the bottle's opening so that you don't have an accidental glitter spill.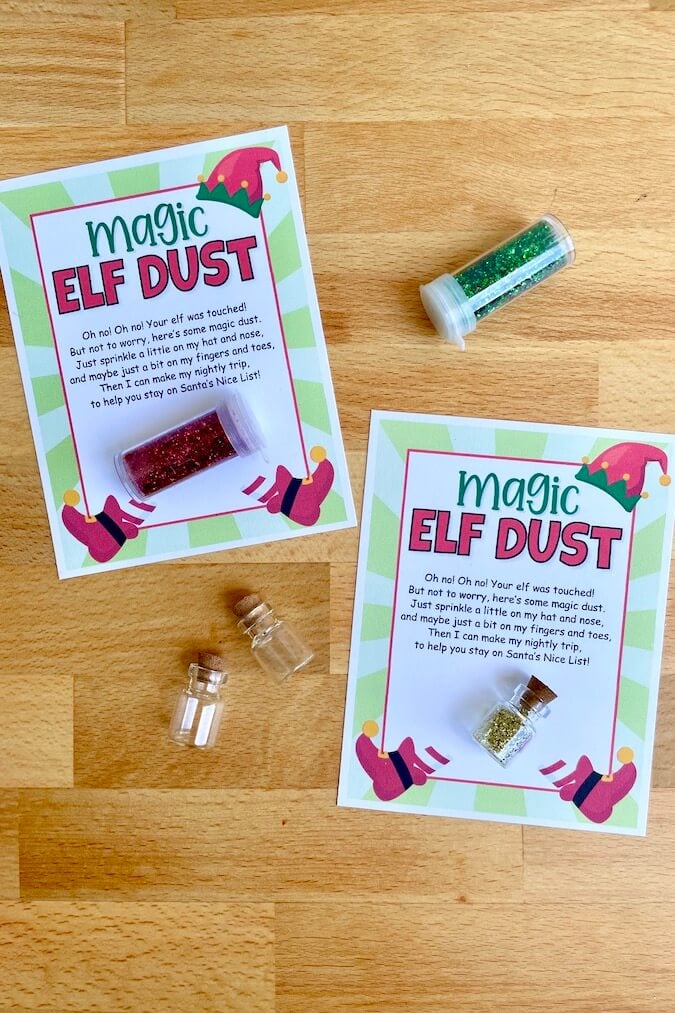 Or, if you want to skip the bottling step and you don't mind turning your kids loose in the house with a bigger dose of glitter, then you can just use the small glitter bottles "as is" from the Dollar Tree. The glitter pack that I found had 5 plastic bottles that were perfectly sized to add to the cards. *See the supplies photo up above.
Step 3: Attach the glitter bottles to the Printable Elf Magic Dust card.
Now it's time to attach the glitter bottles to the card, which takes about 30 seconds.
Simply peel one or two adhesive dots off of the backing, and attach to one side of your glitter bottle. Then, press the bottle firmly into place on the card.
Finally, place your elf and glitter dust where you want your child to find them. Then, sprinkle the magic dust on the elf so that they can continue making their nightly North Pole reports!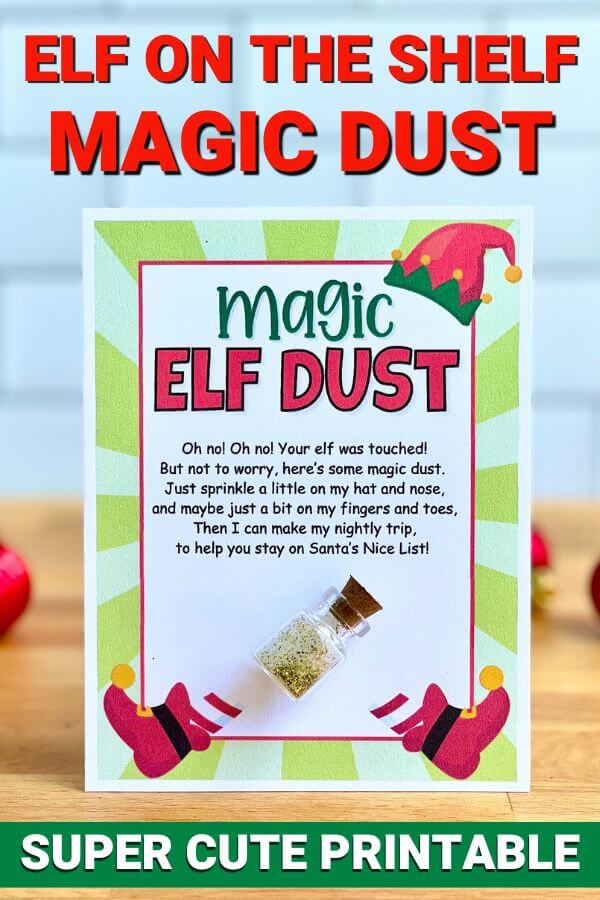 Click HERE to see the Magic Elf Dust PDF in my SHOP!
Magic Elf Dust Poem
Each magic elf dust printable has a cute poem written on it: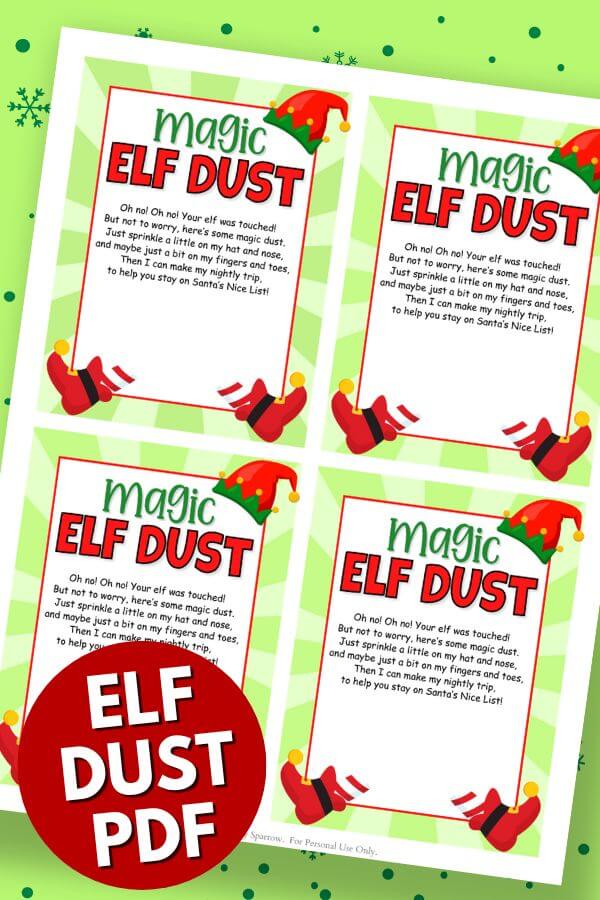 Oh no! Oh no! Your elf was touched!
But not to worry, here's some magic dust.
Just sprinkle a little on my hat and nose,
and maybe just a bit on my fingers and toes,
Then I can make my nightly trip,
to help you stay on Santa's Nice List!
Other Fun Elf on the Shelf Ideas
If you loved this Elf magic dust craft, be sure to check out some of my other fun Elf ideas for the upcoming Christmas season: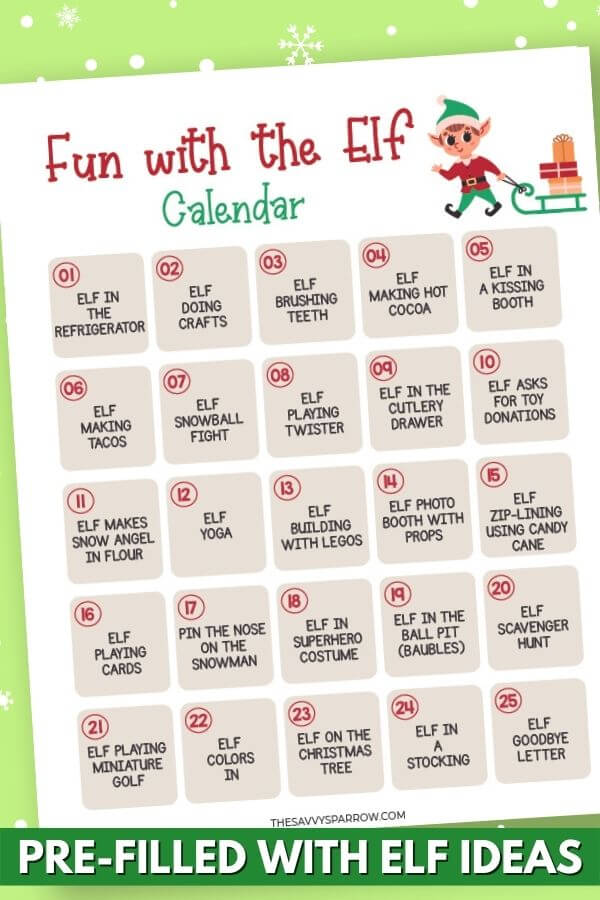 Elf Movie Night Display: Create this super cute DIY movie night display for your elf this year. It's sure to be a blockbuster hit!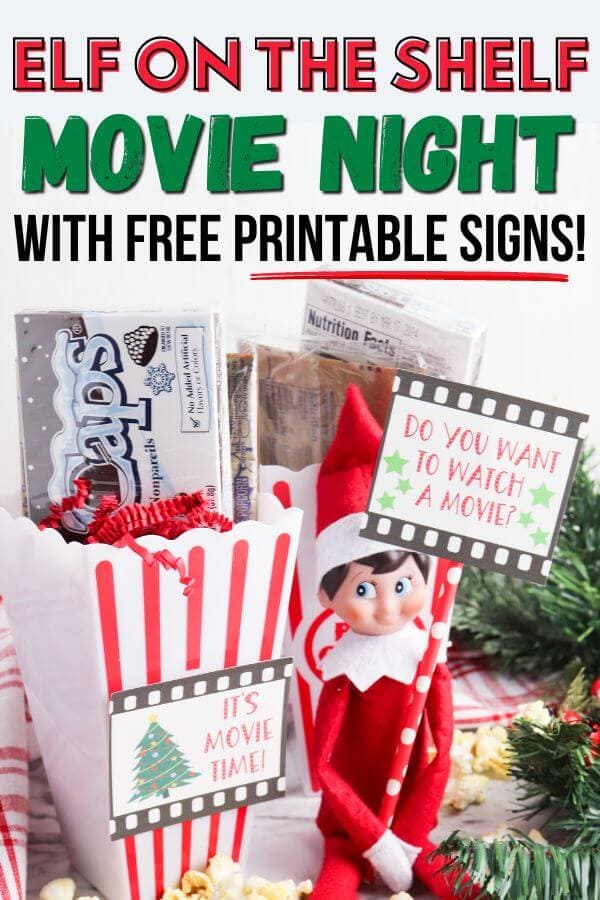 32 Printable Elf Notes: Need some last-minute elf ideas? These cute Christmas Elf printables are perfect when you just can't find another place to put your elf!
And don't forget to PIN this post for later!