These printable Elf on the Shelf notes are great for last minute ideas when you have no clue what to do with your little elf friend. Just print the cute Elf on the Shelf printables, cut them out, and add a few props for easy elf scenes!
Elf on the Shelf is a HUGELY popular Christmas tradition with many families. But it can also be super stressful for the elf "poser".
The last thing you need is another holiday project to squeeze into your already overwhelmed Christmas schedule, right?!
But free printable Elf on the Shelf notes can help take some of the stress out of figuring out what to do with your little elf every night. Here are some awesome ideas for how to incorporate printable elf notes in to your Elf on the Shelf set ups this year!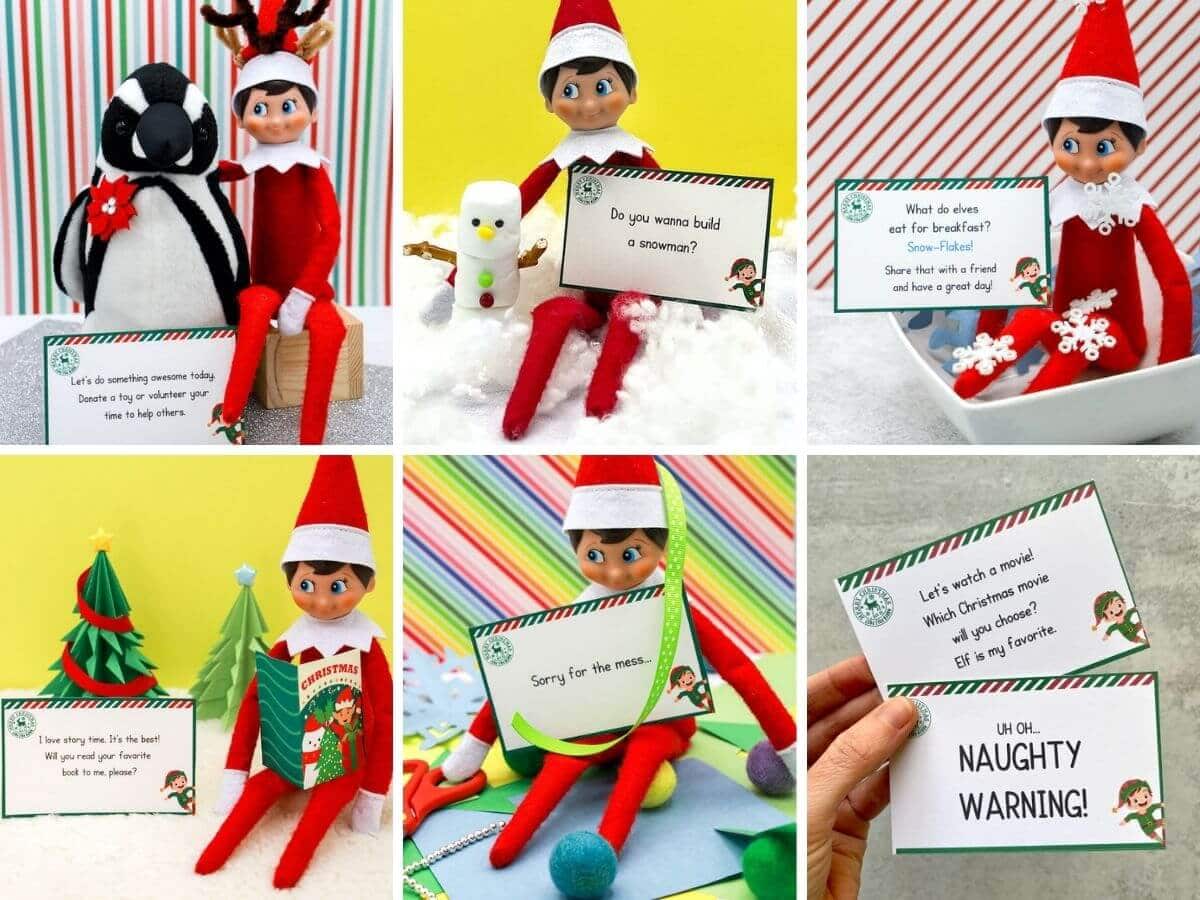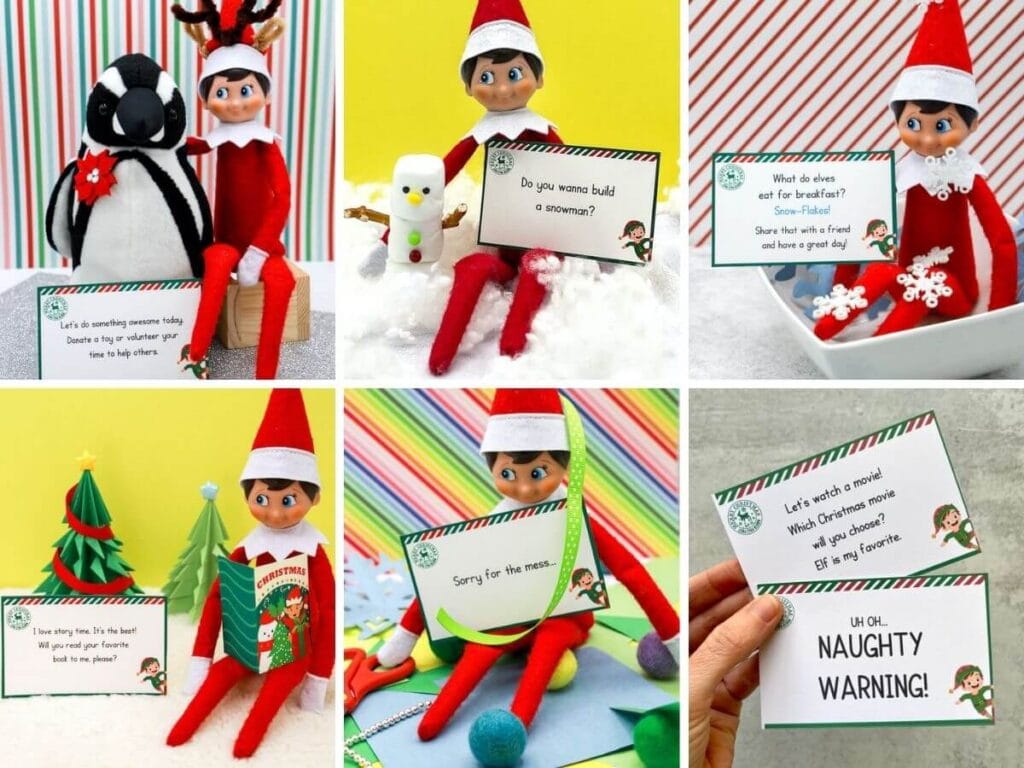 How Printable Elf Notes Can Make Your Life Easier
The great thing about using printable notes for your Elf on the Shelf is that you can use them as a "jumping off" point to spark ideas for how to set up your elf. Just print out the notes, and use what's written on the cards to plan your elf scenes.
Or, for days that you're super busy you can also just set up your elf with one of the note cards that don't really require any "extras". Elf on the Shelf ideas that take literally six seconds… I'd call that a win!
Just be sure to print and cut all of the notes at the beginning of December so they're ready to go for you at the last minute!
Tips for Printing Your Elf on the Shelf Notes
These printable notes are super easy to use, but here are a few tips to help you:
Print your elf notes on white card stock so they're sturdier and last longer. You can also keep them in a file folder to use again for next year.
For better color quality when printing the elf notes at home, adjust the settings on your printer to "highest quality" or "longest dry time".
Use a paper trimmer to quickly cut out the notes and to ensure that your lines are straight.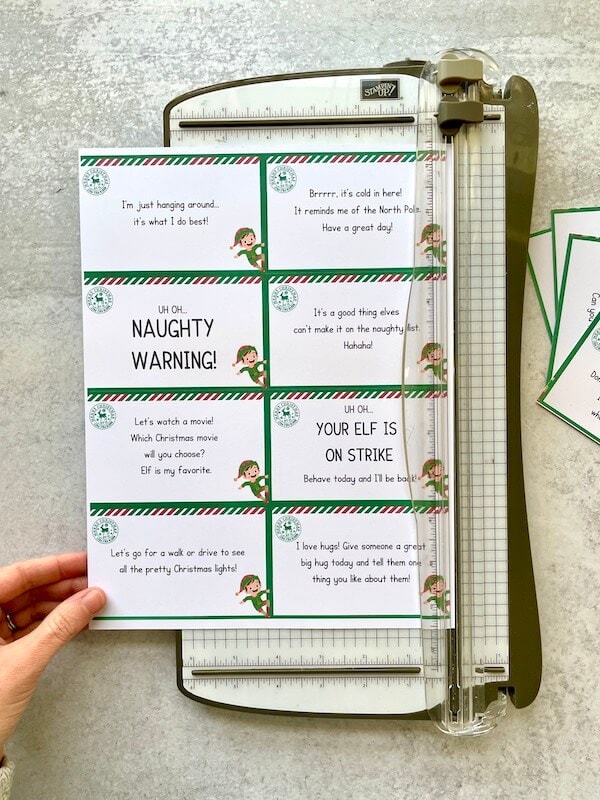 Have a hole punch and some yarn handy… some of the elf notes can be hung around your elf's neck as little signs (like when he's using both of his hands to hang from your chandelier!).
After you've printed your notes, go ahead and plan out your Elf on the Shelf ideas and stack the notes in order of when you will use them.
32 Printable Elf on the Shelf Notes and Ideas
Here are the 32 different Elf notes that are included in the printable PDF, plus some ideas for how to use the notes in your Elf set-ups!
Elf Notes to Encourage Your Kids to Be Kind
The holidays are all about spreading cheer and doing nice things for others. And these printable elf notes are a great way to teach the true meaning of Christmas!
I love hugs! Give someone a great big hug today and tell them one thing you like about them! This is a great elf note to encourage your kids to be kind!
Let's do something awesome today. Donate a toy or volunteer your time to help others. You can set up this elf note near one of your child's small toys that he or she doesn't play with often. Then use this note to teach your kids about being grateful for what they have and helping those that aren't as fortunate.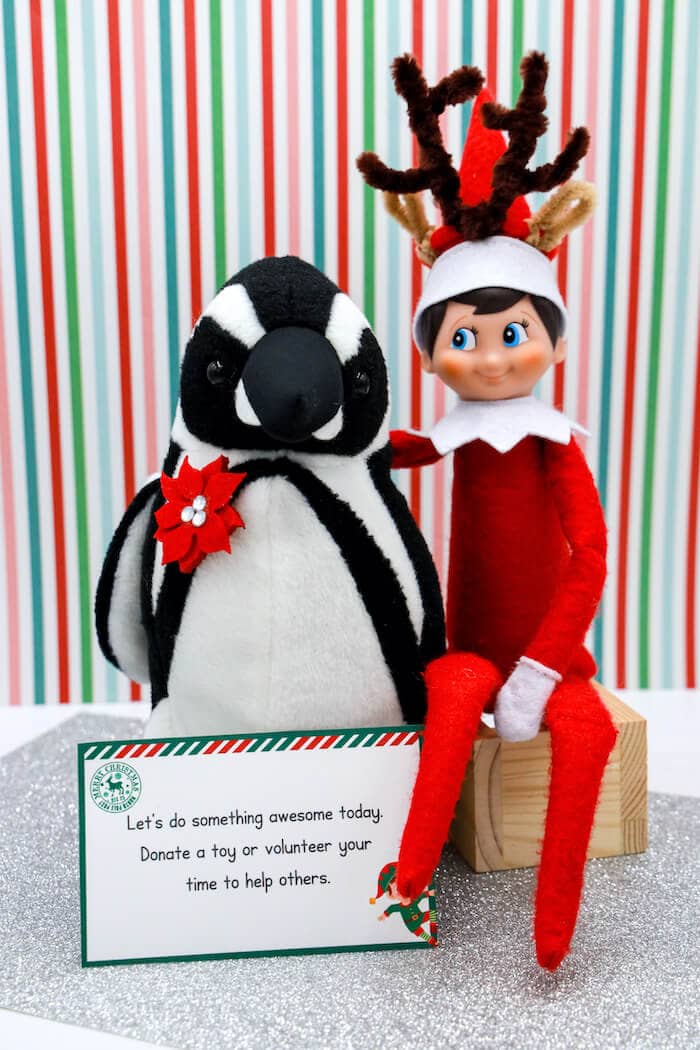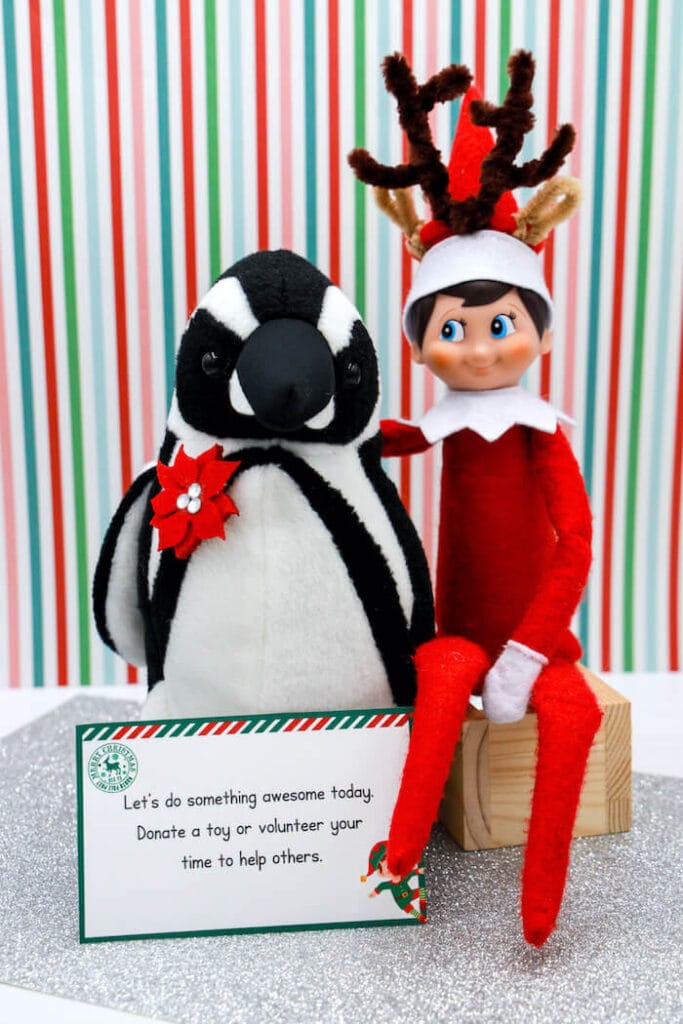 Write a thank you note to a teacher today. Draw a picture or write a poem to make them smile!
Time for a good deed! Think of one Random Act of Kindness you can do today! You can also leave this Elf on the Shelf note with my free printable list of Random Acts of Kindness for Christmas!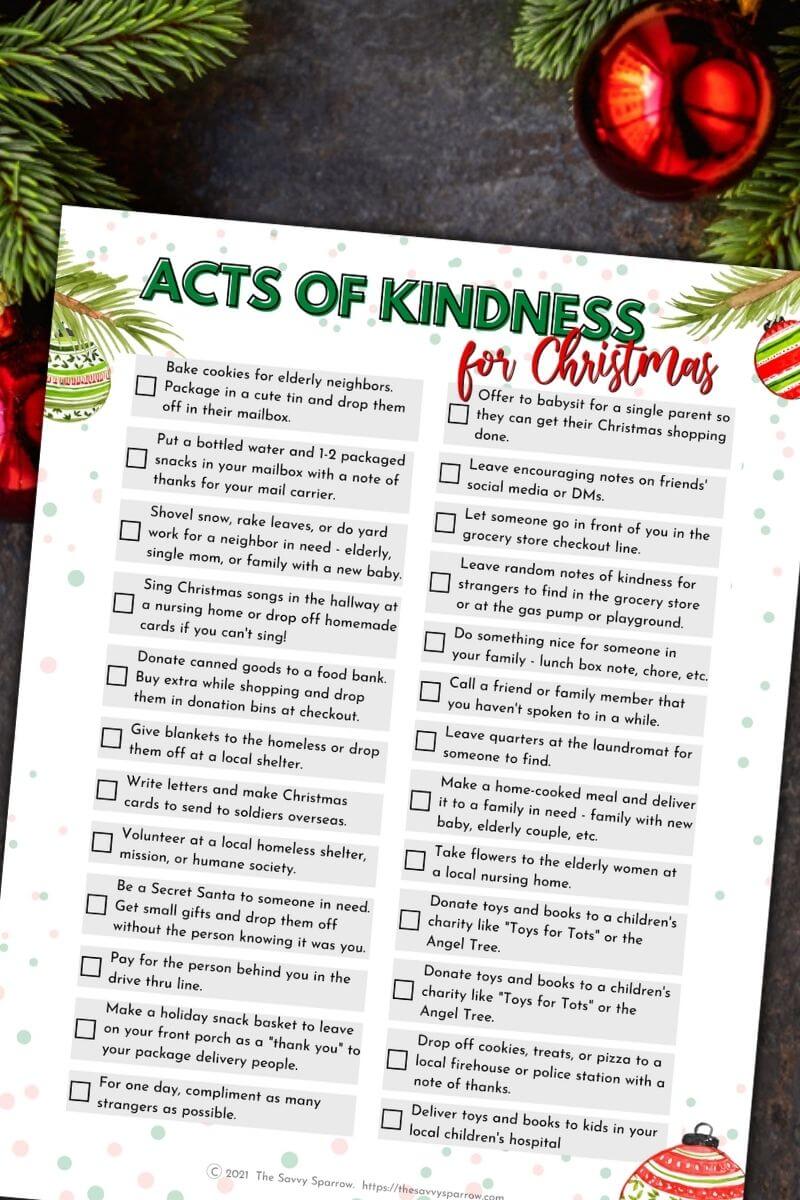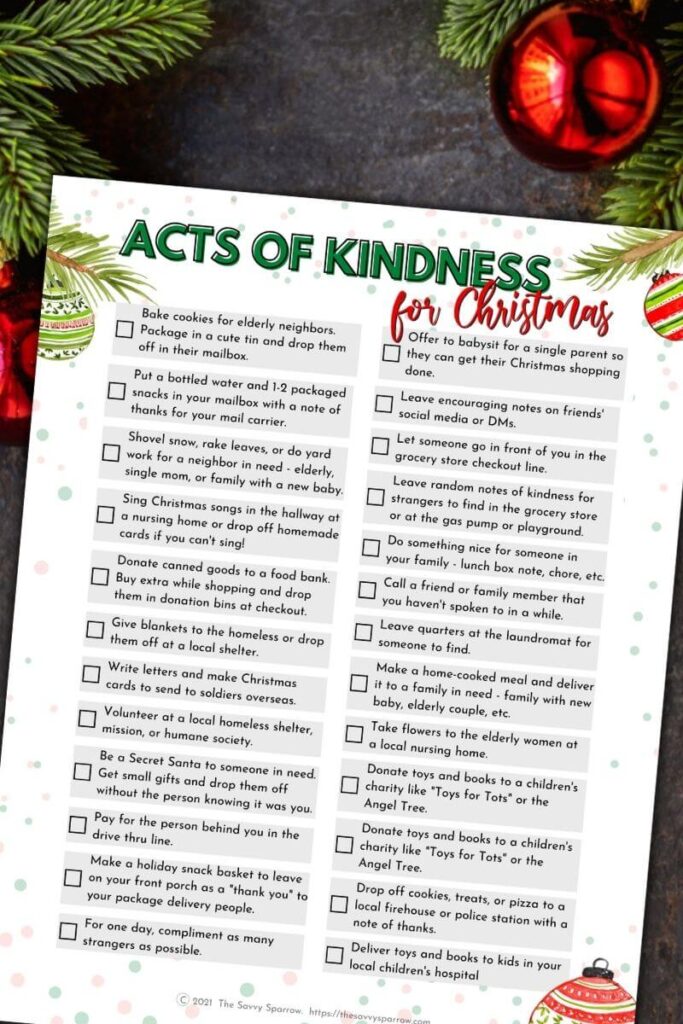 I saw how helpful you were yesterday. I reported back to Santa and he was so pleased. Keep up the good work! Use this note when your child does something great like helping out around the house without being asked!
Let's do an extra chore that we don't normally do to help out today. I'm going to help clean and tune up Santa's sleigh tonight! You can leave this printable Elf on the Shelf note with your elf and your child's chore chart!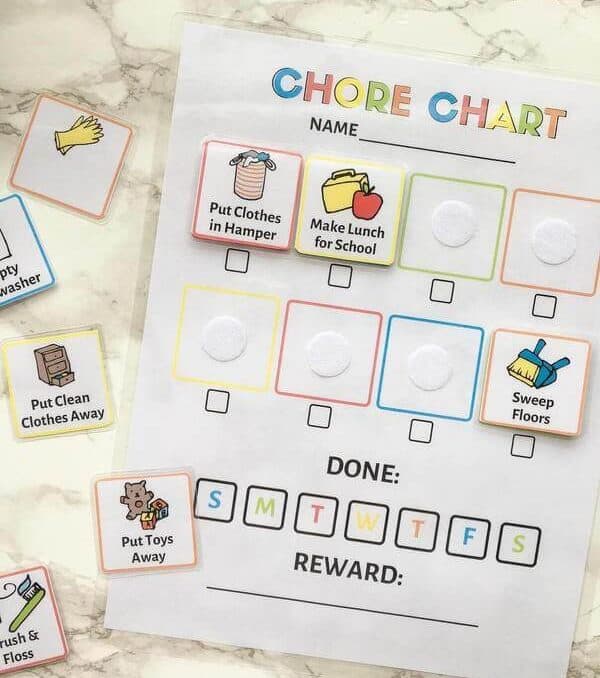 Printable Elf Notes when You're Running Short on Time
The Christmas season is super busy, and you may feel like you barely have time to sleep, let alone stage a whole detailed Elf on the Shelf scene.
These printable Elf on the Shelf notes are great to use when you have zero time to fiddle with your elf at night! Just set him up with one of these notes in his lap and call it done!
I saw the Aurora Borealis last night at the North Pole! Do you know what that is? Search for some pictures and info online and then tell me what you learned!
Let's watch a movie! Which Christmas movie will you choose? Elf is my favorite. Use this printable elf note when you need some extra time to get your holiday chores done… You can turn on a Christmas movie and let your kids and their elf watch it together while you get some work done!
Tell me 3 wonderful things you did today so I can share them with Santa tonight! You can leave this note next to a mini pad of paper with your child's name written at the top and numbers 1-3 down the side… And don't forget to use your best "elf" handwriting!
Printable Elf on the Shelf Notes to Use in Full Scenes
If you have a few extra minutes at night and want to set up some more detailed "elf antics", then these printable notes are perfect for that:
What do elves eat for breakfast? Snow-flakes! Share that with a friend and have a great day! – This is an easy printable elf note to stage… Just set up your elf in a bowl of foam snowflakes, Frosted Flakes or other cereal and stick the note on his lap like this: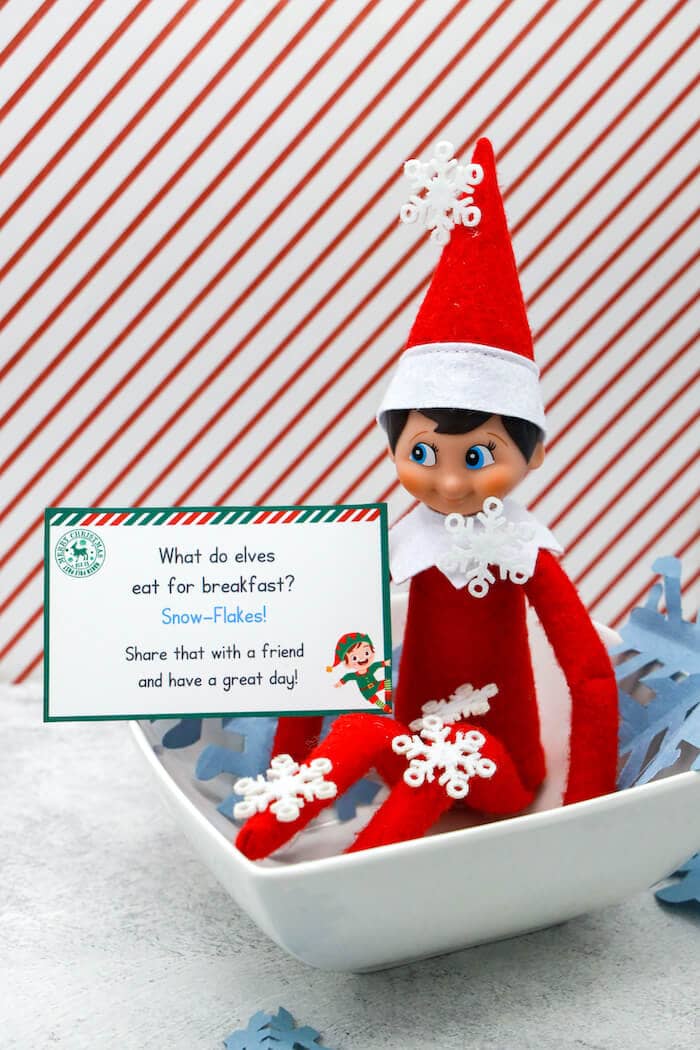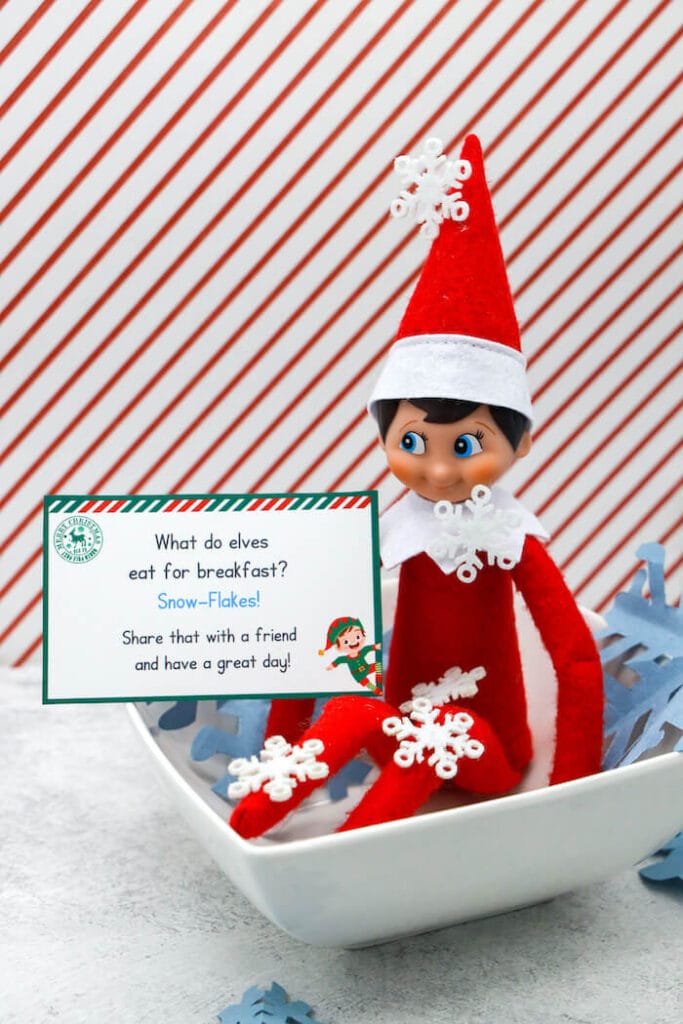 It's a good thing elves can't make it to the naughty list. Hahaha! Set up this elf note on a day when your elf does something naughty... maybe stick him out of the side of the kitchen trash can and leave a small pile of trash on the floor nearby.
Oops! Were those marshmallows? I thought they were snowballs! Leave this Elf on the Shelf note with your elf in a pile of mini marshmallows all over your kitchen counter.
Brrrrr, it's cold in here! It reminds me of the North Pole. Have a great day! Set up your Elf with a mini elf scarf or stick him inside a fuzzy sock that he's using as a sleeping bag.
I guess I got a little carried away! Attach your Elf on the Shelf to the string on a helium-filled balloon for a fun surprise in the morning!
I'm just hanging around… it's what I do best! Hang your elf from a ceiling light fixture in your home and tape this printable Elf on the Shelf note to his hand or hang it around his neck. Cute and funny!
Printable Elf on the Shelf Notes for When Your Kids are Naughty!
Sometimes your kids need a gentle reminder from their elf that they're about to make it to the Naughty List. Use these printable elf notes when your kids misbehave, are unkind, or drop the ball with their responsibilities:
I saw that! I know you can do better! When we elves get antsy, we just keep calm and drink cocoa! This is a great note to leave when your kids need a gentle reminder that their elf is watching!
Uh Oh! NAUGHTY WARNING!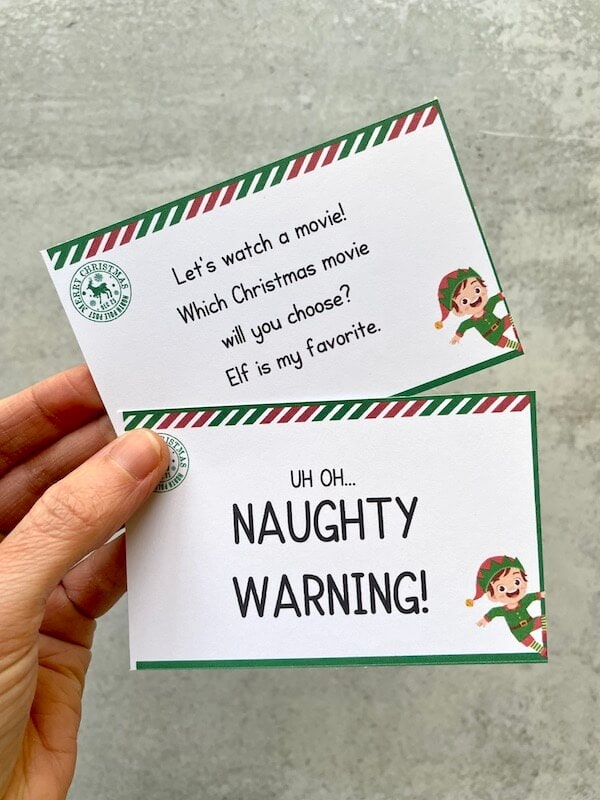 UH OH… YOUR ELF IS ON STRIKE. Behave today and I'll be back! You know it's bad when your elf doesn't show up one morning!
Elf on the Shelf Notes with Fun Activities for Your Kids to Do
You may want to use your Elf on the Shelf to keep your kids busy or to introduce fun Christmas activities. These printable Elf on the Shelf notes include ideas for Christmas fun like candy hunts and marshmallow snowman building!
Have you written your letter to Santa yet? Don't forget to do that today and I will deliver it to Santa when I see him tonight! Leave this elf note with a free printable Santa letter template to make this activity easy for your kids to do!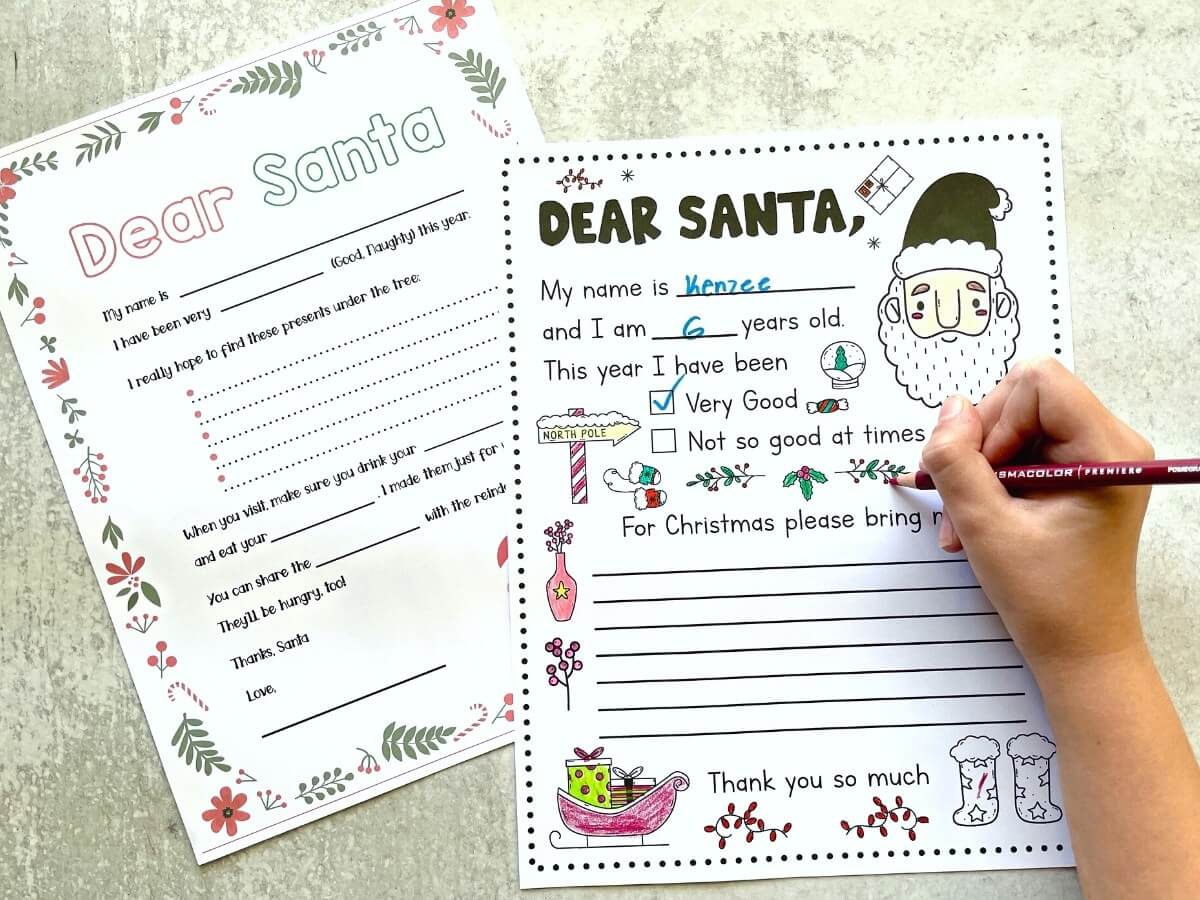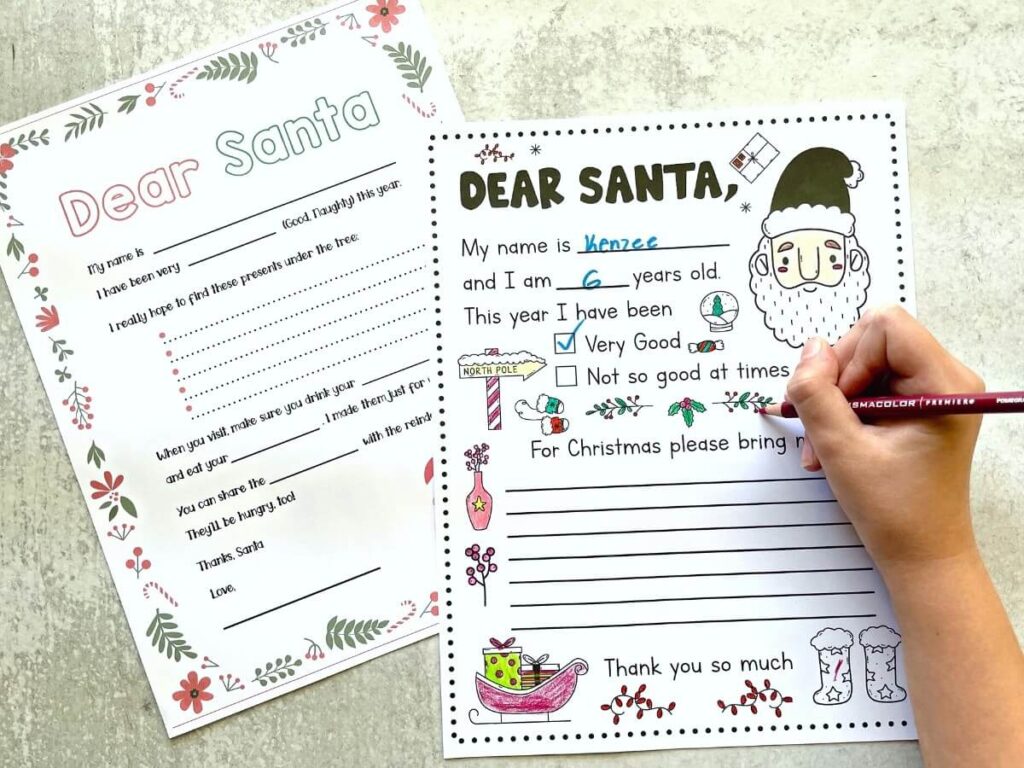 Should we bake some Christmas cookies tonight? Don't forget to save some for Santa! Use this printable note a few days before Christmas and go ahead and bake cookies for Santa… kill two birds with one stone, so to speak!
I love story time. It's the best! Will you read your favorite book to me, please? Leave this elf note next to your child's favorite book, or you can find mini book props to print out online.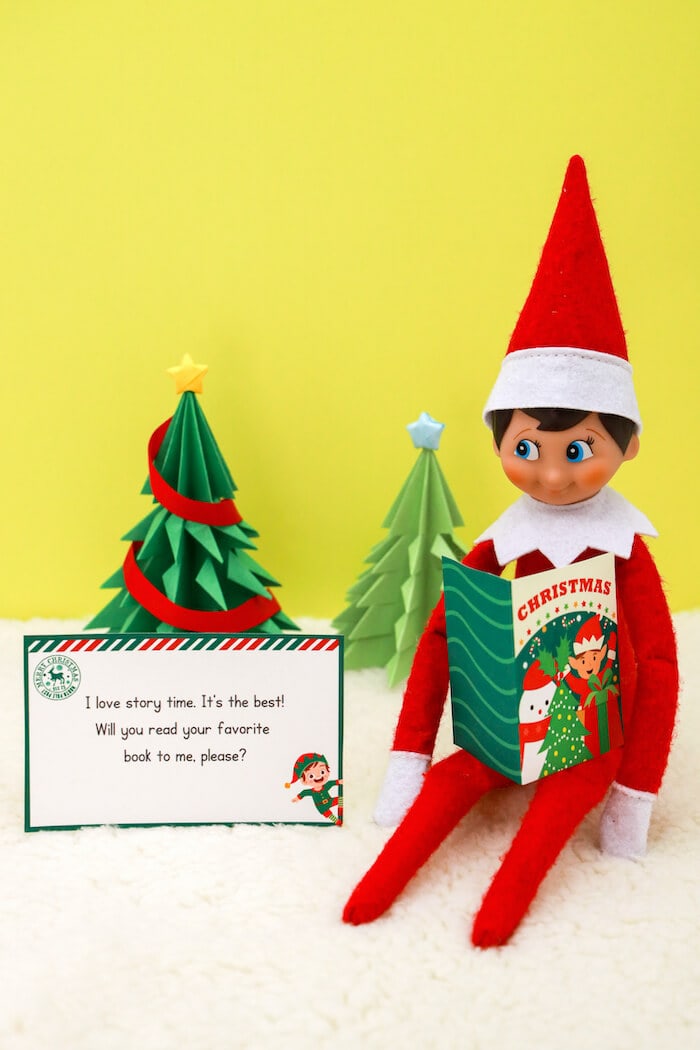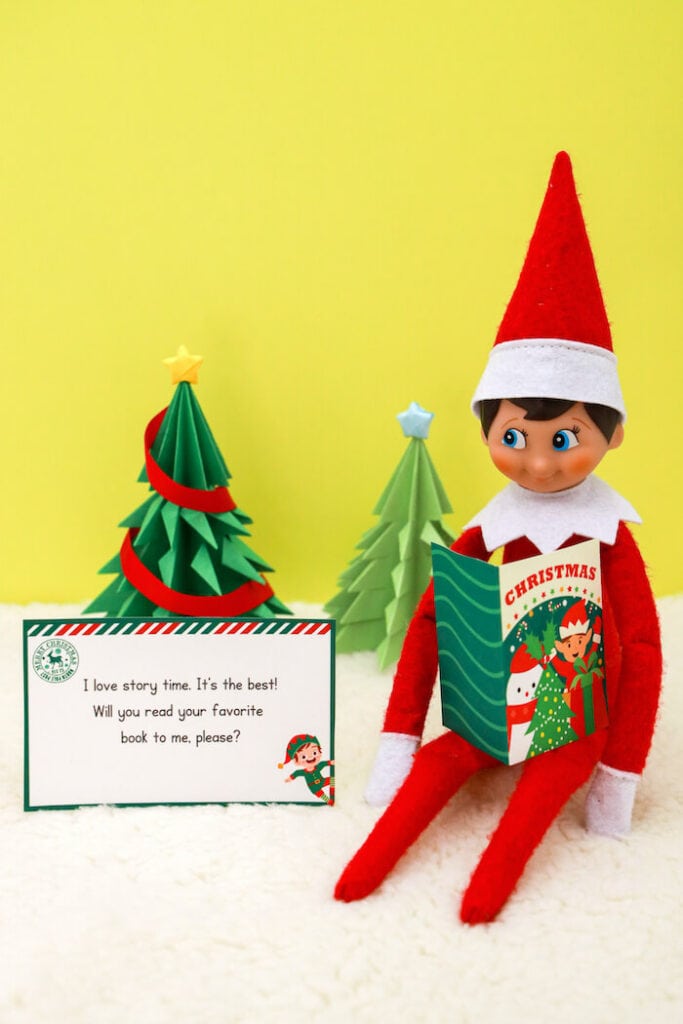 I wanted to play a game with you so I hid 5 candies while you were sleeping. Can you find them? This is a fun Elf on the Shelf activity for you kids to do on a weekend morning, and if you hide the candies well enough, it could keep them busy for about 30 minutes also!
Let's go for a walk or drive to see all the pretty Christmas lights! This note is a great way to introduce a fun Christmas Lights Scavenger hunt! Just print out the free scavenger hunt checklist and leave it next to your elf and this note!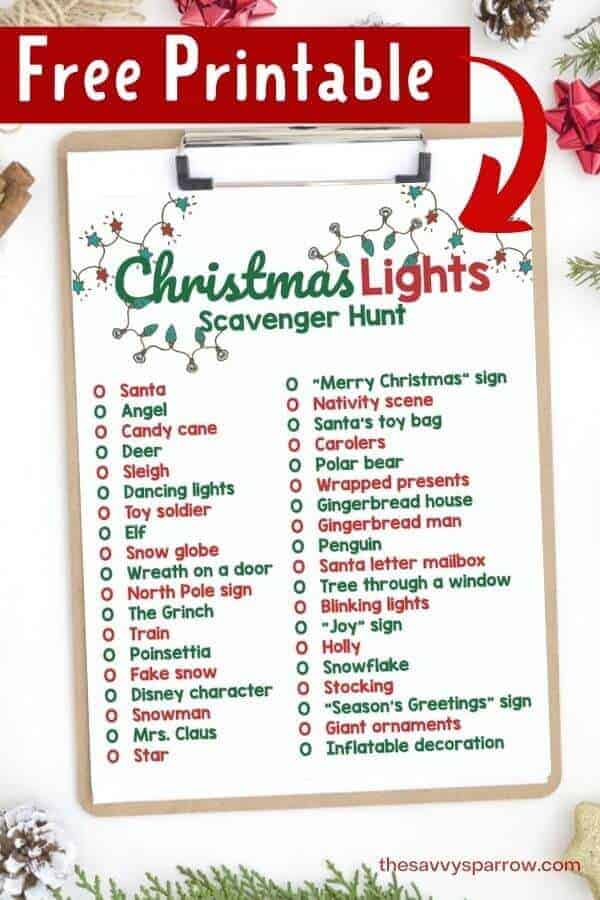 Santa sent this special treat from the North Pole just for you. Enjoy! Leave this note next to a gingerbread house kit or a new set of markers and coloring books for a fun activity for you kids to do!
Santa and Mrs. Claus are super busy getting ready for Christmas. Could you draw them a picture and I'll take it to them tonight as a nice surprise? Leave this note next to a sketch book and a new set of markers for a fun surprise for your kids!
Do you wanna build a snowman? Make a quick snowman using marshmallows, pretzels sticks, and candies, and set up your elf and the printable note nearby. You can also leave out a few extra supplies for your kids to build their own snowmen for a yummy snack!
Elf Notes to Countdown to Christmas
The printable elf notes also include simple notes for once Christmas gets closer. You can set up these notes next to your child's advent calendar or these free printable Christmas Countdown Calendars!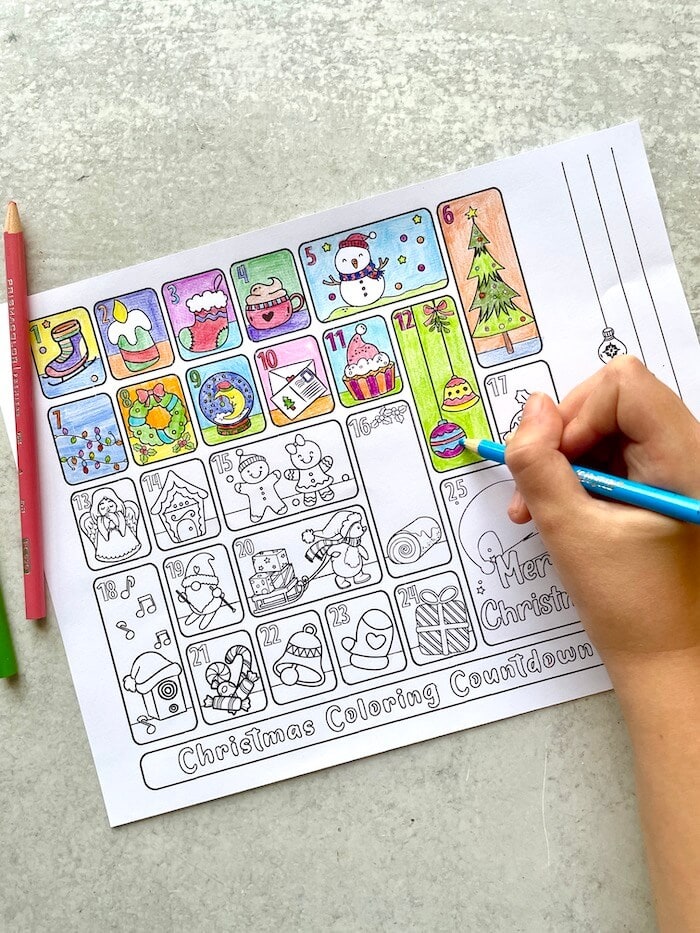 Also, if you give your kids Christmas pajamas on Christmas Eve, then you can set up the "1 more day 'til Christmas" note with their new set of PJs!
Only 5 more days 'til Christmas!
Only 4 more days 'til Christmas!
Only 3 more days 'til Christmas!
and so on all the way to just 1 day before Christmas!
Get the Free Printable Elf Notes HERE
These printable Elf on the Shelf notes are available for FREE in my freebies library! Want access to over 60 awesome printables including cleaning checklists, holiday printables, planner pages, and more?
Just use this form to sign up and I'll send you the link as a gift!
Other Printable Christmas Ideas for Kids
If you LOVED these Elf on the Shelf ideas, then be sure to check out some of my other fun printable Christmas ideas that your kids are sure to enjoy:
And don't forget to PIN this post for later: