Need Elf on the Shelf display ideas to set up for your kids? Have an Elf on the Shelf movie night with these free printable elf signs!
With the help of an Elf on the Shelf, there are so many great ways to make the days leading up to Christmas fun for your kids. This holiday season, get your kids excited about the countdown to Christmas with some cute gifts from their Elf!
This easy Elf on the Shelf movie night gift is a simple way to create an adorable present for your elf to leave for your kids. And the best part is that you only need a few simple supplies to put it together.
Grab the free Elf on the Shelf movie night printable signs to make setting up this elf display even easier!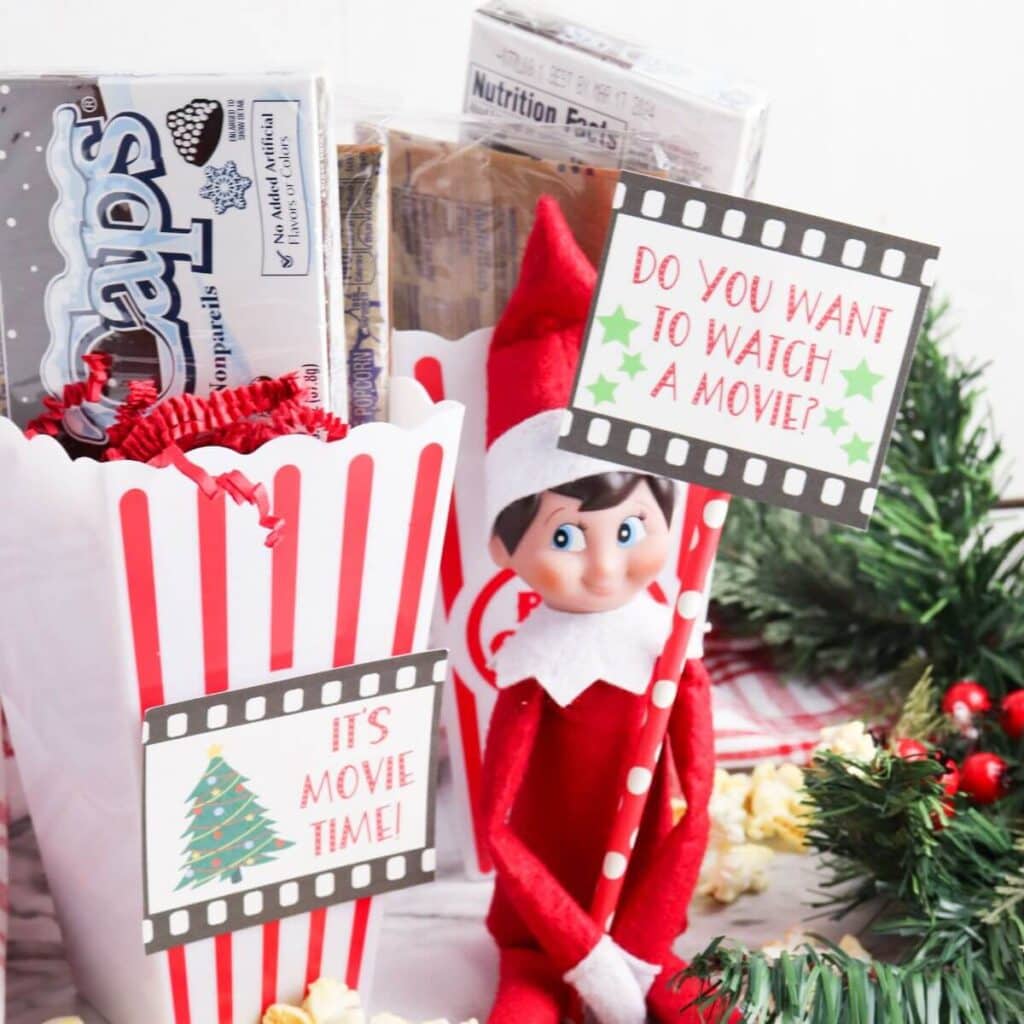 What Do I Need to Make a Movie Night Display for Elf on the Shelf?
Since you only need a handful of items to make it, this fun movie night Elf on the Shelf idea couldn't be easier to make. And since it can be easily customized, there are a million gift-giving possibilities!
To make your own Christmas movie night gift, you'll need just a few simple items, including: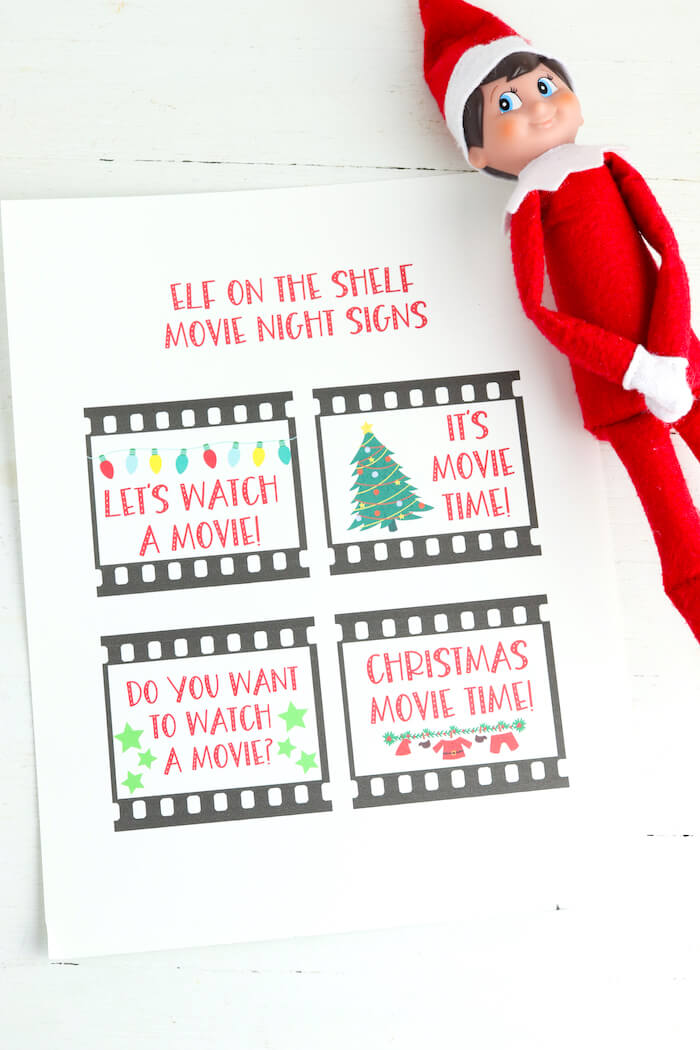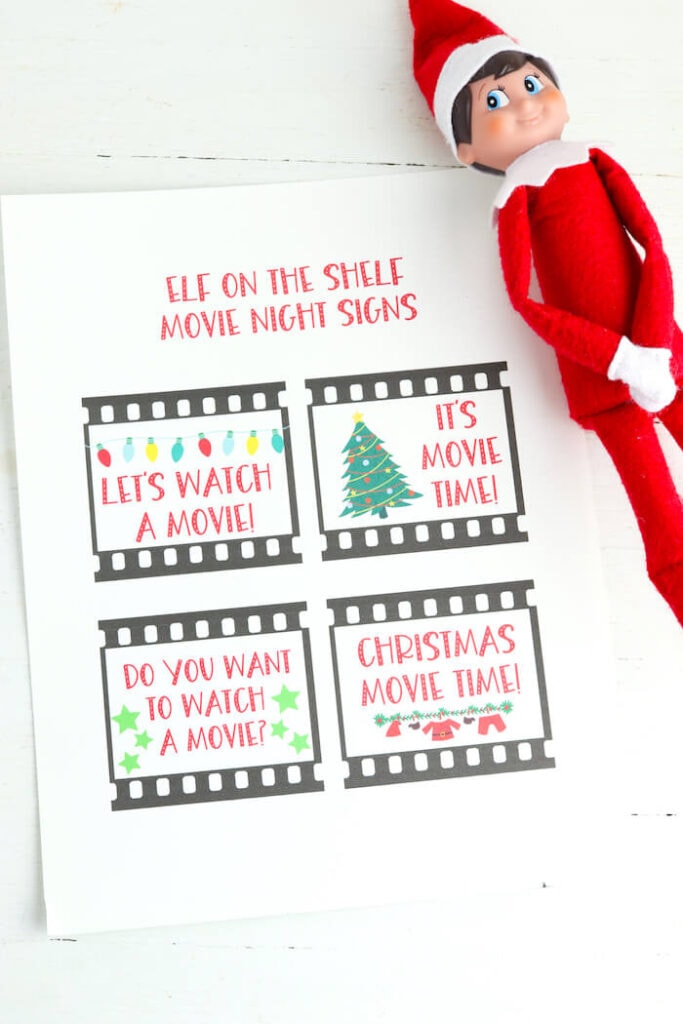 Printable gift tags and Elf on the Shelf signs – Before you can start putting your movie night gift together, you'll need to download the printable gift tags and signs. After grabbing the tags, print them out on card stock so they're sturdy enough to add to your elf gifts.
Movie night snacks – You can't have a movie night without snacks! Our gifts included microwave popcorn and Snow Caps, but you can add any of your kid's favorite movie snacks to your own gifts. Dollar Tree is an awesome place to find lots of inexpensive treats!
A container for your gift – Popcorn containers from Dollar Tree are the perfect gift boxes for a movie night present! But if you can't find these containers at your dollar store, you can also use a bowl, popcorn box, or traditional gift box to hold the gift items.
How Do I Make an Elf on the Shelf Movie Night Gift?
Now that you have all your supplies ready to go, you can start assembling your gift! Then, all that's left to do is leave the gift with your Elf so your kids can find it.
Prepare the gift tags and signs. After downloading the free printable tags and printing them on card stock, use scissors to cut out each tag around its border. After that, you can attach the tags to the front of your gift containers. Or add a paper straw or wooden skewer to the back to turn them into signs for your Elf to hold.
Assemble the movie night snacks. Add the snacks to your container to display the movie night gift. You can add some filler to the popcorn boxes if the snacks don't fit properly.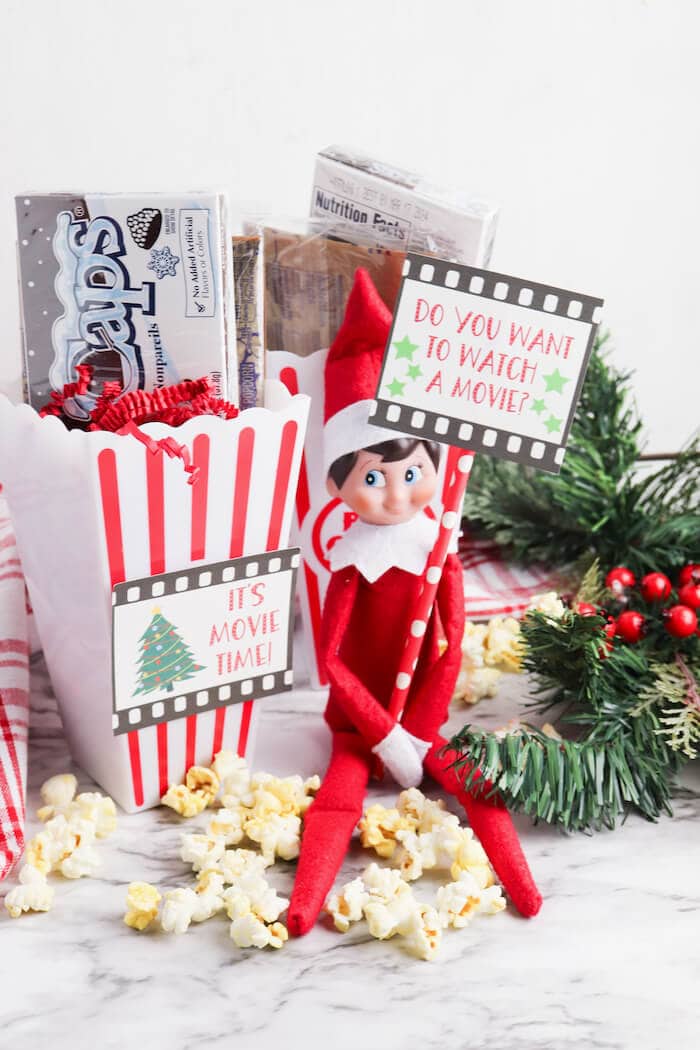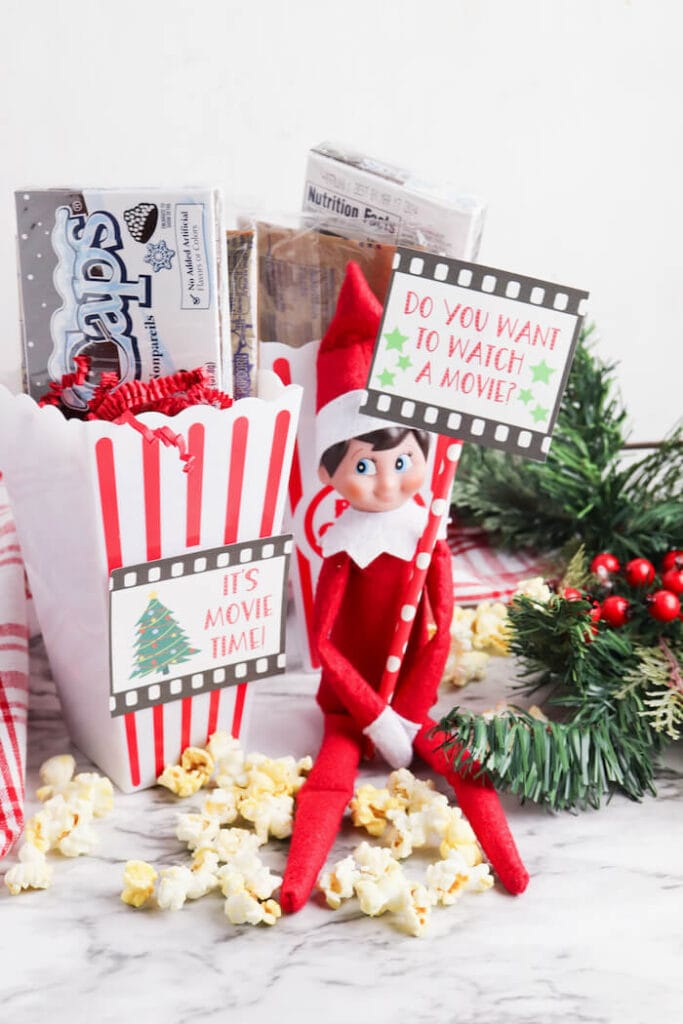 Elf on the Shelf Movie Night Display Ideas
Once you have your gift put together, all that's left to do is set up your Elf on the Shelf with their movie night gift. Try these fun set-ups to show off your elf's present.
Place the elf next to the gift, holding one of the signs, near the TV.
Put a Christmas movie DVD with the Elf and their gift to show your kids what they'll be watching.
Set up a tablet playing a Christmas movie in front of the elf and give them some popcorn.
Place the elf in the microwave with a bag of popped popcorn and the gifts.
Free Printable Elf on the Shelf Signs
Want to grab these free printable Elf on the Shelf display signs? Just click the link below to download them!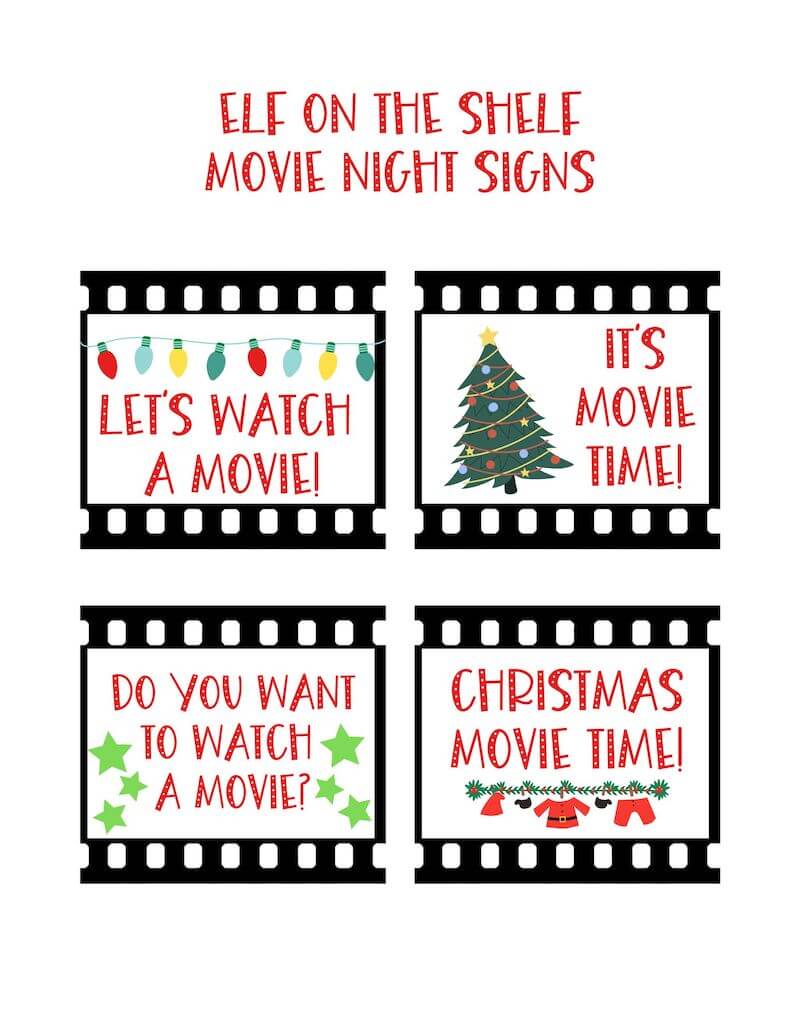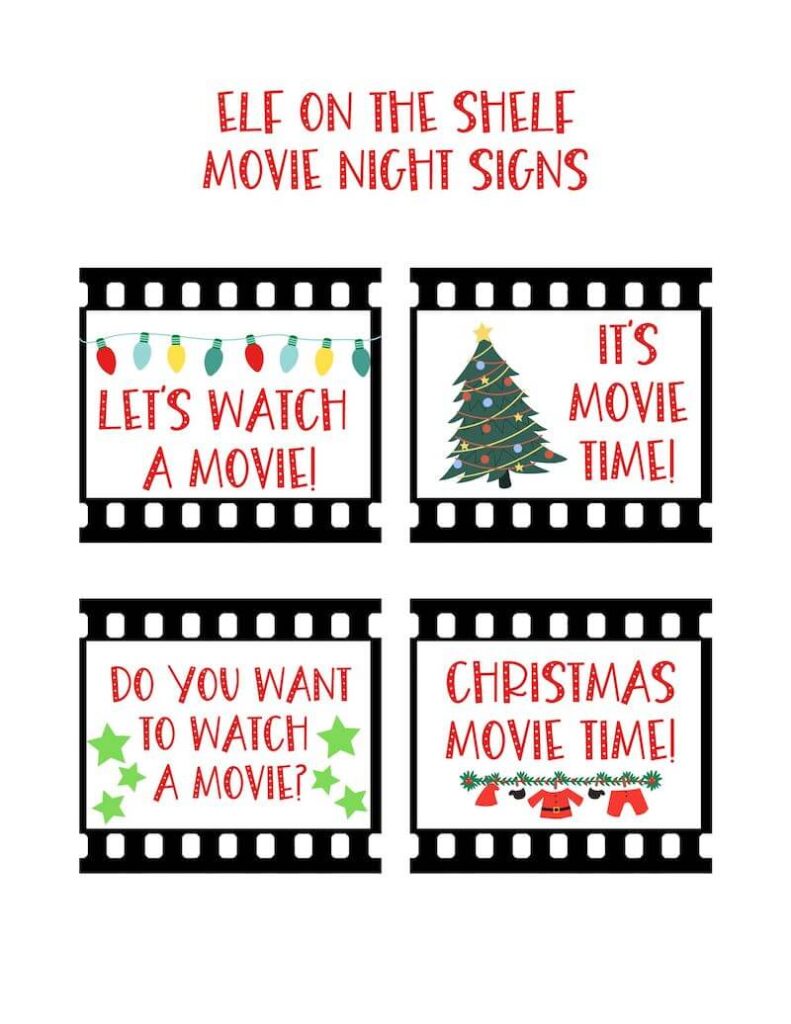 Click HERE for the FREE Printable Elf on the Shelf Movie Night Signs
More Free Christmas Printables for Kids
Want even more free printable Christmas ideas to make spreading holiday cheer even easier this year? Check out these other Christmas idea that your kids will LOVE:
Free Printable Elf on the Shelf Notes – If you struggle with ideas for Elf on the Shelf each year, then these printable elf notes can help! Just print the notes and add to a few basic props each night for an easy display that doesn't take you forever to set up (or think up!)… like this easy cereal bowl Elf idea: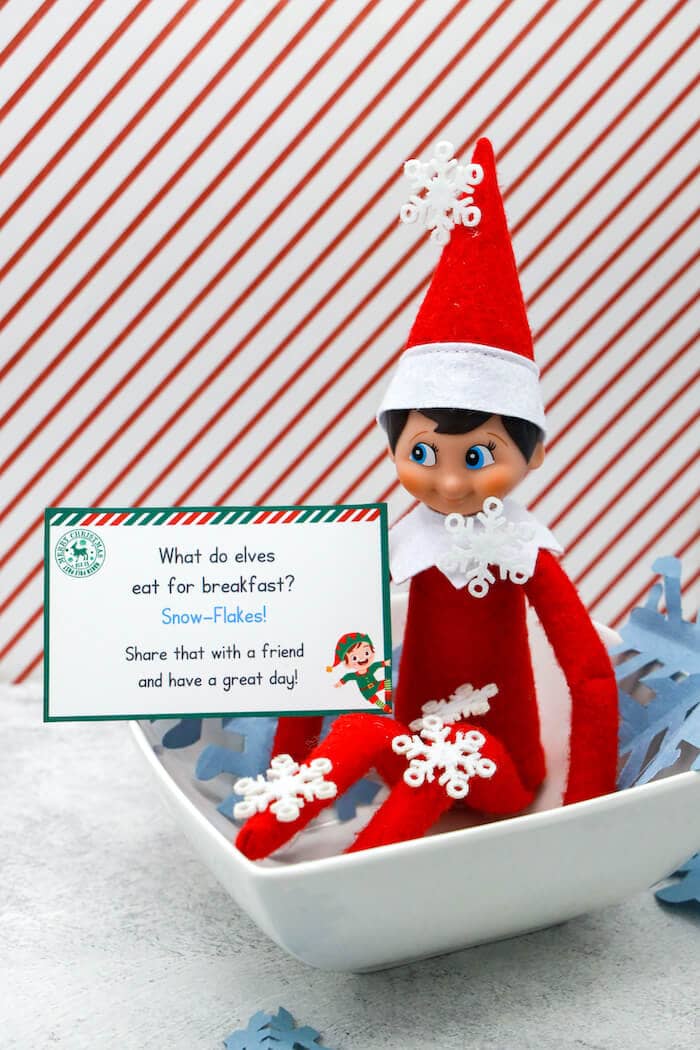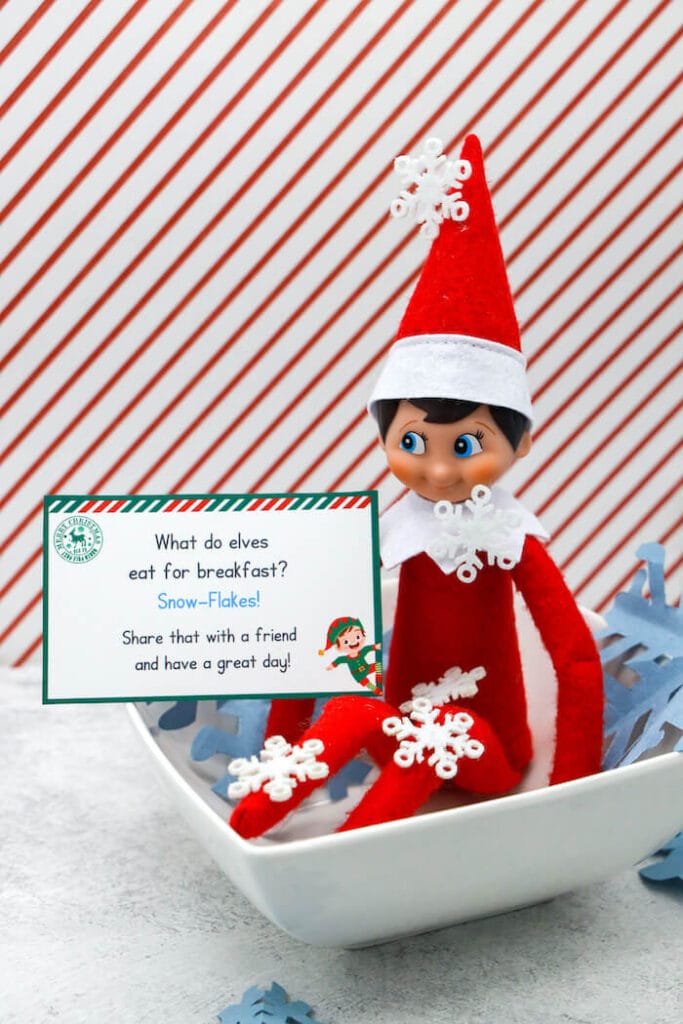 Free Printable Santa Letter Templates – If your kids write letters to Santa every year, then these free templates can make it even easier… perfect for younger kids to work on their writing skills! And you can even have your Elf deliver the Santa letter templates one night as part of your Elf display!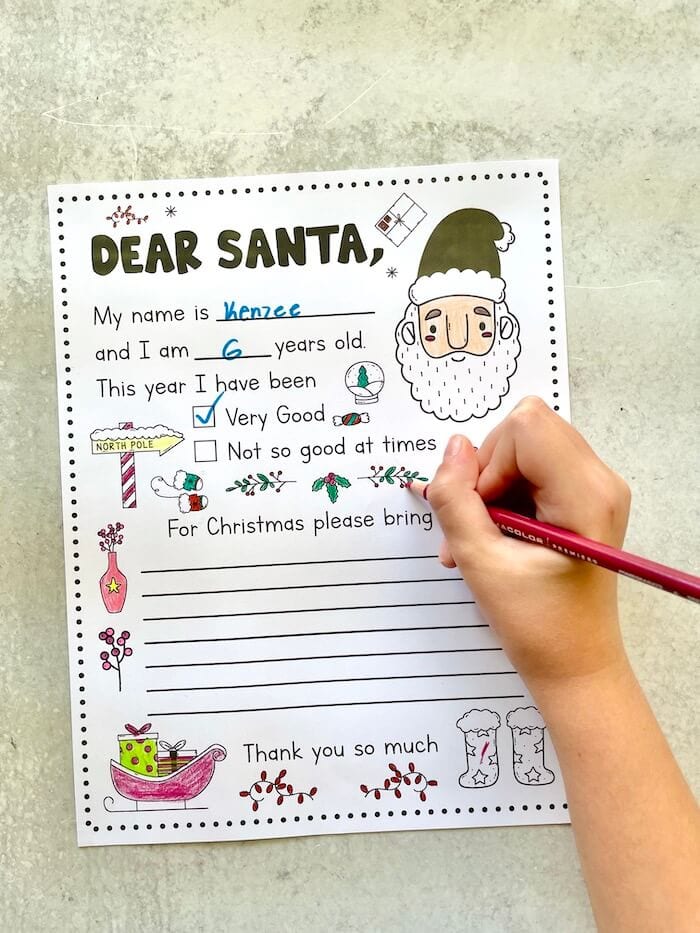 I hope you LOVED this easy elf display idea! And don't forget to PIN this post for later: