Need ideas for no-bake holiday desserts to make this Thanksgiving or Christmas? Here's an epic round up of some of the best fancy no bake desserts like no-bake cheesecakes, no-bake pies, and more… perfect for you holiday party!
The holidays are upon us, and that means one thing… DESSERTS! I try to limit my sweets to just one night each week, but when the holidays roll around, all bets are off!
And if I can enjoy a sweet treat that's easy to make and doesn't require me to turn on the oven, then that's a win in my book!
These no bake desserts are full of flavor and can be whipped up in a jiffy. There are some no bake cheesecakes on the list because it's a staple at many holiday meals, but there are also some other desserts included that I think you will love.
And if you need some easy no bake Christmas cookies, then don't miss my beautiful No Bake Snowflake Pizzelles!
Enjoy!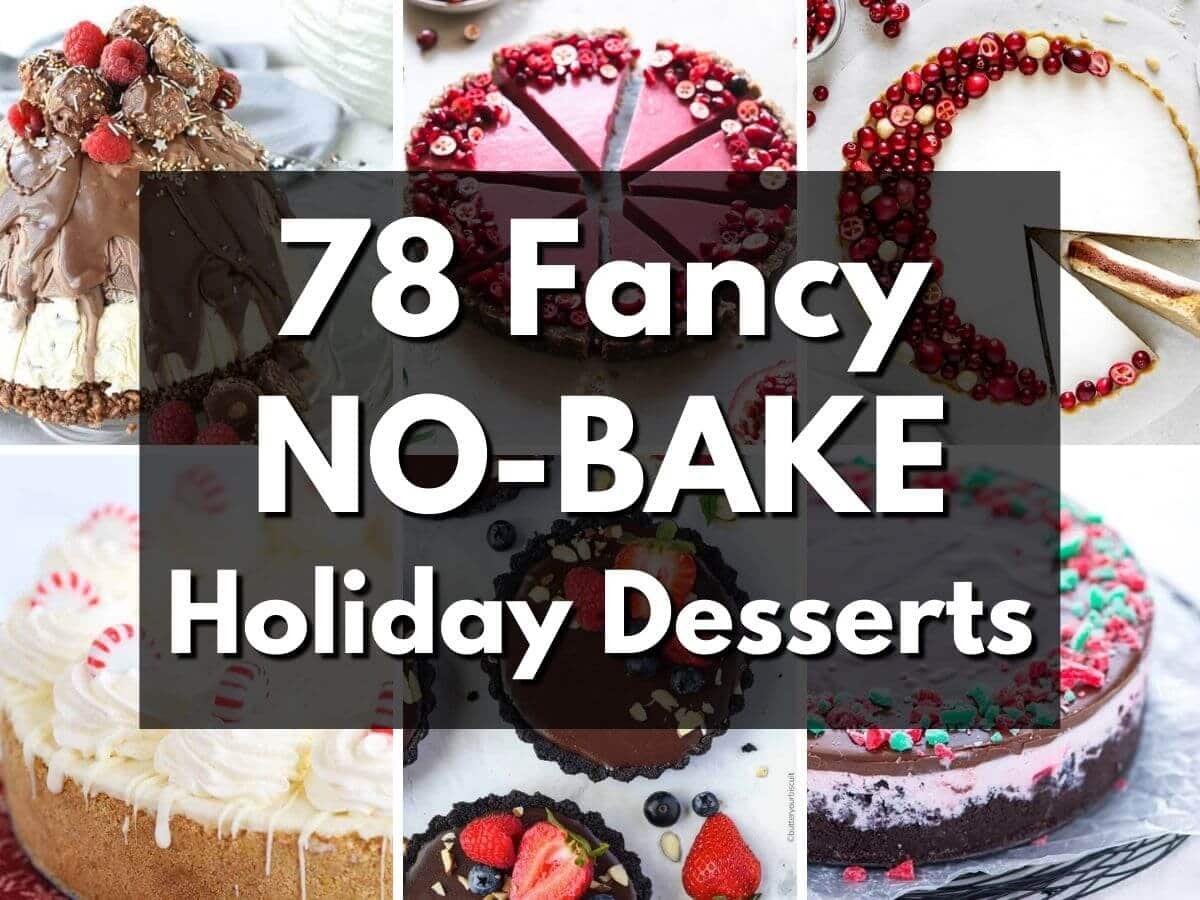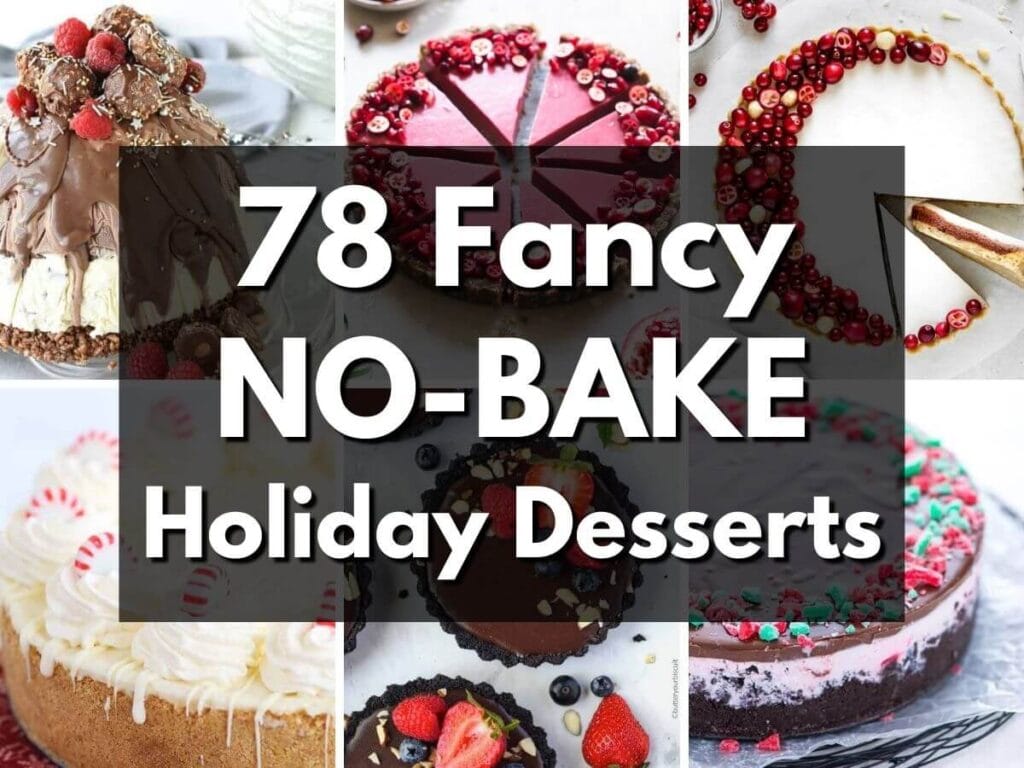 No Bake Holiday Cheesecakes
When you think of fancy no-bake desserts for the holidays, you probably think of cheesecake! Cheesecake is the classic no-bake dessert because you can customize it with pretty much any flavor, and it just needs to set up in the refrigerator.
Here are some awesome no bake holiday cheesecake desserts that your guests will love: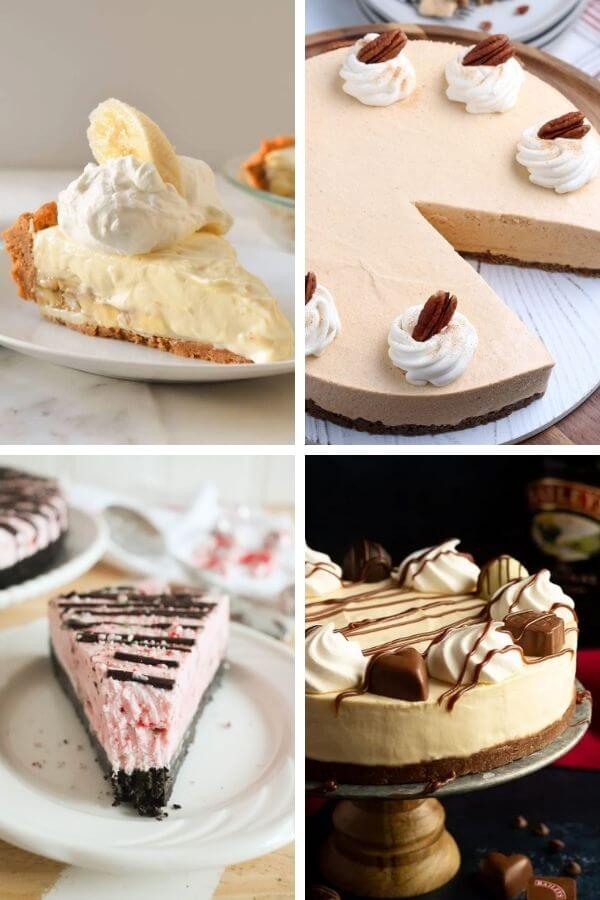 Banana Pudding Cheesecake from Serena Bakes Simply From Scratch
Easy Pumpkin Cheesecake from Upstate Ramblings
No Bake Peppermint Cheesecake from Homemade Heather
No Bake Baileys Cheesecake from Kitchen Mason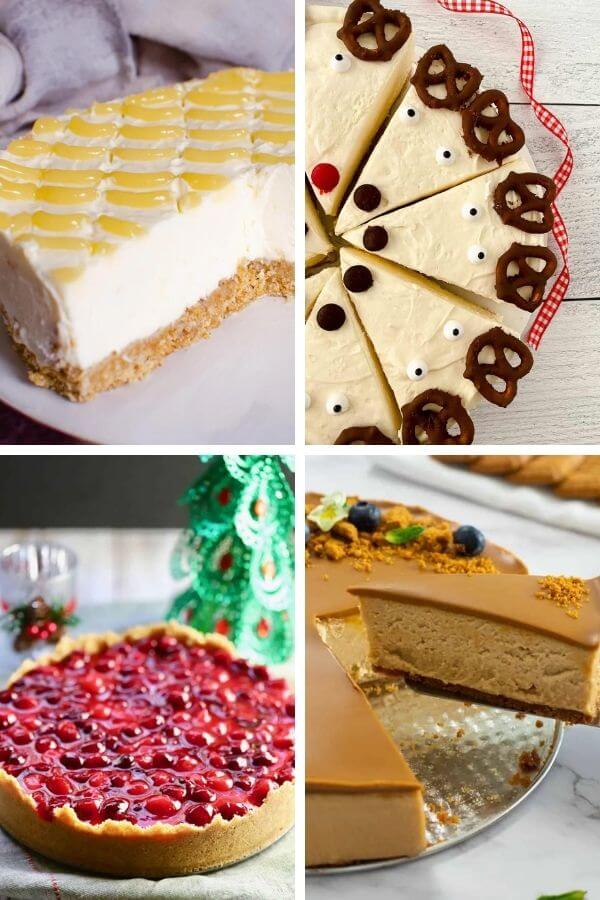 Lemon Curd Cheesecake from Flawless Food
No-Bake Reindeer Cheesecake from Big Family Blessings
No-Bake Cranberry Cheesecake from Grits and Pinecones
No-Bake Biscoff Cheesecake from Jack Slobodian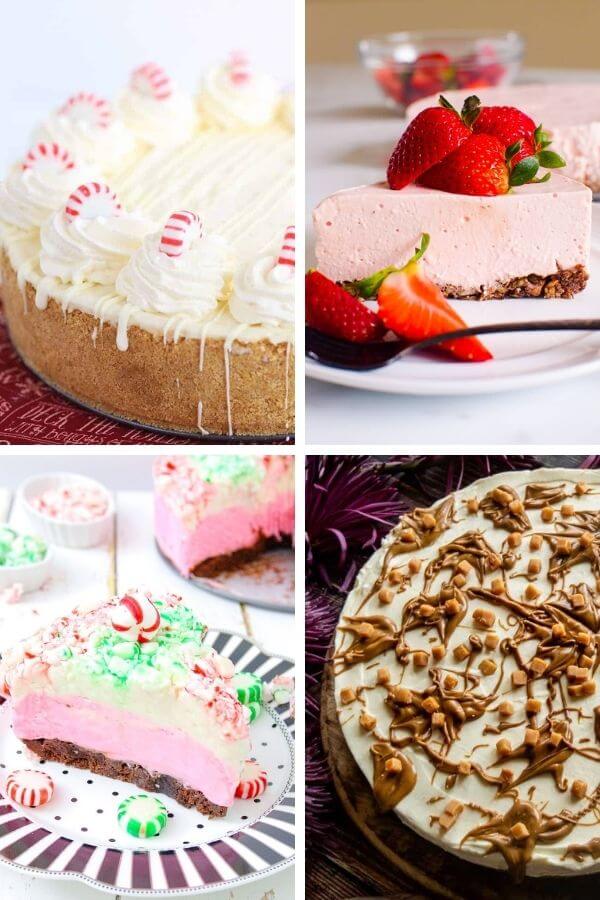 No-Bake White Chocolate Peppermint Cheesecake from Cookie Dough and Oven Mitt
No-Bake Strawberry Cheesecake from iFoodReal
No-Bake Christmas Cheesecake from The Soccer Mom Blog
No-Bake Salted Caramel Cheesecake from Ella's Better Bakes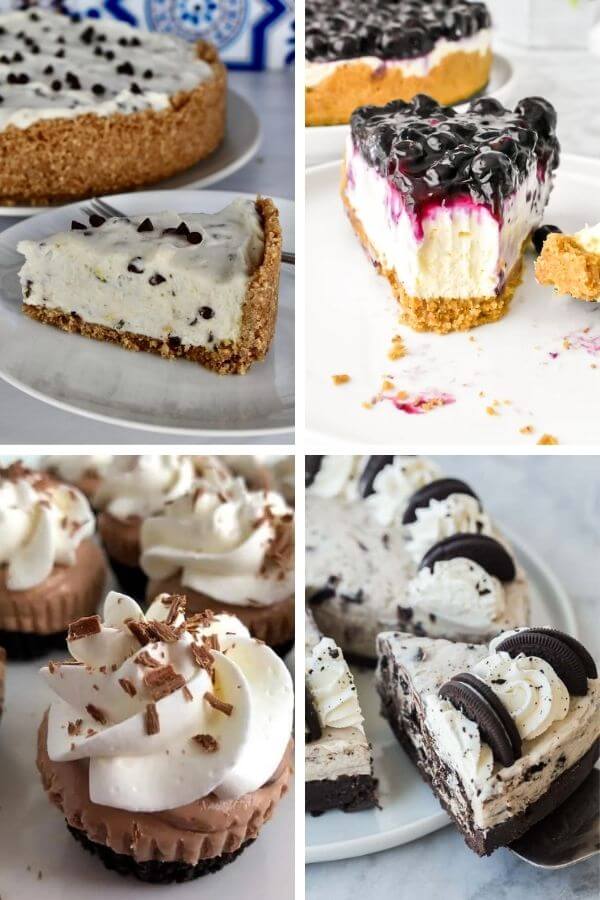 No-Bake Cannoli Cheesecake from This Italian Kitchen
No-Bake Blueberry Cheesecake from Herbs and Flour
No-Bake Irish Cream Mini Cheesecakes from Emily Fabulous
Oreo No-Bake Cheesecake from Spend with Pennies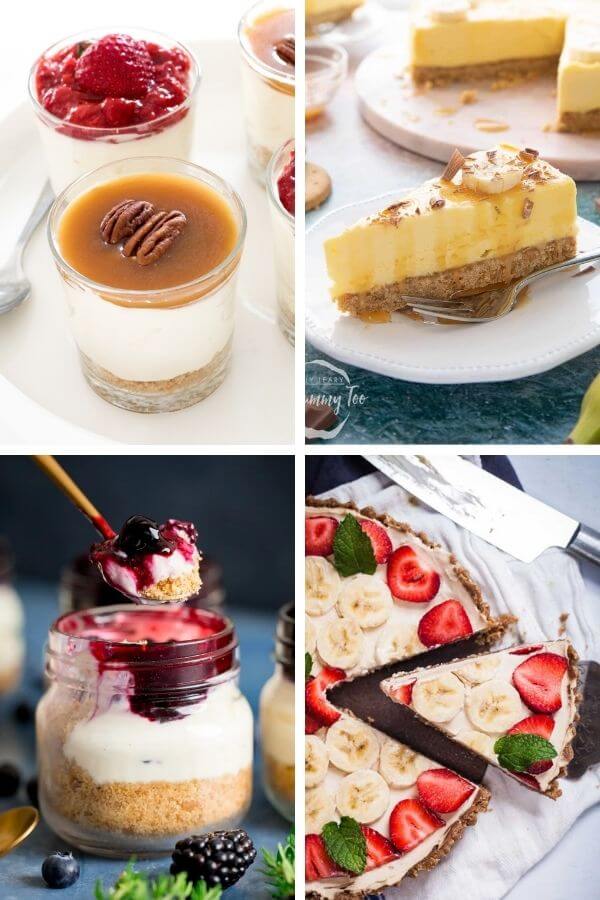 Individual Vanilla Cheesecakes from Chef Savvy
No-Bake Banoffee Pie Cheesecake from A Mummy Too
Individual Berry No Bake Cheesecakes from Kitchen Sanctuary
No Bake Mascarpone Cheesecake with Amaretto from My Chef's Apron
No-Bake Tiramisu Recipes to Make for the Holidays
If no-bake cheesecake is the classic no-bake holiday dessert, then tiramisu is a close second! If you love the traditional Italian dessert, then you'll love these… some of which have unexpected flavors like pumpkin or vanilla: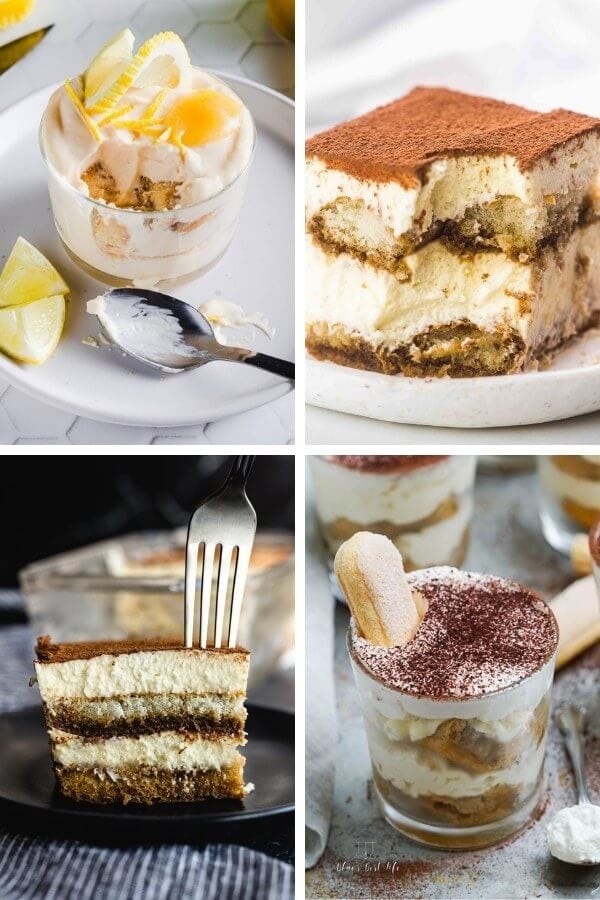 Easy Lemon Tiramisu from Lost in Food
Classic Tiramisu from Little Sunny Kitchen
Easy Tiramisu without Eggs from Spice Cravings
Easy Individual Tiramisu Cups from Blue's Best Life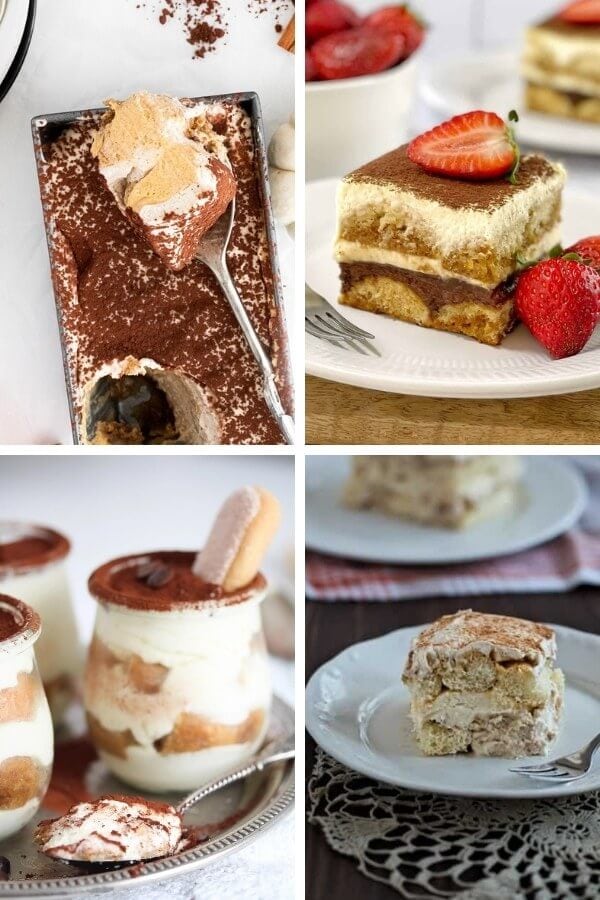 Pumpkin Tiramisu from Cooked by Julie
Nutella Tiramisu from Chef Not Required
Tiramisu Cups from Where is My Spoon
Apple Tiramisu from Dani's Cooking
No-Bake Dessert Bars and Balls for the Holidays
The great thing about serving dessert bars or sweet treats in ball form is that you can make a few different varieties so your guests can enjoy a sweet sampler of treats! Smaller sliced dessert bars and treat balls like the classic rum balls and coconut snowballs are perfect for holiday dessert buffets or to serve with after dinner drinks.
Here are some awesome dessert bars and treat balls to add to your list of no-bake desserts to make this holiday season: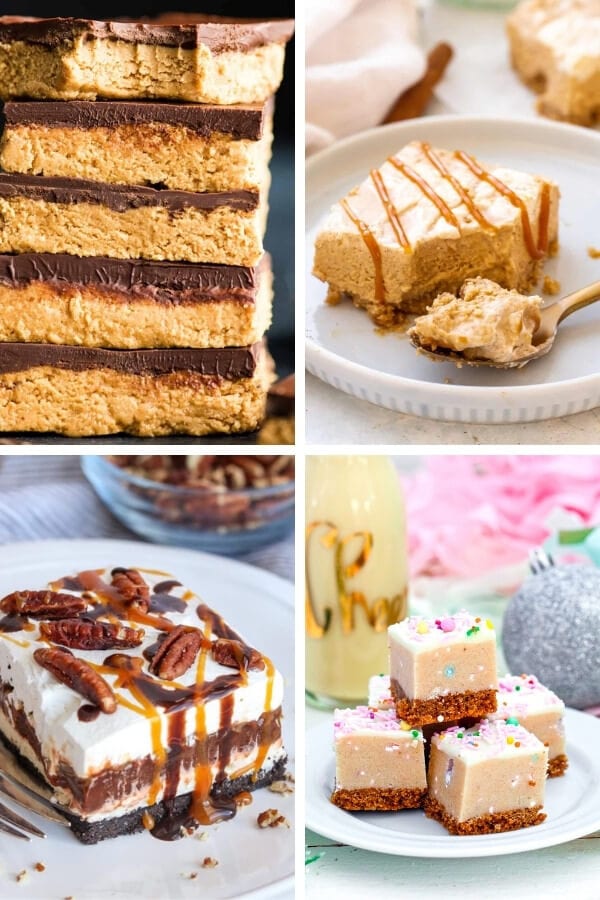 No-bake Chocolate Peanut Butter Bars from Joy Food Sunshine
No-Bake Pumpkin Cheesecake Bars from Chunky in Kentucky
No-Bake Turtle Dream Bars from 365 Days of Baking and More
Egg Nog Cookie Dough Bars from We are Not Martha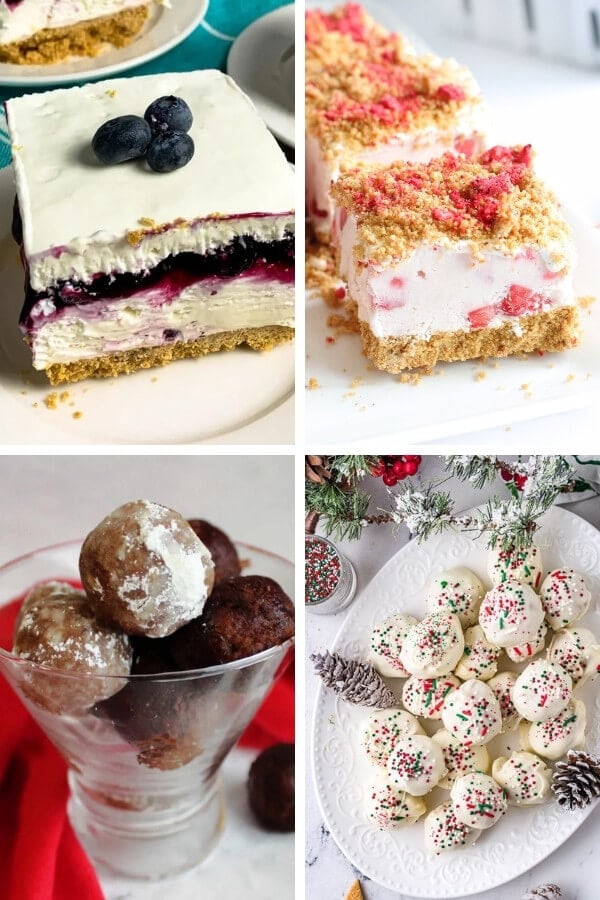 No-Bake Blueberry Cheesecake Bars from Modern Meal Makeover
No-Bake Strawberry Cheesecake Bars from Amanda's Cookin'
Pecan Bourbon Balls from Cooking with Carlee
Peanut Butter Snowballs from Flavor Mosaic
No-Bake Holiday Pies and Tarts
From peanut butter to peppermint and everything in between… these no-bake holiday dessert pies would be perfect for any Thanksgiving or Christmas party!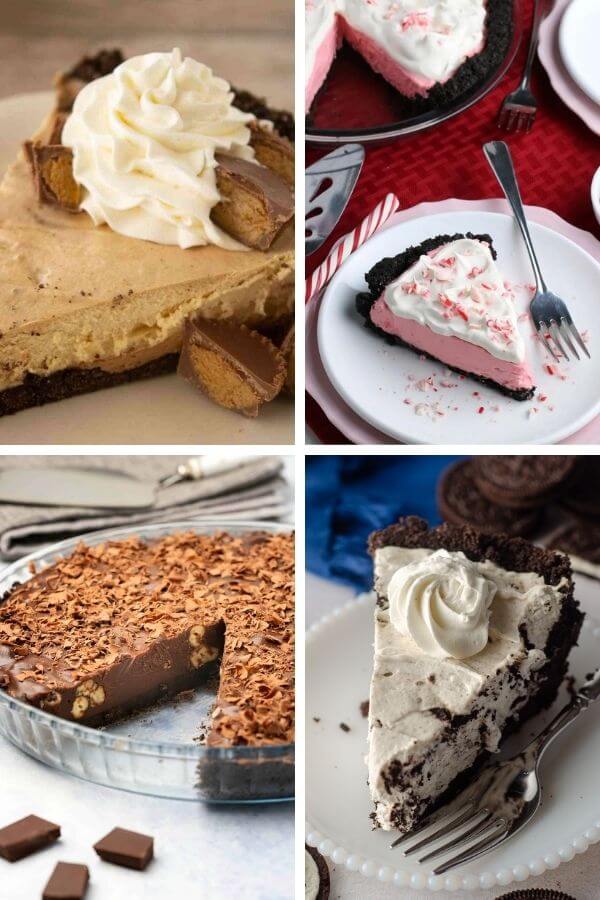 No Bake Mousse Pie from Mindee's Cooking Obsession
No-Bake Peppermint Pie from Pint Sized Baker
No-bake Chocolate Tart from Gimme that Flavor
No-bake Oreo Pie from Fresh April Flours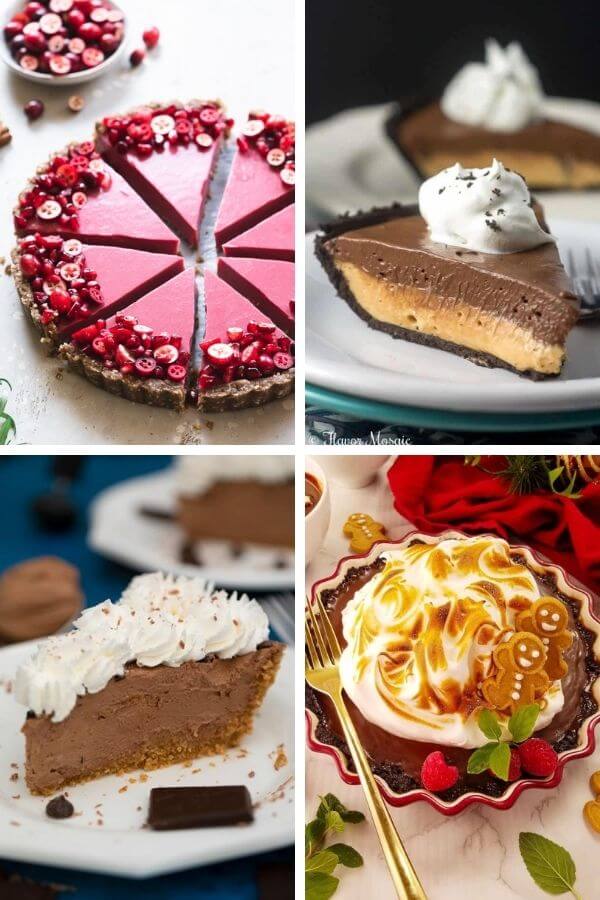 Cranberry Pomegranate Tart from Addicted to Dates
Chocolate Peanut Butter No-Bake Pie from Flavor Mosaic
Easy No-Bake Chocolate Pie from Moore or Less Cooking
No-Bake Chocolate Pie with Toasted Meringue from Easy and Delish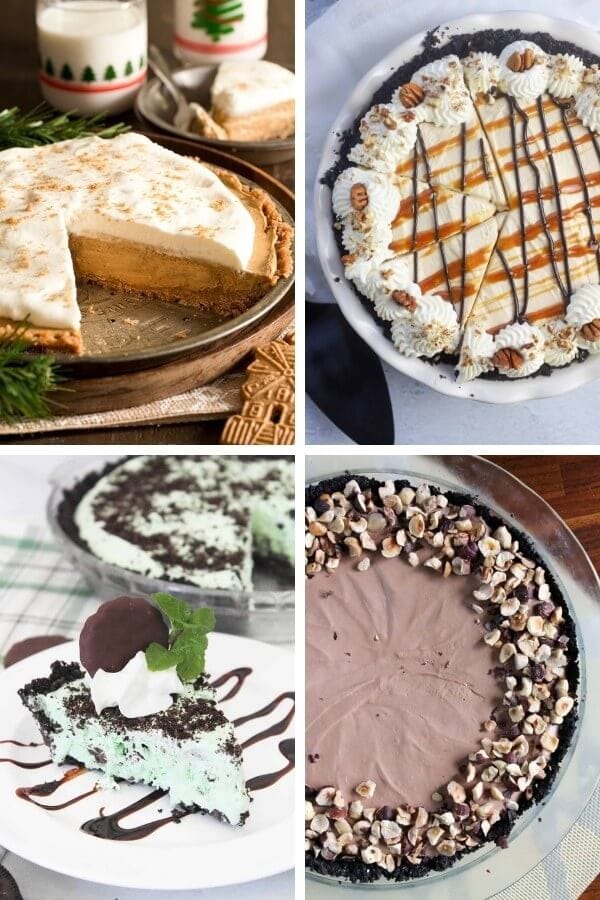 No-Bake Gingerbread Cream Pie from Chocolate Moosey
No-Bake Turtle Pie from Boston Girl Bakes
No-Bake Grasshopper Pie from 2 Cookin' Mamas
No-Bake Chocolate Hazelnut Pie from The Spiffy Cookie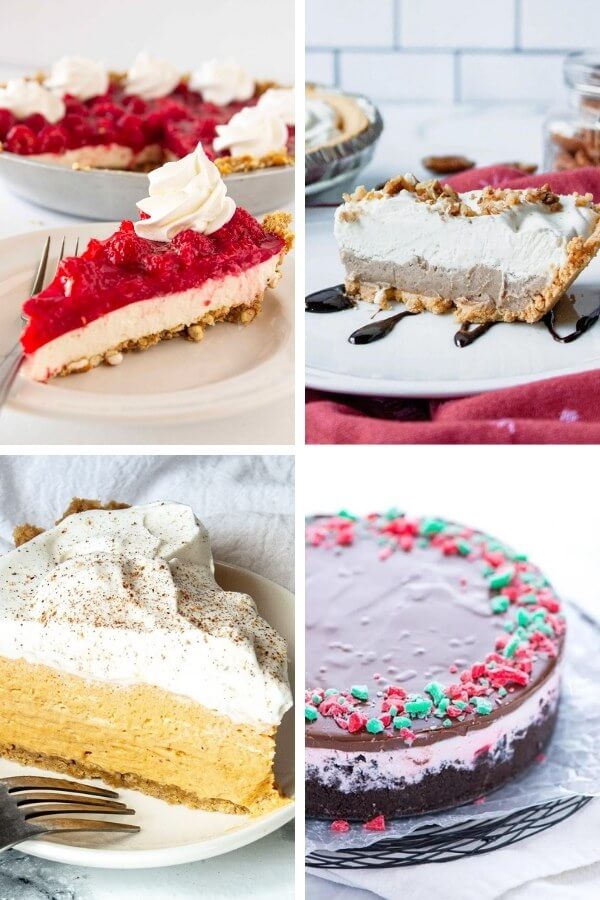 No-Bake Raspberry Pretzel Pie from Practically Homemade
Pecan Butter Pie from Inspired Epicurean
Pumpkin Mousse Pie with Maple Cookie Crust from Chenee Today
Peppermint Ice Cream Pie with Chocolate Ganache from What the Fork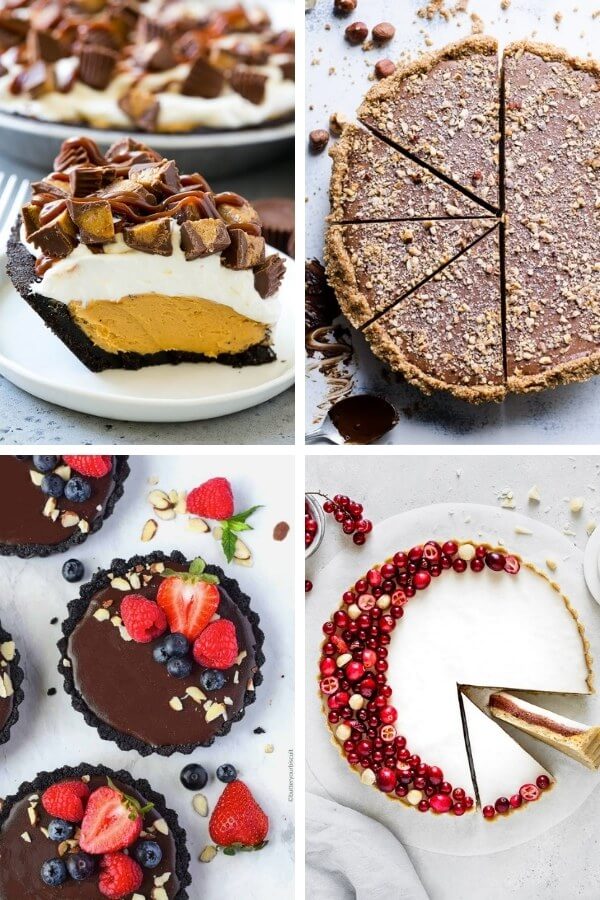 Chocolate Peanut Butter Pie from Dinner at the Zoo
No-Bake Nutella Pie from iFoodReal
No Bake Mini Chocolate Tarts from Butter Your Biscuit
Cranberry White Chocolate Tart from Whole Food Soul Food Kitchen
No Bake Mousse, Parfait, and Trifle Dessert Recipes to Make for the Holidays
Mousses, parfaits, and trifles are some other classic no-bake holiday desserts because they're so easy to make and you can often make them a day ahead of time. Plus, served in large glass bowls or individual glass cups, these types of no bake desserts look absolutely stunning because you can see the many colorful, sweet layers.
Here are some awesome mousse and trifle recipes to try on your holiday dessert table: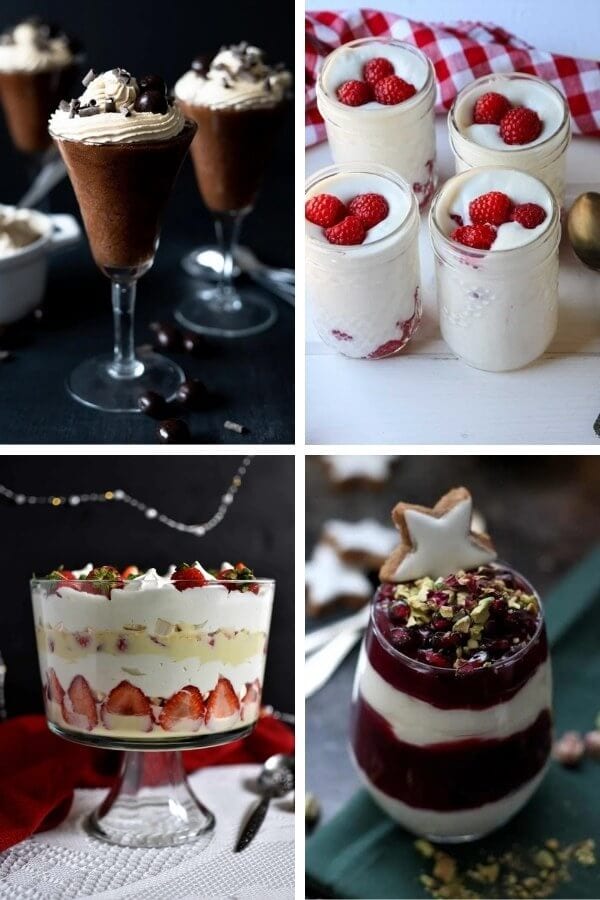 Irish Cream Coffee Mousse from The Delicious Spoon
Coconut Mousse with Raspberries from The Food Blog
Strawberry Trifle from Simple Living Recipes
15 Minute Pomegranate Parfaits with Pistachios from Happy Kitchen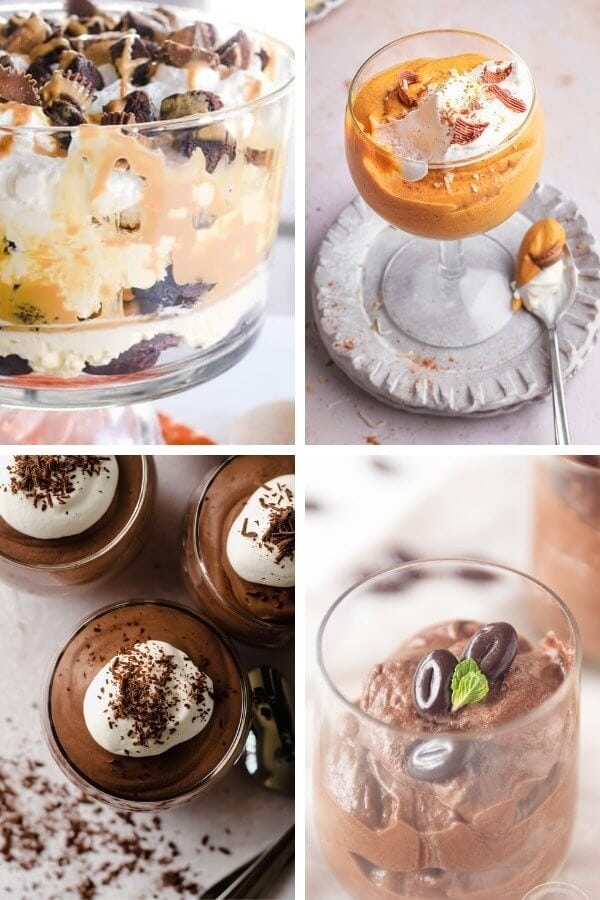 Brownie Peanut Butter Cheesecake Trifle from Fantabulosity
Coconut Cream Pumpkin Mousse from Worldly Treat
Easy Chocolate Mousse from Fresh April Flours
Dark Mascarpone Chocolate Mousse from It's a Good Taste By Andrea
Even More No-Bake Holiday Desserts to Try
Want even more fabulous and fancy no-bake holiday dessert recipes? Check these out: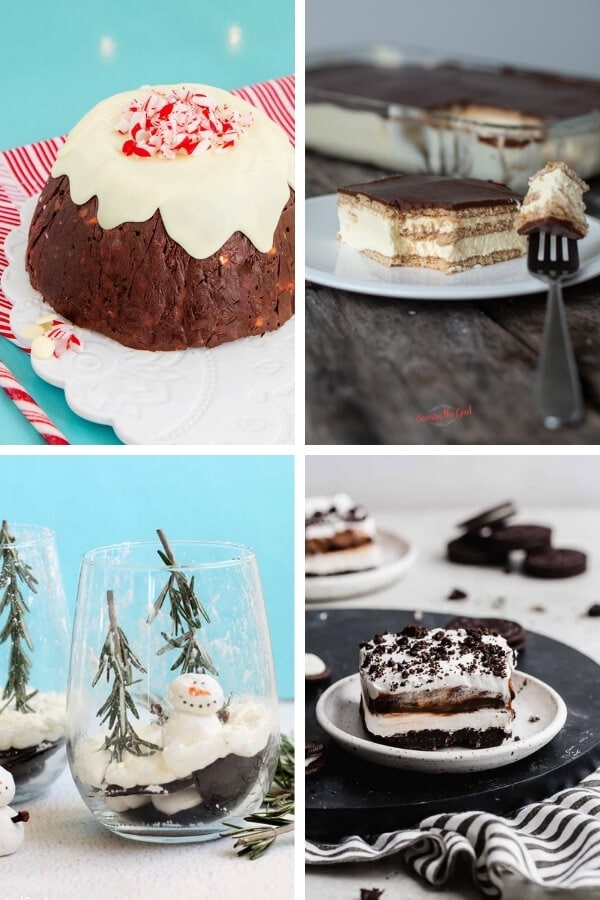 Chocolate Peppermint Fudge Christmas Pudding from Sweetness and Bite
No-Bake Eclair Cake from Savoring the Good
Ice Box Cake Snow Globe Dessert from The Decorated Cookie
No-Bake Oreo Dessert from Salt and Baker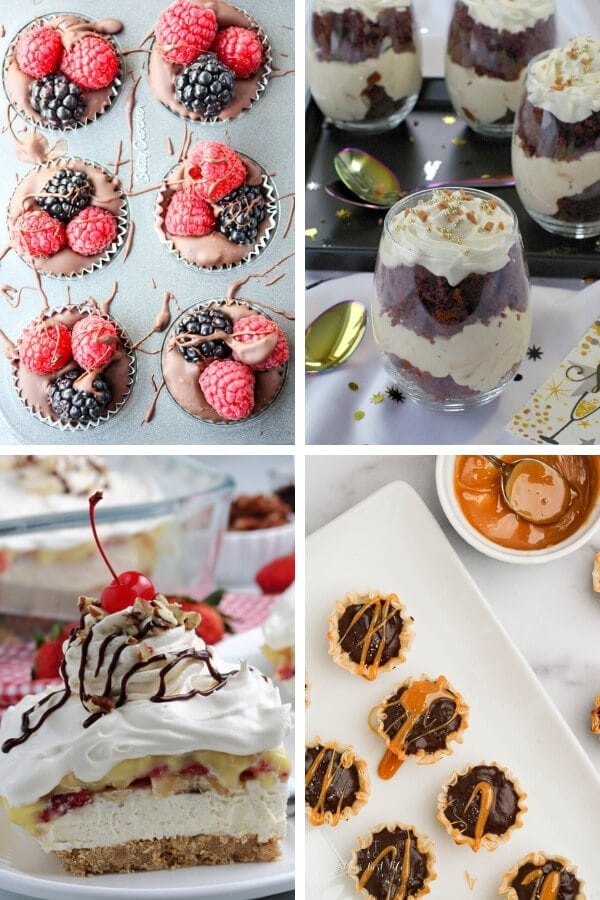 Chocolate Berry Cups from The Food Blog
No-Bake Mini Eggnog Trifle from Food Meanderings
No-Bake Banana Split Cake from Confessions of Parenting
Mini Chocolate Ganache Tarts from Blue's Best Life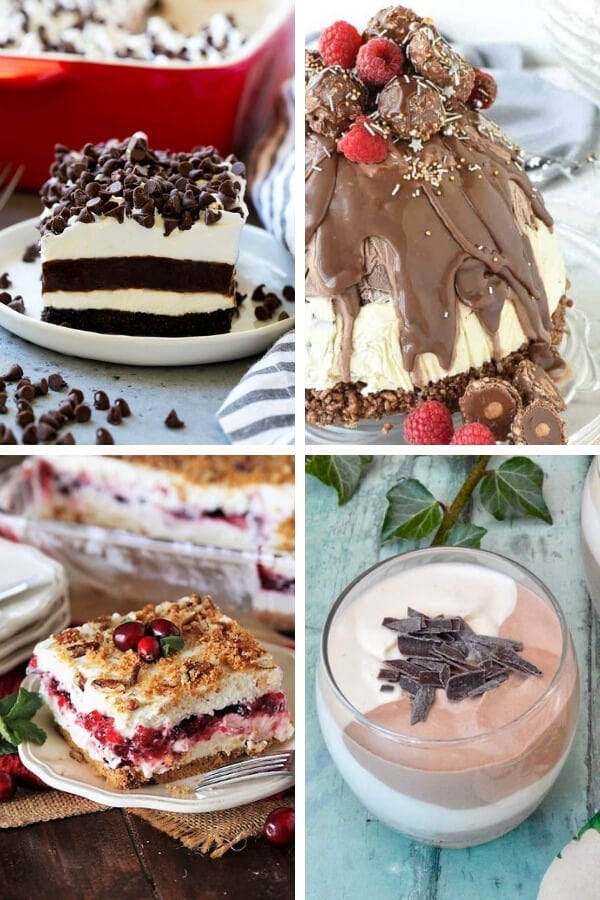 No-Bake Chocolate Lasagna from Dinner at the Zoo
Christmas Ice Cream Pudding from Marcellina in Cucina
No-Bake Cranberry Yum Yum from The Kitchen is My Playground
Double Chocolate Cheesecake Pudding from Tin and Thyme
I hope you've been inspired to try out a new no-bake holiday dessert recipe this year! Save space in your oven AND wow your holiday party guests with one of these fancy dessert recipes!
And if you need ideas for what to make for appetizers then check out this big old list of 50+ Elegant and Easy Holiday Appetizers!
Or, if you need some easy no-bake holiday treats for kids, then check out these posts:
Chocolate Covered Ritz Cracker Cookie Pops (Great Edible Gift Idea!)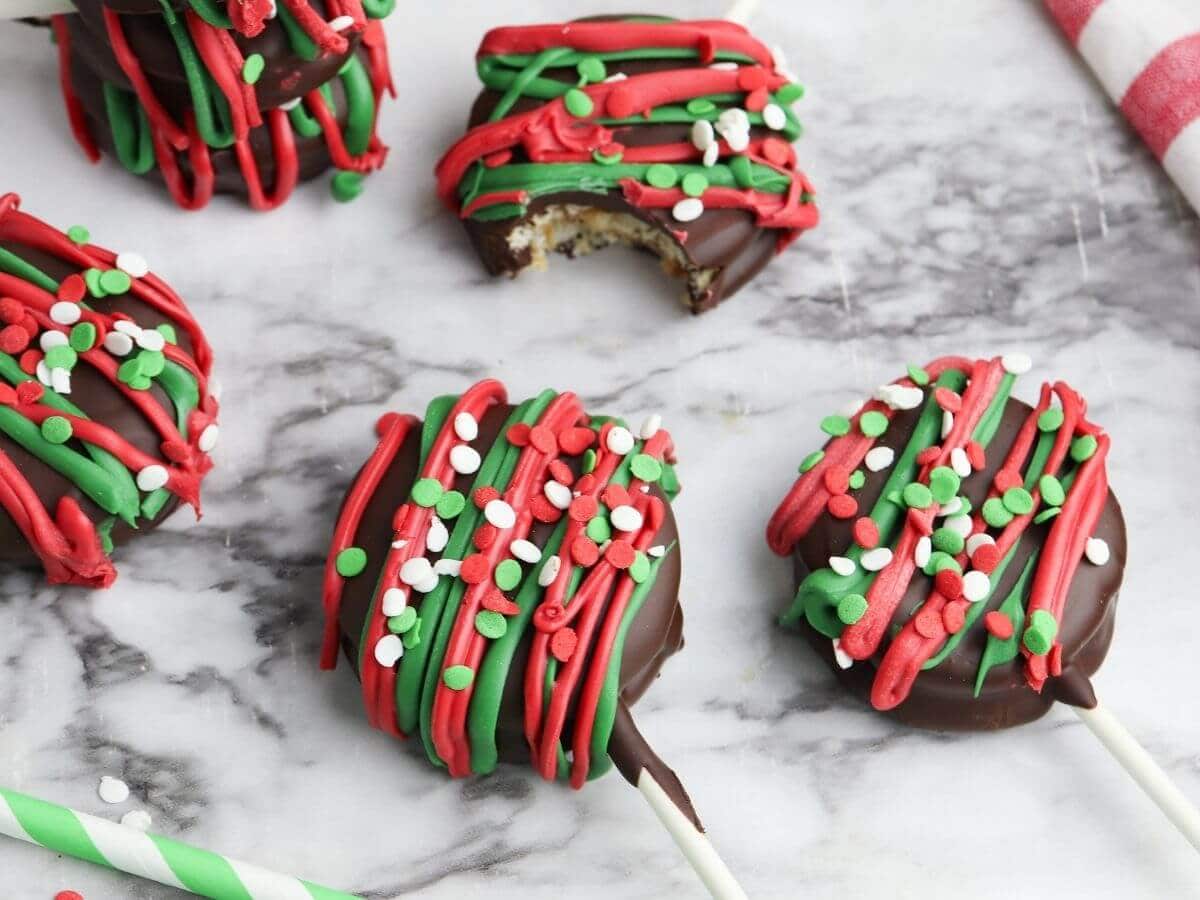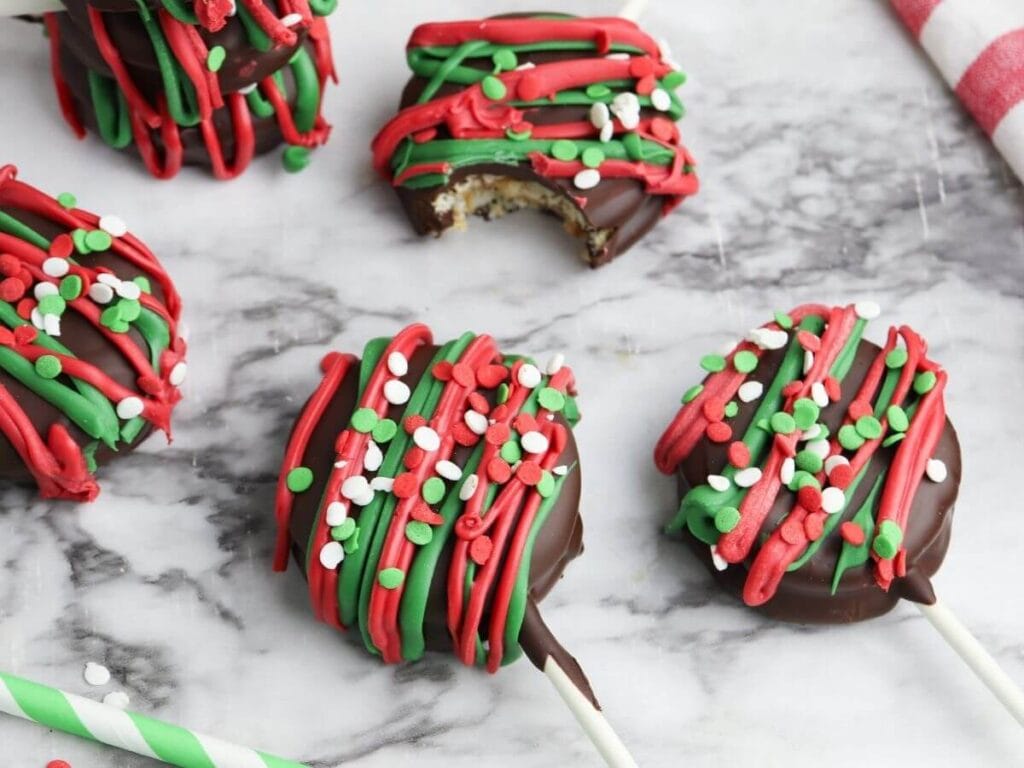 Chocolate Pretzel Christmas Trees – Fun Treats To Make With Your Kids!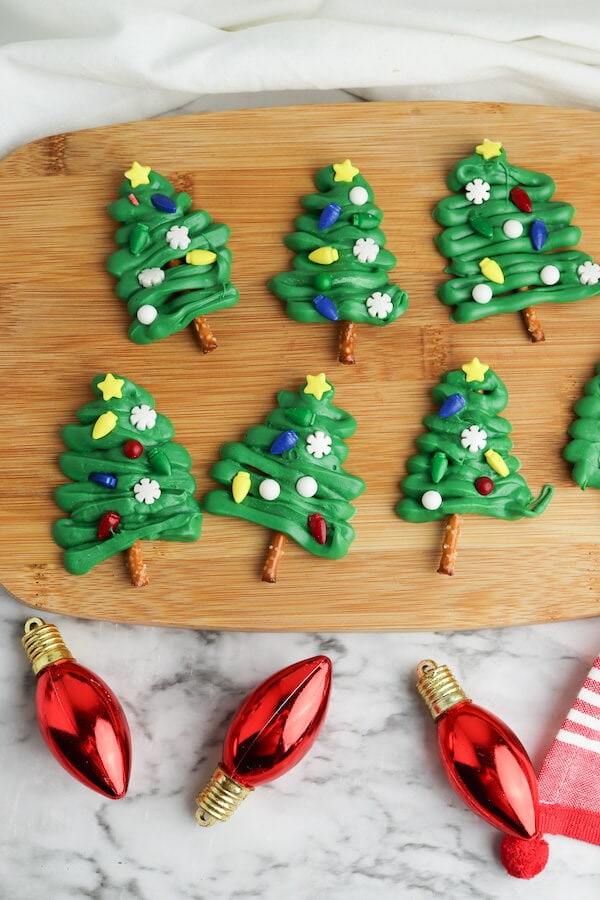 And don't forget to PIN this post for later: