Use this free printable Elf on the Shelf calendar to organize and plan your elf ideas this year! Grab the blank version or the Elf on the Shelf planner that's already pre-filled with loads of elf ideas that your kids will LOVE!
December is right around the corner, which means you're probably busy buying gifts and attending 264 school Christmas parties and programs for your kids. And since you barely have time to scope out the Black Friday ads or tinsel the tree, then you may already be stressing about another December duty… planning your daily Elf on the Shelf ideas!
I get it… Coming up with 24 fun and easy to make Elf scenes to wow your kiddos every morning is tough! But I've got a free printable Elf on the Shelf planner that can help take the stress out of your elf set up!
This Elf on the Shelf calendar comes with loads of easy ideas for setting up Santa's helper. And some of these awesome Elf ideas have free printable props and Elf notes to make them even easier!
Read on for the ultimate list of Elf ideas and a free printable "Fun with the Elf" calendar to help you plan all of your Elf's shenanigans for the month!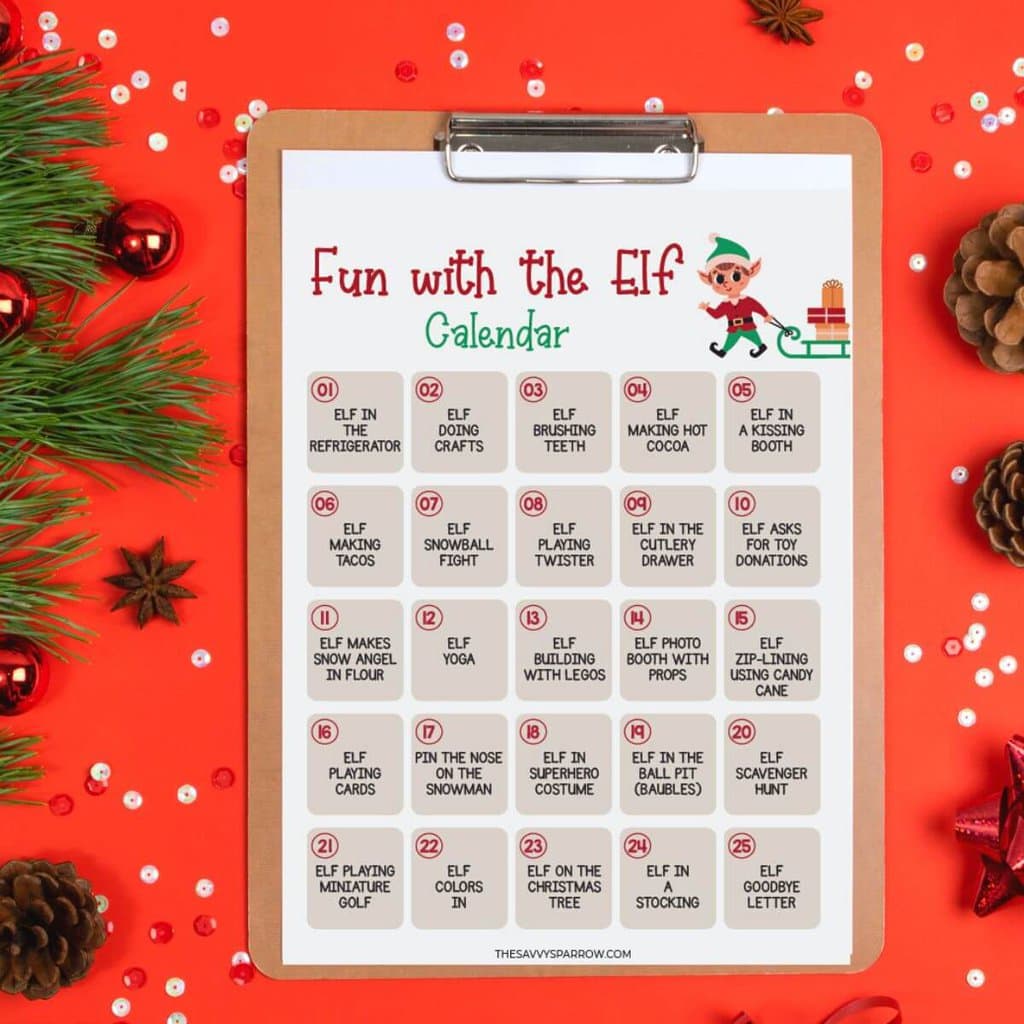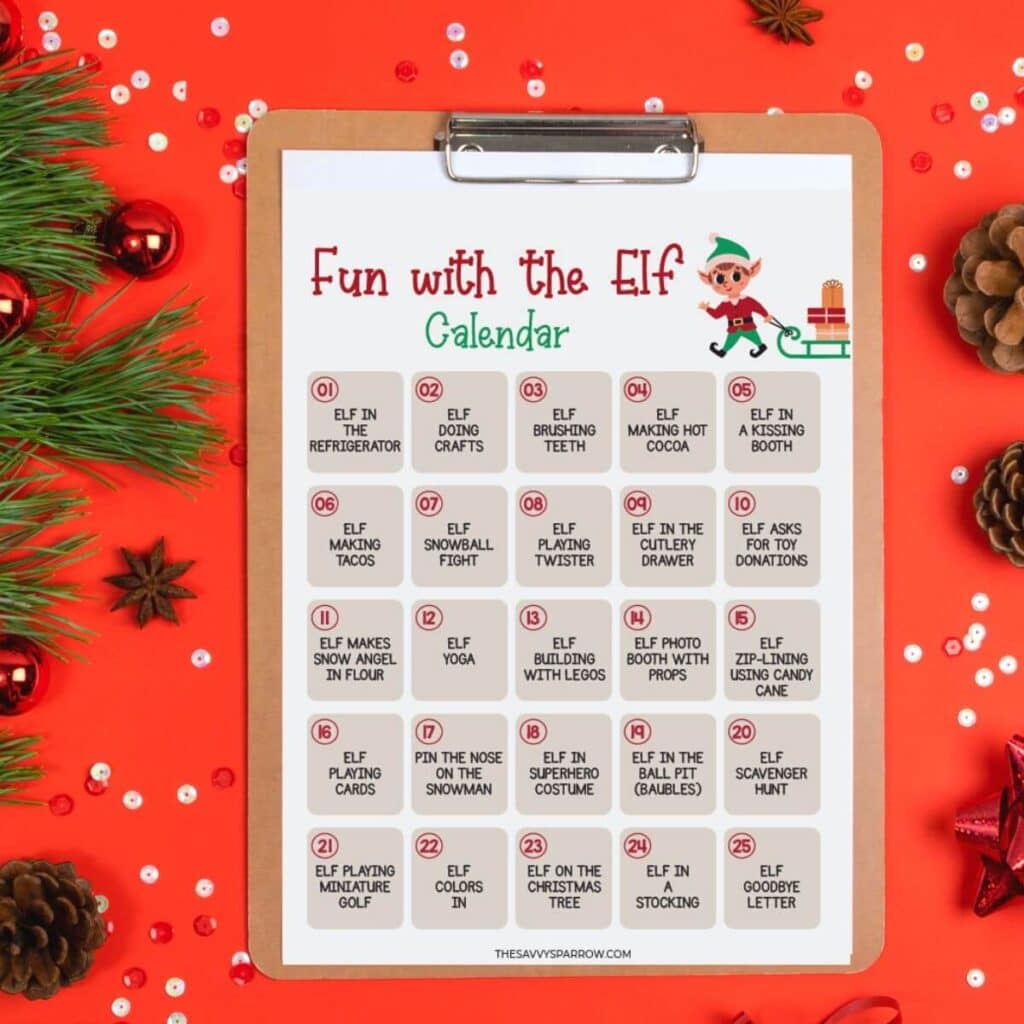 Tips to Make the Most of the Elf Planner
Here are some tips for using the Elf on the Shelf calendar to make your Mom life a little easier this Christmas:
Use the Elf calendar to plan ahead.
Go ahead and fill in the blank Elf calendar template (or just print the pre-filled version) and gather your props and everything you need for each scene ahead of time. You can store all of the items for each day in a zip top bag, and then label each bag with the number to correspond to the date that you'll be using the items.
That way, when you're knee deep in grandma's cherry coconut cookies recipe at 1:00am, you won't have to stress about throwing together a last-minute Elf scene!
Use the blank Elf on the Shelf calendar template to add your own ideas.
If you've got a computer and Adobe Acrobat Reader, then you can use the blank Elf on the Shelf calendar that I have for you at the end of this post to type your own ideas into the sheet! To use the blank fillable calendar:
1) Go to the Adobe website here and download and install Acrobat Reader to your computer (it's free!): https://acrobat.adobe.com/us/en/acrobat/pdf-reader.html (If you already have Adobe Acrobat installed you can skip this step).
2) Open the blank Elf on the Shelf calendar using Adobe Acrobat Reader… You should be able to right click on the file icon on your computer (wherever you saved it) and select Open With>Adobe Acrobat Reader.
3) Once the file is open, click File>Save As> and then name it whatever you like and save it to somewhere on your computer where you can easily find it, like your desktop.
4) Then you can start filling in the calendar template with your own ideas! Just click on the blue boxes and type in what you want. The blue boxes won't show up when you print out your Elf planning template.
Look for Elf on the Shelf printables to help you.
Some of the ideas on the Elf calendar are really easy because you can use a printable Elf prop or Elf notes. Just search the internet for "printable Elf on the Shelf _____" and fill in what type of prop you need. You'll be able to find loads of options, including these free printable Elf movie night notes that I use: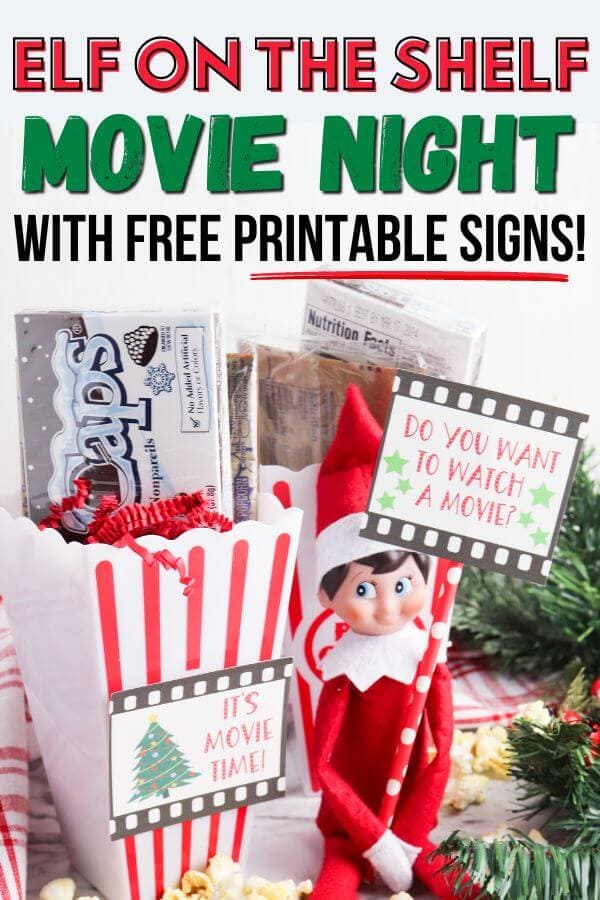 Add your Elf ideas calendar to your planner.
The number one rule for using the "Fun with the Elf" calendar is to store it somewhere that your kids won't find it. You can add the calendar to your planner so that you can keep it handy, or tuck it away inside your nightstand drawer… Just don't leave it out where your elementary aged kids can find it and learn that you're in charge of moving the elf each night (instead of the Elf magically appearing!).
Ideas on the Printable Elf on the Shelf Calendar
This elf planner is loaded with ideas for you to use. And if you need help with any of the ideas, then just type them in to Google, and you'll find loads of pictures showing you how to set up your elf.
Here are the Elf on the Shelf ideas that are included in the calendar template: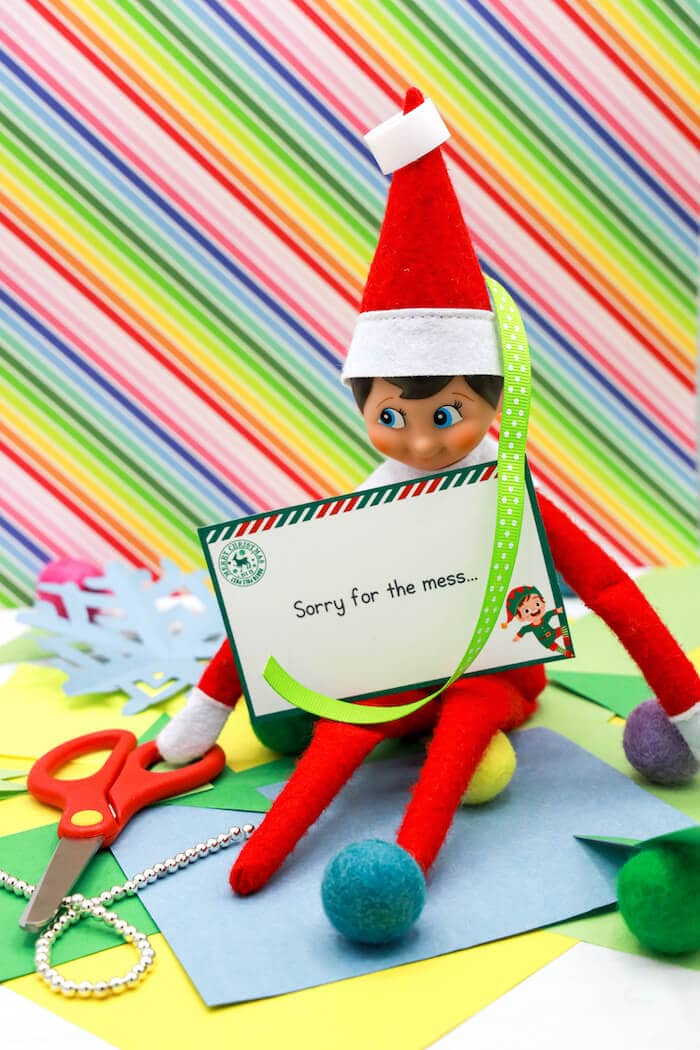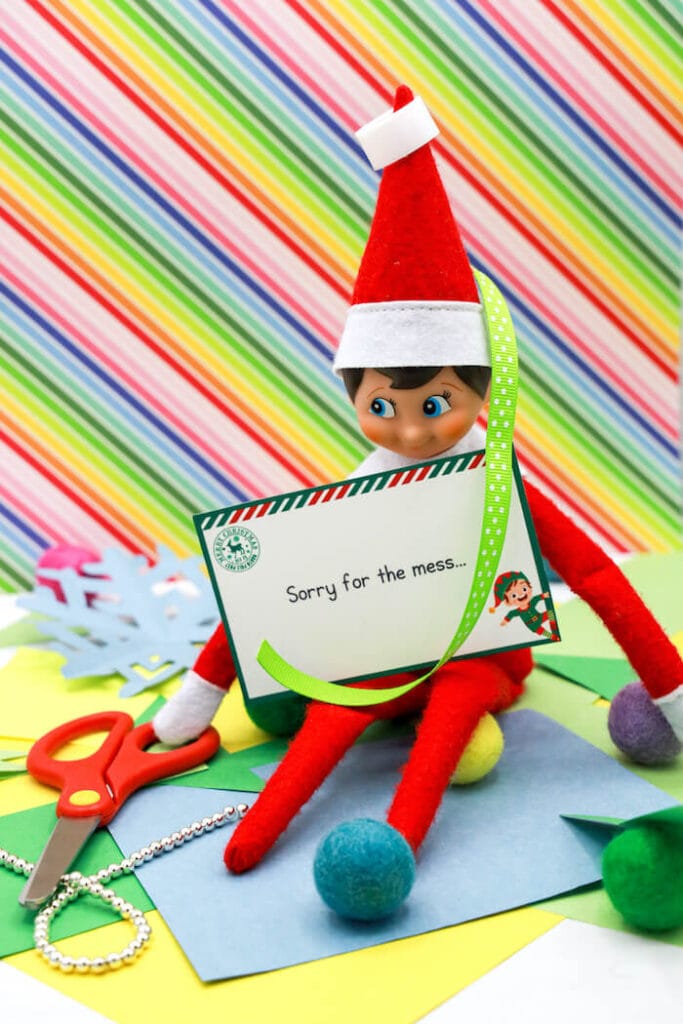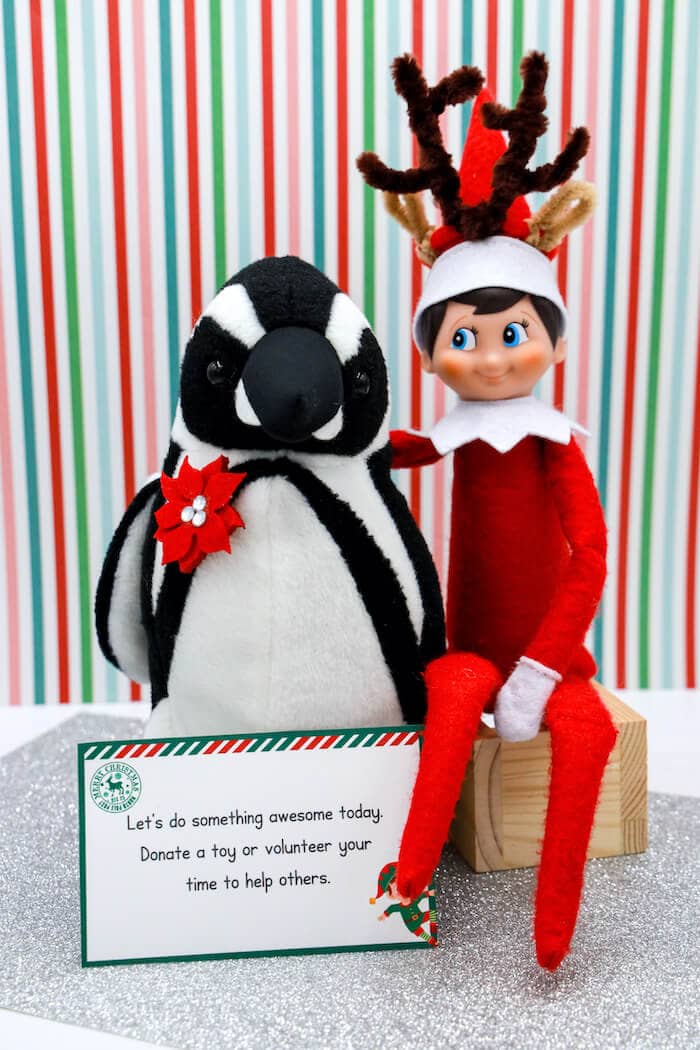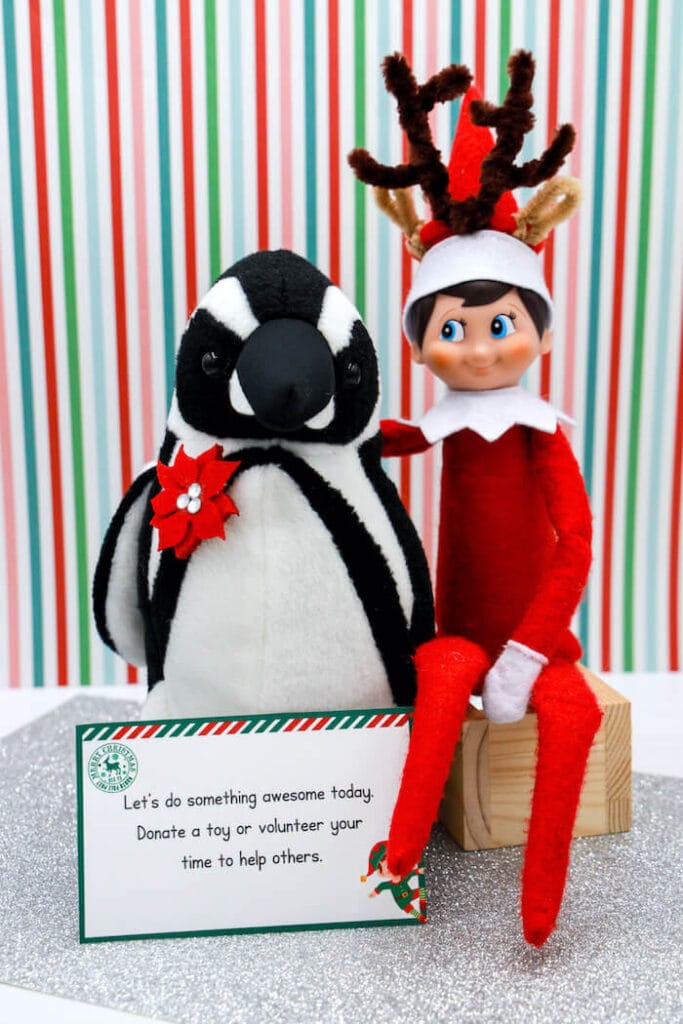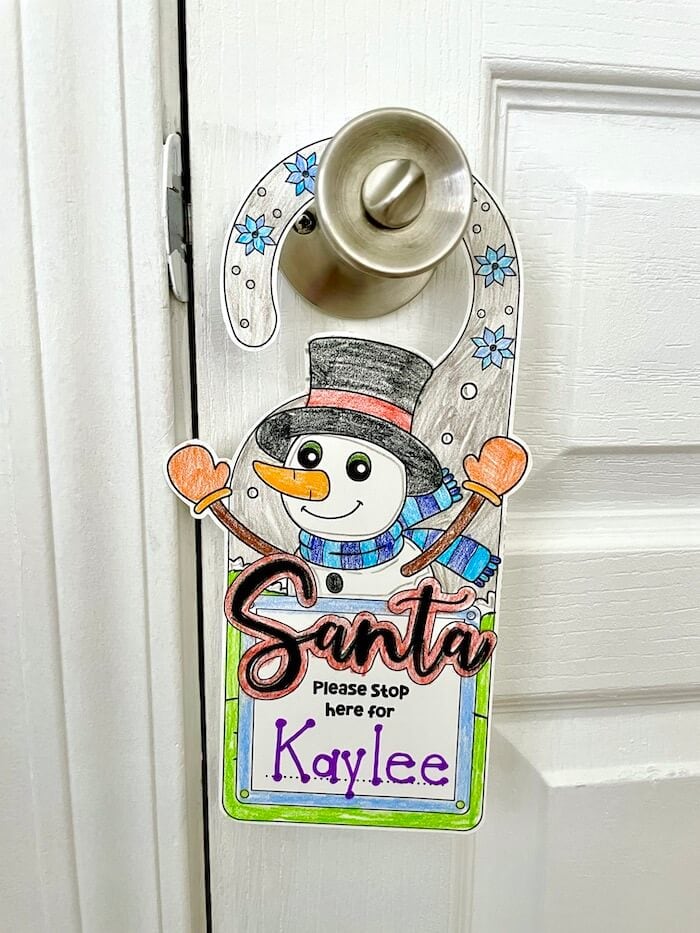 Printable Elf on the Shelf Calendar
Ready to print your own Elf on the Shelf calendar template to start your planning? Just use the links below to download and print whichever planner that you want:
Blank Elf on the Shelf Calendar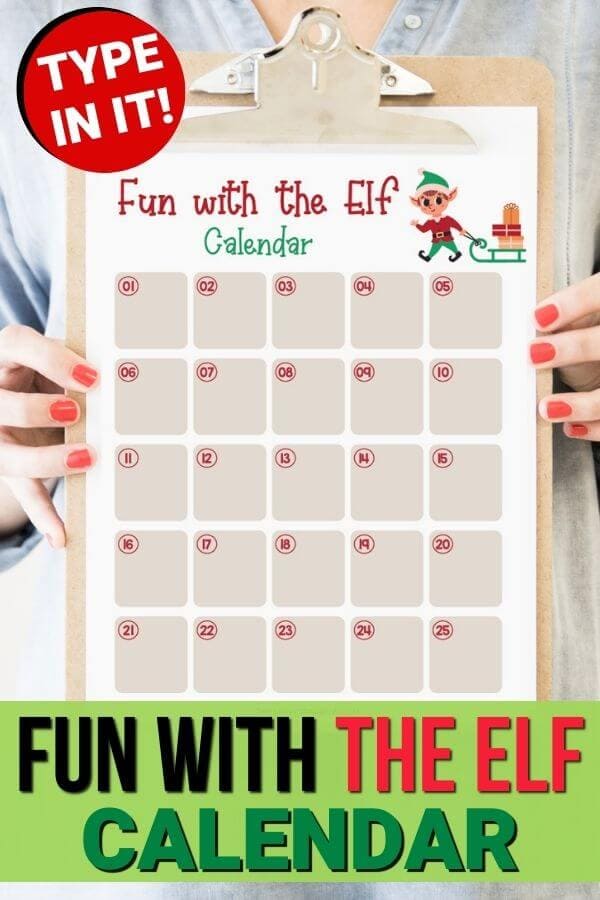 Click HERE for the Blank Elf on the Shelf Calendar Printable
*Note – The link goes to my Shop, where you can find this free editable Elf on the shelf planner template. It should be automatically added to your cart and the total will be $0.00!
Elf on the Shelf Calendar with Ideas
And if you want to use the pre-filled calendar with the Elf ideas already included for you, then just click the link below: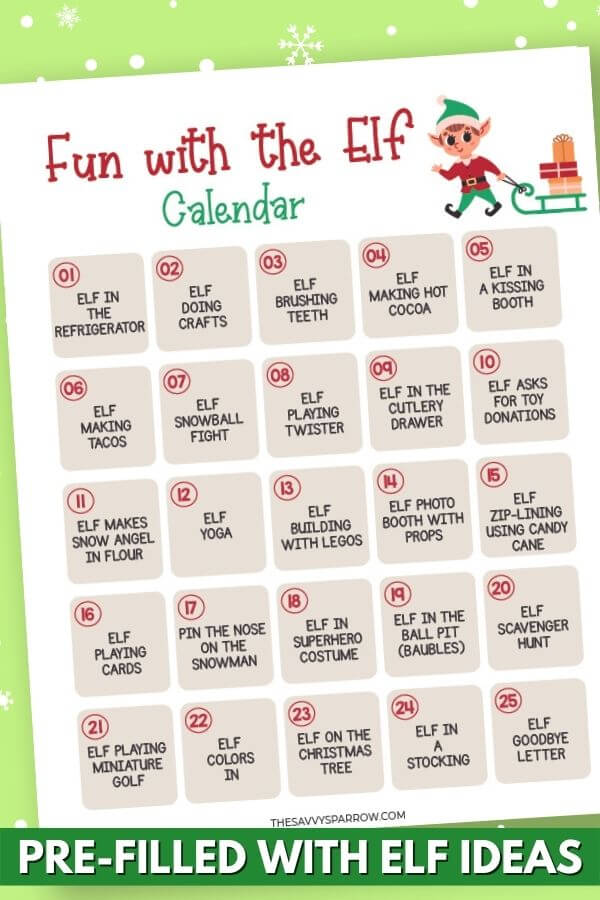 Click HERE for the Pre-filled Elf Ideas Calendar
I hope these easy Elf ideas make setting up your elf buddy a little bit easier this year! And be sure to check out some of my other printable Christmas ideas that your kids will LOVE:
And don't forget to PIN this post for later: