These Christmas door hangers for kids to color are a free and easy Christmas activity that your little ones will love! Say "Santa Stop Here" with these cute coloring Christmas door knob hangers!
Spending Christmas Eve preparing for Santa's arrival was always one of my kids' favorite holiday traditions when they were young. Even now that they're older, we still love to bake Christmas cookies, watch Christmas movies, and hang our stockings on the mantle with care.
If you have younger children, why not help them make sure that Santa knows where they live this year? It's important to keep the magic alive as long as possible, which is why I've created these festive, low-prep color your own Christmas door hanger printables!
Print out these adorable Christmas door hanger printables, have your kids choose and color their favorite ones, and hang them up for Santa to see.
It's a great way for younger children to practice writing their names and a fantastic opportunity to amp up the holiday spirit!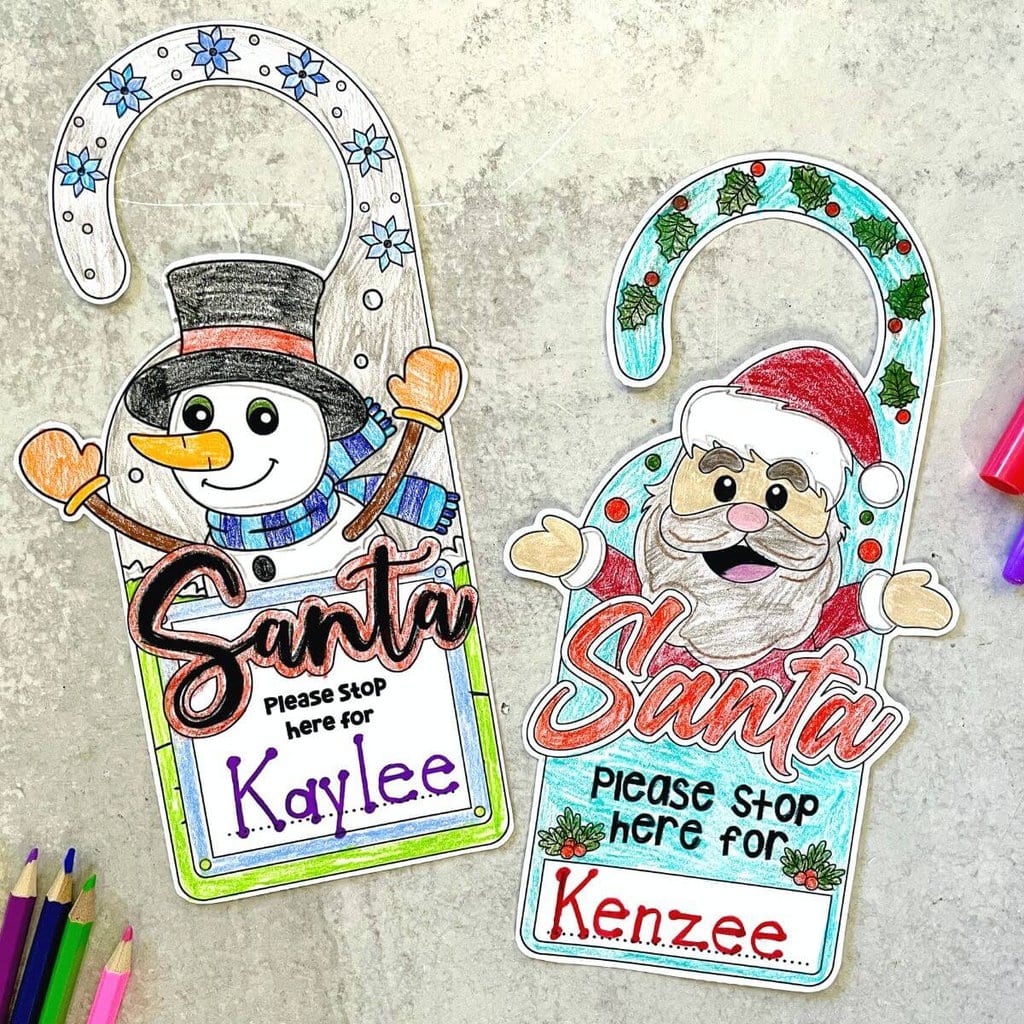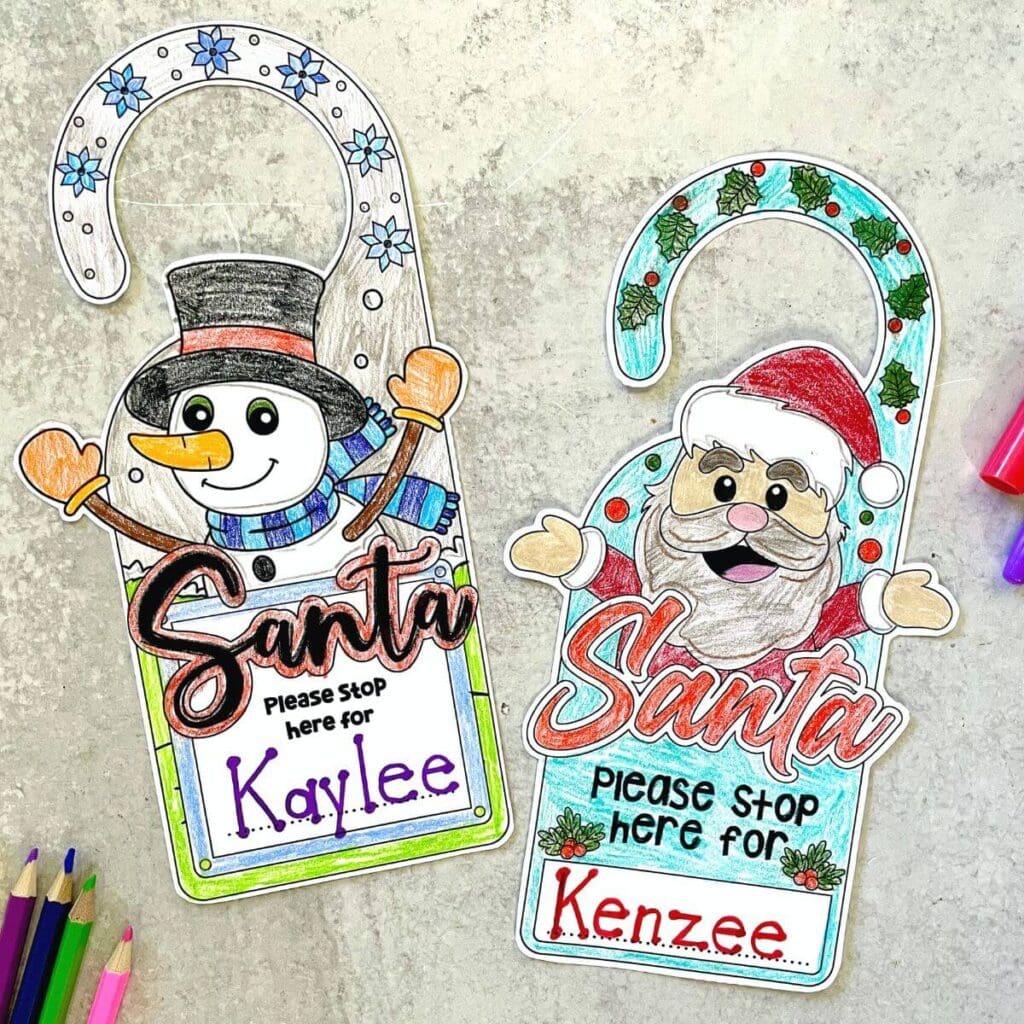 How to Use the Color Your Own Christmas Door Hanger
This Color Your Own Christmas Door craft for kids is super easy to download, print, and decorate. They're also completely FREE, so you can make as many copies as you like!
Here's a simple list of supplies for this fun and festive Christmas kids activity:
cardstock or heavier-weight copy paper
markers
crayons
pen or pencil
scissors
glue (optional)
glitter (optional)
laminating sheets (optional)
laminator (optional)
Now it's time to help your kids make their own Christmas door hanger!
Step 1: Print the Christmas Door Hanger Templates of your choice on card stock or heavier-weight printer paper.
Since little hands will be decorating these Christmas coloring pages, you may want to print them on more durable paper. I recommend 60 lb. cardstock or slightly heavier printer paper (32 lb.) so that the hangers won't rip if your children pull them off the door.
The last thing you want is for Santa to get confused about whose room is whose.
No one wants that life. No one.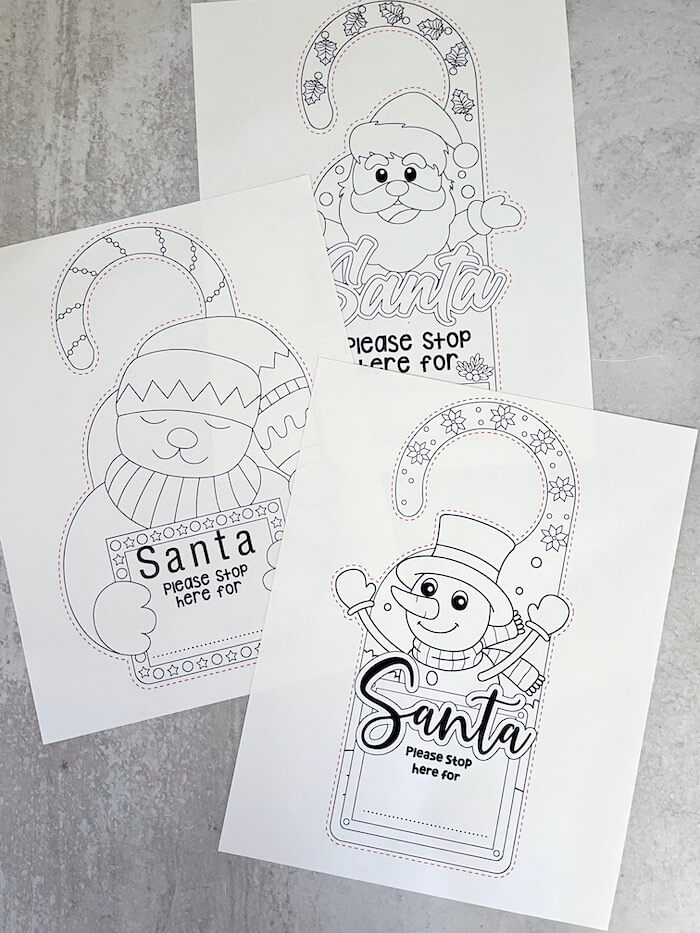 Pro Mom Tip: If you decide to go with cardstock, you may only want to put a few pages in your printer at a time. Sometimes heavier paper can jam more easily, but that just depends on how picky your printer is.
When printing, I recommend selecting a standard letter size, especially if you have younger children. That way, it's easier for them to color the pictures.
You can print all three different Christmas door hanger printable coloring pages at the end of this post!
Step 2: Have your kids color their Christmas Door Knob Hanger.
Now it's time to unleash your children's inner artists! Have each child select their favorite Christmas door hanger template and use markers, colored pencils, or crayons to decorate them.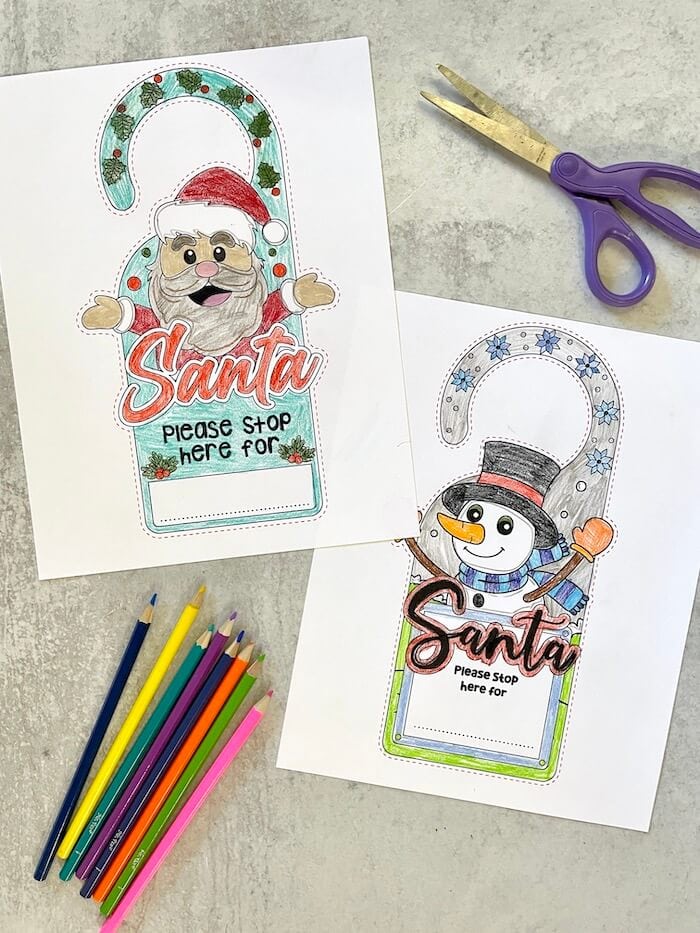 You can even help your kids trace sections of the door hangers in glue and sprinkle them with glitter. That's entirely up to you and how low/high your patience meter is that day!
Once they're finished coloring, ask each child to write his or her name on the front of the hanger using a pen or pencil. After all, Santa won't know whose room it is if there's no label!
Finally, wait to cut out the door hanger until after they're finished. Otherwise, they might accidentally rip the paper.
This is the perfect craft to do with your kids on Christmas Eve or even the week before Christmas. If you really want to get everyone in the holiday spirit, serve up some tasty sugar cookies and hot cocoa as they color and play a few of your favorite Xmas tunes.
Step 3: Cut out the door knob hanger and choose a place to hang it.
Once your kids are finished coloring their Christmas door hangers, it's time to cut them out and find a place to hang them.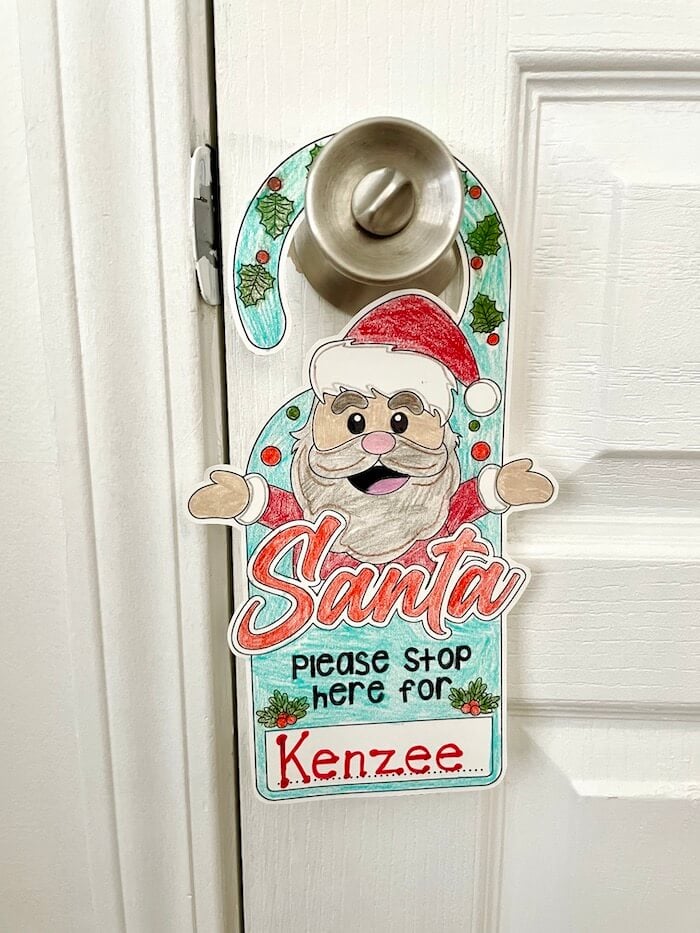 Note: If you have a small laminator and laminating sheets at home, why not add some extra protection? After you cut each door hanger out, laminate it to use next year or keep it in a memory box.
Most children will want to put their Christmas door hangers on their bedroom doors. But you can also place these cute Christmas crafts:
on the Christmas tree
on the front door
above their stockings on the mantle
Just find a place where your kids won't mess with them too much before the big guy comes down the chimney!
Free Printable Christmas Door Hangers to Color
Just click on the link below for the FREE printable Christmas door hanger coloring pages for your kids to use! A new window will open, and you'll be able to download and print the sheets from there. No muss, no fuss!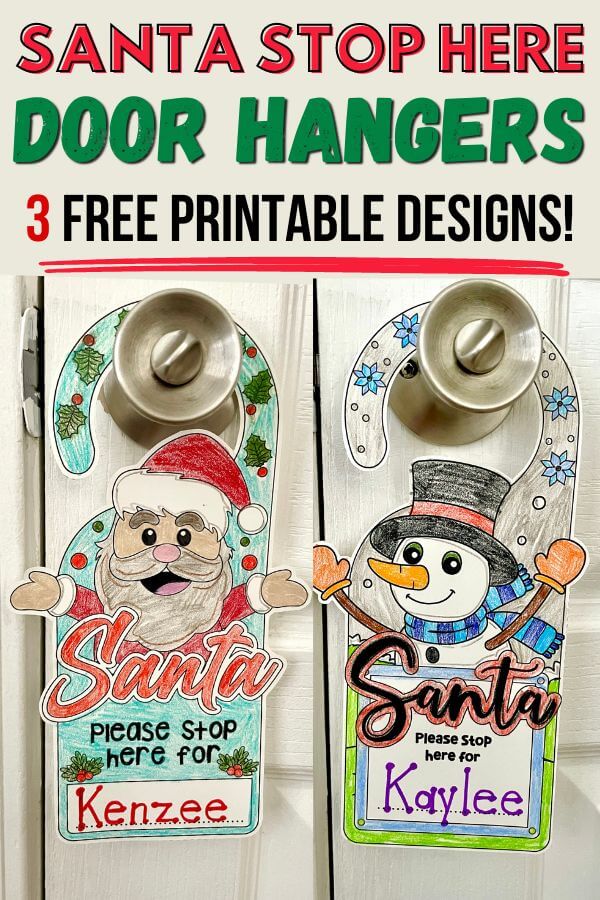 Click HERE for the Free Printable Christmas Door Hanger Coloring Sheets
Other Ways to Get Your Kids Excited for Christmas
Looking for more ways to get your kids excited for Christmas without spending hours searching the internet? Try these free printable Christmas countdown calendar coloring pages for kids of all ages. They'll love this creative way of counting the days until The Day!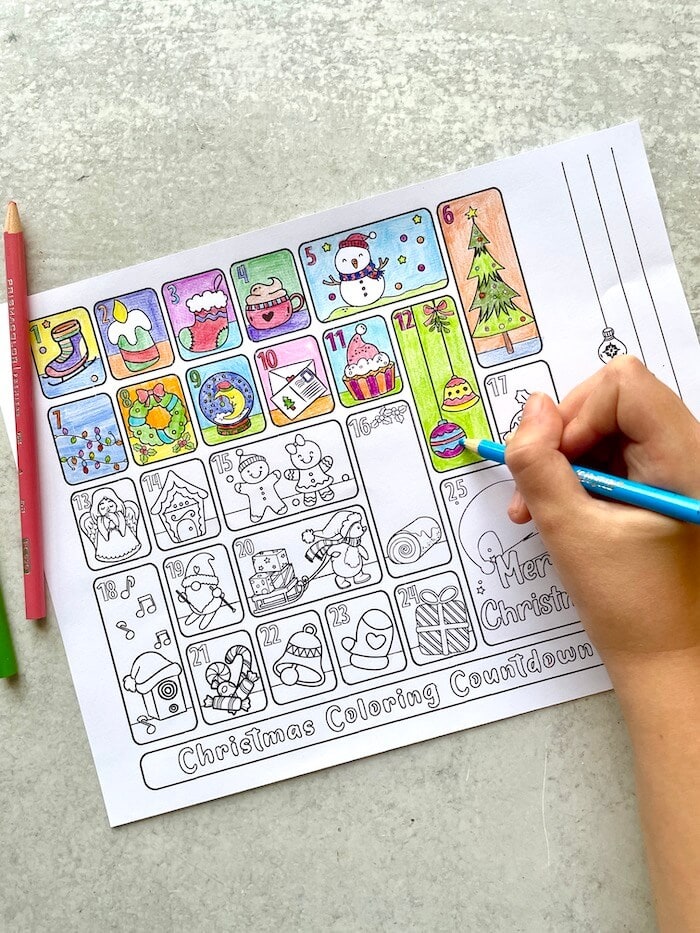 Or, you can check out these adorable Christmas alphabet coloring pages for toddlers and preschoolers. It's a fantastic way to help your child learn the alphabet and celebrate the holiday season!
If you liked these free printable Christmas door hangers, don't miss out on some of my other printable Christmas activities:
And don't forget to PIN this post for later: