Want a new Thanksgiving tradition to do with your family this year? A Thankful Tree, sometimes called a gratitude tree or a Thanksgiving tree, is a great way to remind your family about everything they have to be grateful for! Use this giant Thankful Tree template to make a wall size tree!
With the hustle and bustle of daily life, it can be difficult to just stop and count your blessings.
I feel like I'm always so busy with work and 32,000 loads of laundry that I barely have time to take 5 minutes off, let alone stop and think about the many things that I have to be grateful for everyday.
But that's why a Thankful Tree can be a great exercise in gratitude, and more importantly, just slowing down for some reflection, if only for a few minutes a day. And you may find that it's so beneficial for your family that you want to start a Gratitude Jar to use year round!
Here's how to make your own giant Thankful Tree with a printable template for the wall, and how to start this important Thanksgiving tradition with your family this year: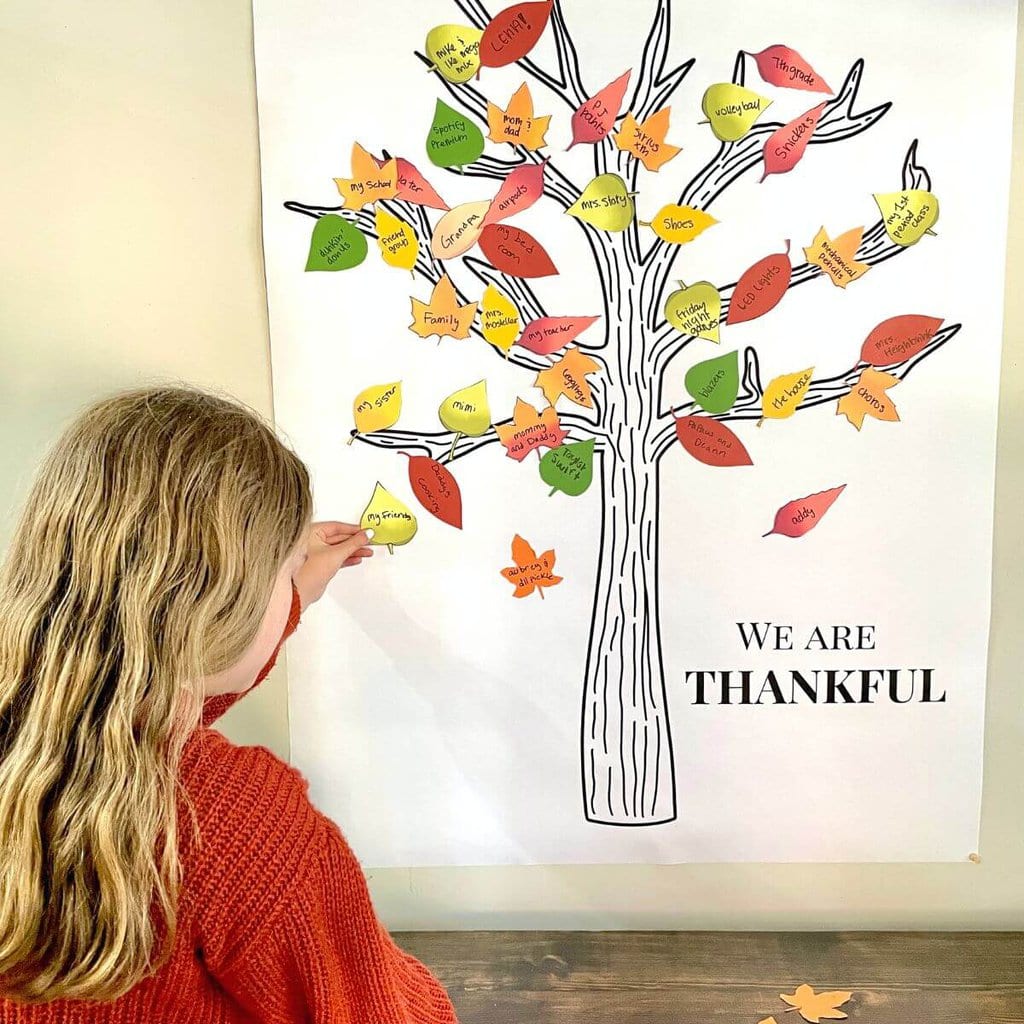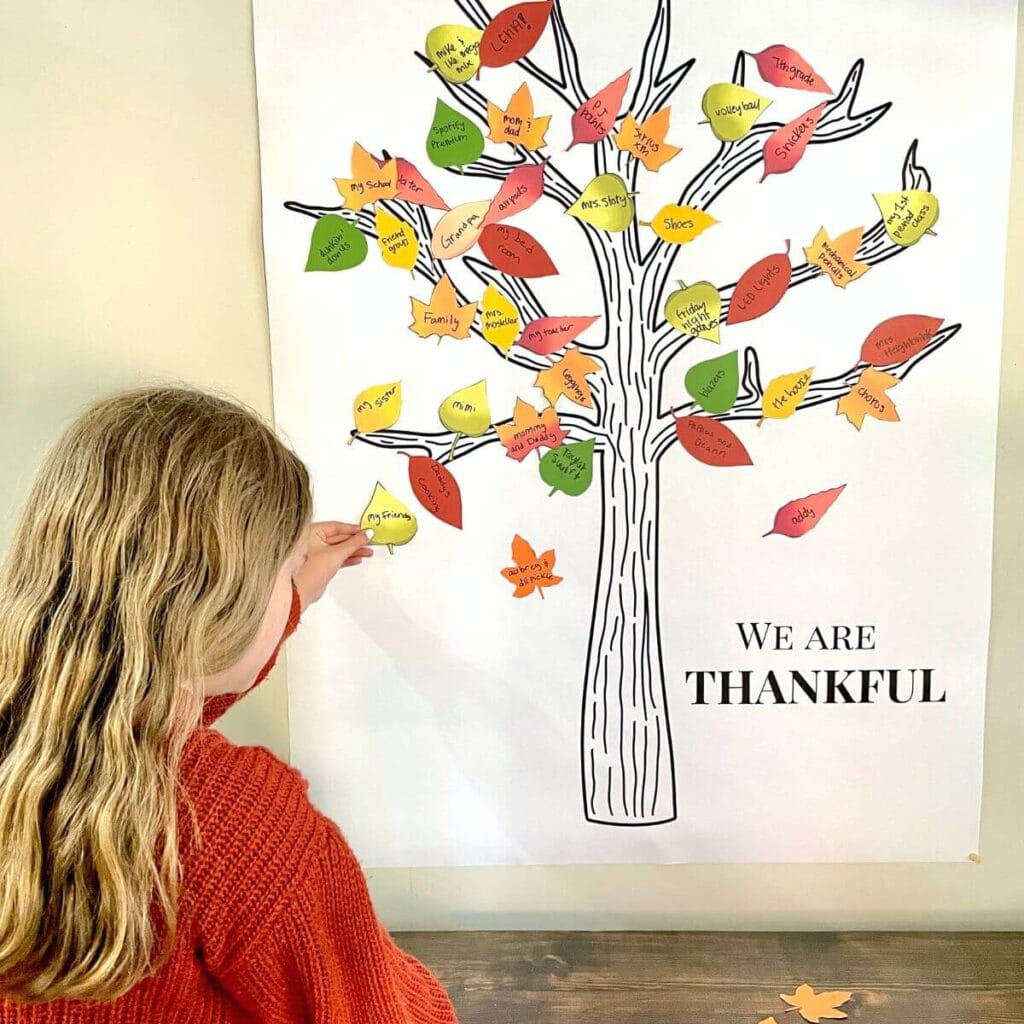 Supplies to Make a Thankful Tree for the Wall
There are a ton of different ways to make a Thankful Tree, but this post is going to focus on a giant paper Thankful Tree to hang on your wall. Here's what you need for my super easy to make printable Thankful Tree:
printable Thankful Tree template – available at the end of this post
printable leaves template – included with the tree template
colored card stock, white card stock, or regular printer paper – for printing out the leaves
scissors
wall-safe adhesive – like a double-sided tape or tacky putty, or you can also use push pins like I did
tape or other adhesive – to stick the leaves to the printable Thankful Tree
How to Make a Gratitude Tree to Hang on the Wall this Thanksgiving
There are other ways to make a giant Thankfulness Tree for the wall, like bunching up brown bulletin board paper into a tree shape, but the printable template makes this version super easy to do. Just print, hang, and add leaves!
Step 1: Print the Thankful Tree template at an office supply store or print shop.
The giant printable Thankful Tree template is about 36″ wide by 48″ tall, so you will need to print it as an architectural print at an office supply store or other print shop. But don't worry, this is much easier than it sounds, and it's really not that expensive.
You can get the template printed at FedEx Kinko's for about $9 – $10… I know that because I just got my new giant DIY wall calendar printed for the new year.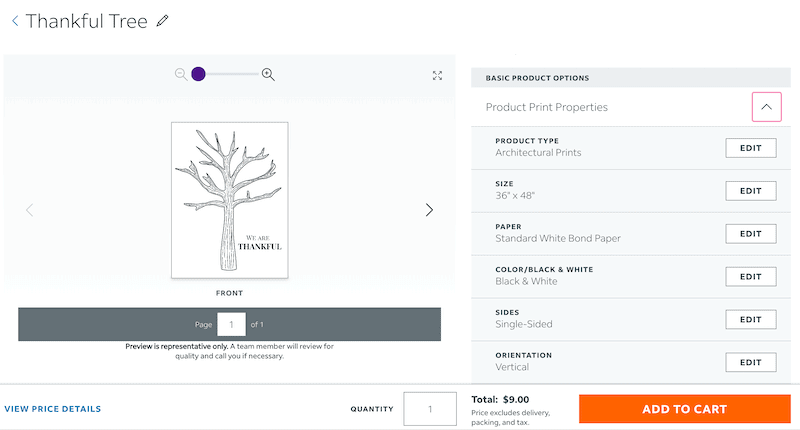 When I'm printing large engineering sized prints for the wall, I always find it easiest to complete the order online… It takes less than 5 minutes, and you can upload the Thankful Tree template file to have it printed. That's exactly what I did for my Thankful Tree for the wall this year!
Above is a screenshot of the FedEx Kinko's window to order the PDF… Here's what you need to select to order your wall sized Thankful tree:
Product Type – Architectural Prints
Size – 36″ x 48″
Paper – Standard White Bond Paper
Black and White
Sides – Single-Sided
Orientation – Vertical
And notice the price for this giant wall print? Just $9.00 excluding tax!
Step 2: Print and cut the Fall leaf template.
The printable Fall leaf template is sized to US Letter 8.5″ x 11″, so you can print the leaves for your gratitude tree at home. You have a few different options for the printable leaves… both of these are included in the wall sized Thankful Tree template:
Use the colored leaf template. You can print this set of fall leaves on white card stock or heavier weight printer paper, and then just cut them out to use for your wall sized Thankful Tree.
Use the black and white outline leaf template. Either print the black lined leaves on Fall colored card stock, or print them on regular printer paper and have your kids color in the leaves.
The leaf template includes 6 different leaf outlines, so you'll have a nice variety of leaves to hang on your tree. Here are some examples of the different leaves that you can make with the templates: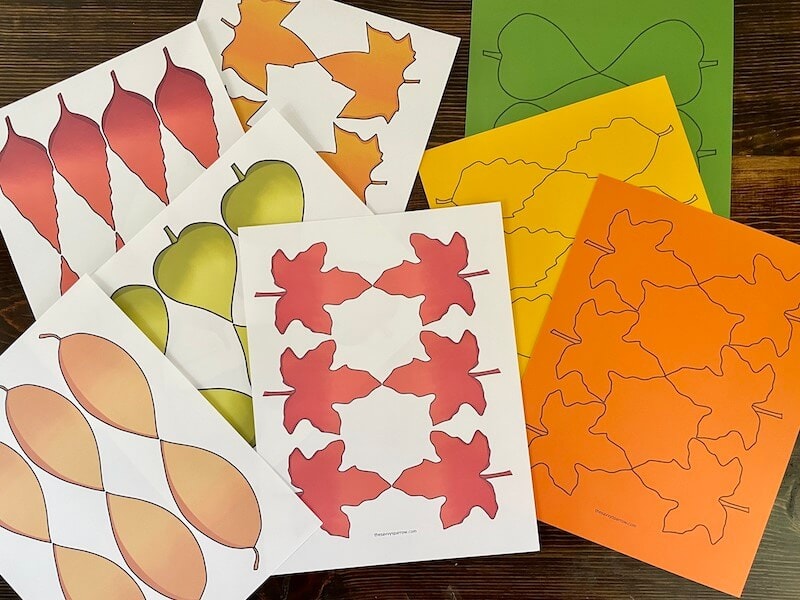 I used a combination of the solid colored card stock leaves and the watercolor-style printed leaves for my tree.
And notice how the leaf templates are designed? I tried to make them super easy to cut out, so if you have a big family and you want each person to add a leaf to the wall tree each day, then you can cut two leaves out at a time to make it easier.
Just fold the printable leaf templates in half like this: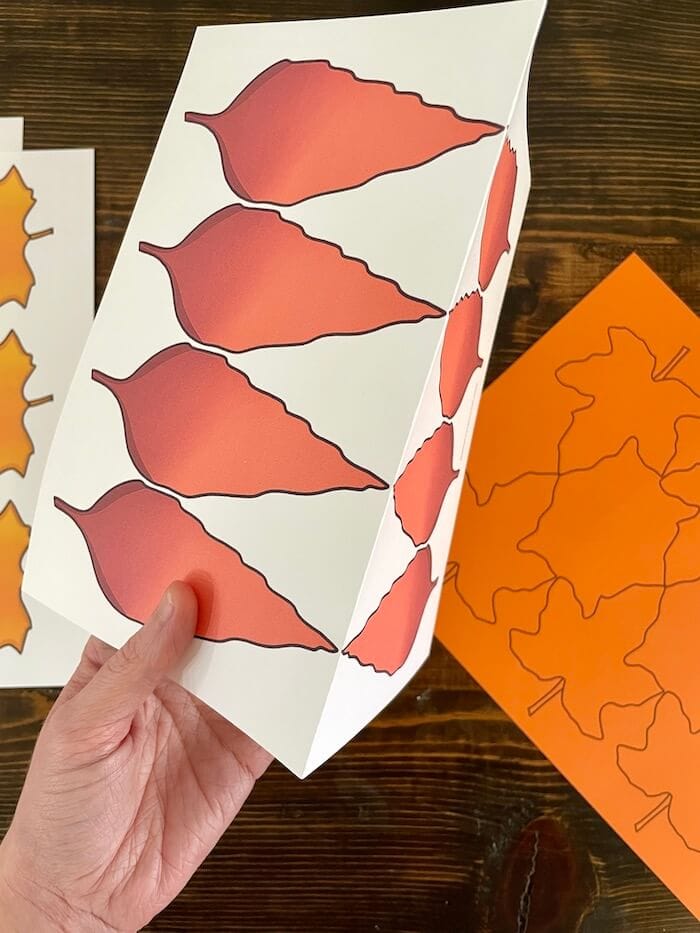 And then you can cut two leaves at once like this: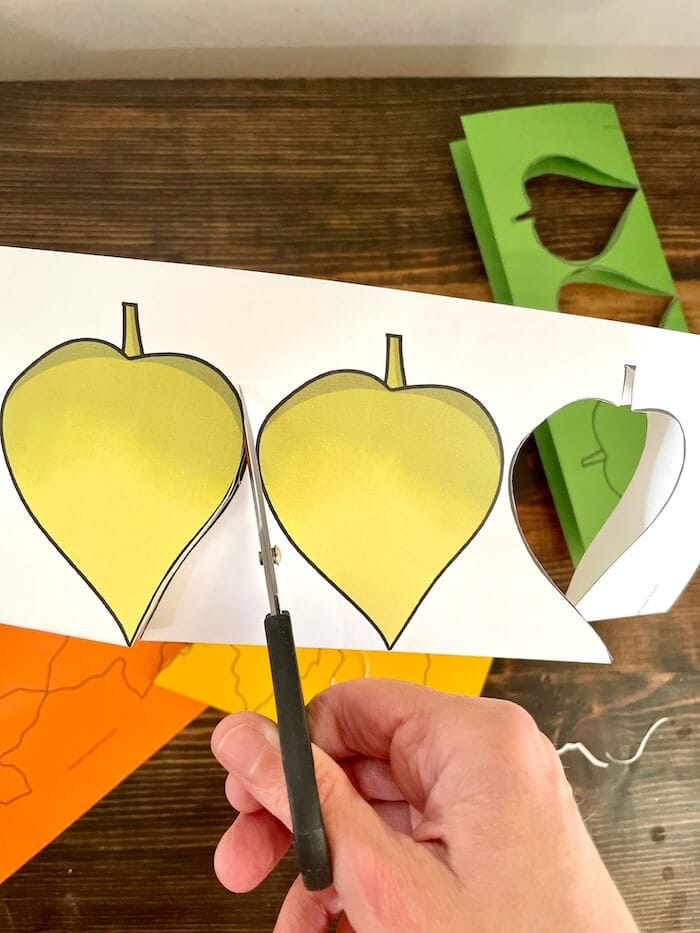 It definitely makes this family gratitude activity easier to set up!
Step 3: Hang the Thankful Tree on the wall.
To hang your Thankful Tree on the wall, you'll first need to make sure that you have a wall-safe adhesive so that you don't damage your wall paint.
I used push pins because I don't mind the small holes, but no matter what type of tape or putty that you choose, I definitely recommend that you test it first before adding it to your wall. You can try a bit of your wall-safe adhesive on a wall behind a piece of furniture or in a lower corner where it won't be seen if it isn't actually "wall-safe".
Here's what the giant Thankful Tree template looks like hung on the wall in our breakfast room… a little bare at first, but as the month goes on, it will be full of beautiful fall leaves: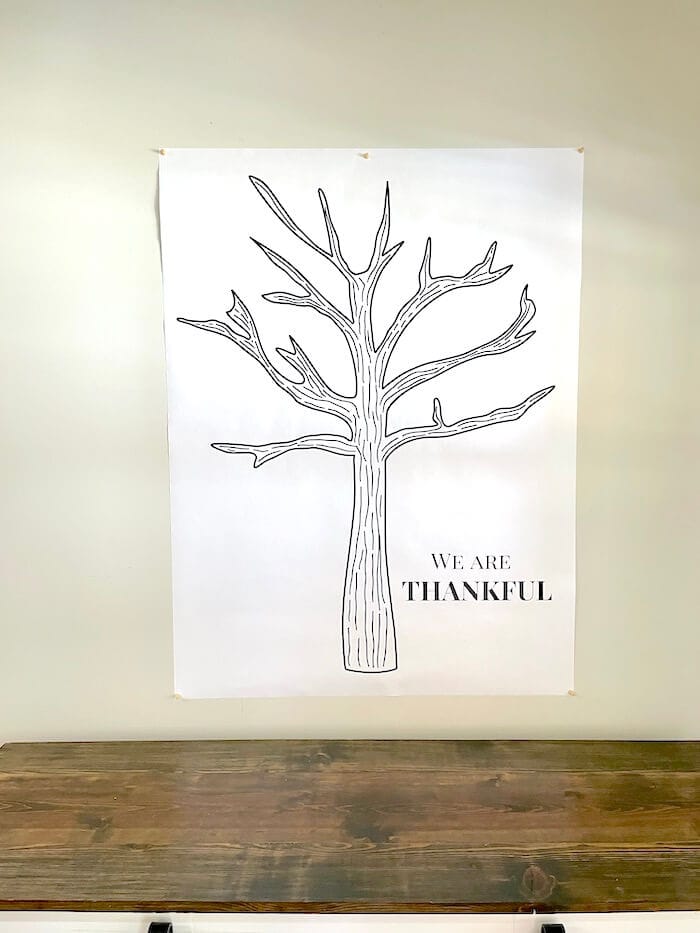 Then you're ready to put your gratitude tree to use!
Step 4: Write what you're grateful for on the leaves and tape them to the tree.
Once your tree is hung and the paper leaves are prepped, this gratitude activity is super easy to do. Each day during the month of November (or you can start earlier in the Fall), have your family choose a paper leaf and write one thing that they're grateful for on it.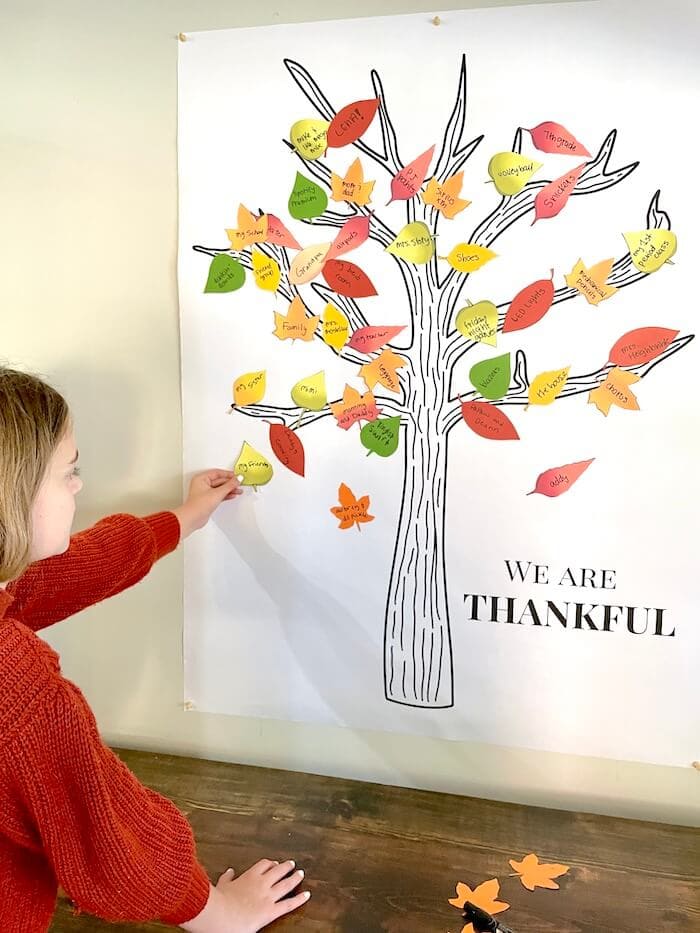 For toddlers and preschoolers, you can have them write simple words or phrases to practice their spelling and handwriting skills (like "my toys" or "sister"), or you can have them draw a picture to represent what they're grateful for each day.
You may want to use a Sharpie or other dark colored marker to write on the leaves so that you can easily see the notes of thanks.
Ideas for Using the Thankful Tree with Your Family
Here are some fun ideas to use the printable Thankful Tree template:
Use faux leaves made of fabric.
If you don't want to print the leaf template and cut out the individual leaves, then you can also use craft-type faux leaves made from fabric. You can get a pack of 35 leaves from Hobby Lobby for about $5.00, and use a black Sharpie marker to write on the fabric. Then, just tape the fabric leaves to the Thankful Tree on the wall!
Hang the Thankful Tree for the wall on November 1st and use it all month long.
Most people that use this fun thankfulness activity choose to hang it on the wall starting on the 1st of November. Then, you can have each of your family members add one leaf to the tree each day, and read all of the thankfulness leaves on Thanksgiving Day!
Save some of the gratitude leaves in a memory box.
Why throw away all of the paper leaves at the end of the Fall season? Instead, you can select a few of the leaves to keep in each child's memory box… sort of like a Thankfulness Time Capsule. You can even pull out the old leaves next Thanksgiving and reminisce on how your kids have grown over the past year.
Incorporate the Thankful Tree into your routine at dinner time.
You're more likely to make use of the Thankful tree wall template if you incorporate it into a habit or routine that you already have… like eating dinner together each night.
You can cut out the leaf templates for the Thankful Tree and add them to a basket in the center of your dining table. Then, at the end of dinner during the month of November, you can spend a few extra minutes at the table and everyone can write down their gratitude on the leaves for that day. Once the dishes are done, have your kids tape the gratitude leaves up on the wall Thankful Tree.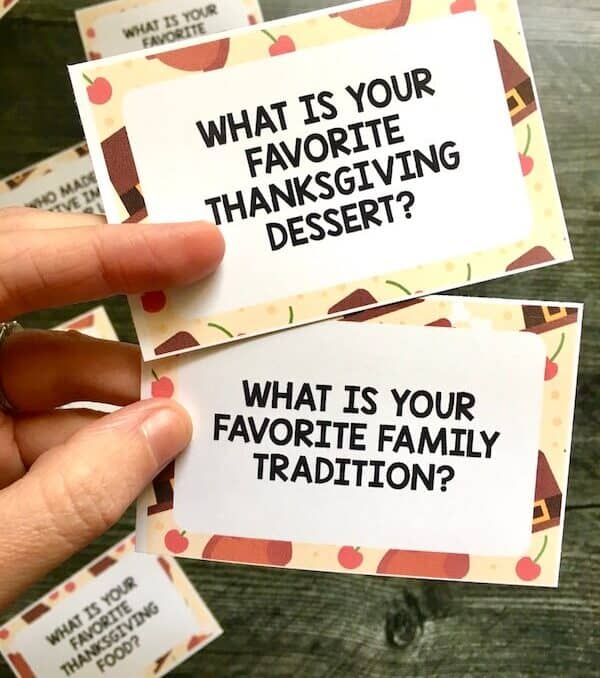 *And check out these awesome and FREE Thanksgiving dinner table conversation cards for another Thanksgiving dinner activity!
Let your kids color or decorate the printable Thankful Tree template.
The giant Thankful Tree template prints in black and white to keep the printing cost low, but that doesn't mean you can't fancy up your tree a bit!
If you have younger kids, they'll LOVE coloring and decorating the giant wall tree template! You can let them color the tree using crayons or colored pencils before you hang it on the wall. Or, cut small squares of different shades of brown tissue paper and let your kids cover the tree in tissue.
I personally like the template "as is" in black and white, because then the colorful leaves really stand out, and I like the more modern look, but coloring the printable tree template is a great Thanksgiving craft for younger kids, too!
Printable Wall Thankful Tree and Leaf Templates
Want to start this easy Thankful Tree tradition with your family this Fall? You can grab the giant Thankful tree for the wall and the leaf templates in my shop… Just click the link below to check them out!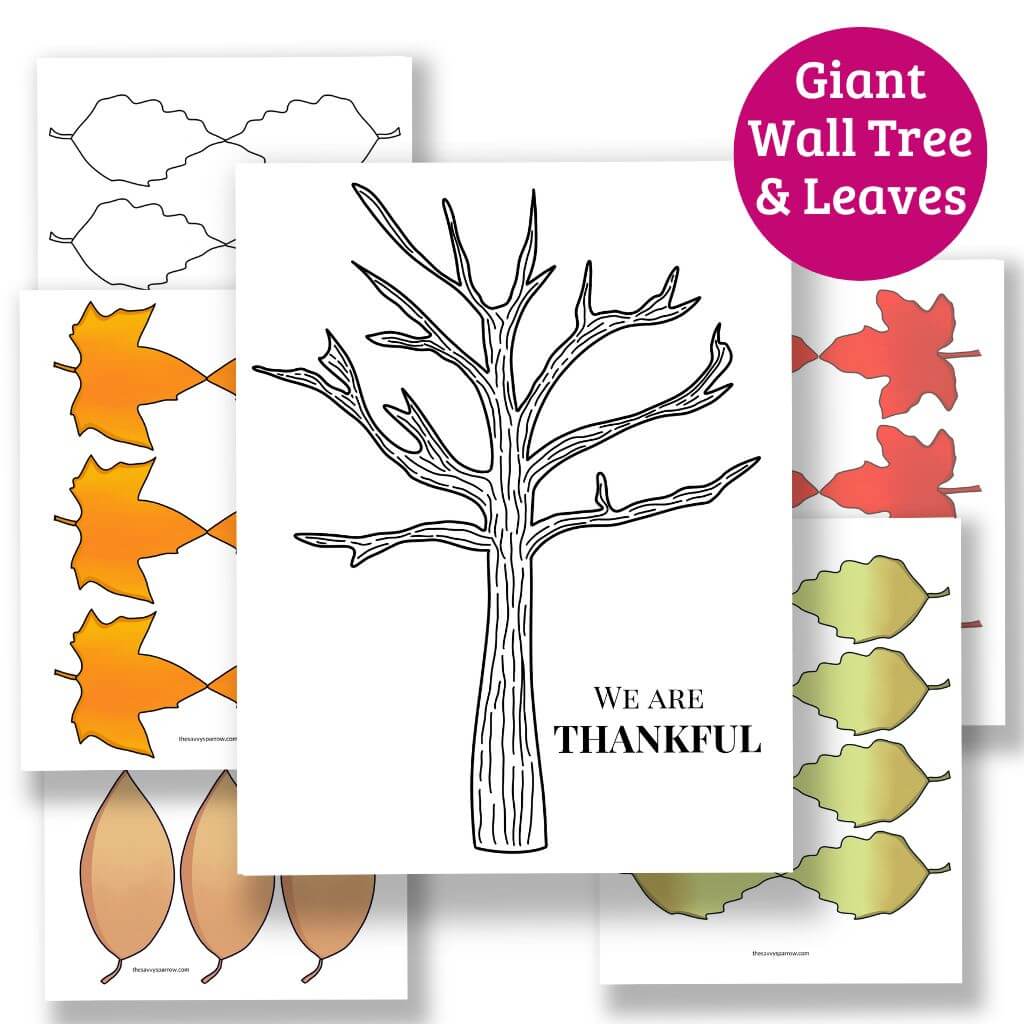 Click HERE for the Printable Thankful Tree Template for the Wall
Other Ways to Practice Gratitude
A Thankful Tree is mainly used during the Fall or just in the month of November leading up to Thanksgiving, but you should really practice gratitude with your family year round!
Why? Because practicing being grateful, whether in the form of a Thankful Tree, a thankfulness jar, a gratitude journal, or some other method has a whole host of benefits like:
Improved immune system function due to lower amounts of stress
An improvement in overall mood, including lower levels of anxiety and depression
Happier romantic relationships
A more positive outlook on life
So here are some other ways to incorporate gratitude into your family's daily routine:
Set up a Gratitude Jar.
A gratitude jar is a great way to practice being thankful all year long. Because it's smaller in size than a Thankful Tree for the wall, you can store it in the center of your dining table or on your fireplace mantel, so you can use it everyday or a few times a week.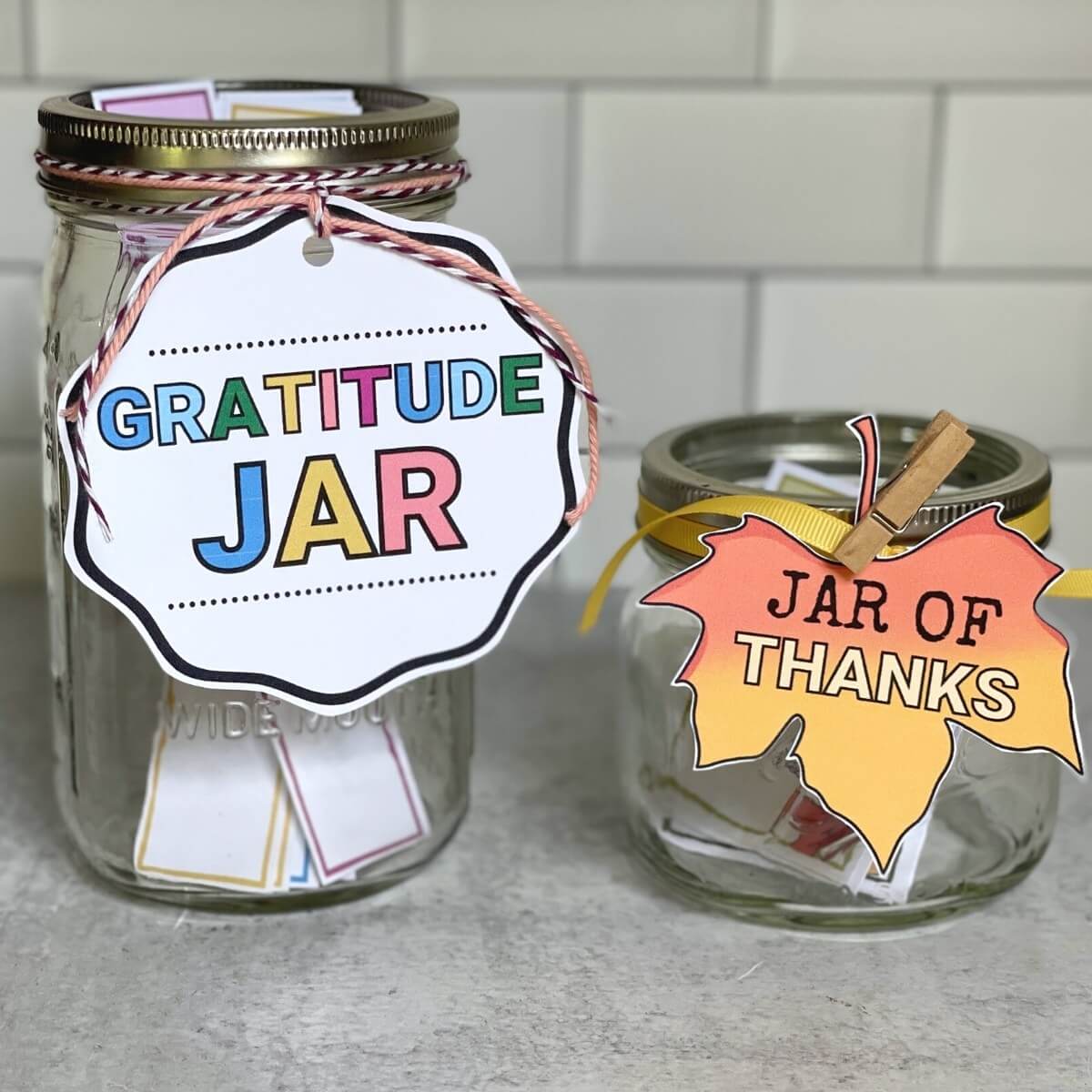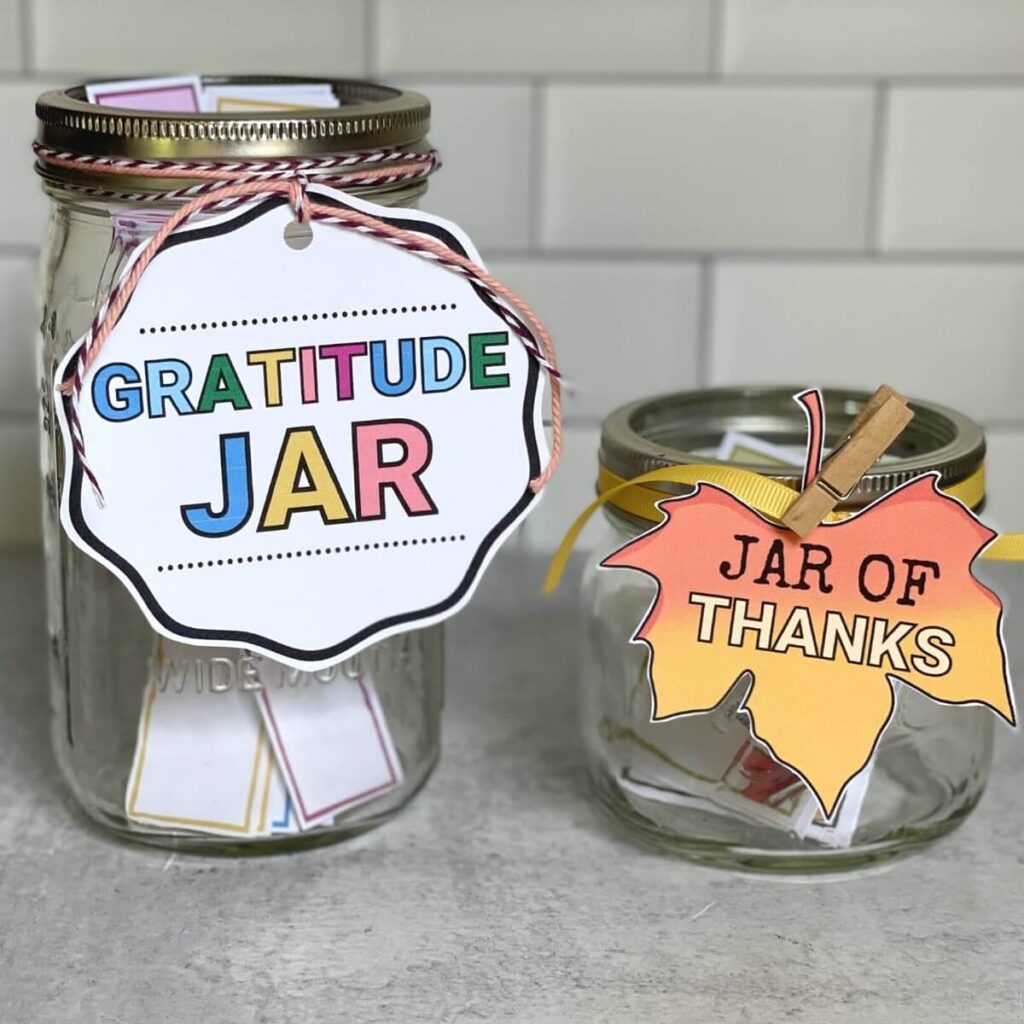 Then, at the end of the year or even on Thanksgiving day, you can read through all of the things that your family is grateful for that year. This is a super simple habit to start, especially with the printable Gratitude Jar templates that I used to make these jars!
Use a Gratitude Journal for Kids.
A gratitude journal is another easy way to practice gratitude, and your kids can get some writing practice in at the same time! Just use the free printable gratitude journal templates that I have here, and work this thankfulness activity into your child's night time or after school routine!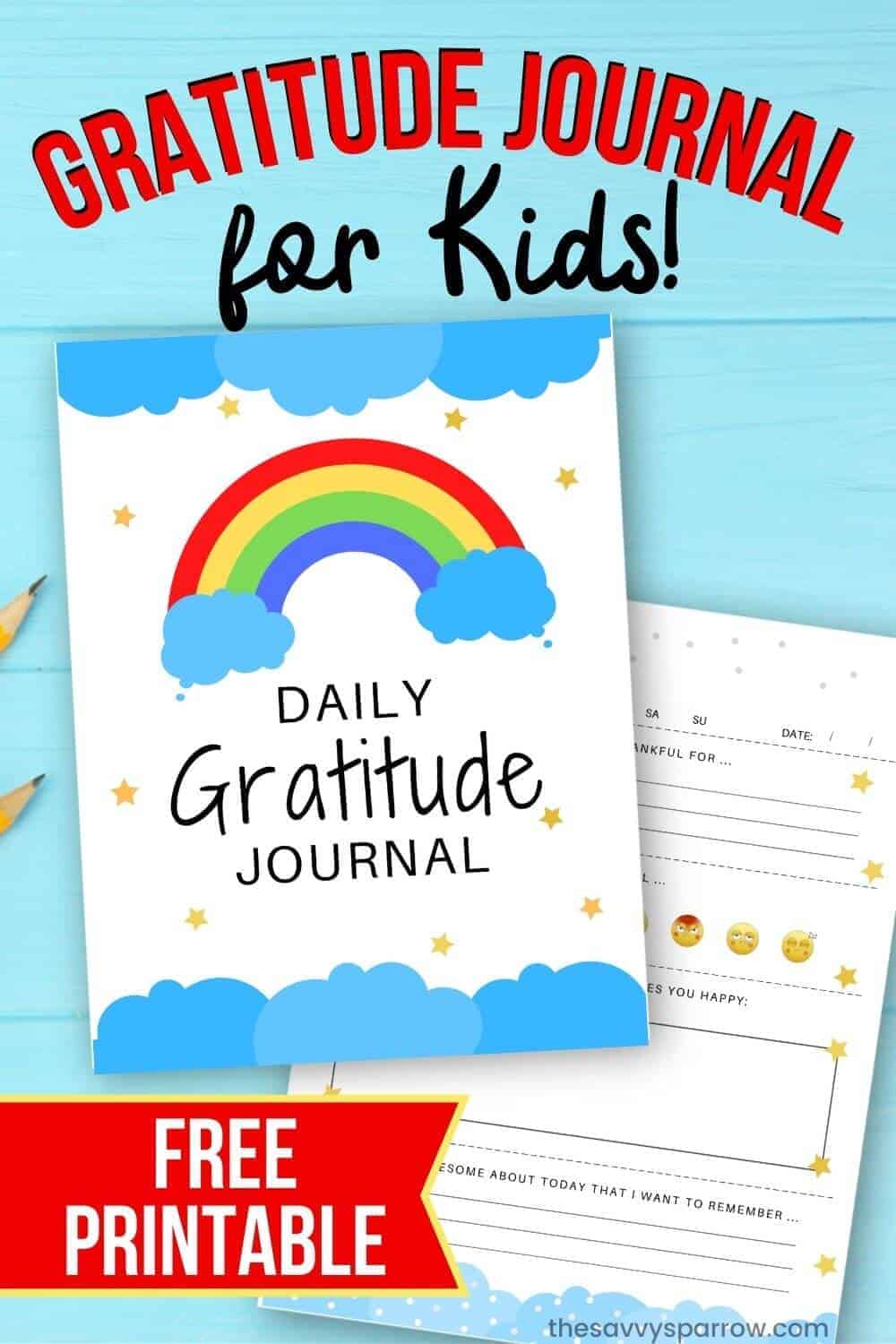 Even if you don't want to print out the journal pages, you can still start this habit with your kids by having them just write one sentence in a spiral notebook each night. Younger kids? Have them draw a picture of something that they're grateful for each day or a few days each week.
I hope you LOVE these easy gratitude activities for your family! Try these in the month of November or all year long!
What ways do you teach your kids to be grateful? Leave me a comment down below… I'd LOVE to hear from you!
And don't forget to PIN this post for later: