Want to make a gratitude jar to encourage your family to practice being grateful? Use these gratitude jar printables to help make a DIY gratitude jar, and get some thankful jar ideas that your family will love!
How many times do you look around and just think, "Man, I am truly blessed. I have so much to be grateful for."
If you're a super busy working mom like me, then it's probably not nearly enough. Yes, I have a TON of things to be thankful for, but it seems like I'm always so busy that I barely have time to pause for a 5 minute lunch break, let alone time to count my blessings.
But actually practicing gratitude is such an important activity to add to your routine. Whether it's writing in your own gratitude journal or helping your little ones fill out their kids' gratitude journals or creating a DIY gratitude jar, take the few extra minutes each day to add a gratitude activity to your schedule and watch how your mood and overall well-being improve!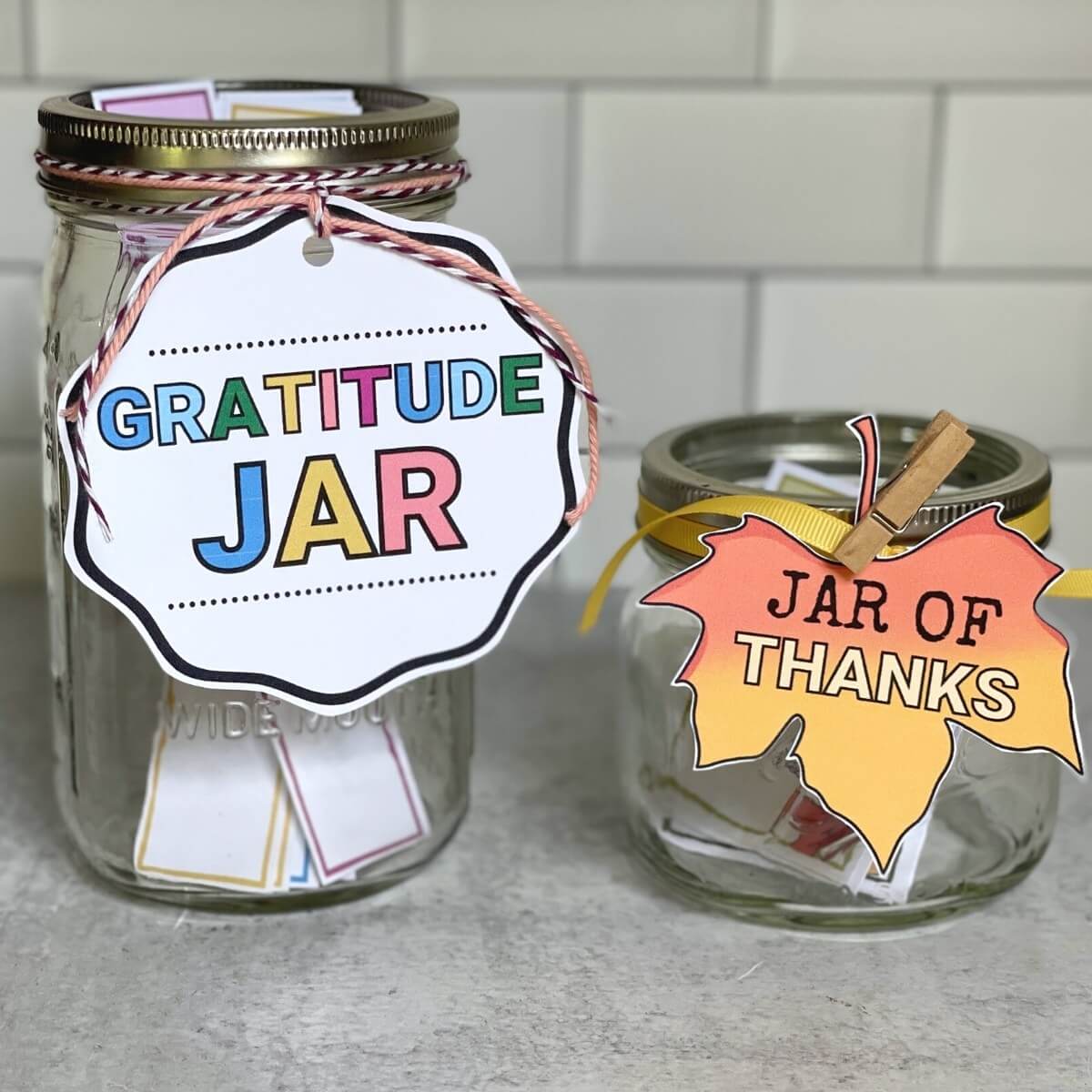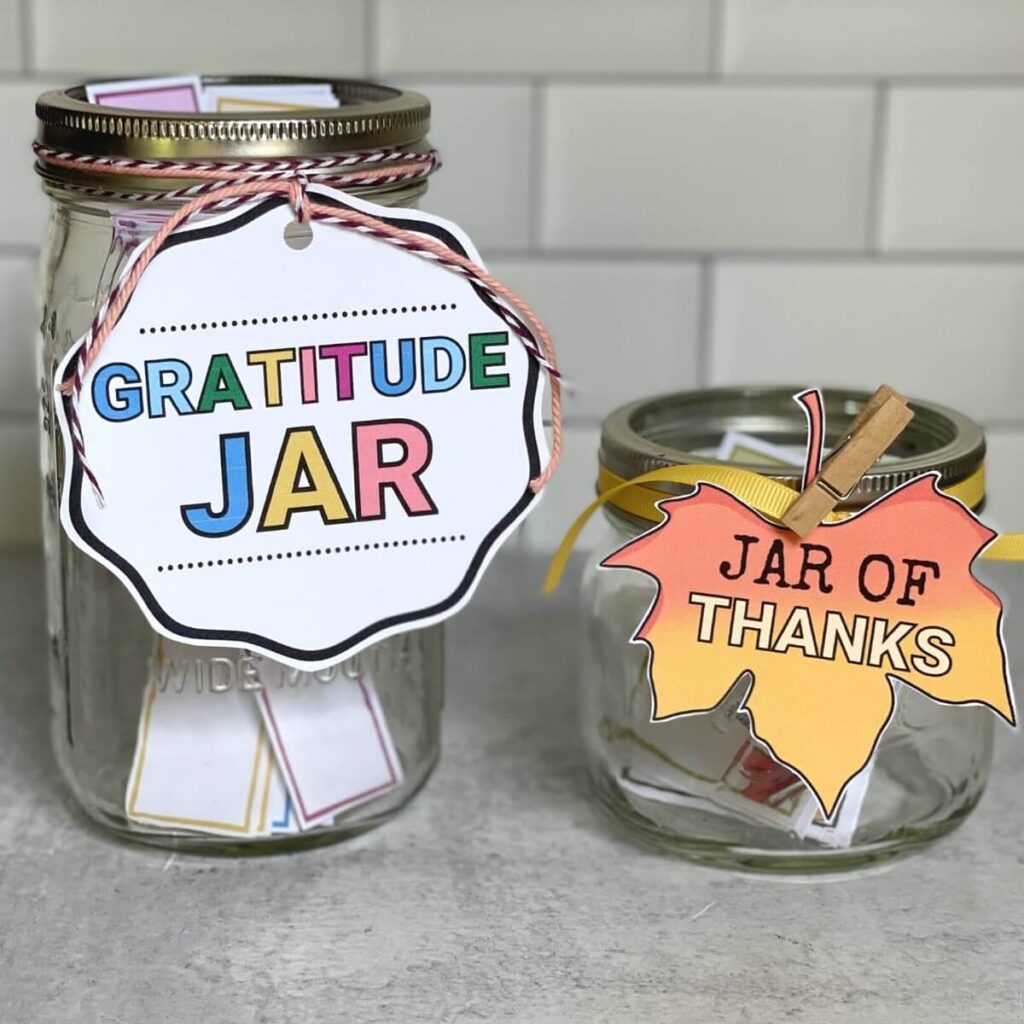 Here's everything you need to know about creating a family gratitude jar to start this important thankfulness activity:
What is a Gratitude Jar?
A gratitude jar, sometimes called a thankful jar, is simply a jar used to collect your gratitude. Most often, this gratitude activity involves writing different things that you're thankful for on slips of paper and placing them in a designated jar.
You can use a gratitude jar during the month of November when you're focusing on thankfulness during the Thanksgiving holiday, or keep a jar on display year round and encourage your kids to reflect on their many blessings throughout the year.
Gratitude Jar Ideas
A "gratitude jar" can take on many different forms, from a simple mason jar that sits on your dining table to a decorative fall themed jar with paper leaves for writing your blessings down on. Here are some awesome gratitude jar ideas:
Daily Dinner Table Gratitude
Set a glass jar in the center of your dining table or on a nearby buffet in the dining room. Then, every night that you gather around the table for dinner, have everyone add one gratitude note to the jar.
You can pass the blank notes and a pen around the table after everyone is done eating and secretly write down one thing that you're thankful for and add it to the jar. Then, at the end of the month you can read the anonymous thankful notes as a family.
Thanksgiving Thankfulness Jar
Turn your gratitude jar into a Thanksgiving Thankfulness Jar during the holidays!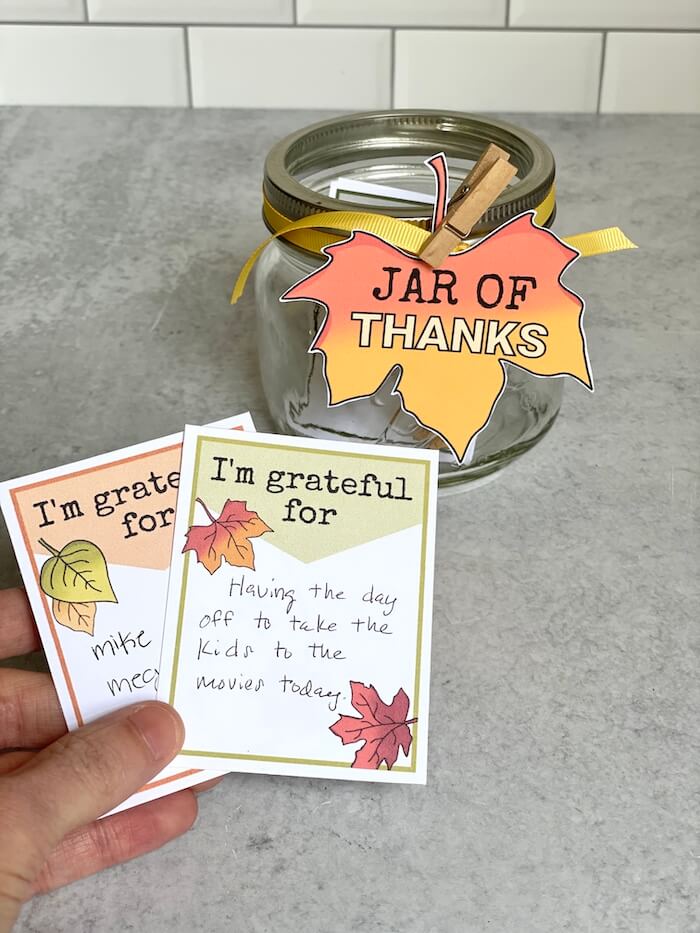 Every day in November leading up to Thanksgiving, have each of your family members write down one thing that they're grateful for and add it to the jar… The Fall themed printable thankfulness jar templates down below are perfect for this! Then, during Thanksgiving dinner take turns drawing out a random note of thanks and reading it aloud to the group.
Monthly Gratitude Themes
To keep this thankfulness activity fresh and fun, try setting a new theme for your jar each month!
For instance, January's theme can be "people"… so every slip of paper that's added to the jar in the month of January could be the name of an actual person and a brief explanation of why you're thankful for him or her… It could be someone that you know like a friend or family member or even your favorite singer because a particular song got you through a rough time or made you happy.
Here are some other monthly theme ideas you can use for your jar:
an achievement – Something that you feel was an achievement or something you're proud of.
your own personal qualities – This would be a great way to encourage self-confidence also! Every day for the month, write down one of your own personal traits that you're grateful for… Like, "I'm grateful for my work ethic and dedication to giving 150% no matter what I do."
a memory – A specific memory or day in your life that you're grateful for.
a food – Not all of the things that we're thankful for have to be so serious! I'm super grateful for the perfectly grilled ribeye steaks that my husband makes us… and that I can eat them in my pajamas instead of having to get dressed up for a fancy steakhouse dinner!
52 Weeks of Gratitude
If your family has a super busy schedule and you don't often have time to sit down for dinner together, then use your thankful jar weekly instead. Just pick one day per week to pass the thankfulness jar around the dining table. Then, on New Year's Eve you can read all of the notes of thanks together as a family.
This is a great way to reflect on all of the things that your family has to be thankful for from the past year, and it's a nice positive way to ring in the new year, too!
Why is Expressing Gratitude Important for My Family?
You may look at a gratitude jar as just another "system" to implement. But there's actual scientific research that shows how encouraging your family to actually engage in the practice of gratitude can lead to positive changes.
According to Healthline, practicing being grateful, whether in the form of a thankfulness jar, a gratitude journal, or some other method has a whole host of benefits like:
Improved immune system function due to lower amounts of stress
An improvement in overall mood, including lower levels of anxiety and depression
Happier romantic relationships
A more positive outlook on life
If just a few minutes a day can potentially have those effects on your family, why not try it? You've got nothing to lose!
DIY Gratitude Jar Supplies
If you're going to create your own thankful jar with the gratitude printables in my shop, then you only need a few basic supplies: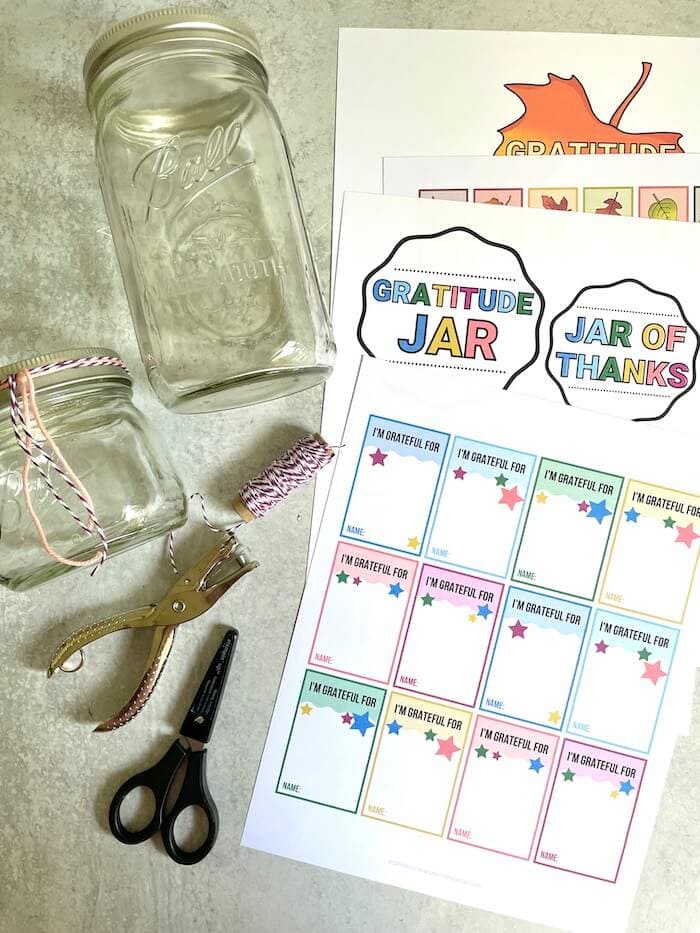 a jar – You can use a glass mason jar like I did or, if you have younger kids and you're worried about them dropping the jar as they're adding their gratitude papers to it, then you can even recycle a plastic jar like a mayonnaise jar.
printer
white card stock – I printed my cute jar of thanks labels on card stock so that they would last longer… or you can also laminate the cute jar tag.
regular printer paper – If you're going to use your jar year round then it will end up being pretty full… you may want to use regular printer paper to write the things that you're grateful for, because then the slips of paper will take up less space in the jar.
scissors or paper trimmer – I find it much easier to cut out a bunch of the gratitude jar notes with a paper trimmer.
twine or ribbon – You can choose a color to match the gratitude jar printable that you use! I used a colored baker's twine to tie on my printable jar tag.
gratitude jar printable template – The two different thankful jar templates that I used in this post are available in my shop HERE!
*NOTE – If you need smaller labels or tags for your thankfulness jar, adjust the "Scale" settings in the print window before printing. For instance, for a tag that is only about 3/4 of the size of the original printable, adjust the scale to 75% to print a smaller tag.
How to Make Your Own Thankful Jar with Printables
Making a DIY gratitude jar with printable templates couldn't be easier! Which means you can start your own jar to collect your family's thankful notes today! Just follow these simple steps: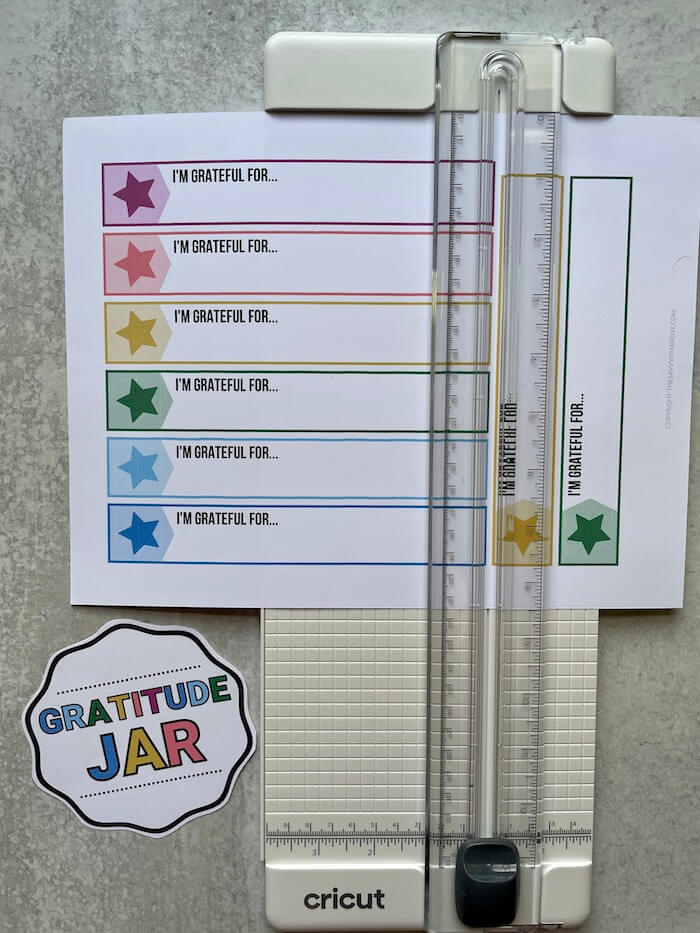 Clean and dry the jar that you'll be using for your DIY gratitude jar… Make sure it is completely dry so that your slips of paper don't get ruined
Tie the printable thankfulness jar tag on to the jar using twine, yarn, or ribbon.
Cut out the printable gratitude notes to add to the jar.
Designate a space in your home for your jar. Set up the jar where it's in reach and lay the blank printable gratitude notes near the jar with a pen.
Time to start using your thankfulness jar! Just grab one of the blank note cards and write down one thing that you're grateful for. Then add it to the jar!
Gratitude Jar Printable Templates
These printable templates are available in my printables shop, and you get TWO different gratitude jar printables… one has bright and cheerful colors for leaving up year round, and the other has fall leaves perfect for a Thanksgiving Jar of Thanks!
Also, each printable template includes two different types of printable "I am grateful for" notes. You can choose which size notes work best for your jar size and shape, the more square shaped notes or the tall and skinny notes.
Here are the two different Thankfulness Jar printable templates that are included:
Thanksgiving Gratitude Jar Printable
These fall themed gratitude jar printables are perfect for the month of November, and they'll look festive on your dinner table leading up to Thanksgiving also!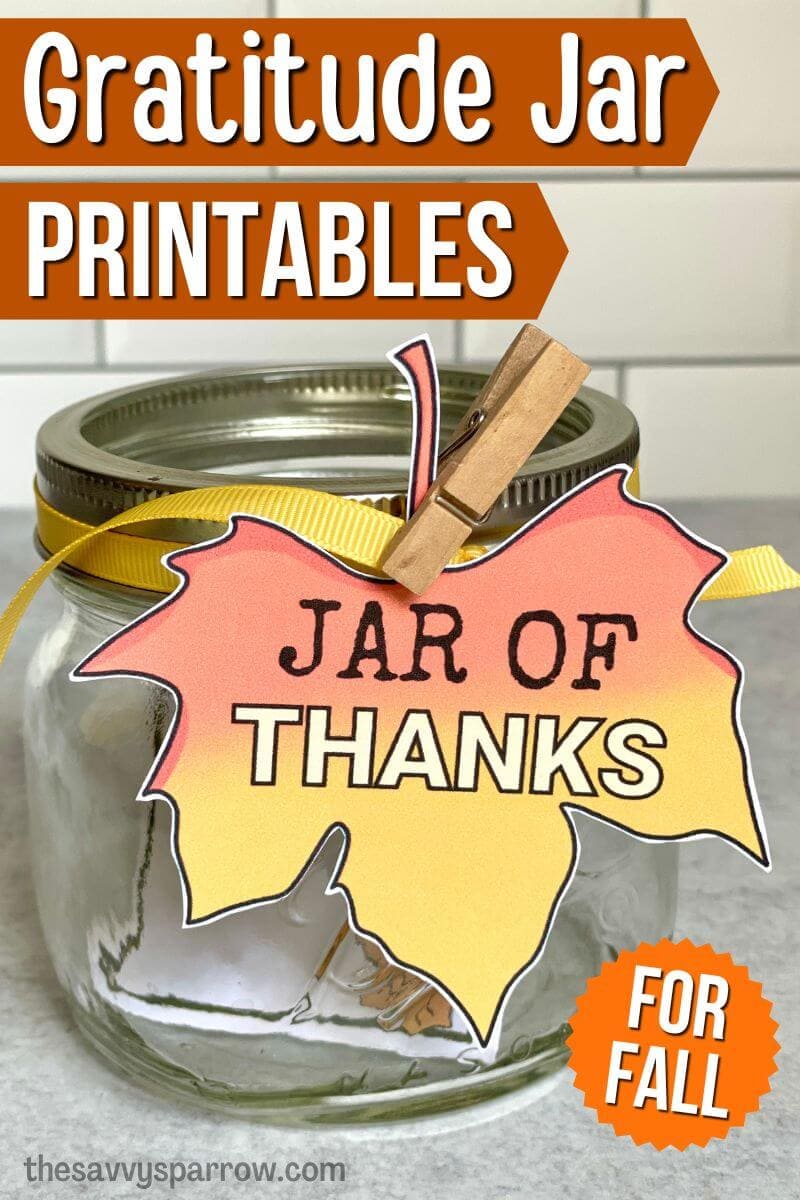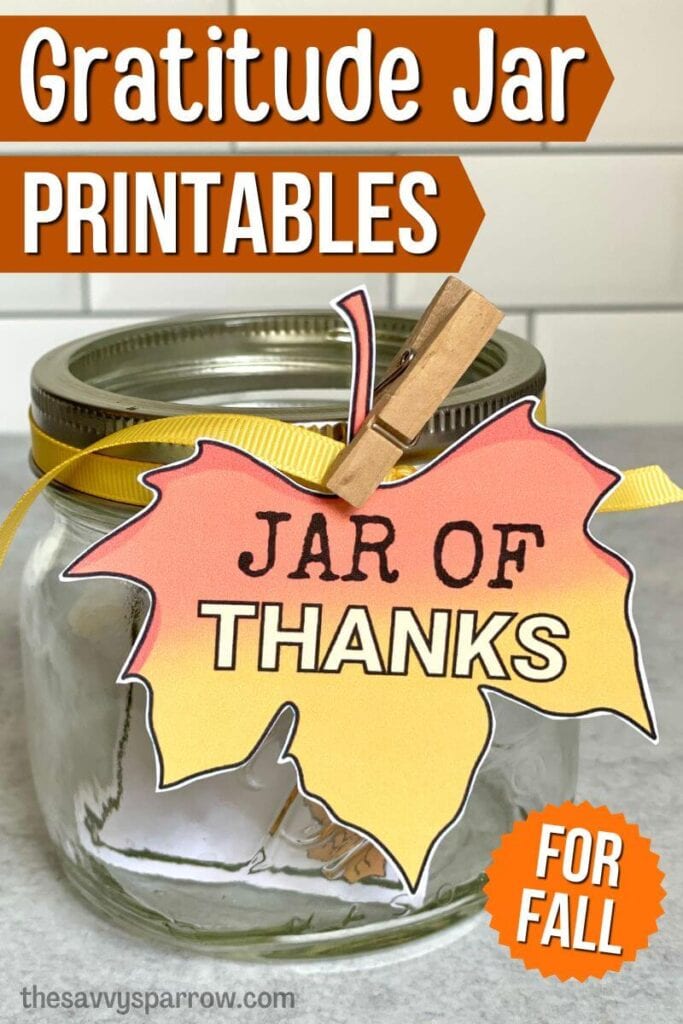 Year Round Gratitude Jar Printable
Use this template for a daily or weekly jar that you use year round!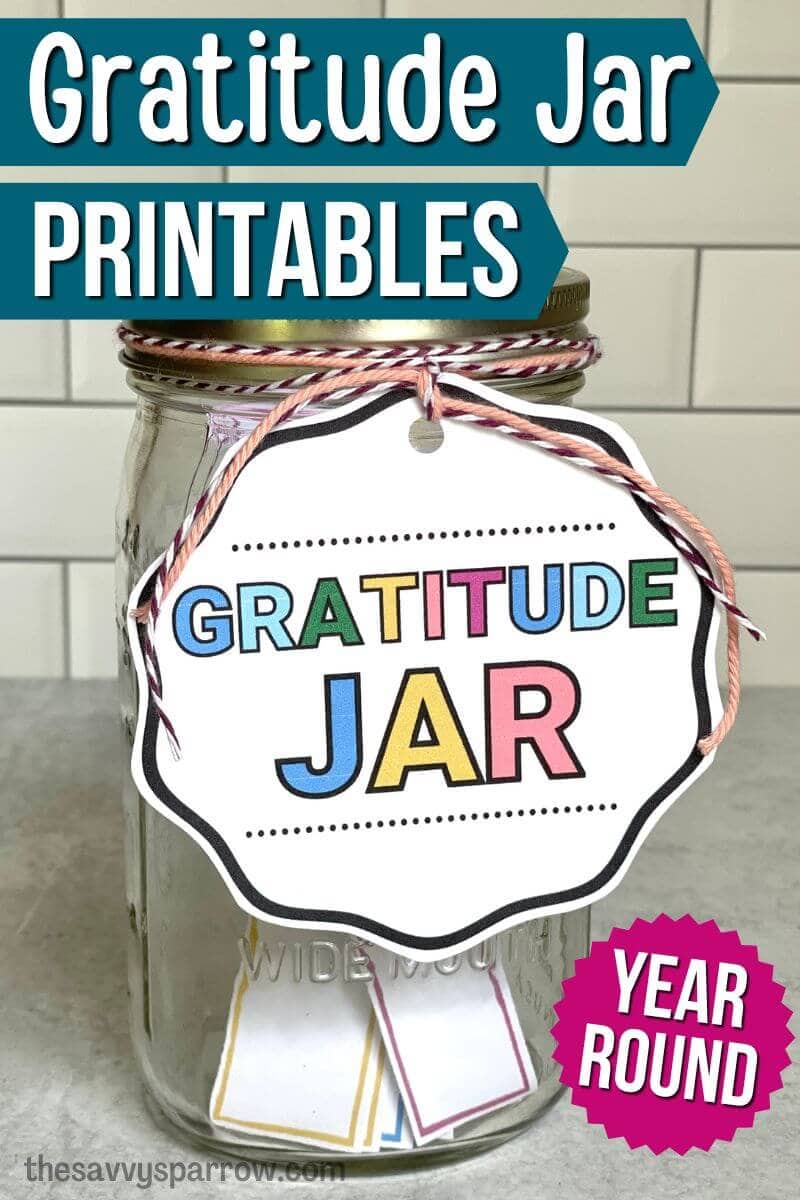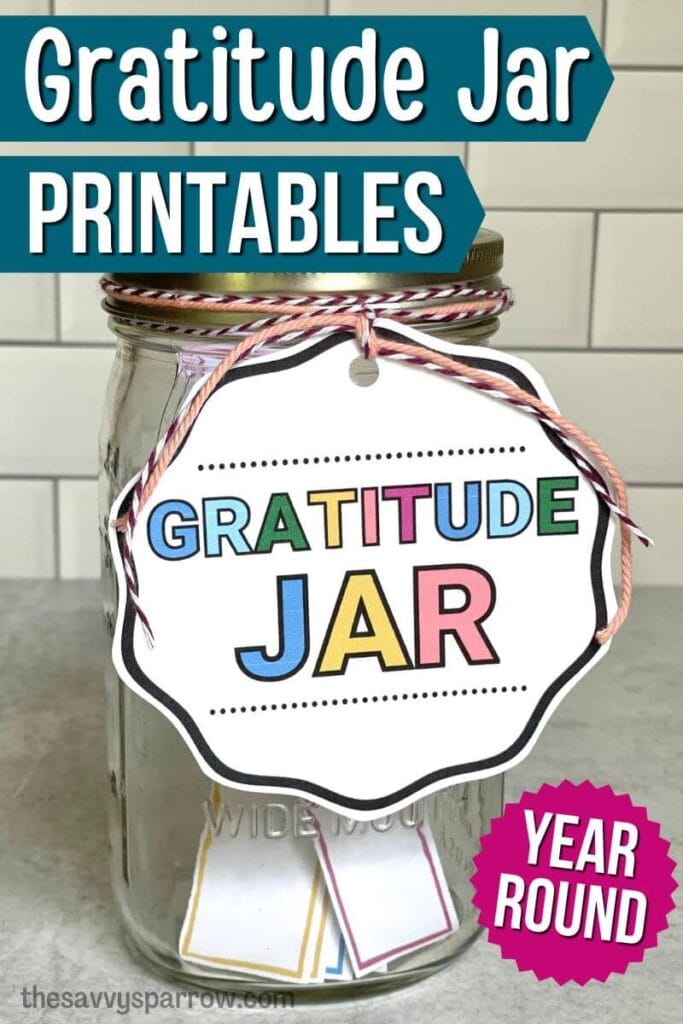 Click HERE for the Gratitude Jar Printables in my Shop!
And be sure to check out my kids' activity cards that match the year round Jar of Gratitude printable! These cute cards come pre-printed with 81 fun and easy activity ideas for kids to do at home, kind of like a Bored Jar! And then you can have a matching set of jars for your family!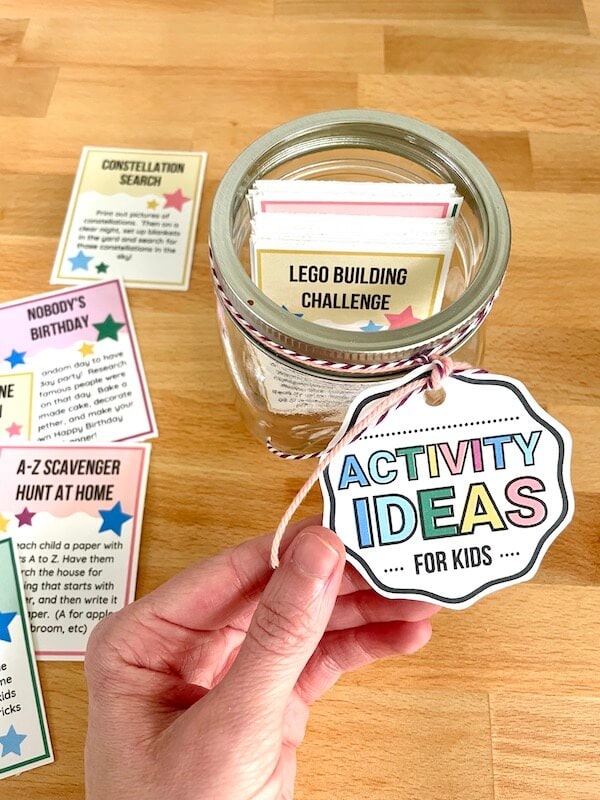 I hope you guys LOVED this easy thankfulness activity! Have you ever used a gratitude jar with your kids? Or maybe a Thankful Tree? Leave me a comment down below! I'd LOVE to hear from you!
And don't forget to PIN this post for later: