Looking for inexpensive Christmas gifts for kids to use for school classroom party favors? These super cute printable chip gift tags are perfect for making Pringles Christmas Gifts!
What do you do when you've got about a gazillion Christmas party favors to make for your kids' school classroom parties and you don't want to spend a fortune? Or what about when your 5th grader comes home saying that she wants to bring little Christmas gifts to school for all of her friends… and she has 15 "best" friends that need gifts?
Buying so many Christmas gifts each year can get expensive, but it's still nice to give friend gifts to show those special kids in your life that you appreciate them.
And I'm a BIG fan of letting my daughters pass out small and inexpensive gifts to all of their friends at school. My girls have been so blessed to have such amazing groups of friends, and it's nice to recognize them and wish them "Merry Christmas" with a little something special.
So since you guys loved these "Friend-chip" Thanksgiving chip gifts so much, I decided to make some Pringles Christmas gifts too!
If you're in need of some inexpensive Christmas party favors for your kids' holiday parties at school, or you just want to make some cute gifts for your kids to pass out to all of their friends, then these chip Christmas gifts are perfect for you!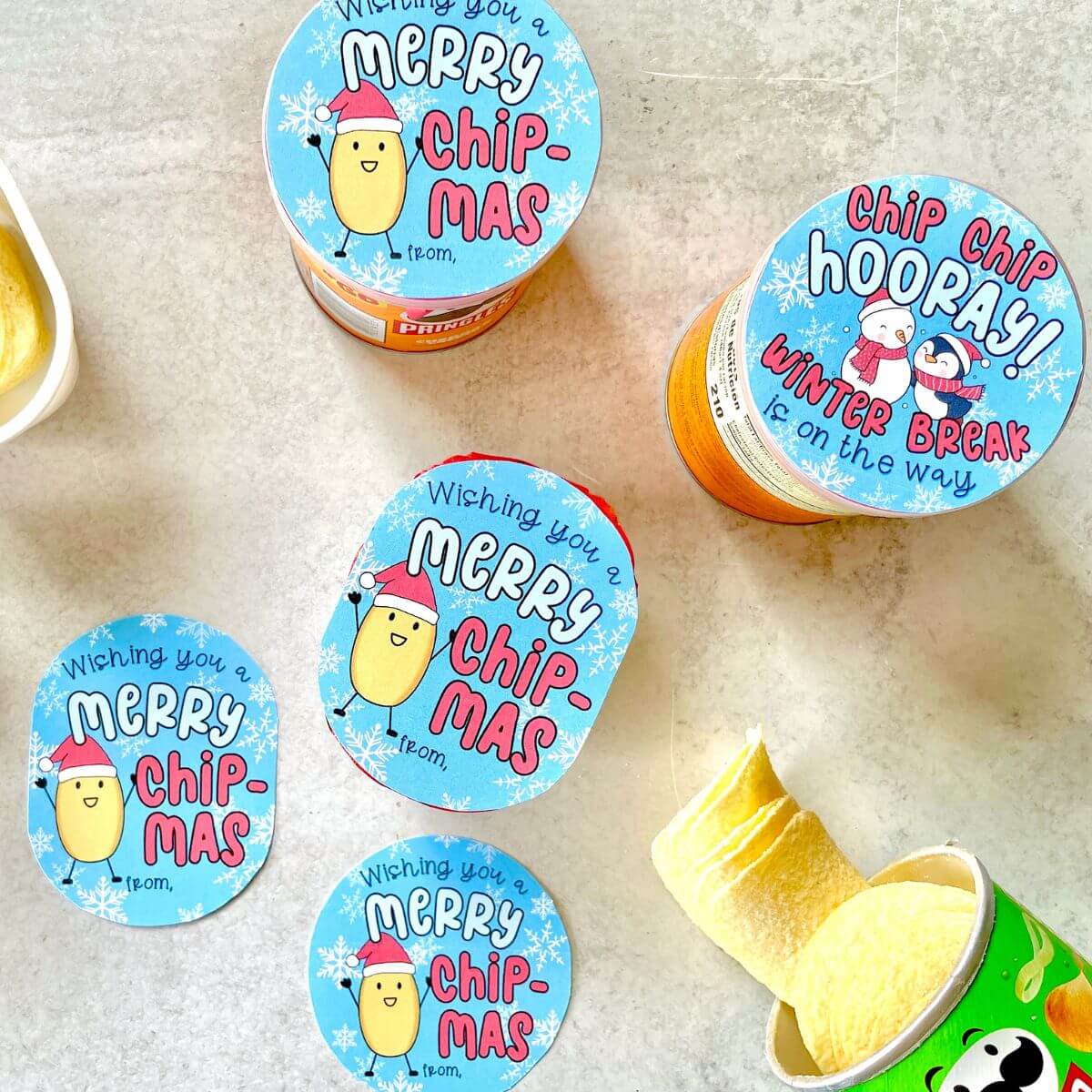 Supplies for Pringles Christmas Gifts
Not only are these Pringles Christmas gifts super cute, but they're also cheap to make because you only need a few basic supplies:
white card stock
printer
Pringles chips printable gift tags – Available in my shop HERE!
individual packs of Pringles – You can use the short stack cans or the more oval-shaped lunch box packs… I've got tags for both varieties!
tape – To tape the printable tags to your Pringles Christmas gifts
hole punch and ribbon – If you're using the stack can of Pringles or other chip packages and you want to tie a gift tag to the chips instead of taping it on
How to Use the Printable Chip Christmas Gift Tags
These super cute Pringles chips gift tags are really easy to use to make quick party favors or small gifts. And you can even use them with the full-size Pringles chip stacks or other large bags of chips for teacher gifts! Here's how to do it:
Step 1: Print out the Pringles Christmas gift tags on card stock.
First, be sure that your printer is set on "Actual Size" so that the gift tags fit your Pringles chip packs. The tags are sized perfectly to fit either the oval lunch box packs or the larger cylinder cans of Pringles… You get both of the sizes so you can use whichever one you need.
Then, load your printer with white card stock. I prefer to print all of my gift tags on card stock, because the finished tags look much nicer and they're less likely to get wrinkled or torn in your kids' backpacks.
And just press "Print"! Here's what the tags look like:
Step 2: Cut out the holiday chip gift tags.
Next, just cut out the Christmas gift tags for chips around the edge of the circle or oval shape. As long as you print in "Actual Size", then the cut tags should fit perfectly on the lids of your Pringles Christmas gifts.
Or, you can also tie the gift tags around other packs of chips instead… Since they say "Chip Chip Hooray" or "Merry Chip-mas" these gift tags are great for Doritos or Lay's chips as well!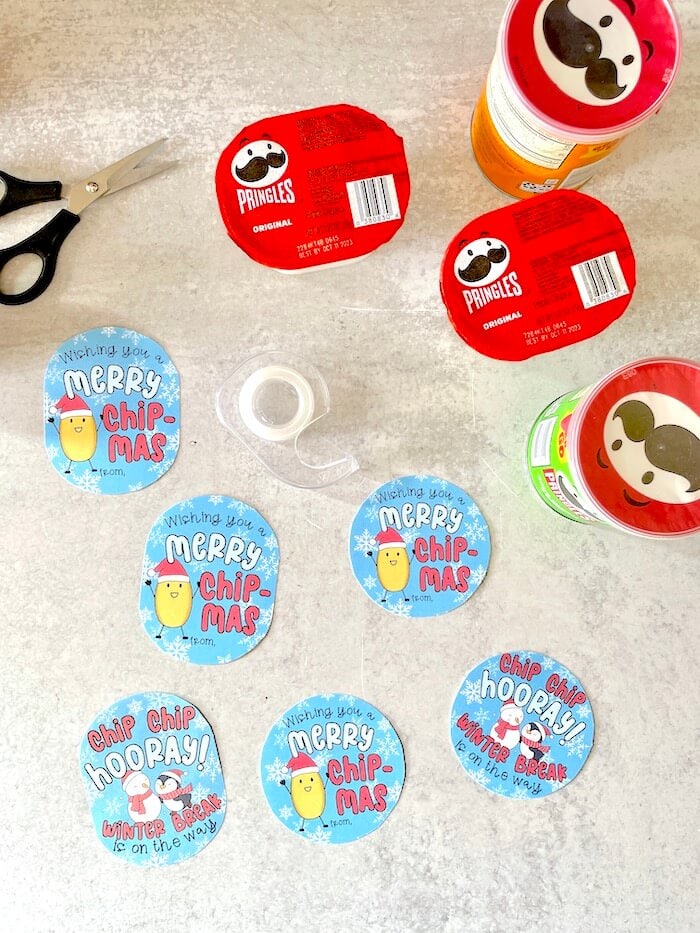 Step 3: Attach the Christmas gift tags to packs of chips.
To finish your cute Christmas potato chip gifts, just tape the gift tags to the top of the Pringles chip packages. I used two pieces of tape for each gift, and I folded the tape over itself to attach the tags so that the tape wasn't visible.
Here's what the round Pringles cans (the short snack stacks) look like… I found these at Costco in a pack of 36 cans for a GREAT price: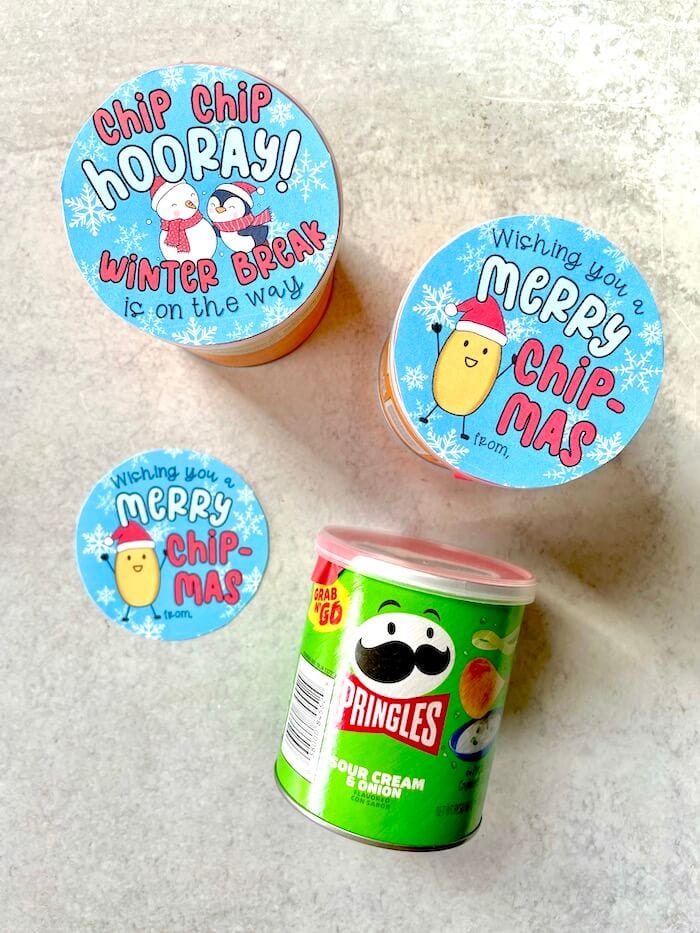 And here are the oval shaped Pringles snack pack Christmas favors: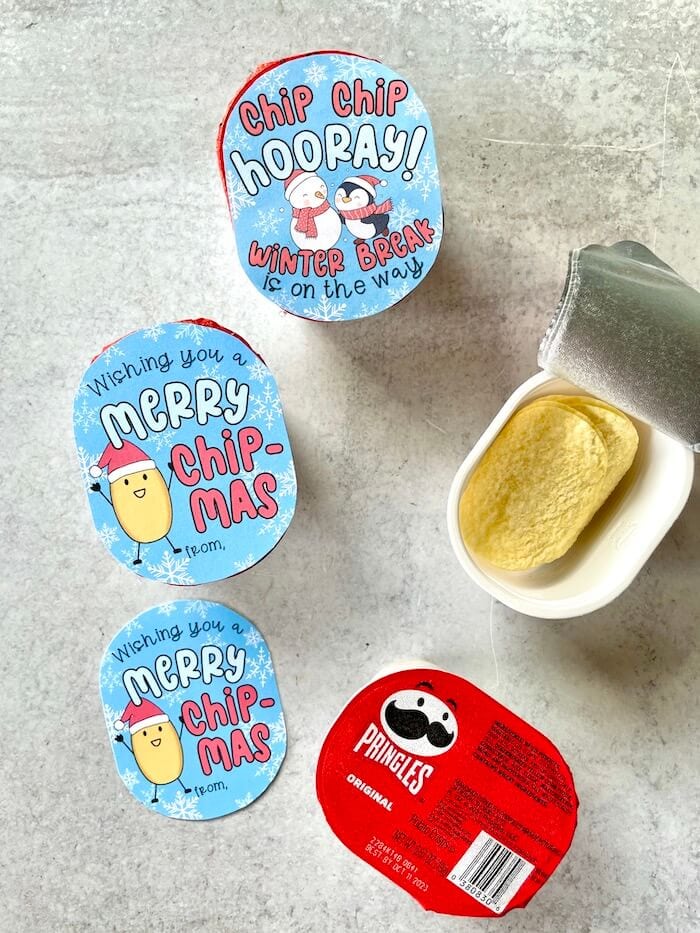 Aren't they SO stinkin' cute?! I know that my daughter's classmates will love these yummy Christmas party favors!
Printable Christmas Gift Tags for Pringles Chips
Think your kids would like to make these cute Pringles Christmas gifts to pass out to their friends? You can easily make your own chip holiday gifts for their classmates with the printable gift tags available in my shop here!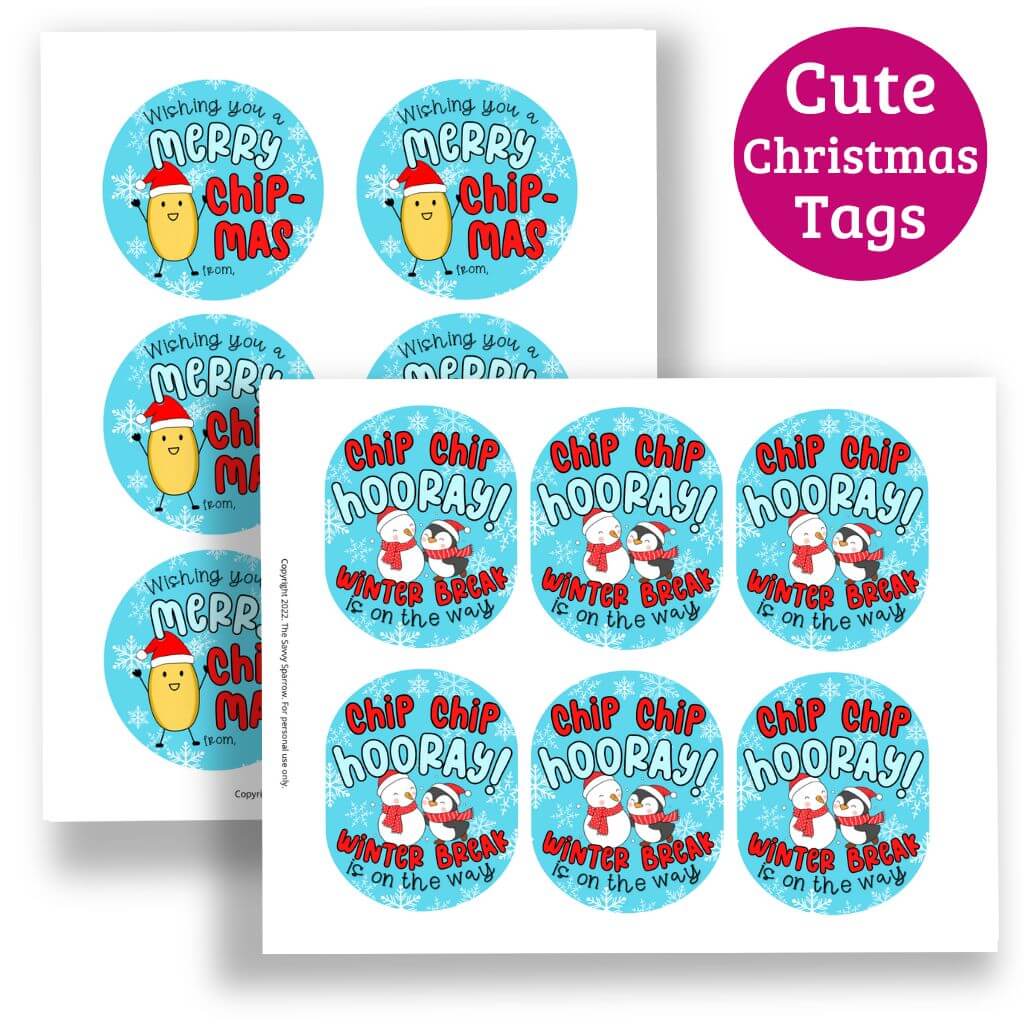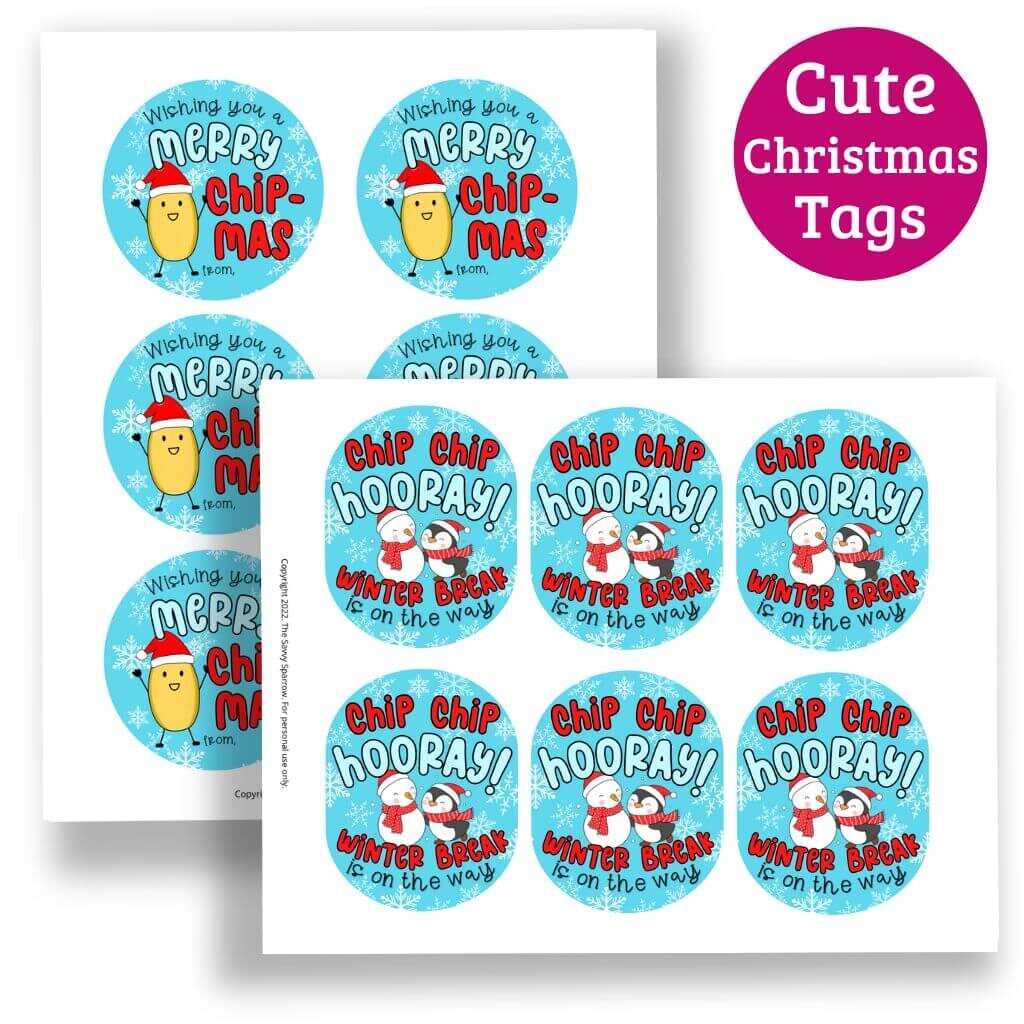 Click HERE to see the Pringles Christmas Gift Tags in my Shop!
Other Printable Christmas Gift Tags
If you LOVED these easy Pringles Christmas gifts, then be sure to check out some of my other printable Christmas gift tags, too!
Chapstick Christmas Gifts with Free Printable Gift Tags – If you're worried about giving out edible gifts because of allergies or school restrictions, then these cute "Merry Kiss-mas" gift tags are a great option! Perfect for older kids or pre-teens, too… Just add a Burt's Bees or EOS lip balm to the gift tag for awesome girls' gifts!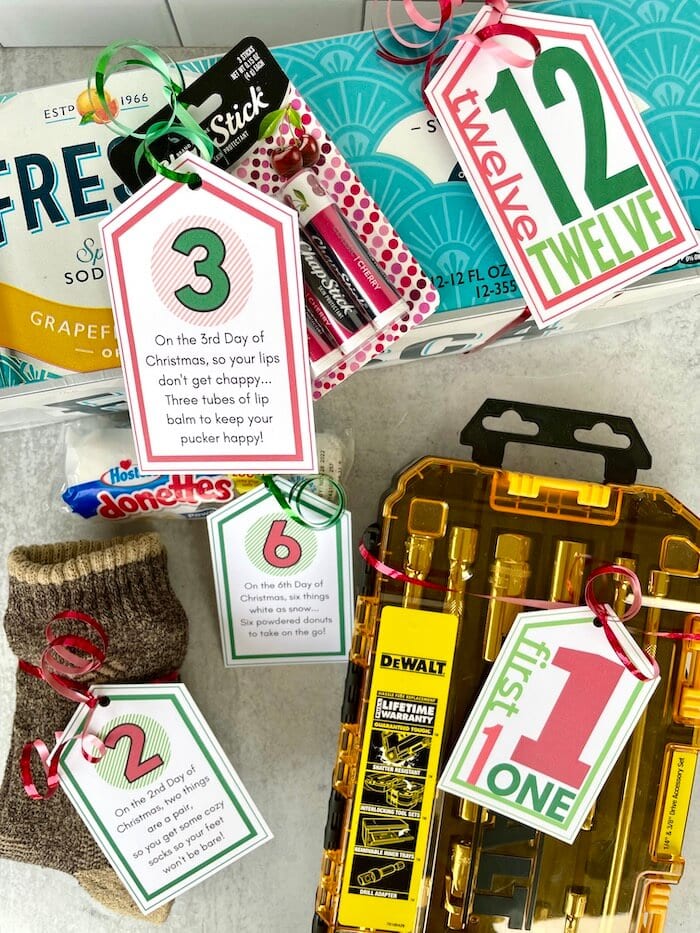 12 Days of Christmas Gift Tags for Him – Want to start a fun gift-giving tradition with your husband? These printable 12 days of Christmas gift tags include fun poems to give him a small gift each day for 12 days leading up to Christmas!
Funny Printable Christmas Gift Tags – Use these free printable Christmas gift tags to add a little laughter (and sarcasm!) to your Christmas morning!
I hope you guys LOVED these cute printable Christmas gift tags! What are some of your favorite holiday gifts to bring to school? Leave me a comment down below!
And don't forget to PIN this post for later: