Looking for a printable Christmas countdown sign to use as easy holiday decor? I've got 3 different Countdown to Christmas signs for you to choose from!
Counting down to Christmas is an important part of the month of December, especially if you have young kids at home. But finding the perfect mini-sized treats and gifts to go inside an advent calendar for each day of December can be time-consuming and expensive. So I opt for an easy Christmas countdown printable instead!
Simply print out one of the cute countdown to Christmas printables below, pop it in a pretty frame, and cross off the days as it gets closer to Christmas.
With these printable Christmas signs, you've got instant EASY holiday decor, and you can avoid your kids' 32,000 questions about "how many days until Christmas?". Win win!
And the best part is, this easy and fun Christmas tradition takes you pretty much zero time, especially if you put your kids in charge of changing the number on the countdown!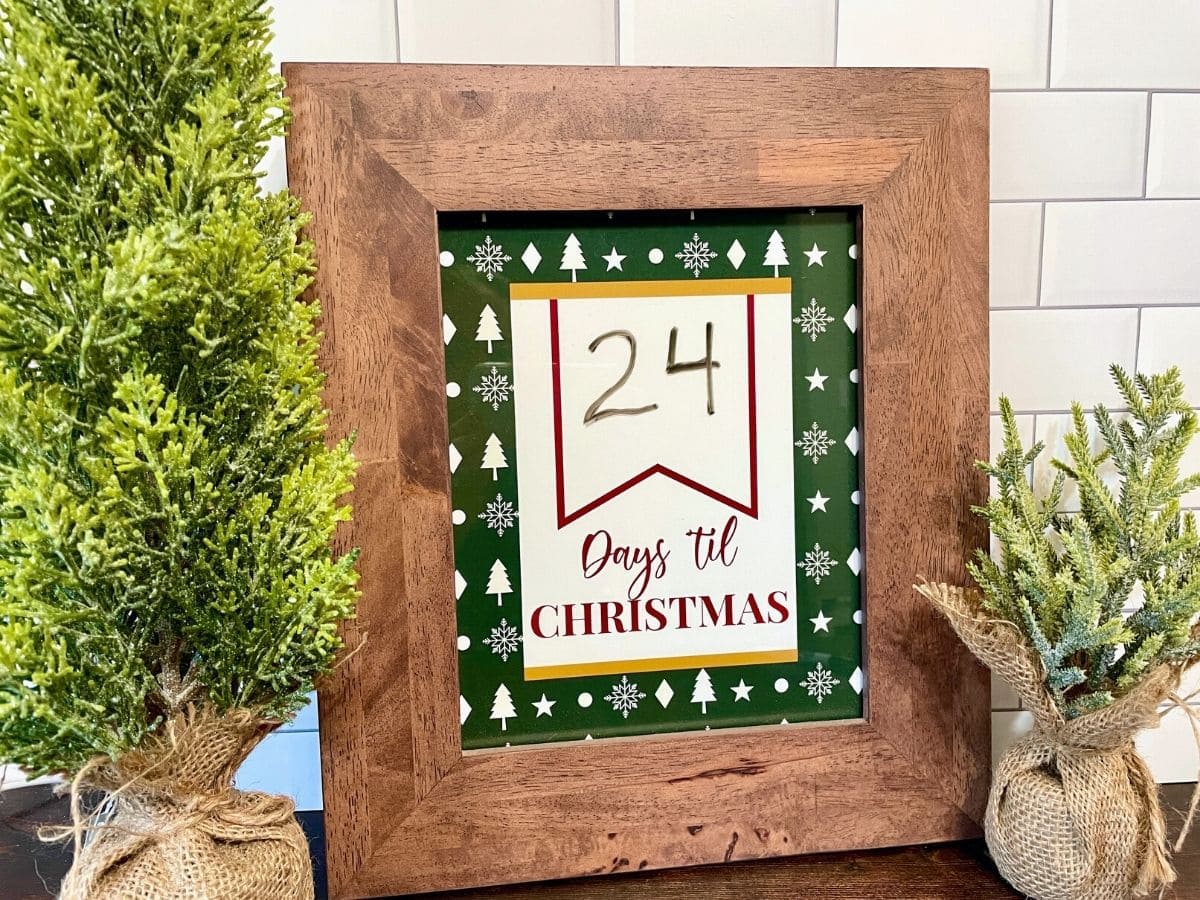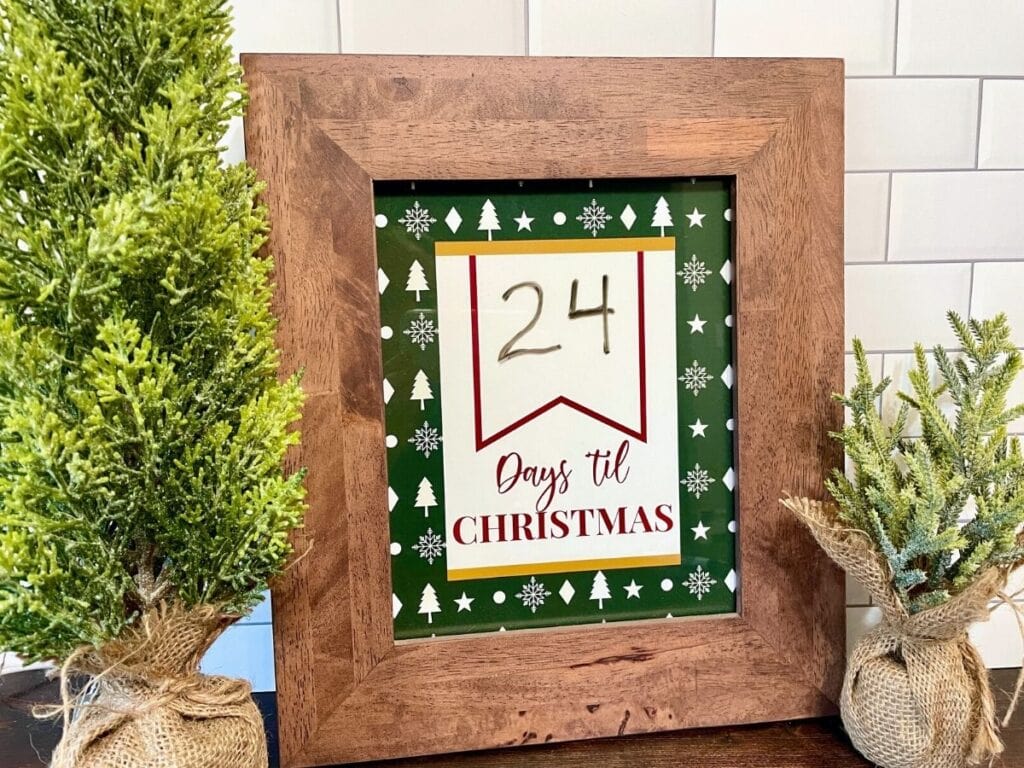 How To Use the Countdown Printables as Decor
Want to use these super cute Christmas countdown printables as home decor? Prep this DIY Christmas printable art faster than you can sing "Jingle Bells"!
Step 1: Download and print the Christmas countdown printable of your choice.
I highly recommend printing your Christmas sign on white card stock, because it will be less likely to look wrinkled in your frame. Plus, the card stock is sturdier so you can use your printable year after year.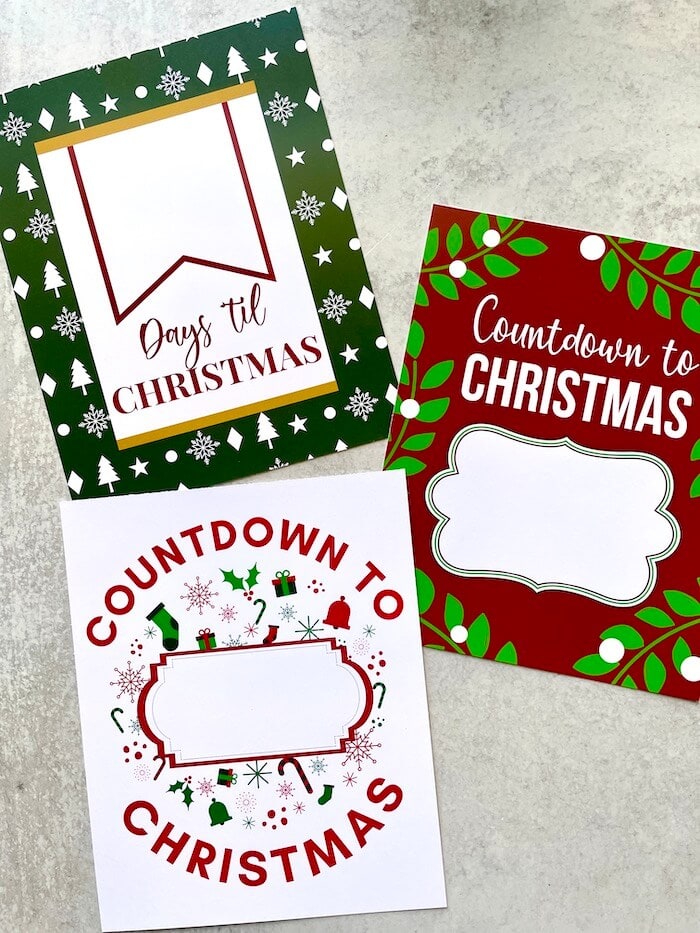 I had my Christmas countdown signs printed on card stock at FedEx Kinko's for about $1.50 each. Sometimes home printers don't do a great job of printing large blocks of solid color, and a professional print shop can make your signs look much nicer.
*Note – Make sure you print the countdown PDF as "Actual Size"… The printable is sized specifically to fit in an 8″ x 10" frame, so if you select "Fit to Printable Area" then the design will be stretched and some of it may be cut off when you frame it.
Step 2: Trim the printable Christmas countdown sign to 8″ x 10″ size.
The printable signs come in an 8″ x 10″ size, but they're made to be printed on US Letter (8.5″ x 11″) paper. After you print the signs out, you will need to trim them down to fit into a frame. I suggest using a paper trimmer so that your cuts are nice and straight.
Step 3: Add the Christmas sign to an 8″ x 10″ frame.
If you want your Christmas countdown signs to take up more wall space or have more of an impact in your Christmas decor, you can frame them in an 11″ x 17″ frame with an 8″ x 10″ mat. But any 8 x 10 frame with a portrait orientation (meaning it's made to be displayed vertically) will work great!
Just make sure that your frame has a glass pane so you can use it as a dry erase board!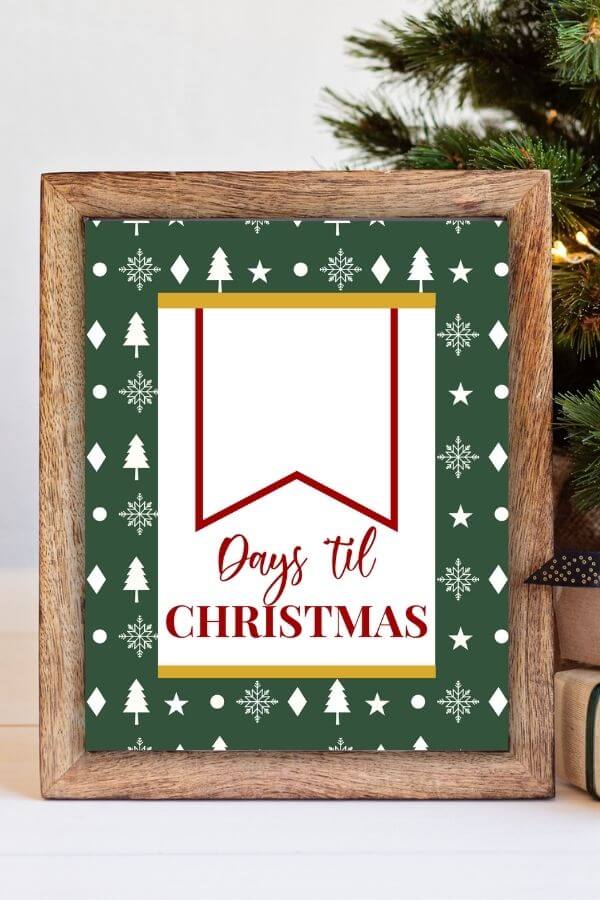 Step 3: Use a dry erase marker to countdown to Christmas.
The great thing about framing your Christmas countdown decor in a glass frame is that you can write on it just like you would a dry erase board… perfect for counting down to December 25th!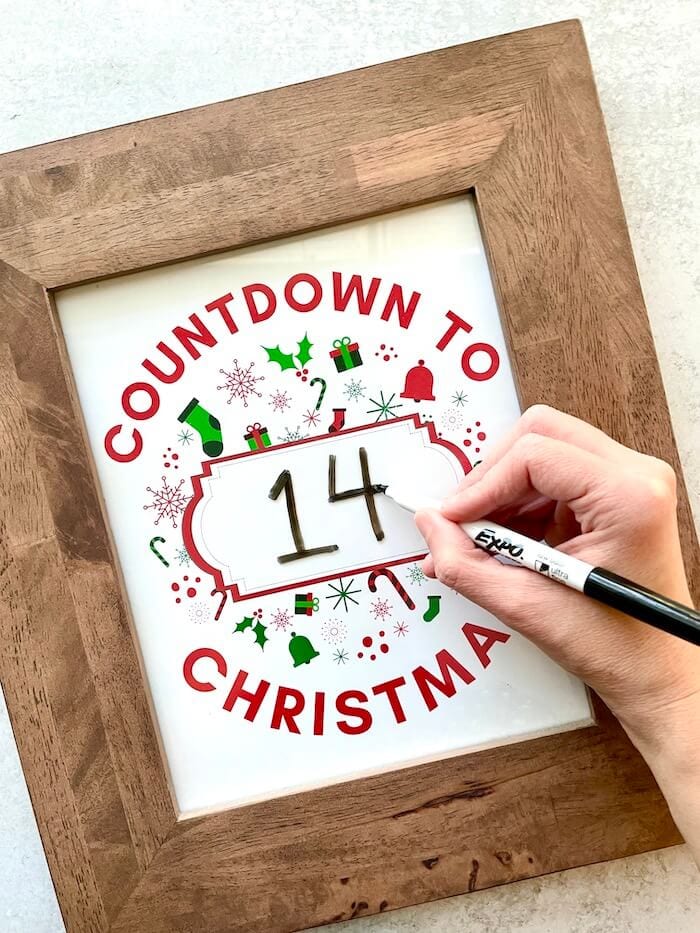 On December 1st, just write the number "24" on the glass frame in the space provided on the printable (because there are 24 days til Christmas). Then, on December 2nd, use a paper towel to wipe off the number 24 and replace it with 23. Super easy!
And your kids will LOVE changing the days on the printable Christmas Countdown sign!
Christmas Countdown Printable Signs to Use as Home Decor
These cute Christmas signs are available in my shop! Just click on the link below the Christmas countdown sign that you want to use: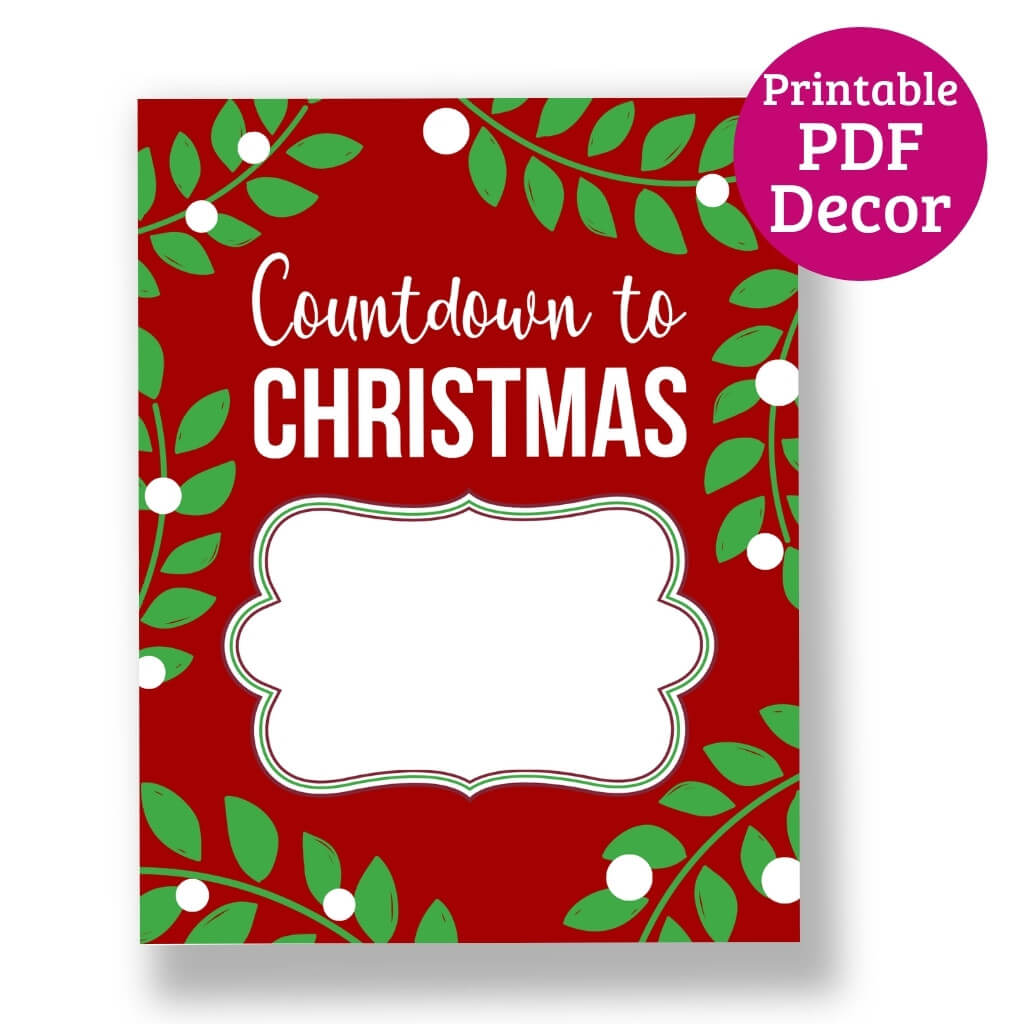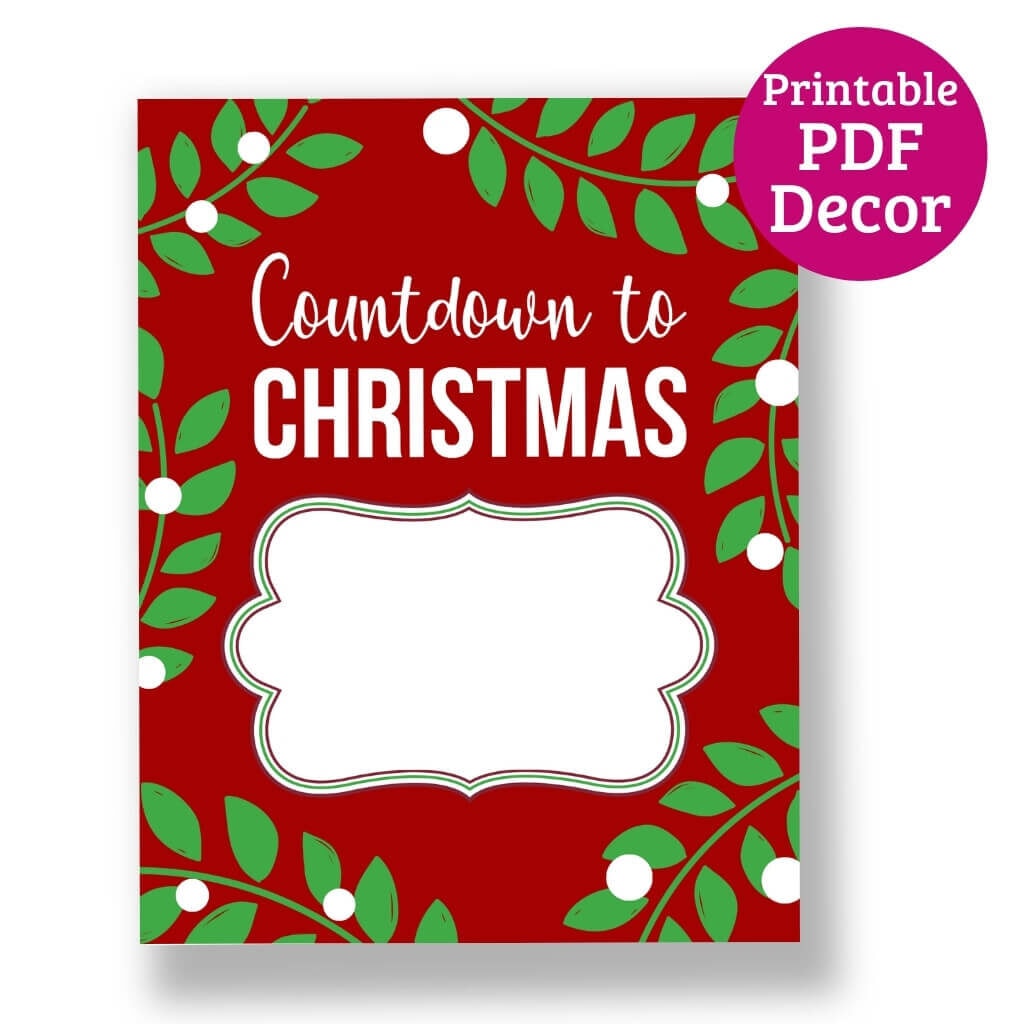 Christmas Countdown Sign with Holly and Berries – Click HERE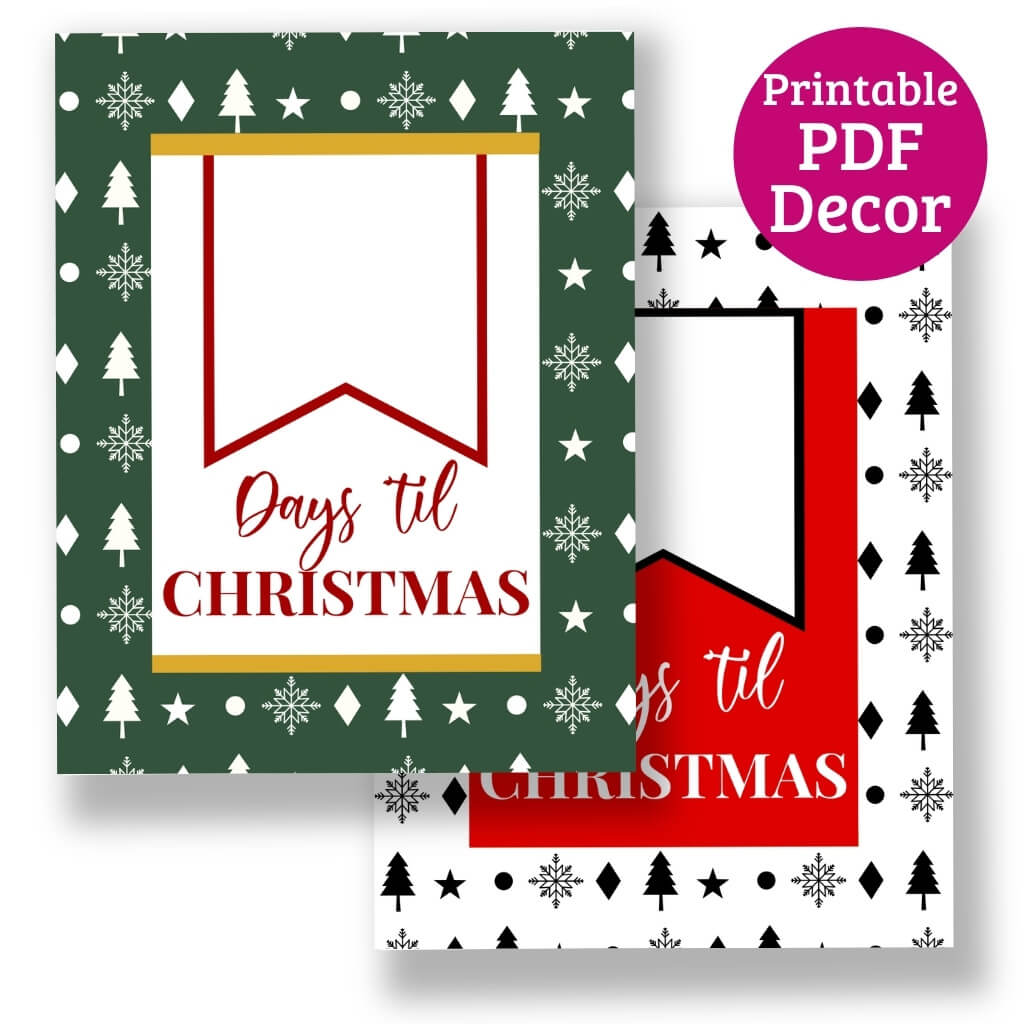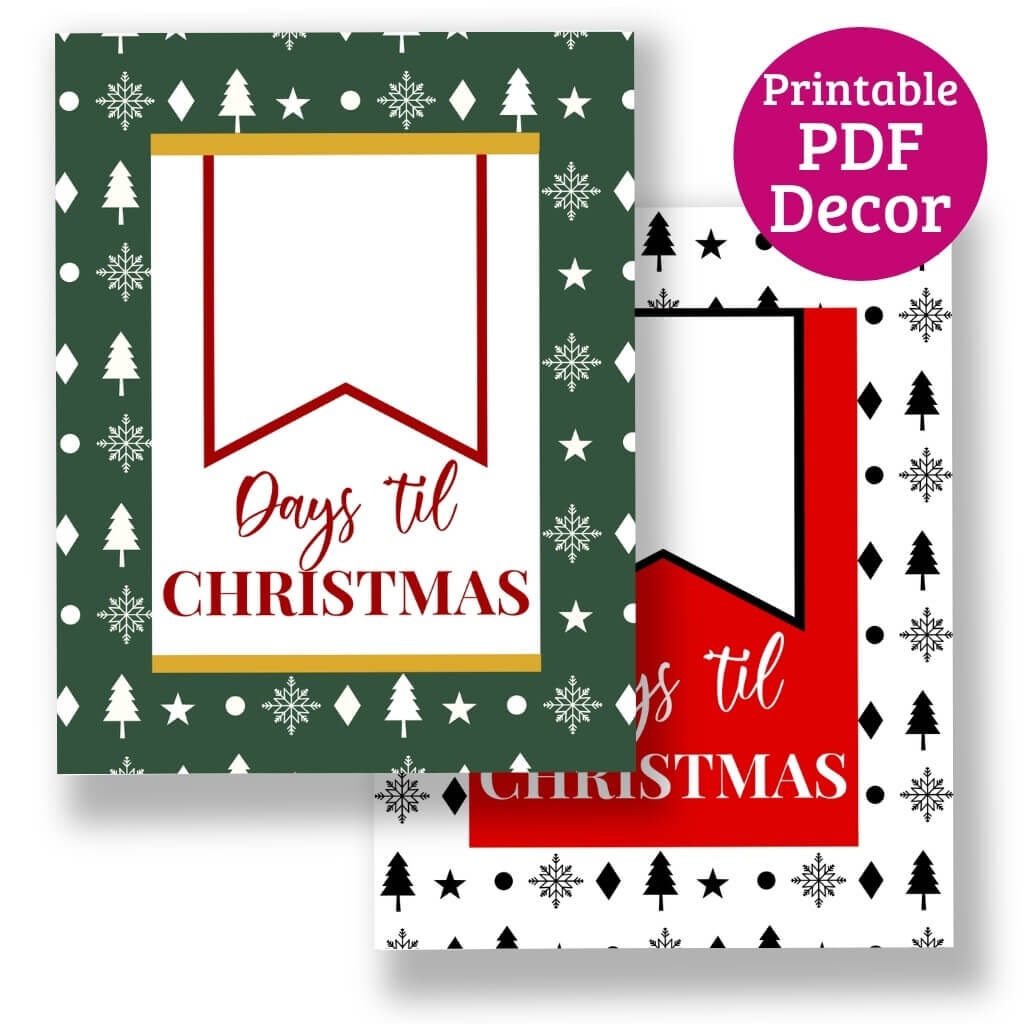 Christmas Countdown Sign with Christmas Tree and Snowflake Pattern – Click HERE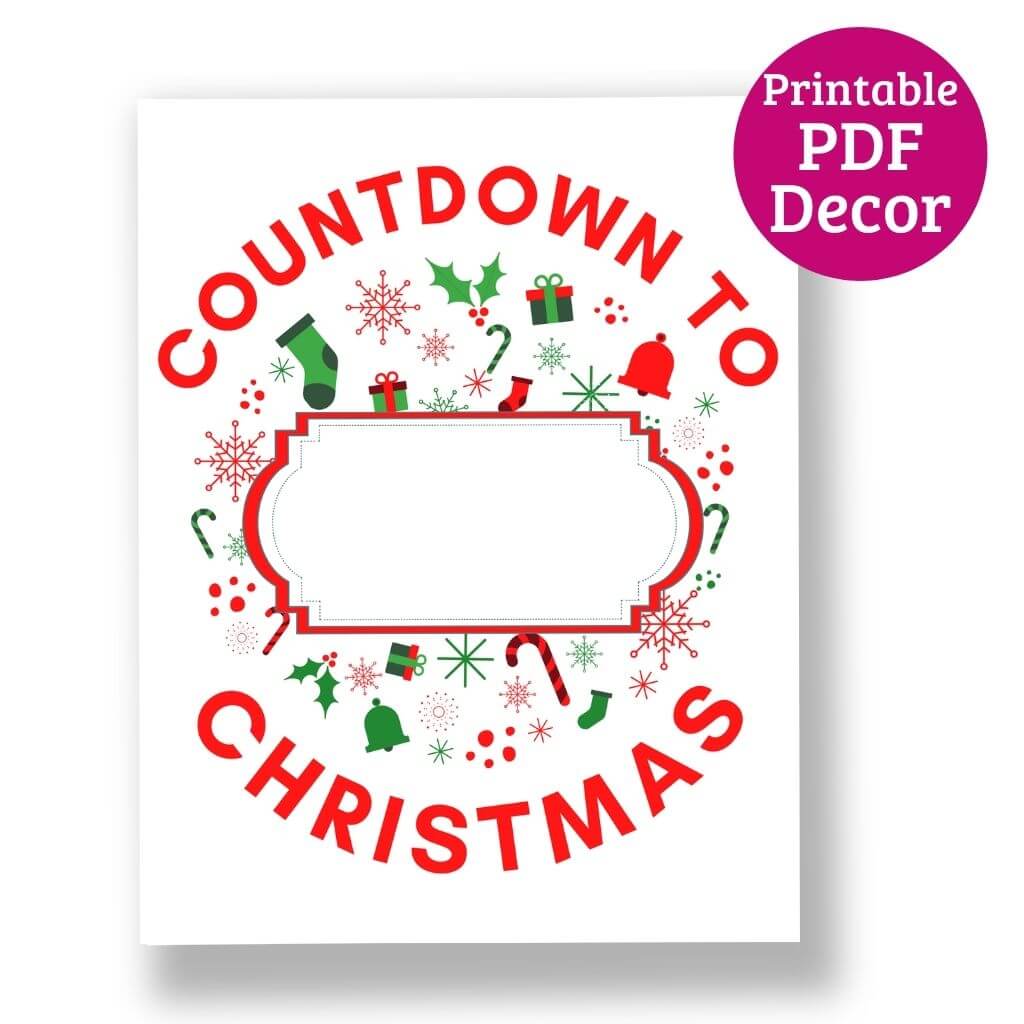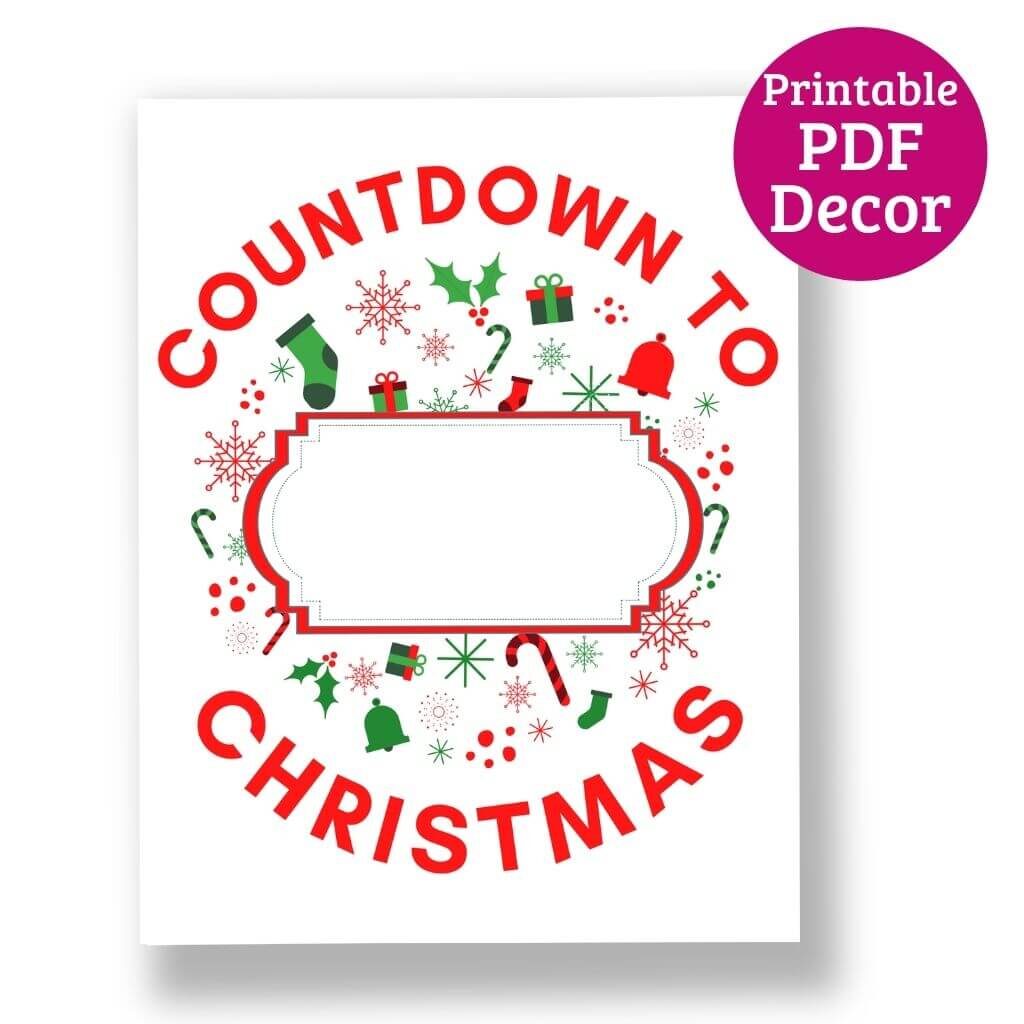 Countdown to Christmas Sign – Click HERE
Other Christmas Countdown Printables – These are FREE!
If you're looking for Christmas countdown PDFs that you can print for free, then I've got those too! These coloring countdowns are great for kids to be able to keep track of how many days until Christmas all by themselves… so you don't have to tell them 5,000 times!
Printable Christmas Countdown Coloring Pages – Countdown to Christmas!
Choose from cute ornament, gift box, Christmas tree, or nativity designs! Just print the countdowns and have your kids color in the sheets each day… Easy peasy, and buys you at least 10 minutes of peace every day in December!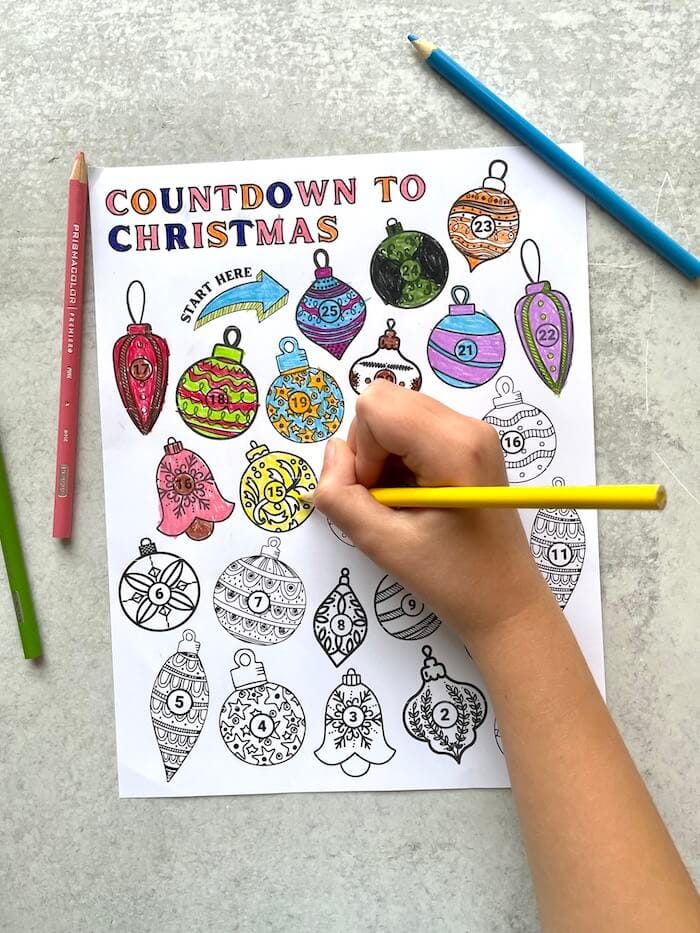 Free Printable Christmas Countdown Calendars to Color
These cute Christmas countdown calendars are another easy printable kids' activity for December!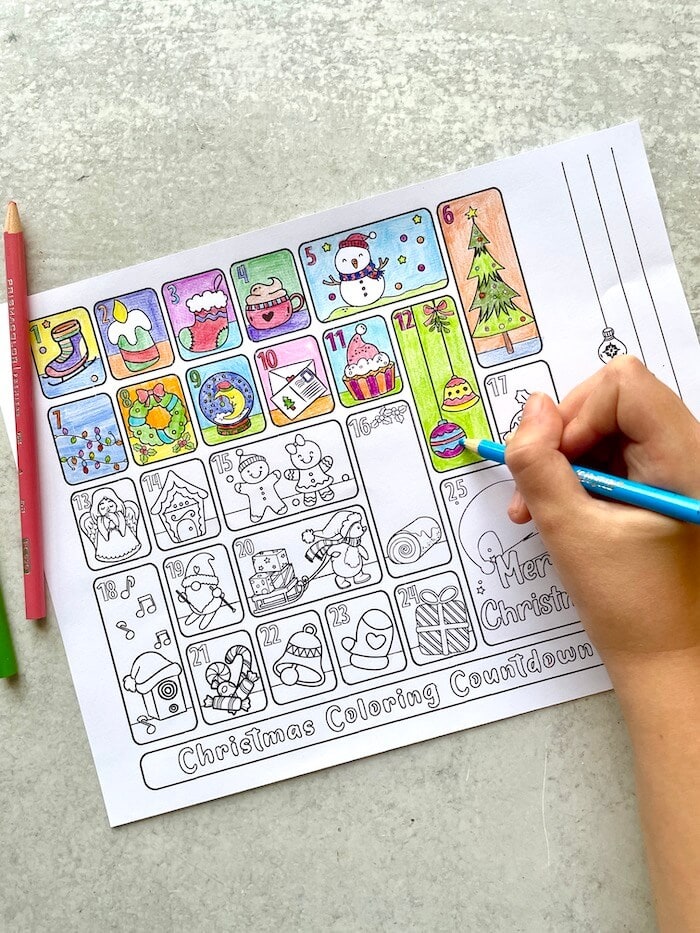 I hope you enjoyed these fun printable ideas for counting down to Christmas!
And be sure to check out my other fun Christmas printables… everything from Santa Letter templates for your kids to Christmas Lights Scavenger Hunts! Just click the links below for more cute Christmas ideas:
And don't forget to PIN this post for later: