This printable North Pole shipping label is a great way to prove to your kids that their gifts were sent from Santa Claus! Just print these North Pole tags on sticker paper and attach to gifts for a fun and easy Christmas surprise!
When it comes to Christmas presents under the tree, my kids are super sleuths! Not only do they peek under the tree to see which gifts are labeled with their names, but they also like to examine the look and feel of the wrapped presents to guess what's inside.
That's why I had to get creative with my gift wrapping so they don't know which gifts belong to each family member until Christmas morning – Read all about my gift wrapping secret and more of my family Christmas traditions here!
If your kids are also prone to expecting their Christmas gifts before opening them, then you may need to get crafty, too!
You don't want your Christmas gift wrapping to be a dead giveaway that Santa Claus shops at Target just like you do, so don't label your kids' gifts from Santa with the same gift tags that you use for all of the other Christmas gifts under your tree.
Instead, you can make the gifts from Santa Claus look like they were actually delivered straight to your house from Santa's Workshop with these printable North Pole shipping labels!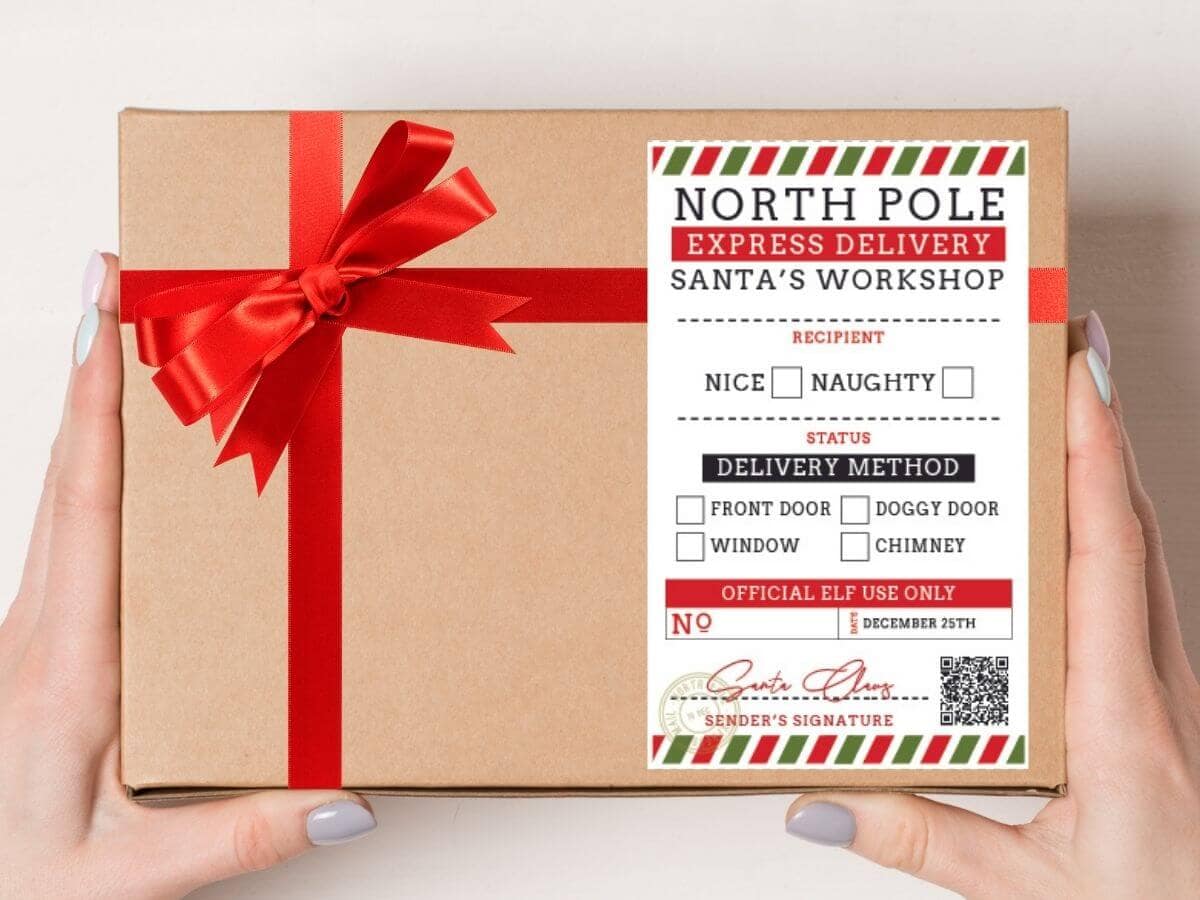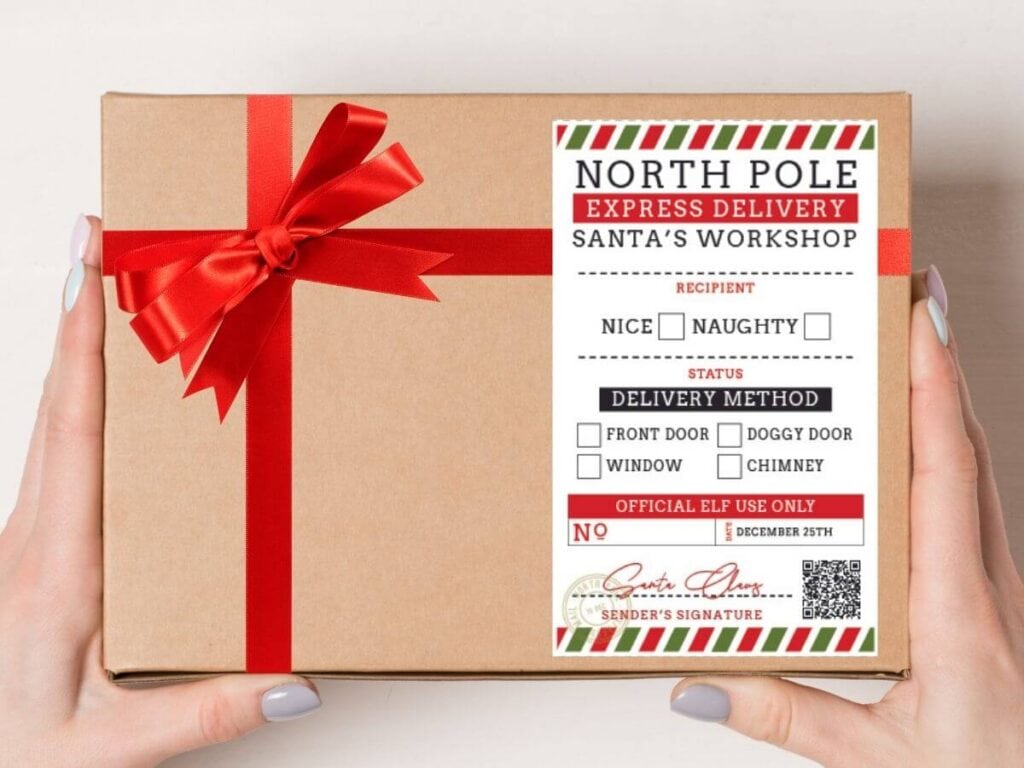 *This post contains affiliate links, which means if you click a link and make a purchase, I earn a commission at no additional cost to you. Read my full disclosure for more info.
Printable North Pole Shipping Labels
These super cute official North Pole shipping tags look like they came straight from Santa's Workshop!
Here are the fun details that are included on each of the printable tags:
"North Pole Express Delivery Santa's Workshop" – Letting your kids know that the package is straight from the North Pole!
recipient's name
check boxes to mark "naughty" or "nice"
the delivery method – How the package was delivered… with options to check either chimney, doggy door, front door, or window
an official "Elf Use Only" area for you to write a package number
a line for the sender's signature – Signed by Santa Claus himself, or course!
a QR code that links to Santa's Spotify playlist*
*To use the QR code, simply open up the camera app on your smartphone, and aim the camera at the code as though you were taking a picture of the tag. Once the code comes in to focus, you should get a prompt on your phone to open Spotify. Just click the prompt and you'll be taken to a Santa-themed playlist in Spotify!
How to Print the North Pole Shipping Labels
These shipping tags are super easy to download, print, and use on your gifts! Just follow these steps:
If you don't want to stick the labels directly on to your gifts, you can also add the label to a card stock gift tag like this: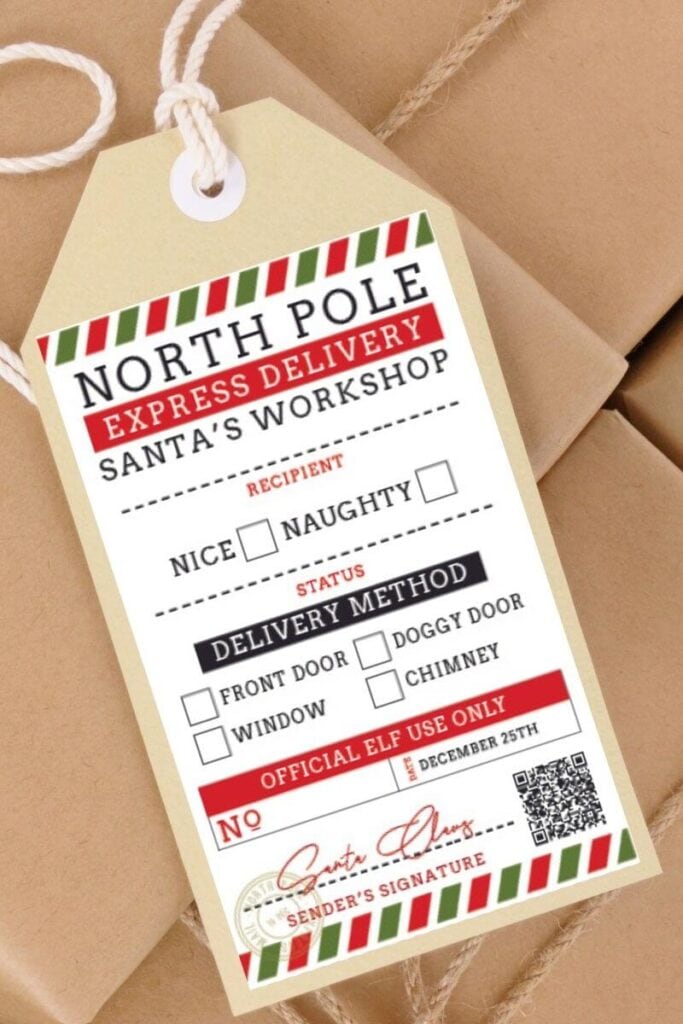 Get the North Pole Shipping Label Template HERE!
Other Santa Claus Printables You'll Love
If you loved these printable North Pole shipping labels, then be sure to check out some of my other Santa Claus-related printable ideas that your kids are sure to love! And these are FREE!
Santa's Footprints Templates – FREE Printable
Don't have a Cricut machine? No problem! Learn how to make your own templates for Santa's boot prints using these awesome free printables. Then, use flour and a sifter to add the boot prints underneath your Christmas tree, proving that Santa himself was there!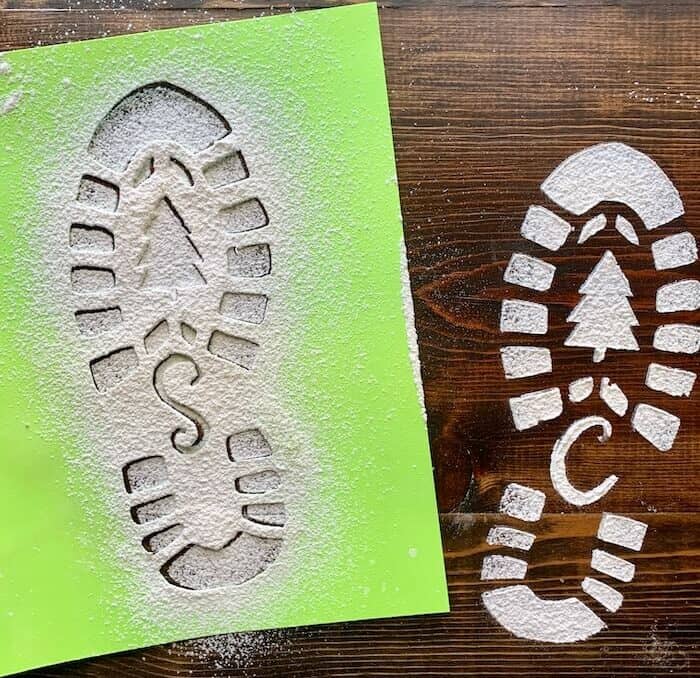 Free Printable Santa Letter Template (with Envelopes and "Stamps"!)
If your kids write letters to Santa each year, then you need these super cute Dear Santa letter templates!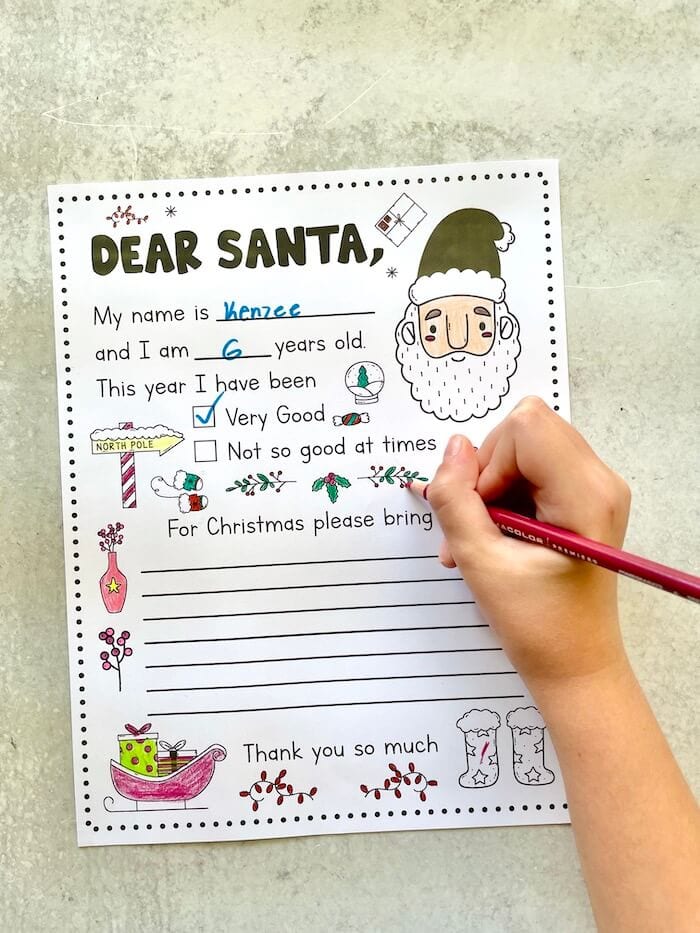 And don't forget to PIN this post for later: