Christmas cleaning have you stressed out more than the arrival of your in-laws? Use these tips for holiday cleaning to get your house party ready, and grab the free printable Christmas cleaning checklist to use!
Christmas is fast approaching, and from extra house guests to hosting festive gatherings, now is the perfect time to get your house clean and ready for celebrations. In this article we'll discuss essential Christmas cleaning jobs, easy ways to declutter, and how to ensure the house stays spotless before your guests arrive.
Keep reading as we'll help you take the hassle out of your Christmas cleaning, leaving you time to relax with the family and enjoy the festivities…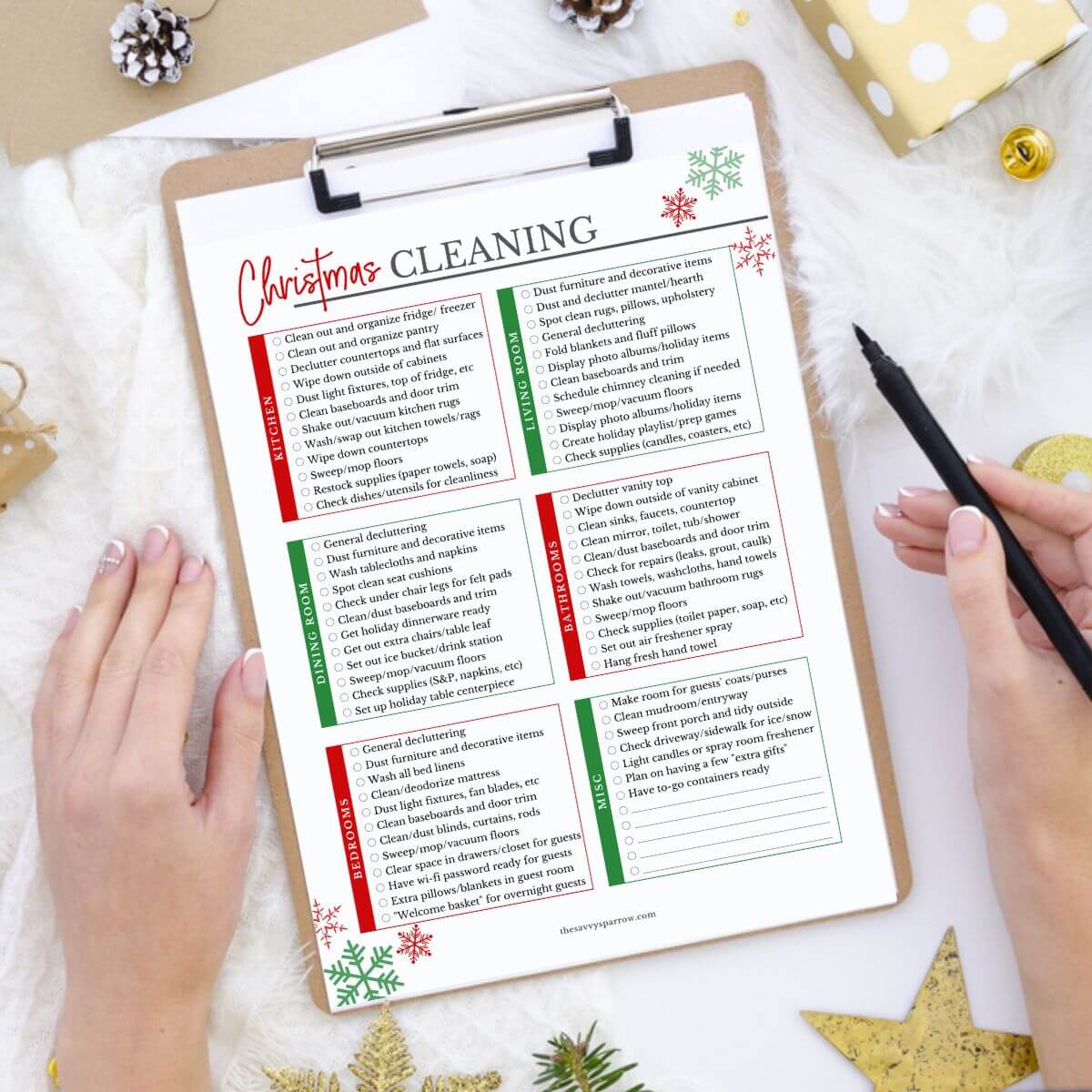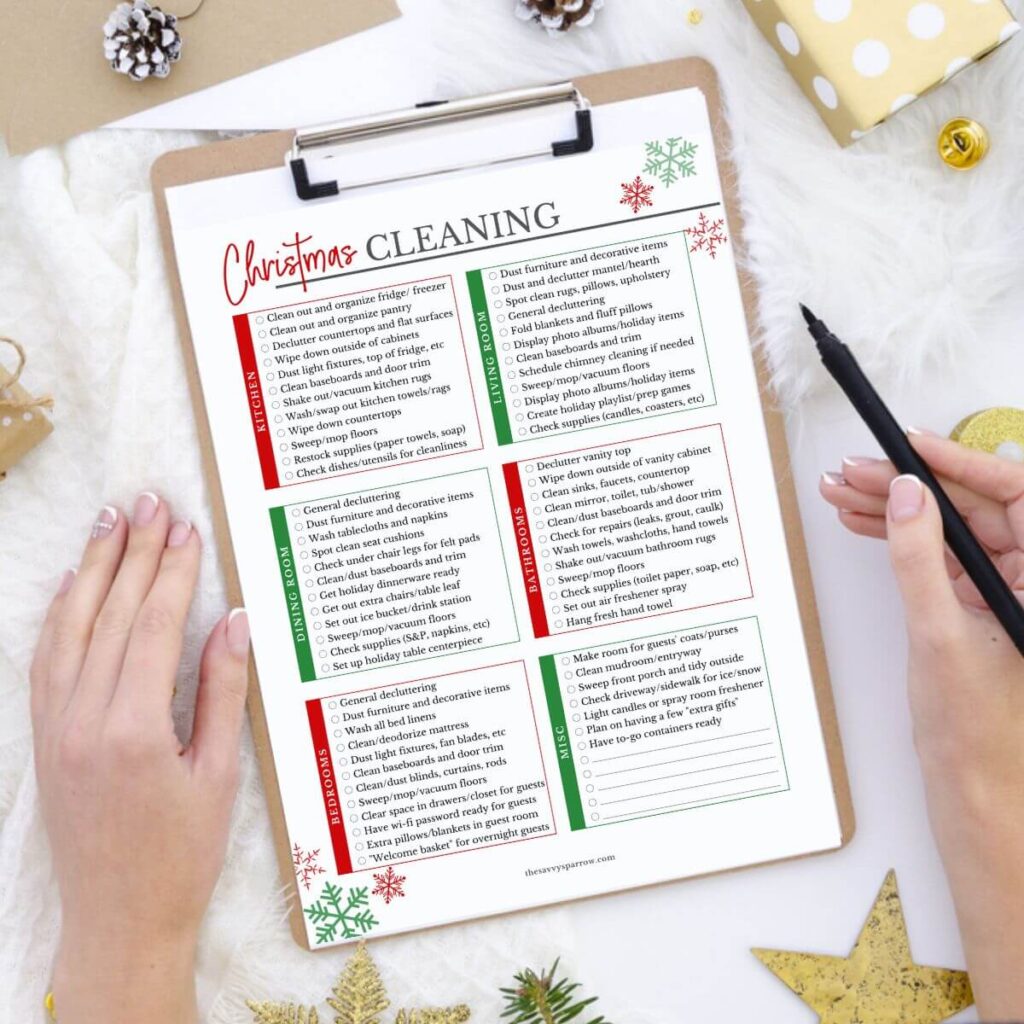 Decluttering for Christmas
Before tackling the cleaning, it's a good idea to start decluttering first. Not only will this save you time during the big clean, but it'll also help you to make space for the incoming flurry of shiny new objects this Christmas.
When it comes to decluttering, set realistic goals and allow yourself plenty of time so that you don't end up feeling overwhelmed. Focus on family rooms first, such as the kitchen or living room, and get some large storage containers, boxes or garbage bags to help you organize as you go.
Next, organize clutter and objects into four different categories:
Sell
Recycle
Donate
Re-home – Or put away in a different place
You can either work your way around the room adding objects into different piles as you go or place all of the clutter onto the floor and put it in the right containers afterwards. If you've got kids, now is the perfect time to sort through their toys with them, as they may well have ones they no longer play with that could be donated to charity or families in need this Christmas.
And if you have SO much clutter in your home that Santa won't even be able to turn his big jelly-belly around to get to your stockings, then check out some of my more in-depth posts on decluttering your home: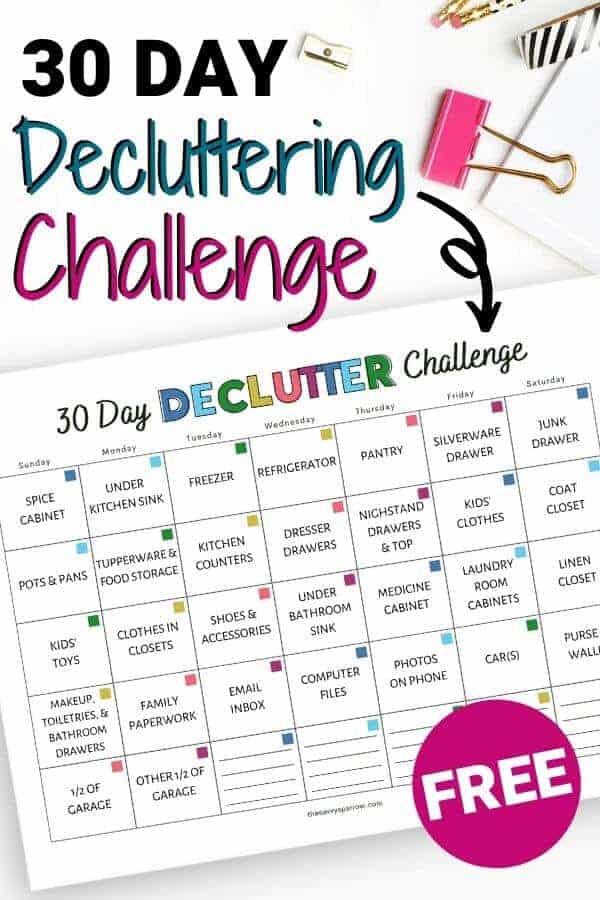 Christmas Cleaning by Room
Sometimes when you're tasked with a HUGE project (like cleaning your entire house in a few days to prep for a house-full of holiday guests!) it can be so overwhelming that you don't even know where to start… but that's where "zone cleaning" can help!
Think of "zone cleaning" as a fancy way to say "one room at a time". The basic idea is that you separate your home into "zones" and you only focus on cleaning one zone at a time. For instance, the kitchen could be one zone, the laundry room and mudroom could be another zone, etc.
The benefit of Christmas cleaning this way is that you can concentrate all your energy on one room at a time so that you don't get distracted or too stressed out by the whole house mess.
Here are some Christmas cleaning jobs that you can do in each room to prep for holiday guests:
Holiday Cleaning in the Living Room
The living room is the hub of all Christmas activities, so what better place to start? Not only will you need to make room for the tree, but you'll need a clean fireplace so that Santa can make his grand entrance!
Dust all of the surfaces both low and high, including the top of the fireplace, baseboards, coffee table and bookcases. Once you've tackled the dusting, it's time to give the entire room a thorough vacuum. Don't forget upholstery and soft furnishings like the couch, cushions, footrests and curtains.
If you haven't already, you should get your chimney cleaned as soon as possible and ready for the festivities. As this can spread soot around the room, aim to get it done before you begin the cleaning.
Here's a break down of the Christmas cleaning jobs for the living room:
Dust furniture and decorative items
Dust and declutter the fireplace mantel and/or hearth
Spot clean rugs, pillows, curtains, and other upholstery
General decluttering
Fold blankets and fluff pillows
Display photo albums or holiday items – I like to place our family photo albums on the coffee table or end tables when guests will be visiting.
Clean baseboards and trim
Schedule chimney cleaning if needed
Sweep/mop/vacuum floors
Create a holiday playlist or prep games for your guests to play like this printable Christmas Charades game
Check stock of supplies (candles, coasters, etc)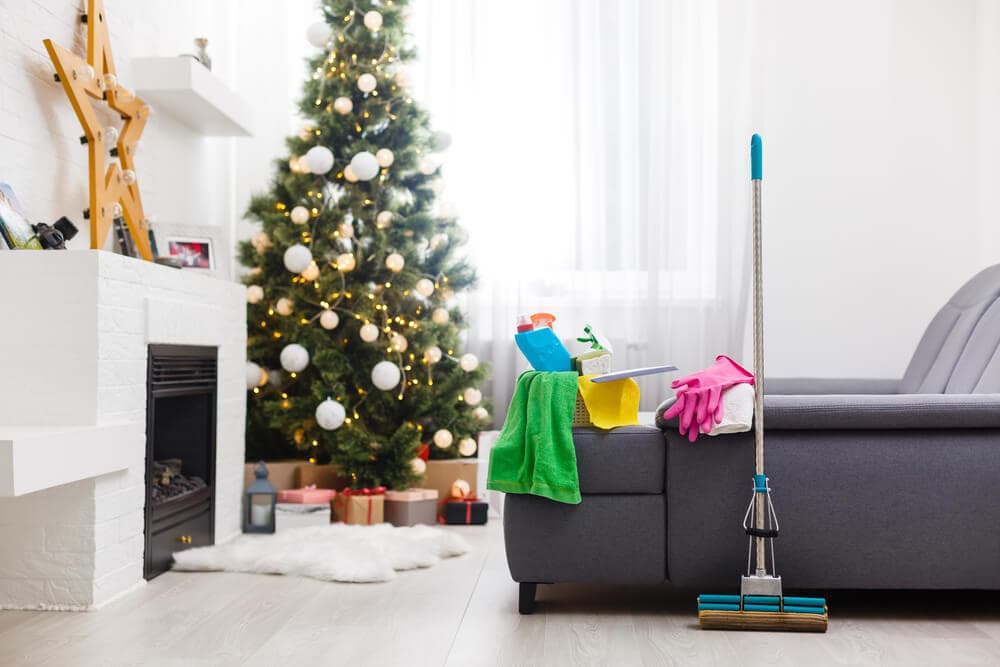 Cleaning the Kitchen for Christmas
When decluttering, it's natural to forget about the kitchen – that's why we're making a list and checking it twice! Go through your kitchen cabinets, drawers, and fridge to make way for all of the tasty Christmas goodies that will soon be in your home.
Your oven will need to be clean and prepared ready for the main event. Not only can a clean oven make your food taste better, but it can help prevent that nasty smoke smell from wafting around the house. Either get a good oven-cleaning product or hire a professional to get your stove sparkling clean for Christmas.
And don't forget to clean out all of the other kitchen appliances, including the fridge, microwave, coffee machine and range hood – and descale where you need to. Clear out the fridge and clean the inside shelves and drawers using warm water and a gentle sponge.
Here's the list of Christmas cleaning jobs for the kitchen:
Clean out and organize fridge/ freezer – Now is a great time to use this free printable freezer inventory sheet too!
Clean out and organize pantry
Declutter countertops and flat surfaces – If your kitchen countertops are always a mess, get my best tips to declutter kitchen countertops here!
Wipe down outside of cabinets
Dust light fixtures, top of fridge, etc
Clean baseboards and door trim
Shake out/vacuum kitchen rugs
Wash/swap out kitchen towels/rags
Wipe down countertops
Sweep/mop floors
Restock supplies (paper towels, soap)
Check dishes/utensils for cleanliness – You don't want to set out a dirty serving dish or utensil without realizing it… Or sometimes my special holiday serving pieces collect dust and need a little tidying up before the holiday.
Cleaning the Dining Area for Holiday Meals
While the dining area should be fairly straightforward to clean, it's important to consider everything else that you will be using on the big day. Take stock of knives, forks, spoons, glasses, plates and bowls to ensure you have enough, and that they are all clean and ready to go.
If you're catering for lots of people, why not do a test run of the table setting to ensure you don't need to get anything extra? Ensure the table and chairs are all squeaky clean and in good working order and check that you've got extra seating in case you have any unexpected guests.
Here are some other holiday cleaning jobs to focus on in the dining room:
General decluttering
Dust furniture and decorative items
Wash tablecloths and napkins
Spot clean seat cushions
Check under chair legs for felt pads and replace if needed – This is something I always do before hosting a big meal… I want to be sure that my hard floors are protected, and it also makes guests' dining chairs slide smoothly from under the table.
Clean/dust baseboards and trim
Get holiday dinnerware ready
Get out extra chairs or table leaf
Set out ice bucket or prep a drink station – You can do ramekins of sweeteners, stir sticks, etc.
Sweep/mop/vacuum floors
Check supplies for holiday meals/dining room (S&P, napkins, etc)
Set up holiday table centerpiece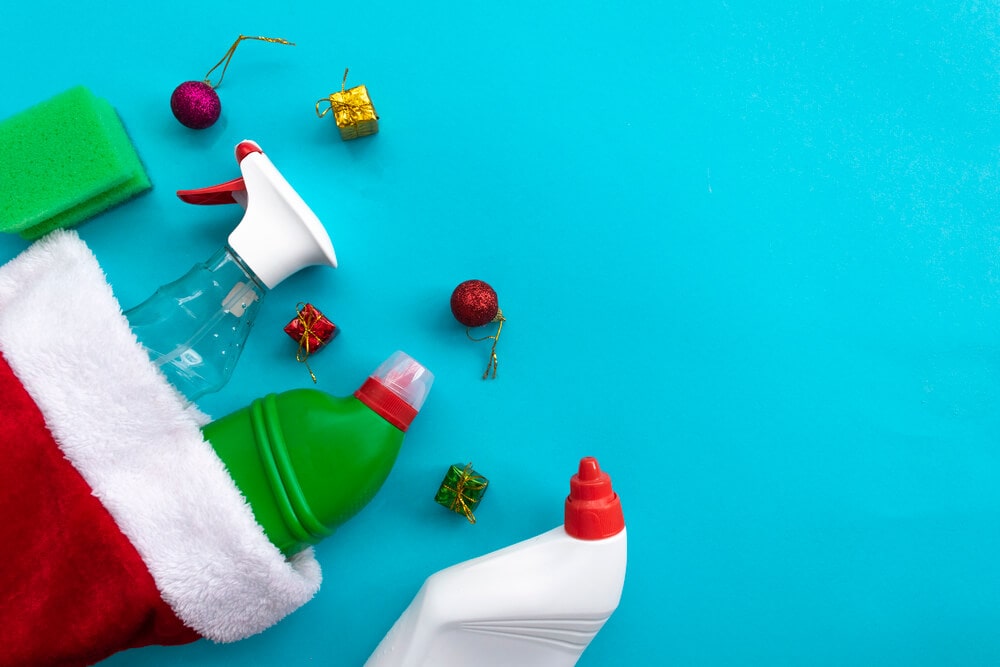 Christmas Cleaning the Guest Room
Even though your guest bedrooms are likely not high-traffic areas, they can still be quite labor-intensive to prepare and clean, so plan to get them sorted a couple of weeks before Christmas. You will need to:
General decluttering
Wash, dry and iron bedding
Clean and deodorize the mattress
Wash any spare quilts or comforters
Vacuum the floor and upholstery
Dust and clean any surfaces
Ensure en-suites are clean
Prepare any storage areas – Like extra drawers or closet space for guests that will be staying a while.
Leave out fresh towels
Clean baseboards and door trim
Clean/dust blinds, curtains, rods
Have wi-fi password ready for guests
Ensure you have extra pillows/blankets in guest room
Consider making a "Welcome basket" for overnight guests
Getting the Bathrooms Ready
We've left the worst til last – yep, it's time to tackle the bathrooms. If you've got guests staying, it's the perfect opportunity to deep clean and get ahead of those tasks you don't perform as often.
To start with, put cleaner down the toilet and spray all of the surfaces using a disinfectant so that they can work their magic as you focus on different parts of the room. Then I like to start from the ceiling and work my way down, that way I'm not doing the floors first and then just getting them dirty again when I'm dusting.
Here are the Christmas cleaning jobs for the bathroom:
Declutter vanity top
Wipe down outside of vanity cabinet
Clean sinks, faucets, countertop
Clean mirror, toilet, tub/shower
Clean/dust baseboards and door trim
Check for repairs (leaks, grout, caulk)
Wash towels, washcloths, hand towels
Shake out/vacuum bathroom rugs
Sweep/mop floors
Check supplies (toilet paper, soap, etc)
Set out air freshener spray
Once everything is squeaky clean, replace towels with fresh ones, stock up on toilet paper and tidy away any personal toiletries. Don't forget to put bath mats in the laundry, and consider replacing shower curtains if they are old, so that they're fresh and clean for your guests.
How to Keep Your House Clean for Christmas
From gift wrapping to leftovers, it can be frustrating after a large cleaning and decluttering session to watch your house slowly fill up with junk again over the festive period. That's why we've got some top tips to help you stay one step ahead…
Use cleaning checklists. Use my editable cleaning checklist to arrange tasks by each day. This will help to prevent clutter from building up, while smaller, shorter cleans can help keep things from getting too messy so that you don't need to deep clean as often.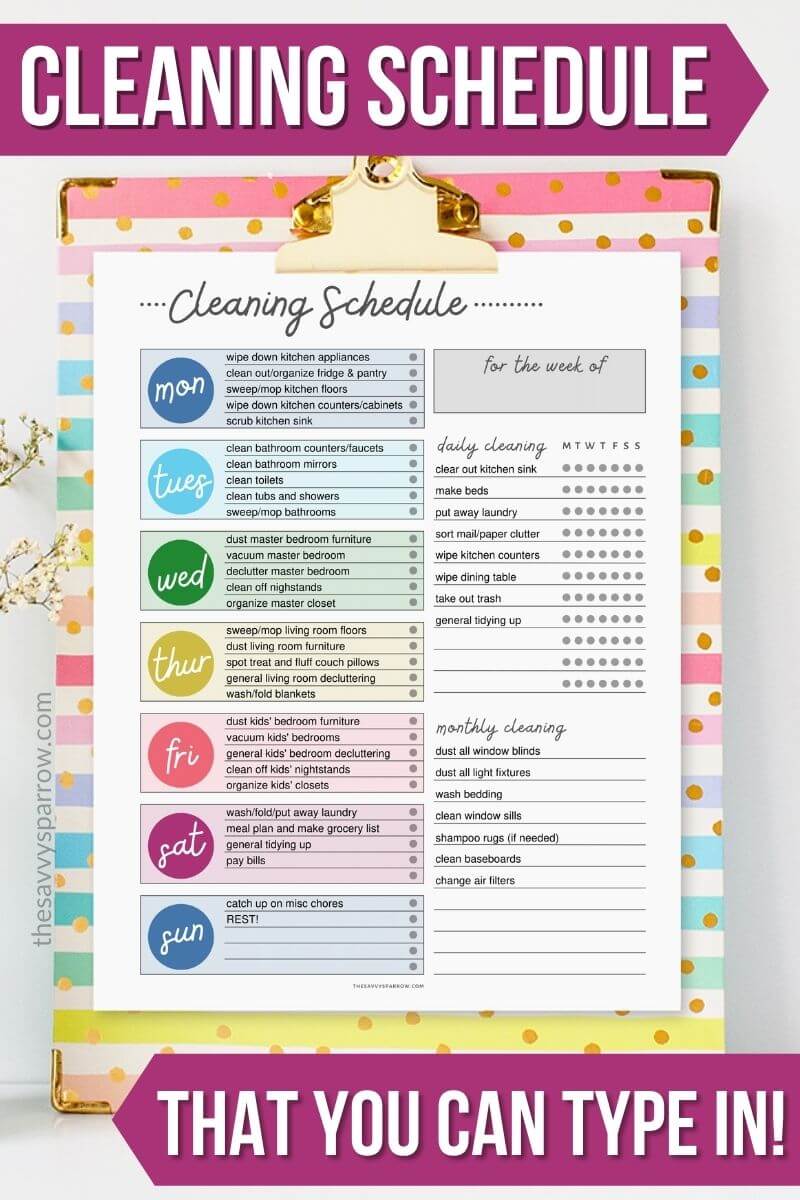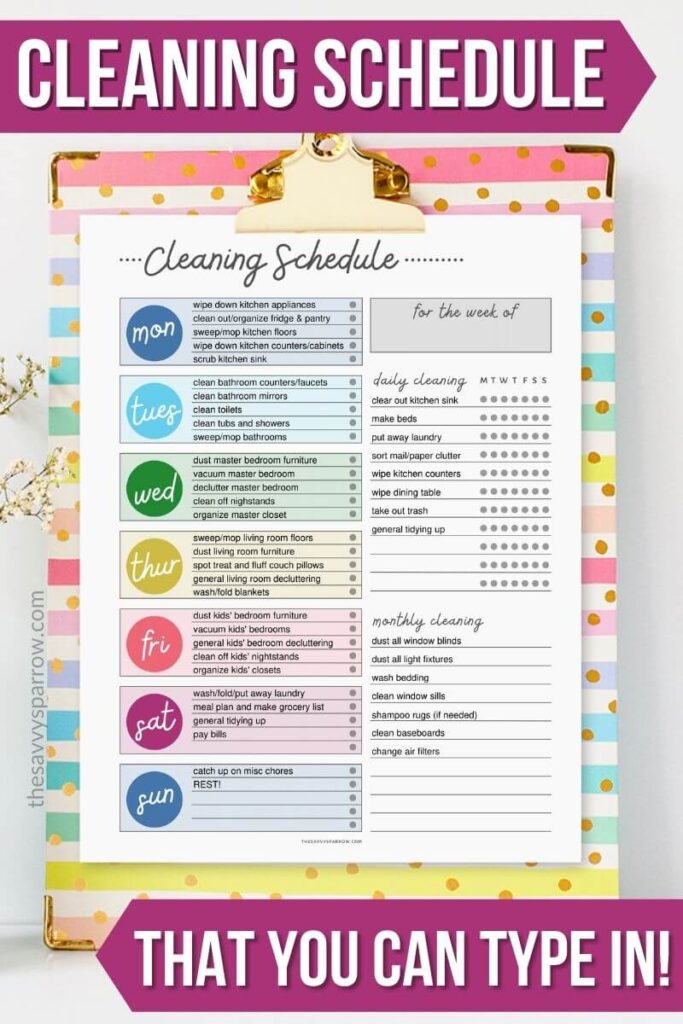 Keep things in their place. We're all guilty of leaving things out so that they're easier to find next time. However, these objects will gather dust and mean you have to make more effort in the long run, so put everything back in its place after use.
Use clever storage. Utilize all of the space in your home to store things that aren't in use year-round, such as seasonal clothing, bedding or home decor. From vacuum storage bags to under-the-bed containers, ensure everything has a home.
*I HIGHLY recommend the storage bins and free printable labels that I write about in this post: My Top Shelf Closet Organization Hack & Free Printable Labels!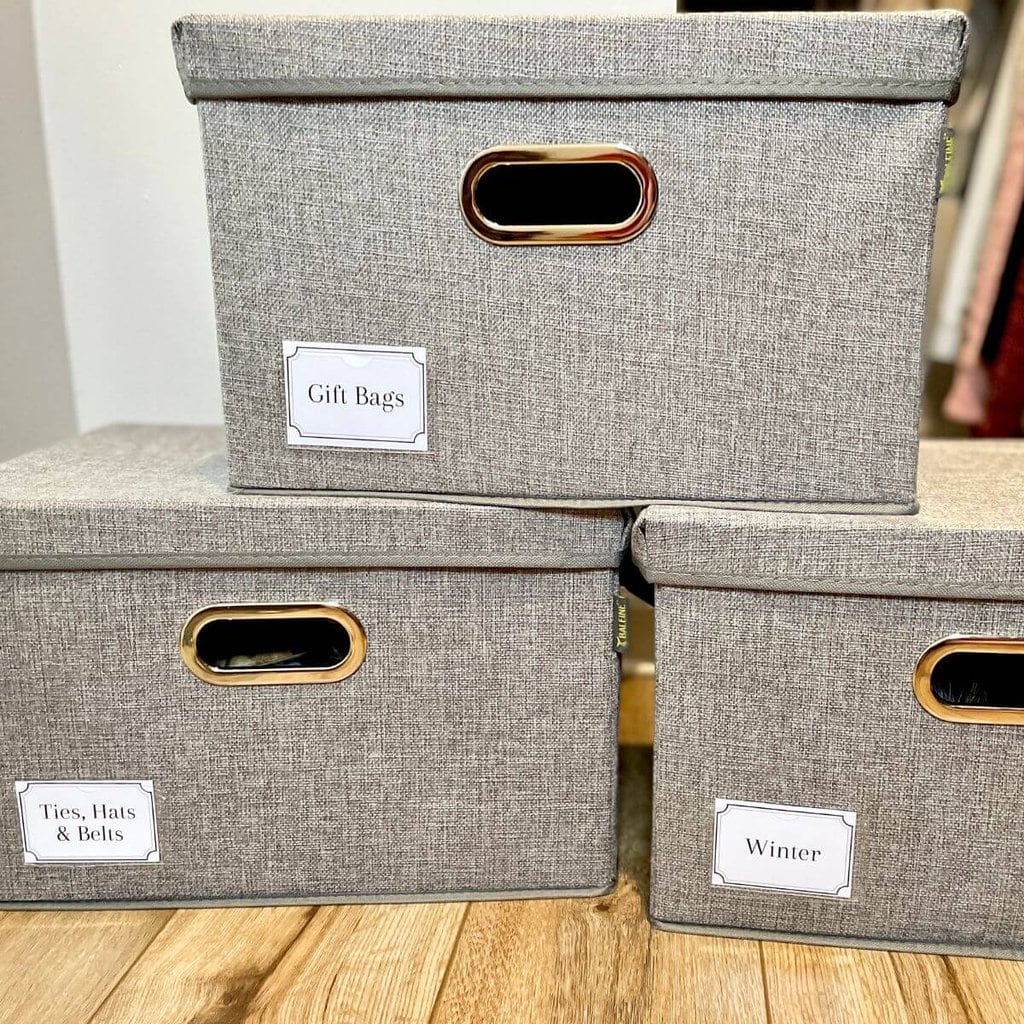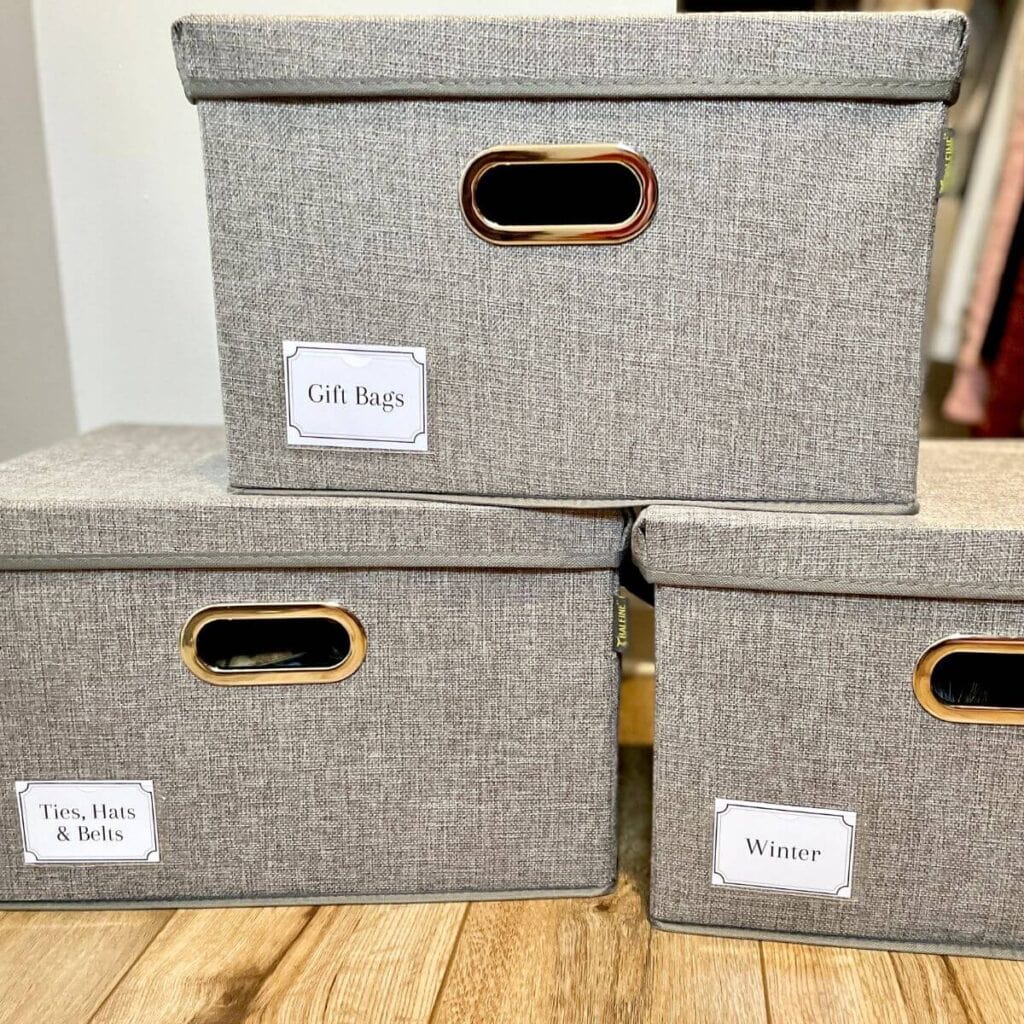 Get the family involved. We know that sometimes, it's quicker just to do it yourself, but it's important that the entire household sticks to a routine, whether it's specific laundry days, changing sheets or doing the dishes – don't be afraid to delegate.
Free Printable Christmas Cleaning Checklists
If you need a printable cleaning checklist that you can print out and refer to as you're doing your holiday cleaning, then I've got you covered! I find it really motivating to be able to cross things off my to-do list as I go, so I created a Christmas Cleaning Checklist for just that!
I've got two different versions of the holiday cleaning checklists for you. Just click the link below whichever cleaning list PDF you want to use: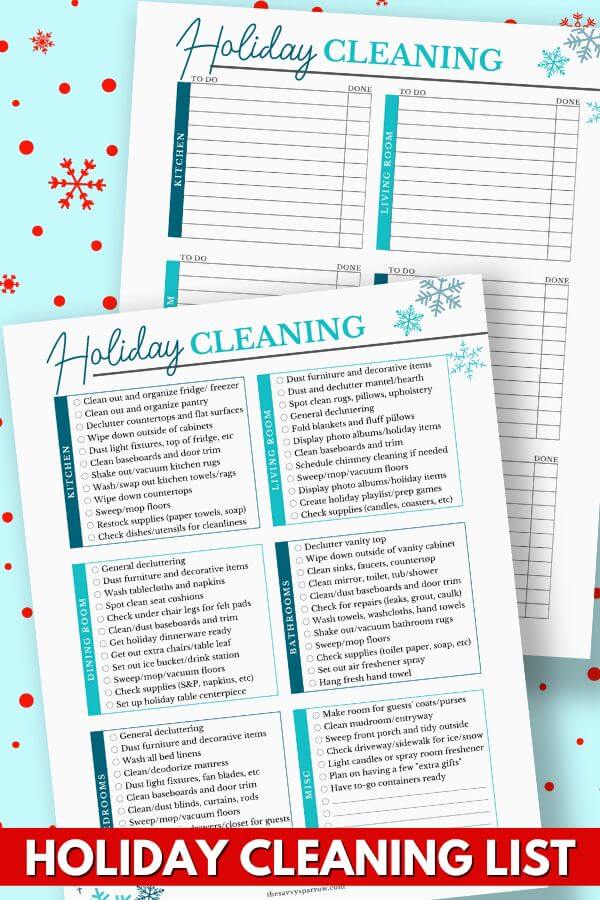 Click HERE for the Free Printable Holiday Cleaning List (Blue Snowflake)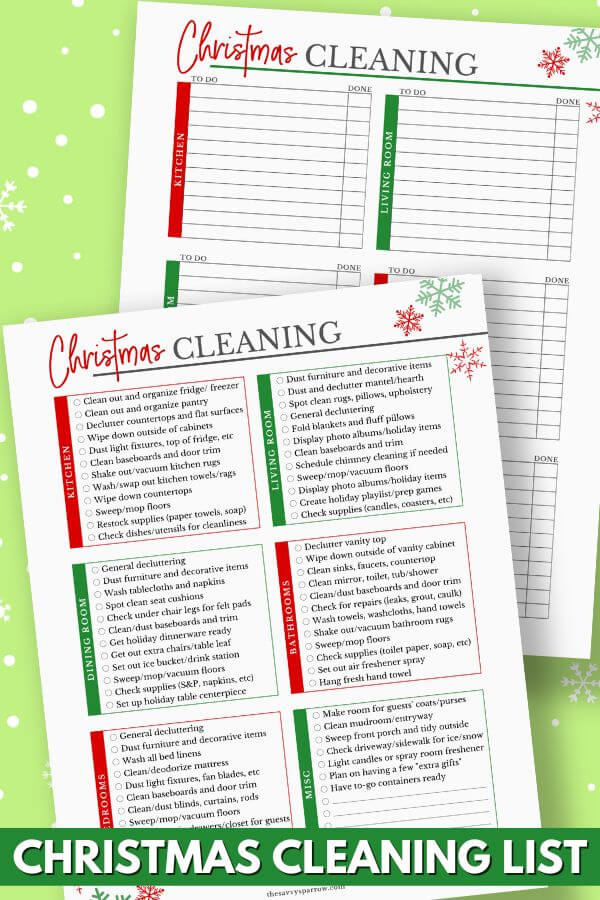 Click HERE for the Free Printable Christmas Cleaning List
Now you know exactly how to clean and declutter your home for the upcoming holiday season, leaving you precious time to relax and have fun with friends and family. Which room will you tackle first?
I hope these free printable checklists and tips help you stress less about your Christmas cleaning! Are you hosting a bunch of guests this year for the holidays? Or what are your favorite cleaning hacks? Leave me a comment down below… I'd LOVE to hear from you!
And don't forget to PIN this post for later: