If you've been following along with me on the Home Cleaning and Organizing Challenge, then you'll be happy to know that you're over half way through the printable home cleaning checklists! Your home should be looking nice and tidy, and hopefully you're starting to feel less stressed and overwhelmed by clutter.
This week it's all about the kids' and guest bathrooms and bedrooms. So if you don't have young kids that live at home, then this will be a pretty easy week for you. (Maybe use the extra time to go back and catch up on previous days that you missed).
I DO have kids, but my girls are a bit older and perfectly capable of helping out around the house, so I'm going to have them tackle their own dressers and closets, and I'll just come behind them and check their work.
By the way, if you missed the first 3 weeks of the whole home cleaning and organizing challenge, then you can access those printable cleaning checklists in these posts:
So without further ado, here is the Week 4 printable cleaning checklist for kids' and guest rooms and bathrooms: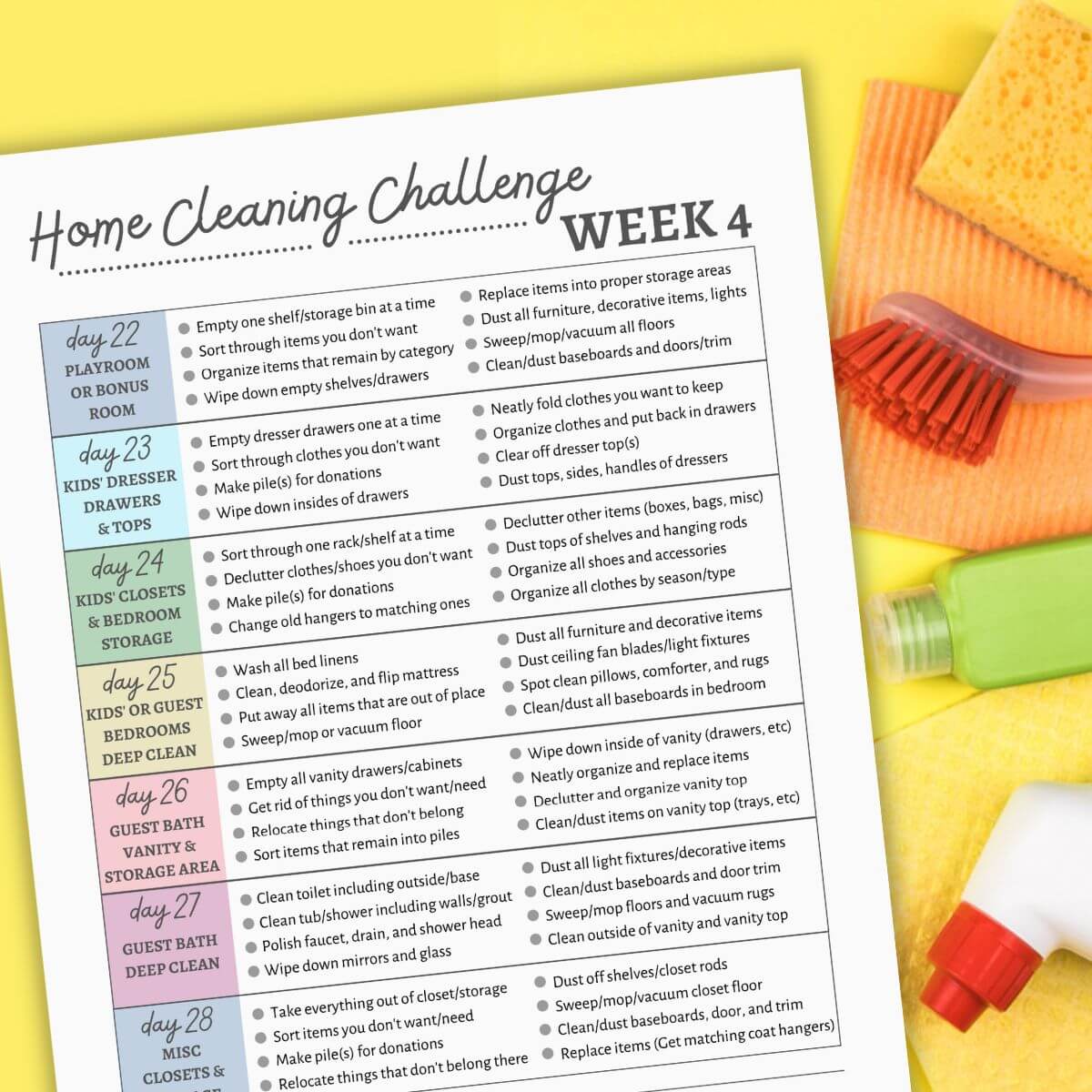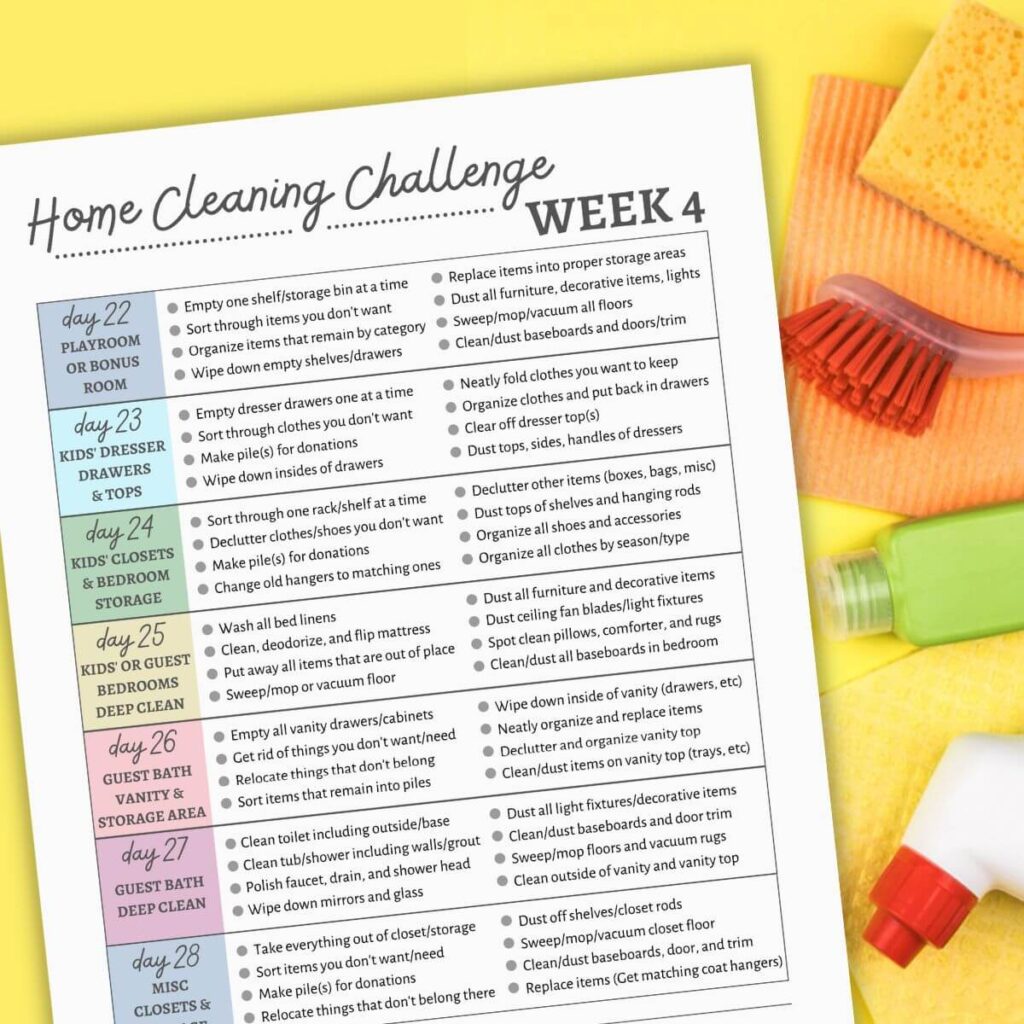 The Home Cleaning and Organizing Challenge – Week 4
If your kids are at the age that they can help you, then this week's cleaning checklist should definitely be easier than some of the past weeks. And as a Mom myself, I know how time-consuming and overwhelming it can be to tackle your kids' rooms, so I really tried to break those messy spaces up into micro-cleaning areas so you don't want to throw in the towel before you even start.
Here are the cleaning jobs for this week:
Day 1: Playroom or Bonus Room
Okay, we're tackling the playroom first, because why not just jump right in feet first, right?! If you have toddlers or elementary aged kids, then your playroom or bonus room could look like a lost cause! But since it's technically your kids' room, why not have them help!
My own playroom is located above the garage, up its own stairwell. I pretty much never go up there, so it can get pretty messy.
I recommend getting at least a few trash bags or large cardboard boxes out to start, because I'm sure that there will be plenty of toys and other items that your kids no longer use.
Here's what to do in the playroom or bonus room:
Empty one shelf or storage bin at a time and sort through items you don't want – Make a pile for trash, a pile to donate, and a pile to keep.
Organize items that remain by category – Put all of the toy cars together, all of the dolls together, etc.
Wipe down empty shelves or drawers – You definitely don't want to do all of this work and then just put toys back on dusty shelves.
Replace items into proper storage areas
Dust all furniture, decorative items, curtain rods, and lights
Sweep/mop/vacuum all floors
Clean and dust baseboards and door trim
Day 2: Kids' Dresser Drawers and Tops
I gave the kids' dressers an entire day by themselves, because as a mom of two daughters, I know that going through their clothing drawers to sort through what they still like and what doesn't fit can take a while.
Here are some steps for going through the dressers and organizing and decluttering everything:
Empty dresser drawers one at a time
Sort through clothes you don't want – Make a pile to donate, a pile to store for younger siblings, and a pile to keep.
Wipe down insides of drawers
Neatly fold clothes you want to keep
Organize clothes and put back in drawers – Group clothing by season or type, like one drawer for shorts, one drawer for long sleeve shirts, etc.
Clear off dresser top(s)
Dust tops, sides, and handles of dressers
And if your kids' dresser drawers are a real mess, then you may want to tackle just a few drawers at time. This printable Drawer Decluttering Challenge is perfect for that, and you can type right into the PDF and use it for other drawers in your home also, like kitchen drawers and bathroom drawers!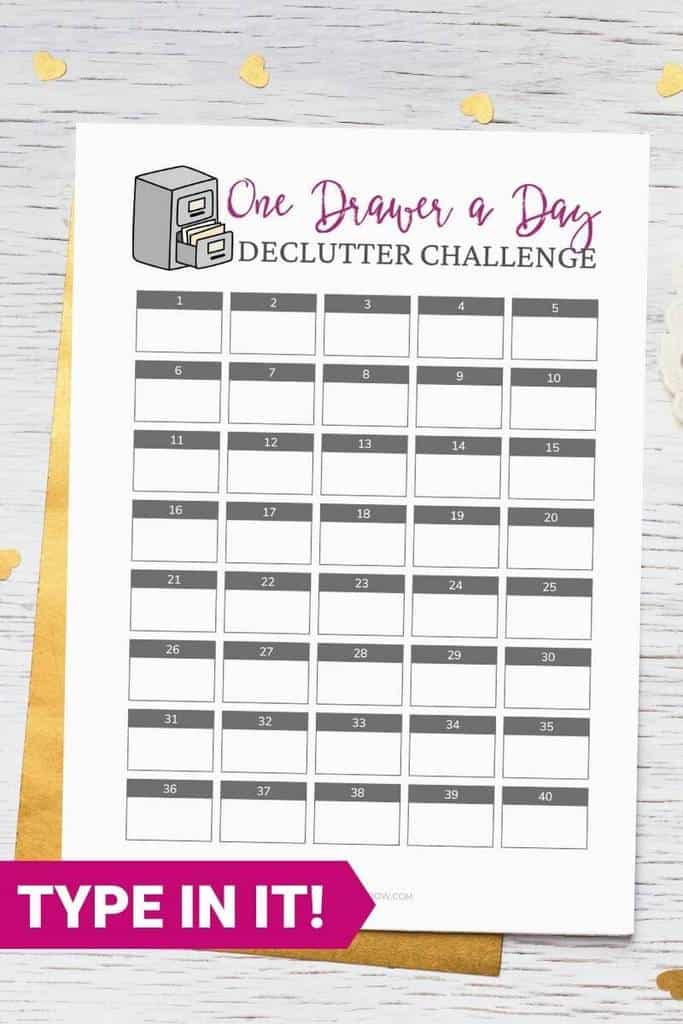 Day 3: Kids' Closets and Bedroom Storage
What's lurking behind your child's closet door? If you crack the door, will an avalanche of shoes and Pokemon cards fall out? Well, not after today!
Here are the cleaning jobs for your kids' closets and other bedroom storage (like bookcases, toy chests, desks, etc.):
Sort through one rack or shelf at a time
Declutter clothes/shoes you don't want – Make a pile for donations, a pile to store for younger siblings, and a pile to keep.
Change old hangers to matching ones – This really makes a HUGE difference in how neat and tidy your closets look!
Declutter other items (boxes, bags, misc)
Dust tops of shelves and hanging rods
Organize all shoes and accessories
Organize all clothes by season/type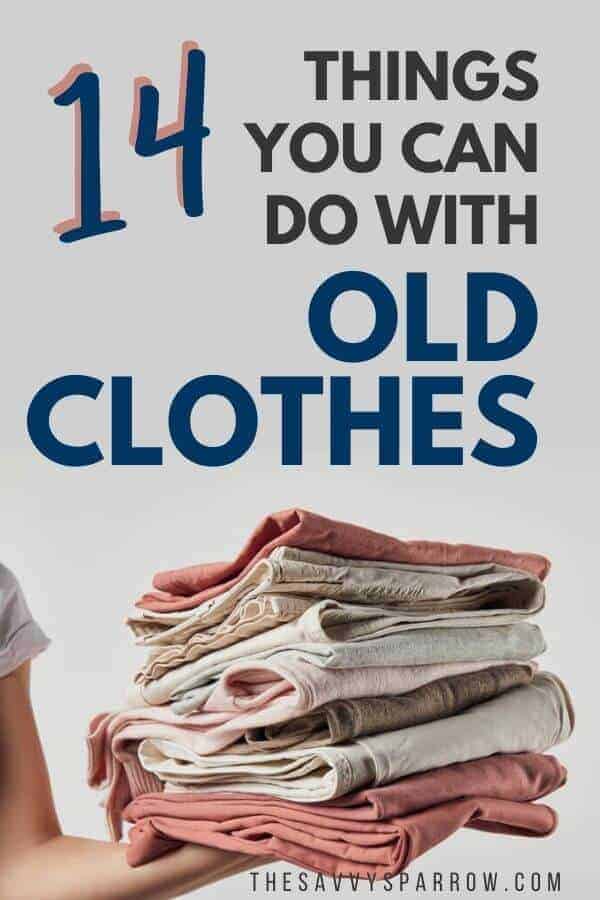 And if you've got a HUGE stack of unwanted clothes scattered on the floor after you're done, then check out this post for What to Do With Old Clothes – 14 Awesome Ideas!
Day 4: Deep Clean Kids' or Guest Bedrooms
Now that all of the kids' bedrooms are decluttered and organized, it's time for some deep cleaning. Here are some cleaning jobs to work on today:
Wash all bed linens
Clean, deodorize, and flip mattress
Put away all items that are out of place
Sweep/mop or vacuum floor
Dust all furniture and decorative items
Dust ceiling fan blades and light fixtures
Spot clean pillows, comforter, and rugs
Clean/dust all baseboards and door trim in the bedrooms
By the way, once your kids' rooms are perfectly cleaned, you'll want to keep them that way! And that means encouraging your kids to make their own beds. Both of my daughters have daybeds, which can be difficult to make, but they have this awesome zipper bedding that I absolutely LOVE and they can make the beds themselves in about 60 seconds!
Day 5: Kids' or Guest Bath Vanity and Storage Areas
Your guest bathroom should be fairly clean already, because you don't want surprise guests having to use a dirty bathroom. But just in case, I separated these cleaning jobs into two days… Today, you'll just focus on the storage areas in the bathrooms, like the vanity drawers or linen closets.
Here's the cleaning checklist for the bathroom vanity and closets:
Empty all vanity drawers or cabinets
Get rid of things you don't want or need – Like expired toiletries, mini sample packs that you'll never use, etc.
Relocate things that don't belong
Sort items that remain into piles
Wipe down inside of vanity (drawers, shelves, etc.)
Neatly organize and replace items
Declutter and organize vanity top
Clean and dust items on vanity top (trays, etc)
Day 6: Kids' and Guest Bath Deep Clean
Yesterday you worked on decluttering and organizing all of the bathroom "stuff", and today you'll focus on my least favorite part of whole home cleaning… deep cleaning the bathrooms:
Clean toilet including outside and base
Clean tub/shower including walls and grout
Polish faucet, drain, and shower head
Wipe down mirrors and glass
Dust all light fixtures and decorative items
Clean/dust baseboards and door trim
Sweep/mop floors and vacuum rugs
Clean outside of vanity and vanity top
Day 7: Miscellaneous Closets and Storage
This day of the Home Cleaning and Organizing Challenge is kind of a "flex" day that you can use to clean out and organize and miscellaneous closets or storage areas in your home. Have a coat closet or a game closet? Or maybe a giant hutch in your dining room that needs some decluttering? Work on those areas today:
Take everything out of closet/storage
Sort items you don't want/need
Make pile(s) for donations
Relocate things that don't belong there
Dust off shelves/closet rods
Sweep/mop/vacuum closet floor
Clean/dust baseboards, door, and trim
Replace items (Get matching coat hangers)
Free Printable Home Cleaning Checklist for Week 4
You can print out the free home cleaning challenge checklist for week 4 down below! And then work through each day, crossing off things on the checklist as you go.
I find that when I can put a little check mark on a to-do list, it gives me a sense of accomplishment, and I feel more motivated to keep going! So hopefully that works for you, too!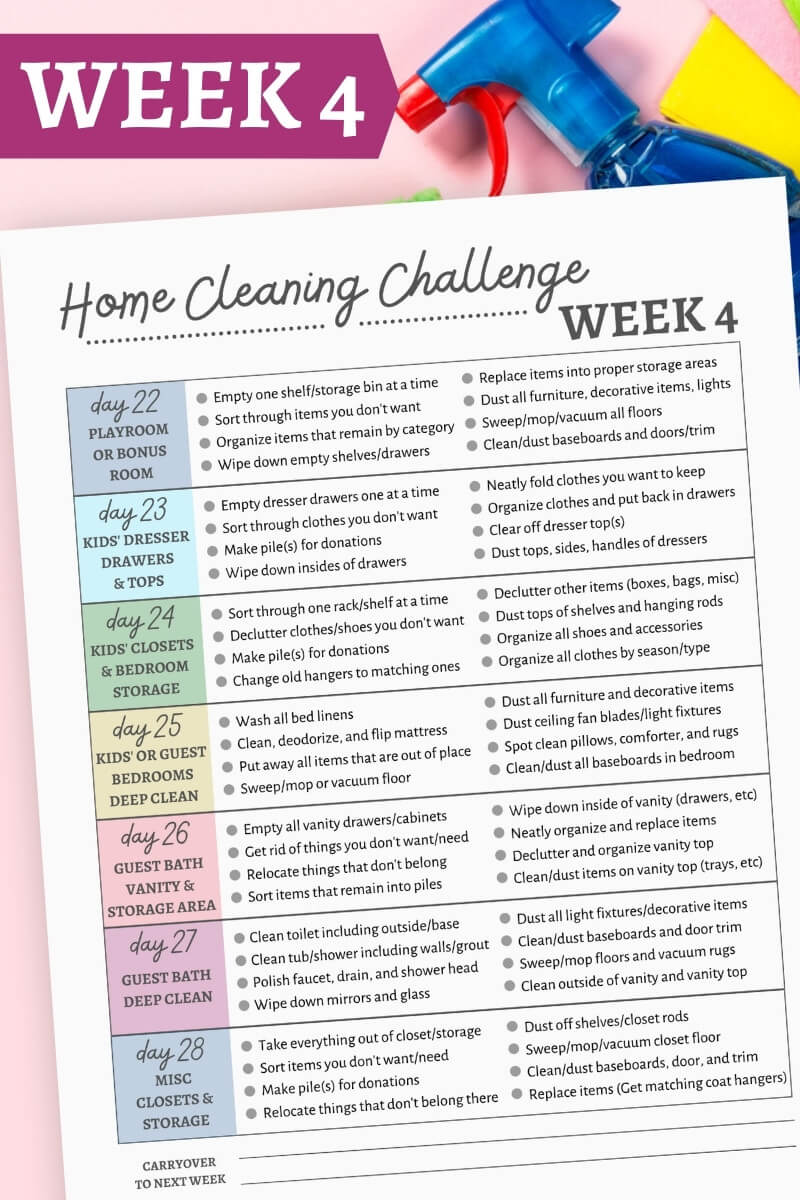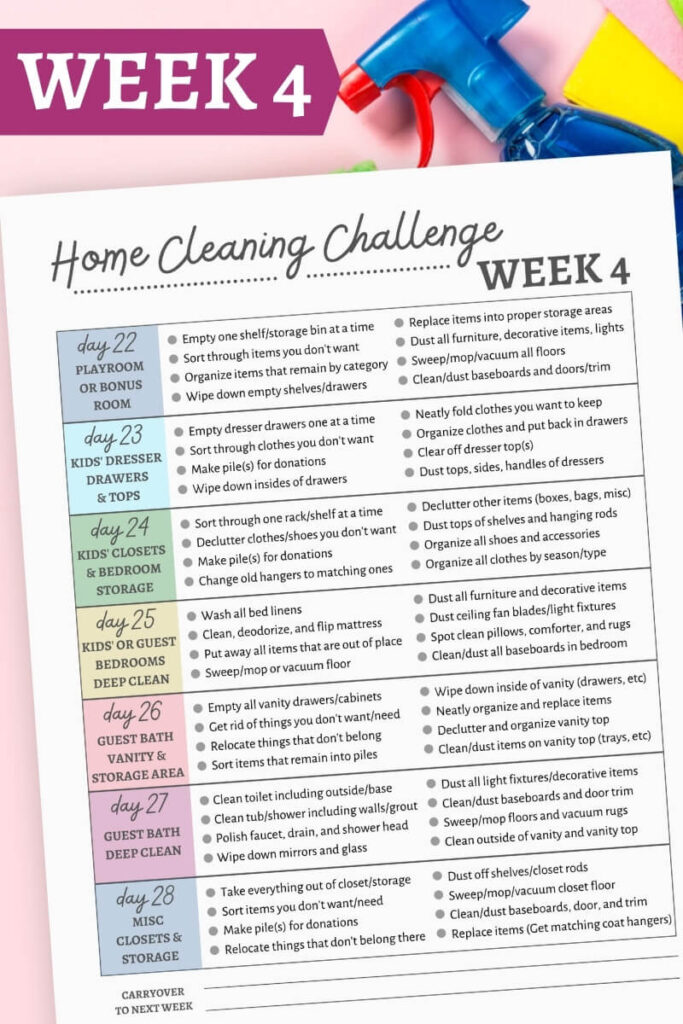 Get the Free Printable Home Cleaning and Organizing Checklist for Week 4 HERE
Finished with the week 4 checklist? Grab the Week 5 Cleaning and Organizing Challenge HERE!
Other Cleaning Tips and Ideas
And after you finish up with Week 4 of the cleaning challenge, then here are some other cleaning checklists and tips that can help you keep your home clean: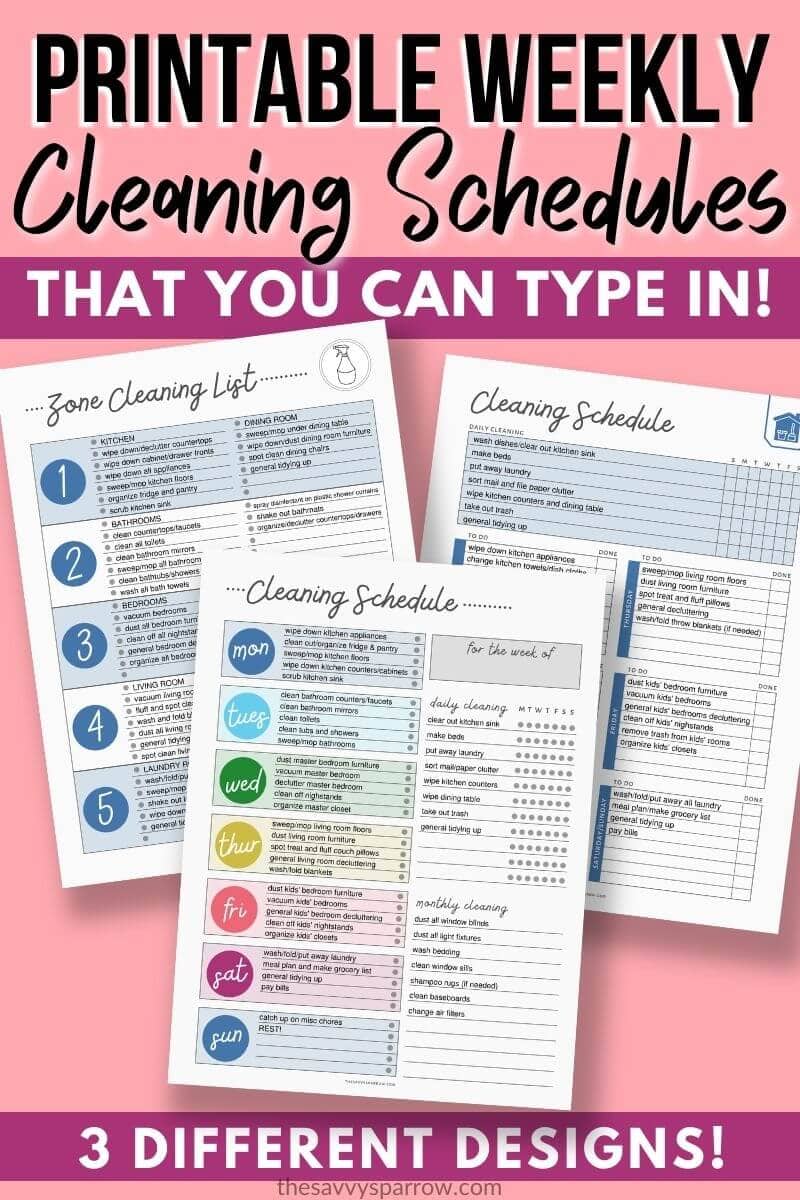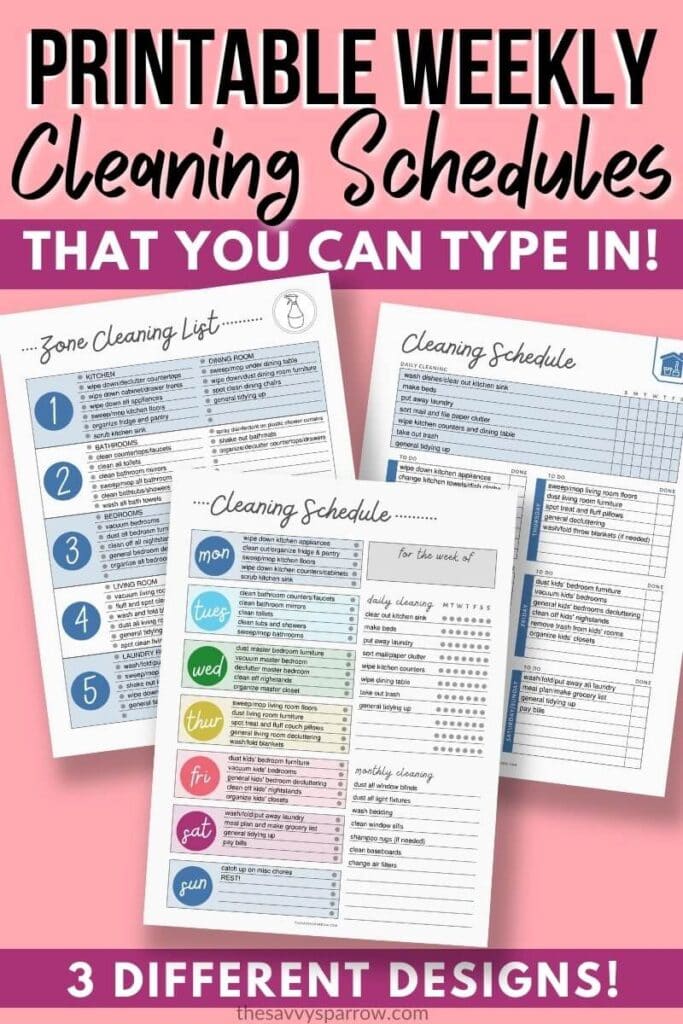 Create a Weekly Cleaning Schedule You Can Stick To – Printable Checklist! – Learn how to create your own weekly cleaning routine to maintain your newly tidy home!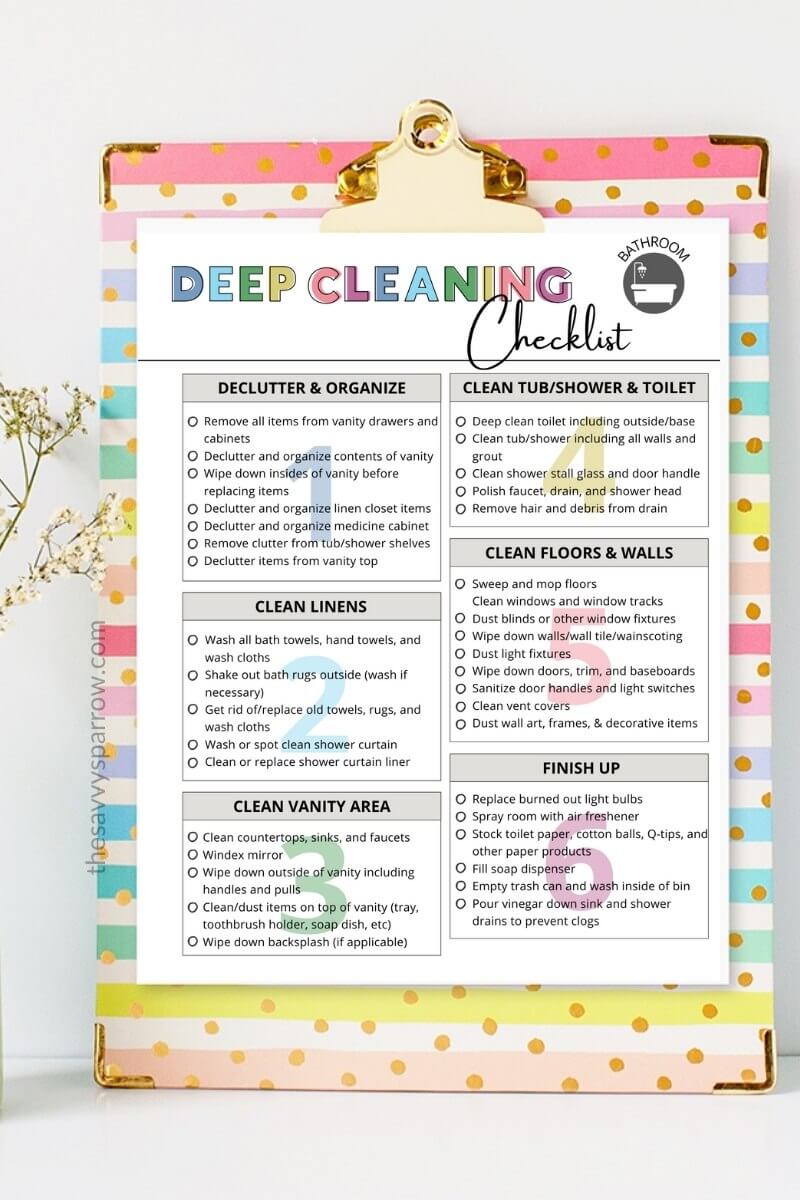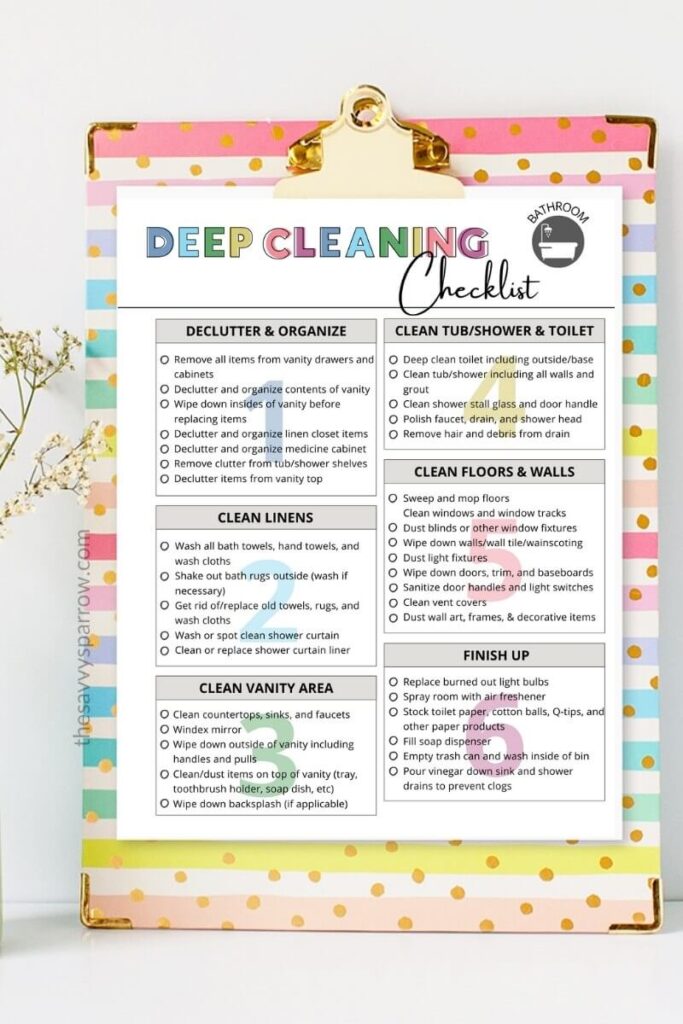 Bathroom Cleaning Checklists – For Daily, Weekly, and Deep Cleaning! – If your bathrooms are SUPER dirty, then you may want a more detailed cleaning checklist to use… These awesome free printable bathroom cleaning checklists should help!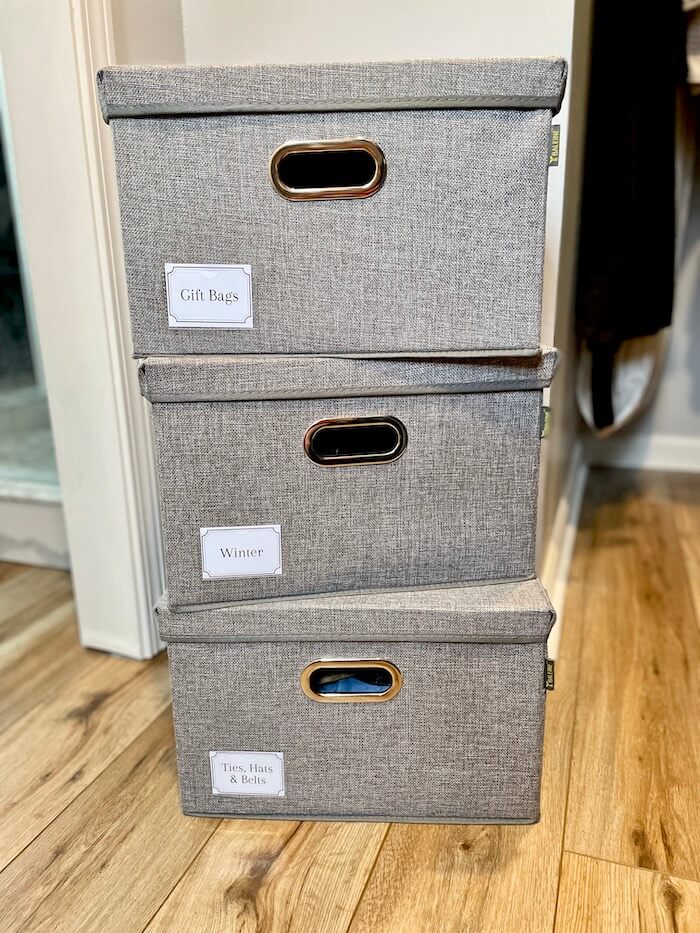 My Top Shelf Closet Organization Hack & Free Printable Labels! – If you have a lot of stuff that you store in the top of your closets, then you MUST check out this post for my absolute FAVORITE storage bins! And I've got free printable labels that you can type in yourself to customize!
I hope you've been enjoying the Whole Home Weekly Cleaning Challenge… at least as much as anyone could enjoy cleaning! Feel free to leave me a comment to let me know how it's going for you!
And don't forget to PIN this post for later: