Does your home need a refresh? Use this 5 week home cleaning and organizing challenge to get every room in tip-top shape! Grab the free printable cleaning and organizing checklist now!
Well, we made it to Week 5 of the Whole Home Cleaning and Organizing Challenge! It was touch and go there for a minute!
Remember when I said a few weeks ago that I was going to have my two daughters work on their own rooms? Well, I actually ended up spending 6 straight hours decluttering, organizing, and cleaning my 10 year old daughter's room with her… She is such a pack rat and never wants to get rid of anything, so I had to help her figure out what she REALLY wanted to keep and what we could donate or trash.
I meant to take a picture of the 32 trash bags, boxes, and donation bins that were sprawled out in my entryway, but I forgot. 🙂
And now we're on to the very last week!
This week we're tackling the areas that you probably don't think about when you think "Home Cleaning and Organizing"… Like organizing your computer files, your cell phone camera roll, and your family paperwork. And of course, the garage… which I split into two days to make it more manageable!
By the way, if you missed the first 4 weeks of the whole home cleaning and organizing challenge, then you can click the links below to visit those posts and grab the weekly checklists:
So without further ado, here is the Week 5 printable: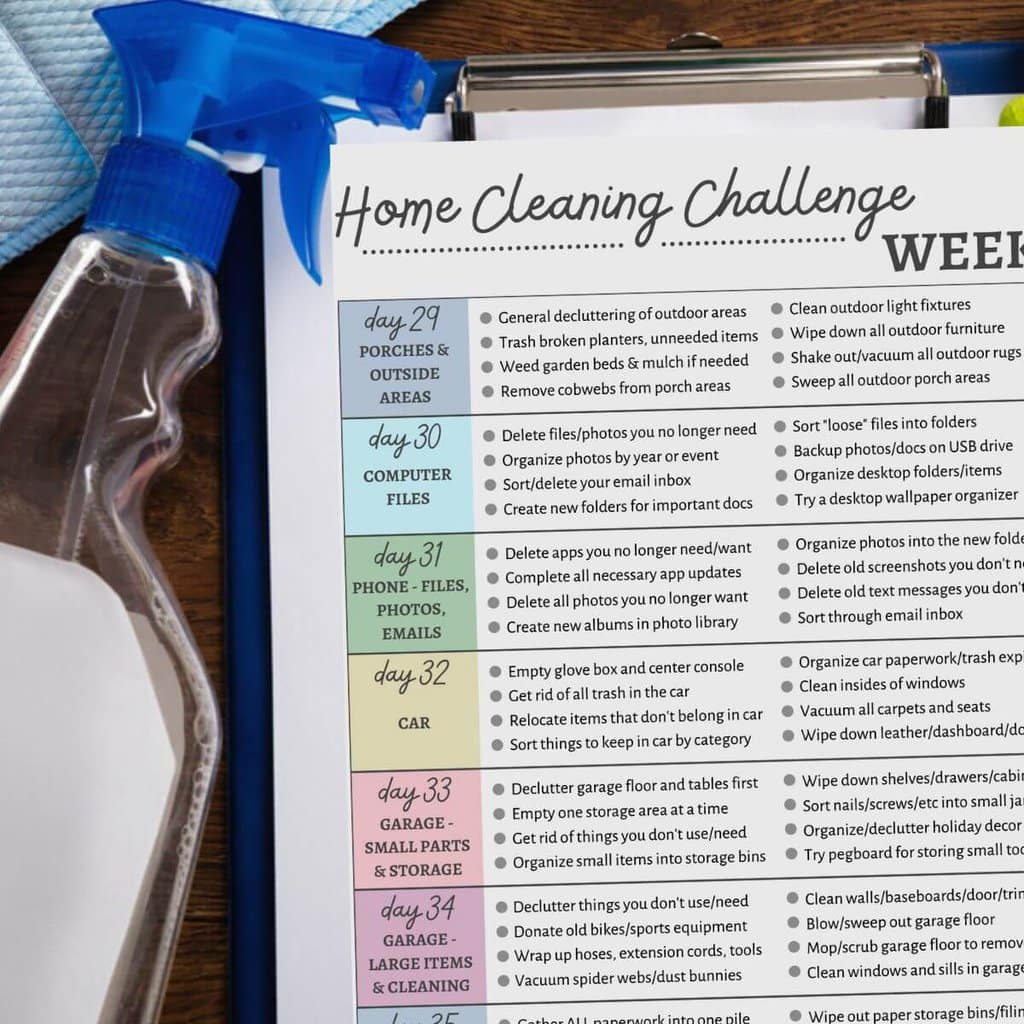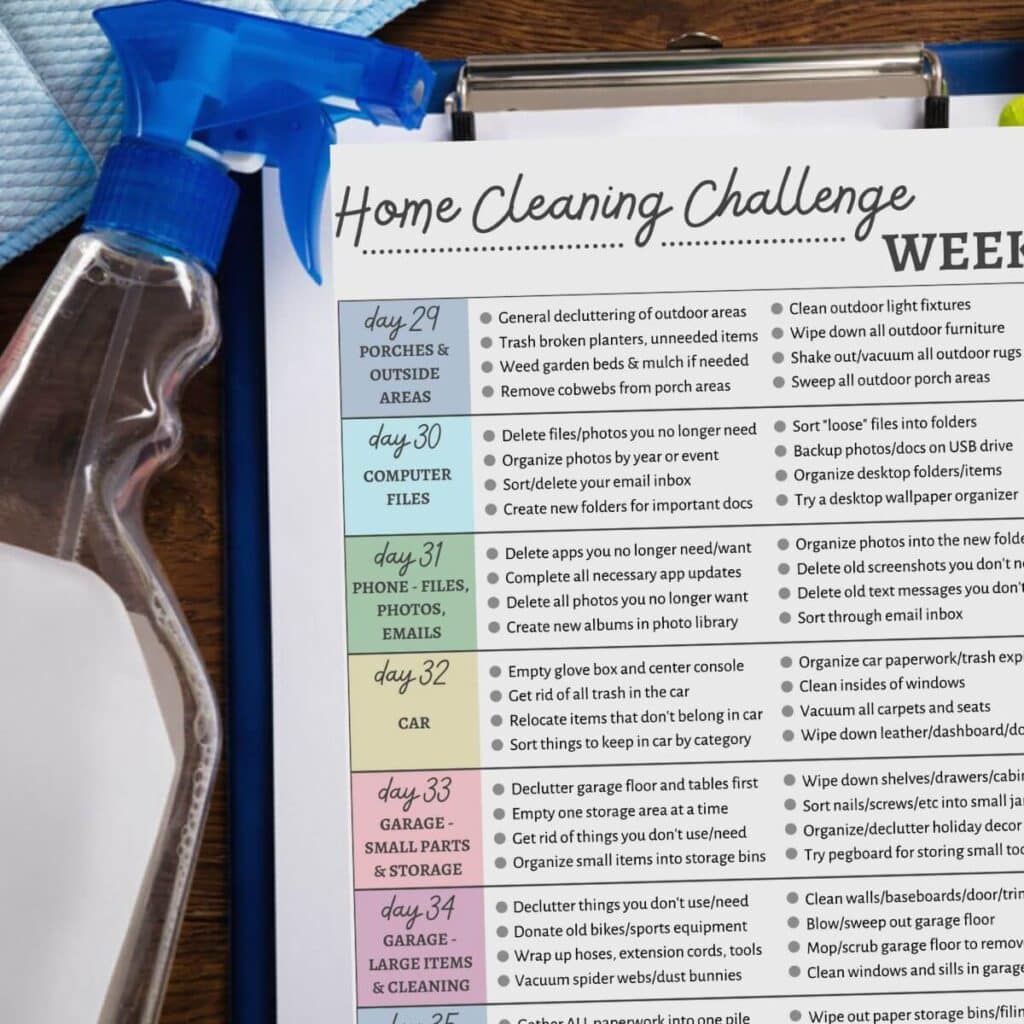 The Whole Home Cleaning and Organizing Challenge – Week 5
Day 1: Porches and Outside Areas
If you're doing this home cleaning challenge as part of your Spring Cleaning, then you'll definitely want to tidy up the outside of your home as well. A rise in temperatures and the end of winter means that you'll probably have more neighbors stopping by or you may want to enjoy your outdoor patio areas more.
So for this day of the home challenge, let's make those outside spaces inviting by completing the following jobs:
General decluttering of outdoor areas
Trash broken planters, worn out doormats, etc.
Weed garden beds and mulch if needed
Remove cobwebs from porch areas
Clean outdoor light fixtures
Wipe down all outdoor furniture
Shake out/vacuum all outdoor rugs
Sweep all outdoor porch areas
Day 2: Computer Files
Depending on how bogged down your hard drive is, you may need 2 days to complete this task!
Or, if you rely heavily on your computer for work like I do, then you may want to try a challenge that's dedicated completely to digital decluttering like this one: Digital Decluttering Challenge – 30 Days to Organize Your Digital Life!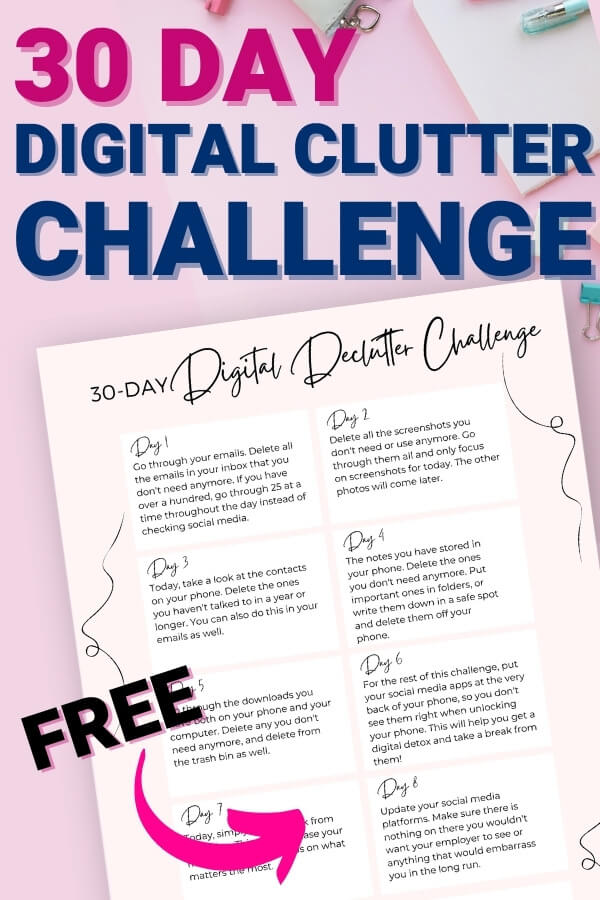 Think of this challenge as a 30 day intensive clean up of ALL of your digital life… including your cell phone photo library, computer files, email inbox and more!
But if you don't need that much time, then you can just get these tasks done on your computer for today:
Delete files/photos you no longer need
Organize photos by year or event
Sort/delete your email inbox
Create new folders on your desktop for important docs
Sort "loose" files into folders
Backup photos/docs on USB drive
Organize desktop folders/items
Try a desktop wallpaper organizer – I've got some AWESOME computer desktop organizers that you can use here: Desktop Wallpaper Organizer to Organize your Computer Files – Like the one below: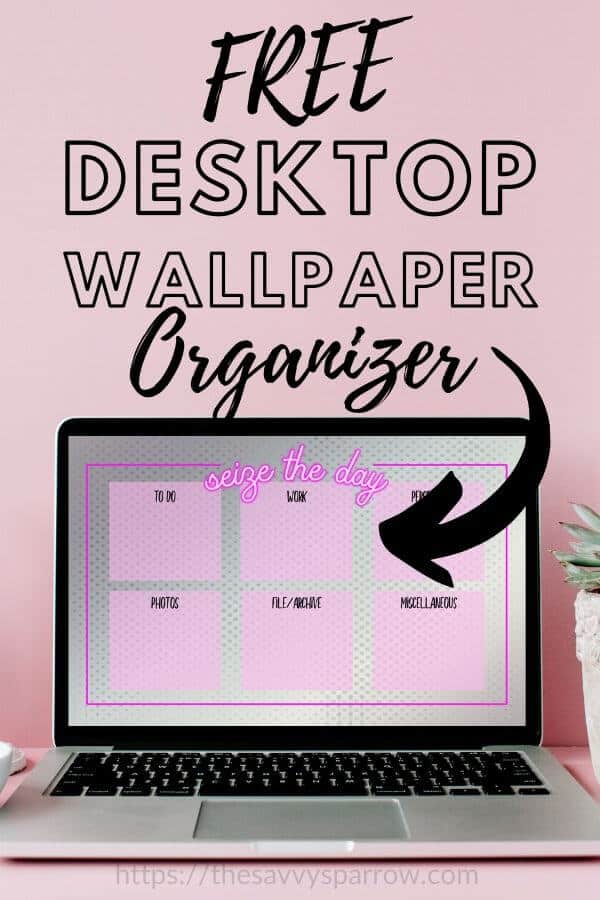 Day 3: Your Cell Phone – Files, Photos, and Emails
Your cell phone is another device that needs some decluttering every now and then. And though cleaning up and organizing your cell phone files and photos isn't difficult manual labor, it can still be very time consuming.
Here are some things you can do to declutter and organize your cell phone:
Delete apps you no longer need/want
Complete all necessary app updates
Delete all photos you no longer want
Create new albums in your photo library
Organize photos into the new folders/albums
Delete old screenshots you don't need
Delete old text messages you don't need
Sort through email inbox
Day 4: Car
This day of the home cleaning and organizing challenge was pretty easy for me, because my kids are older so I didn't have to worry about smushed Goldfish crackers in the cracks of the seats. But if you have kids (or a bad drive-thru habit), then your car may be in need of a good cleaning.
Here are some jobs to do today to get back to that "new car" feeling:
Empty glove box and center console
Get rid of all trash in the car
Relocate items that don't belong in car
Sort things to keep in car by category
Organize car paperwork/trash expired docs
Clean insides of windows
Vacuum all carpets and seats
Wipe down leather/dashboard/doors
Day 5: Garage – Small Parts and Storage
It seems like my husband and I have to do a garage clean out every 4 months or so, so we didn't really need two full days for this area of our home.
But, if your garage looks like an episode of hoarders, you may need a bit longer. The free printable home cleaning checklists have the garage split up into two days, but just use whatever time you need to complete these tasks:
Declutter garage floor and tables first
Empty one storage area at a time
Get rid of things you don't use/need
Organize small items into storage bins
Wipe down shelves/drawers/cabinets
Sort nails/screws/etc into small jars or bins
Organize/declutter holiday decor
Try pegboard for storing small tools
Day 6: Garage – Large Items and Cleaning
Once you're done with the small organization jobs in the garage, like separating out your husband's bolts, washer, and screws, you can focus on the larger items and the overall cleaning.
Declutter things you don't use/need
Donate old bikes/sports equipment
Wrap up hoses, extension cords, tools
Vacuum spider webs/dust bunnies
Clean walls/baseboards/door/trim
Blow/sweep out garage floor
Mop/scrub garage floor to remove stains
Clean windows and sills in garage
Day 7: Family Paperwork
Congratulations! You made it to the very last day of the entire home cleaning and organizing challenge! If that isn't cause for a giant slice of cake, I don't know what is!
Today is all about the paper clutter in your home. This could include important documents that you need to keep as well as random receipts from 5 years ago that need to be thrown out.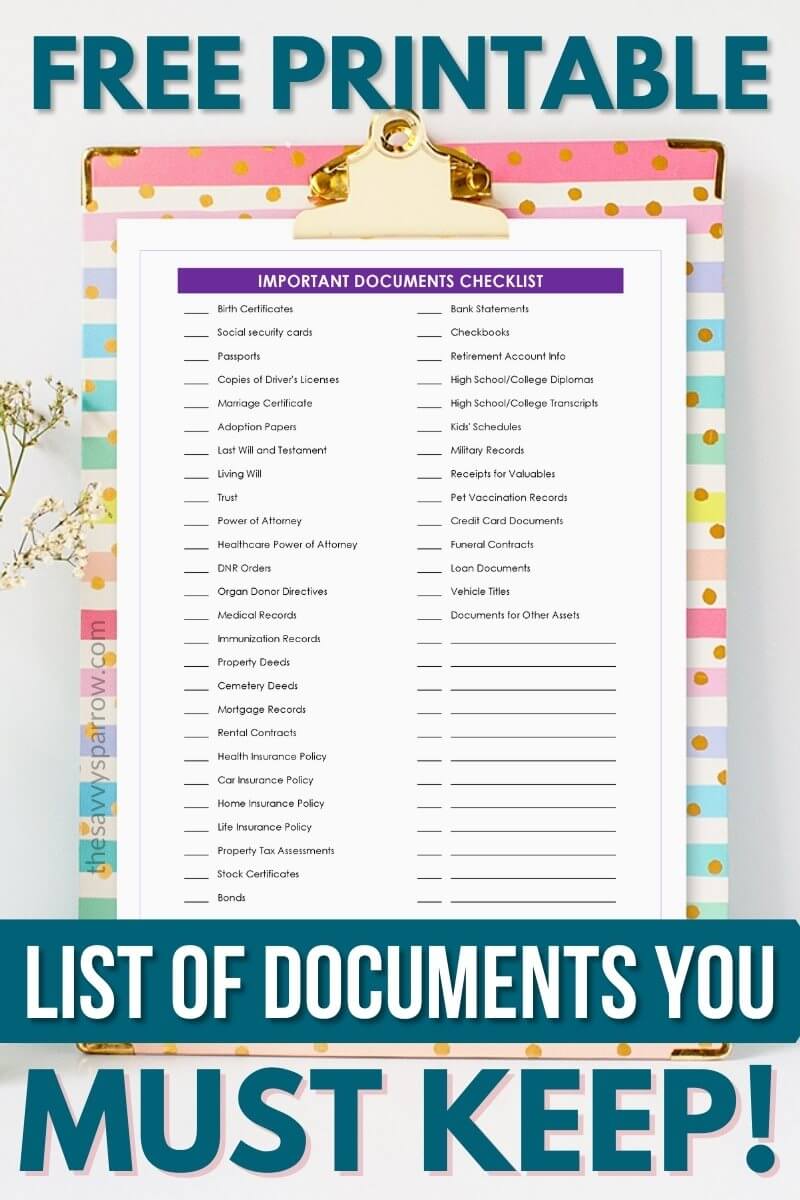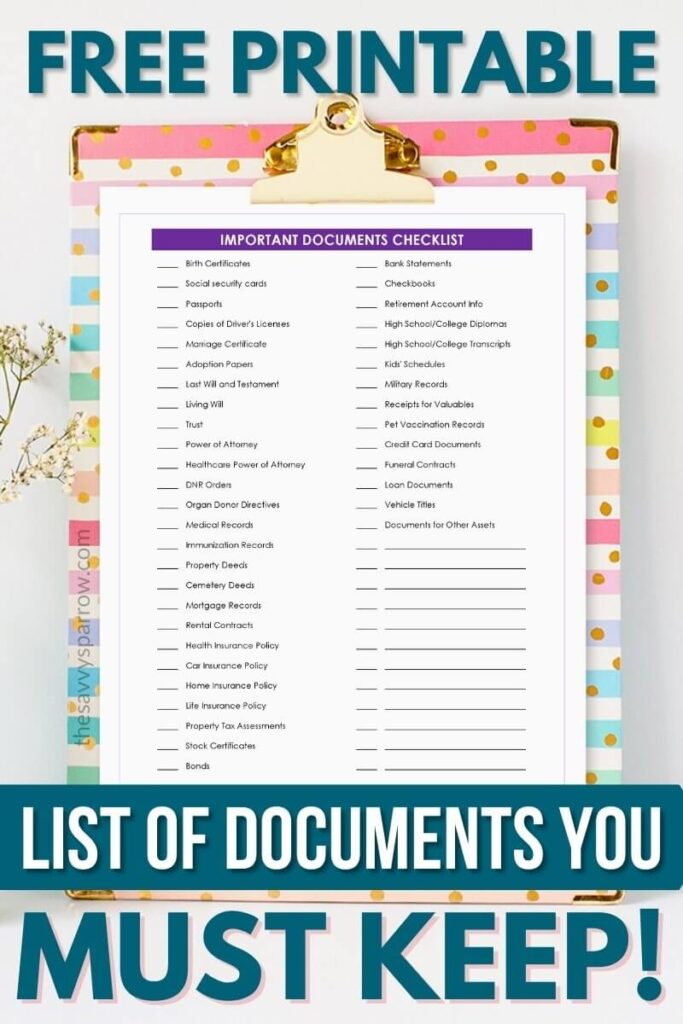 *By the way, you can grab a free printable checklist of important documents to keep here!
Here are the cleaning and organizing jobs to work on today:
Gather ALL paperwork into one pile
Get file folders/hanging files/labeler
Sort all papers into piles by category
Trash papers you no longer need
Wipe out paper storage bins/filing cabinet
Create folder labels with your categories
File papers into new labeled folders
Designate spot for all incoming mail
Other Cleaning and Organizing Posts to Help with the Challenge
Need some more help with cleaning and organizing your home? I've got even more tips that can help you with this week of the home challenge down below:
Organize Paperwork: How to Setup a Filing System for Family Papers – You can check out this post to see how I organize all of my family's paperwork into a neat filing system… I have a TON of papers to keep track of, but I can find anything that I need to access in about 30 seconds flat!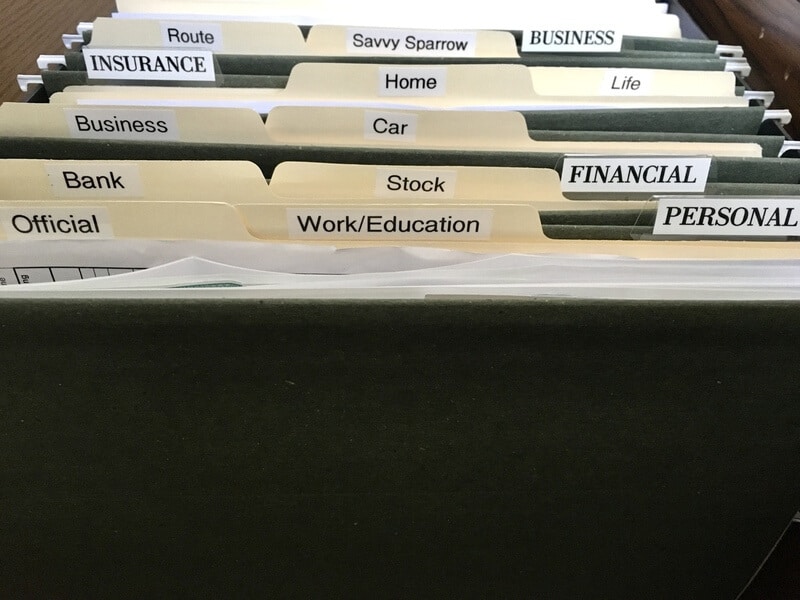 How to Organize Computer Files and Declutter Digitally – This post has a TON of helpful tips and ideas for organizing your computer files by category! Take it from me… I upload and download about 30-50 files a day, and I receive about 200+ emails per day!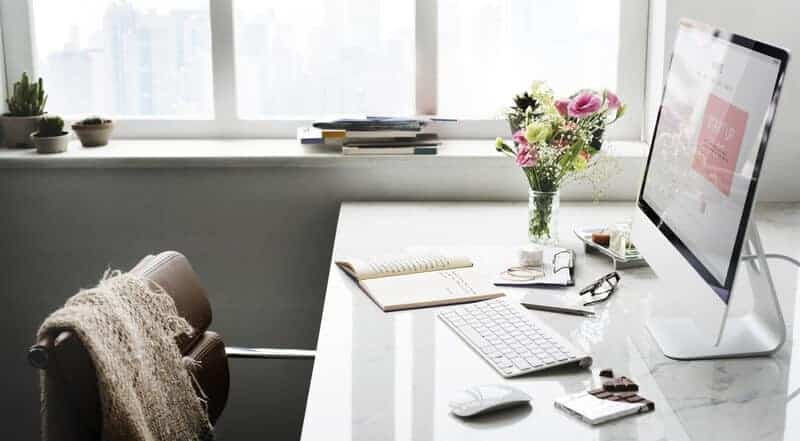 *Be sure to check out some of the blog posts listed above to help you with things like creating a filing system and organizing your computer!
Free Printable Entire Home Cleaning and Organizing Checklist – Week 5
Ready to get started on week 5 of the home cleaning challenge? Just click the link down below to download the free printable cleaning checklist for this week!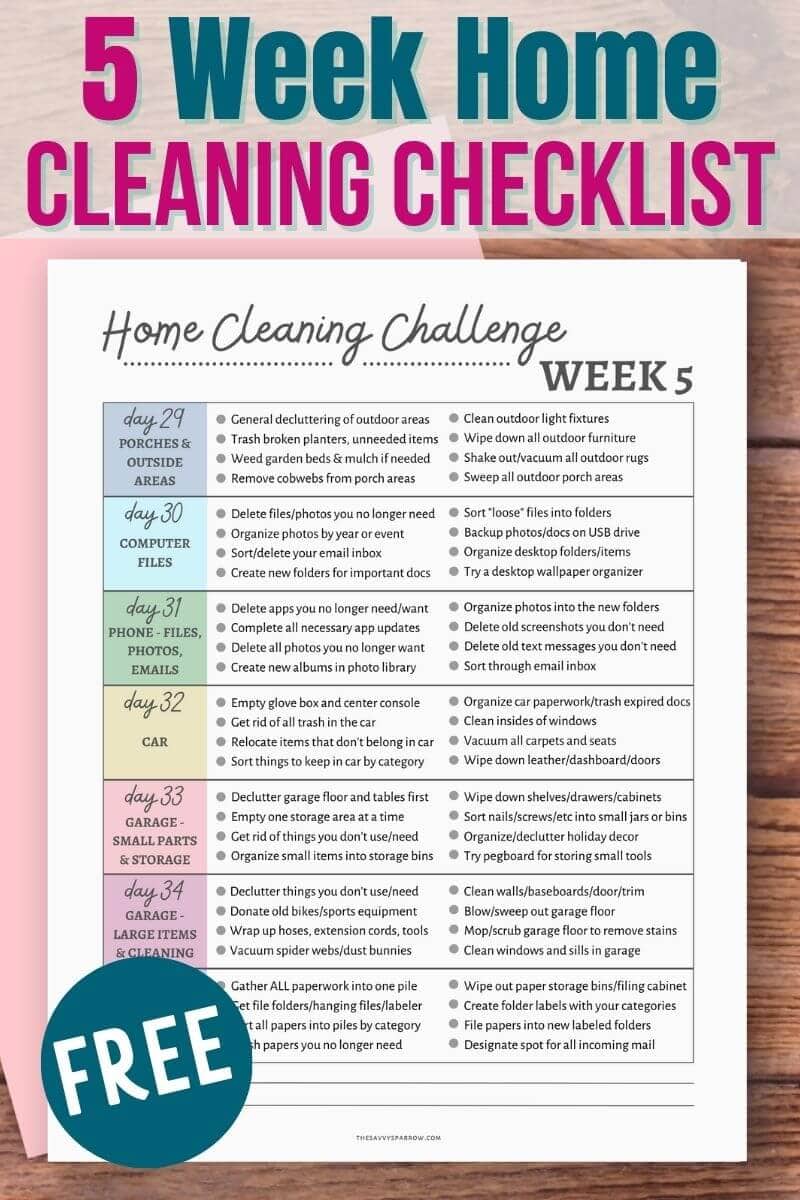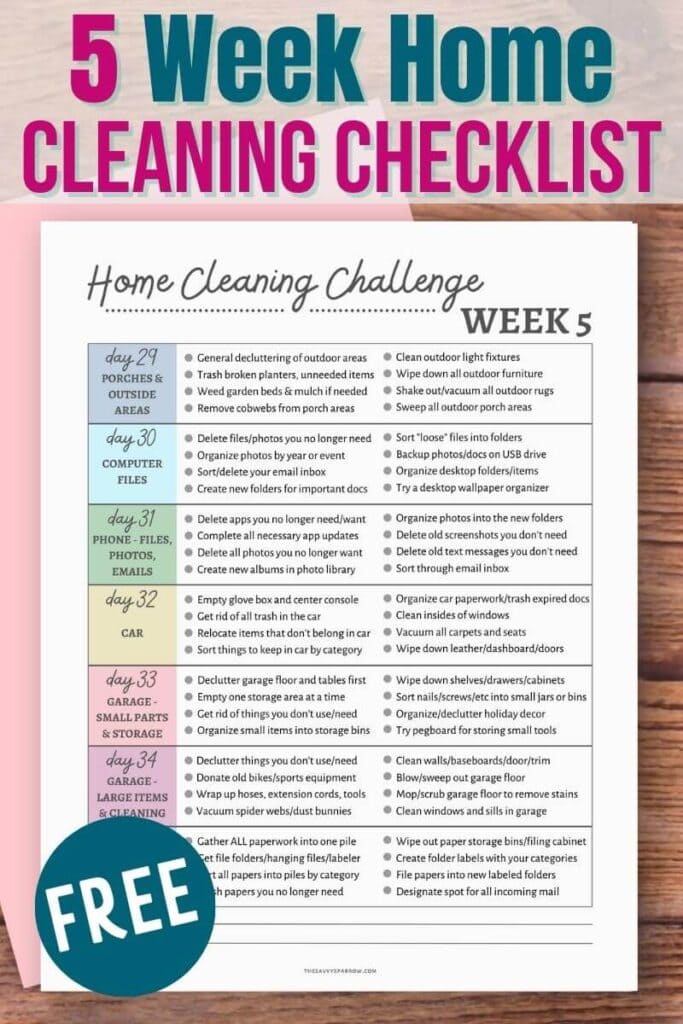 Click HERE for the Free Printable Cleaning and Organizing Checklist
And then what challenge should we do next? What areas of home management do you need help with? Kids' activities? Marriage and spending more quality time with your spouse? Household finances? More cleaning?
Just leave me a comment down below and let me know if there's a specific printable challenge that you would like to see … I'd LOVE to hear from you!
And don't forget to PIN this post for later: