If you're following along with the ultimate 5 week whole home cleaning and organizing challenge that I created recently, then you'll be happy to know that you're almost halfway to the finish line!
Welcome to Week 3 of the Home Cleaning and Organizing Challenge!
I bet by now you're feeling pretty darn good about the progress you're making in your home… I know I am!
If you're following along with me, then you'll be happy to know that this week is much easier. We've tackled some of the messiest rooms (like the master bathroom and the kitchen) already. And this week it's all about the common living spaces, laundry room, and home office areas.
I know in my house, these are the areas that are the easiest to clean, because it seems like they have the least amount of "stuff" in them… well, besides my office. If you work from home like me, you might need an extra day to organize that space!
*And if you missed the beginning of the home cleaning challenge then check out these posts:
So without further ado, here is the Week 3 printable cleaning challenge: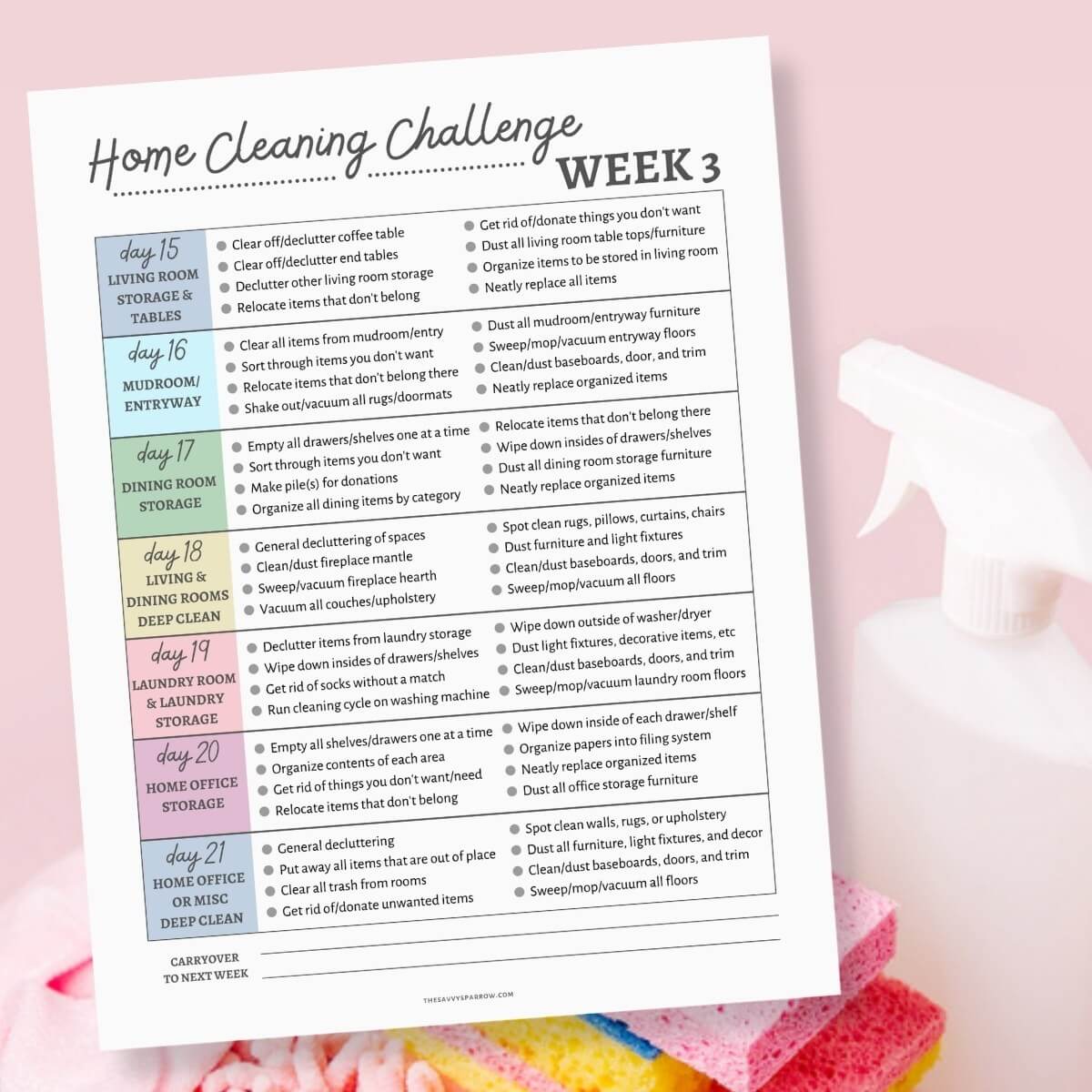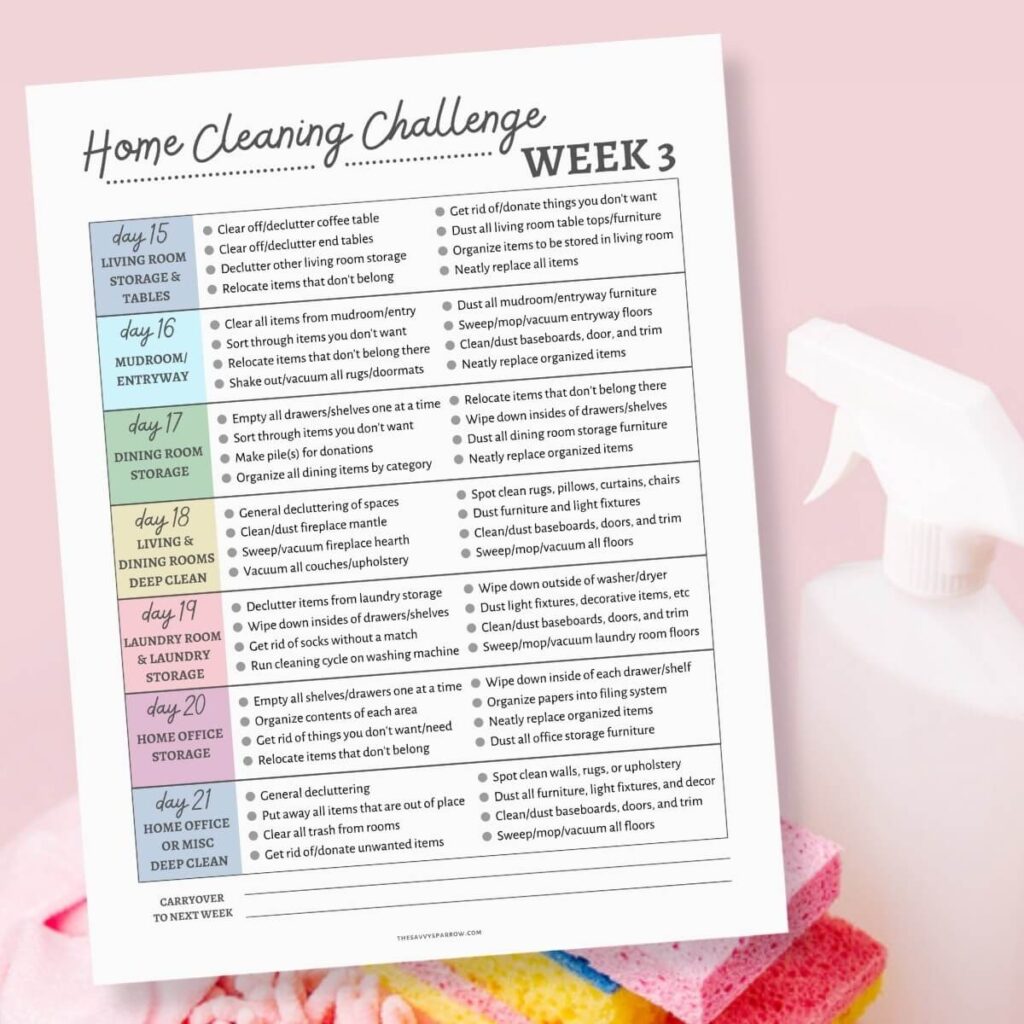 The Whole Home Organization and Cleaning Challenge – Week 3 Jobs
Here are the areas to focus on when cleaning and organizing your home this week:
Day 1: Living Room Storage and Tables
I try to limit the amount of storage areas in my living room, so this room is pretty easy for me to clean and declutter on a regular basis. One of my best hacks for keeping my living room clean… storage baskets under the coffee table! Even with two kids, I'm able to keep all of their toys corralled in baskets on a shelf under our large table.
Here are the other jobs you should do to clean, organize, and declutter in the living room:
Clear off and declutter coffee table – Get rid of any unnecessary knick-knacks, old newspapers, etc.
Clear off and declutter end tables
Declutter and organize other living room storage areas – Like bookcases, storage ottomans, etc.
Relocate items that don't belong in the living room
Dust all living room furniture, table tops, and mantle
Organize items to be stored in the living room and neatly put them away where they belong
Day 2: Mudroom/Entryway
This is another area of my home that is super easy for me to organize and clean, mostly because of this awesome DIY mudroom wall that my husband built for us!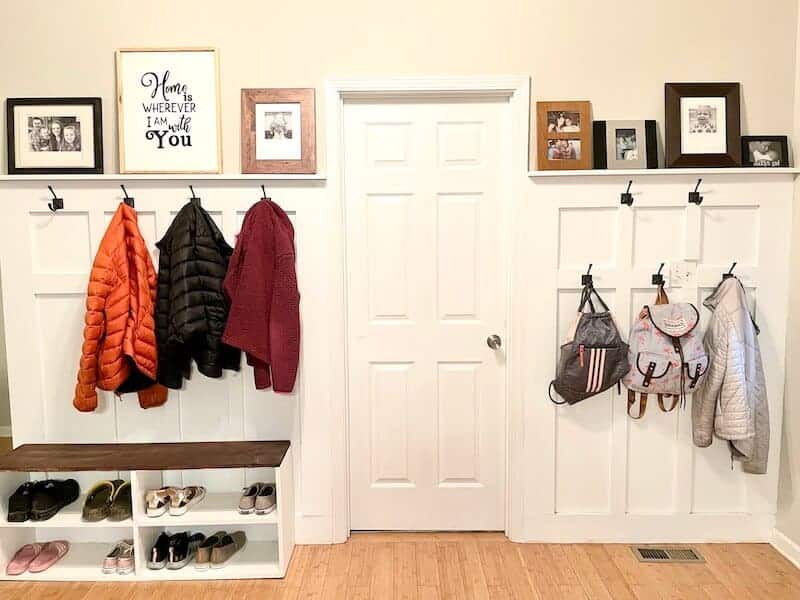 If your mudroom is bursting at the seams with coats, backpacks, purses, umbrellas, and shoes strewn from one end to the next, then I HIGHLY recommend that you find a blank wall and build yourself one of these easy board and batten mudrooms. It's truly one of my favorite DIY projects that we've ever done!
And here are some other jobs to do to clean and organize the mudroom:
Sort through items in the mudroom or entryway that you no longer want or need
Relocate items that don't belong there
Shake out and/or vacuum all rugs and doormats
Dust all mudroom or entryway furniture
Sweep/mop/vacuum entryway floors
Clean and dust baseboards, door, and trim
Neatly replace all items where they belong
Day 3: Dining Room Storage
We use our dining room pretty much every single night to eat together as a family, so it can get pretty messy. Because of that, I wanted to split the dining room storage and deep cleaning up into two days to make it more manageable. Here are some things to work on for decluttering the dining room today:
Empty all drawers/shelves one at a time
Sort through items that you don't want or haven't used in the last year – Make piles for donations or to give to family and friends
Organize all dining items by category – For instance, silverware and serving utensils together, napkins together, miscellaneous party supplies together, etc.
Relocate items that don't belong in the dining room
Wipe down insides of drawers/shelves
Dust all dining room furniture
Check felt pads on the bottom of dining room chairs
Neatly replace all organized items
Day 4: Living Room and Dining Room Deep Clean
Today, the home cleaning challenge is all about getting your common living spaces super clean. And while this may be your least favorite day of the challenge, (I despise deep cleaning also!), you'll feel so much better when it's done!
Here are the cleaning challenge jobs for the living room and dining room:
General decluttering of spaces – You should have already done this a few days prior in the home cleaning challenge, but if you've got kids, then "stuff" can magically appear again!
Clean/dust fireplace mantle
Sweep/vacuum fireplace hearth
Vacuum all couches/upholstery
Spot clean rugs, pillows, curtains, and chairs
Dust furniture and light fixtures
Clean/dust baseboards, doors, and trim
Sweep/mop/vacuum all floors
Day 5: Laundry Room and Laundry Storage
Yes, you probably wash and fold laundry on a daily basis, but how often do you actually clean and organize the laundry room? Today is the day!
Declutter items from laundry storage
Wipe down insides of drawers/shelves
Get rid of socks without a match
Run cleaning cycle on washing machine
Wipe down outside of washer/dryer
Dust light fixtures, decorative items, etc.
Clean/dust baseboards, doors, and trim
Sweep/mop/vacuum laundry room floors
Day 6: Home Office Storage
Even if you don't have a dedicated room for your home office, chances are you at least have some family paper work and miscellaneous office supplies in a small work area (like where you pay bills and keep important papers). Today is all about organizing that space!
If you don't already have a filing system for family papers set up, then today's jobs could be a little more difficult… But don't worry, I'll help you through it!
Empty all shelves/drawers one at a time
Organize contents of each area
Get rid of things that you don't want or need
Relocate items that don't belong
Wipe down inside of each drawer/shelf
Dust all office furniture
Organize papers into a filing system – I've got some awesome paperwork organization ideas for you here: Organize Paperwork: How to Setup a Filing System for Family Papers – With loads of category ideas and resources for setting up your own family paperwork filing system!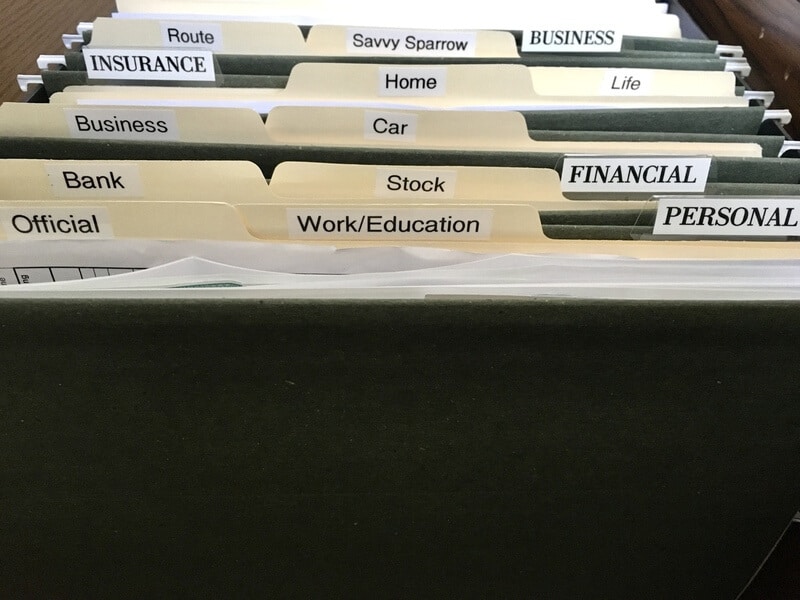 Day 7: Home Office or Miscellaneous Deep Clean
I spend a TON of time in my home office, so it's one of the areas that I prioritize when cleaning my home… If my work space is a cluttered mess, then I get super distracted and I can't focus on the task at hand.
*By the way, if you're looking for a fun and easy accent wall to DIY, then you've got to try this DIY faux brick wall that I did in my home office recently: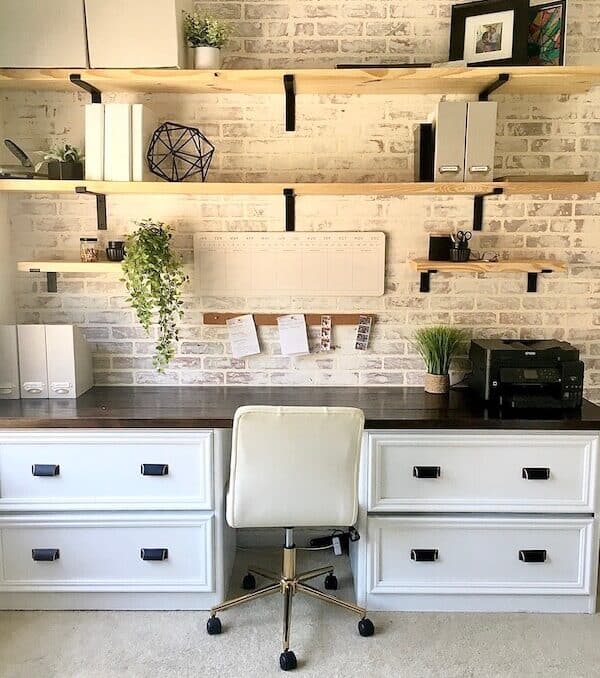 But back to today's home cleaning challenge jobs:
General decluttering and putting things away
Clear all trash from rooms
Get rid of unwanted items – Make piles for donations or to give to family and friends
Spot clean walls, rugs, or upholstery
Dust all furniture, light fixtures, and decor
Clean/dust baseboards, doors, and trim
Sweep/mop/vacuum all floors
And that's it! Congratulations! You've completed week 3 of the Whole Home Cleaning and Organizing Challenge… feels good, doesn't it?!
Free Printable Cleaning Challenge Checklist – Week 3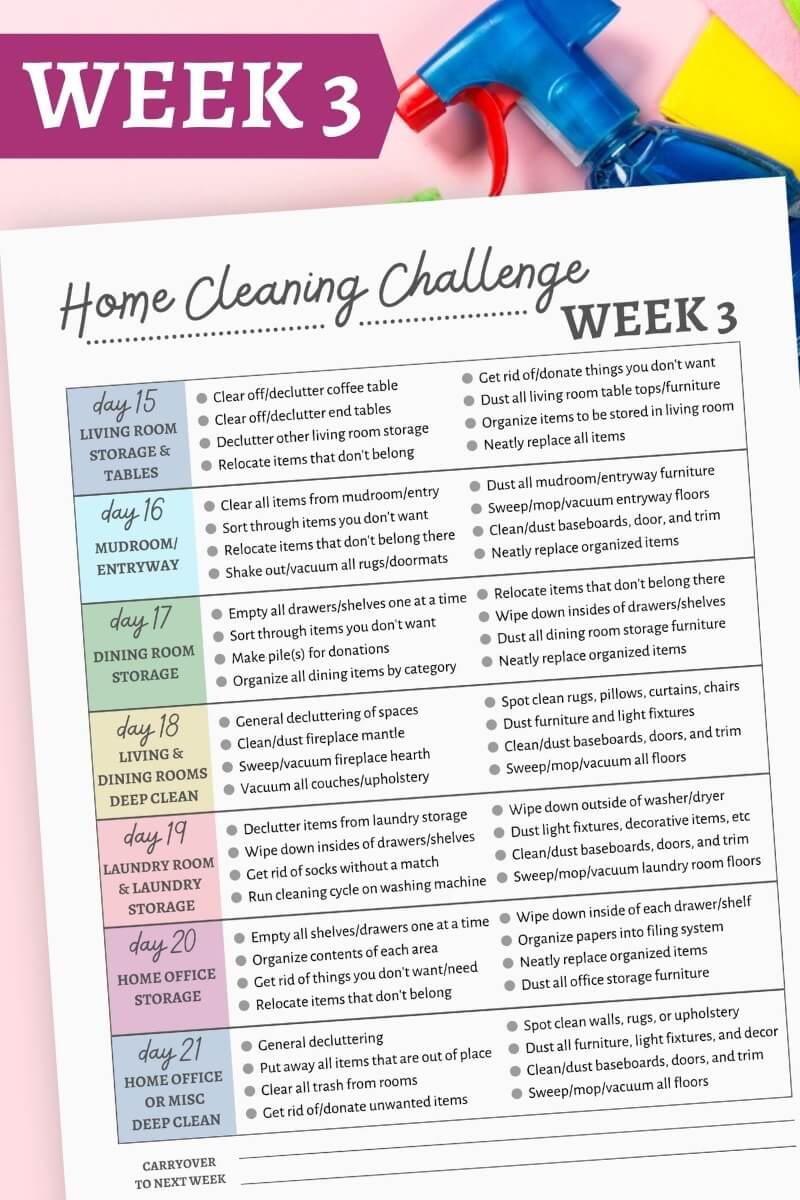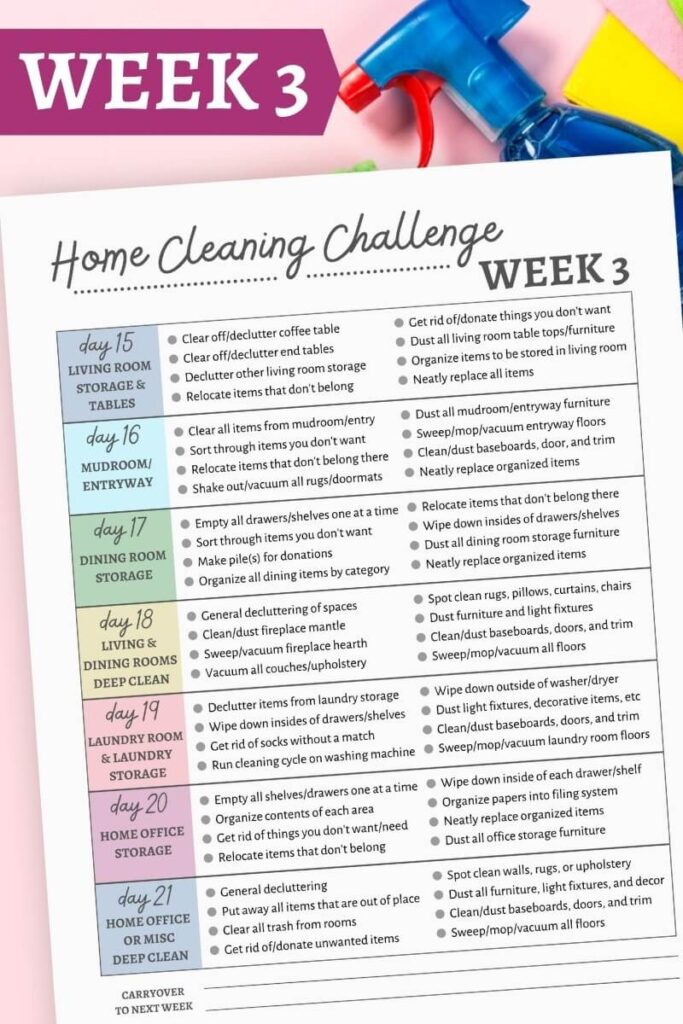 Click HERE for the Home Cleaning and Organizing Challenge Printable Checklist for Week 3!
And after you've printed the home cleaning challenge checklist, you may want to bookmark this page in your internet browser, or you can PIN this post (Pinterest image down below), so you can find it when you're ready to move on to week 4 of the challenge!
Other Cleaning Checklists and Tips to Help You This Week
Are you a star student in your cleaning class? If so, you may be looking for a little extra credit! Here are some additional resources to help you with some of the cleaning jobs for this week, and some other areas that you can clean and organize to go above and beyond the week 3 cleaning checklist!
50 Important Papers You Need to Keep – And FREE printable checklist to get them organized! Use this easy guide while you're sorting through your filing cabinets to make sure that you have all of your important documents together!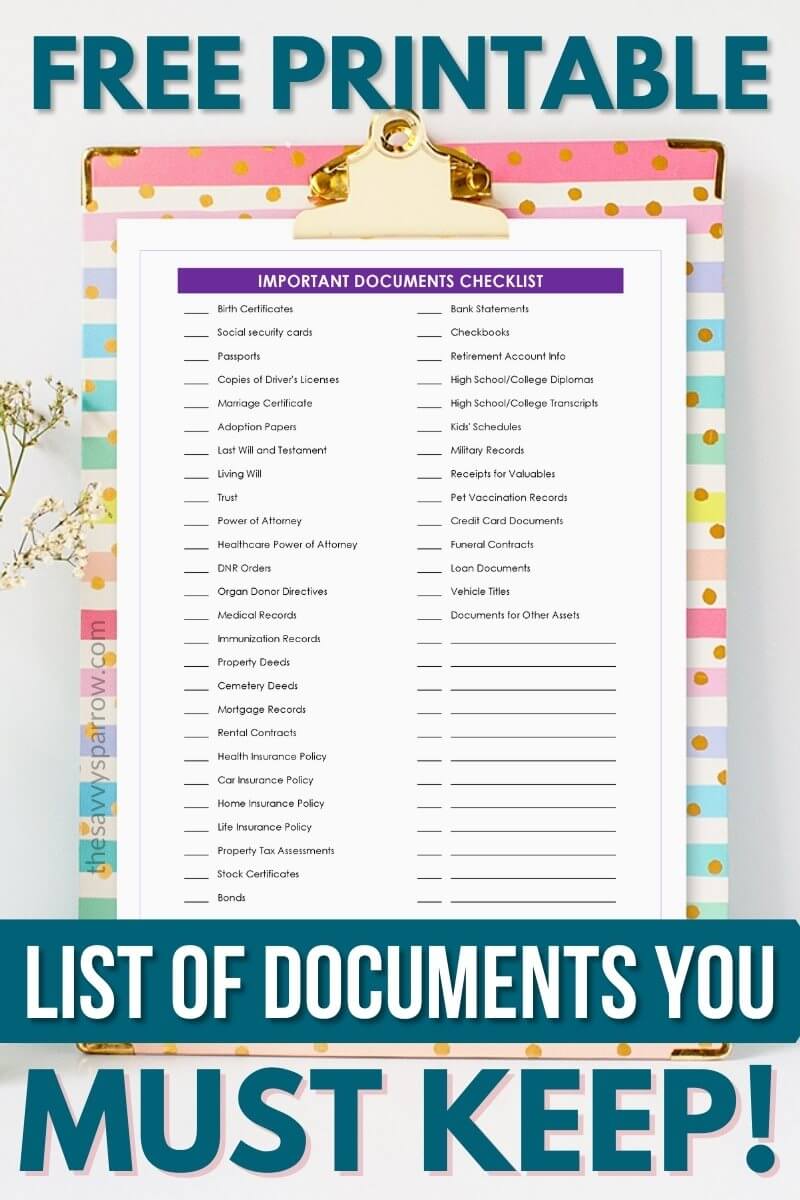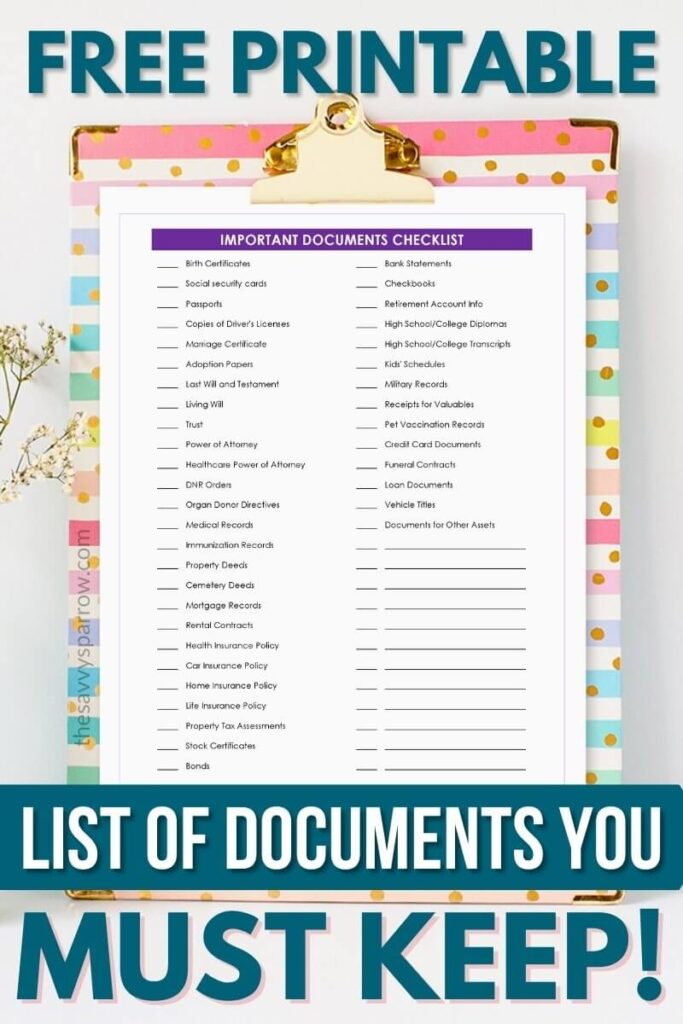 The One Drawer a Day Decluttering Challenge – If you find that you've got a TON of clutter in your living room, dining room, and home office space, then you may want to start with this decluttering challenge printable first… You can type in to the PDF to plan out each day so it's super manageable and you don't get overwhelmed!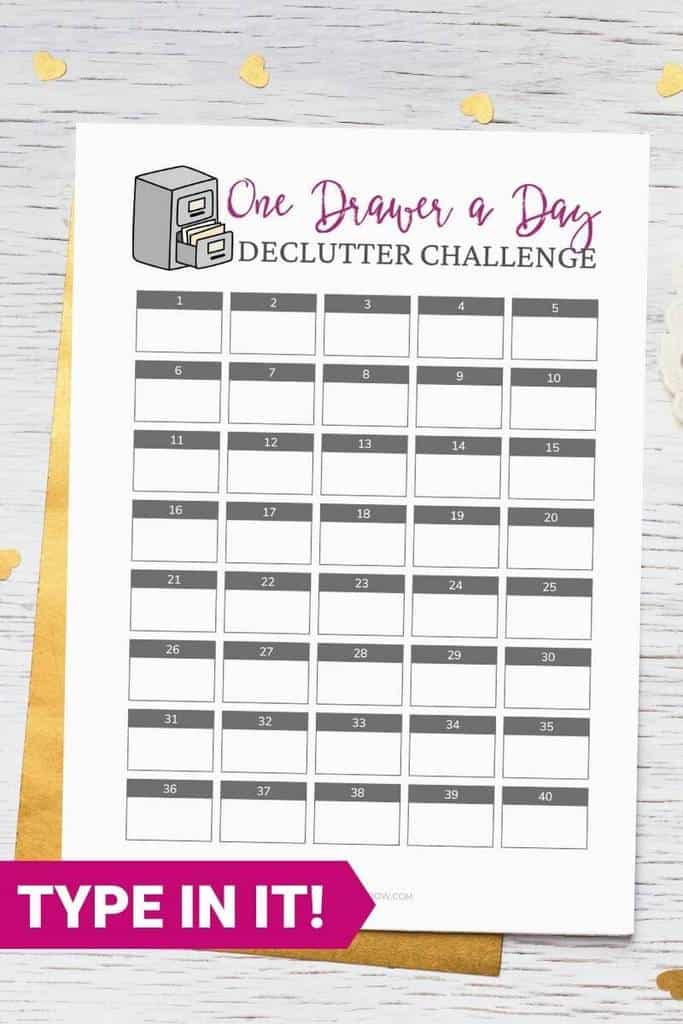 I hope this whole home cleaning, decluttering, and organizing challenge is really helping you to get your home in order! I know that having a messy and cluttered house can be such a big contributor to stress!
And I'd LOVE to know how you're doing on the cleaning challenge? Just leave me a comment down below and let me know! Or, if you have comments or suggestions about what type of challenge you want me to create next, let me know that too!
And don't forget to PIN this post for later: