Use this free printable checklist of important papers and documents to make sure you're prepared for anything. Whether you keep these documents in your paper filing system at home or locked away in a bank safety deposit box, just make sure that you know where they are and how to access them.
There's one thing that I pride myself on… being organized.
If you asked me for the dimensions of the metal pieces that we ordered for our roof two years ago, I'd be able to find the invoice in about 60 seconds and give you the exact specifications. (It's in my at home filing system under the main category "Home" and under the subcategory "Projects").
And when I updated my important papers filing system recently to add some new folders and categories, I realized that most people probably have no idea where to start when organizing their documents.
If all of your important papers and documents that you must keep are just thrown in the bottom of a drawer somewhere, then consider this post as step 1 in your journey to organization! And what exactly is "Step 1"?
Gathering up all of your important papers to keep and making sure that you have all of the necessary documentation (from marriage certificates to passports to past tax returns) so that you can easily find it if needed. And this giant list of personal, financial, work, and home related documents that you must have on hand can help you!
Just download the free printable checklist of important papers to keep at the end of this post, and start finding your documents and checking them off the list!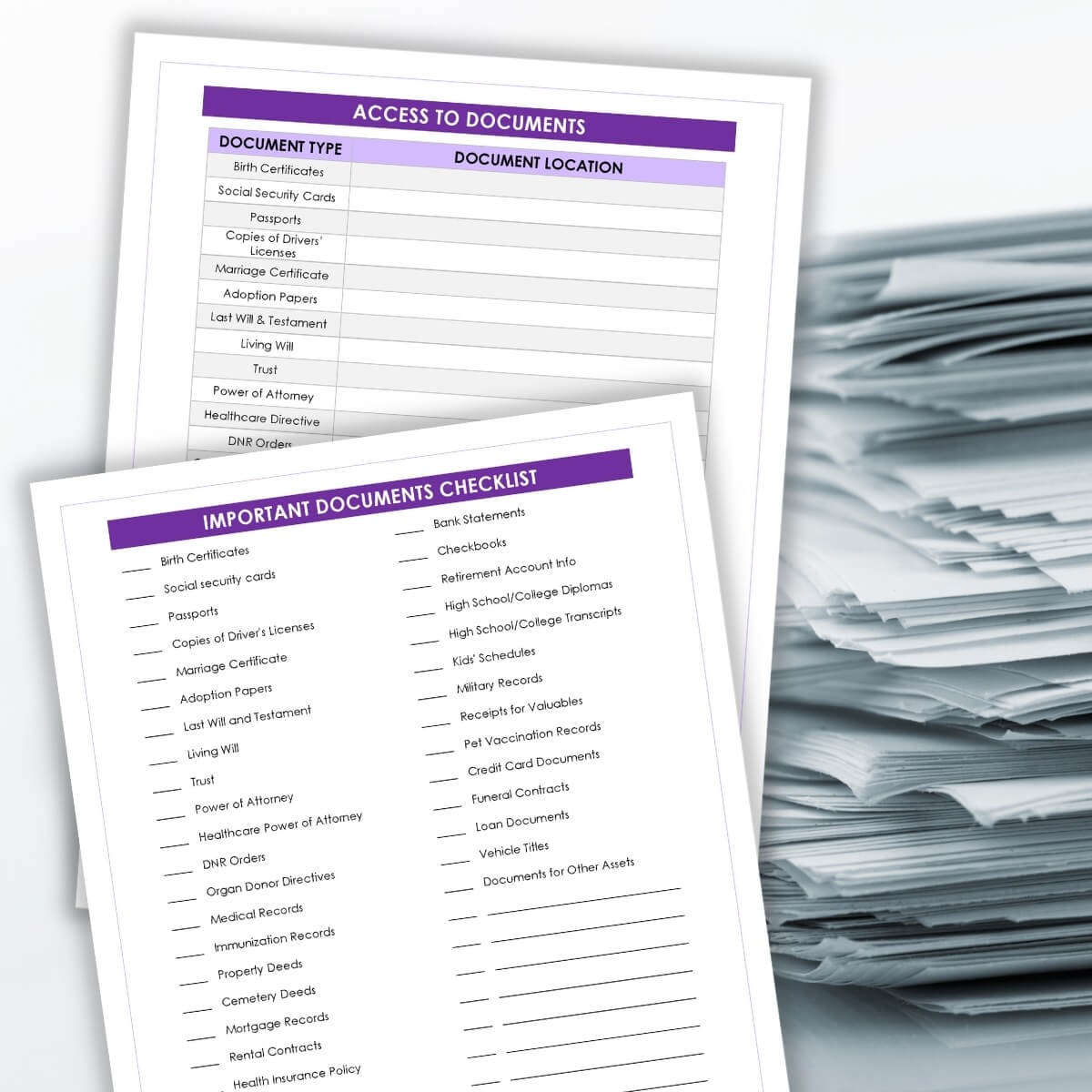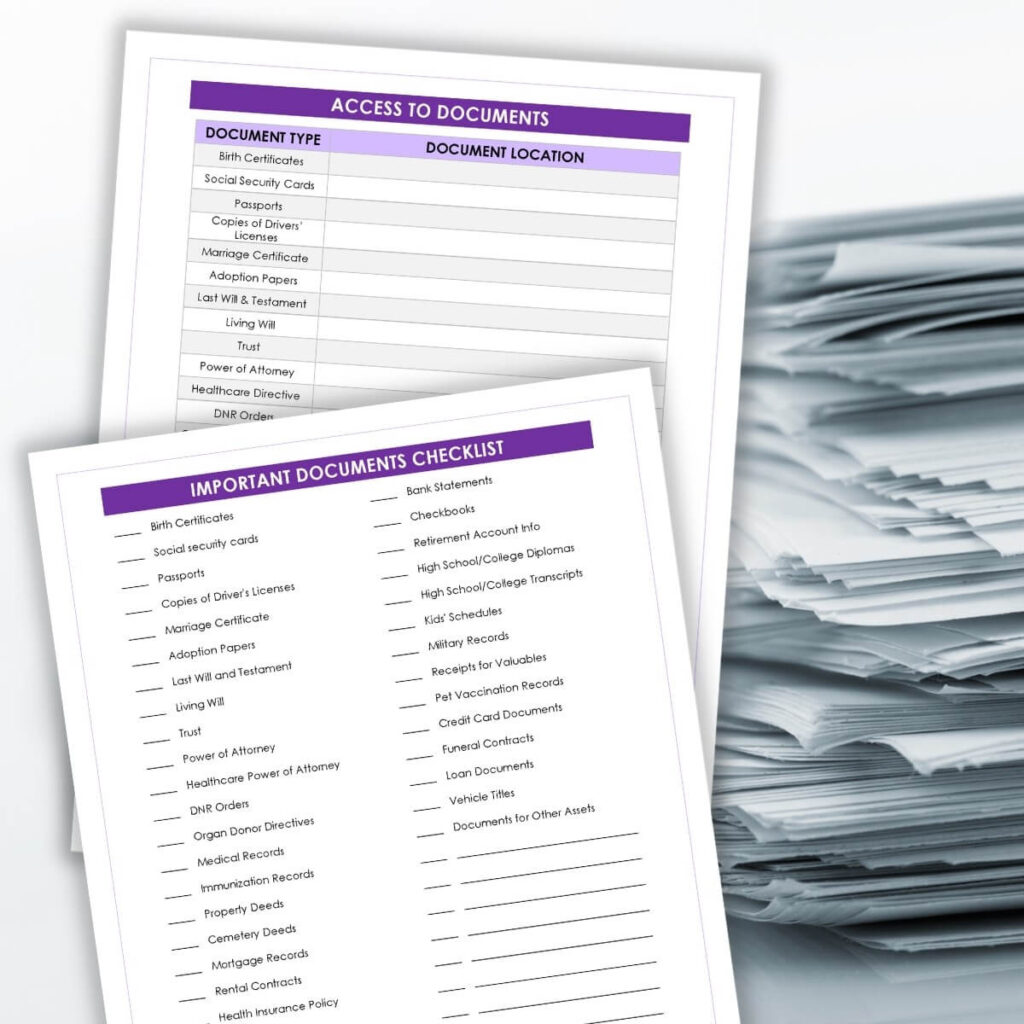 List of Important Documents and Papers You Need to Keep
Ready to get your family's important paperwork organized? Here's a list of papers to keep:
Personal Identification Documents
social security cards
birth certificates
passports
copies of driver's licenses or identification cards – I find it helpful to keep these in a file on my computer for easy access.
marriage certificate
adoption papers
Other Legal Documents to Keep
vehicle registrations
military ID
military discharge paperwork (DD 214)
veteran's identification card
Important Medical Papers to Keep in Your Files
health insurance cards and policies (including prescription insurance) – If the full policy with explanation of benefits for your health plan is available online, you may want to just download it and add it to a file on your computer desktop.
vaccination records
important medical records from major hospitalizations or surgeries
medical bills – especially if you claim medical expenses as deductions on your taxes
vaccination records for pets
documentation relating to disabilities
medical power of attorney
Financial Documents
tax returns for the past 7 years
receipts for items that were claimed on your taxes – You'll need to keep these for 7 years also.
other official IRS forms that relate to your tax returns – Other forms to keep include things like W-2 forms, 1099's, etc.
correspondence from the IRS like letters they've mailed you about tax credits, etc. – I would much rather have these on hand and not need them, than need them and not have them.
bank and credit card statements – I use these to help with tax preparation each year.
documents for retirement accounts – 401K, IRA, etc.
documents for investment accounts – stocks, bonds, mutual funds
Paperwork for Other Assets
certificates of authenticity for artwork, jewelry, or other luxury items
receipts for valuables – These could come in handy if you ever have to make an insurance claim.
warranty documentation – You may want to go through this file folder each year and get rid of documents for items you no longer own to help reduce paper clutter.
receipts for products that are still under warranty – refrigerator, lawn mower, toaster oven, etc.
vehicle titles
boat or recreational vehicle titles
property deeds
property tax assessments
appraisals of personal property – If you have professional appraisals done on jewelry, artwork, etc. keep those with your other important papers.
receipts related to home remodeling or home improvements – You could store these in your Home Maintenance Binder… When we bought our current home, the previous owners had a Home Maintenance Binder on the kitchen counter during the open house. It was a great tool to be able to see that they had performed the necessary upkeep on the home!
Insurance Papers
Most insurance companies send out (either paper copies through the mail or digital copies through email) a new policy for each annual renewal. For my insurance paperwork, I shred the old policy each time that I get a new one. That way, I don't have past policies cluttering my filing drawers.
Here are some insurance papers to keep:
home owner's insurance policy
car insurance policy
life insurance policy
insurance policies for other assets like boats or RV's
You may also want to create a Home and Valuables Inventory list to keep with your other important documents, just in case you need to file an insurance claim.
Education and Work Related Papers
military service records
college transcripts
high school/college diplomas
certificates for special work trainings you've completed
letters or emails with recommendations or accolades – For instance, when a customer at one of my past jobs wrote an email to my boss expressing her satisfaction with my service, I kept the email with my other work-related documents. This can make a great reference in the future.
End of Life Documents
last will and testament
living wills
trust
powers of attorney
funeral home contracts (if applicable)
DNR orders (if applicable)
death certificates
documents relating to beneficiaries
documents relating to cemetery plots
organ donation directives
Where to Store Your Important Papers
After you've used the checklist to gather all of your important documents, you may be wondering what to do next? You probably don't just want to stick all of the papers together in a file folder and call it a day. Here are some ways to organize all of your personal documents so that you can easily find what you need, when you need it:
Emergency Binder
I'm listing Emergency Binder (or an "In Case of Death" Binder) first, because it is ESSENTIAL that you have one… not just for storing important papers that your family may need in the event of your death, but also for organizing crucial information for those left behind.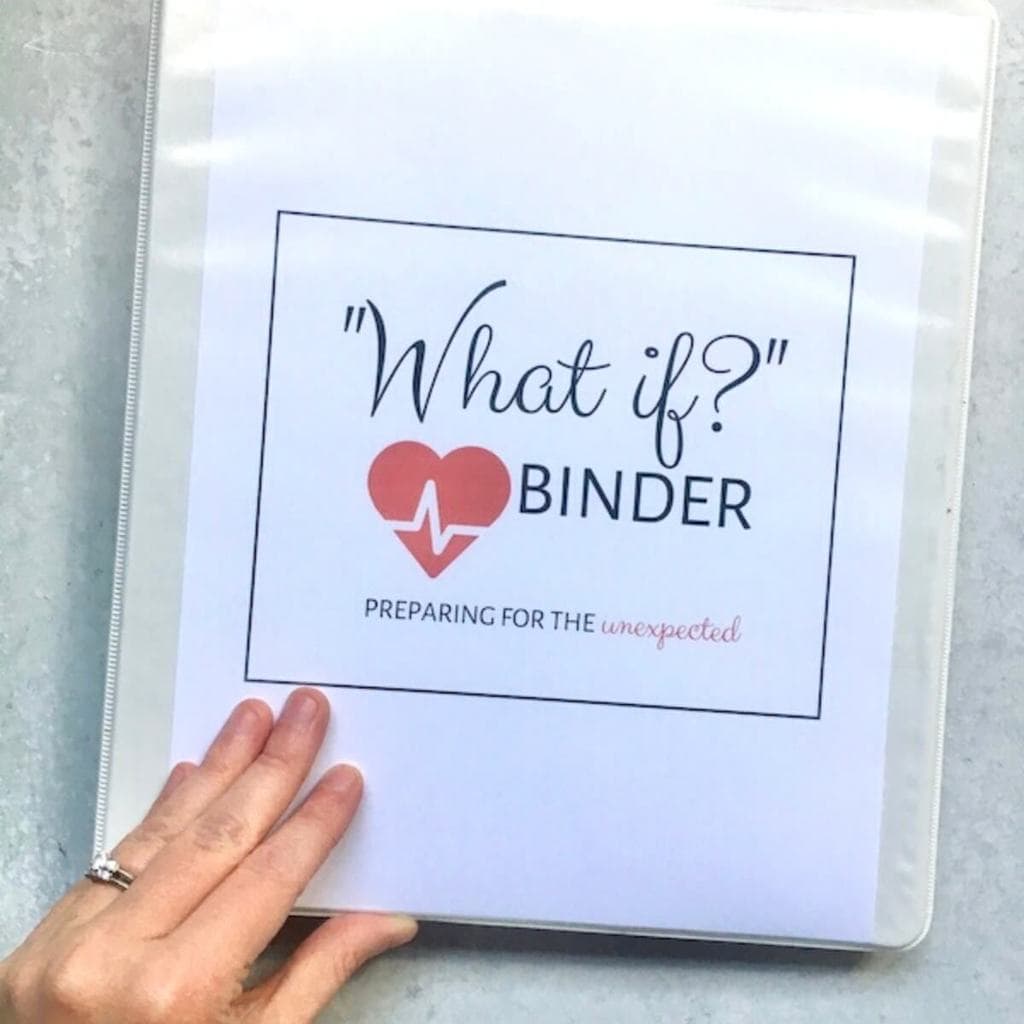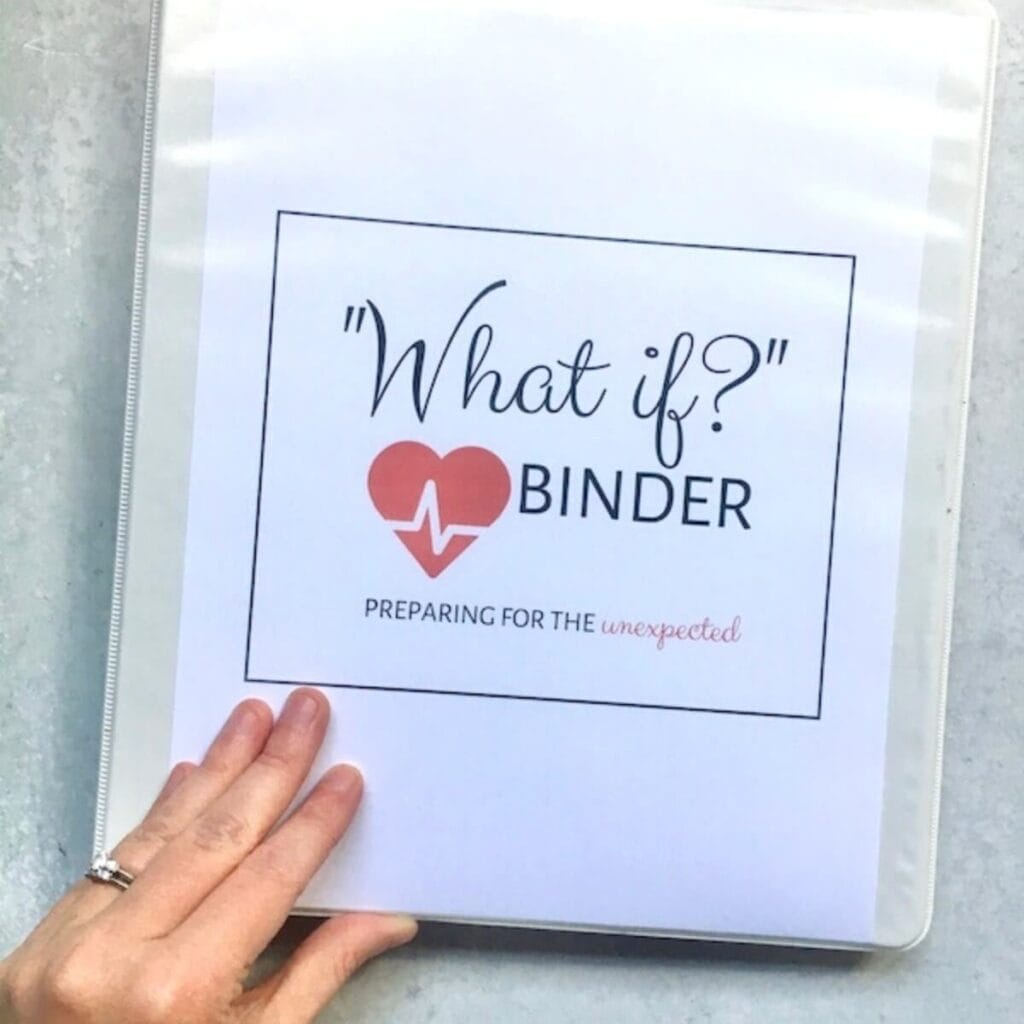 In fact, I created my Emergency Binder after I had a major health scare in my mid-20's. I manage ALL of my family's finances (surprise, surprise – that's my organization obsession in play!), and I realized that if I had died that my husband would be completely LOST. He doesn't even know the name of our mortgage company!
You can jump over to this post to read all about setting up an Emergency Binder and to get my actual printable Emergency Binder that I use!
Filing System for Important Papers
About half of my family's paperwork is stored in a filing folder system in a desk drawer in my home office. Papers that I wouldn't need in an emergency, like warranty information for our new fridge or my college transcripts, are filed away in a super organized filing system.
And I highly recommend this storage system for important papers! Even if you don't have a filing cabinet or a desk with hanging files capability, you can get a plastic filing tote box and set up your own organization system for important documents.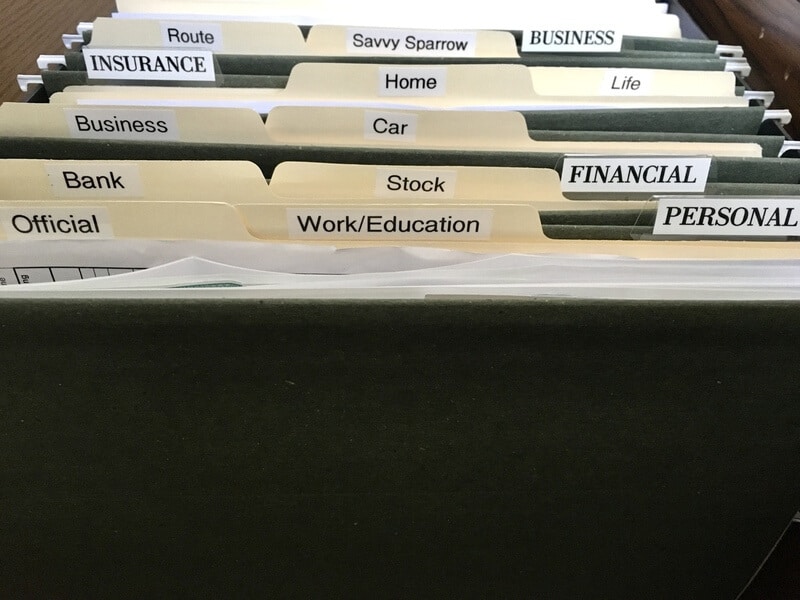 For more directions on how to develop a filing system at home and to get ideas for what categories to use, hop over to this post: Organize Paperwork: How to Setup a Filing System for Family Papers
Safe or Safety Deposit Box
You may want to store some of your important papers and documents under lock and key in the safety of a bank vault or at home safe. Things like titles to vehicles, stock certificates, and other paperwork for major assets may be better kept in a safe.
Digital File Storage
If you're more tech-savvy and don't mind the extra work of scanning your important papers to get them in digital format, then you may want to consider digital storage for your documents.
I would be weary of storing documents with sensitive personal information like social security numbers in an online storage system like Dropbox, BUT you may want to use a USB drive or an external hard drive for your document storage.
Important Papers to Keep Checklist – Free Printable
A great way to gather your important papers and documents together is with a checklist! That way you can start collecting the papers on the list and check them off as you go to make sure you have all of the documents that you need to keep.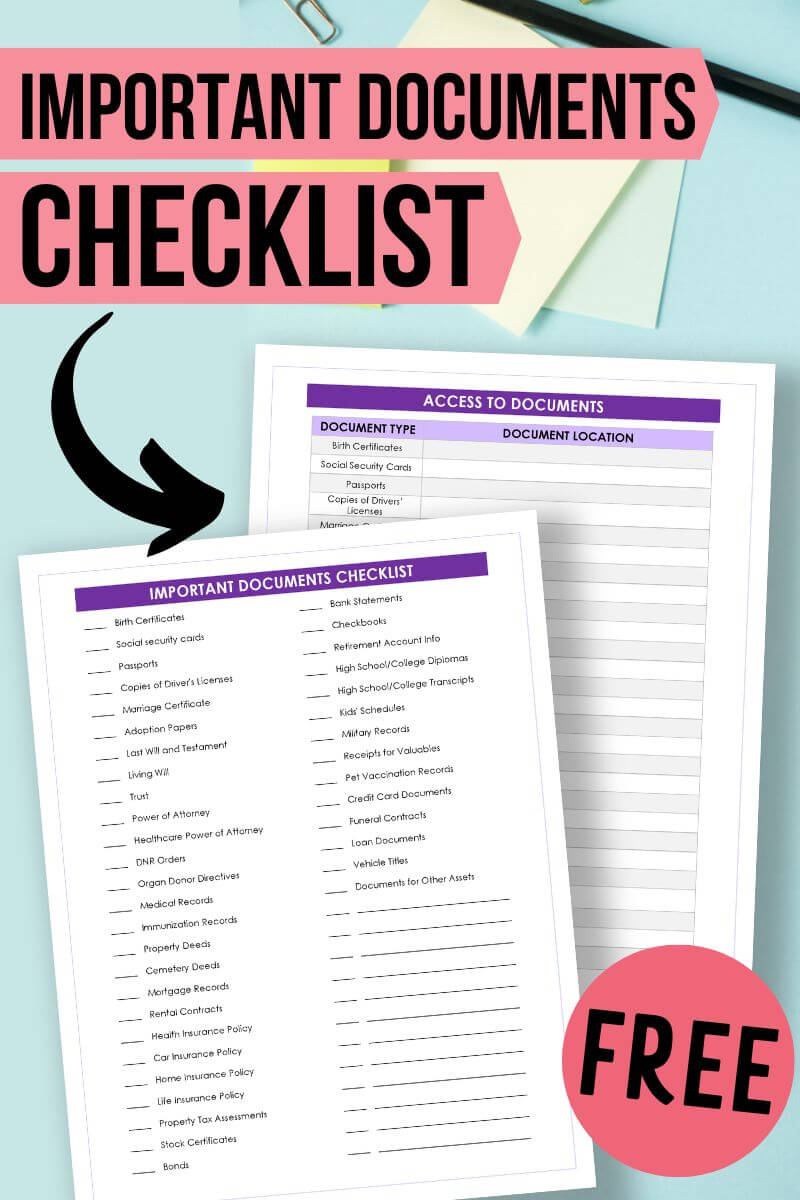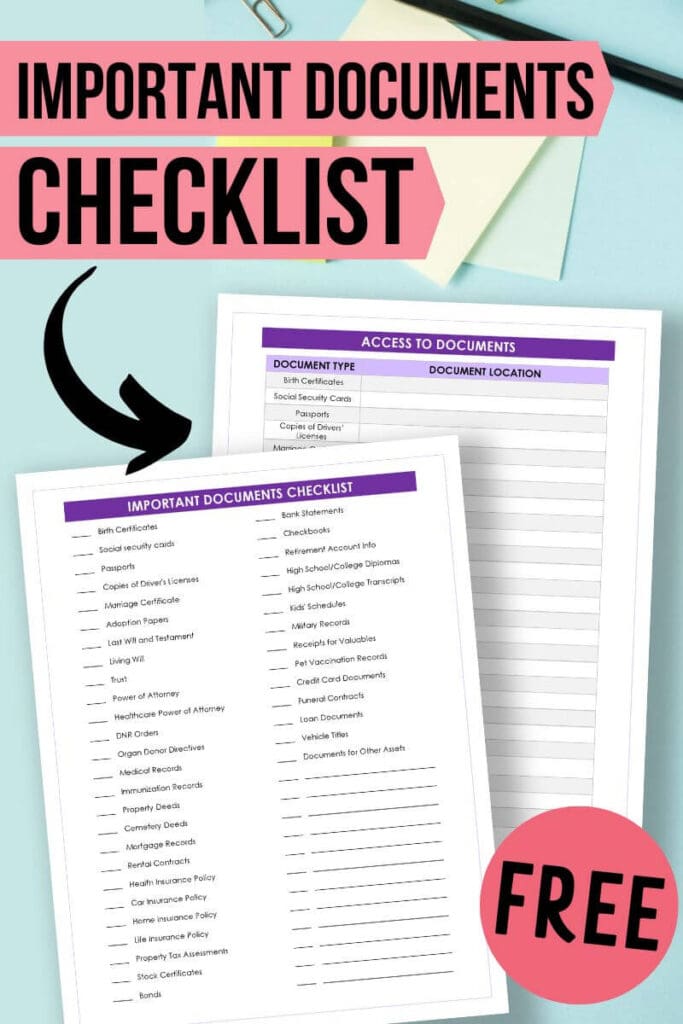 And the free printable important documents checklist also includes pages for recording where the documents are located so that you can quickly find them if needed.
Click HERE for the Free Important Documents Checklist
I hope this post and the printable checklist help you to get prepared for an emergency or to just feel a little more organized. If you want to check out some other organization ideas for important papers and digital files, head over to these posts:
And don't forget to PIN this post for later: