Want to make cute Fourth of July party favors for your patriotic party this year? Use these free printable poppin' 4th of July tags for party poppers, pop-its, popcorn, or anything that goes "pop"!
If there's one thing that I remember about the big 4th of July parties that my parents hosted each year during my childhood, it's the party poppers and pop-its.
When the sun started to set, and after a long day of swimming in the lake and feasting on burgers, we would all gather in the driveway and my parents would pass out confetti poppers and pop-its to the kids… and then all of the adults would head for cover!
The pop-its (or maybe you called them "snaps" like we did) are the perfect way to get the kids involved in the July 4th festivities. These fireworks alternative don't require any matches… instead, you just throw them on the ground and they make a loud "SNAP" sound. Easy peasy!
But the pop-its are just one of the many patriotic party favors that you can make with these super cute gift tags!
If you're hosting a big July 4th party this year and you're in need of fun ideas for the kids (or even the adults who are kids at heart), then grab these free printable Fourth of July poppin' favor tags and make your own patriotic party favors!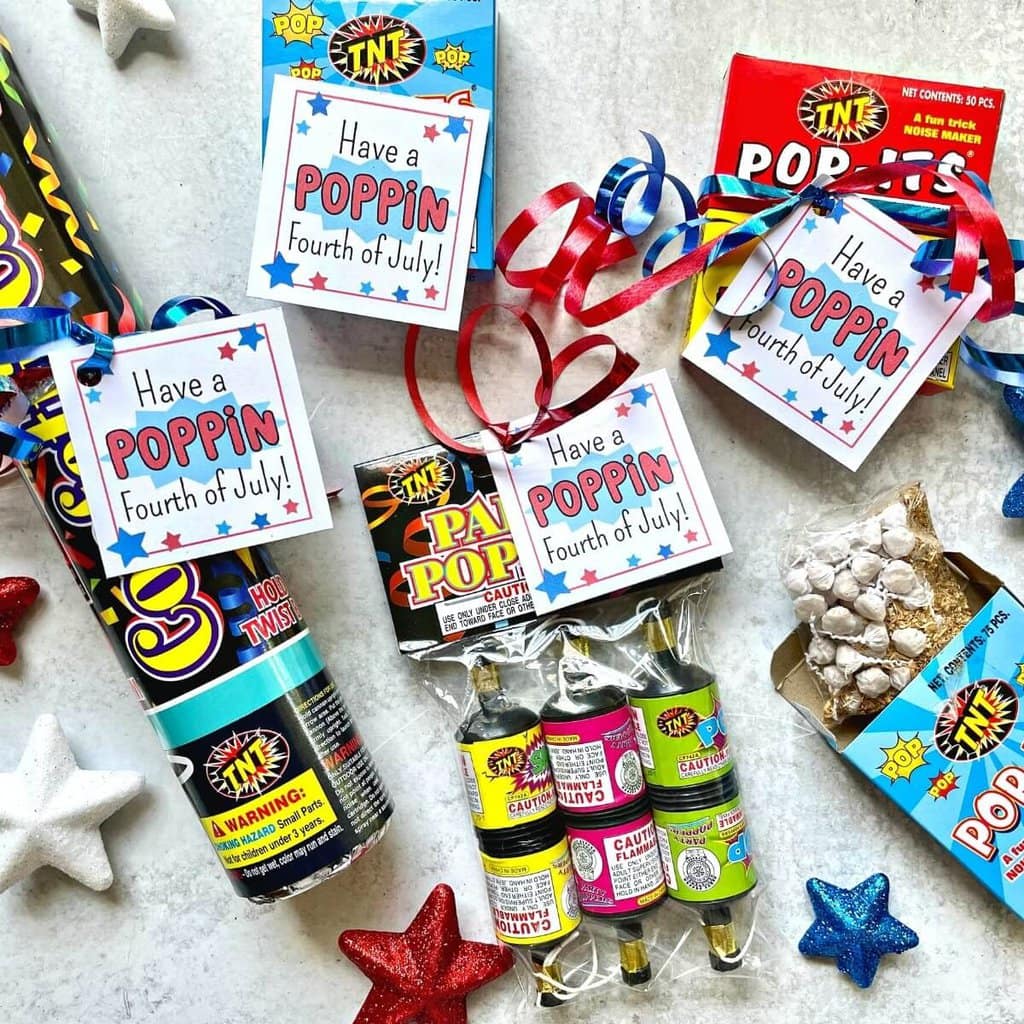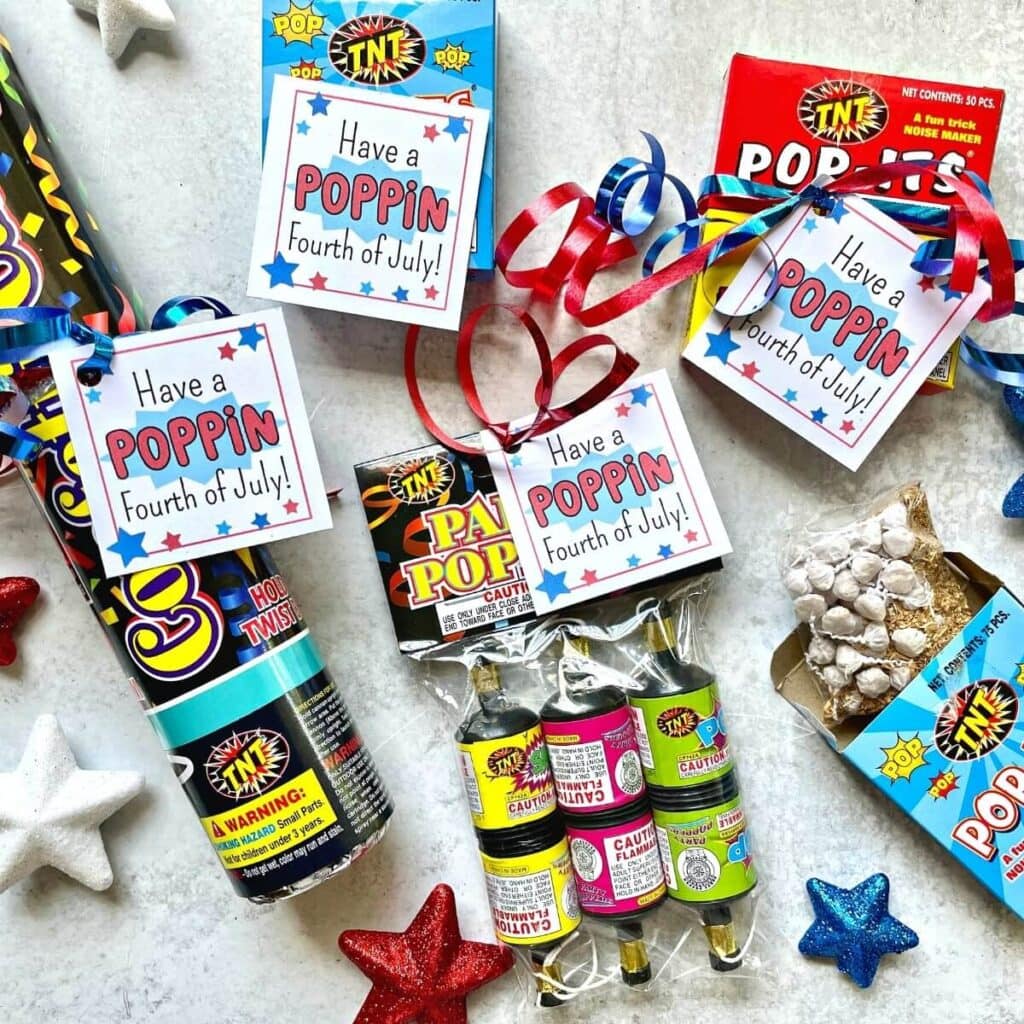 Poppin' Fourth of July Party Favor Ideas
These printable Fourth of July favor tags can be used in a variety of ways! Since they just say "Have a POPPIN' Fourth of July" you can use them for anything that goes "pop"!
Here are some ideas for how to use the free printable July 4th tags:
Pop-Its Noise Maker July 4th Party Favors
The classic pop-its noise makers that you throw on the ground are perfect for these cute 4th of July tags! You have a few different options for creating your own pop-it party favors with the tags…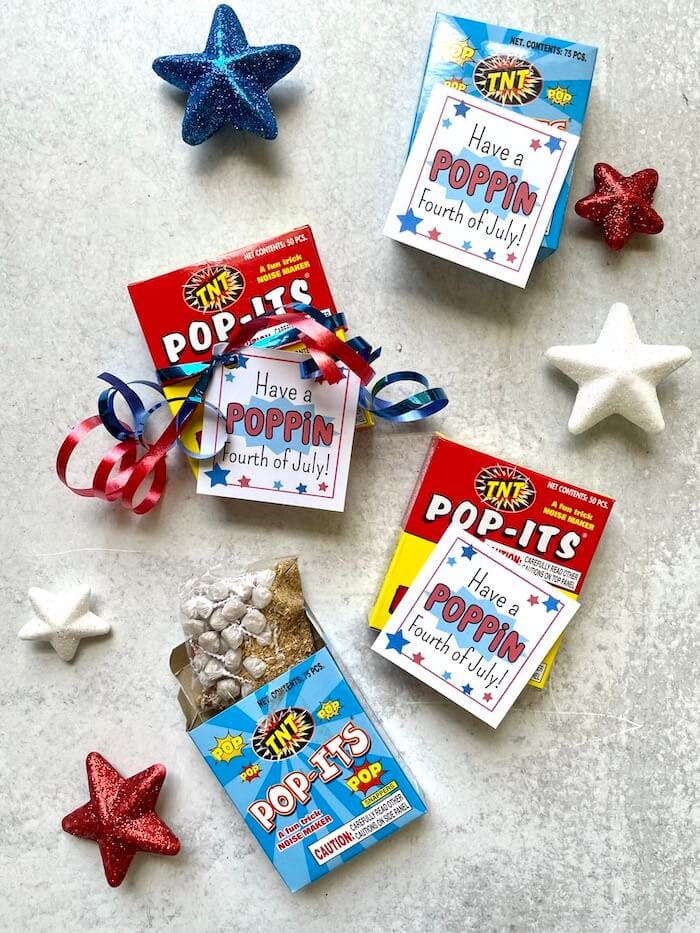 You can just print and cut the mini gift tags and tape one tag to each box of pop-its, use a hole punch and ribbon to tie a gift tag around each box, or use the larger "Have a Poppin' July 4th!" tag and create a favor bowl of pop-its for guests to grab as they're making their way outside for the fireworks.
Confetti Poppers 4th of July Party Favors
Confetti poppers are another classic July 4th party idea, and they're a fun favor for both kids and adults!
If you're not familiar with these mini poppers, you simply pull the white string and a big "pop" of mini confetti streamers shoots out the opposite end. Just like with the pop-its party favors, you can create your own big bowl of confetti poppers party favors with the larger printable sign or make individual patriotic party favors with the poppers like this: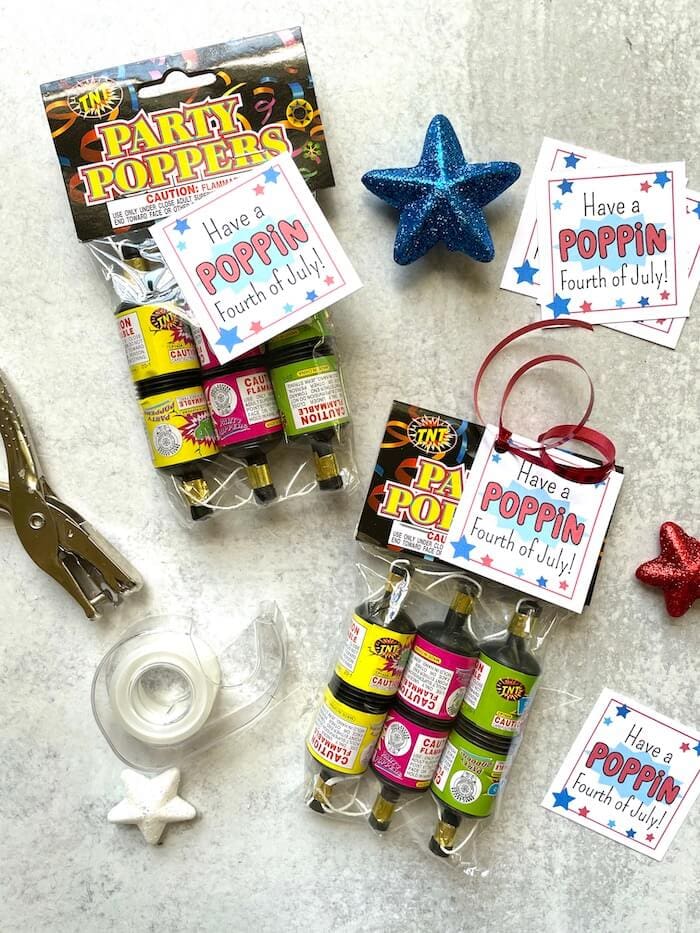 July 4th Popcorn Party Favors
Since the free printable July 4th gift tags just say POPPIN' you can also use them for some yummy popcorn July 4th gifts! You can whip up a big batch of popcorn-based party mix with red, white, and blue M&Ms, and divide the mix into individual cellophane bags. Then, just tie on the free printable July 4th gift tags for cute and easy party favors or even neighbor gifts!
Fourth of July Confetti Cannon Gifts
If your budget for Fourth of July party favors is a bit higher, then you may want to send your guests home with their own confetti cannons! These giant patriotic party favors cost about $3 each, but they're oh so fun!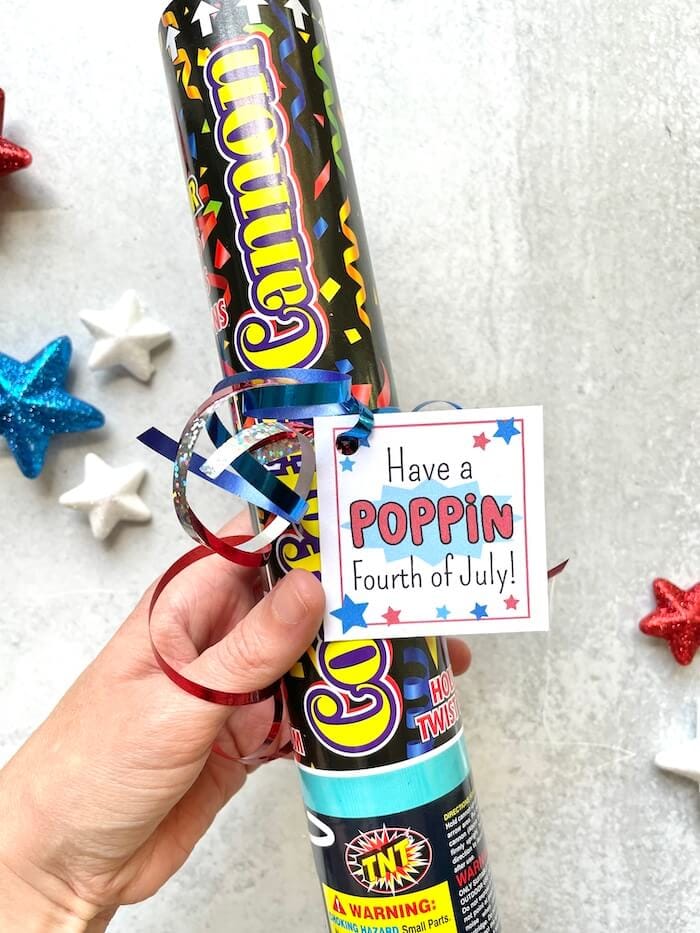 Just use a hole punch and some curling ribbon to tie the free printable July 4th gift tags onto the confetti poppers for an awesome party favor that your guests will LOVE!
Pop-It July 4th Party Favors for Kids
Not to be confused with the pop-its noise makers that you throw on the ground, the rubber pop-it fidget toys are another awesome 4th of July party favor idea for kids! And since the pop-it fidget toys have "pop" right in the name, these cute printable July 4th gift tags work great for those as well!
You can find inexpensive kids' pop-its at Dollar Tree or on Amazon. Then, just get some small cellophane bags and the free printable patriotic gift tags and make your own party favors for kids that are sure to be a HUGE hit at your Fourth of July party!
Poppin' Fourth of July Gift Baskets
Why not use ALL of these poppin' July 4th gift ideas at once and create your own patriotic gift baskets?
The free printable July 4th gift tags are perfect for making poppin' gift baskets stuffed with poppers, confetti cannons, patriotic popcorn, and pop-its! You can make a July 4th gift basket like this one to give as a hostess gift or to drop off on your neighbor's front porch: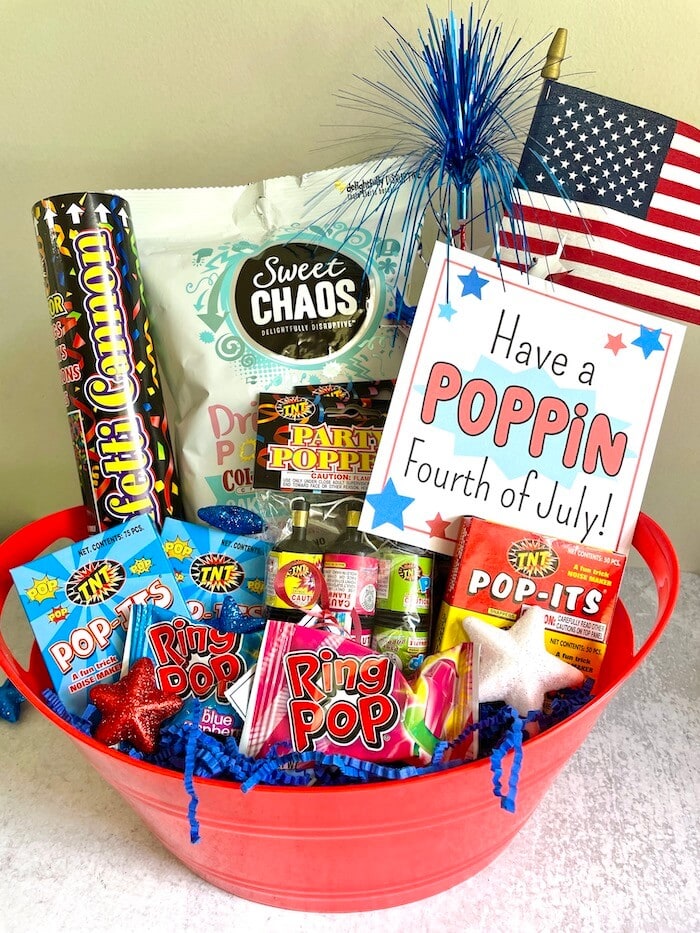 I found my cute red plastic bin at Dollar Tree, and it's the perfect size for creating a nice July 4th gift basket without spending a ton of money. Just grab some blue paper shreds (also from Dollar Tree), tie on the free printable July 4th gift tag with some curling ribbon, and fill your gift basket with Fourth of July gifts that go "POP"!
And did you notice the Ring Pops that are in the gift basket? Those are another awesome idea for the Poppin' free printable Fourth of July gift tags! Or, you can head to this post to check out the "Let Freedom Ring" printable gift tags for ring pops: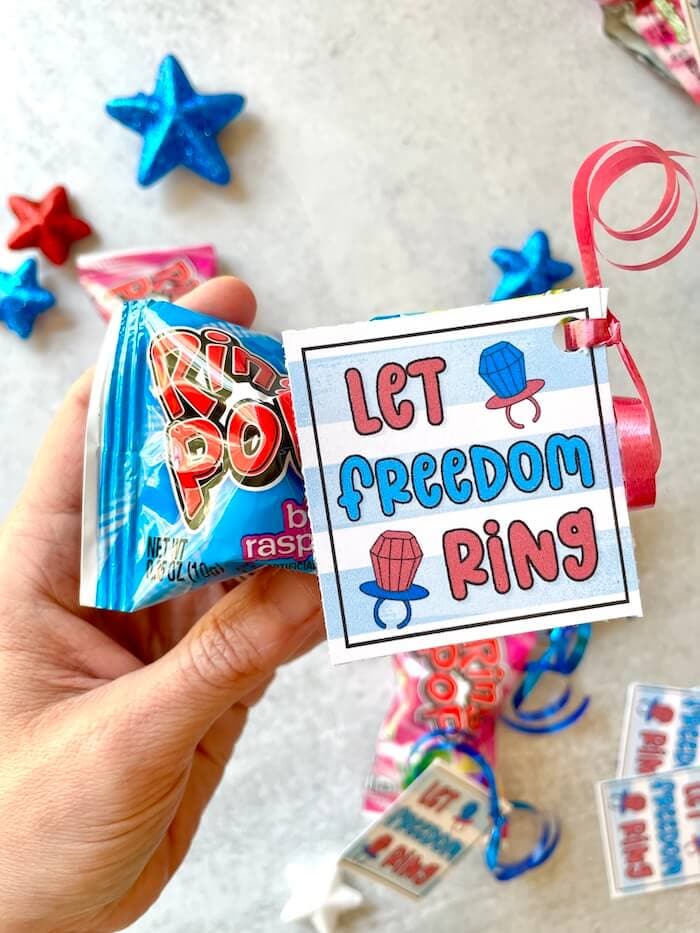 Where to Find Poppers and Pop-Its for Fourth of July Favors
The confetti poppers and snap pop-its noise makers that I used in this post are pretty easy to find in the month of July. Here's where I sourced my cute July 4th party favors:
blue boxes of pop-its – These came from Dollar Tree and cost $1.25 per box.
yellow and red boxes of pop-its – These boxes are slightly larger than the Dollar Tree version. I found them at Kroger grocery store for $2.00 per box.
confetti cannon – You can find these at most grocery stores in the month of July. Mine came from Publix and cost $3.00.
mini confetti poppers with the pull string – These are also readily available at most grocery stores for about $2.00 per package. You can also find these mini poppers at Party City.
Or, you can also make your own DIY confetti poppers and use the printable gift tags for those!
Free Printable July 4th Gift Tags for Party Favors and Gifts
Want to grab the Fourth of July free printables that I used in this post? The cute gift tags are available in my Freebies library along with over 60 other free printables to help you with home management and holiday planning!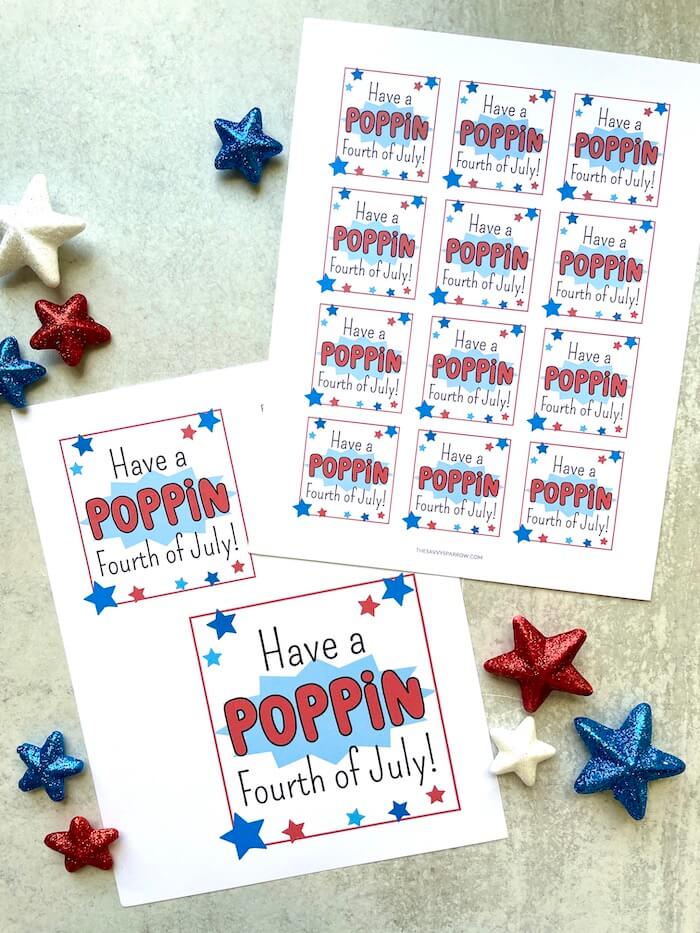 Just use the form below to subscribe to my free email newsletter and I'll send the link to the freebies library over as a gift!
* NOTE – The gift tags are available in the Welcome email that you will receive, AND you can find them in the FREEBIES library under the "Printable Gift Tags" section!
Other July 4th Party Ideas
Planning the perfect July 4th party is all in the details! After all, it's those small thoughtful and creative details that your guests will LOVE and remember! Here are some other patriotic party ideas to set your Fourth of July shindig over the top:
And don't forget to PIN this post for later: