These free printable Father's Day handprint art sheets are great for last minute gifts for Dad! Just grab some paint, print out the handprint art templates, and whip up these cute keepsakes!
Handprint art is a classic gift idea when Father's Day rolls around. Why? Because your kids can make these DIY gifts for Dad all by themselves (or with just a little bit of assistance), and the painted hand prints make awesome art to file away with your other sentimental items.
Not to mention, this DIY at home Father's Day gift saves you a trip to the store and some big bucks, since you probably already have paper and paints on hand.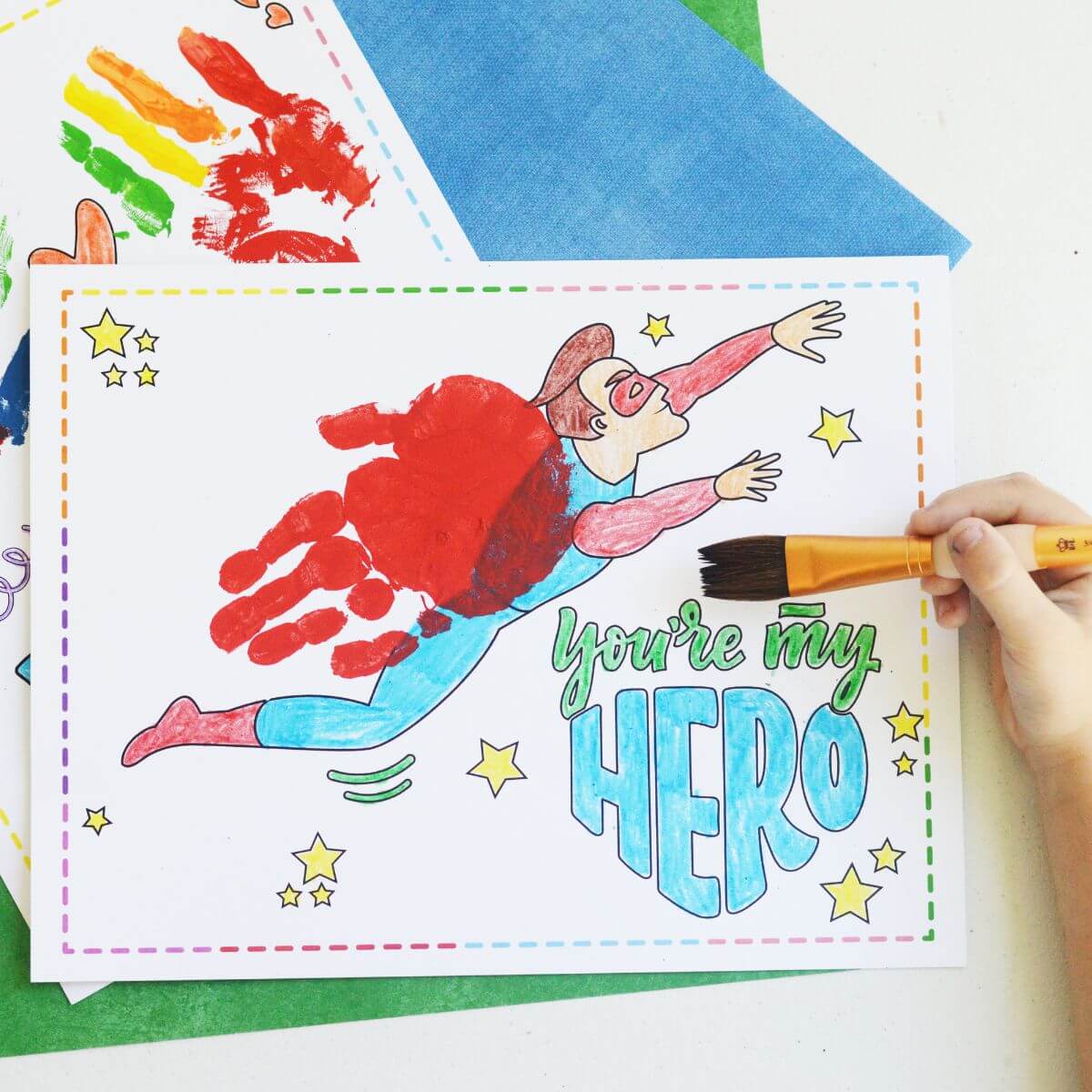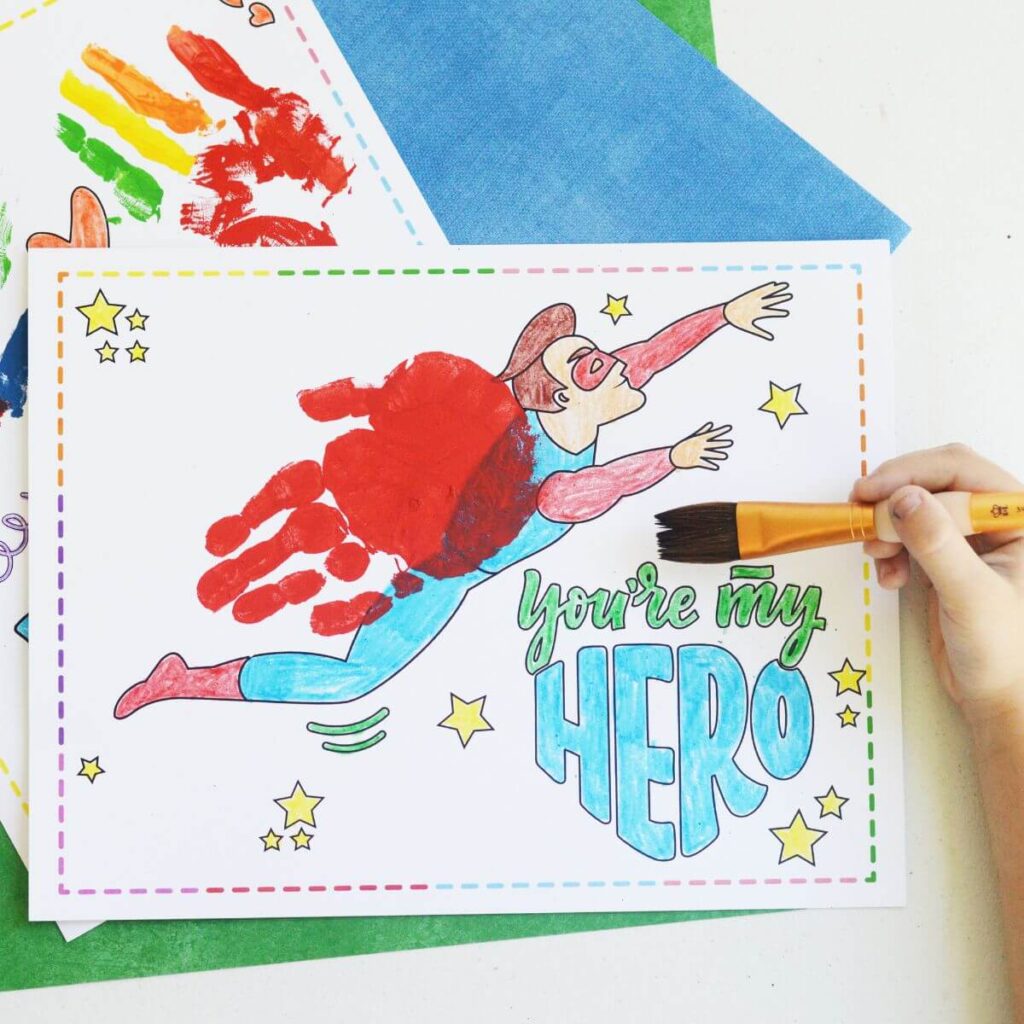 And if your kids want to make easy handprint crafts for Dad this year, then I've got the perfect FREE printable templates for you to use!
Supplies Needed
To make these super cute Father's Day handprint crafts you'll need: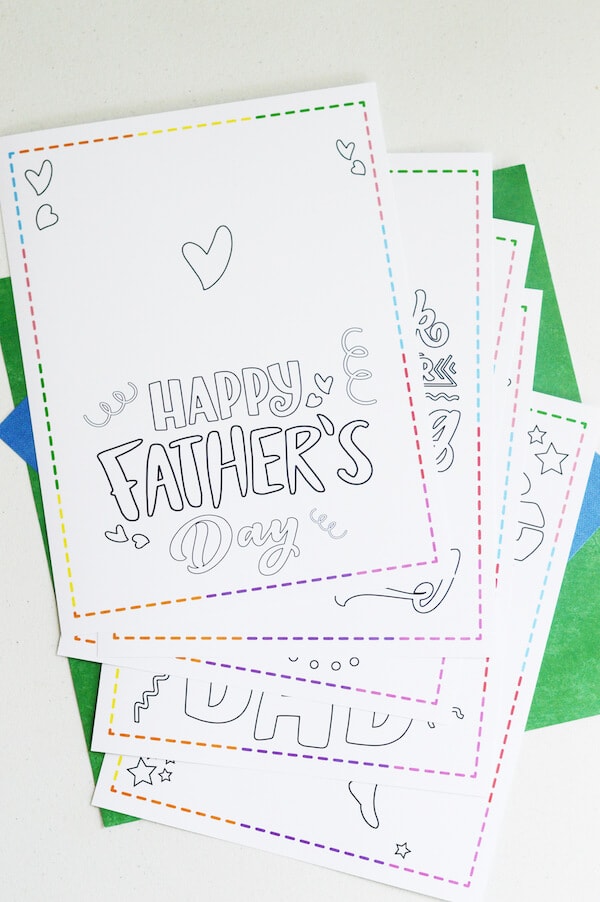 Free printable handprint worksheets for Father's Day – You can download the free templates at the end of this post!
paints – The colors that you need will vary depending on which printable you choose to use
paintbrush
crayons or markers – To color in the rest of the printable art work
How to Make Father's Day Handprint Art with the Free Printables
After your kids have decided which template they want to use to create their handprint art, they can color in the black and white designs of the printable first. Then, paint your child's hands according to which template they are using, and stamp their handprints on the paper.
Here are some samples of the different templates available, so you can see where the handprints should go for each one:
"Love You Dad" Heart Handprint Art
This is an easy handprint craft for Dad! Just paint your child's hands a solid color, and then stamp them in a heart shape like this: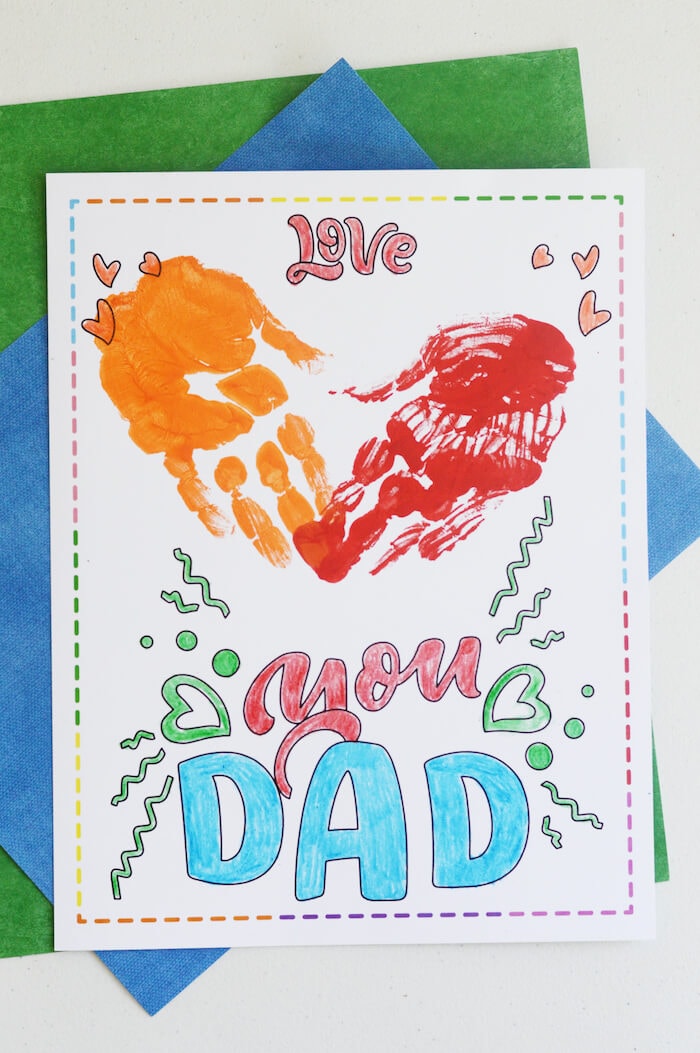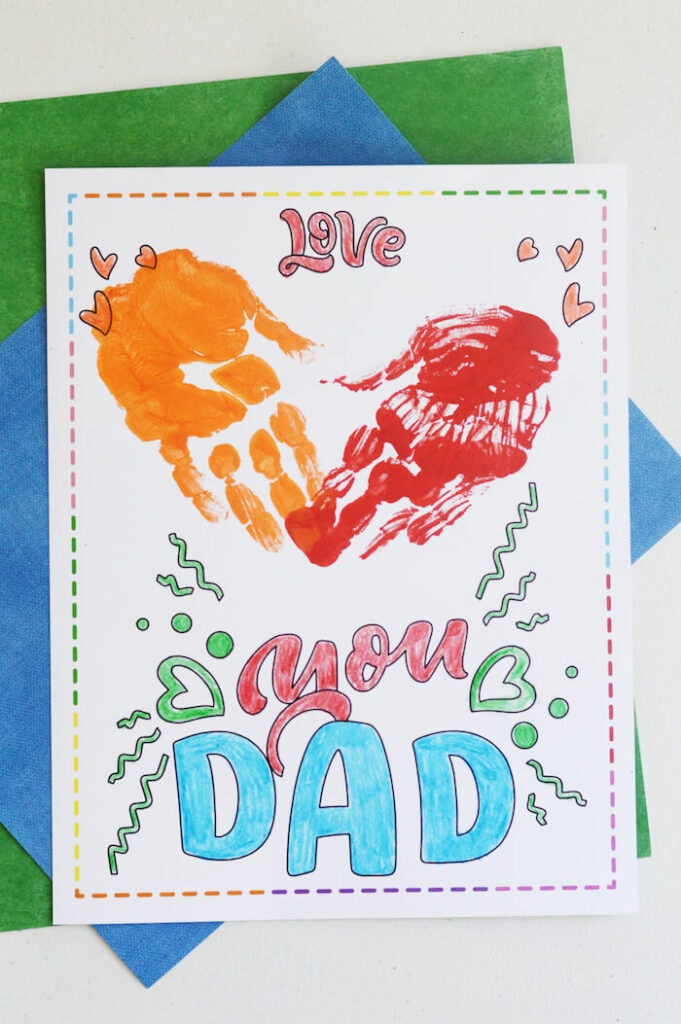 "You're My Hero" Father's Day Art
For the superhero printable handprint art template, your child's handprint will be a cape for Super Dad! This is probably one of the easiest handprint art templates to complete, because it only takes one handprint and you can paint the hand a solid color… great for your younger kids!
Here's what the finished art looks like: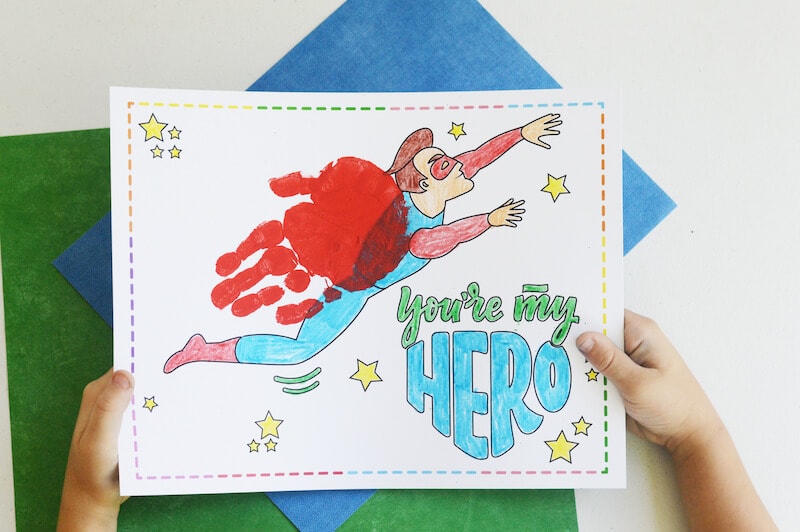 Trophy Father's Day Handprints Craft
Why not give Dad a handprint trophy this Father's Day?! Paint your child's full hand with a gold paint and stamp it on the free printable like this: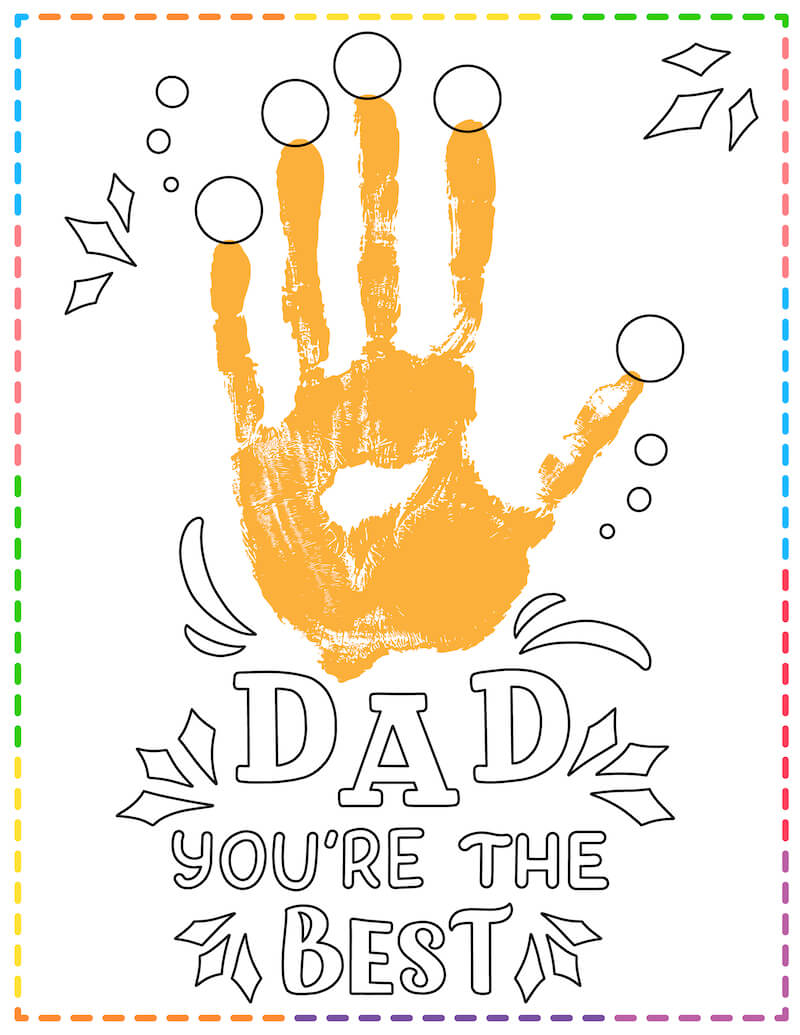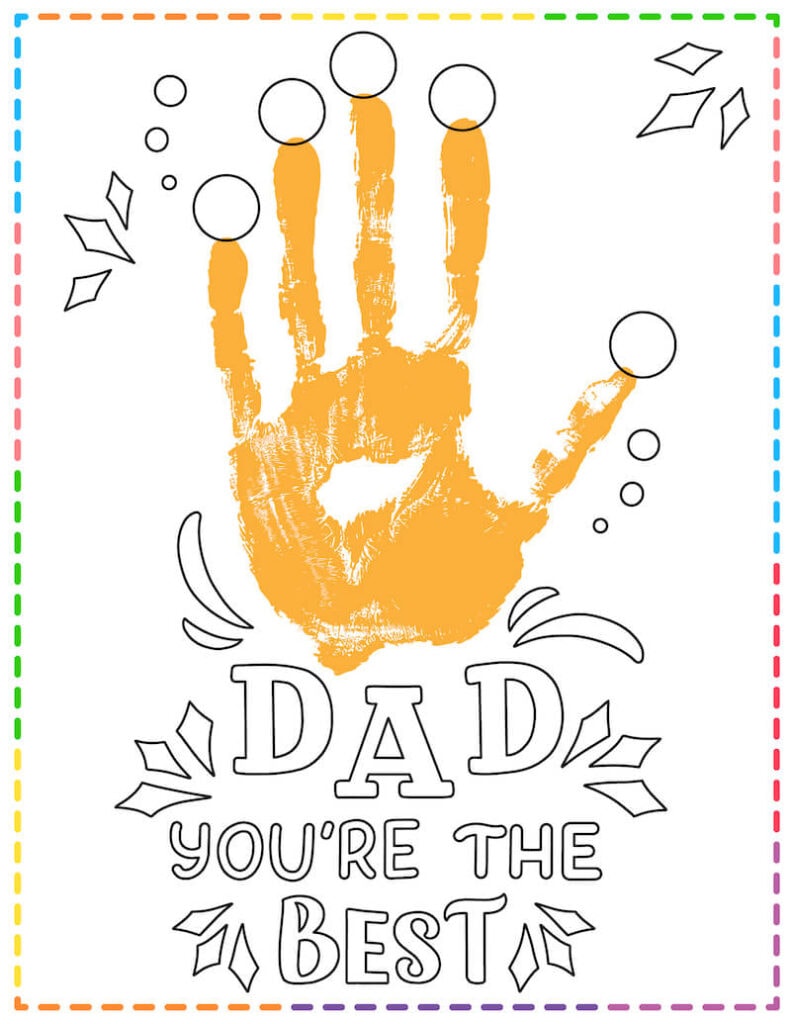 You could even add in some gold glitter glue or other embellishments to make your trophy really shine after the paint is dry. Or, use a black marker to write #1 Dad on the front!
"Un-bee-lievable" Dad Handprints Craft
This cute bee handprints craft is the perfect way to tell Dad that he's "un-bee-lievable"! Paint your child's left hand with black and yellow paint. Then stamp the handprint on the free printable template so that the thumb is one of the bee's legs, like this: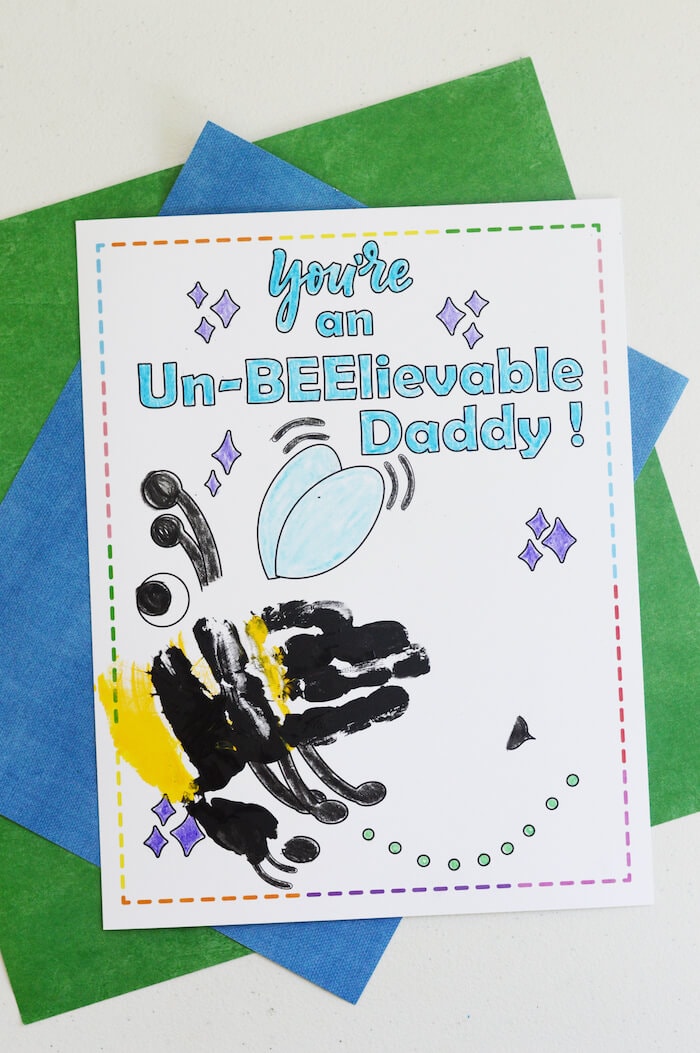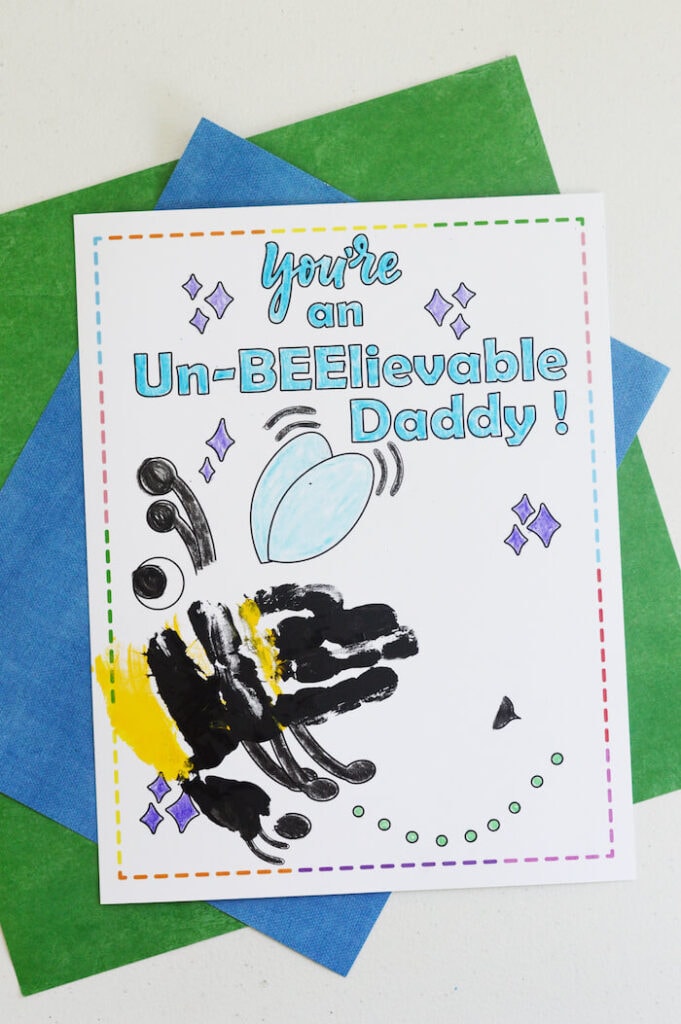 *Note – This handprint craft may be better suited to older kids because their handprints will probably fit better on the page to form the bee shape… You may want to test out the placement of your child's hand for the bee before starting.
Bowtie Father's Day Handprint Art
For this printable, your child's handprints will be a bowtie. Have your child select what color paint they want to use for their bowtie handprints, and then stamp their hands like this: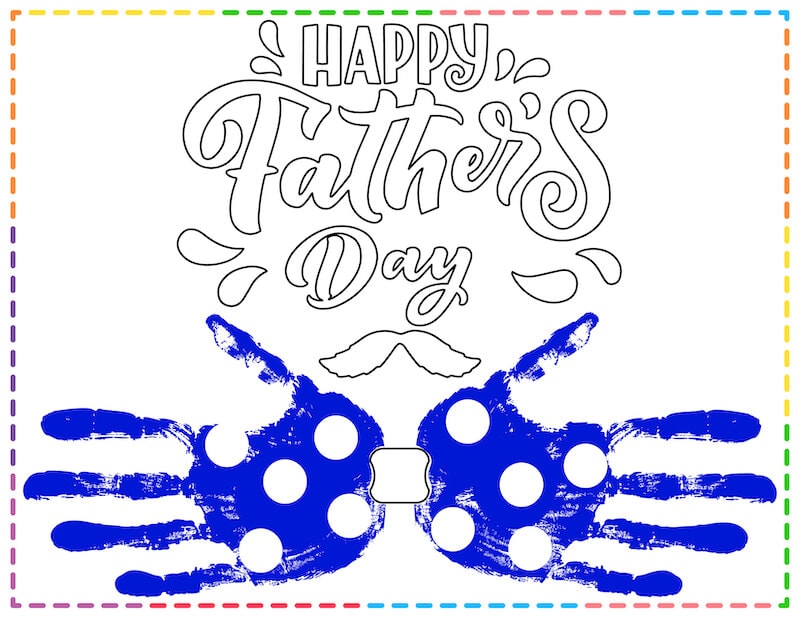 Once the paint has dried, you can add sticker designs to the bowtie using white label stickers, or even add in some bowtie stripes with markers.
"Thank You for Being My Buddy" Father's Day Handprint Art
This is probably the most complicated handprint craft, because your child's hands will be used to stamp a full person… but I also think it's one of the cutest designs!
To complete the "Buddy" art:
Paint one of your child's palms a tan color and the 4 fingers (not the thumb) a brown or black color.
Stamp that first hand according to the photo below.
On the other hand, paint the palm, pinky finger, and thumb blue. Paint the middle three fingers black. The blue part of the handprint will be Dad's shirt and the black part will be his pants.
Stamp the second hand according to the photo below.
Paint the thumb with black paint, and use thumbprints to create a bowtie.
Allow all of the paint to dry fully. Then, add sunglasses and a smile with a thin paintbrush or a black marker.
Here's what it should look like: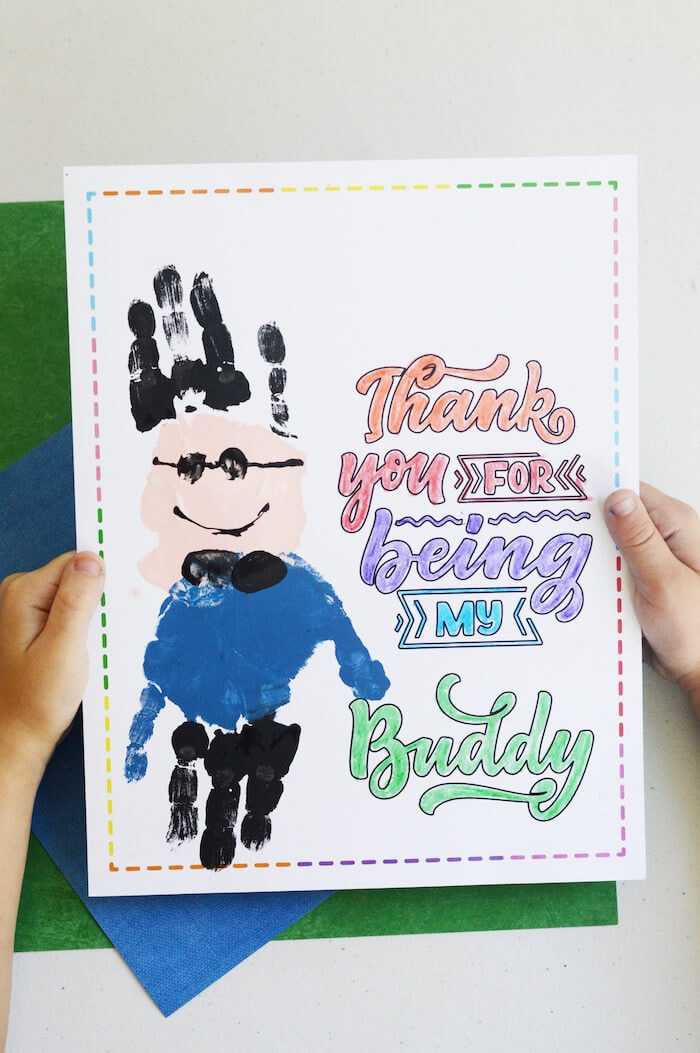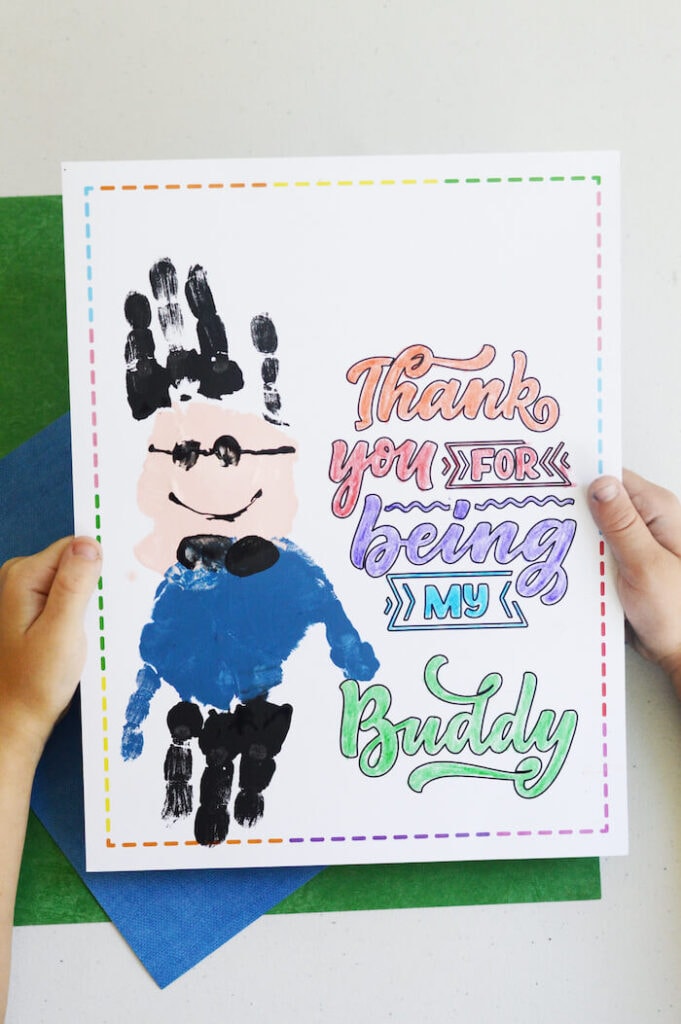 Tennis Ball and Racquet Handprint Art
If Dad enjoys playing tennis or badminton, then this printable handprint art is perfect for him! Color in the printable with crayons or markers, and then use your child's handprint to crate the shuttlecock (the weird shaped thing you hit in badminton).
For this template, paint your child's entire hand one color, leaving a thin strip not painted across the top of their palm. Then, paint that strip a different color. Stamp the handprint towards the side of the tennis racquet like this: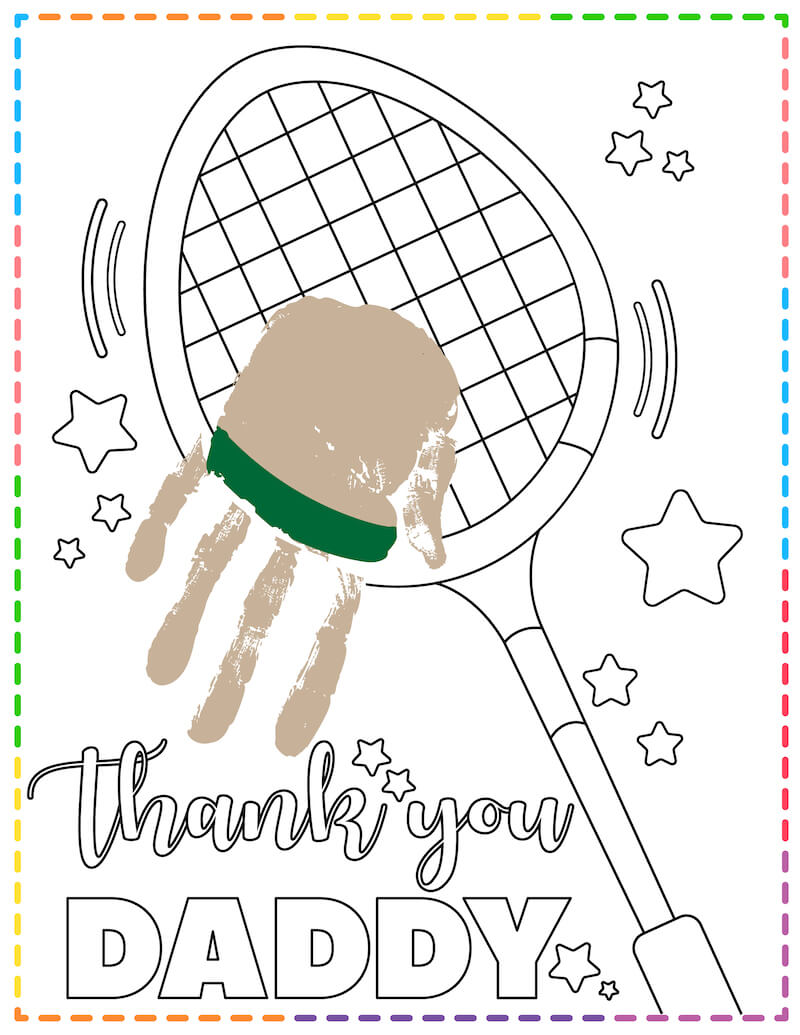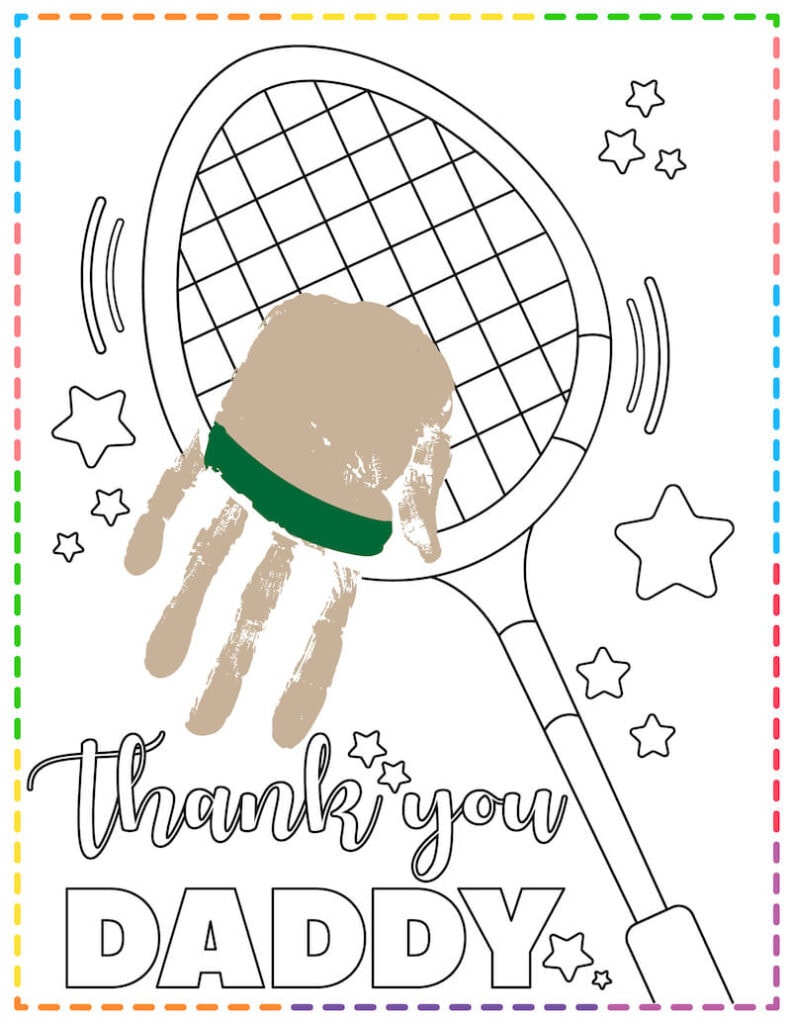 Sunflower Handprints Art for Dad
To make the sunflower "Wonderful Dad" handprint art, you'll need to paint your child's palm brown and the fingers yellow. Then, stamp the handprint repeatedly in a circle like this: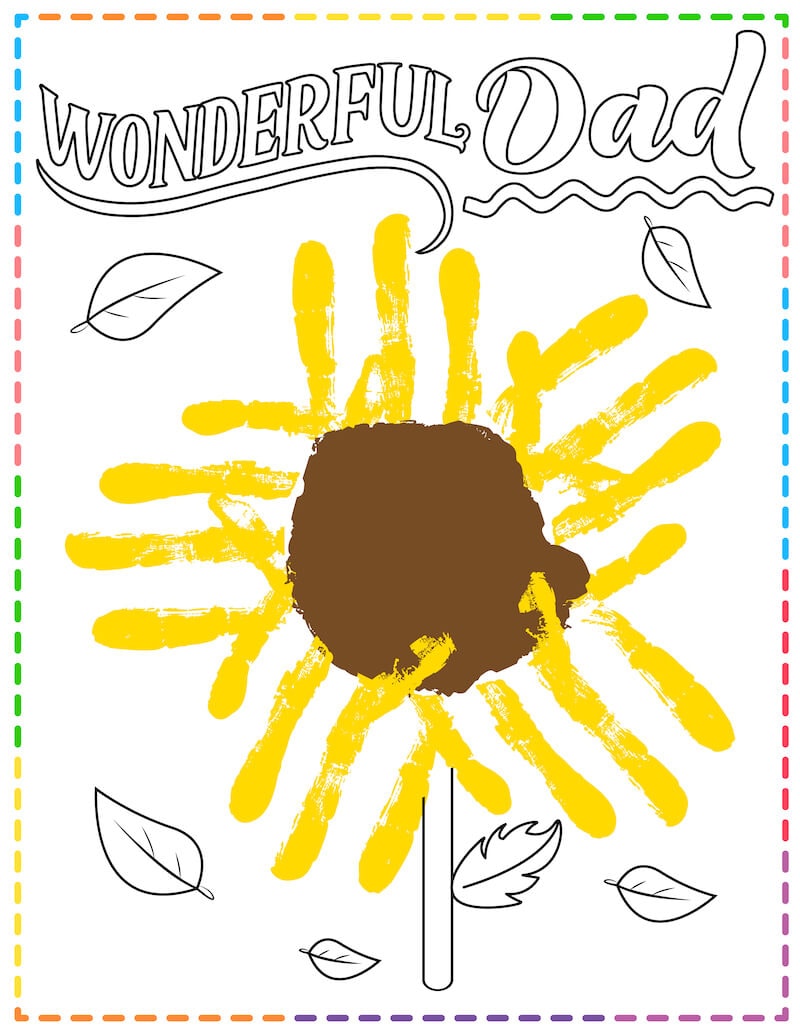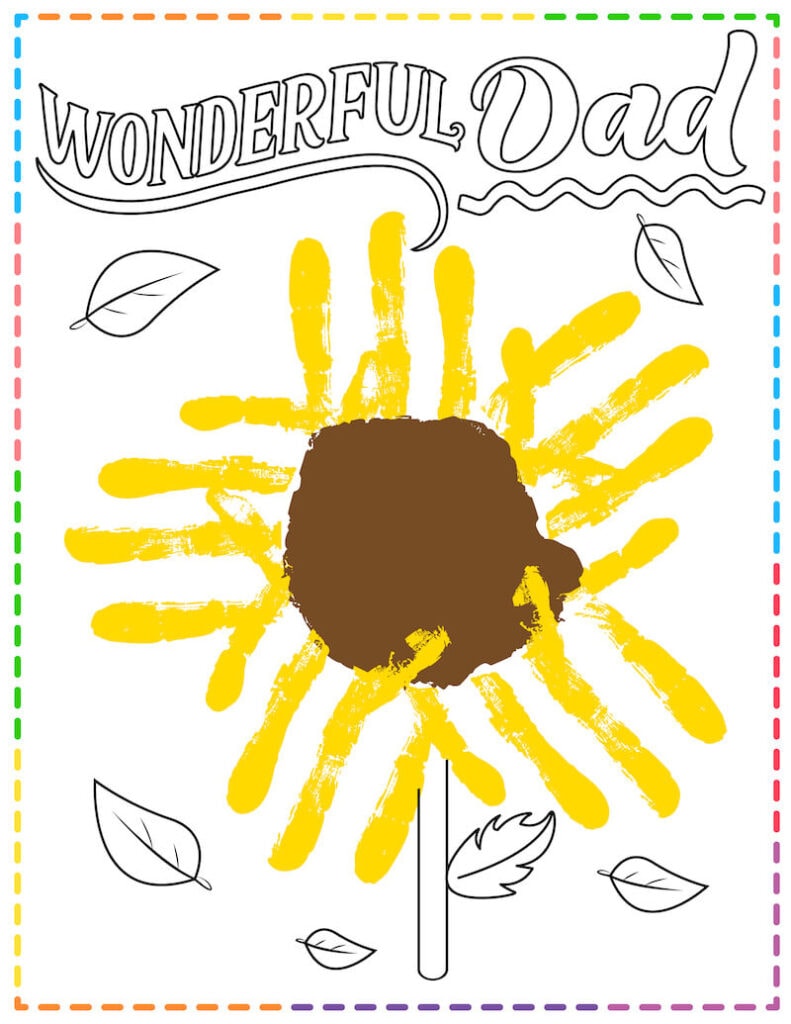 You'll probably have to reapply paint to your child's hand in between each stamp.
Happy Father's Day Handprint Art Printable
Want an easy handprint craft for Dad that just says "Happy Father's Day" and doesn't involve any tricky hand painting? Then try this free printable art sheet!
You can have your kids color in the printable with crayons or markers, and then paint their hands anyway they please. Then let them stamp their handprints however they want to on the free printable template. Here's one example of how you can do it: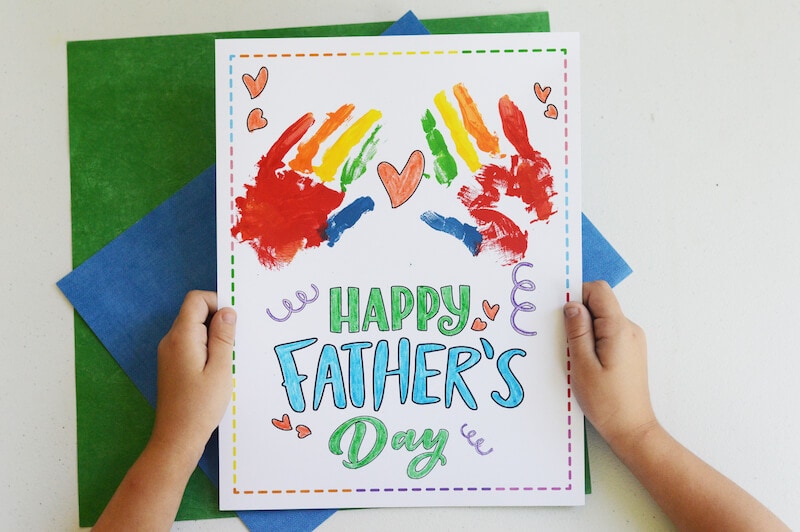 Free Printable Templates for Father's Day Handprints Art
Want to grab the free printable templates that I used in this post? Just click the link below to download all of the printables, and then you can just select which page numbers that you want to print from your printer settings!
Click HERE for the Handprint Father's Day Printables
Other DIY Father's Day Ideas
If you loved this free printable Father's Day craft, then be sure to check out some of my other ideas for Dad: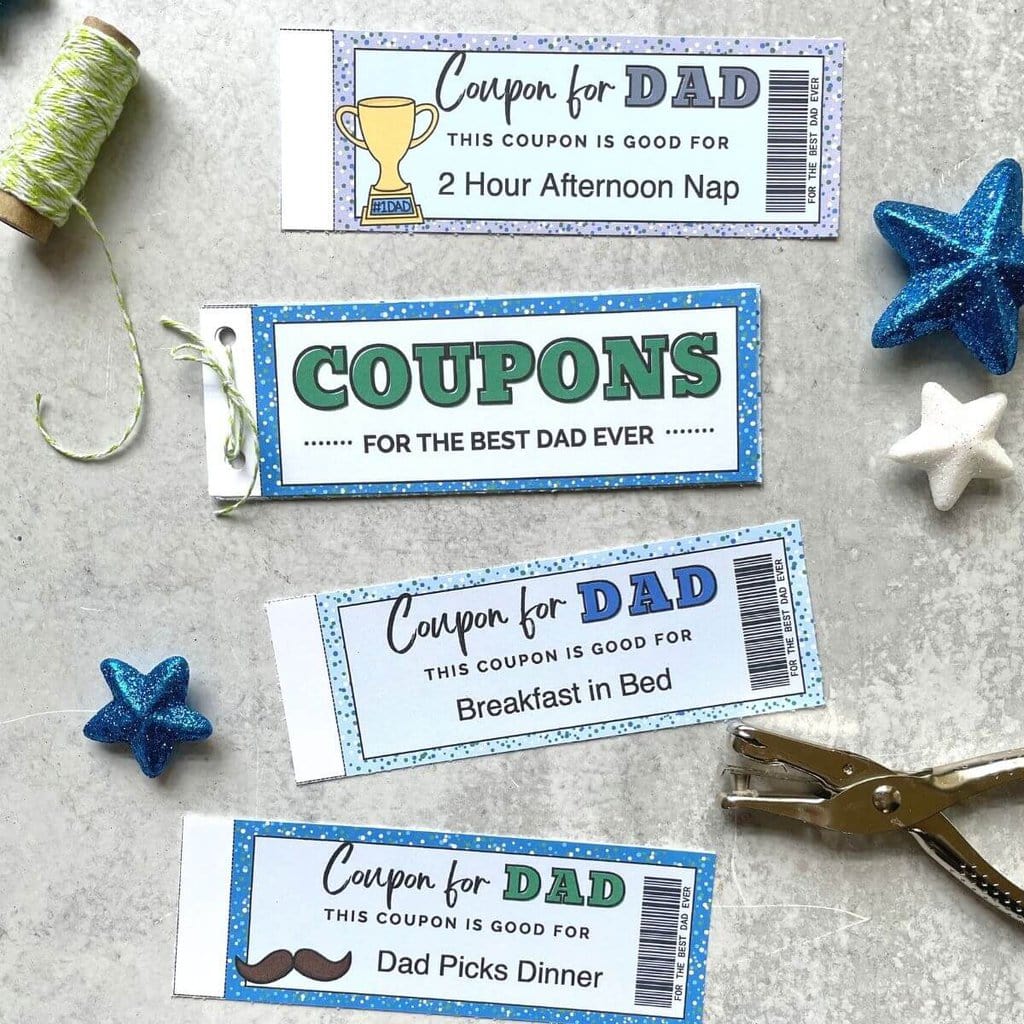 Printable Father's Day Coupon Book for Dad – Fun DIY Gift Idea! – Customize this cute coupon book for Dad with your own coupon ideas… You can type directly into the coupons, then print them out to make a DIY coupon book!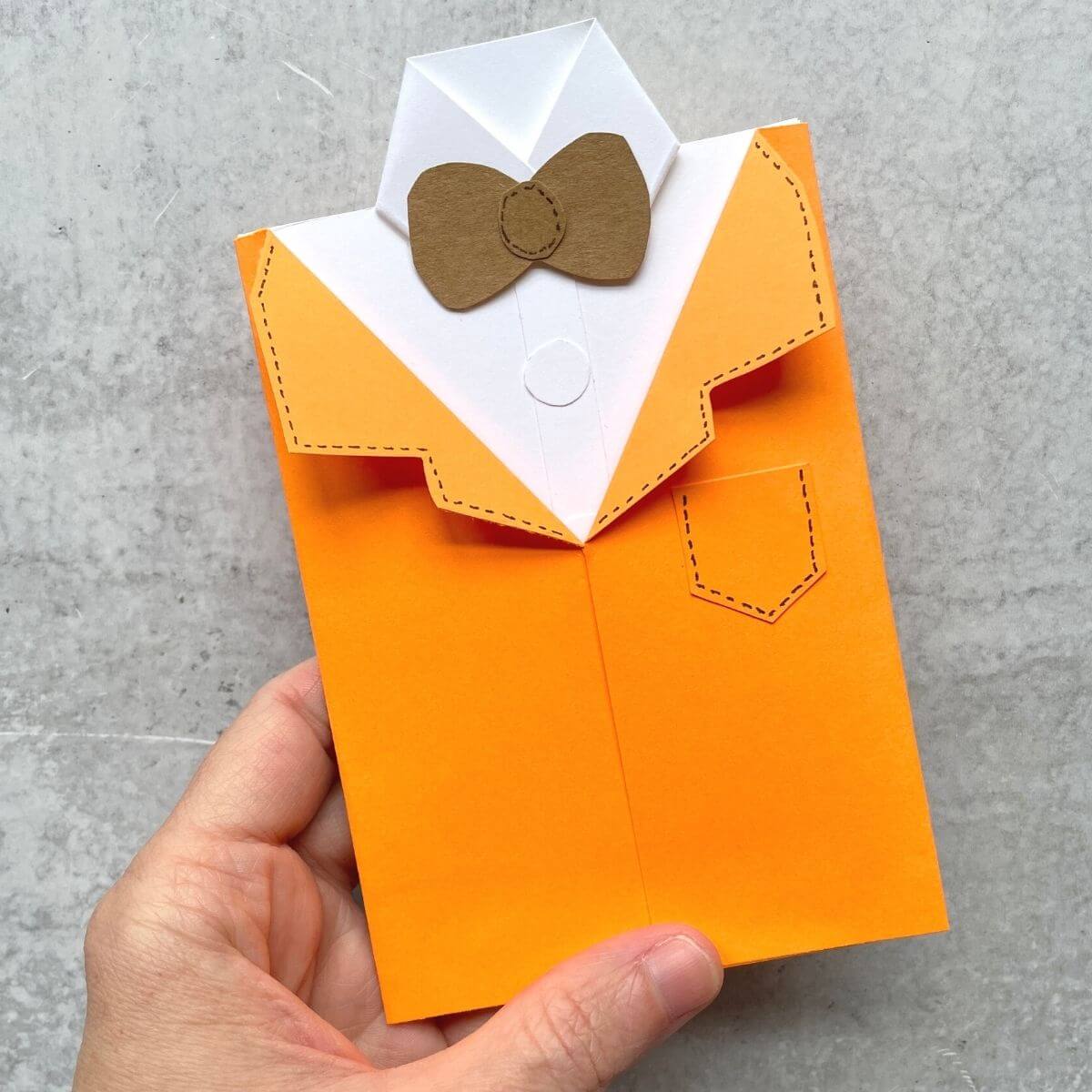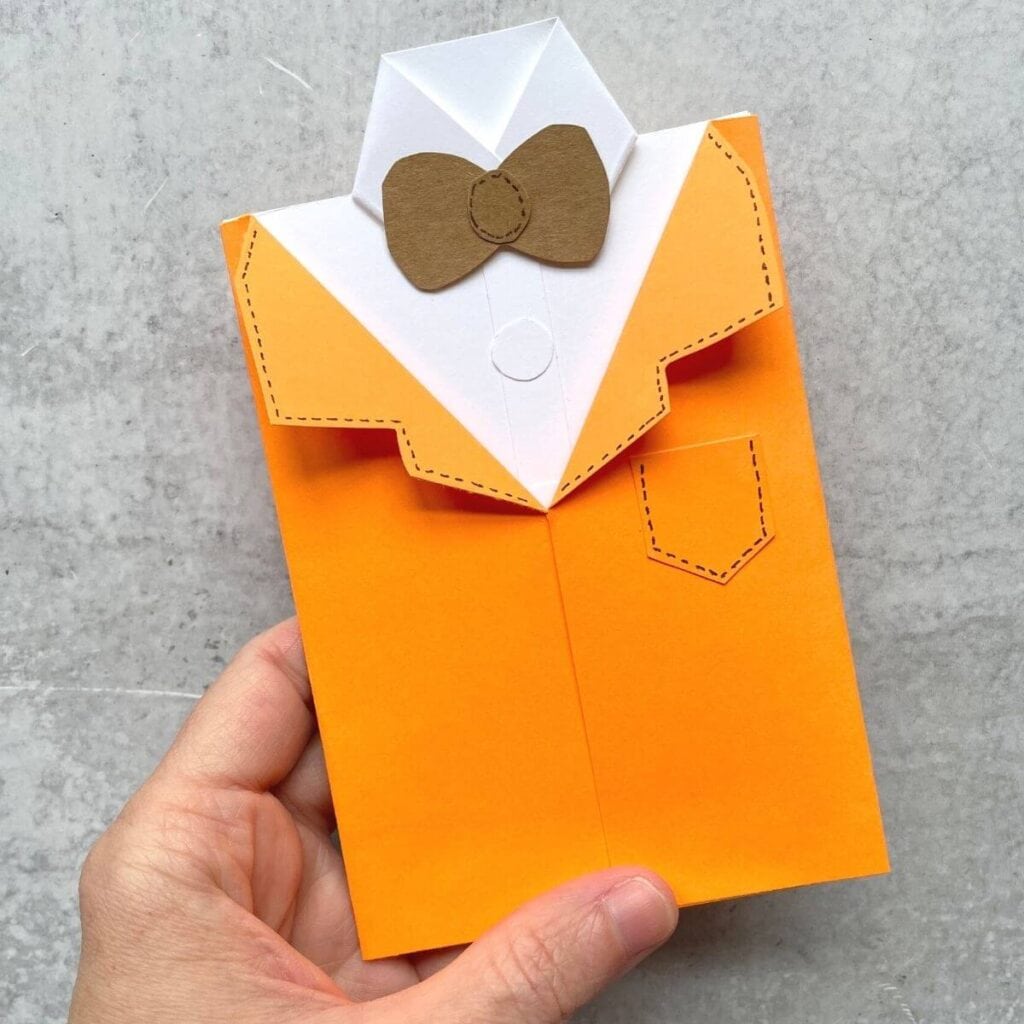 Folded Tuxedo Card Craft – Fun Father's Day Card for Dad! – This DIY Father's Day card is great for the dapper Dad, and it's easy to make with the free printable template!
Or check out this post from Good Housekeeping for 40 Father's Day Crafts that your preschoolers will love making!
And don't forget to PIN this post for later: