Learn how to keep your bathroom super clean with these free printable bathroom cleaning checklists. Whether you need help with daily bathroom cleaning jobs or deep cleaning tasks, these printable lists will help!
Cleaning the shower is my absolute least favorite job of all time.
I would much rather clean and organize my entire freezer or declutter my medicine cabinet. Probably because the shower gets so dirty so quickly… and as I get older it gets harder to finagle myself into those pretzel-like positions to get every nook and cranny clean. And having hard water that creates awful ring-shaped stains where our shampoo bottles sit doesn't help either.
But having a nice and clean bathroom can make a HUGE impact on the overall "clean feeling" of your home. So as much as we loathe cleaning the bathrooms, it's a necessary evil. We might as well use some cute printable checklists to help us stay motivated and get it done more efficiently, right?!
Here are some tips for how to clean the bathrooms and cleaning tasks to add to your daily, weekly, and deep cleaning lists so you're not stuck thinking about what to do next: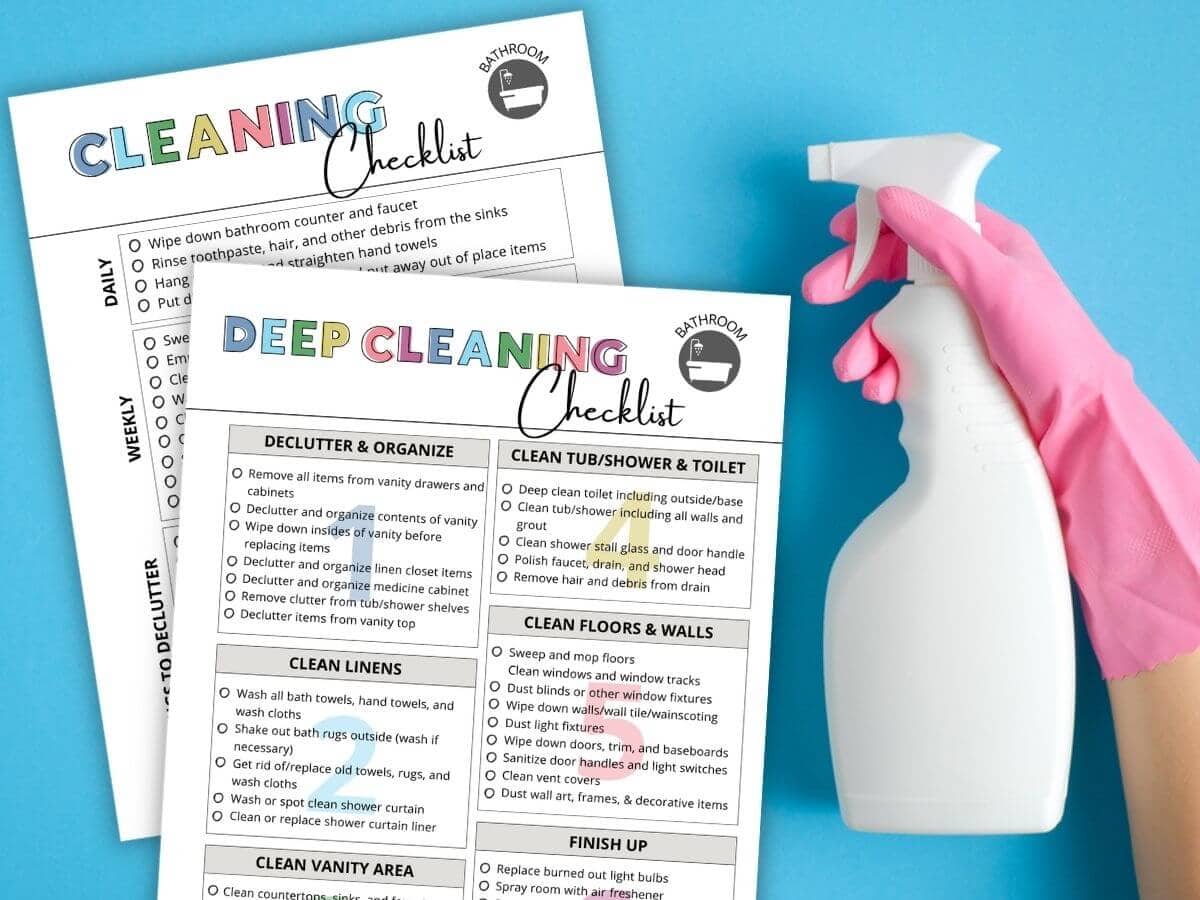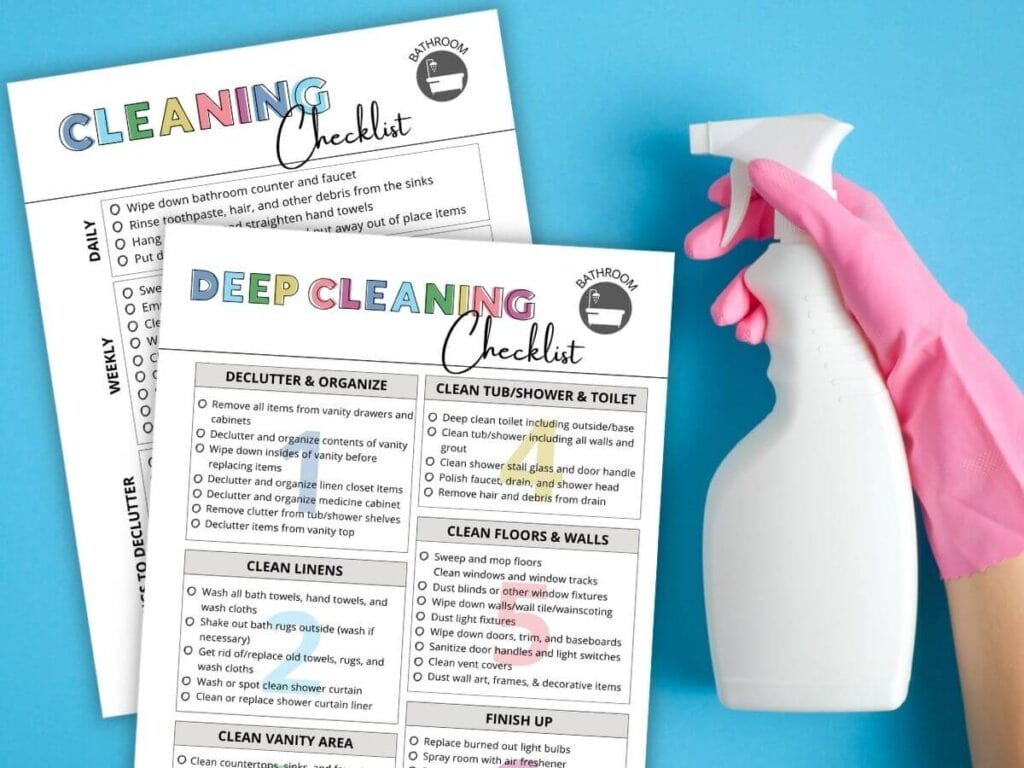 *This post contains affiliate links, which means if you click a link and make a purchase, I earn a commission at no additional cost to you. Read my full disclosure for more info.
Daily Bathroom Cleaning Jobs
The trick to keeping your bathroom clean is to do small "maintenance cleaning" jobs everyday. These daily cleaning ideas only take a few minutes to complete, but they can help you maintain a clean and uncluttered look in between deep cleaning sessions.
Here are the small bathroom cleaning jobs that I do everyday:
Wipe down bathroom counter and faucet – Sometimes I will even use my bath towel after I dry off to quickly wipe things down. The dampness of the towel is just enough to remove most splatters or dust, without having to drag out the cleaning supplies.
Rinse toothpaste and other debris from sinks
Hang up towels and straighten hand towel
Put dirty clothes in the hamper
Put away any items that are out of place – Just the simple act of putting your makeup bottles or toiletry items back in the drawer after you use them can make a huge difference!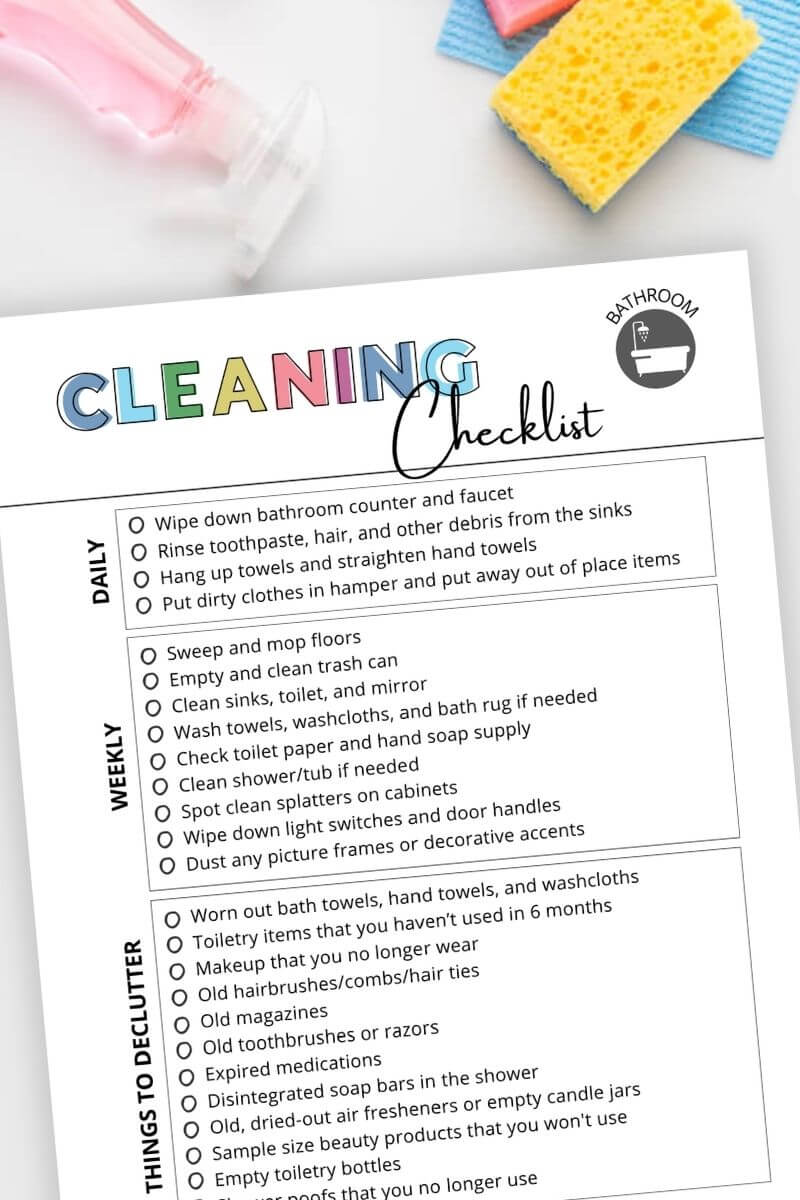 Bathroom Cleaning Jobs to Do Weekly
If you commit to doing these jobs just one time per week, you'll be amazed at how nice and tidy your bathroom stays. I like to take one day per week and designate it as my bathroom cleaning day to get all of these jobs knocked out at once:
Sweep and mop floors
Empty and clean trash can – Most of the time it won't need to be cleaned, but if you notice residue starting to build up, just wash the can quickly with dish soap and warm water.
Clean sinks, toilet, and mirror
Wash towels, washcloths and bath rug if needed – I've also found that you can freshen up your bath rug by simply putting it in the dryer on low to fluff it up and help remove any excess lint, rather than running it through a full laundry cycle.
Check toilet paper and hand soap supply
Clean shower/tub if needed
Spot clean splatters on cabinets – I simply take a warm damp rag and wipe down any visible splatters on the front and sides of the vanity.
Quickly wipe down light switches and door handles
Dust any picture frames or decorative accents
How to Deep Clean Your Bathroom (Step-by-Step)
A lot of these steps are self-explanatory, but since deep cleaning your entire bathroom can be quite overwhelming, I'm going to help you break it into "micro cleaning jobs". After all, there's no better way to accomplish a big goal than breaking it up into smaller, more manageable action steps.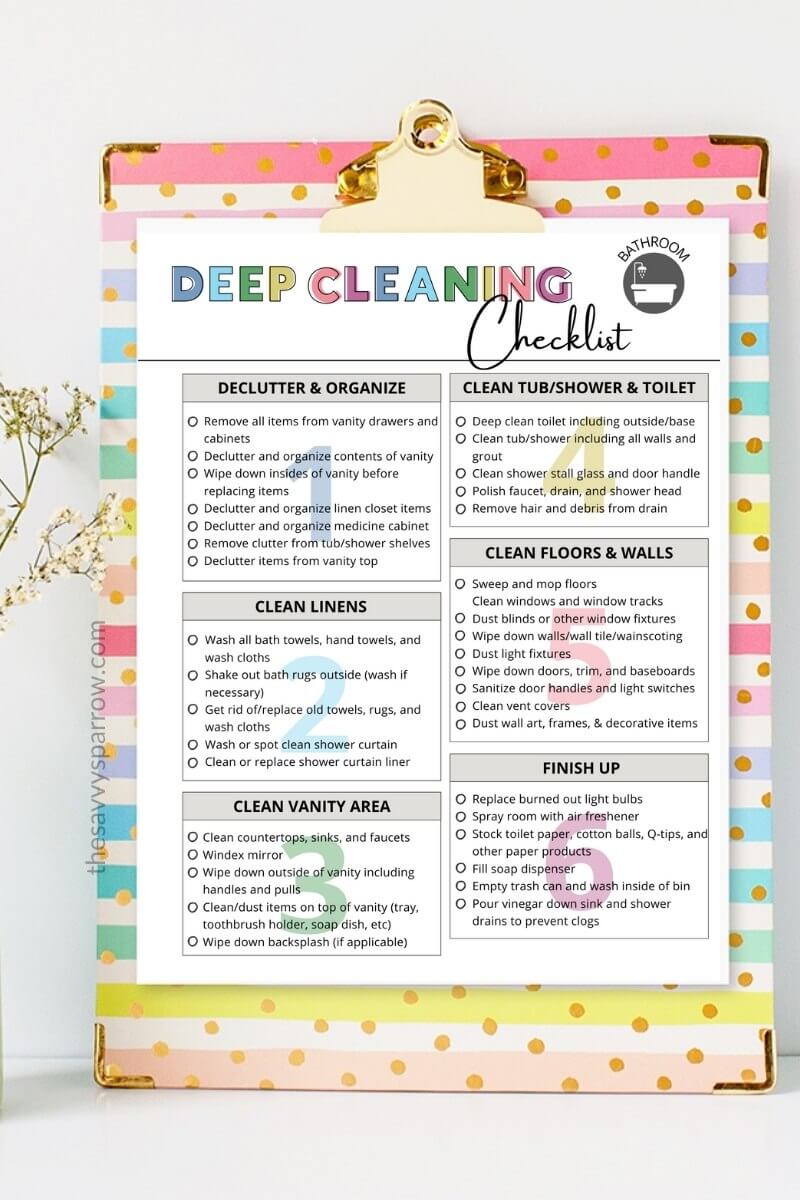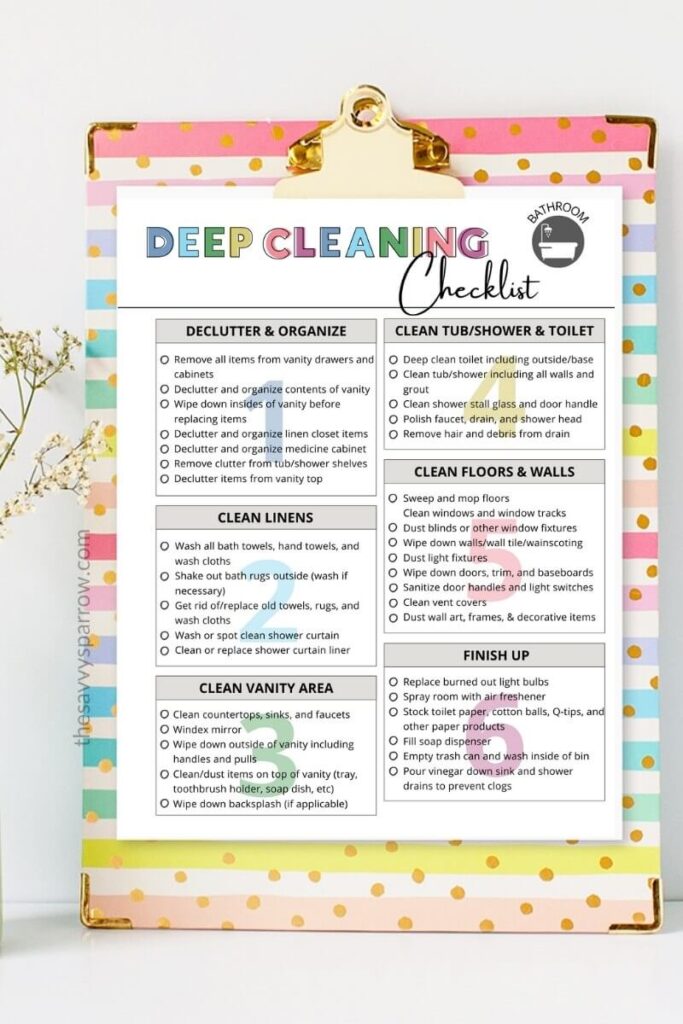 Here's how to deep clean your bathroom without the overwhelm (even if you have 2 messy kids!):
Step 1: Declutter and Organize the Vanity and Linen Closet
Remove all items from vanity drawers and cabinets
Declutter and organize contents of vanity
Wipe down insides of vanity before replacing items
Declutter and organize linen closet items
Declutter and organize medicine cabinet – I've got a whole post on tips for organizing your medicine cabinet by category using cute and easy DIY labels!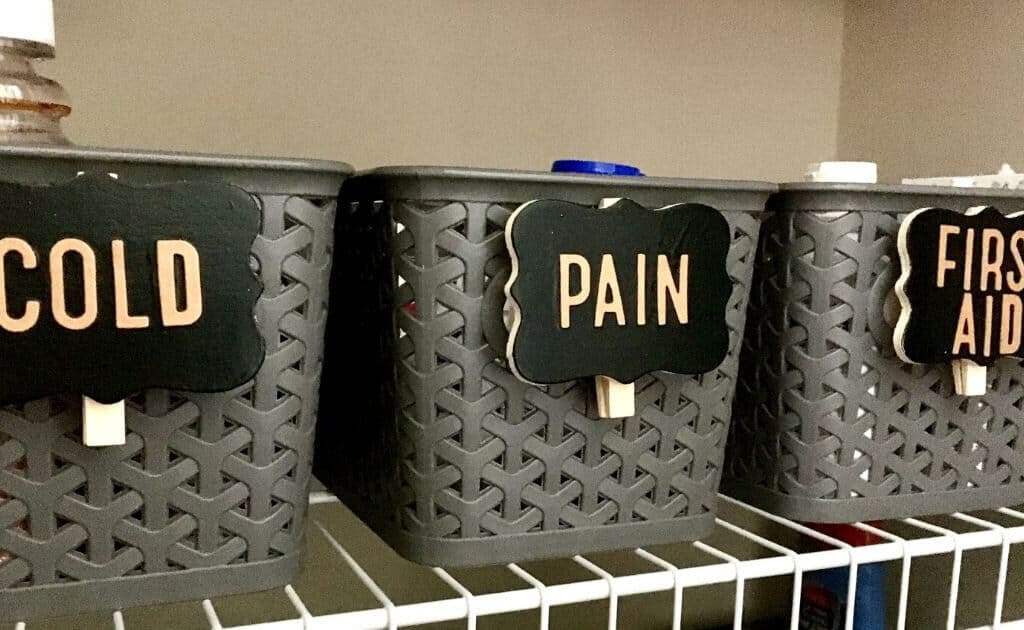 Remove clutter from tub/shower shelves – Anyone else seem to always have teeny-tiny soap remnants on their shower shelves?
Declutter items from vanity top – Most of the time this is as simple as putting makeup and toiletry items back in the drawers where they belong.
Step 2: Clean the bathroom linens
Wash all bath towels, hand towels, and wash cloths
Shake out bath rugs outside (wash if necessary)
Get rid of/replace old towels, rugs, and wash cloths
Wash or spot clean shower curtain – But don't do like I did and put it in the dryer… our fabric shower curtain shrunk up at least a good 6 inches. Oops!
Clean or replace shower curtain liner – This is one of the simplest (and most often overlooked) jobs that you can do for an instantly cleaner shower. You can find well-made and durable shower curtain liners at Target or TJ Maxx for about $6.00.
Step 3: Clean the vanity area
Clean countertops, sinks, and faucets
Windex mirror
Wipe down outside of the vanity including handles and pulls using a warm damp rag and a little bit of dish soap
Clean and/or dust items on top of the vanity (tray, toothbrush holder, soap dish, etc)
Wipe down backsplash (if applicable)
Step 4: Clean the tub, shower, and toilet
Deep clean toilet including outside/base
Clean tub/shower including all walls and grout
Clean shower stall glass and door handle
Polish faucet, drain, and shower head
Remove hair and debris from drain – I bought these "drain snakes" after hearing some horror stories about liquid de-clogging chemicals that you pour down the drains. The drain declogging snakes work wonders, and we've even used them to unclog the hose on our vacuum cleaner!
Step 5: Clean floors and walls
For any room that I am cleaning, I like to leave the floors for last. That way, the dust and dirt from wiping down the countertops and fixtures doesn't just fall on the freshly clean floors.
Here are some other jobs to do for a sparkling clean bathroom:
Clean windows and window tracks
Dust blinds or other window fixtures
Wipe down walls/wall tile/wainscoting
Dust light fixtures
Wipe down doors, trim, and baseboards
Sanitize door handles and light switches
Clean vent covers – These are often forgotten, but they can get super dusty and dirty!
Dust wall art, frames, & decorative items
Sweep and mop floors
Step 6: Finish up!
Yeah! You made it this far… the rest is downhill! Here are the finishing touches to complete in the bathroom:
Replace burned out light bulbs
Spray room with air freshener
Stock toilet paper, cotton balls, Q-tips, and other paper products
Fill soap dispenser
Empty trash can and wash inside of bin
Pour vinegar down sink and shower drains to prevent clogs
My Favorite Bathroom Cleaning Supplies
Now that you've got a game plan for how to clean the bathroom, what cleaning supplies should you use? Here are a few of my favorites:
Cleaning Brush Drill Heads
Remember when I mentioned that I despise cleaning the shower? Well, these nifty cleaning brushes that attach to your power drill make it a little easier. They come in a 3 pack with different sizes and shapes of brush attachments for cleaning a variety of areas, and they work with the power of your drill… the harder you press the drill trigger, the faster the brushes spin.
This genius little invention will definitely save you some elbow grease!
Bissell Power Fresh Steam Mop
This is the mop that I have, and I swear by it!
My first experience with the Bissell Power Fresh Steam Mop was a few years ago. We were moving out of a rental house and I realized that my kids had spilt some sort of crayon/paint/clay/art substance on the wood floors. I had tried literally EVERYTHING to get it off the floors, to no avail.
Then I finally asked my father-in-law to borrow his steam mop. Within one minute the mystery colors were gone. Hello, security deposit! I raved about the mop so much that my darling father-in-law told me to keep it, and he bought himself a new one.
Trust me, this thing works wonders! I also love that you don't have to buy any extra floor cleaning solution because it just uses water, and you can throw the mop head in the washer and reuse it.
Ajax or Comet
Yes, I know that sounds pretty "old school", but I still prefer to clean my grimy shower with good old fashioned Ajax. I really like how you can use the powder mixed with a bit of water to create a thick paste, and then walk away and let it do it's magic for about 15 minutes.
Free Printable Bathroom Cleaning Checklists
Want to grab my free printable checklists of daily cleaning jobs, weekly cleaning jobs, and deep cleaning jobs? These super cute checklist PDFs are available in my FREEBIES library, and when you sign up for my FREE email newsletter you'll get access to the library as a free gift!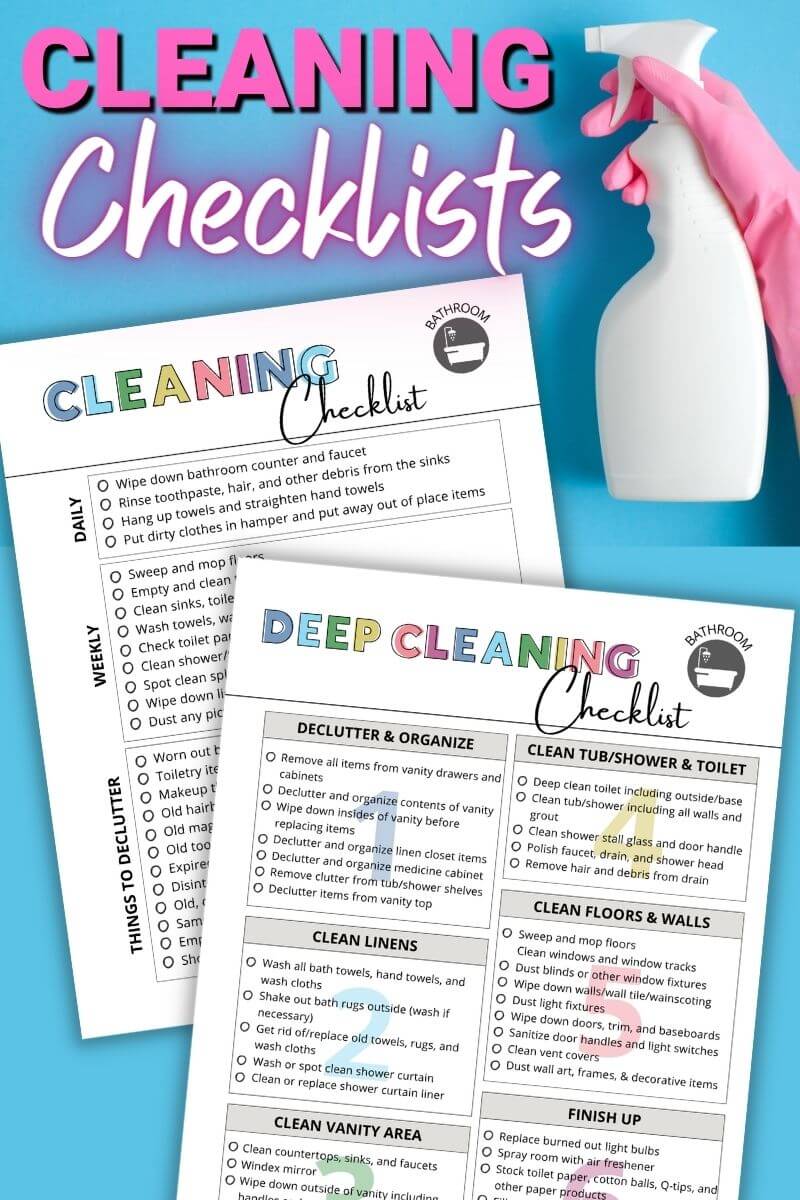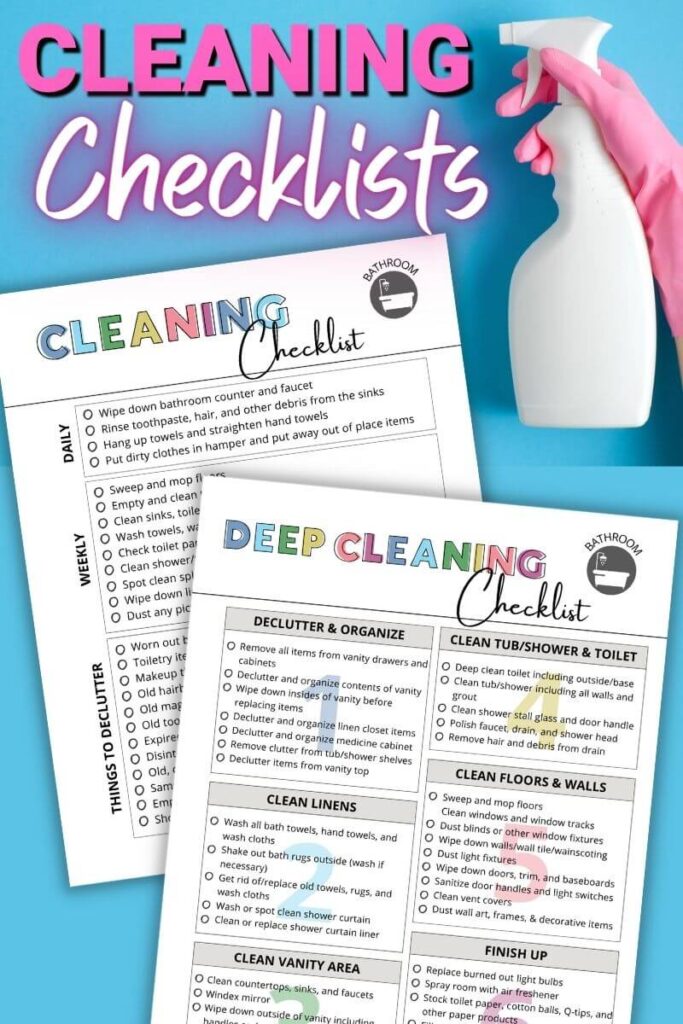 Just use the form below to sign up, and get access to my library of over 60 super cute printables like these as a Welcome gift!
Other Cleaning List PDFs
If you found this post helpful, then be sure to check out my tips for how to clean other rooms in your home:
Or, check out the printable Cleaning Planner and Organizer in my shop!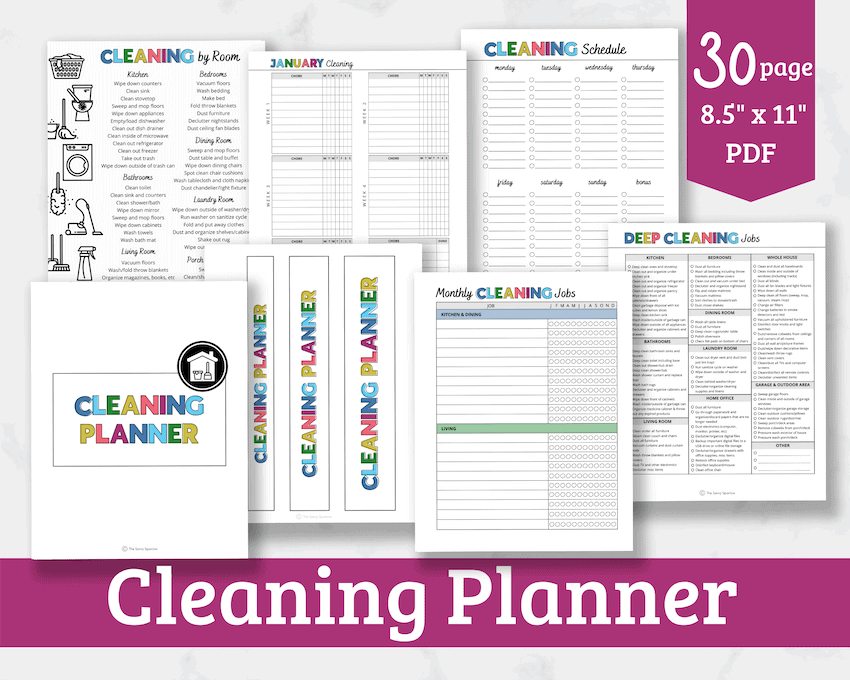 I hope this bathroom cleaning checklist helps you keep your bathroom clean! If you print it out and use it, let me know what you think!
And I'd LOVE to hear about your bathroom cleaning tips and must-have cleaning supplies. Leave me a comment down below.
And happy nesting!