Need some ideas for what to do with old clothes? If you've just decluttered your closets and you've got piles of old clothes laying around, then this is the post for you! Learn where to sell old clothes, how to repurpose old clothes, and the best places to donate old clothes!
UPDATED: JULY 10, 2020
I have a TON of old kids clothes (not to mention the piles of my own clothes from 5 years ago that I'm holding on to just in case I ever lose those 15 pounds!).
I've got old clothes packed away in boxes, crammed into closet corners, hiding in my trunk waiting to be dropped off at Goodwill. Coming out of my ears, it seems. But I guess that's what happens when you have two growing kids that need a new wardrobe twice a year.
So, what do you do with all of those useless clothes after your kids have outgrown them, and assuming that you're done having babies and don't want to save them for hand-me-downs? I've got lots of great options that you probably haven't even considered!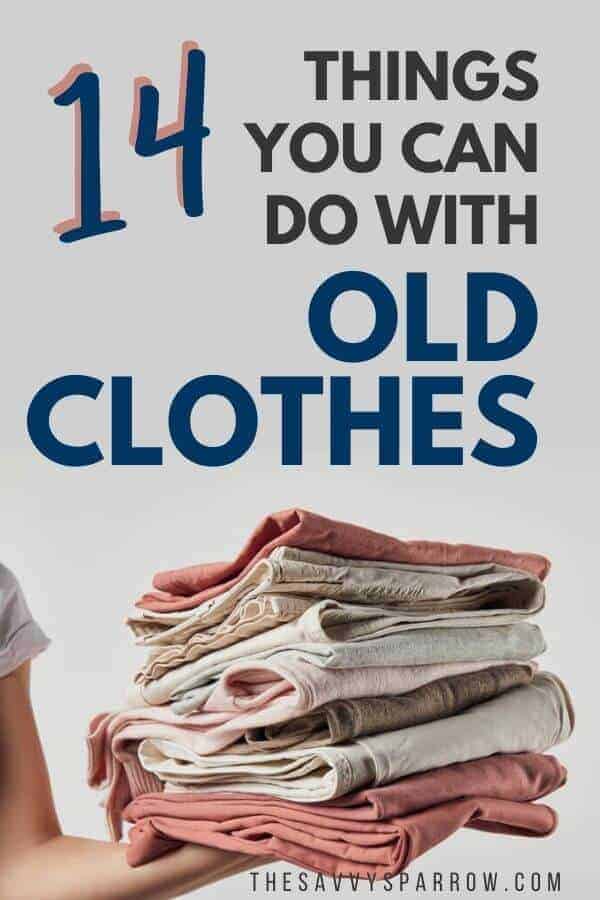 *This post contains affiliate links, which means I may earn a small commission at no additional cost to you. Read my full disclosure policy here.
Sell Old Clothes
This is one of the easiest options, AND it puts money back in your pocket. So that's a big win for busy Moms that just want to get some junk out of their house easily.
Lots of Moms out there buy clothes second-hand, myself included, and there is a HUGE market for gently-used kids' clothing. But where do you sell your old kids clothes? Here are my personal recommendations.
I have sold kids' clothes using each of these methods so I can personally attest to the ease and effectiveness of each one:
Where to Sell Old Clothes
"Cash on the Spot" Consignment Stores
Consignment stores are by far the easiest way to sell your old kids clothes, especially if you sell to one that pays you cash on the spot like Once Upon A Child, a personal favorite.
To sell your clothes to these types of consignment stores, simply bag up your clean and folded clothes and take them in. A store associate will go through your clothes and make you a cash offer for the items that they accept. Couldn't be easier!
Often times, I use the cash as credit for the store to get my girls new clothes without spending a dime.
True Consignment Stores
Stores that are considered "true" consignment stores take your old clothes WITHOUT paying you up front. Instead, they pay you a set percentage of the selling price for your items AFTER they sell.
If you choose to sell old clothes at consignment stores, just be sure to call the stores first for their specific consignment policies, as some only accept certain items throughout the year and others require that your clothes be brought in on hangers.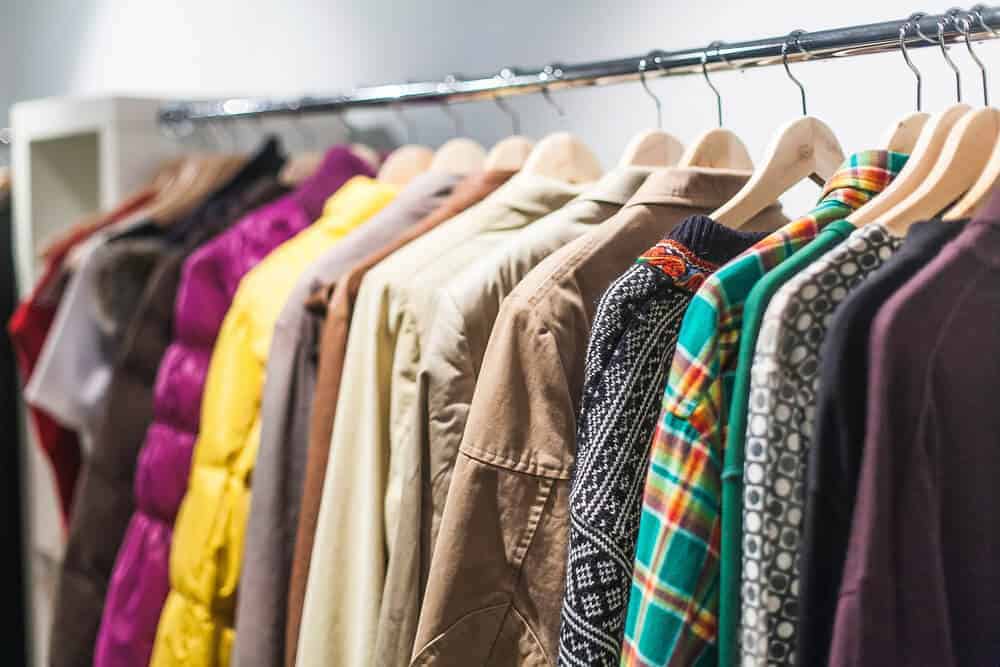 Seasonal Consignment Sales
If you've never been to a big seasonal clothing consignment sale, you're missing out!
Some of the popular sales in my area attract thousands of shoppers over a four day period. That's thousands of people that could potentially buy your old clothes!
In my experience, you can earn more money for your old clothes by selling them at seasonal consignment sales than regular consignment stores… However, if you choose to sell your clothes at these sales, be warned – prepping your items for sale can take many hours. I've spent 15 hours just hanging, pinning, and labeling clothes for one sale.
With that in mind, be sure to not over price your items. You should price your items at 60-80% below retail price. Trust me, you don't want to spend 15 hours prepping your clothes to sell, only to have to pick them up after the sale is over because you priced yourself out of the market.
Click here for a list of clothing consignment sales that take place near you.
Online Consignment Sites
If you're looking for what to do with old clothes, then online consignment sites should be on your list! Selling your old clothes through online sites is a super easy way to get rid of your old kids clothes, and many times you don't even need to leave your house!
For the sites that I have used, you simply have to create an account, request a mailing bag, fill it up, and mail it back. I typically make around $50 per bag that I send in, but your total could vary depending on the brands of clothes that you have to sell.
I have been successful at selling clothes through these two sites:
Thred Up
With Thred Up, you can earn anywhere from 5 – 80% of the selling price of your item, depending on the listing price. They even have a handy Payout Estimator so you can get an idea of how much you could potentially earn for your old clothes.
Swap.com
This is another great site that I use. I actually have items listed for sale on Swap.com right now. However, their selling policies are a bit more complicated than Thred Up.
With Swap.com, you actually have to be accepted as a "Premier Seller" to sell your clothes on their site. That process involves filling out an initial application and sending in a "test" box (which you have to pay for). You can read more about selling items on Swap.com here.
Garage Sales
I love a good garage sale! Especially ones that have lots of cheap clothes! If you're willing to open your home – er, garage – to some deal-hunters then there is definitely money to be made by selling old clothes.
If you choose to go this route, try to lay neatly folded clothes out by size on long tables. Shoppers are much more likely to spend the time going through your items if they are neatly organized and within reach, rather than if they are just dumped in piles on the driveway.
And be sure to price your items right! I've purchased nice, name brand kids clothes at garage sales for about $0.50-$1.00 for shirts and $1.00-$2.00 for pants. It may not seem like a lot per item, but if you have a bunch to sell, the profit can really add up. And the point is to get rid of your old clothes, right?!
Ebay/Facebook Marketplace/Craigslist
I've sold many items, including old and outgrown clothes, on each of these sites.
With Facebook and Craigslist, your buyers are typically local so I recommend combining like sizes into "lots" and selling many pieces together. You don't want to be running all over town meeting buyers for one or two shirts at a time. In the past, I have sold a trash bag full of mixed season clothes for about $50.
If you choose to use Facebook, you can list on Facebook Marketplace and any local buy/sell/trade groups that you belong to. Another benefit of using Facebook over Craigslist as a selling platform is that with Facebook you can actually see who your buyer is by looking at their profile.
For Ebay, you need to do a bit more legwork upfront. Creating an ebay listing takes a bit more time, and you will need to account for shipping costs.
This could mean taking your items (already boxed up) to the post office to get shipping quotes so that you know what to set your shipping prices at. Or you could choose to offer free shipping; however, if you do this be sure to set your selling price high enough to account for your extra cost. You definitely don't want to have a loss when selling your old kids clothes!
Donate Old Clothes
If you don't want to take the time to prep your clothes to sell, then you may choose to donate them. A lot of great organizations will take your secondhand clothes and pass them on to kids and families that may be struggling.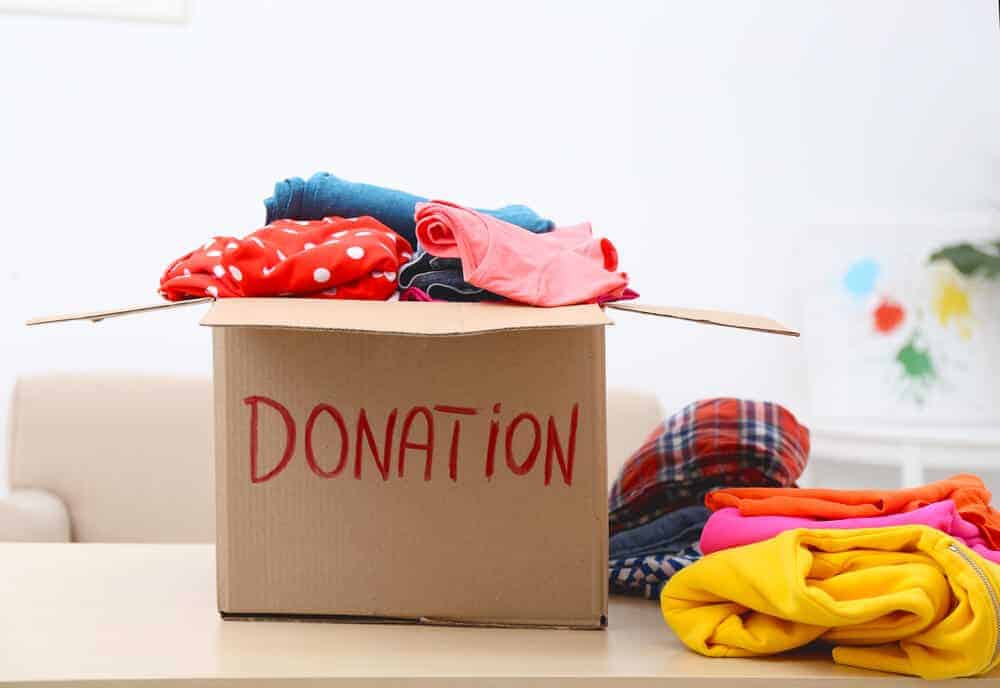 If you want an easy option for what to do with old clothes, then here are just a few ideas of places to donate your items:
Churches
Many churches accept donations to pass along to members of their congregation or community that are in need.
Local Schools
Check with the PTA or front office of your child's school to see if they distribute secondhand clothes to needy students.
Goodwill and other Thrift Stores
Donating old clothes to thrift stores is typically super convenient. Many even have a drive-thru lane for donations so you don't even have to get out of your car!
Local Women's Shelters or Orphanages
Animal Shelters
Animal shelters usually welcome clothing donations to use as animal bedding and cleaning rags. Instead of just tossing your ripped or worn clothing items that can't be sold or donated to thrift stores, consider dropping them off at your local humane society to make an animal's stay there more enjoyable.
Return Old Clothes to the Manufacturer
Did you know this was a thing?!
Recently certain clothing manufacturers (mainly outdoor gear producers like The North Face and Patagonia) have started refurbishing old clothes! You can read more about some of these clothing recycling programs HERE.
Crafts to Make with Old Clothes
So many crafts out there call for some type of fabric as one of the needed supplies… So why not recycle your old clothes into a beautiful new craft?!
Here are some cool fabric crafts you can make using your old clothes:
DIY Fabric Tassel Garland with Old Clothes
Yes, I'm listing my own genius use of old clothes first.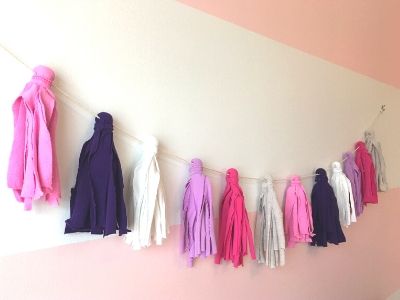 I created this cool and easy DIY Fabric Tassel Garland after seeing photos of trendy tassel garlands all over the place and thinking "Why not repurpose some of my girls' old outgrown clothes into a beautiful keepsake decor piece?".
T-Shirt Quilt
If you're handy with a sewing machine, gather up some of your old t-shirts from memorable events and fashion them into a cozy t-shirt quilt. I haven't touched a sewing machine since home economics class in high school, so this would be way out of my wheelhouse.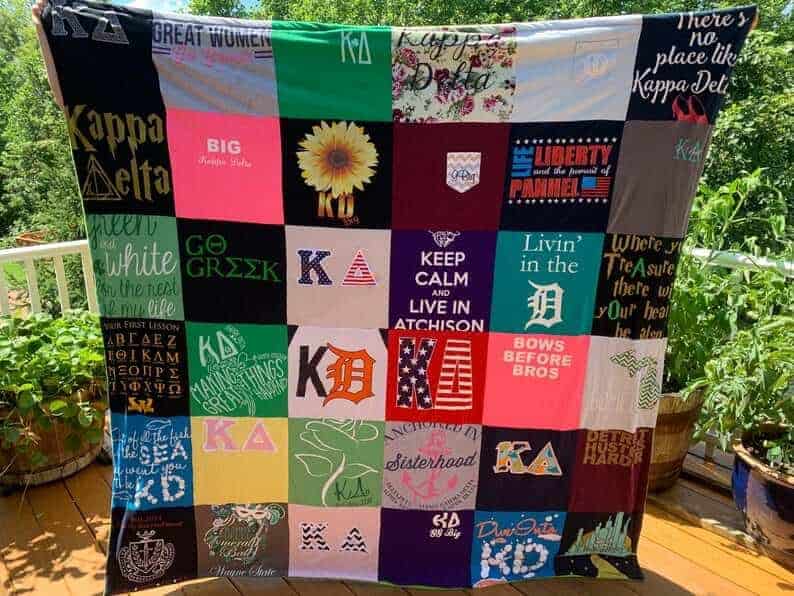 If you're like me, you can order your own customized t-shirt blanket like this one above from Southern Strouds on Etsy! Hello, cute and snuggly keepsake!
DIY Decorative Boxes
If you've got large sized old clothes AND cardboard boxes, then try to make your own DIY Decorative Storage Boxes!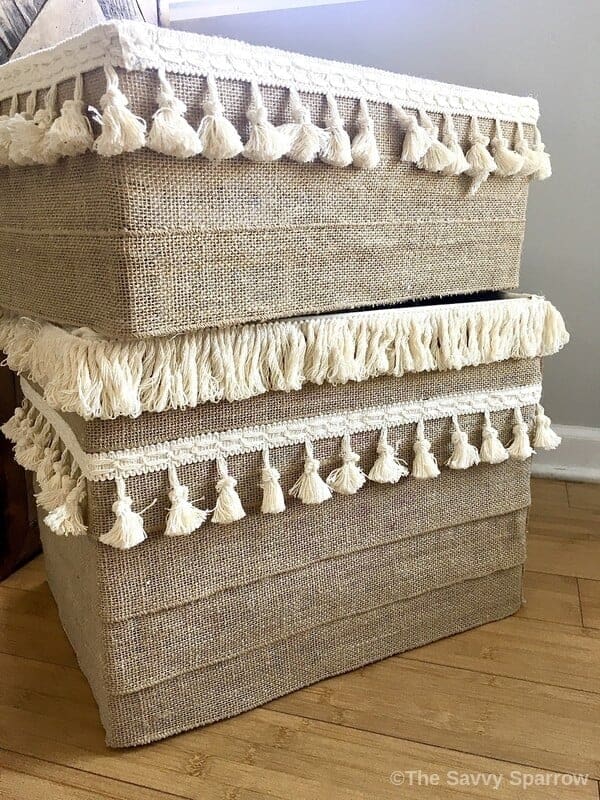 I made these storage boxes from fabric by the yard, but you could also use old floor length dresses to line your cardboard boxes!
Clean with Old Clothes
Why spend your hard earned money on buying scraps of fabric (aka cleaning and dusting rags) from the store when you can quickly cut your own?
Use old clothing items that already have stains or holes as cleaning rags, since you won't be able to sell them.
Use Old Clothes as Packing Supplies
Wondering what to do with old clothes AND have a move coming up? Old clothes make great packing material for fragile items. Wrap Grandma's china in an old pair of sweatpants, and save money on packing peanuts and bubble wrap!
And there you have it! My big list of tried and true ways to sell, recycle and generally rid your house of all of those old clothes!
I'd love to hear how you keep from being buried alive with your mounds of outgrown clothes. Leave a comment below and let's compare notes!
And if you want even more ideas for how to declutter your house, check out these posts: